26 Best Road Trips from San Jose
The largest city in the hi-tech hub of Silicon Valley, San Jose is an engine of innovation where companies like Zoom and Adobe are headquartered. Another reason millions of people live here is San Jose's proximity to San Francisco Bay Area and its central location for more elaborate West Coast trips.
Here we have laid out the 26 best road trips from San Jose. Experience the cultural variety of a new city, roam the rugged Pacific coast, or relax in a rustic town steeped in history; you will surely find a trip that speaks directly to your heart.
Read on below to make your own short list of delightful West Coast trips you can take. What else are weekends for?
26 Best Road Trips from San Jose
Day trips (under 3 hours each way)
Whether for a Friday or random fun day, these are routes you can easily cover from sunrise to sunset, but we won't blame you for wanting to stay longer!
1. Santa Cruz
50 minutes from San Jose (30 miles)
Why you should visit: Epic surf, breathtaking natural sights, and ample entertainment at the boardwalk make Santa Cruz a popular spot for summer fun.
Perched on rocky bluffs above the Pacific Ocean, it is the birthplace of mainland surfing and also has a state university which keeps the small town hip and lively.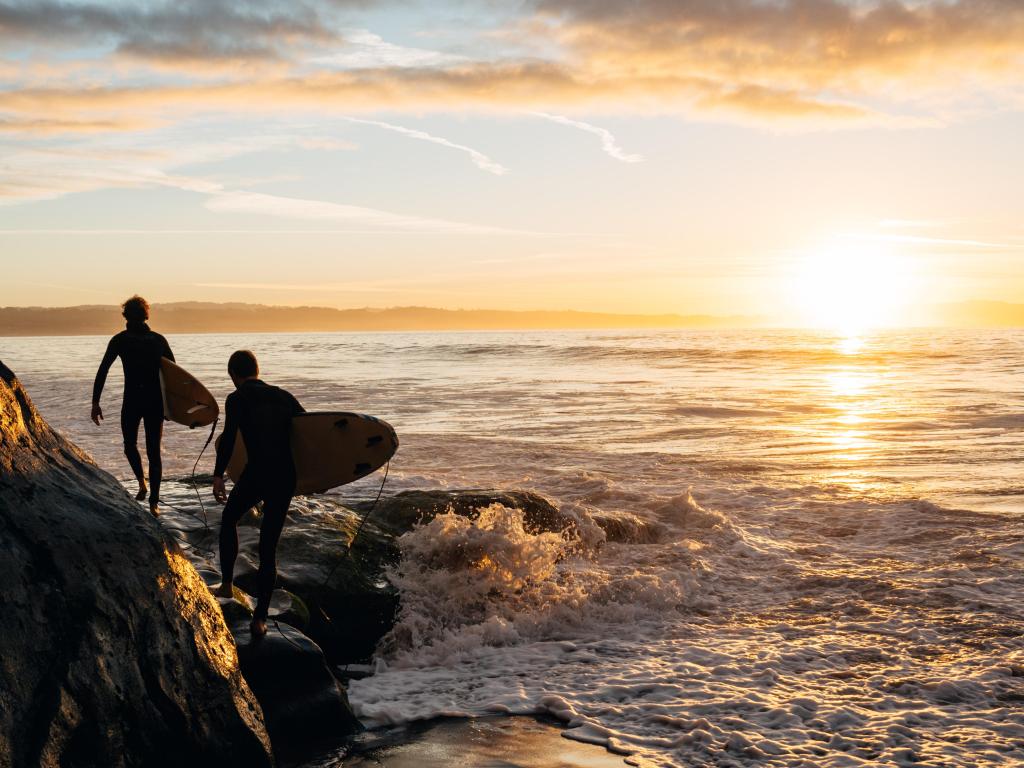 How to get there: Take Interstate 280 (I-280) west to CA-17 which will take you through the winding mountain roads to Santa Cruz. Take Mission Street downtown to get to scenic West Cliff Drive.
Our highlights: Follow West Cliff Drive along the majestic Pacific Ocean to Steamer Lane. If you are so bold, hop in the water at this iconic surf spot for some gnarly waves.
Check out the Santa Cruz Surfing Museum housed inside an old lighthouse if you prefer to stay dry. Continue along West Cliff Drive to reach downtown Santa Cruz and the Wharf.
A treat for the ages is the Boardwalk of the Santa Cruz Main Beach, California's oldest amusement park wonderfully situated by the sea. Ride the iconic Giant Dipper roller coaster, built in 1924, then indulge in funnel cake and arcade games. Maybe reverse the order on that one.
At the Natural Bridges State Beach you will be awed by the abundance and mystery of marine life and many kinds of winged migrants as well. Hike the numerous trails, peruse tide pools, and spot some monarch butterflies brightening a foggy day.
This next one is a must for any tree hugger: walk the loop trail at the Henry Cowell Redwoods State Park. If you're up for a longer hike, keep along the San Lorenzo River and past the Old Train Trestle Bridge for a scenic saunter in the woods.
There are too many great local restaurants and stores in downtown Santa Cruz, but one of the best ways to get away from it all is at Hidden Peak Teahouse. This is a truly tranquil place to unplug and sip a pu-erh. If you've never brewed this kind of cave-aged green tea before, this is the place to try it.
Bonus: Surfing, a watersport which embraces the free-flowing spirit of the ocean, was brought to the rest of North America by three Hawai'ian princes that were studying at a military college near Santa Cruz in 1885.
Over a hundred years later Santa Cruz remains synonymous with a board-based lifestyle and is deeply indebted to these outgoing brothers.
Our travel tips: Highway 17 is notoriously curvy and can have limited visibility due to fog, so drive carefully.
While you're in the redwoods, see if you can spot a banana slug, the official mascot of the local university.
Please check our comprehensive guide out to learn more about the beautiful beach of Santa Cruz to visit during your stay:
READ MORE - Our Guide to Santa Cruz Main Beach
2. Gilroy and Coyote Lake Harvey Bear Ranch County Park
55 minutes from San Jose (40 miles)
Why you should visit: Have some breath mints on hand for your trip to the Garlic Capital of the World.
In addition to many restaurants featuring this signature ingredient, including garlic ice cream, this agricultural enclave just south of San Jose has many opportunities for outdoor fun.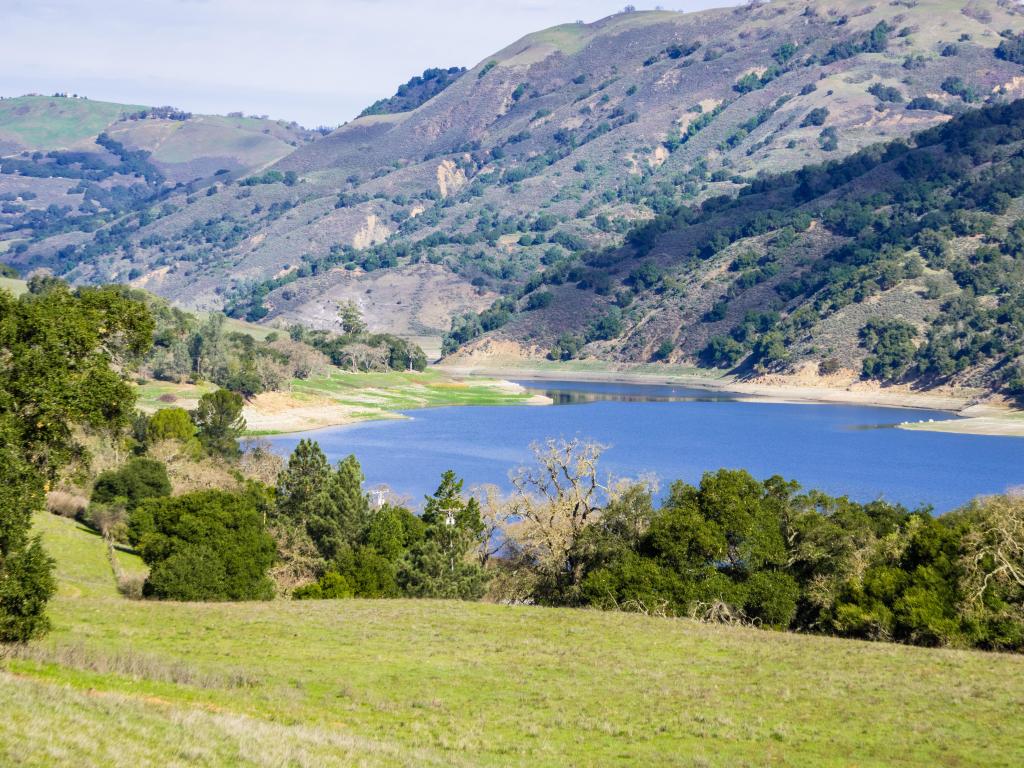 How to get there: Drive south on US Highway 101 for 33 miles to get to Gilroy, from there head out of town to the east on Gilman Road and navigate to Roop Road. This will take you to Coyote Lake Road which leads to the lake and park.
Our highlights: Gilroy Gardens is a whimsical escape for people of all ages. Even though most of the rides are geared towards children, the surrounding garden and nature preserve, which were lovingly crafted and grafted by the founding Bonfante family, are truly astounding. When looking at the central basket tree, it's hard to tell if this is six trees or one.
For an upbeat, and dare we say enlightening, California wine-tasting experience, visit Satori Cellars while you're in Gilroy. There is no dearth of rainbows and smiles at this funky and friendly winery that has left all pretension far behind.
No matter how you like to spend your time outdoors- hiking, biking, kayaking, or picnicking in the shade – Coyote Lake and the surrounding Harvey Bear Ranch is a place to do it all. Surrounded by golden hills with plenty of trails, there are also many places you can view wildlife like wild pigs here.
You can't come to the Garlic Capital of the World without getting a savory bite to eat! An old favorite is the Garlic City Café. You'll have to ask your doctor if the cholesterol-fighting power of garlic will cancel out that cheeseburger you're eating it with.
Bonus: Garlic cultivation was started in Gilroy by Japanese immigrant Kiyoshi Hirasaki in 1929, and by 1940 he was the largest garlic cultivator in the nation.
Even after the appalling internment of Japanese residents during WWII, Kiyoshi returned to Gilroy to farm and support others trying to rebuild their lives. You can still see glimpses of the long history of the Japanese community in Gilroy at the Gilroy Yamato Hot Springs.
Our travel tips: Gilroy is so proud of its pungent produce that it used to have an annual Garlic Festival in Christmas Hill Park every year since 1979 during the last full weekend in July. Unfortunately, this event has had to be reimagined due to some setbacks.
See if this entertaining event is happening in nearby country fairgrounds as you plan your visit.
3. Oakland and Alameda
56 minutes from San Jose (45 miles)
Why you should visit: Oakland is a city that still likes to think of itself as a town, hence the name "Oaktown", and promotes a vibrant and boundary-defying community-driven culture.
In addition to having one of the most agreeable microclimates in the world, Oaktown is surrounded by an atmosphere that welcomes wild spirits.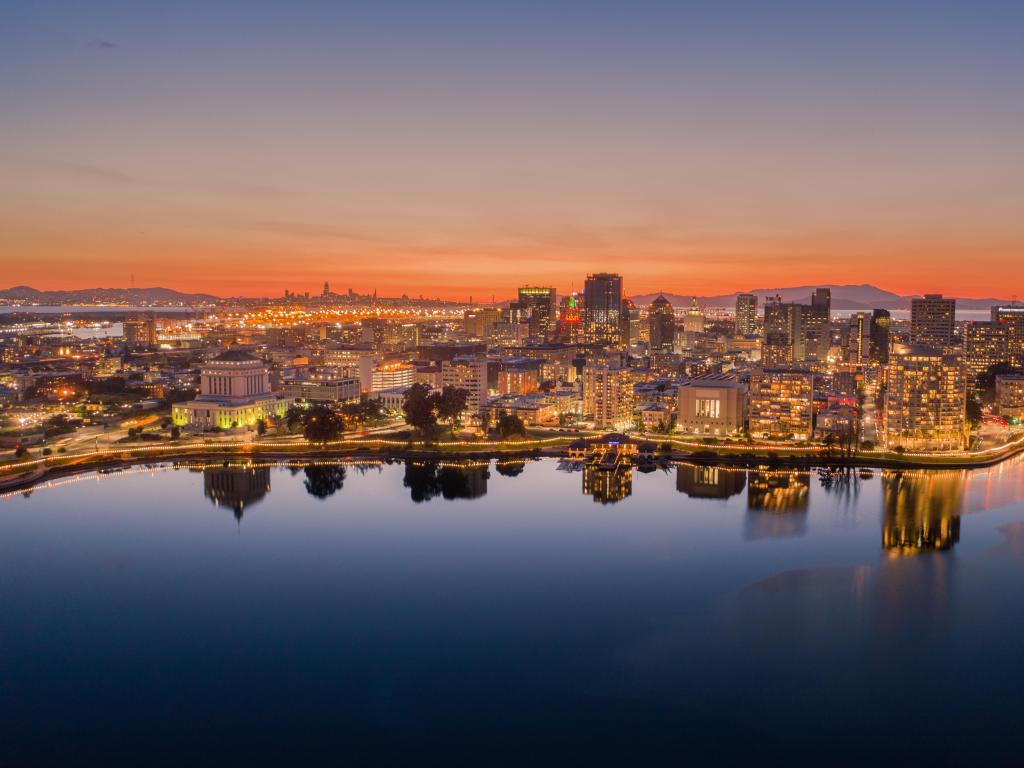 How to get there: Take Interstate 880 North to get directly from San Jose to Oakland. Use the Webster Street Tube, accessible via 7th Street in Downtown Oakland, to get from Oakland to Alameda.
Our highlights: At the heart of Oakland, just next to downtown, lies Lake Merritt, which is technically a lagoon. A beautiful walking path wraps around the 3-mile shore and takes visitors along several neighborhoods, a Bonsai garden, and several historical buildings.
A cultural phenomenon called "First Fridays" turns the northeast corner of the lake into a sprawling block party every month.
To learn about the entire history of California, from the native peoples who thrived here for thousands of years to the radical movements of the 60s and 70s, visit the Museum of California which is between Lake Merritt and Downtown Oakland.
Enjoy a surprising pocket of urban-adjacent redwoods at Joaquin Miller Park in the Oakland Hills. From here you can catch some amazing views of the geography that makes the San Francisco Bay Area so unique.
On the way to the park, stop at the Mormon Temple, one of the most interesting pieces of architecture in the area which is also open to visitors.
Spend some time walking around Jack London Square near the Bay. If you come on an evening or a Sunday afternoon, be sure to grab some sushi and listen to local and nationally renowned musical artists at Yoshi's.
On the island city of Alameda, just to the west of Oakland, people from all over the Bay Area like to enjoy the comparatively warm waters at Robert W. Crown Memorial State Beach.
From here you can also enjoy unparalleled views of the San Francisco skyline, making this area, especially popular around sunset.
Bonus: The Mai Tai was invented in Oakland and this is a town famous for partying, as proud native Tupac once proclaimed. It has continued to innovate in the sphere of cocktails as well as foster a culture of throw-back Tiki bars. Maybe plan on an Uber back to San Jose and live it up for a night in Oakland.
Our travel tips: Once again, being stuck in Bay Area traffic is something you wouldn't wish upon your worst enemy. Interstate 880 is notoriously terrible, so try to travel in the middle of the day or in the evening after commute time.
In case you want to pack a picnic lunch, head to the Rockridge neighborhood before you go to Joaquin Miller Park and splurge on a gourmet selection of finger foods you won't soon forget.
4. Berkeley
45 minutes from San Jose (50 miles)
Why you should visit: Once famed for flower power, this town is now well-known for the country's most elite public university, which keeps Berkeley a relevant intellectual hub.
A sunny day strolling the beautiful neighborhood gardens, unique stores, and amazing culinary offerings of Berkeley simply can't be beaten.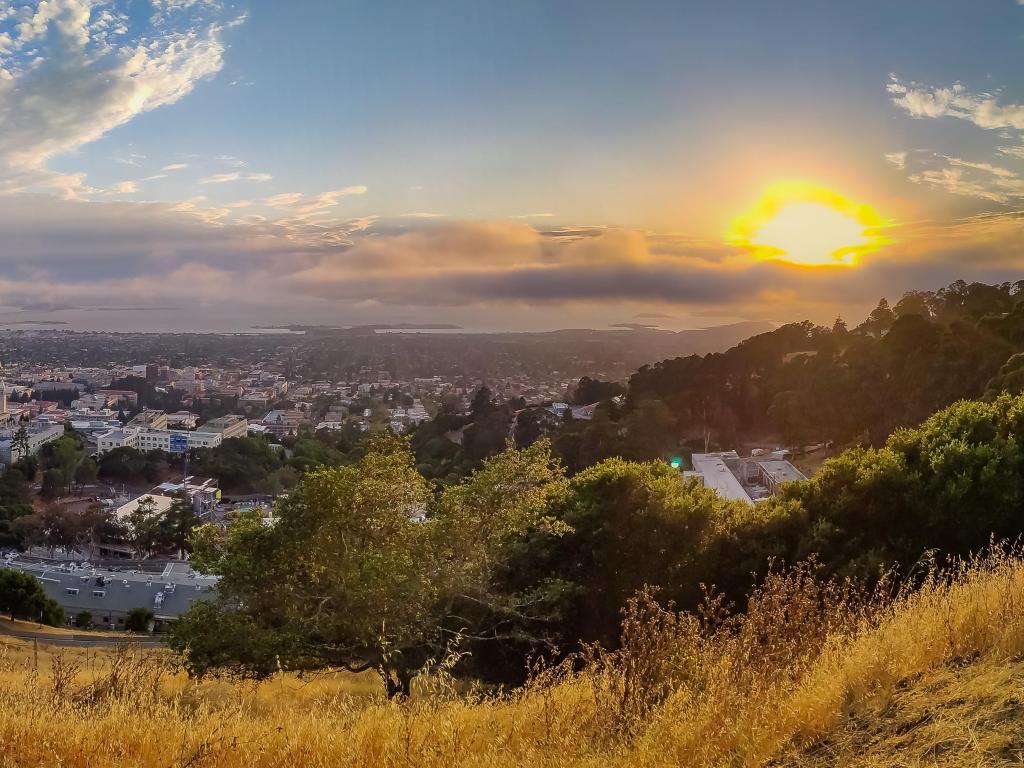 How to get there: Again, go north on 880 from San Jose, through Oakland. Change onto Interstate 24 briefly before taking an exit on to Shattuck Avenue. This road goes straight to downtown Berkeley.
Our highlights: With its ideal weather, much like Oakland's, Berkeley is a great place to enjoy the outdoors. The beloved Tilden Park is perched up in the hills and offers extensive trails and views.
Not too far away, Indian Rock Park is a collection of surprisingly large outcrops nestled in an adorable Berkeley neighborhood north of the university.
The University of California Berkeley Campus is itself a big draw, which features impressive neoclassical buildings, the nearly ivory Sather Tower, and a 34-acre botanical garden that boasts over 10,000 different species of plants. The Campus is adjacent to the downtown area making it easily walkable.
Once famous in the times of hippies and revolutionaries, Telegraph Avenue is now buzzing with students grabbing a quick bite to eat. Aficionados of vintage music can peruse the selection of vinyl at Amoeba Music and Rasputin Music while the literary types can head to Moe's Books for an excellent selection of new and used reads.
It would take multiple trips to really enjoy the broad range of culinary offerings Berkeley has to offer. The Butcher's Son has exemplary vegan sandwiches, and for a Michelin Star experience, dine at Chez Panisse where the Farm-to-Table movement was born.
Bonus: Berkeley is a great place to boogie down to folk and global beats. It has two of the oldest venues in the area that also function as nonprofits preserving rare musical traditions: Ashkenaz and The Freight and Salvage.
Our travel tips: There are also ample cultural programs and community events in Berkeley, fostered in part by the presence of the University. Consult a local events calendar before you go to try and make your trip even more memorable.
Traffic is especially bad here as there are no highways close to downtown, making the service streets congested.
5. San Francisco and Golden Gate National Recreation Area
1 hour 15 minutes from San Jose (60 miles)
Why you should visit: When dozens of songs have been written about a city, you know it has to be special. Come and see for yourself how San Francisco can steal hearts.
Affectionately known as SF, or simply "The City", this a truly unique American city with world-famous tourist sights and hole in the wall treasures to boot.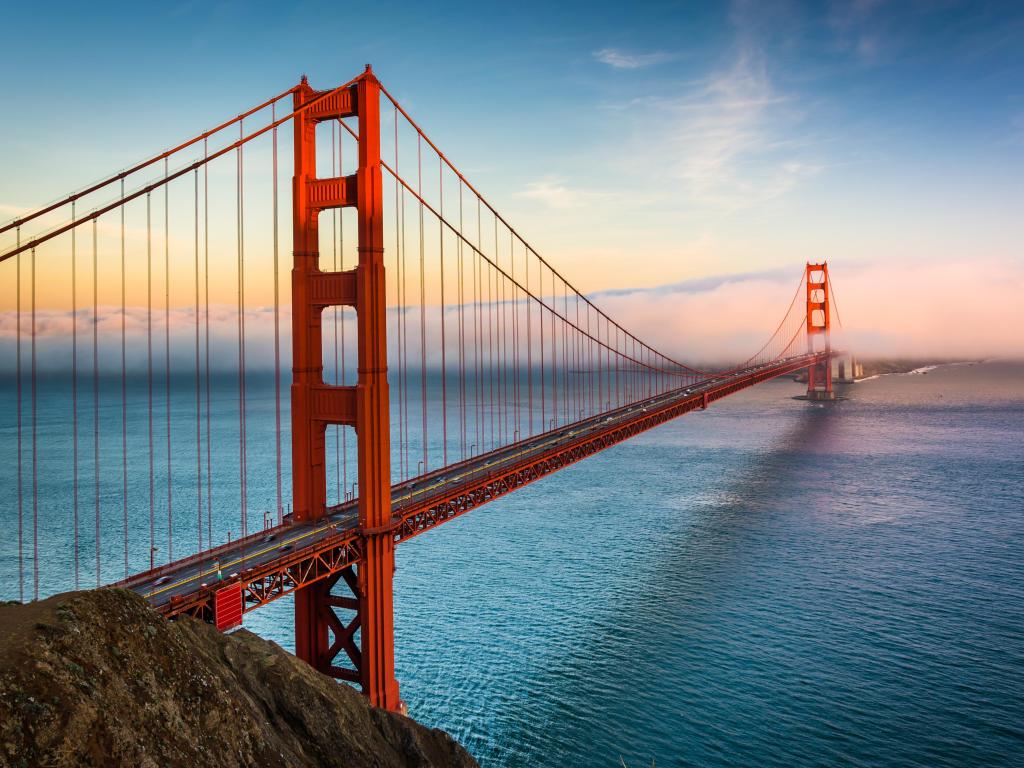 How to get there: Take US Highway 101 North all the way from San Jose to San Francisco. This highway winds through the city and continues over the Golden Gate Bridge to the Marin Headlands.
Our highlights: Visit the Ferry building market, then walk along the Embarcadero. In addition to the popular pier 39 and Fisherman's wharf, here you can take boats to Alcatraz, discover something new at the Exploratorium, or simply enjoy the views of the bay as you sip a coffee or cocktail.
The Mission District is the epicenter of Latin American culture in San Francisco that has recently been infused with a hipster vibe. After admiring the colorful murals along Balmy Alley, grab a burrito or a pupusa and simply take in the neighborhood at Mission Dolores Park. Something is always happening in the Mission.
There are actually too many things to do in and near Golden Gate Park. On one side, you have the historic Haight-Ashbury area that is still scented like Jerry Garcia and on the other side you have Ocean Beach and an iconic windmill.
In between you'll find the award-winning DeYoung Museum, California Academy of Sciences, and Japanese Tea Gardens interspersed with mature groves and exotic flowers.
A wonderful hidden gem that shows you the heart of the City as you've seen it in film and TV are the Lyon Street stairs in the classic Pacific Heights neighborhood, one of the few whose building survived the 1906 earthquake.
Drive across the quintessentially Californian Golden Gate Bridge to the Marin Headlands and the Golden Gate National Recreation Area for a day of rugged exploration surprisingly close to the city. With dramatic cliffs, redwood groves, and unbeatable views of the Golden Gate bridge, coming all the way to SF without seeing it from this flattering angle would be a shame.
Bonus: A world within a world, San Francisco's Chinatown is the oldest in North America and one of the largest. With bustling markets, rare veggies and herbs, frequent cultural programs, and unbeatable Chinese food, you wouldn't want to miss a stop by here as well on your trip.
Our travel tips: Once you get to SF, consider ditching your car in a secure parking garage. In addition to the famed cable cars- the Powell-Hyde route is great- there are also tons of scenic bus routes operated by MUNI.
Try Route 1 along California Street, Line 39 to Coit Tower, or line 18 along 46th Avenue. Bring or buy a Clipper Card for easy access and slightly reduced fares.
San Francisco has many great festivals and citywide events, like the funky Bay to Breakers anything-goes "race" to the ocean and the Hardly Strictly Bluegrass Festival in Golden Gate Park. Check the local calendar before you go.
Do not attempt this drive during the morning or evening commute times, unless you're in love with an audiobook of epic poetry. Weekends or weekdays midday are your best bets for avoiding traffic, but there are no guarantees.
6. Tiburon and Angel Island
1 hour 22 minutes from San Jose (70 miles)
Why you should visit: This sparsely developed peninsula jetting into the San Francisco Bay is enveloped in coastal beauty and charm. In addition to the wonderful views of San Francisco and the surrounding area, this town has a historical trail along the water, a small marina, and ferry port.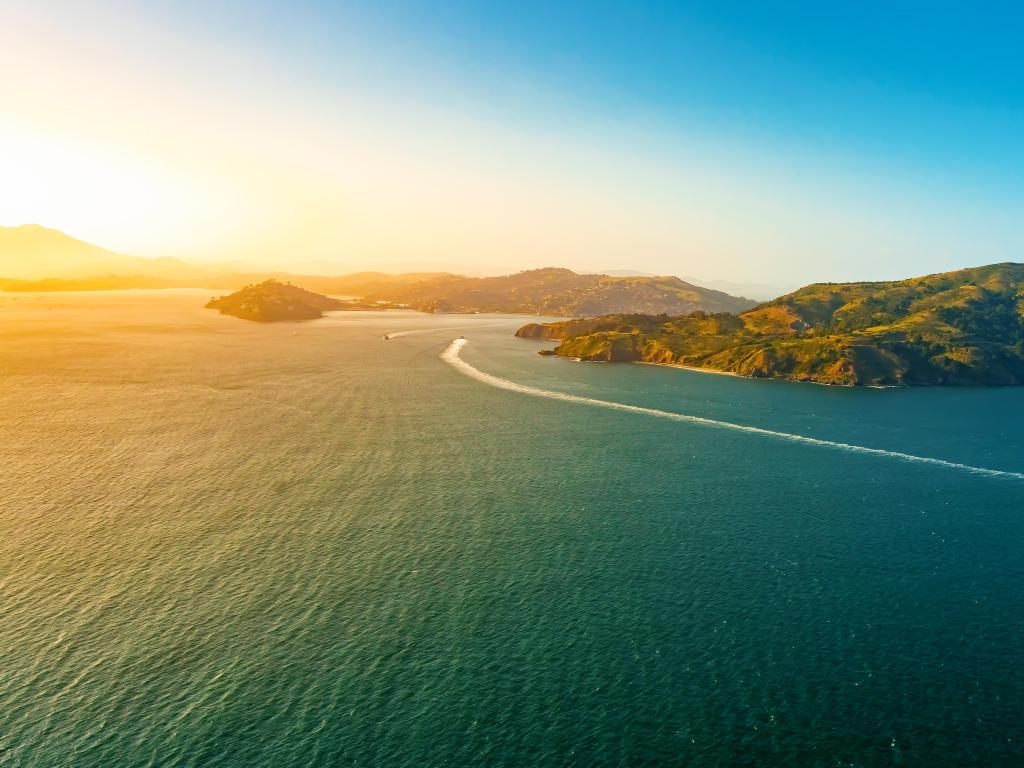 How to get there: Head north on Interstate 880 then change onto Interstate 580 in Oakland and cross the San Rafael Bridge to get to US Highway 101 South. Follow this to Strawberry, CA and take CA Highway 131 East to Tiburon.
Our highlights: For coastal hiking and prime bird watching in Tiburon, visit the Richardson Bay Audubon Center. Here you can also see the beautiful Victorian Lyford House, built in 1876 by a doctor who couldn't get enough of the breathtaking coastal views from Tiburon.
Take a ferry from the tip of Tiburon to Angel Island. Not only will you get some magnificent views of the San Francisco Bay Area and Golden Gate Bridge on the 12-minute passage, but there's adventure awaiting you along the trails of Angel Island State Park once you arrive.
Angel Island has been a military outpost since the Civil War. On the west side of the island you can still visit what remains of the 160-year-old Camp Reynolds, which was once used to train thousands of army recruits. There's a small museum as well as a picnic area in this part of the island.
In the late 19th century Angel Island was used to quarantine people coming to the US for the first time during an outbreak of the bubonic plague. You can still see the remains of the Quarantine station, part of which has been preserved as the park's Visitor's Center.
Bonus: Blackie's Pasture is a bayside park in Tiburon that was named for a horse who stood more or less in the same spot in this pasture for 28 years before he died in 1966. He is buried in the park and a statue, staring into the same distance, now memorializes this beloved equine resident.
7. Monterey and Carmel-by-the-Sea
1 hour 30 minutes from San Jose (70 miles)
Why you should visit: Monterey seems to be made for a weekend getaway, with sweeping ocean views, lively bars and restaurants, and places of historical interest.
The charm only grows as you head south along the coast to Carmel-by-the-Sea where a first-class meal paired with a stellar wine is waiting for you.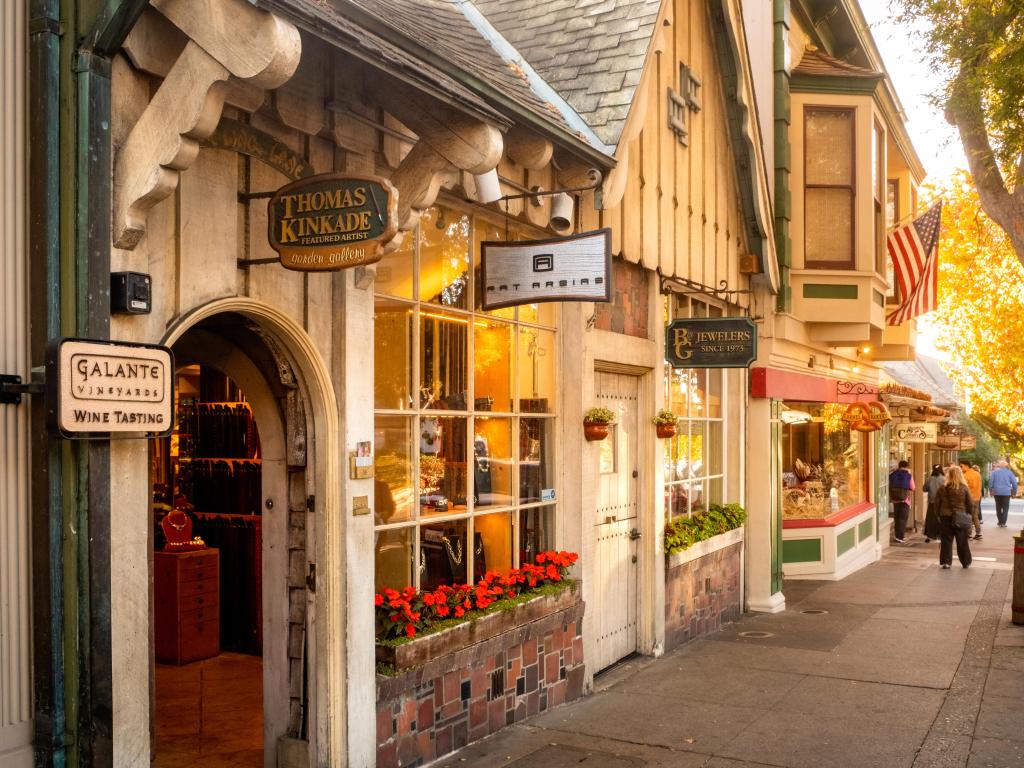 How to get there: From San Jose, head south on US Highway 101 then take CA Highway 159 west, just before Prunedale, to connect with CA Highway 1 on the coast to arrive at Monterrey. From Monterey, follow the 17 Mile Road from Pacific Grove to Carmel.
Our highlights: It's hard to imagine a trip to Monterrey without stopping by the world-class Monterey Bay Aquarium, which is also a marine life research institute that shares its discoveries with curious visitors.
At least go to watch sea otters play in the water and hold hands while floating in the kelp, life has few cuter treats than this. Afterwards you can venture further out and explore Monterey State Beach.
Cannery Row is the redeveloped industrial area, which was renamed after John Steinbeck wrote about it, that first put Monterey on the Californian road tripper's bucket list. Hugging Monterey Bay, Cannery Row features many plazas, souvenir shops, and restaurants with fantastic views.
For a seaside walk to sooth the soul, head to the Monterey Peninsula Recreational Trail. Winding with the coast and past thousands of tide pools to the equally stunning Asilomar State Beach in Pacific Grove, this is a great trail for spotting some marine life and birds in the wild.
One of the most famous stretches of road in the whole state, 17 Mile Drive meanders between Pacific Grove and Carmel-by-the-Sea, passing Pebble Beach and its famous golf courses along the way.
This road was first developed for horses through the unique coastal woodland in the late 19th century and has been a popular tourist destination ever since.
Carmel-by-the-Sea is one of the most picturesque Californian coastal towns and is easily walkable due to its small size. See the charming architecture and boutique stores downtown along Ocean Avenue, then continue your leisurely stroll along Carmel Beach and admire the cypress trees warped by the wind.
Bonus: Monterey was first founded by the Spanish in 1770, the same time they built the Mission at Carmel. You can still see the oldest public building in California in Monterey, the Custom House which was built when the area was part of Mexico in 1827.
Our travel tips: The best time to view the migrating monarch butterflies in Pacific Grove is between mid-October to early march.
If might be a surprise to those from out of state, but the summer months of July and August are the foggiest months of the year when this area's stunning views are all covered up. Many consider fall the best time to visit, with temperate weather and clear skies.
The Monterey Jazz Festival also happens during the fall, which is a major draw for the area.
8. Muir Woods National Monument and Mill Valley
1 hour 30 minutes from San Jose (70 miles)
Why you should visit: In our opinion, this is where Northern California really begins as the coastal fog nourishes an emerald landscape around an enchanting, and proudly weird, town.
Some even claim that Mill Valley is among the best small towns in America, with its fine selection of gastropubs and idyllic surroundings, including the incomparable Muir Woods National Monument.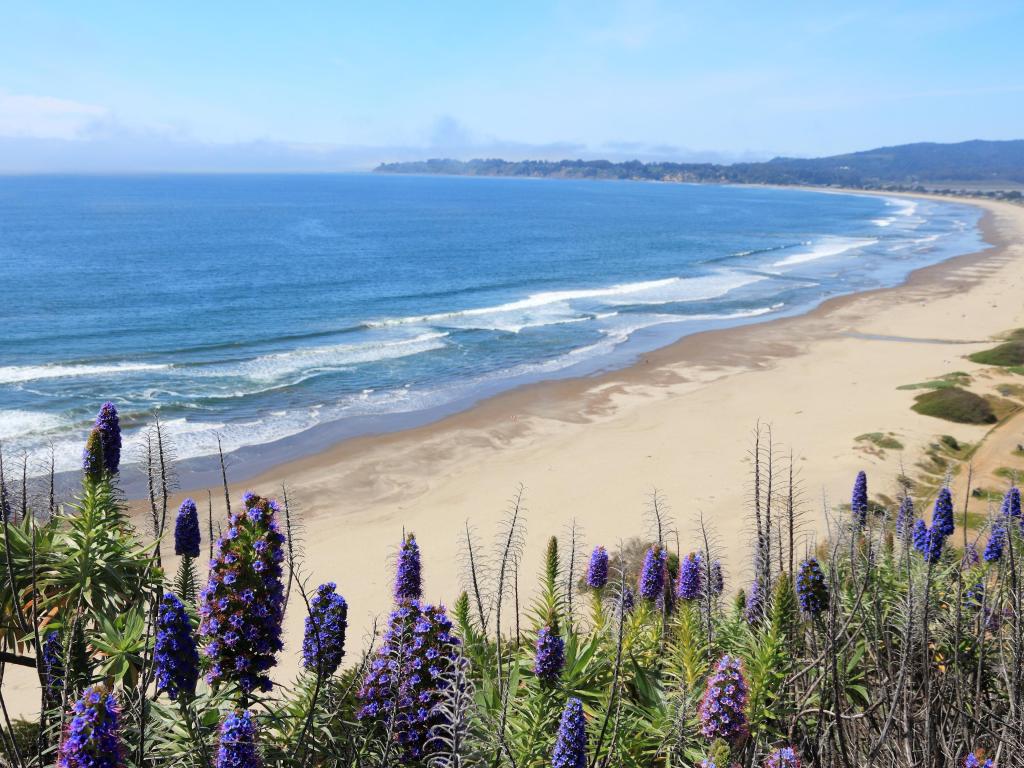 How to get there: Once again head north on Interstate 880 then change onto Interstate 580 in Oakland and take the San Rafael Bridge to US Highway 101 South. Stay on this until the East Blithedale exit to Mill Valley. From there, take Sequoia Valley Road to Mui Woods National Monument.
Our highlights: There are not enough words to do Muir Woods justice. This magical grove of Redwoods is so popular that on the weekends it is flooded with buses of tourists as part of their visit to San Francisco. If you can, try to visit these tranquil trees on a weekday and make the scenic hike all the way to Muir Beach.
Stinson Beach is an adorable seaside community accessible from Mill Valley via the Panoramic Highway. Here you can grab a seaside bite, lounge on the sand, surf, or kayak. Nearby Bolinas Lagoon is also a favorite kayaking spot.
Affectionately known as "Mount Tam" the lone peak of Mt. Tamalpais State Park can be seen from San Francisco and the East Bay. This is the mountain that birthed mountain biking and there are trails that lead to waterfalls as well as spectacular views on both sides of the mountain.
Back in Mill Valley, you can enjoy an evening at the Sweetwater Music Hall, the reimagined version of the historic Sweetwater Saloon where the likes of Bonnie Raitt, Elvis Costello, and Carlos Santana once jammed. Book a reservation for dinner and enjoy a live performance in an intimate setting.
Bonus: Even though Mill Valley was long established as a hippie hide-out, it was also a strategic missile site in the Cold War. You can visit the restored Nike Missile Site SF88 and take a guided tour on the first Saturday of the month from 12:30-3:30 p.m. to learn more about this chilling history.
Our travel tips: Muir Woods is so popular that parking reservations are required year-round. Go to the park's website for more details. There are also shuttles that leave from Larkspur Landing available on the weekends.
If you are a cinephile, try to visit during the Mill Valley Film Festival in the fall, which brings filmmakers from dozens of countries to this little town.
9. Pacifica, Half Moon Bay and Pescadero
2 hours 10 minutes from San Jose (80 miles)
Why you should visit: This is one of the nearest and most beloved coastal regions for a weekend getaway from the Bay. With the unique coastal chaparral, state parks, redwood trees, and great beaches to explore and even surf, prepare to be charmed by the subtle beauty of these Oceanside communities.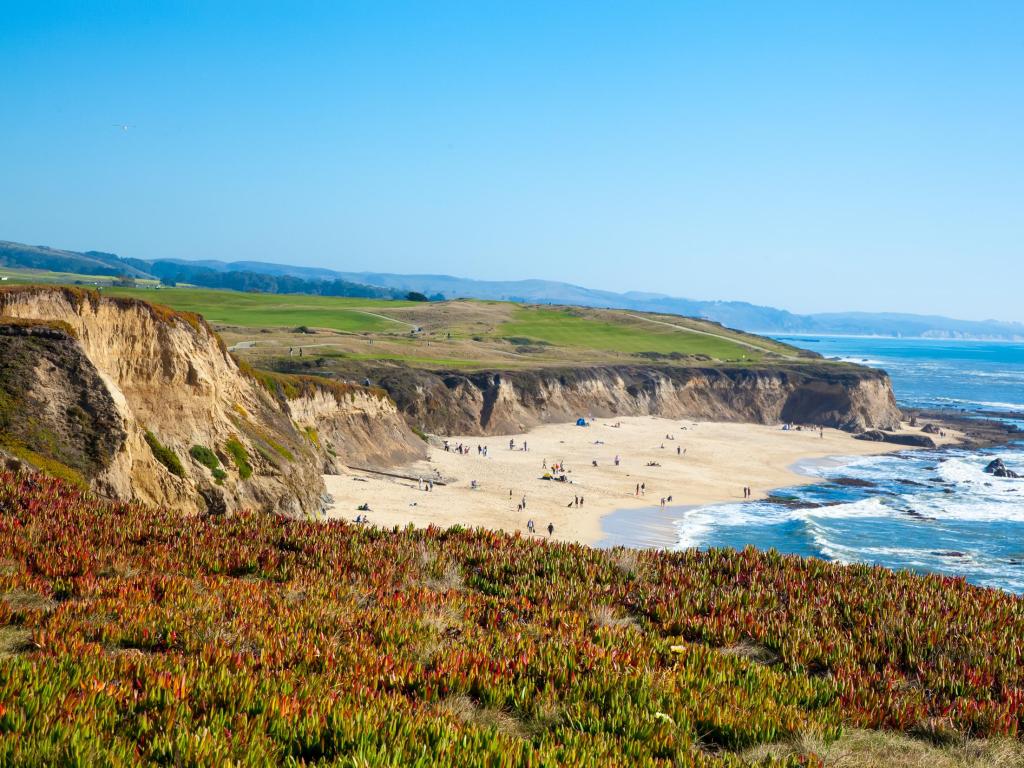 How to get there: From San Jose, drive north on Interstate 280 until CA Highway 84 in Sharon Heights. This winding road will take you to Pescadero on the coast, where you can take the ever-gorgeous CA Highway 1 to Half Moon Bay and Pacifica.
Our highlights: Once you get to the coast at Pescadero, you can walk among the marshlands, see one of America's tallest lighthouses at Pigeon point, or look out for elephant seals at Año Nuevo State Park.
Inland, just past the petit unincorporated farming town of Pescadero, you'll find Butano State Park, a hidden gem and a less crowded place to camp in the redwoods.
Further up the coast in Half Moon Bay, lay out a blanket and chill on the State Beach or even test the frigid waters if you dare. At Pillar Point Harbor you can go fishing on the cute pier and work on your tale about the one that got away.
Along Highway 92, just a few miles inland from Half Moon Bay, you'll find many specialty nurseries. With succulents, orchids, and California native species, there are lots of nurseries to choose from, but the most whimsical is Pastorino Nursery, which transforms into a rustic and spooky pumpkin patch every October.
The final coastal enclave on this trip is Pacifica, a local surfing spot and laid-back community. In addition to the beach itself and nearby hiking on the cliffs, a great way to enjoy the views while filling your belly is Puerto 27. This Peruvian restaurant benefits from being just across Highway 1 with unobstructed ocean views from its long patio.
Bonus: Half Moon Bay is known internationally as the home of the Mavericks big-wave surfing competition where some of the most intrepid surfers in the world ride 30-60 foot high waves. The completion takes place in early October and there's plenty of food and music to enjoy along with the surfing spectacle.
Our travel tips: Both Highway 82 and Highway 92 which connect San Mateo and Half Moon Bay are narrow and get incredibly congested on the weekends. Either leave very early on a Saturday or try to do this trip on a weekday.
10. Pinnacles National Park
1 hour 30 minutes from San Jose (80 miles)
Why you should visit: Pinnacles is a relatively small and new national park, but once you come here, you'll see why it's on many people's outdoor adventure bucket lists.
The characteristic "pinnacle" rock formations are the eroded remains of a volcanic eruption that happened over 20 million years ago. Between them are numerous caves and canyons that are irresistible to the explorer at heart.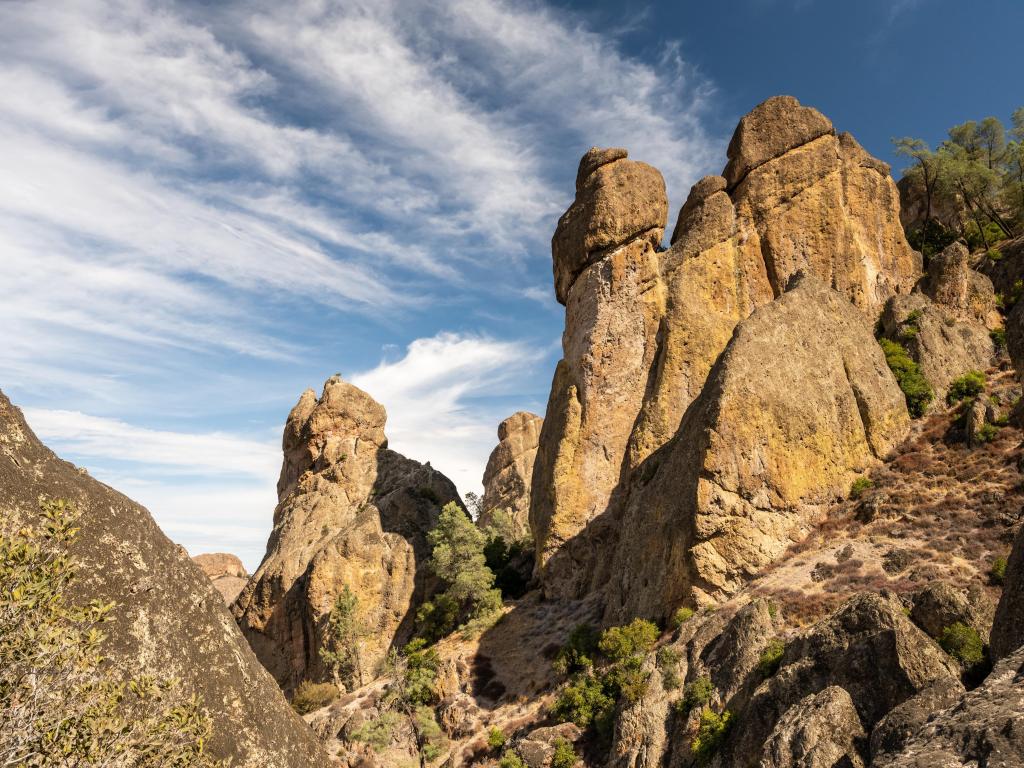 How to get there: From San Jose, go south on US Highway 101, then change over to CA Highway 25 South just past Gilroy. After about 28 miles, look out for CA Highway 146 West, which will take you less than a mile to the park's entrance.
Our highlights: A popular and rewarding hike, the 2.5-mile walk up to the Bear Gulch Reservoir will prove as exciting as it is accessible. There's just something special about seeing this still body of water, created in the arid area during the Great Depression, reflecting the characteristic outcrops.
On your way to the reservoir, look for the Bear Gulch caves, one of the most breathtaking natural wonders of the park. These chasms opened due to seismic activity and giant boulders were deposited above, giving the area a mysterious, gravity-defying feeling.
One of the perks of Pinnacles is the high likelihood you'll see one of its many furry, feathered, and scaly inhabitants when you're here. With jackrabbits, bobcats, black-tailed deer, and dozens of lizard and snake species, you'll come away from your visit with a new appreciation of California's biodiversity.
For a hike with a sweeping view of the natural spires that define Pinnacles, take the Condor Gulch Trail to the lookout. If you're really up for a challenge, continue on to the High Peaks Trail.
Bonus: There are over 160 bird species that have been documented in the park. Some of the most striking ones the lucky visitor may spot are peregrine falcons, golden eagles, and the feathered comeback king, the California condor.
Our travel tips: The best time to experience the haunting beauty of the Pinnacles is the spring or fall, to avoid the extreme summer heart. No matter when you go, be sure to bring more water than you think you'll need.
The route we've outlined takes you to the park via the east entrance and past the park's only maintained campground.
This park is so crowded that on the weekends and holidays it can be difficult to find a parking spot. So visit during the week if you can.
11. Napa Valley
2 hours from San Jose (90 miles)
Why you should visit: Napa sits in a relatively narrow valley, with a patchwork of vineyards and oak-studded hills on either side.
This trip pairs the sophistication of fine wine and Michelin Star dining with rugged outdoors that anyone can enjoy.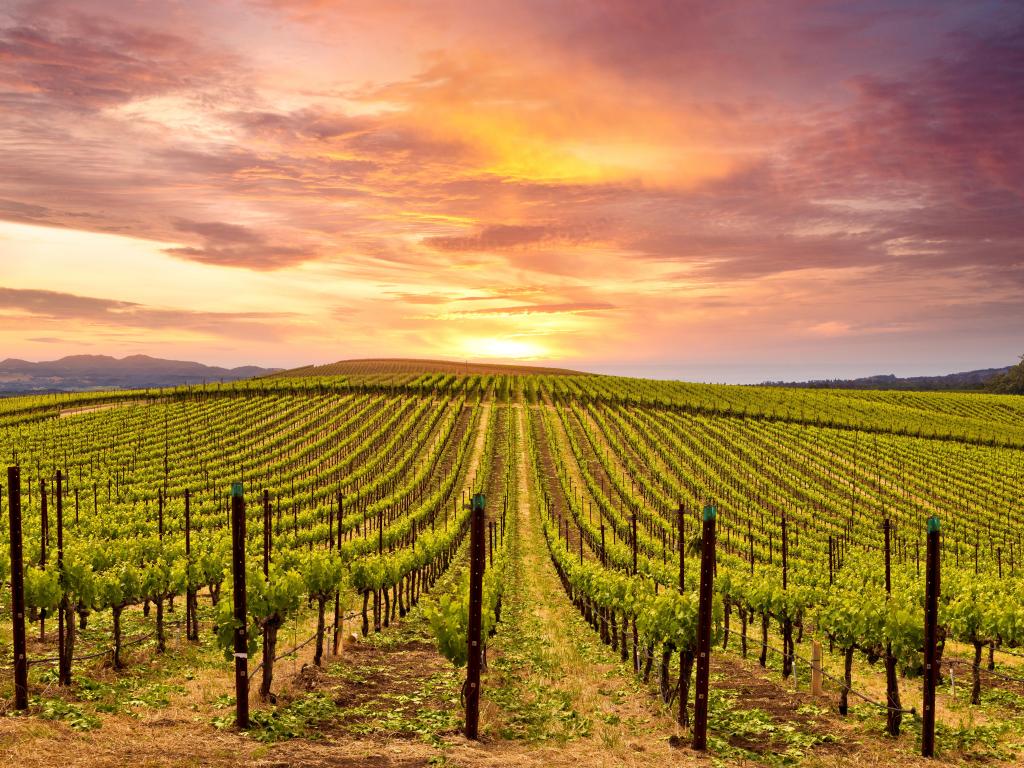 How to get there: Start driving north from San Jose on Interstate 680 and cross the Benicia Bridge. On the other side veer onto Interstate 780 towards Vallejo, then hop onto Interstate 80 until the CA Highway 28 junction, which will take you to CA Highways 12 and 29 north into Napa.
Our highlights: All across Napa Valley style and sophistication are in no shot order. To visit a winery that really is as good as it seems, try Pine Ridge Vineyards, especially if you have a soft spot for Cabernet. To take in the glorious scenery of Napa Valley and feel a bit like you're in Tuscany, head to Domaine Carneros.
In case the traffic on the way up put you off driving for few days, hop aboard the Napa Valley Wine Train to tour the 30 mile long Napa Valley in a wonderfully restored classic train. Onboard you can delight in some deliciously prepared gourmet pairings.
The town of Napa is sometimes overlooked for smaller and more rustic spots further up in the valley. In order to keep more people interested in the main town, they have done a fabulous job developing the riverfront to make it into a relaxing promenade.
If you'd like to shop for Napa Valley's finest and freshest produce to take home for pairing with those bottles you picked up, head to the Oxbow Public Market.
For an evening of free-flowing music as the glasses fill and empty, head to Blue Note Napa, a jazz club housed on the ground floor of the Napa Valley Opera House downtown. During the summer they also hold an outdoor concert series.
Bonus: A few miles north of Napa, you can find Calistoga, a west coast take on the famous east coast spa town Saratoga. Natural hot springs here provide the water for several upscale spas; prepare to pamper yourself.
Our travel tips: For the epicenter of Northern California's gourmet and Michelin star scene, head to Yountville where the French Laundry and other fine dining outfits await.
While people don't usually come to Napa only for its hiking, it is surrounded by state and regional parks with pretty trails, like Timberhill Park and the 2.5-mile trail to the Lake Marie Trail Dam.
12. Sonoma and Jack London State Historic Park
2 hours from San Jose (100 miles)
Why you should visit: Set among gentle golden hills, Sonoma birthed the beginning of Californian Wine County as we know it and is a relaxing place to explore.
Home to some of the best Zinfandels and zesty Chardonnays in the state, Sonoma also pours with less pretention than some of the neighboring areas.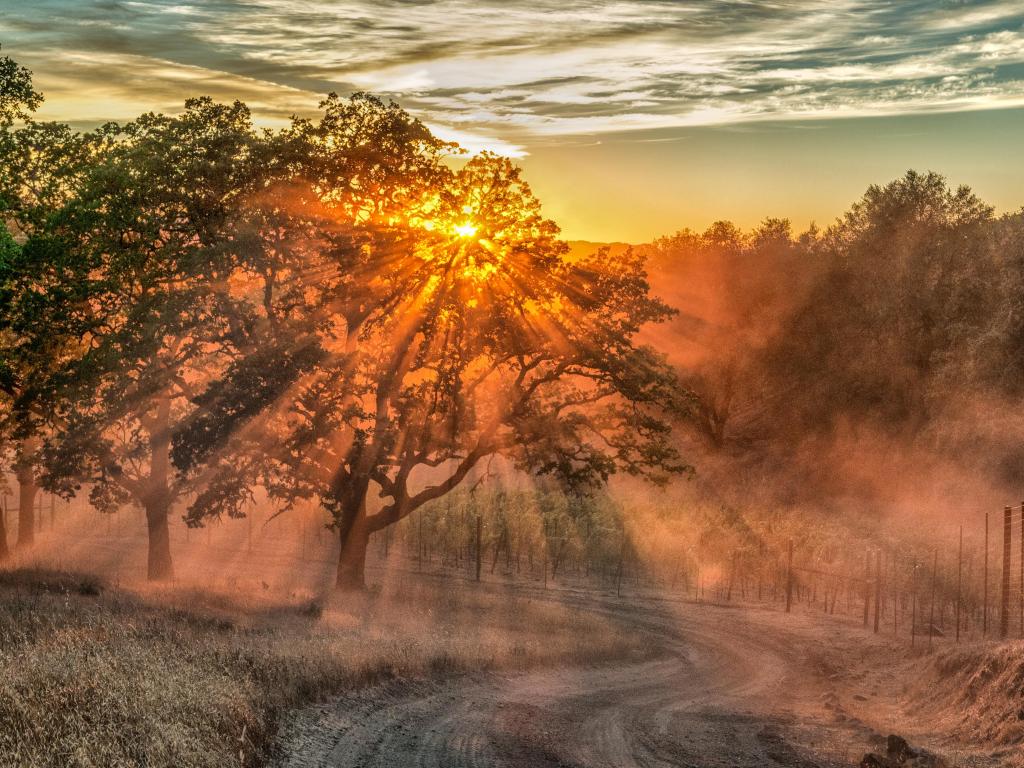 How to get there: From San Jose, take Interstate 680 North until you come to CA Highway 12 in Cordelia. Hop on that road and head northwest for 20 miles to Sonoma. To continue on to Jack London State Historic Park, take Arnold Drive to London Ranch Road, which leads to the park's entrance.
Our highlights: From the Mission-inspired styles of Scribe and St. Francis Winery to the stone mansion and cellars of Buena Vista, there is a wide selection of styles and ambiance among Sonoma's wineries. If you're worried about driving, renting a bike and cycling the valley between vineyards is a popular way to get around.
Spend some time soaking up the historic Sonoma Plaza, originally laid out in 1835 by Spanish settlers. Mature trees surround the gorgeous city hall building and the whole area is surrounded by other historic sites like the Mission San Francisco Solano as well as some great restaurants.
On the topic of food, once again, Sonoma has got some good eats that are equal parts fresh, sustainable, and delicious. A favorite farm-to-table restaurant right downtown is FolkTable Restaurant, which is also woman-owned. For Sonoma's take on soul food, make a b-line for Lou's Luncheonette.
Just north of Sonoma, you will find Jack London State Historic Park, the former home and ranch of one of California's most famous authors. Beyond historic stone buildings like the House of Happy Walls, there are 20 miles of trails that you can traverse on foot, bike, or even horseback and take in the inspiring landscape.
Bonus: Sonoma can proudly claim to be the originator of the California wine Industry. It is home to Gundlach Bundschu, founded in 1858, which has been family owned and operated ever since.
Our travel tips: Being so close to the congested SF Bay Area, Sonoma also tends to be busy on the weekends, so if you have the flexibility in your schedule, try to come up to Sonoma during the week.
13. Big Sur and Pfeiffer Big Sur State Park
2 hours from San Jose (100 miles)
Why you should visit: Big Sur is the uncontested star of the Central Californian coast and a rite of passage for any true-blue Californian road tripper.
Majestic mountains and cliffs plunge dramatically into the Pacific Ocean for miles, creating ample opportunities for hiking, biking, or simply watching spectacular sunsets arm in arm.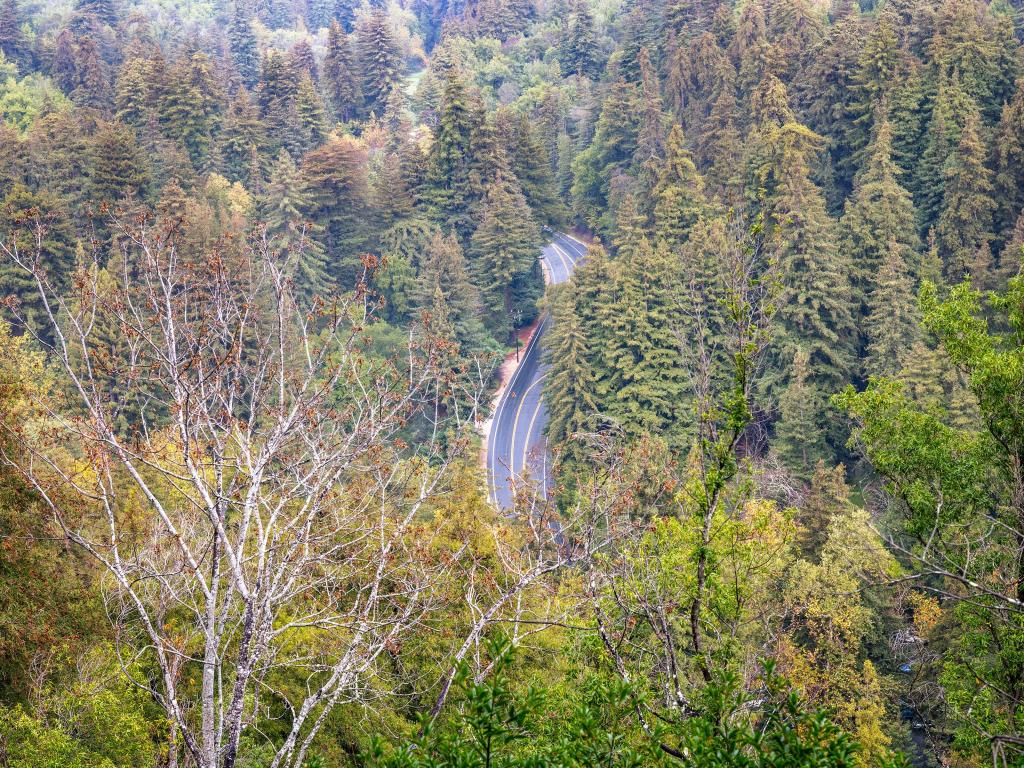 How to get there: Start out on US Highway 101 South, taking that for 49 miles to Prunedale, where you'll switch to CA Highway 1 South. Drive through Monterey and Carmel along the coast to Big Sur.
Our highlights: Sometimes Big Sur has an almost tropical feel and nowhere is that more present than in its many coves. At McWay Cove Beach on a sunny spring day, the sweeping waterfall and palm trees hint that you could be in Hawai'i.
Big Sur is a dual-feature area, where you could opt for a beach day, mountain hike, or both! One of the favorite beach areas is Pfeiffer Beach with its highly photogenic purple-hued sand and keyhole rock.
Especially as the sun sets, the fading golden light makes for breathtaking scenery. The San Carpoforo Creek Trail is another great place to walk by the beach and admire the unique coastal flora.
On the other side of CA Highway ,1 the mountains beckon you to explore. The rugged Silver Peak Wilderness is accessible via Salmon Creek Trail, but there's also an easily accessible 120-foot waterfall on the way.
An engineering marvel that has made driving to Big Sur possible since 1932, the Bixby Bridge is so photogenic it is often made a sort of symbol for the park that is otherwise dominated by outstanding natural beauty.
Since it's hard to see the bridge as you drive over it, pull over at the parking lot north of the bridge to admire it safely and snap your own iconic Big Sur pic.
After so much adventuring over surf and turf, you've probably built up an appetite. In keeping with the general excellence of the area, there are ample places to enjoy California-fresh dining with dazzling views.
Nepenthe is a long-established artsy getaway perched over the ocean. If you really want to splurge, try Sierra Mar with its glass walls providing every seat with a view.
Bonus: The curves along Highway 1 deserve the best playlist. This area even provided the inspiration for the Beach Boy's 1973 single "California Saga: California."
Our travel tips: The winters are the wettest season and the summers the foggiest. As with most stops in central California, this trip is best enjoyed during the spring or fall.
14. Sacramento
1 hour 50 minutes from San Jose (120 miles)
Why you should visit: At the heart of the Sacramento Valley, between the towering Sierras and the ever trendy Bay Area, Sacramento blends history, scenery, and farm-fresh eats.
If being the capital of the Golden State isn't enough, you'll be surprised by the number of green spaces, cultural activities, and pride that residents take in being from "SacTown."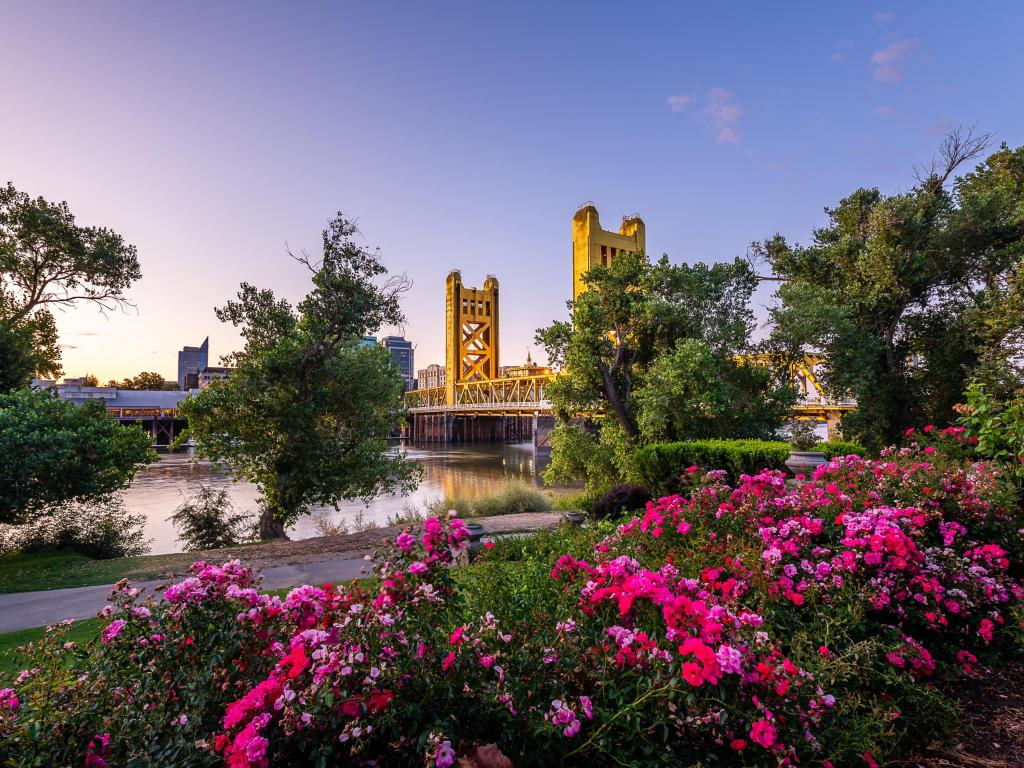 How to get there: Take Interstate 680 North and continue as it merges into Interstate 80 (I-80) East in Cordelia. Stay on I-80 for about 50 miles until you get to Sacramento.
Our highlights: Once you get to Sacramento, walk along the old wooden sidewalks past Old West facades at the Old Sacramento State Historic Park. This area includes a mix of preserved buildings and recreations, but with many cute shops, cafes, and museums, it is worthwhile to stop by admire the Sacramento of yesteryear.
California has so many famous and influential cities that even natives forget that Sacramento is the Capital. At the California State Capitol Museum, housed inside the impressive 19th-century building, you can marvel at the elegant rotunda and learn more about the legislative history of this progressive state.
Whether you're bringing your own cycle, renting one, of simply going on foot, the American River Bicycle Trail is the best way to experience the grandeur of the American River and the varied landscapes by its side, from the urban downtown to surrounding forests and grasslands.
There was once a time when transportation in America wasn't so dominated by cars. The California State Railroad Museum tells the story of the transformative effect railways had on the economy and connectivity of one of the country's largest states with an impressive collection of antique engines.
While you're here, why not try some of the area's flavorful and authentic Mexican cuisine? El Novillero, Zocalo, and Tres Hermanas are stand-out restaurants and Chando's Tacos has a few spots to grab these tasty treats on the go.
Bonus: Sacramento was hit by a devastating flood in 1862, so the oldest remains of the city are actually underground. You can tour the tunnels and passageways that reveal parts of the old city 9 feet underground at the Sacramento History Museum.
Our travel tips: There are some great festivals in Sacramento, like the City of Trees alternative music fest and the Farm-to-Fork Festival. In case you're so inclined, Sacramento also has a bacon festival every spring around May.
15. Bodega Bay
2 hours 20 minutes from San Jose (120 miles)
Why you should visit: Originally a small fishing enclave, Bodega Bay gained notoriety for its many beautiful and historic buildings nestled in a hilly coastal landscape.
You could ask for a little more on a relaxing weekend getaway where you can hike, kayak, or sit back with a good book and a great glass of wine while admiring the ocean views.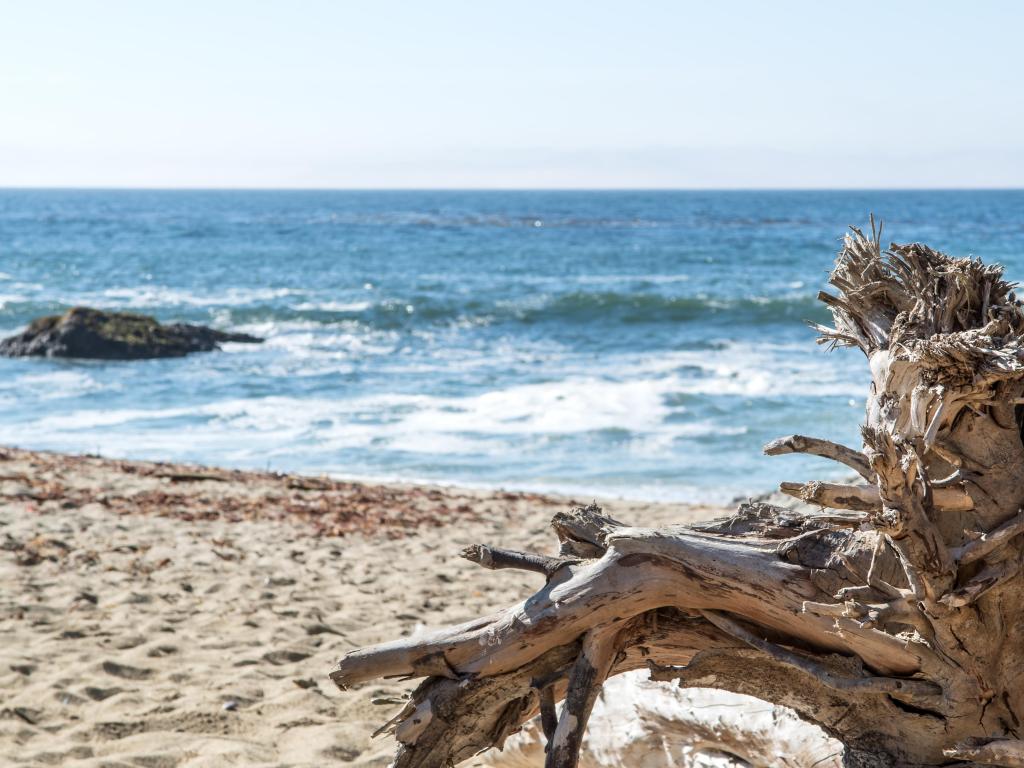 How to get there: Start on Interstate 880 heading north then change over to interstate 580 in Oakland and go over the San Rafael Bridge.
From there, take US Highway 101 North to Petaluma, then navigate to Valley Ford Road which will connect you with CA Highway 1 that goes to Bodega Bay and the Coast. Further up the Coastal Highway you'll reach Sonoma Coast State Park.
Our highlights: To stretch your legs after so much driving and admire the cliffy landscape over the ocean, head to one of Bodega Bay's many regional parks and trails.
The Bodega Head is a small and rocky peninsula that has one of the area's most beloved scenic trails, where you can meander through ice plants down to sandy beaches nestled between the rocks.
If you love seafood, then this will also be an exciting culinary trip. The fish doesn't get any fresher than this and two longtime favorites are the Spud Point Crab Company and Fishetarian Fish Market.
Being protected from stronger ocean currents, Bodega Bay is a popular kayaking spot. There are plenty of rental places around, and even if you've never tried it before, you can find plenty of skilled instructors and guides to initiate you into this laidback water sport.
In the late winter and early spring, grey whales migrate from Mexico to Alaska and Bodega Bay is one of the best places to catch them on their journey. You can spot a few from the coast, but for an up close view and simply to get out on the waves, try booking a whale-watching tour by boat.
Being part of Sonoma County, there are also a few wineries around. At the Sonoma Coast Vineyards, you can sip on a Pinot Noir on their weathered wooden deck as the waves gently crash behind a row of cypress trees
For some more arduous and picturesque coastal trails, make the short drive north to Sonoma Coast State Park. Along with extensive inland trails which cover the hilly landscape, down by the ocean there are lookout points and tide pools, keep your eyes out for a sea lion or two.
Bonus: Bodega Bay gained some more notoriety after the filming of Alfred Hitchcock's "Birds" there in 1963.
You can still visit one of the iconic buildings where the hair-raising thriller was set, the Schoolhouse on Bodega Lane. Originally built in 1873, it is now a private residence, so don't get too nosey as you pass by.
16. Jamestown and Angels Camp
2 hours 40 minutes from San Jose (140 miles)
Why you should visit: Gold and green are the main themes of this trip, as you explore rustic towns in the Sierra foothills where prospectors once exclaimed "Eureka!" and changed California's fate forever.
In addition to the historical significance of Jamestown and Angels Camp, they are surrounded with beautiful nature and encourage everyone to slow down just a bit.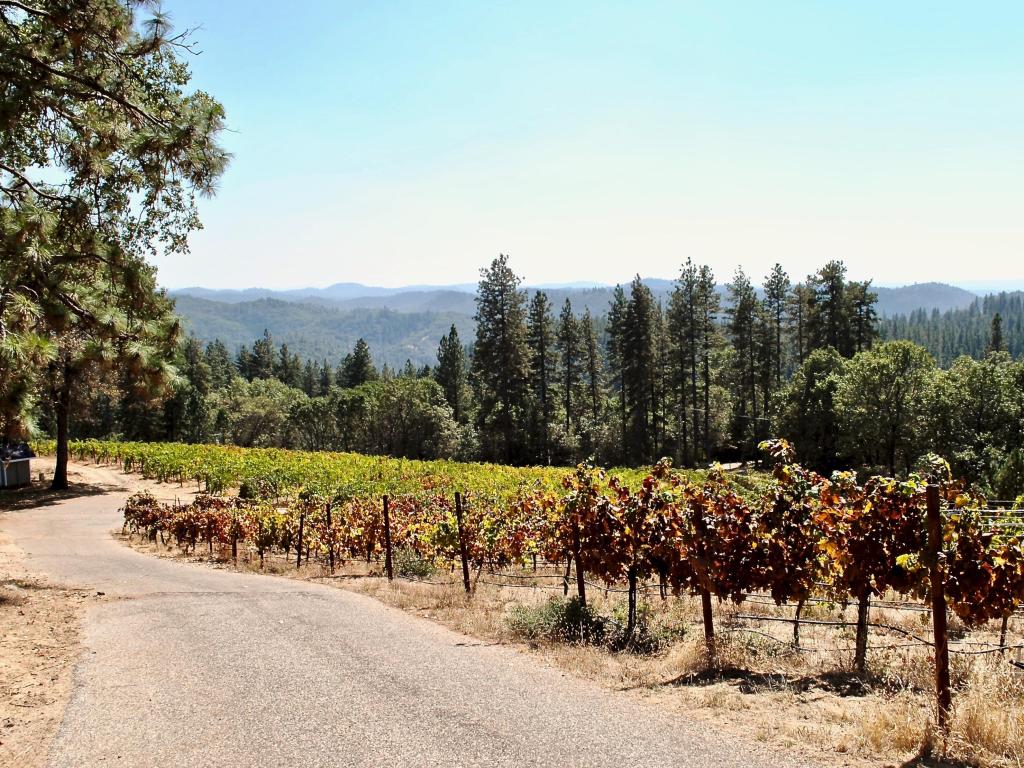 How to get there: From San Jose, head north on Interstate 680, then start heading east on Interstate 580 in Dublin. In Tracy, hop briefly on Interstate 205 to California Route 120 East. This will bring you to scenic "Golden Chain" Highway 49 just before Jamestown, and you can take it north the Angels Camp.
Our highlights: In Jamestown, you'll have a chance to explore the quaint town where the Gold Rush began in 1849. One of the best ways to take in history while getting a dose of exhilaration is a trip to Railtown 1897 State History Park, where you can ride in a classic train as knowledgeable staff bring prospecting history to life.
Explore the oak thickets and maroon manzanitas on a morning hike along the 2.5-mile Dragon Gulch Trail in nearby Sonora. With some mild elevation gain through the hills, you'll also come to some benches with panoramic views over the Sierra foothills.
In addition to having a historic downtown that's easy on the eyes, Angels Camp has a Museum and Carriage House that has preserved hundreds of 19th-century artefacts, including a sizable collection of carriages.
It also details how Mark Twain was inspired to write "The Celebrated Jumping Frog of Calaveras" from his experience in Angel's Camp.
A little ways from Angels Camp in Vallecito, you can try your hand at spelunking and explore several of the natural cave systems in the area.
Coyote Creek offers "swimming caves" where you can escape the Californian heat and Moaning Caverns Adventure Park has guided hikes and rappelling in a 165-foot-deep cavern.
Bonus: Given the well-preserved Old West feel of Jamestown, quite a few movies have been filmed there, starting in 1929. Several films have used the classic steam locomotives at the Railtown 1897 State Historic Park, including "High Noon" (1952), "3:10 To Yuma" (1957), and "Back to the Future Part III" (1990).
Our travel tips: Highway 49 stretches almost all the way to the Nevada border, sweeping through the Sierras north of Lake Tahoe.
On this route you can visit places like Sutter Creek, Placerville, Auburn, Nevada City, and Grass Valley in case you wanted to make a more extended trip through Gold Country with a little wine tasting along the way.
Click here to skip back to the top.
Weekend trips (3-5 hours each way)
To get the most of these trips, plan on spending at least a night at your chosen destination so all your time isn't spent on the road cramming the route into a single day.
17. Yosemite National Park
3 hours 40 mins from San Jose (180 miles)
Why you should visit: From every angle Yosemite Valley and the surrounding peaks are spectacular, making it one of America's most Instagrammable locations.
Boasting giant granite outcrops like Half Dome, vistas from Glacier Point and Taft Point, the mesmerizing Yosemite Falls, and peaceful Tuolumne Meadows, Yosemite can't help but impress visitors no matter how many times they've been here before.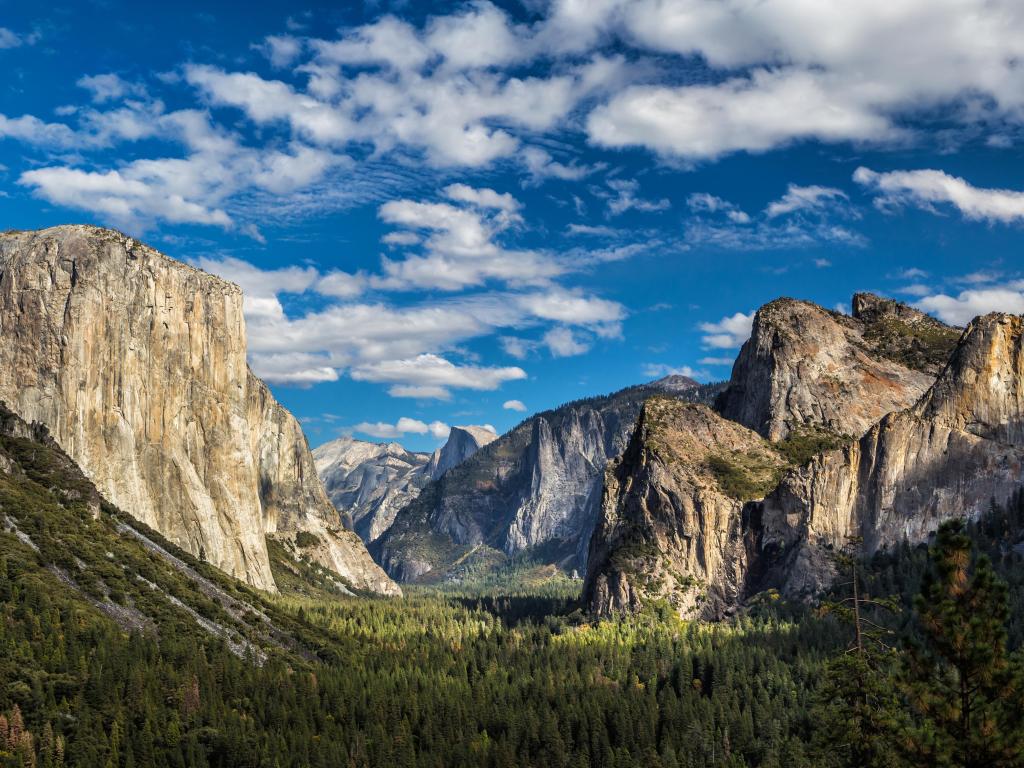 How to get there: From San Jose, take Interstate 680, to Interstate 580 east towards Tracy. From there navigate towards CA Highway 120 East, which will go through Oakdale and Groveland to Big Oak Flat Road and the entrance to Yosemite National Park.
Our highlights: On your way into Yosemite, in case you'd like to learn more about its early history and exploration, stop by The Yosemite Gateway Museum in Groveland. It boasts a comprehensive collection that will stir the imagination of any potential prospectors.
Yosemite is a glacial valley and a hiker's paradise. Even relatively easy trails lead to some of the most breathtaking natural features of this park. You can walk for half a mile to Lower Yosemite Falls, hike 1.2 miles to Bridalveil Fall, or just 2.2 miles up to the 360 degree vista point atop Sentinel Dome.
If you can't handle any steep climbing, try the 6-mile Valley loop Trail which offers you wonderful views of the park's most famous formations.
For a more intermediate hike that will keep you awestruck, take the 7-mile roundtrip hike to Vernal and Nevada Falls along the lovely Mist Trail. If you want to take this trail all the way to the top of Half Dome for an even more challenging hike, be sure to get a permit first.
Mariposa Grove is in the southern part of Yosemite National Park. Here you'll find Yosemite's largest number of towering redwoods and the famous Fallen Tunnel Tree was over 2,000 years old by the time it fell.
Bonus: You've probably seen a rainbow, but have you ever seen a moonbow? If you visit Yosemite near a full moon on a very clear day from late April to early July, you have a chance of catching one of these extremely rare and almost mystical phenomena under Bridalveil Fall.
Our travel tips: Due to its immense appeal and popularity, you'll need to make a reservation to drive in to Yosemite during the peak months. While the park is open during the winter, and much less crowded, Tioga Road and several other Sierra mountain pass roads are closed.
18. Lake Tahoe
4 hours 20 mins from San Jose (230 miles)
Why you should visit: When you're in Tahoe staring into the clear, deep waters, surrounded by pristine forests, you feel simply heavenly, which is probably how one of the most popular ski resorts here got its name.
It's a tough contest to decide if Tahoe is better in the summer or winter, and the spring and fall ain't bad either, making it a wonderful trip for outdoor adventure any time of the year.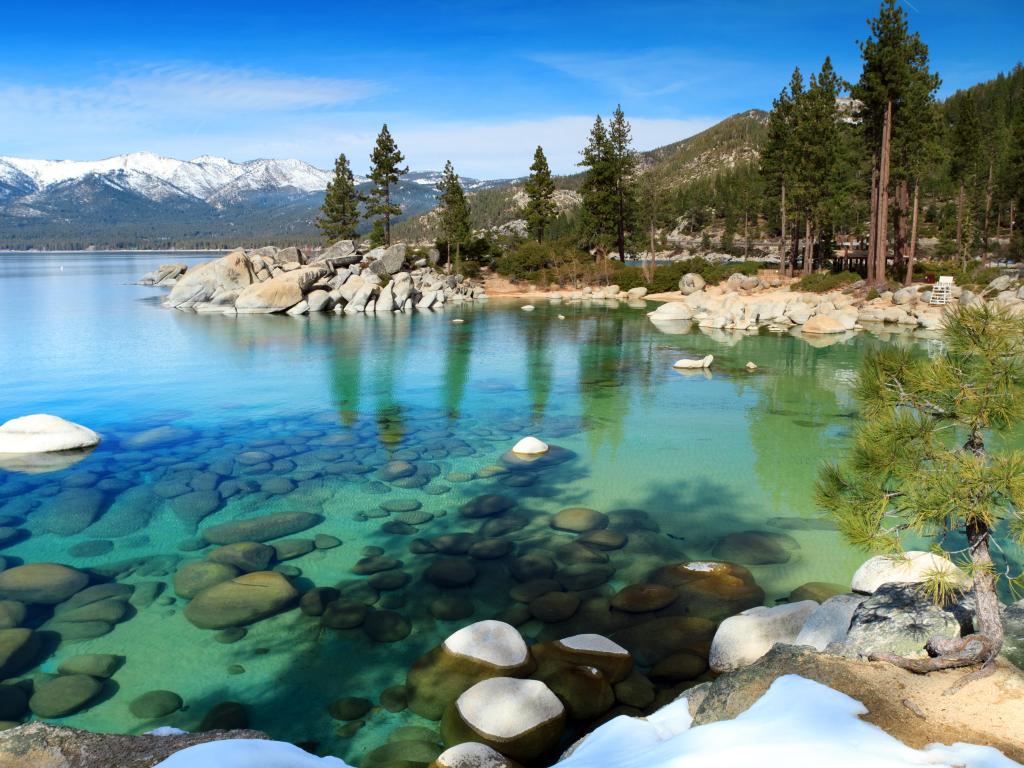 How to get there: From San Jose head north on Interstate 680, then pass through the quaint wine country of Livermore on Interstate 580, staying on this freeway until Tracy. Then head towards Sacramento on CA Highway 99 where you'll get on Interstate 80 East which will take you all the way to Truckee. Finally, take CA Highway 89 South to Tahoe City.
Our highlights: Surrounding the deep sapphire of Lake Tahoe are several beaches and docks where you can walk or enjoy a meal. Few places are as delicious and inviting as the Tahoe National Brewing Company in Tahoe City, just a stone's throw from Commons Beach. In south lake, visit Pope Beach and Baldwin Beach for lakeside shenanigans.
Along Scenic Highway 89 on the west side of the lake, you can find a stunning trailhead into the surrounding mountains every few miles. Some popular ones are Eagle Rock Trail and Bayview Trailhead.
If you visit lake Tahoe in the winter, you can ski or snowboard world-class slopes at Palisades Tahoe and the aptly named Sugar Bowl, which gets 500 inches of snow in a year. Some avid skiers prefer slopes around North Lake Tahoe, but there are resorts in both the north and south lake areas.
Whether you ski or not, and regardless of the season, you won't regret taking a trip on the Gondola at Heavenly Resort. Especially if you aren't able to hike any of the surrounding peaks, the observation deck offers some of the best lake views in the entire area
A little ways from South Lake Tahoe you'll find Emerald Bay. Here you can hike one of the area's most scenic trails to Emerald Point or wander around a historical gem, the Vikingsholm Castle, a 1929 mansion built entirely from locally sourced stone that still blends right in.
Bonus: Keep Tahoe Blue! Once you're here, you'll notice that nearly everyone has this sticker on their cars. In an effort to preserve the crystal clear waters of this lake that attracts 20 million visitors annually, the League to Save Lake Tahoe was founded to foster community engagement. You can visit the Fritzi & David Huntington Environmental Education Center in South Lake Tahoe.
Our travel tips: If you'd like to see more of Lake Tahoe, drive along scenic Highway 89 from South Lake Tahoe to Tahoe City, it's well worth the extra mileage.
Click here to skip back to the top.
Long weekend trips (5-8 hours each way)
Ah, the hallowed three-day-weekend. Make use of the longer than usual break from work to explore somewhere new.
19. Santa Barbara
5 hours from San Jose (300 miles)
Why you should visit: With ample sun, sandy beaches, and bright flowers blooming year round, a road trip from San Jose to Santa Barbara can't help but be pleasant. Some even call Santa Barbara "the American Riviera."
There's truly something for everyone here, historic buildings which reflect Spanish heritage, warm beaches, great shopping downtown, and plenty of tasty restaurants that feature superb wines from the surrounding vineyards.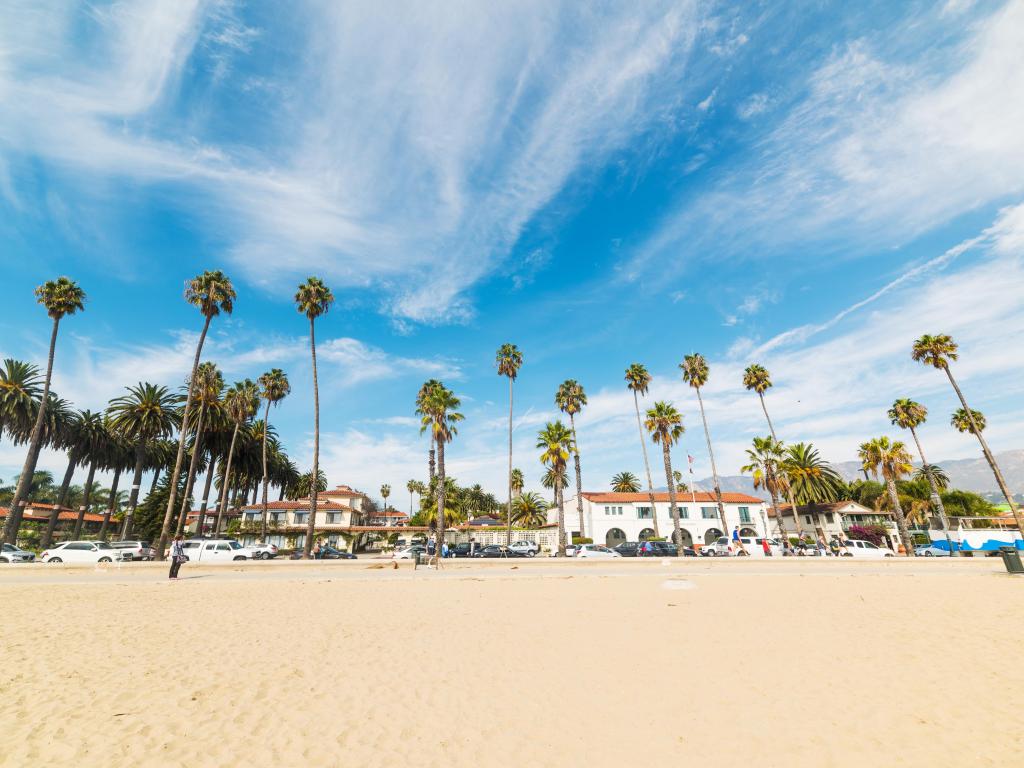 How to get there: Head south on US Highway 101 for 195 miles towards the quaint town of Pismo Beach. After spending some time here, continue going south along the coastal CA Highway 1, which merges back with US Highway 101 near Gaviota for the last 30 miles into Santa Barbara.
Our highlights: Stearns Wharf is perhaps Southern California at its most idyllic. The long wooden structure jets out from the palm lined beach into the shimmering waves of the Pacific Ocean.
After reading more about the historic structure build in 1872 and some light shopping, you can continue your stroll along the soft sands of Santa Barbara State Beach.
Go back to the founding days of Santa Barbara and the wider Californian history of Spanish colonization at the Old Mission Santa Barbara, established in 1786, then continue the journey through time at the El Presidio de Santa Bárbara State Historic Park, closer to the downtown area. Another mission-style building that's not to be missed is the Santa Barbara County Courthouse.
Take advantage of the great weather and spend as much time outdoors as you can. Near the water you can walk or ride a rental bike along the Cabrillo Path or head to the hills and hike through the chaparral to Inspiration Point.
Especially if you're here for a few nights, try to catch a show at the Santa Barbara Bowl. This wonderful outdoor venue benefits from the temperate weather and plenty of people young and old who know how to have a good time.
For those who simply can't resist visiting a museum wherever they go, the Santa Barbara Museum of Natural History is one of the best in the area, covering millions of years of geological and ecological history. It is also spread out over 17 acres of handsome oak woodland with several outdoor exhibits.
Bonus: The oldest human remains ever found in the US belonged to a person who lived 13,000 years ago on the nearby Santa Rosa Island. After being discovered and studied by a Santa Barbara Natural History Museum archaeologist in 1959, the museum respectfully returned the remains to the Santa Ynez Band of Chumash Indians in 2022.
READ MORE - Road Trip from San Jose to Santa Barbara
20. Los Angeles
6 hours 20 mins from San Jose (390 miles)
Why you should visit: Visit this glamorous city that has shaped the film industry and our imaginations for 100 years.
Even though Los Angeles (L.A.) has been named "Tinseltown" and "LalaLand", LA, has a lot to offer behind all the glitz, from world-class art museums to incredible beaches, and a treasure trove of ice age fossils.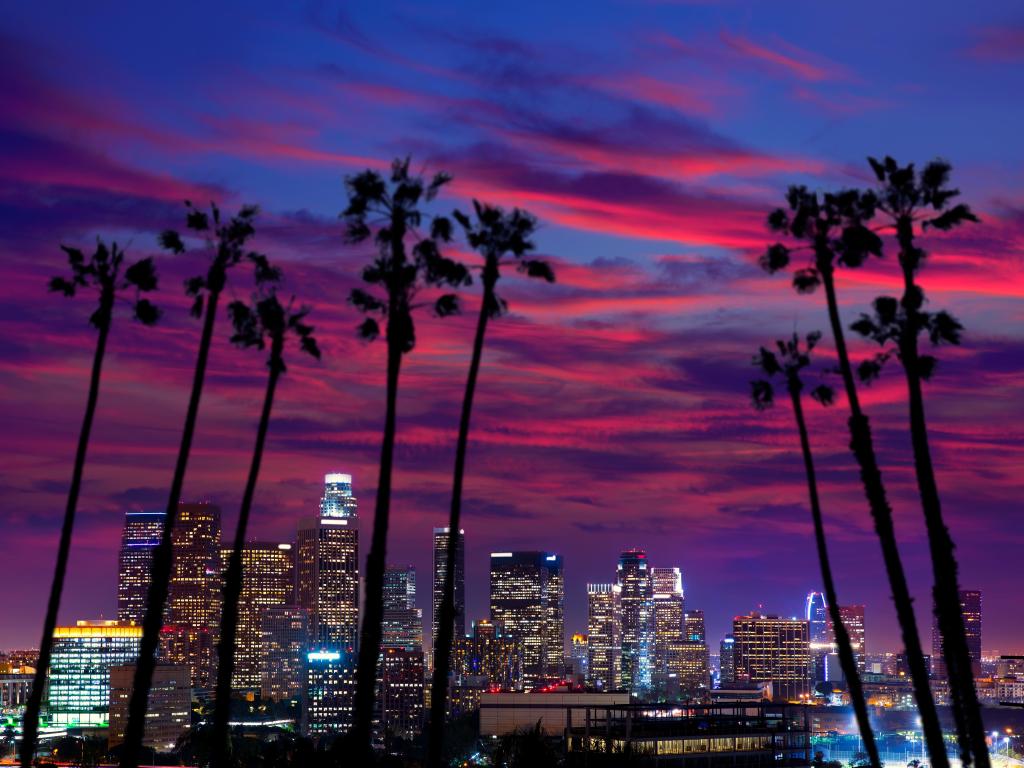 How to get there: Start out heading south on US Highway 101 to Gilroy, then take CA Highway 152 briefly to get to Interstate 5 (I-5). Take this for 290 miles down to Anaheim. After seeing the sights here, get back onto I-5 for the last 25 miles to LA.
Our highlights: While Disneyland will have to check in with Bhutan to see which is really the happiest land on the planet, for those who haven't been, Disneyland is worth a stop. At the very least admire it from the outside as you pass through Anaheim on your way to LA.
Once you get to LA, if you want to get straight to the glam, go to Rodeo Drive in Beverly Hills to see all the designer stores. Down the road in Hollywood, you can also see the Chinese Theater and the Hollywood Walk of Fame.
In LA you can visit two very different and equally impressive art museums. Downtown, The Broad is a trendy modern art museum with a collection of over 2,000 pieces. If you love more classical art and sprawling hilltop estates, go a little north of Los Angeles and wander between ancient Greco-Roman sculptures at the hilltop Getty Center.
You are spoiled for choice when it comes to iconic SoCal beaches. From the laid-back Manhattan Beach to Santa Monica with its ever-festive pier and ultra-chic Malibu to the north. Simply pick your vibe and check the traffic update so you can actually make it there.
For those who either love theme parks or are curious about what goes on behind the scenes, Universal Studios is a staple of the L.A. tourist circuit. They are always adding rides and have daily performances; so even if you visited decades ago, another visit will hardly be the same.
We understand that not everyone is swayed by bright lights and exhilarating rides. If you like a little intellectual engagement when you travel, head to the La Brea Tar Pits. This 20-acre site has led to innumerable insights into life during the last ice age as 3.5 million fossils have been found here. You can still see palaeontologists working at one of the outdoor dig sites.
Bonus: Even though LA is a famously car-centric city, at one point a subway was under conduction here. You can still see the abandoned underground project as well as prohibition-era tunnels via an access point at the Los Angeles County Hall of Records.
Our travel tips: LA is sprawling, to say the least, and the commuter traffic is infamous. Be sure to look carefully at a map before you go, as many of the places you want to see aren't really in L.A. proper, so book a hotel as close to your favorite sights as possible.
READ MORE - Road Trip from San Jose to Los Angeles
21. Crater Lake National Park, OR
7 hours 20 mins from San Jose (450 miles)
Why you should visit: This is the deepest and most pristine lake in America. Think of it as Tahoe's wilder twin to the north. It even has an explosive origin story; a volcano blew its top over 7,000 years ago, leaving this caldera to form the gorgeous lake that outdoor enthusiasts can't get enough of.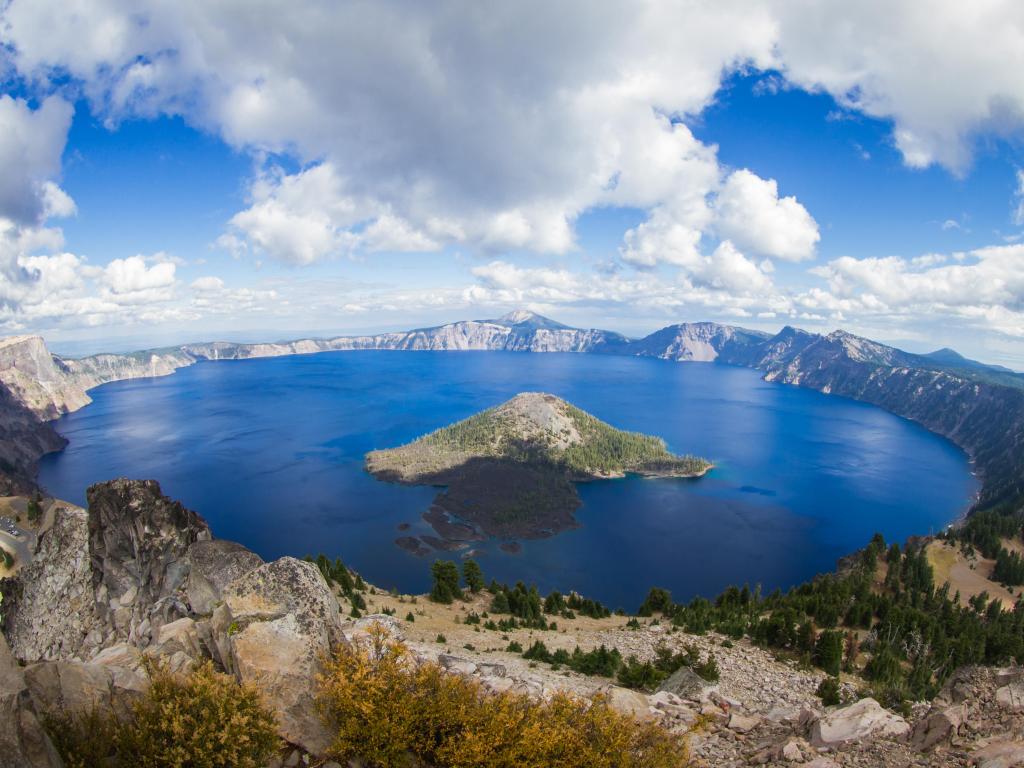 How to get there:The road trip from San Jose starts by driving north on Interstate 680 and continues north after it merges with Interstate 80 until you reach Vacaville, where Interstate 505 will take you to Interstate 5 North.
Follow this for most of the journey to Black Butte, where US Route 97 (US-97) will take you for 71 miles across the Oregon border to Klamath Falls. From here continue north on US-97, then Oregon Highway 62, for around 60 miles total to Crater Lake.
Our highlights: Hiking is the number one activity out here. Some trails descend along steep switchbacks to isolated spots along the lake, where you can swim in crystal-clear waters, like Cleetwood Cove Trail.
This cove is also a boat launching site where there are occasionally boat tours to Wizard Island in the middle of the lake. This is actually a tiny volcano that replaced the original one after the eruption, but it is currently dormant and you can hike a mile to its summit.
Other trails let you climb atop the mountains surrounding the caldera. Look out for the Watchman Peak Trailhead to the northwest and the Mt. Scott Trailhead in the southeast.
If you want to experience 360 degrees of stunning views all around the lake, but the weather or mobility constraints keep you car-bound, you can drive the lake's entire perimeter along the rim road. This scenic drive has many places where you can pull over and take in the tranquil views, like Merriam Point on the northern side of the rim.
There are also a few waterfalls scattered around Crater Lake. A relatively easy hike to Palaikni falls will also reward you with wondrous wildflowers and butterflies in the spring.
Bonus: Having resided in the area for 13,000 years, the Klamath Tribes preserved accounts of the catastrophic eruption that happened at Crater Lake, aka Tum-sum-ne, "the big mountain with top cut off" in their oral history. You can learn more about this history and their artistic traditions at the Favell Museum in Klamath Falls, OR.
Our travel tips: Unlike Tahoe, this is a National Park with limited amenities available once you reach it. So make sure you come with a full tank, pick up a picnic lunch and snacks on the way, along with plenty of water.
The park also closes due to snow and winter weather, so check the park website as you plan your trip to be sure it'll be open when you get there.
READ MORE - Road Trip from San Jose to Crater Lake National Park
Click here to skip back to the top.
Longer trips (Over 8 hours each way)
Now we're in full getaway mode where a day or two simply won't do. These are trips for when you have time to let loose and see where the road takes you.
22. Palm Springs
7 hours 50 mins from San Jose (480 miles)
Why you should visit: Established in the 20s and 30s as a spa town to pamper the stars of Hollywood, Palm Springs has only grown in popularity over the years.
Whether you've visiting to escape grey winter skies, for a self-care retreat soaking in the mineral spring water, or to come for a fun-filled festival, you'll leave Palm Springs feeling refreshed.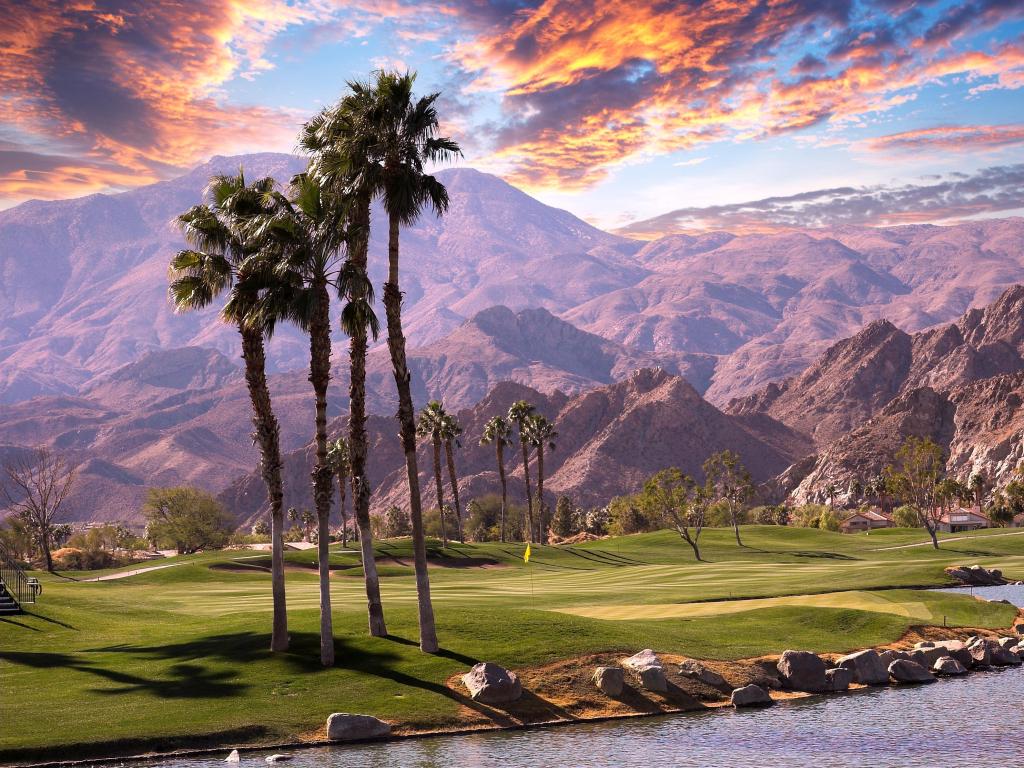 How to get there: Again, go south on US Highway 101 to Gilroy, then take CA Highway 152 briefly to get to Interstate 5 (I-5). Take this for the majority of the journey, only changing onto Interstate 210 East in San Fernando.
Continue east to San Bernardino, then take Interstate 10 for around 46 miles to Palm Springs. From there, you can get to Joshua Tree via CA Highway 62 East to Yucca Trail and the park entrance.
Our highlights: If you didn't drive here in a convertible, consider renting one. Cruising along Palm Canyon Drive, past the towering palm trees, you can take in the full grandeur of this desert city with its mountainous backdrop.
On the way, stop at one of the farm fresh or retro restaurants downtown like Farm or The Tropicale Palm Springs.
Live it up with the locals on a Thursday Night at VillageFest downtown. Here you can enjoy that classic street fair atmosphere with a funky twist. There are performers, local vendors, and of course many phenomenal food trucks.
In case you feel any tension from work or the long drive down, rejuvenate yourself in the natural spring water at one of the luxurious Palm Springs spas. The Spa at Desert Springs is a little away from the downtown area and resembles an oasis, surrounded by cool waters.
Tere are some extraordinary places to take in the stark desert beauty close to Palm Springs. One of the most well-known is Joshua Tree National Park which is barely an hour's drive away, so you can hike for a day or spend a few nights here under the stars.
Try the trails at Cholla Cactus Garden or Hidden Valley Nature Trail to begin with and bring plenty of water.
Bonus: Fancy a date? Palm Springs is the Date Capital of the US and the sweet fruits grown here make up about 80% of all the dates grown in America. These natural desert desserts are nutrient-packed so let your sweet tooth have at them.
Our travel tips: The Palm Springs International Film Festival runs for over two weeks in early January and features dozens of screenings, some with celebrities in attendance.
The high tourist season in Palm Springs is from December to April, so to avoid the most crowds and premium prices, aim to visit in November or early in December.
One of the most crowded, and exciting times of the year is when the Coachella music festival takes place in the nearby Coachella Valley out in the desert. This is usually around mid-April, so plan accordingly.
Click here to skip back to the top.
Longer trips (Over 8 hours each way)
Now we're in full getaway mode where a day or two simply won't do. These are trips for when you have time to let loose and see where the road takes you.
23. Las Vegas and Lake Mead, NV
8 hours 50 mins San Jose (560 miles)
Why you should visit: This improbable city in the desert has turned itself into Disneyland for adults and one of the prime convention centers in America.
Even if you don't dare to gamble, Las Vegas is a truly entertaining town with excellent shows, delicious restaurants, designer shopping outlets, and plenty of oddball museums. It's impossible to be bored in this other city that never sleeps.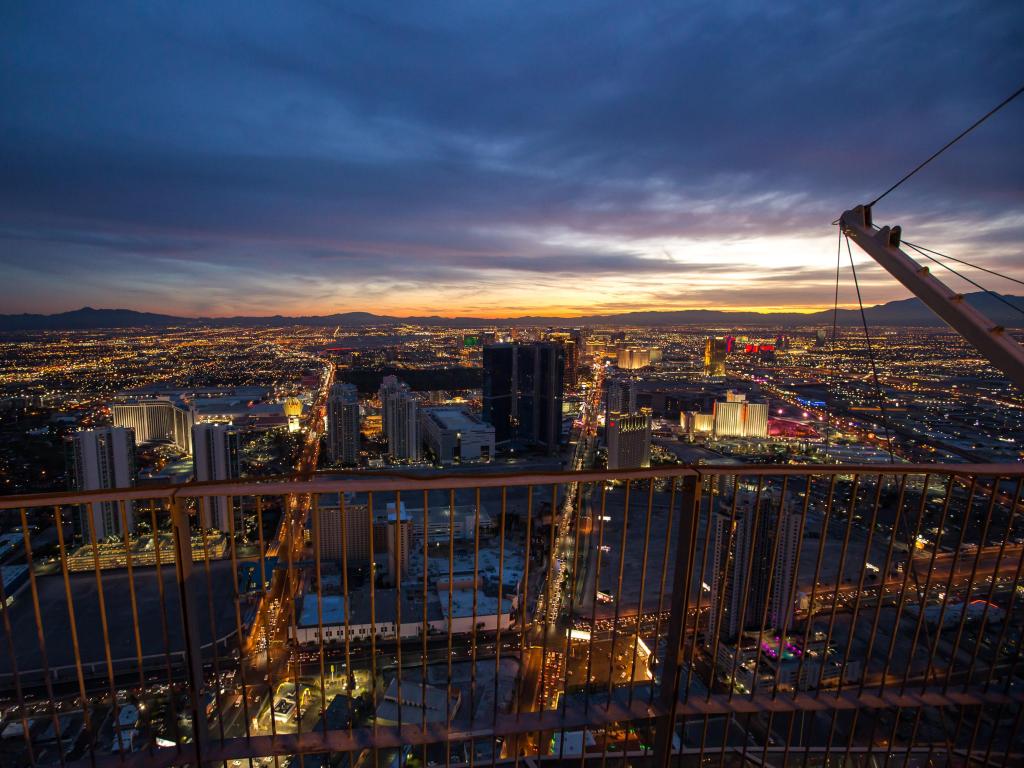 How to get there: From San Jose drive south on US Highway 101 to Gilroy, then take CA Highway 152 briefly to get to Interstate 5. Once you reach Bakersfield, start heading east on CA Highway 58 until you reach Barstow, where you'll change onto Interstate 15 and stay on that all the way to Las Vegas.
From Las Vegas, head towards Boulder City on Interstates 515 and 11 then take Boulder City Parkway to Lake Mead.
Our highlights: It's a rite of passage once you arrive to see the Strip and the Fountains of Bellagio, which are both on South Las Vegas Boulevard and infinitely more mesmerizing as night falls. Here you can also wander in and out of classic places like Caesar's palace, Harrah's, and the Venetian.
To get a bird's eye view of Vegas and appreciate how this city rises up from the most barren of deserts, take a trip up to the Stratosphere Tower. Here you can also test your nerves by bungee jumping or riding the drop tower at the very top of the tower, if you dare.
Catch one of Las Vegas' long running shows like All Motown and Legends in Concert. Another unforgettable act is the Cirque du Solei, which boasts six unique shows that you can only see in Las Vegas. This city is a stop on almost every major American tour, so check and see if any of your favorite artists will be here anytime soon.
If you'd like to get out and explore the desert landscape, the Red Rock Canyon National Conservation Area is simply astounding. Many visitors aren't expecting this when they plan a trip to Vegas, so these colorful, rocky hills come as a welcomed treat to lovers of the great outdoors.
The Hoover Dam is another popular tourist spot nearby and a marvel of engineering that contains over 4 million cubic yards of concrete. But it is also responsible for creating Lake Mead, another great day trip from Las Vegas in its own right with clear waters and opportunities for boating.
Bonus: As chronicled in the 1995 hit "Casino", Las Vegas was long used by American mobsters to launder their money, a practice which dated back to the 1940s and led to the development of Las Vegas as we know it. Learn more about this tantalizing and contentious history at the Mob Museum while you're here.
Our travel tips: The prices of hotels varies wildly, so try to come during the week when you can enjoy a luxurious high rise room for under $100.
24. San Diego via San Bernardino National Forest
9 hours from San Jose (560 miles)
Why you should visit: With sunshine and coastline to spare, San Diego is the more chilled-out counterpart to LA in Southern California. San Diego also has some big ticket attractions, like the San Diego Zoo and LEGO Land. Even without these, there's a great beach vacation waiting for you down south.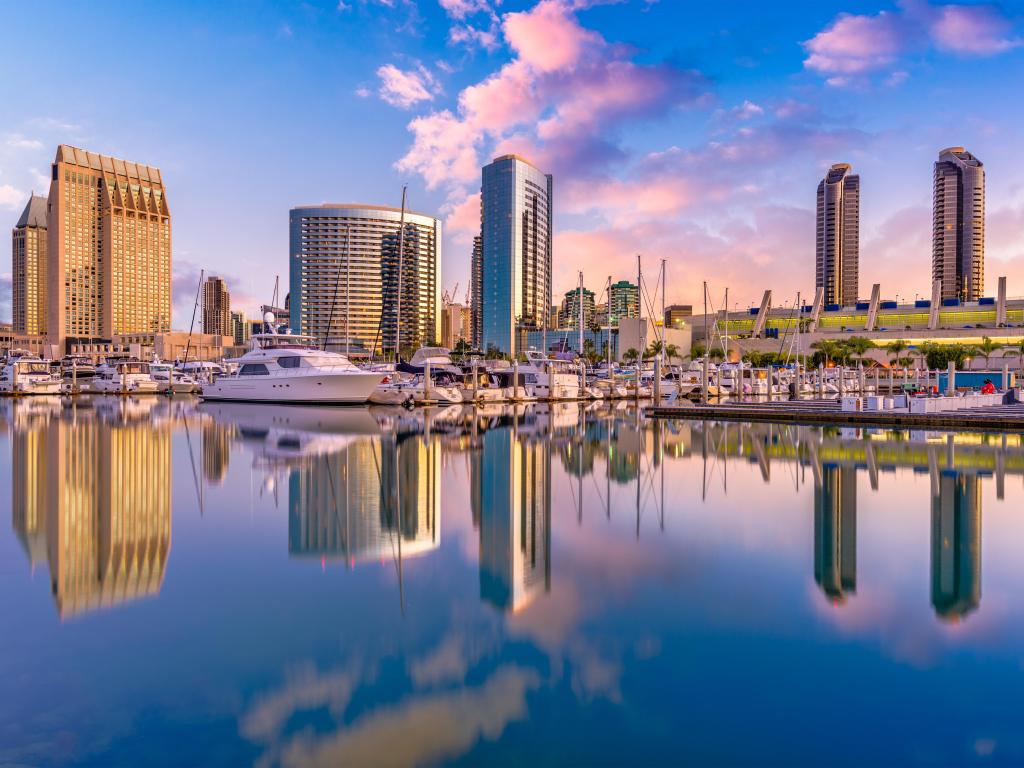 How to get there: Start out again heading south on US Highway 101 to Gilroy, then take CA Highway 152 briefly to get to Interstate 5 (I-5). Take this for about 210 miles to the junction with CA Highway 138 East.
From there navigate through Lancaster and continue southeast until you reach Interstates 15 and 215 in San Bernardino. The National Forest sits to the east of the town and there are several trailheads, each with a different route. Once you're ready to go to San Diego, Take Interstate 15 South all the way there.
Our highlights: On your way down to San Diego, consider stopping by the sprawling San Bernardino National Forest. There are more rugged hikes like the Big Falls Trail, as well as more accessible places like the Oak Glen Preserve.
La Jolla is one of the most scenic and plush neighborhoods in San Diego, with colorful tide pools along with the world-famous Torrey Pines Golf Course.
Explore the unique coastline of La Jolla on a guided sea kayak tour of La Jolla Cave. In the winter you can also catch a glimpse of migrating whales, sea lions, and turtles.
For boutique shopping, La Jolla also has you covered. After some retail therapy at the popular Hi Sweetheart, treat yourself to a sumptuous meal with an ocean view at Eddie V's Prime Seafood.
To experience the more down-to-earth beach culture that San Diego has to offer, visit Pacific Beach, Mission Beach, and even Imperial Beach further south. There are miles and miles of well-developed bike paths parallel to the coast, the best ones being along Mission beach, so consider renting a bike to see these areas while the seas breeze rushes through your hair.
Take a day at the very least to wander around Balboa Park close to the modern downtown and discover its countless treats. With art museums, car and aircraft museums, specialized gardens, and miles of trails, this is one of the most delightful places to spend your time in San Diego.
The gentle surfing breaks and warmest waters in California have long established San Diego as a great place to surf for beginners. Lots of surf schools operate in the area, so if you don't yet know how to, this would be a great place to learn how to hang ten.
Bonus: The Geisel Library of University of California at San Diego has the largest collection of materials relating the ever imaginative children's author Dr. Seuss and is open to visitors for self-guided tours.
Our travel tips: While the route we have laid out is relatively more indirect, going via San Bernardino Forest, it could save time in avoiding the heavy traffic around Los Angeles.
Remember that La Jolla has retained its Spanish pronunciation of "la hoy-ya". Just in case you get some confused stares as you ask for directions.
Being only 25 miles from Mexico, a daytrip across the border is a fun way to make this an international trip. There are even trolleys from downtown if you don't feel like driving.
READ MORE - Road Trip from San Jose to San Diego
25. Portland, OR
10 hours 20 mins from San Jose (670 miles)
Why you should visit: Portland is a river city on the West Coast that has a bit more grit that its counterparts in San Francisco and Seattle, which only adds to its appeal.
Surrounded by emerald temperate rainforests, Portland has some of the most gorgeous gardens and misty, magical trails in the country, which makes this road trip from San Jose shine in this list.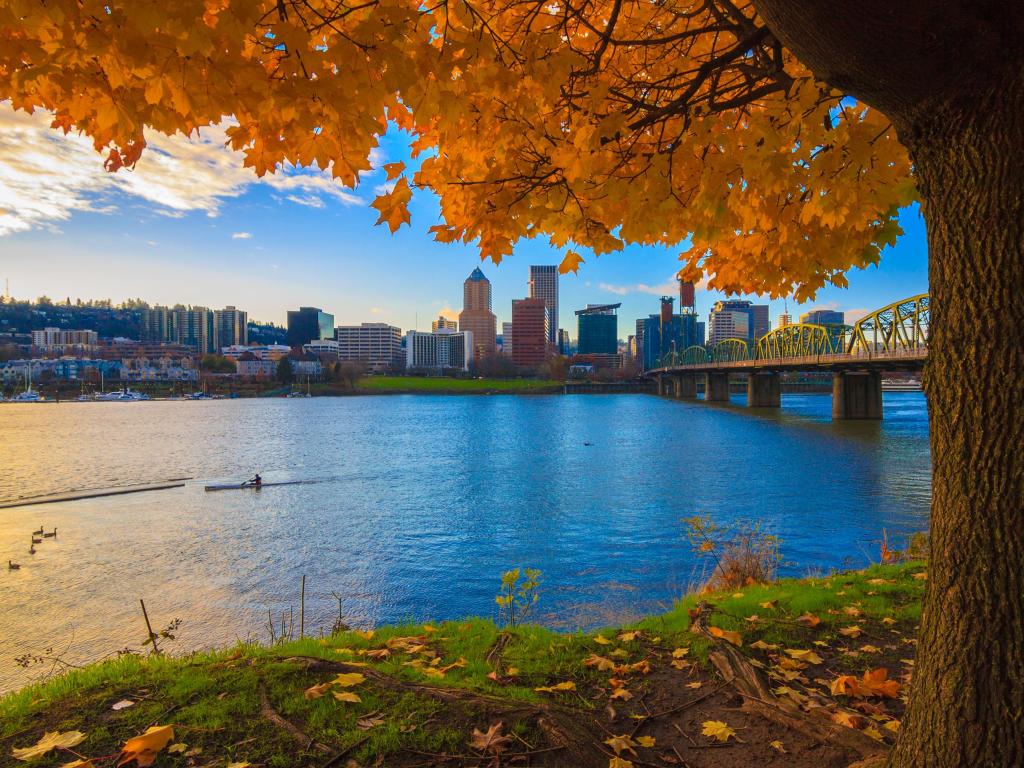 How to get there: Head north on Interstate 680 and continue north after it merges with Interstate 80 until you reach Vacaville, where Interstate 505 will take you to Interstate 5 North.
Follow this for 304 miles until you get to Mt. Shasta. You can spend a night here and take in Shasta-Trinity National Forest, or just continue for another 357 miles, across the Oregon border and Grants Pass, to Portland, OR.
Our highlights: Firstly, the gardens. Portland's climate is ideal for roses, so it has one of the oldest Rose Test Gardens in America. After a scented stroll through the roses, be transported to another world at the Portland Japanese Gardens which might actually trick you into thinking you're in Kyoto.
You must make a trip to Voodoo Doughnut. We were skeptical at first too, how could a city synonymous with crunchy, health-conscious living have great doughnuts? Well, they came up with the bacon-maple doughnut and offer over 50 flavors daily.
For a dose of culture, head to the Portland Art Museum, which is one of the oldest in the northwest and features many artefacts and heirlooms from the Native American Tribes that lived in this lush area for thousands of years. They also have a well-rounded collection of classical and contemporary art.
No trip to Portland is complete without some time walking the seemingly endless trails of Forest Park, which stretches along the Willamette River in the north of the city. From certain hills in the park you can get great views of the historic St. John's Bridge.
Between Forest Park and the Japanese Tea Gardens, you can also stop by the Pittock Mansion to see how the wealthy industrialists who developed the town at the turn of the century lived.
This mansion features 23 ornate rooms and is also notable for many forward thinking aspects of its design. You also get some pretty incredible views of the city from this modern castle on a hill.
Bonus: Many tropes of Portland's granola munching, left-leaning culture are on display in the TV show "Portlandia," which features real locations and notable residents. See how many you can recognize on your trip!
Our travel tips: In a testament to the off-beat and green nature of Portlanders, every year in June or July thousands of them partake in World Naked Bike Ride. For better or worse, you are forewarned.
Prepare for drizzle, lots of it. It's no secret how Portland stays green. In case you get sick of the weather, pop into one of the dozens of fine coffee shops or the multi-story Powell's Books, the largest independent bookstore in the world.
READ MORE - Road Trip from San Jose to Portland, Oregon
26. Yellowstone National Park, WY
15 hours 40 mins from San Jose (1,020 miles)
Why you should visit: Yellowstone is the oldest National Park in the country and remains one of the most popular, and for good reason. The road trip from San Jose to Yellowstone will be full of natural wonders.
With mist rising from thermal geysers and springs, unbounded mountain wilderness, alpine lakes, and the largest remaining bison herd in the US, there's no excuse to skip out on seeing this natural wonder at least once in your lifetime.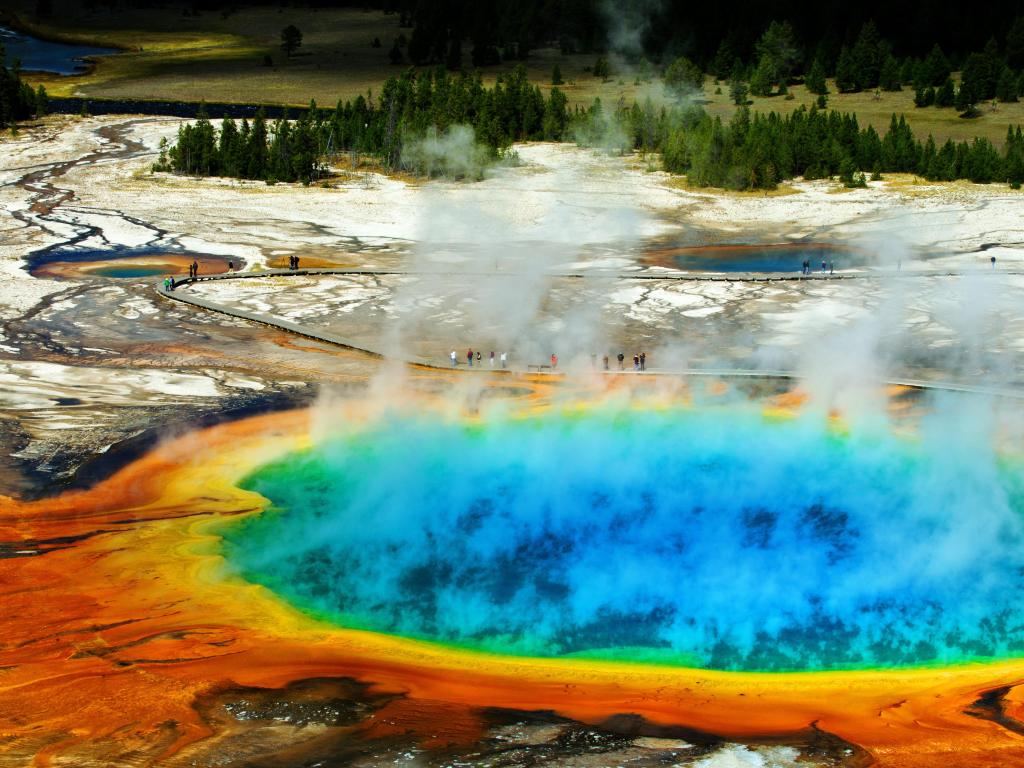 How to get there: Start going north on Interstate 680, then continue north on Interstate 80 (I-80) towards Reno, NV. Continue on I-80 for 335 miles until Wells, NV, where you'll start driving north again on US Highway 93, which links up with Interstate 84 near Twin Falls, ID.
Take that east to Interstate 15 North and US Highway 30 East all the way to the West Entrance of Yellowstone.
Our highlights: No one can deny the awe they feel as Old Faithful erupts like clockwork. Even though you can't set your watch to it, within 90 minutes you are guaranteed to see this natural wonder do its thing. For a less crowded geyser experience, if you don't mind the 8.5 mile hike, head to Shoshone Geyser Basin in the backcountry.
Coming to the park from the west, it will be easy to visit the Norris Geyser Basin Museum, which will provide more insight about the geothermal activity that gives rise to all the geysers and mist that makes Yellowstone an internationally acclaimed attraction.
Yellowstone counts among its most notable inhabitants bison, bears, wolves, and eagles. You have your best chance of catching one of these majestic creatures going about their business at the Lamar Valley. Try to get there early and bring some binoculars.
With so many mountains, Yellowstone also has incredible waterfalls. The largest and most dramatic are the 300 foot Lower Falls of the Yellowstone River. A smaller, but no less enchanting, waterfall can be found on a short hike to Fairy Falls.
To see the most eye-catching sight in Yellowstone, go to the Grand Prismatic Spring. This is where you'll find those hypnotically blue and burnt sienna steaming pools with a convenient boardwalk built between them. Fight every temptation to take a dip, the waters can reach 188 degrees Fahrenheit and going in any thermal springs in the park is strictly prohibited.
Bonus: Even though you might not see any cinder cones here, Yellowstone is one of the world's largest active volcanoes and the current park sits in a caldera that is 30 by 45 miles wide created be a massive eruption over 600,000 years ago. Don't let this dissuade you from visiting, the likelihood of an eruption in the next few hundred years is incredibly slim.
Our travel tips: Arguably the best time to visit is during the shoulder season months of April, September, and October when there are less crowds and increased chances of spotting wildlife.
Yellowstone has 12 campgrounds and your site must be reserved in advance via the National Park Service website. Only Mammoth Campground is open year-round.
You can visit any time, but most of the park's roads close in winter. There are many exciting alternative ways to see the park via snowmobile or snowshoes.
READ MORE - Road Trip from San Jose to Yellowstone National Park