Road Trip from San Jose to Santa Barbara
If you fancy a quick but stunning road trip along the west coast of California, then consider the road trip from San Jose to Santa Barbara. Whether you opt for the coast or inland, or dip into some of the best national parks and forests, you'll be guaranteed a breathtaking trip.
The 300-mile road trip from San Jose to Santa Barbara takes 6 hours to drive. Follow the coast for Monterey, Big Sur, Pismo Beach, or head inland for Fresno, Bakersfield, Ventura or the national parks of Yosemite, Sierra, Kings Canyon and Sequoia.
This might be a small road trip but it's packed full of fantastic stops and attractions including tranquil beaches, stunning cliffs, iconic parks and some of the tallest trees in the US. So keep reading to learn the best routes, times to visit and where to stop along the way.
How far is Santa Barbara from San Jose, and how long will the road trip take?
Comparison of road trip route options between San Jose and Santa Barbara

| Route | Distance | Driving Time |
| --- | --- | --- |
| The Coastal Route | 300 miles | 6 hours 10 minutes |
| The Inland Route | 400 miles | 6 hours 45 minutes |
There are two obvious routes you can follow between San Jose and the beautiful Santa Barbara. The quickest of the two follows the stunning coast and covers a distance of 300 miles. This route will take 6 hours and 10 minutes, not allowing for any stops along the way.
An alternative Inland Route option is slightly further at 400 miles. This option will take 6 hours and 45 minutes of non-stop driving. However, if you include detours to the national parks, such as Sequoia, expect to add at least 60 miles and a couple of hours to your journey time.
This is a relatively short trip, and you could complete it in a day but given the stunning scenery you'll pass on both routes, we'd recommend you take a more leisurely approach, including at least one overnight stop. Two to three days or a long weekend would be ideal.
Best road trip route from San Jose to Santa Barbara
While similar distances, our two recommended route options offer very different views and city visits. There's no best route for this trip, so choose depending on what you'd like to see along the way.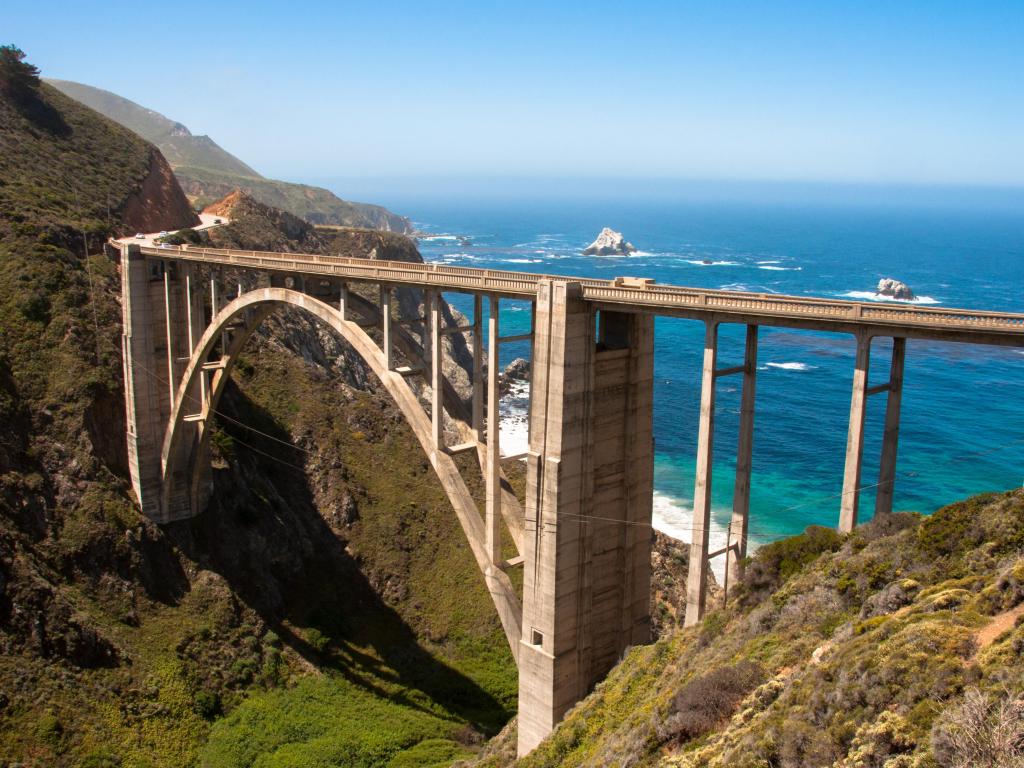 Following the Coastal Route is not only the shortest option, but it also follows the beautiful California coastline. You will have the opportunity to see stunning views of the Pacific as well as explore the coastal towns. If you want to truly experience the mountainous side of California, this is the route for you.
Some of the stops along the way include Monterey, where you can find great seafood and shopping, as well as Big Sur, the famous stretch of scenic shoreline which offers breathtaking views. There is no shortage of natural scenery, as national and state parks are easily accessible.
Although a slightly longer and less coastal trip, the Inland Route boasts something that nature lovers will drive the extra miles with no questions asked. Hitting Fresno midway allows you the chance to visit the most famous Californian National Parks: Yosemite, Kings Canyon, and Sequoia.
For those who want to see the natural wonders of this region, this route is a must. Taking a quick break from the coastal winds and ocean breeze on your way towards Santa Barbara will provide great contrast and is especially recommended for avid adventurers.
The Coastal Route
Leave San Jose heading south on the highway between two forest preserves and several towns before picking up the coastal highway towards Monterey alongside the beautiful Monterey Bay.
After spending time in this famous city, continue along the coast to Carmel-by-the-Sea to Big Sur. Stop here to explore the incredible Pfeiffer Big Sur State Park before continuing south.
Head towards San Simeon, passing through Slates Hot Springs and Ragged Point along the way. Continue following the coast to Morro Bay and Pismo Beach, the perfect sandy beach to spend the afternoon.
Next drive inland through Santa Maria and Cachuma Lake Recreation Area to your final destination of Santa Barbara.
The Inland Route
Begin in San Jose and head south on the highway towards Gilroy and alongside Henry W. Coe State Park. Next head west to Fairmead and follow the highway south to Fresno.
From here you can take detours to visit Yosemite National Park, Sierra National Forest, Kings Canyon National Park or Sequoia National Park. All of which will add a few hours to your driving time.
Otherwise continue south to Bakersfield, passing several quaint towns and driving nearby to Kern National Wildlife Refuge, a small but no less interesting park ideal for wildlife spotting.
From Bakersfield, you're just over two hours to Santa Barbara. Continue south and join the interstate, passing Bitter Creek National Wildlife Refuge and Castaic Lake State Recreation Area.
You can either make a stop at Santa Clarita or head west towards the coast and make the final stretch past Ventura to Santa Barbara.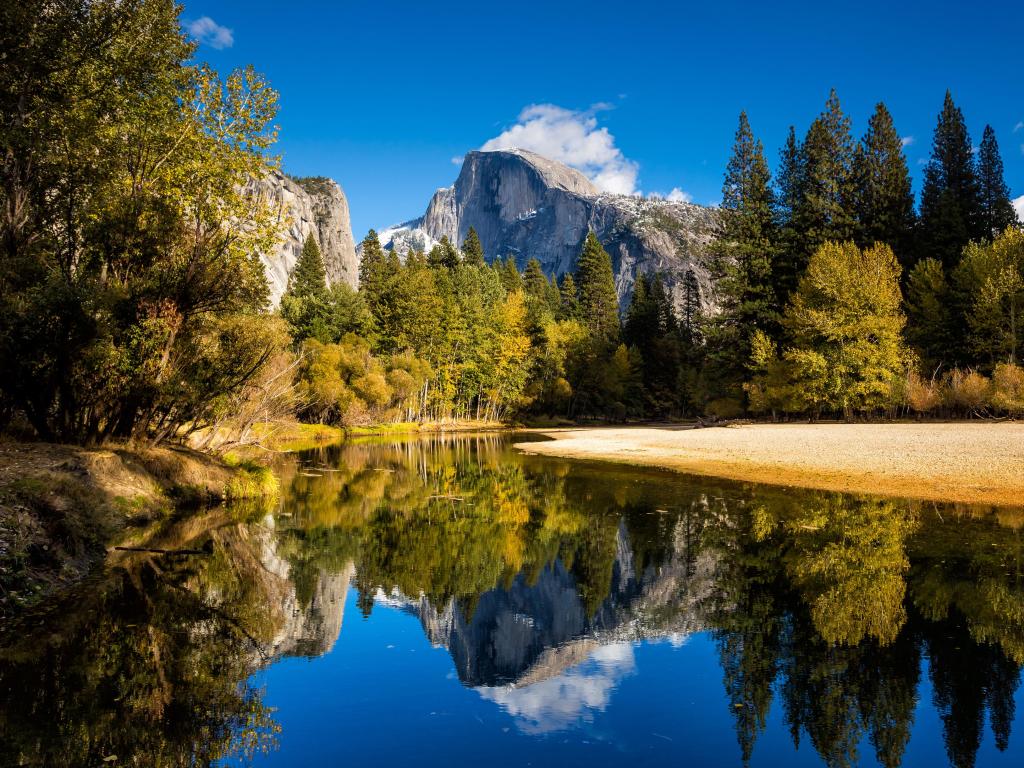 Best places to stop between San Jose and Santa Barbara
Although a short trip, we would definitely recommend an overnight stop along the way. This part of California is incredibly beautiful and the extra day will give you plenty of opportunities to enjoy several activities along the way, from watersports to hiking.
Here are a couple of our recommendations for spectacular hotels.
Ocean views at Monterey
Monterey is an iconic Californian coastal city. Despite it being just an hour from San Jose, its ocean views, fantastic amenities and close proximity to California's newest national park, means it's still an ideal stop on our Coastal Route.
There's plenty to see and do here, including a visit to Pinnacles National Park which features rock spires, caves, forested trails, and for the extreme adventurers - rock climbing. Located an hour west of Monterey, it's a contrast from the ocean to the mountainous natural area.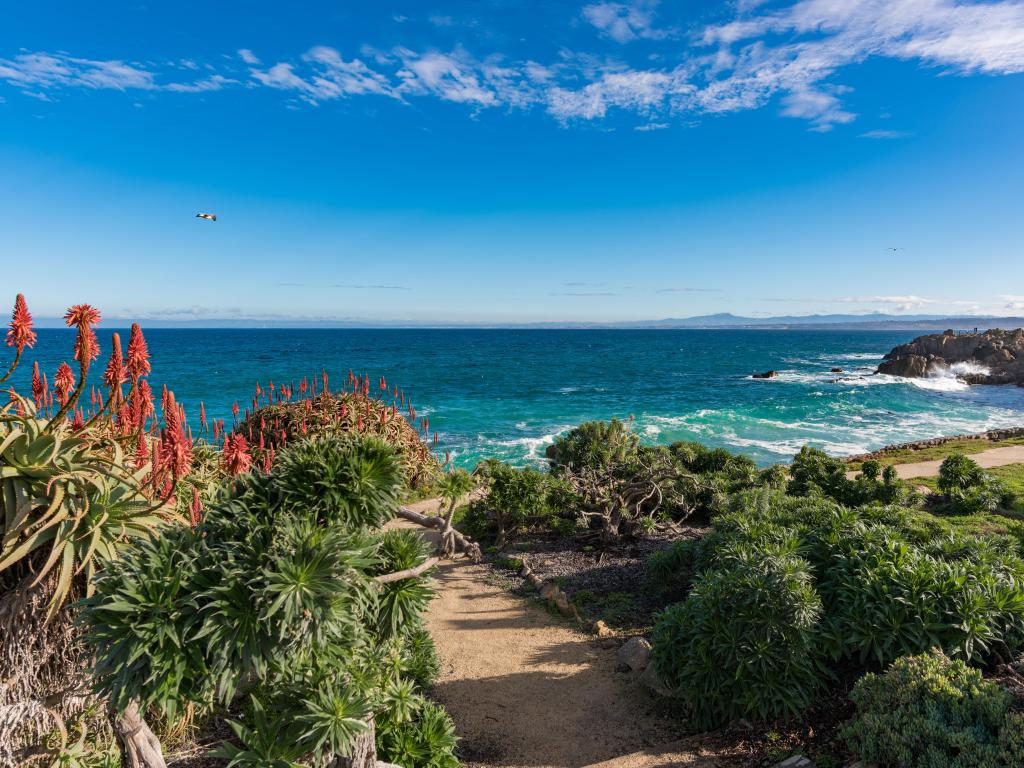 There's no shortage of incredible hotels in Monterey, but one of the best is the Monterey Plaza Hotel & Spa. This gorgeous 5-star hotel is the ultimate hotel for relaxing. Enjoy stunning views of Monterey Bay, spa services and your own private beach, ensuring you really do feel like a celebrity at this resort.
Guests can unwind at the rooftop fitness center or relax at the European Vista Blue Spa before enjoying a meal at the onsite cafe, all while watching the sunset over the bay. Expect modern, comfortable rooms, some even come with sea views.
With easy access to the coastal highway, this hotel is within walking proximity to parks and restaurants, including 17 Mile Drive and just steps away from Cannery Row and the Monterey Bay Aquarium, making it the perfect base to enjoy this incredible city.
Gateway to the parks at Fresno
If you've decided to follow our Inland Route instead, then an ideal stopover would be Fresno. This lively hub is just 2 hours and 40 minutes from San Jose and makes the perfect base if you're looking to visit the iconic nearby national parks.
Within 90 minutes of Fresno is Yosemite National Park, known for its huge waterfalls and vast wilderness, plus Sequoia and Kings Canyon where you can see giant sequoia groves, vast mountain views, and flowing rivers.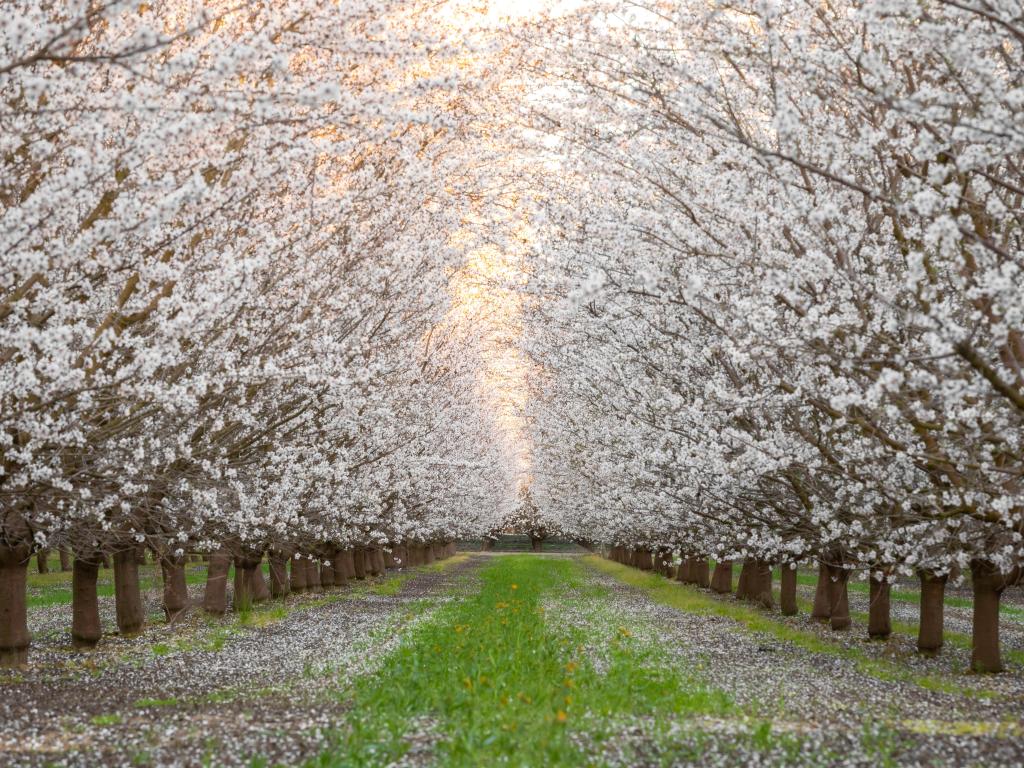 If you don't want to venture that far, how about an underground adventure? Forestiere Underground Gardens offers visitors the chance to explore an underground dwelling with rooms, courtyards and structures, as well as unique vegetation and trees.
A great base for all your outdoor adventures is SpringHill Suites Fresno. This modern and convenient hotel features a beautiful outdoor pool and hot tub, ideal for relaxing after a busy day exploring the stunning nearby national parks.
The hotel offers a delicious breakfast buffet and a 24-hour market with meals, so regardless of what time you finish your hike, you'll be able to grab something tasty and unwind with ease. There's also onsite parking for added convenience.
This great hotel is just a short drive away from Fresno Chaffee Zoo and Kearney Mansion Museum, as well as within walking distance from River Park Shopping Center. The hotel itself is within easy reach of the freeway, making exploring the natural surroundings straightforward.
Beach oasis at Santa Barbara
Once you reach Santa Barbara there is plenty to explore, from beautiful beaches and dramatic mountains to boutique shops and great restaurants. If you're going to drive this way, what better place is there to stop at than the Hotel Californian?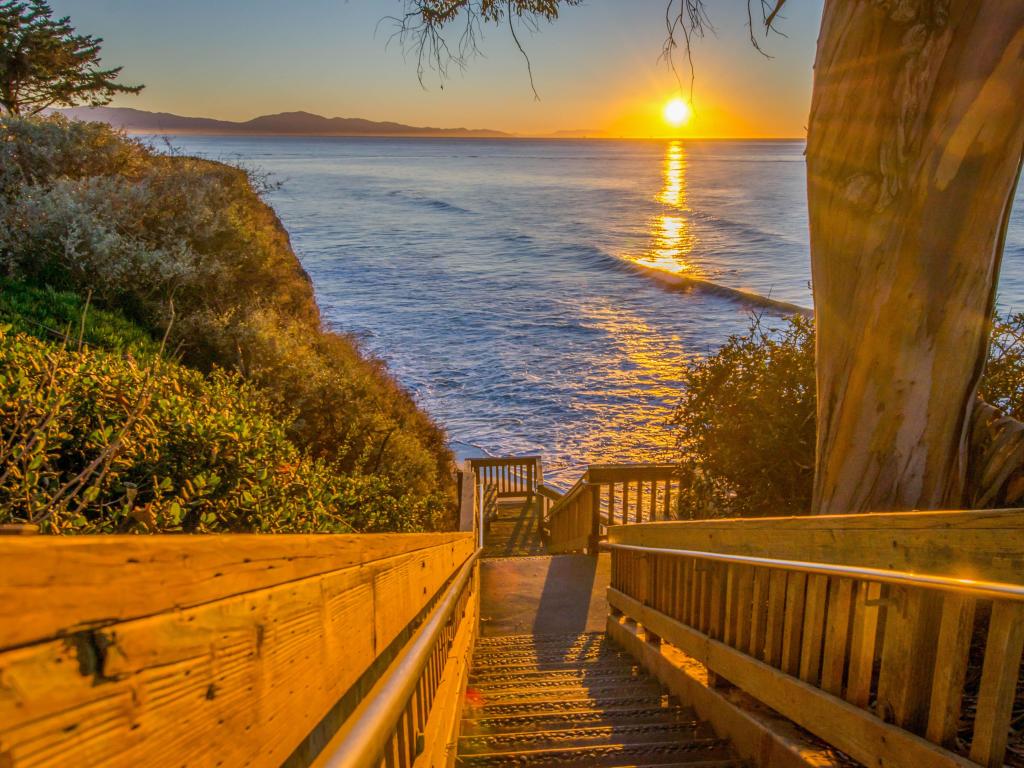 While Santa Barbara is full of exquisite hotels, one of the most luxurious is the Hotel Californian. This gorgeous 5-star hotel is just steps from the beach and offers a beautiful outdoor pool, onsite spa and several onsite dining options.
The rooms here are beautifully decorated, while the lounge and bar area are sumptuous. There are also onsite spa treatments to enjoy, and if you can pull yourself away from the resort, you're just a short walk from Kunin Wines, the Funk Zone and several pretty parks.
There's also parking onsite and the highway is conveniently close too, so whether you want to stay in the city or go out exploring Los Padres National Forest or Cachuma Lake Recreation Area, you're in a great position.
Things to see on a road trip from San Jose to Santa Barbara
There's so much to see on this beautiful Californian adventure, whether you're a nature fan looking to escape into the national parks and enjoy a hike or looking for the ultimate beach vibes and a chilled drive.
To help you plan your stops, here are some of the highlights you'll pass along the way.
The Coastal Route
Coastal California Viewpoints - While this entire stretch of highway is scenic, it's still nice to stop on occasion and take it all in at these designated viewpoints, such as Castle Rock; Hurricane Point, Sea Otter Refuge, Little Sur River Beach, Seal Beach, McWay Cove, Big Creek Bridge/Big Creek Cove, Gamboa Point, San Martin Rock, Big Sur Lookout, Ragged Point, Ocean Vista Point, Arroyo Hondo Vista.
Monterey - This popular beach town offers stunning ocean views and plenty of amenities to keep you entertained for days. Ideal for wine lovers, there are also golf courses to enjoy, fine dining and incredible seafood plus Cannery Row - a shopper's paradise!
Carmel-by-the-Sea - This small beach city is an ideal place for history buffs thanks to its wealth of museums and galleries. Outdoor lovers will enjoy the stunning beach and scenic Bluff Path which runs from Carmel Beach (ideal for surfers) to Carmel River State Beach.
Big Sur - Enjoy rugged scenery at Big Sur which is best known for its seaside cliffs, dramatic views and great trails. As well as the coast, you can venture further inland and explore Pfeiffer Big Sur State Park.
Sand Dollar Beach - A lowkey park with a boardwalk leading down to a more picturesque and less crowded beach. You will find flowers, huge trees, seals basking, grassy clifftops, and the peaceful sounds of the ocean.
Hearst Castle - A historic house museum you can explore, featuring many statues, gardens, and a pool, offering beautiful views of the Pacific. It will either take you back in time or make you imagine a more luxurious way of living, either way, it will take your breath away!
Piedras Blancas Light Station - Out on the point you can find this historic lighthouse, and you can even wind your way up the spiral stairs to the top via guided tours! There are walking paths around the sight leading you to panoramic views.
Montañas del Oro State Park - Hiking trails and a secluded beach make for a peaceful and pristine adventure. No fee-parking areas, bathrooms, and a gift shop are also amenities that this park offers.
Pismo Beach - Whether you love wine or sandy beaches, Pismo Beach is the place for you! Be sure to visit nearby Pismo State Beach to catch migrating butterflies in the cooler months, or explore Dinosaur Caves Park which has trails and ocean views.
Vino Vaqueros Horseback Riding - Go on a guided tour through the scenic lands- on horseback! The guides are knowledgeable and make sure you feel safe and secure- and will certainly be an experience you won't forget!
Ostrichland USA - Essentially an ostrich zoo, where you can buy food and feed the ostriches yourself! The zoo features walking trails to different enclosures and is a fun and unique experience!
Californian Vineyards and Wineries - This stretch of California is well-known for its many vineyards and wineries. If you're a fan, then be sure to plan a visit at least once on your trip. Some of the best local ones are Shokrian, Dovecote Estate, Zaca Mesa, Demetria Estate, Firestone, and Koehler.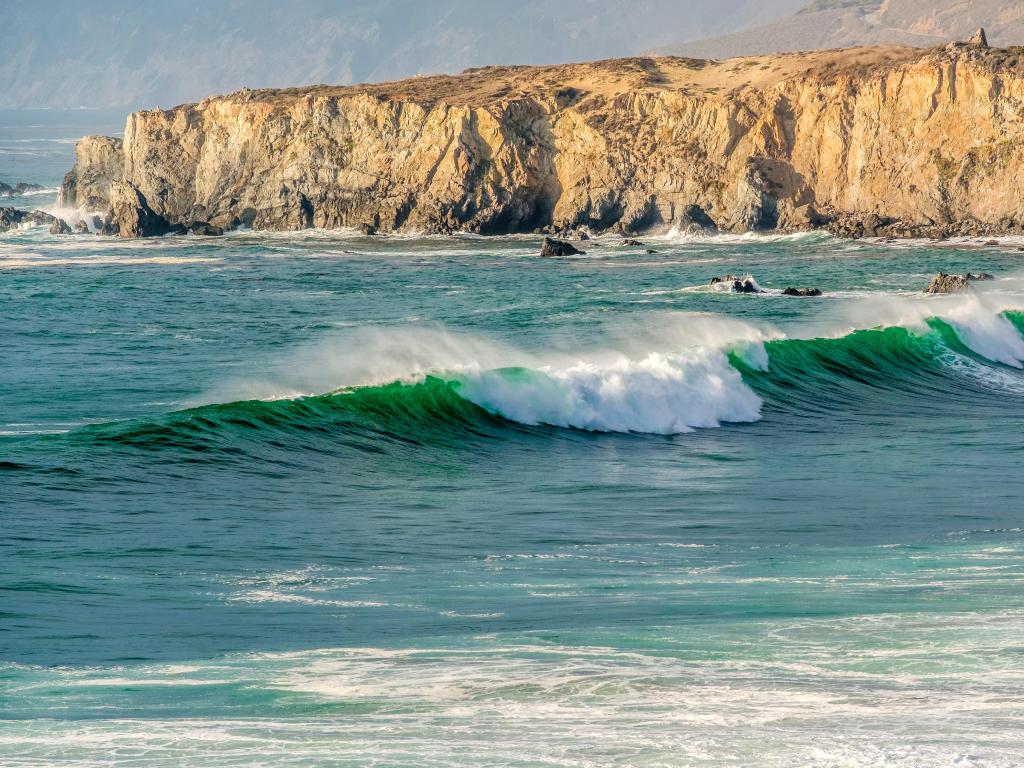 The Inland Route
Pacheco State Park - A running cattle ranch that features rolling hills and over 28 miles of trails to explore.
Yosemite National Park - This stunning park is a short detour off the main route but offers incredible forests, picturesque domes and cliffs and giant sequoia trees. This outdoor paradise offers so much to see and do that you could easily spend several days and only just scratch the surface.
Kings Canyon National Park - Another short detour, Kings Canyon National Park is surrounded by the Sierra Nevada Mountains and giant sequoia trees. Discover cascading waterfalls, great rails and incredible valleys.
Fresno - This city is the ideal gateway to stunning national parks, as well as a city with plenty of dining, shopping and other attractions.
Sequoia National Park - Take a trip to Sequoia National Park for mountain views, deep canyons and the world's largest trees. Enjoy rugged landscapes, wildlife and incredible hiking trails here.
Fossil Discovery Museum - This museum features exhibits from the Pleistocene Era of dinosaurs found in the nearby region! The exhibits are informational and hands-on, and there is a mock dig site for kids to play around in.
Bakersfield - Famous for being some to country singers, Bakersfield is a large city on this route that offers great amenities including golf courses, zoos, hiking trails and more than 60 public parks. You're also within driving distance of the Sierra Nevada Mountains, making this a great outdoor base.
Fort Tejon State Historic Park - This park is right off the freeway and offers historic exhibits and military artifacts, helping you to envision life at this fort.
Los Padres National Forest - The third largest forest in California, you can camp or simply enjoy rugged coastal views as well as dense woodlands. Just some of the activities you can enjoy here include fishing, horse riding, rock climbing and picnicking.
Slide Mountain Fire Lookout Tower - A scenic overlook, at 4631 feet, which requires a long and strenuous hike to get to the top. However, the views will not disappoint as the tower provides panoramic views of the surrounding area. Stretch those legs!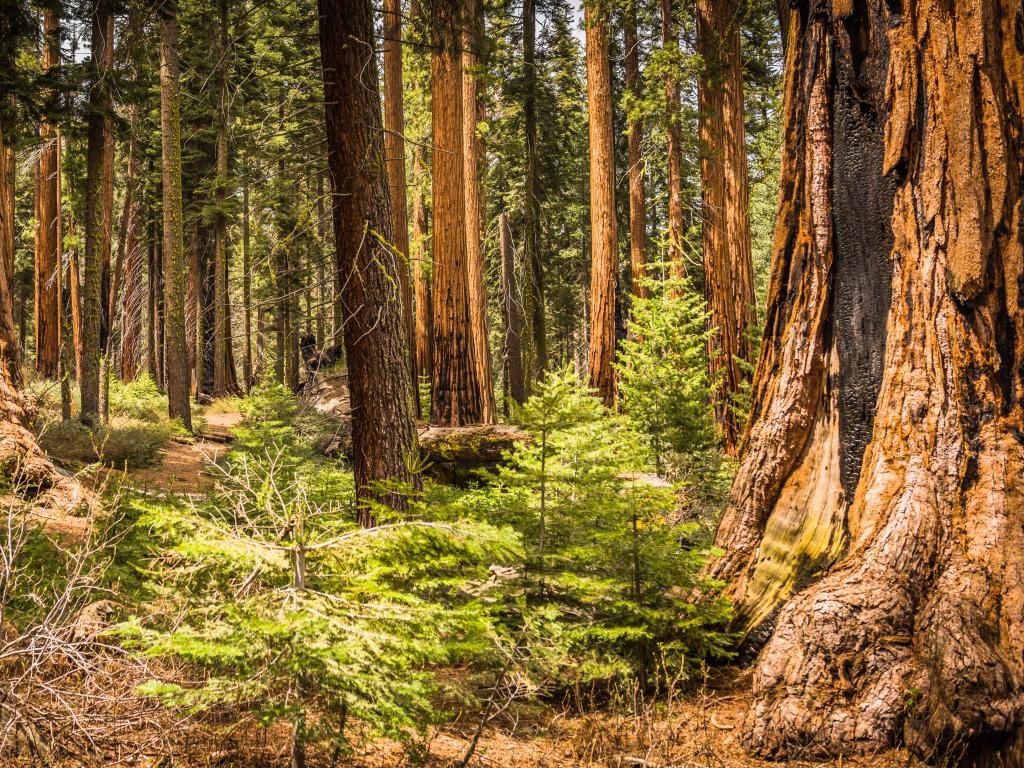 Best time to go on a road trip from San Jose to Santa Barbara
While California sees a variety of temperatures due to its varied climate, generally the weather is mild to warm all year round making the road trip from San Jose to Santa Barbara one that can be enjoyed any season.
In the summer, temperatures can reach mid-80 degrees Fahrenheit, making it the warmest but also the most popular time to visit. However national parks and beaches alike are much more crowded in the summer and with hotel rates higher, it isn't the best season for everyone.
That said, the weather will be perfect for outdoor activities, and you may finally be able to swim (fairly comfortably) in the notoriously cold Pacific Ocean, unlike the other seasons throughout the year.
In comparison, in winter the average temperatures range from 50-60 degrees, with colder temperatures at night. If you don't mind wearing layers, this may be the perfect season as they'll get fewer crowds at the national parks, quiet trails and cheaper hotels.
A great middle ground is visiting in fall as temperatures stay warm through September and the tourist season slows down a bit, making it an excellent time to take this road trip. Meanwhile, spring enjoys beautiful blooms and warm temperatures, though you might catch some seasonal rain.
Finally, there are great events you could tie with your trip in this part of California. Highlights include the Santa Barbara Film Festival in February, the Harbor and Seafood Festival in October, the Santa Barbara Half Marathon in November and the amazing Parade of Lights in December.