Road Trip from San Jose to Portland, Oregon
If you are looking for the ultimate adventure, taking in some of California and Oregon's best landscapes, breathtaking coastal towns and cities and incredible national forests, then the trip from San Jose to Portland, Oregon is the ideal city escape to melt away the mundane.
The 720-mile road trip from San Jose to Portland, Oregon takes about 12 hours to drive. Key stops include San Francisco, Santa Rosa, Sacramento, Salem, Eureka and Eugene, as well as Umpqua National Forest, Fort Bragg, Crater Lake and Mount Shasta.
To help you make the most of your adventure, we've set out the best routes and places to stop overnight, plus our favorite things to do and the best time of year to make the trip from San Jose to Portland, Oregon.
How far is Portland, Oregon from San Jose, and how long will the road trip take?
Comparison of road trip routes between San Jose to Portland, Oregon

| Route | Distance | Driving Time |
| --- | --- | --- |
| The Inland Route | 720 miles | 12 hours 15 minutes |
| The Coastal Route | 830 miles | 18 hours 20 minutes |
There are two obvious routes you can take for the stunning road trip from San Jose to Portland, Oregon. The quickest of the two will take you inland and covers a distance of 720 miles. Without stopping, this will take 12 hours and 15 minutes to drive.
Our alternative Coastal Route will take you further west through Santa Rose and is longer at 830 miles, taking 18 hours and 20 minutes to drive non-stop.
Given the distance of both routes, our recommendation would be to take between four and six days to complete the trip. This will allow you plenty of time to stop at the fantastic cities en route, as well as explore the many parks, forests and coasts.
Best road trip route from San Jose to Portland, Oregon
Our two recommended route options between San Jose and Portland, Oregon each offer something different, therefore the "best" option will entirely depend on what kind of scenery you'd like to see along the way.
If you're after dense woodlands and visiting the iconic city of Sacramento, as well as the stunning mountain ranges in California, then our Inland Route is ideal. This option is the most direct, so it's ideal if you are limited in time as you could complete it quicker.
However, if the beautiful coast is calling you (as it does often to us), then you might want to consider following the Coastal Route. Offering extraordinary scenery along the west coast, you'll also get to pass Santa Rosa and the beautiful landscapes, before heading inland.
Both routes will take you through San Fransisco, Eugene and Salem as they rejoin the same interstate towards your final destination, though you will be driving for longer and further if you decide to follow the Coastal Route.
Regardless of which route you decide to follow, you'll be guaranteed the kind of road trip that will take you on a journey across two of America's best states.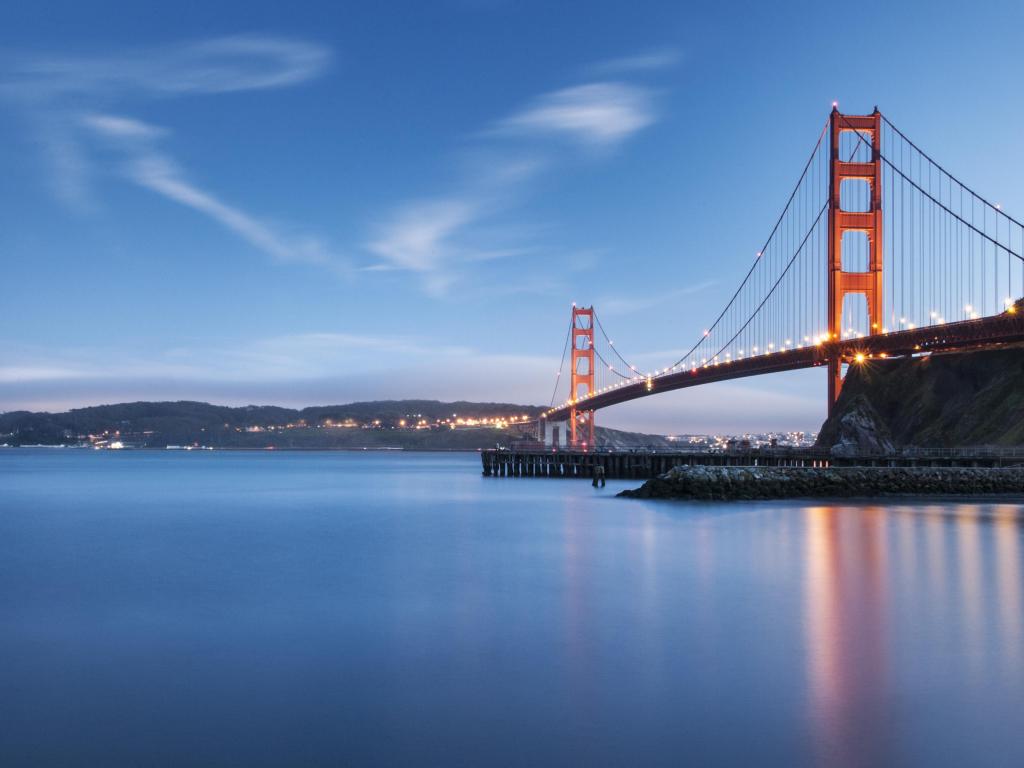 The Inland Route
Begin your trip by taking CA-87 North from San Jose, before taking Exit 9B to join US-101 as you drive alongside Don Edwards San Francisco Bay National Wildlife Refuge.
There are some amazing state parks and natural preserves dotted along this part of San Jose which you could explore, before following US-101 all the way north to the incredible city of San Francisco, where you can stop and explore.
After making a quick detour to visit the famous Golden Gate Bridge, you will then need to leave San Francisco on Interstate 80 (I-80) heading east across the Bay Bridge, toward Oakland.
Continue on I-80 as you follow the coast a short distance and pass Wildcat Canyon Regional Park and all the way to another bridge, this time the Alfred Zampa Memorial Bridge.
Still on I-80, continue through California, passing by several gold courses and towns, as well as Lagoon Valley Park. Eventually, you'll arrive at Exit 4A, which you will take to the fantastic city of Sacramento, another great overnight option.
Leave the city on Interstate 5 (I-5) heading north, passing close to Fremont Weir State Wildlife Area and crossing the Sacramento River. Continue on I-5 through several towns including Sacramento National Wildlife Refuge.
You could make a stop for a longer detour to Mendocino National Forest from the town of Willows or continue heading north. This scenic part of your drive takes you close to Lassen Volcanic National Park and Latour State Forest if you are up for some great hiking.
As you pass through the towns of Pollard Flat and Fisher, you'll arrive at Castella and through the beautiful Shasta-Trinity National Forest. Take Exit 737 to follow signs to Mount Shasta, a stunning spot for hiking and to discover Hedge Creek Falls and Lake Siskiyou.
Next rejoin I-5 north through several more towns before arriving at Colestin crossing into Oregon, where you can stop to visit Cascade-Siskiyou National Monument.
Continue on I-5 through Wolf Creek Park and all the way to Exit 106 to Myrtle Creek, another fantastic sightseeing spot on this route. Rejoin the interstate and continue through Green and Roseburg where you'll take OR-99 a short stretch before arriving at Eugene.
After a rest at this city, take Exit 4B to get back on I-5 and continue north all the way to another super stop at Salem. The final stretch on I-5 will take you the rest of the way to your destination of Portland in Oregon.
The Coastal Route
Our alternative Coastal Route begins the same way from San Jose and to the city of San Francisco but instead will see you drive across the iconic Golden Gate Bridge on US-101.
Crossing the Bay, you'll pass the Golden Gate National Recreation Area, before continuing north and alongside several beautiful preserves and historic parks, plus San Pablo Bay. They're all worthy of a stop and explore.
Continue north on US-101 to Santa Rosa, a great city base for an early overnight stop and to explore the surrounding Sugarloaf Ridge State Park. After, continue on US-101 to Exit 522 where you'll switch to CA-128 west.
Follow this scenic road to CA-1 once you've reached the coast, and then continue on it north to Mendocino where you can explore the State Park named after it.
Continue following the coast north, stopping just before Fort Bragg if you want a slight detour to explore Jackson Demonstration State Forest.
Follow CA-1 along the coast, passing the popular towns of Fort Bragg, Newport and Rockport before heading further inland to Leggett. From here you'll rejoin US-101 north.
Take Exit 639B to follow signs for Kings Range National Conservation Area, a spectacular area where land, sea and mountains meet. This is definitely a detour you should make time for.
Head back to US-101 alongside Humboldt Redwoods State Park, a dense woodland that's ideal for hiking or enjoying a picnic. Continue north past the town of Loleta and through Humboldt Bay National Wildlife Refuge to rejoin the coast.
Drive through Eureka and alongside Arcata Bay and through Calm Beach, Patricks Point and Big Lagoon, amongst others. This next stretch will see you drive through Redwood National and State Parks, as well as Prairie Creek Redwoods State Park.
Continue on US-101 along the coast, passing more dense woodland through Del Norte Coast Redwoods State Park to Crescent City where you can stop and explore Lake Earl and enjoy coastal views.
Take Exit 794 and join US-199 north past Jedediah Smith Redwoods State Park and inland before crossing into Oregon and through a couple of towns. You could make a detour here to visit Oregon Caves National Monument & Preserve or continue north enjoying the beautiful landscape.
At the town of Redwood, you'll exit to follow OR-99 north, before merging just after onto I-5 through Sunny Valley and alongside Wolf Creek Park.
At this point you'll join the same route as the inland option above. Follow this all the way to your destination of Portland in Oregon.
Best places to stop between San Jose and Portland, Oregon
Given that we're recommending you spend several days completing the road trip from San Jose to Portland in Oregon, you're going to need a couple of great overnight stops along the way to rest up before the next day's drive.
There are some great places you can stop along the way, here are some of our recommendations for great hotels:
A stay in the "City of Trees", Sacramento
For an early rest on the Inland Route, Sacramento is a fantastic option. Although only two hours away from San Jose, this great city will give you an early opportunity to rest on the first night, while offering a great number of attractions all around you.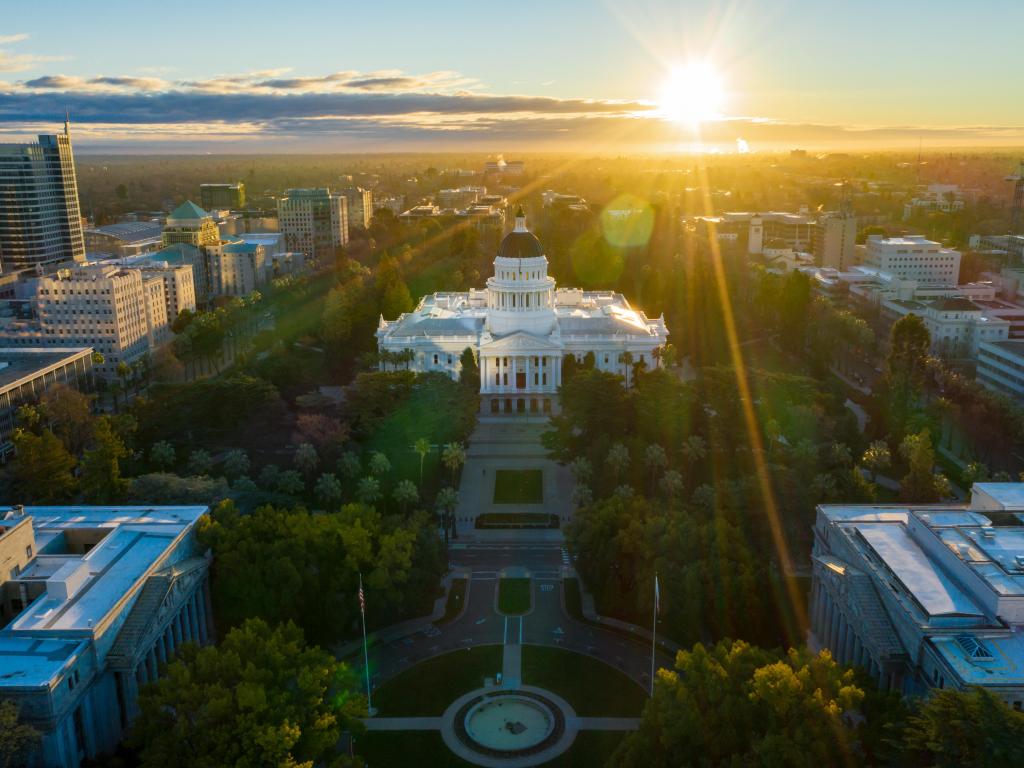 The capital of California, Sacramento offers a city experience with a rich history and energetic nightlife. Given its nickname as both the "City of Trees" and the "Farm-to-Fork" capital, you can expect tree-lined streets and some of the best hip breweries and top-rated restaurants.
Explore Crocker Art Museum, which is the oldest art museum in the Western USA, founded in 1885 or the Effie Yeaw Nature Center. There's also a wealth of historic sites, such as the State Capitol, Capitol Park, Old Town, Sutter's Fort and the Railroad Museum.
With so many things to explore, you will want a hotel with a stellar location to stay in and the Kimpton Sawyer Hotel will satisfy all your needs with its fantastic positioning, beautiful design and luxury amenities.
Located in the heart of Sacramento, this amazing hotel offers a terrace with fantastic views and free use of bicycles, which are a fun and environmentally friendly way to explore the city.
The hotel is also a short walk from the city's main attractions, including the Sacramento River. Combined with the stylish decor, pool-level lounge and great bar menu plus an onsite steakhouse, the Kimpton Sawyer Hotel is certain to guarantee an unforgettable experience.
Stunning cliff views at Mendocino
If you've opted for the Coastal Route and are looking for an early stop en route to Portland, then a lesser known but truly beautiful place is Mendocino, a coastal community in California. Located just four hours from San Jose, this would make a great stop on your first day.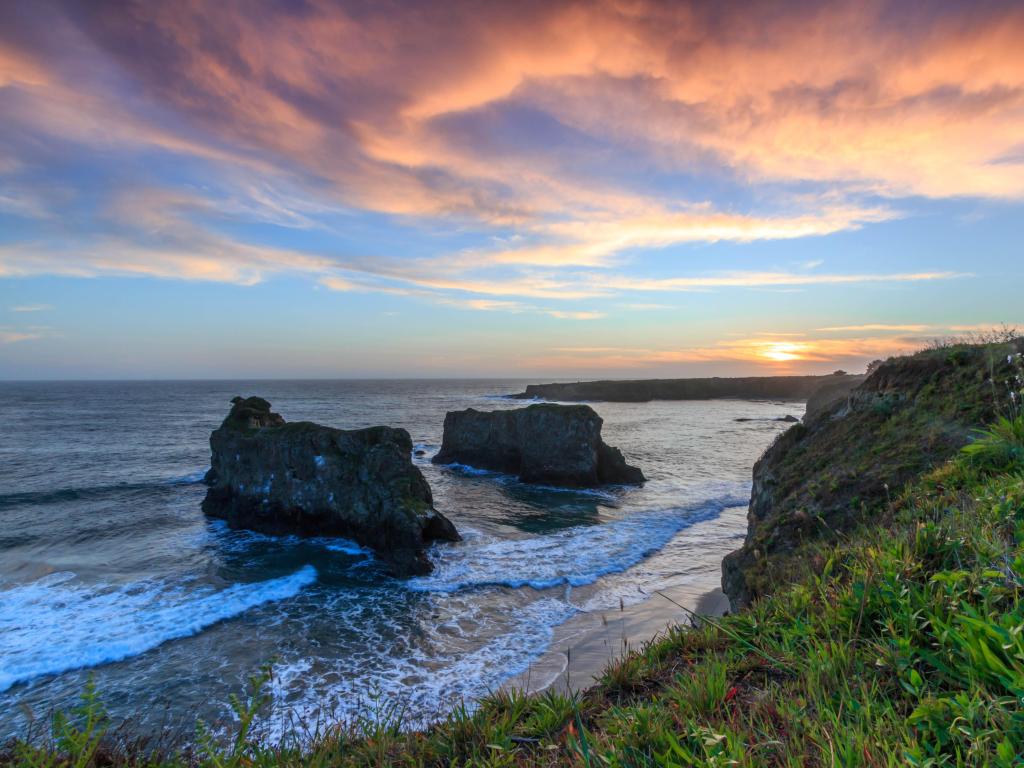 Mendocino is located in northern California and is known for its scenic coastal position, cliffside trails and beautiful beaches. It's the perfect escape from the bustling city and busy highways.
Visitors come to this part of California for its unspoilt nature, fantastic local produce including sea urchins and the region's sparkling wine, as well as its laid-back vibe. Despite its size, there's plenty to keep you busy in Mendocino.
While part of this region's charm is its size and slightly remote location, it does mean that there are limited accommodation choices. One of the best resorts close by is the Agate Cove Inn, a luxurious yet relaxed stop poised on cliffs and offering the best views around.
This secluded resort offers wooden cottages which each offer their own private porch and balconies, offering sea views and set within stunning beautiful gardens.
You'll also be within easy reach of the Mendocino Art Center and Temple of Kwan Tai, a designated California Historical Landmark.
Relax and unwind in Eugene
A great final stop for both routes is the city of Eugene, in Oregon. Just two hours away from Portland, this city is a great base if you'd like to arrive at your destination refreshed and ready to explore.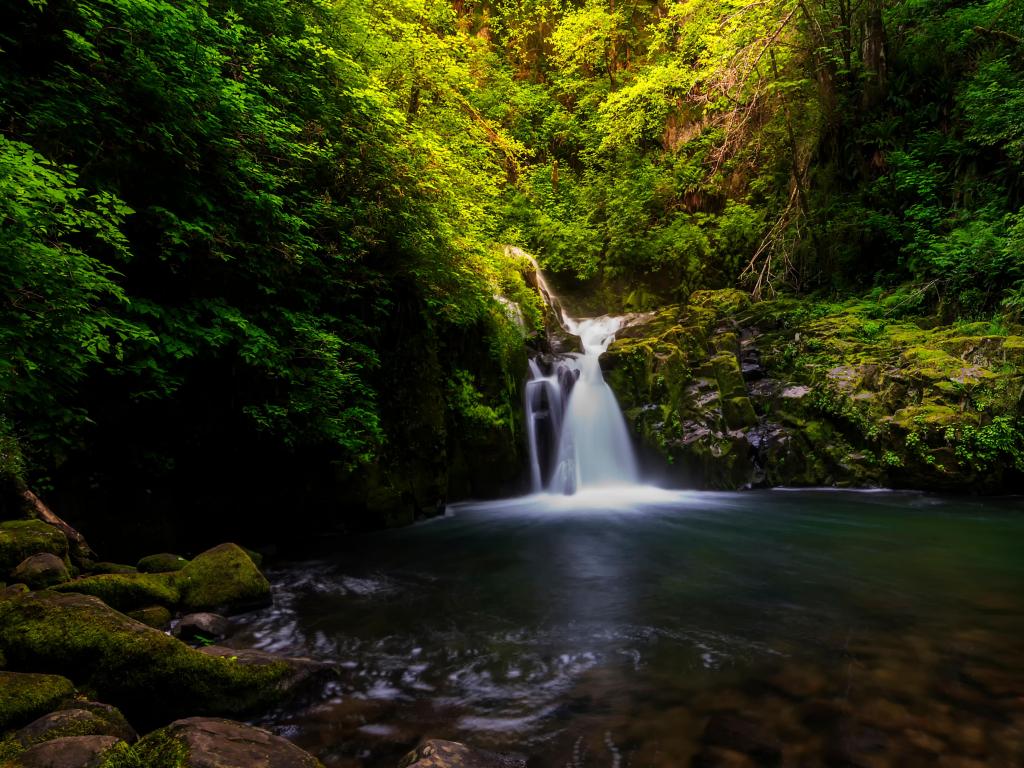 Combining a mixture of beautiful scenery and city attractions, Eugene is an ideal base for travellers whether you're just stopping for the day or looking to stay a bit longer. Known for its arts, culture and outdoors, there's something for everyone in this pretty city.
Some of the city's best attractions include the Museum of Natural and Cultural History and the Jordan Schnitzer Museum of Art, which focuses on Asian art. To escape the bustle of the city, how about a walk around the Owen Rose Garden, a huge park featuring more than 4,000 roses?
To complete your stay in the city, a stay at EVEN Hotel Eugene is a great option. This 4-star luxurious and modern hotel is stylish and offers all the amenities you'll want after a long drive. After a swim in the fabulous indoor pool, you can enjoy a meal at the onsite Cork & Kale.
With comfortable rooms, free parking and a fabulous location right by downtown Eugene, Alton Baker Park and the Willamette River, this is the perfect hotel to relax in before embarking on your final stretch to Portland.
A cultural stop in Portland, Oregon
Finally, after arriving at your destination in Portland and spending several long days on the road, you will be in need of a fantastic hotel to relax and unwind at, before taking in Oregon's largest city.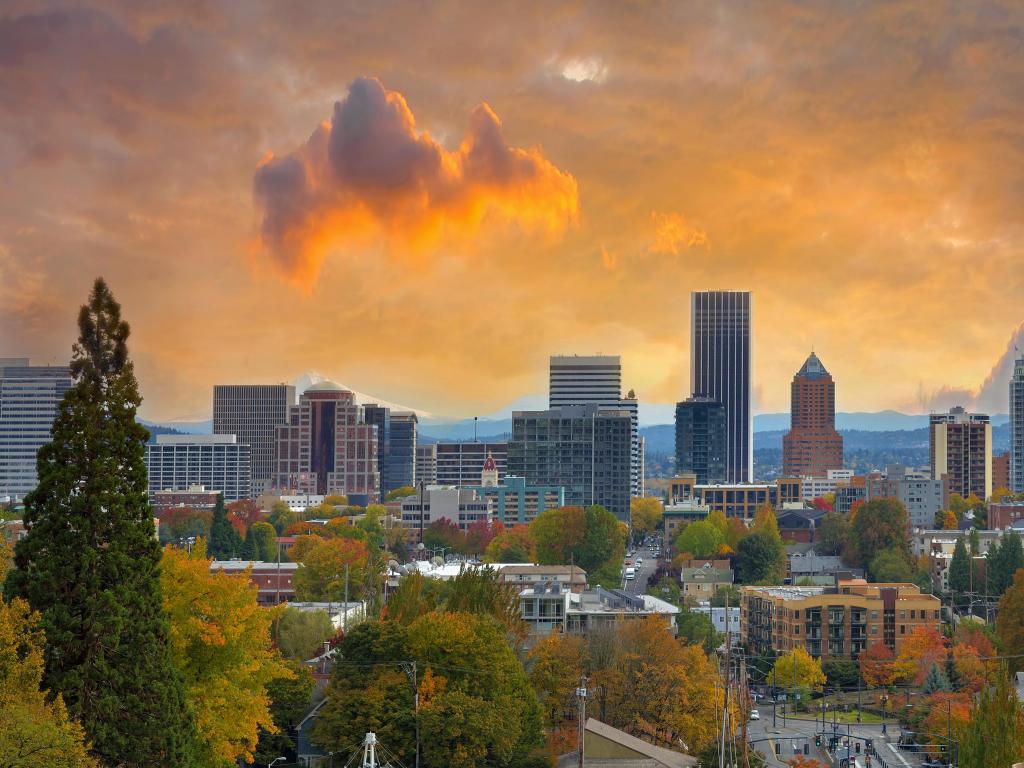 For a luxurious hotel with a fantastic location, Hotel Lucia is a great option. Nearby you'll find a shopping center, Portland Art Museum and Lan Su Chinese Garden, all within walking distance.
The 4-star hotel boasts beautifully designed rooms and the hotel's clever use of David Hume Kennerly's Pulitzer-prize-winning photography in the guest rooms, corridors and lobby, creates a unique atmosphere and stylish feel.
Onsite parking and a great onsite restaurant and bar mean that once you arrive at the Hotel Lucia, you can really relax and make the most of exploring Portland, including its iconic Washington Park and the fantastic views of snow-capped Mount Hood in the distance.
Things to see on a road trip from San Jose to Portland, Oregon
The road trip from San Jose crosses the state of California to Portland in Oregon and offers a huge choice of natural scenery, landscapes, beautiful lakes, and coastal views, to iconic cities and beautiful towns along the way.
There's so much to see en route, so to help with your planning we've listed some of our favorite places to stop at:
Both Routes
Golden Gate Bridge - This is a must-visit for travelers once arriving in the city of San Francisco and looking for an amazing and unique view at one of the most famous bridges in the world.
Chinatown, San Francisco - This is the largest Chinatown outside of Asia. It is worth passing by, especially during festivals such as the Chinese New Year.
Willamette National Forest - This is a slight detour eastward from Eugene; however, the Willamette National Forest is worth visiting for its hiking trails alone.
Crater Lake - A stunning volcanic crater lake formed around 7,700 years ago. At nearly 2,000 feet deep, the lake is the main feature of Crater Lake National Park.
Riverfront City Park - It is one of the most popular places to visit in Salem, as it hosts a magnificent view of the Willamette River. It also contains sculptures that complement its attractiveness.
Portland Japanese Garden - This is a garden that overlooks the city of Portland. It was designed in 1963 and includes an authentic Japanese Tea House, and meandering streams.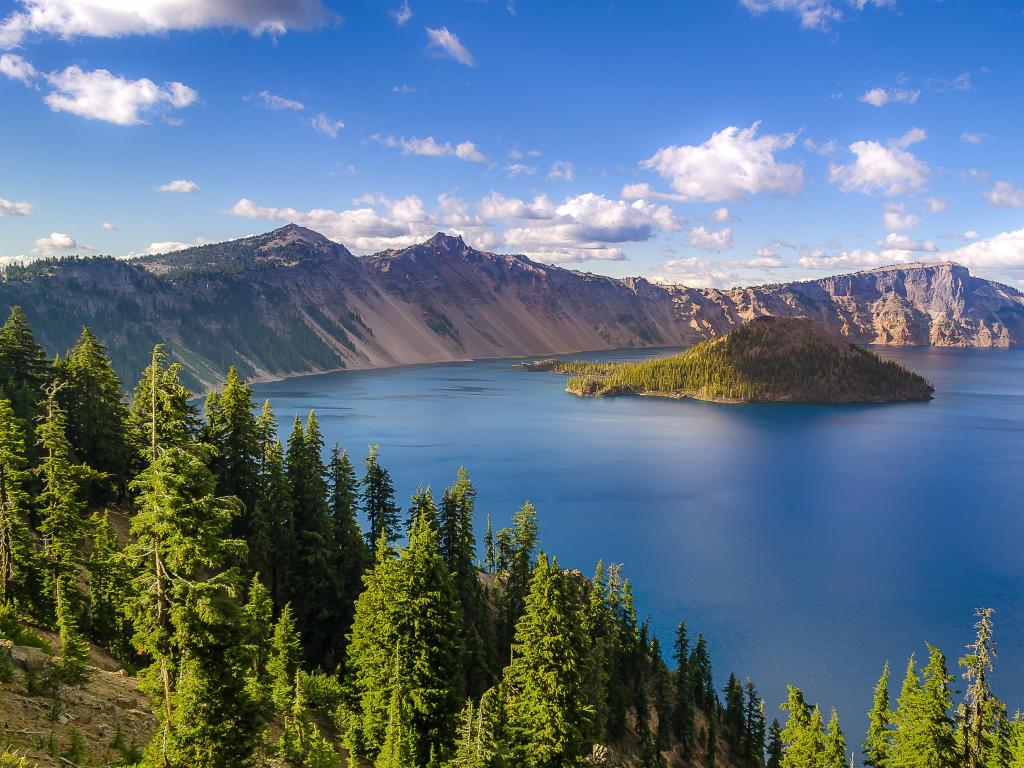 The Inland Route
California State Railroad Museum - Among the world's largest railway museums, this collection in Sacramento focuses on railroad history and the impact it had on the foundation of the state of California.
Crocker Museum of Art - This Sacramento institution and the oldest art museum west of the Mississippi River hosts a collection of Art from around the world.
Sacramento Zoo - A wide variety of exotic animals are located here. The zoo also hosts many conservation projects. It is worth stopping by to check it out.
Mount Shasta - Mount Shasta has many spots to visit that offer opportunities to hike throughout the natural terrain. Including Hedge Creek Falls, Black Butte, and Lake Siskiyou.
Cascade-Siskiyou National Monument - Do some fishing at Hyatt Lake, or have your photo taken next to the giant "Welcome to Oregon" sign. This protected area is over 114,000 acres, so there's plenty to explore!
Pottsville Historical Museum - This charming small museum tells the story of the region's agricultural history. Great for families due to its range of engaging annual events
Myrtle Creek, Oregon - Another sightseeing natural spot for those that enjoy hiking, this little city is best known as being one of the earliest settlements in Southern Oregon and is the site of the longest undisturbed remnant of the Scott-Applegate Trail.
Umpqua National Forest - Over 500 miles of hiking trails. Several geologic areas meet at this incredible juncture, meaning that the Forest is home to a staggering variety of wildlife.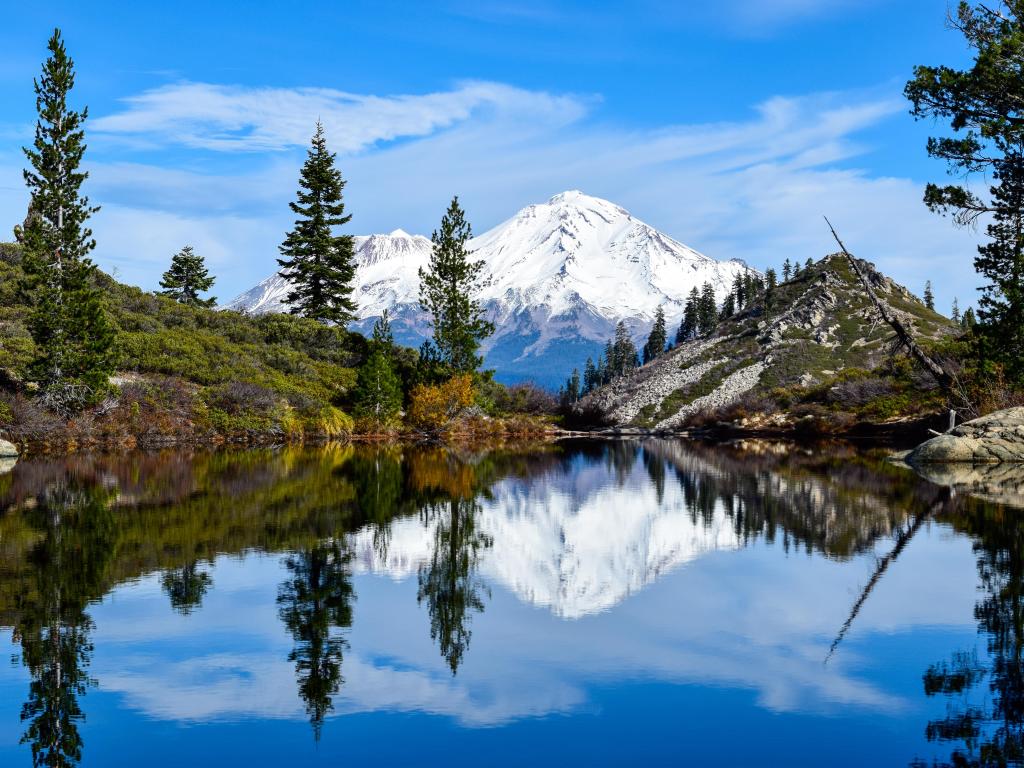 The Coastal Route
Safari West - Located in Santa Rosa, this nature reserve is set across 400 acres. The Safari features a wide range of animals including Zebras and Cheetahs.
Spring Lake Regional Park - This park and swimming lagoon in Santa Rosa offers an inflatable obstacle course, picnic tables and paddle boats.
Mendocino - One of our recommended stops, Mendocino is a coastal town with a relaxed, alternative vibe. It's also a great base for exploring local vineyards. While you're here, be sure to visit the beautifully preserved Temple of Kwan Tai.
Mendocino Coast Botanical Gardens - Located a little further along the coast in Fort Bragg, this peaceful, 47-acre collection of gardens perfectly illustrates the diversity of the California coast's flora. See the pine forest, manicured gardens and wild areas of native species.
Fort Bragg - Visit the coastal town of Fort Bragg and check out Glass Beach, a unique beach made up of colorful glass stones. Also worth a visit is MacKerricher State Marine Conservation Area, a beautiful stretch of coast extending around 9 miles north of Fort Bragg.
Battery Point Light - Built in 1856, the lighthouse contains a narrow spiral staircase which can be climbed to reach a spectacular view across the sea near Crescent City. There's also a museum inside.
Eureka, California - One of California's Historic towns, it hosts annual cultural events. Some of which include The Redwood Coast Music Festival and Kinetic Sculpture Race.
Best time to go on a road trip from San Jose to Portland, Oregon
Portland is a year-round destination, however, it truly shines in the summer season, when all outdoor activities can be enjoyed. That said, it's still a popular destination at other times of the year due to its seasonal events in fall and stunning spring flowers earlier in the year.
Summer is the most popular time to visit this part of Oregon. With temperatures mostly warm and not too hot, averaging 81 degrees Fahrenheit in August, the sunny days make it an ideal time to visit to enjoy outdoor activities, especially if you're following the coast.
That said, you will find hotels are busy and at their most expensive at this time of year, while the cities and beaches you'll pass will likely be more crowded with tourists looking to enjoy their summer vacations.
Meanwhile, winter is characterized by rain and shorter days and temperatures between 40 and 50 degrees. There's also the chance of freezing temperatures in the coldest months, which might put a dampener on your trip if you're hoping for hiking days.
However various museums and indoor attractions remain open, so you will be able to enjoy these fantastic indoor activities if the weather is not on your side. The colder months are also ideal for those looking to save money since hotel prices drop at this time of the year.
Spring and fall tend to be less busy than the summer months. The weather is still somewhat damp, however, flowers and trees begin to exhibit their distinct colors. If you aim for late spring and early fall, you should catch the best temperatures and fewer crowds.
While there are plenty of festivals and events happening in this region all year round, some of the most popular ones coincide with the summer months, including the Portland Rose Festival and the iconic Mendocino Film Festival in early June. Remember to book those hotels in advance if you're timing your trip with any of these.