Road Trip from San Jose to Yellowstone National Park
The epic blend of peaks, pikes, and bustling cities make the road trip from San Jose to the stunning Yellowstone National Park one that cannot be missed. Regardless of which route you take, you'll pass through some of the best iconic landmarks, famous cities and stunning lakes.
The 1,160-mile road trip from San Jose to Yellowstone National Park takes 19 hours to drive. Key stops include San Francisco, Sacramento, Salt Lake City, Reno, Los Angeles, Las Vegas, plus Lake Tahoe, Zion National Park, Hoover Dam and Grand Canyon.
This trip is packed full of incredible places to visit, from Sin City and LA to impossibly breathtaking landmarks, lakes and forests. To help you plan the very best adventure from Yellowstone National Park, we've set out the best routes and places to stop on this incredible trip
How far is Yellowstone National Park from San Jose, and how long will the road trip take?
Comparison of road trip routes between San Jose and Yellowstone National Park

| Route | Distance | Driving Time |
| --- | --- | --- |
| The Northern Route | 1,160 miles | 19 hours |
| The Southern Route | 1,335 miles | 20 hours 30 minutes |
Whichever way you decide to drive, you'll be covering a fairly big distance between San Jose and Yellowstone National Park. The quickest of our recommended routes takes you north through Reno and Boise and takes just under 19 hours to drive, covering a whopping 1,160 miles.
Not hugely further, our Southern Route will take you via Las Vegas and Salt Lake City to the park. Spanning a distance of 1,335 miles, this option will take 20 hours and 30 minutes to drive without accounting for any stops along the way.
As both routes cover a large distance and take you through some incredible landmarks, cities and spectacular views, you'll want to spend at least a week on a trip of this length and magnitude. But don't worry, you'll have some incredible options for overnight stops along the way!
If you really want to get from San Jose to Yellowstone National Park in the quickest amount of time, then a more direct route is available. Taking 14 hours and 30 minutes to drive and covering just 970 miles, it might be quicker but you'll miss so many great places along the way that we wouldn't recommend it.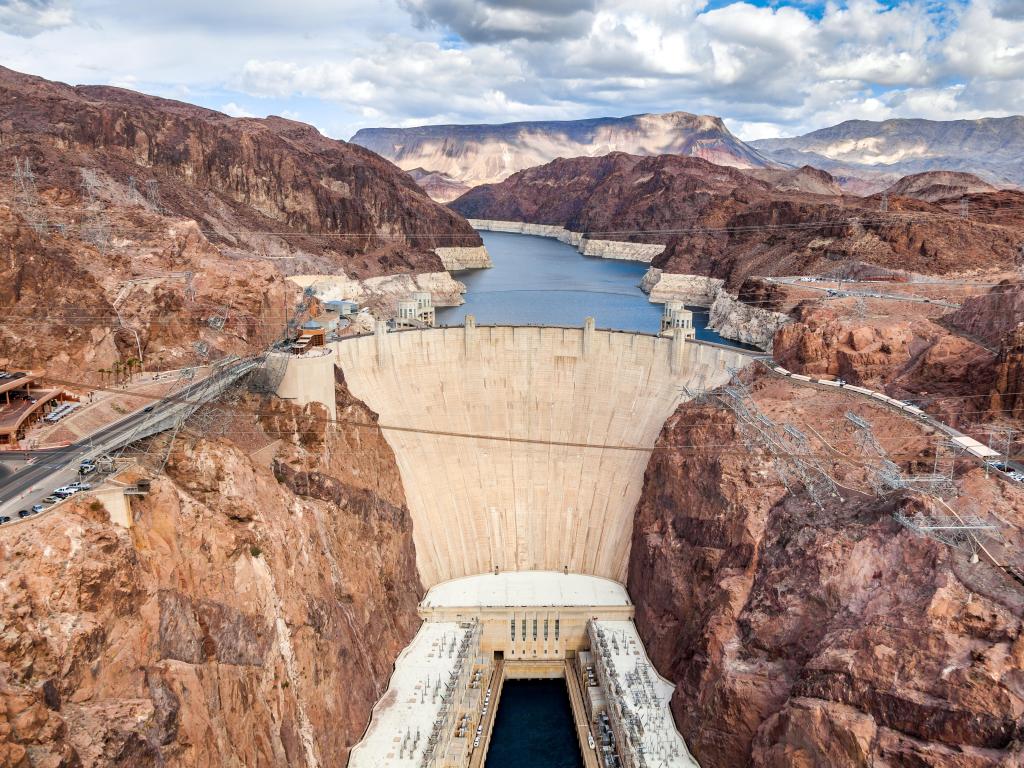 Best road trip route from San Jose to Yellowstone National Park
Our two route suggestions from San Jose to Yellowstone National Park offer very distinct different trips. The shortest and most direct of the two, the Northern Route offers plenty of scenery and iconic landmarks to see along the way, including Lake Tahoe and its turquoise waters.
You'll get beautiful woodland areas to explore, like Boise National Park, and several wildlife parks if you're a fan of nature and outdoor activities. There's not much in the way of coastal views and fewer iconic cities, though you'll get to experience the wonder of San Francisco.
The Southern Route is ideal if you have more time on your hands. Giving you further opportunities to detour to richen your road trip, this route allows you to visit Los Angeles and the Grand Canyon.
Even without the extra detours, this route is packed full of incredible landmarks including Zion National Park, Dixie National Forest and Hoover Dam. There are plenty of great cities to explore, including the famous Sin City and Salt Lake City, though you won't get to tick Lake Tahoe off your bucket list.
The Northern Route
Leave San Jose and head towards Sacramento on Interstate 680 (I-680) North. When you reach the city, you'll join I-80 and pass by Tahoe National Forest, making a stop to enjoy the view at Lake Tahoe.
Continue on the interstate to Reno, where you can detour to visit Pyramid Lake or continue alongside Humboldt State Wildlife Management Area to Oregon and pass by Steens Mountain Wilderness.
Join I-84 and head east to Boise, visit Boise National Forest or Morley Nelson Snake River Birds of Prey National Conservation Area, or simply follow the interstate to Twin Falls.
Head north to Arco, stopping at Craters of the Moon National Monument & Preserve before passing Idaho Falls on US-20 and passing Caribou-Targhee National Forest.
Continue east alongside Red Rock Lakes National Wildlife Refuge and through West Yellowstone where you'll pick up US-191 and head south the rest of the way to Yellowstone National Park.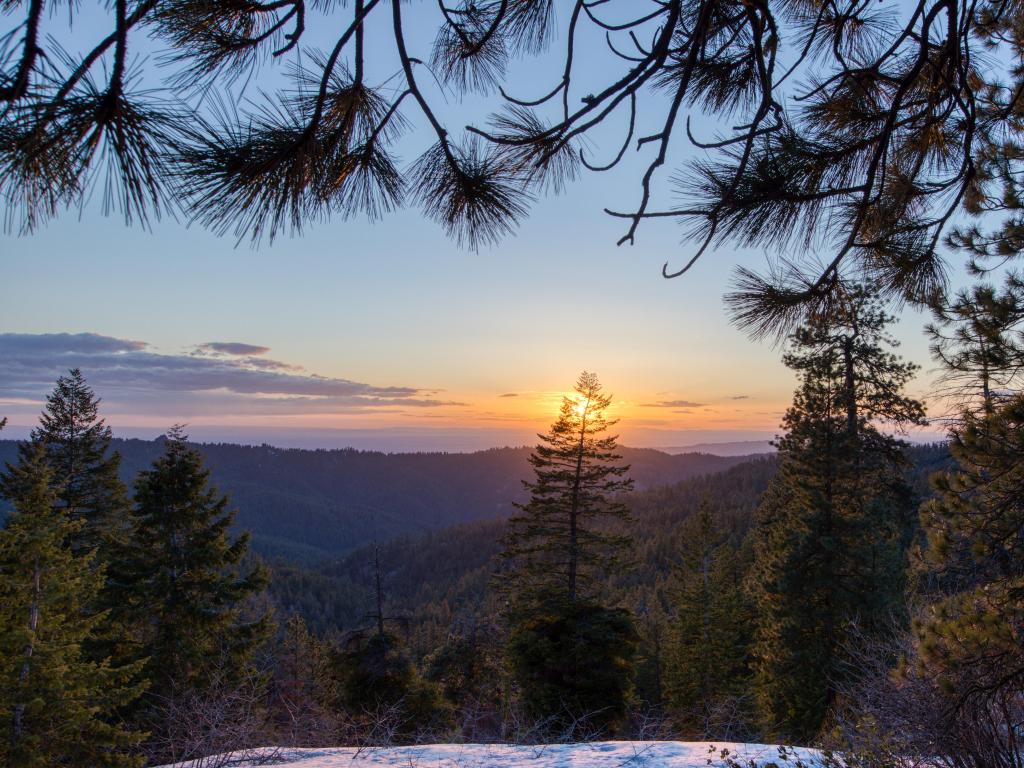 The Southern Route
Our alternative route takes you from San Jose south to Fresno, alongside Sierra National Forest, Kings Canyon National Park and Sequoia National Forest.
At Bakersfield head east before either detouring to Los Angeles or joining I-15 north to Las Vegas, passing Mojave National Preserve along the way.
Take a visit to Hoover Dam and Lake Mead, before continuing north past Red Rock Canyon National Park and Valley of Fire State Park. If you have more time, you could include a visit to the Grand Canyon at this point too.
Cross into Utah and visit Zion National Park as well as Dixie National Forest, all the while rejoining the interstate between visits.
Continue north, past Fish Lake Hightop for another waterside visit or Utah Lake when you reach Provo. Follow signs for Salt Lake City and pass Twin Peaks.
Still heading north, you'll drive near the shore of Great Salt Lake, pass through Bear River Migratory Bird Refuge and cross into Idaho.
Follow the interstate to Idaho Falls where you'll pick up the above route for the final stretch of the trip, passing Caribou-Targhee National Forest to Yellowstone National Park.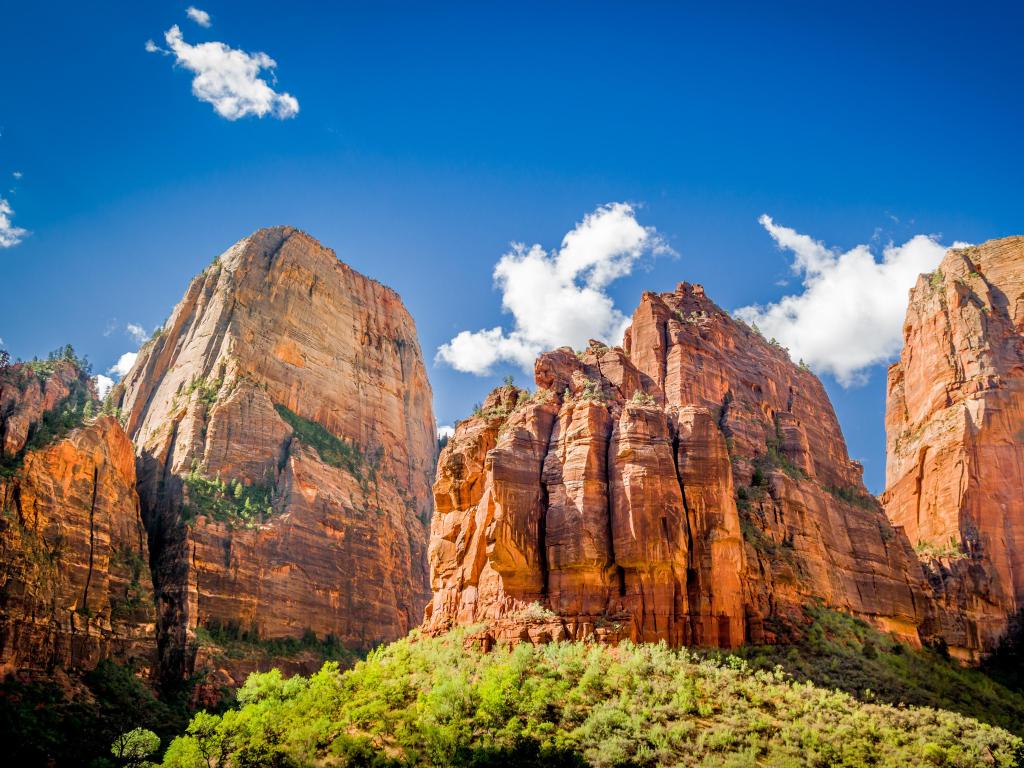 Best places to stop between San Jose and Yellowstone National Park
You will definitely be spoilt for amazing overnight stops on this epic drive. Whether you want urban vibes or prefer the quiet countryside, there's a town or city ideal for you along the way.
To help you plan your stops, we've included a couple of our favorite places that you might want to consider.
Breathtaking waterfront views at Lake Tahoe
Stunning locations don't get much better than Lake Tahoe. Located on our Northern Route 15 hours away from Yellowstone National Park, this beautiful lakeside retreat is an ideal overnight stop for so many reasons.
The incredible Lake Tahoe is an iconic location that offers freshwater lake activities surrounded by the stunning Sierra mountains, offering breathtaking scenery, beaches, and even a ski resort.
Primarily known for its clear and tranquil water, Lake Tahoe is one of the most popular destinations in the US thanks to its many recreational activities. After spending time on the turquoise water, you can take a walk around Emerald Bay State Park or enjoy hiking at Mt. Tallac trailhead.
There are plenty of accommodation options at Lake Tahoe, but The Landing Resort and Spa is a stylish resort with a spa, cosy fireplaces, easy access to Sand Harbor State Park and incredible views, making it pretty hard to beat.
Situated at the foot of the lake on a private beach area, the hotel also features a fantastic restaurant, rooftop terrace, a firepit and a lake view patio. As an added bonus it also offers free transportation to the Heavenly Village and Casinos, ideal if you'd like to enjoy some skiing while visiting.
Enjoy the bright lights of Las Vegas
If you're looking for a city stop that's bright, fun and memorable, you really should consider Las Vegas. A little over halfway on our Southern Route, this city should definitely be one for your bucket list.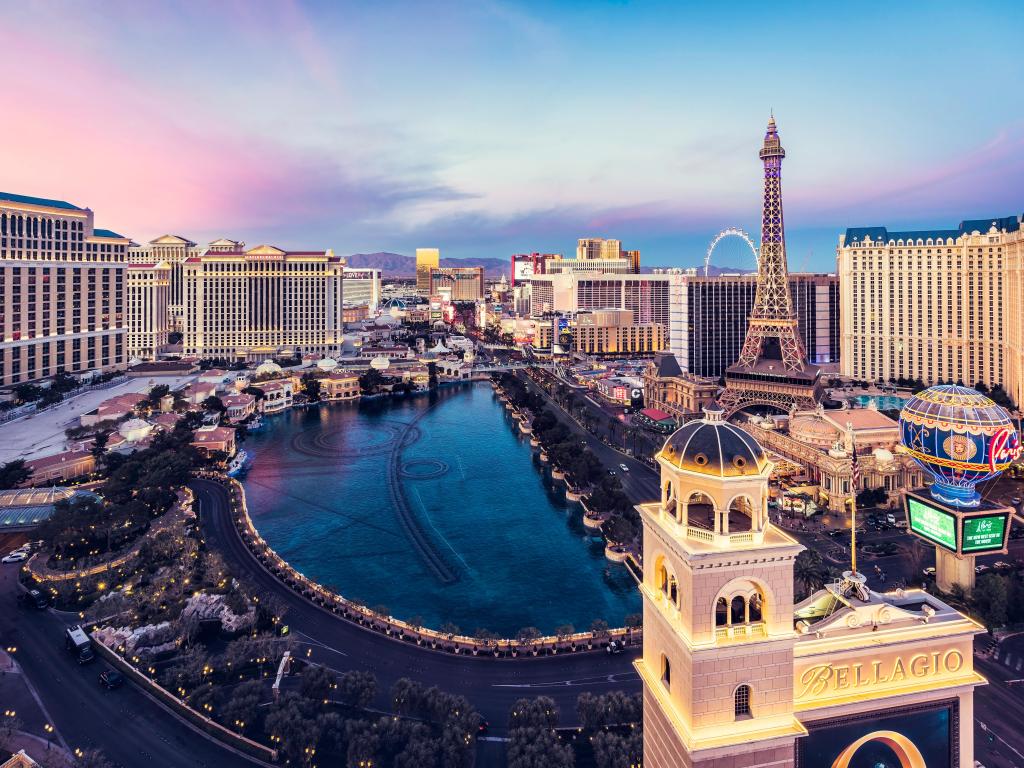 Nicknamed 'Sin City' for its once illicit gambling and organized crime scene that reigned over the city, today Las Vegas offers incredible nightlife, great bars and restaurants and is surrounded by the world-famous Nevada desert.
Make sure to visit the infamous Strip and the High Roller, a famous observation wheel (the biggest of its kind!) that takes in panoramic views of Sin City; and the Mob Museum which will keep you captivated for hours with its hundreds of artifacts and immersive exhibits.
If you're going to stop in Vegas, then you really should fully embrace it. A stay at the MGM Grand will do just that. This hotel is situated along the iconic strip and comes with an onsite casino, four swimming pools, and award-winning restaurants.
There's also a well-equipped fitness center and if you also happen to be a pet owner, great news! This stylish hotel even allows pets to visit. You'll be right on the doorstep of most shops, bars, award-winning restaurants, and casinos.
Stay within walking distance of Yellowstone National Park
Once you have arrived at your destination, Yellowstone Park Hotel is the perfect base to explore since it is located just three blocks from the West entrance of Yellowstone National Park and the Grizzly Wolf and Discovery Center, which is a stone's throw away from the hotel's doors.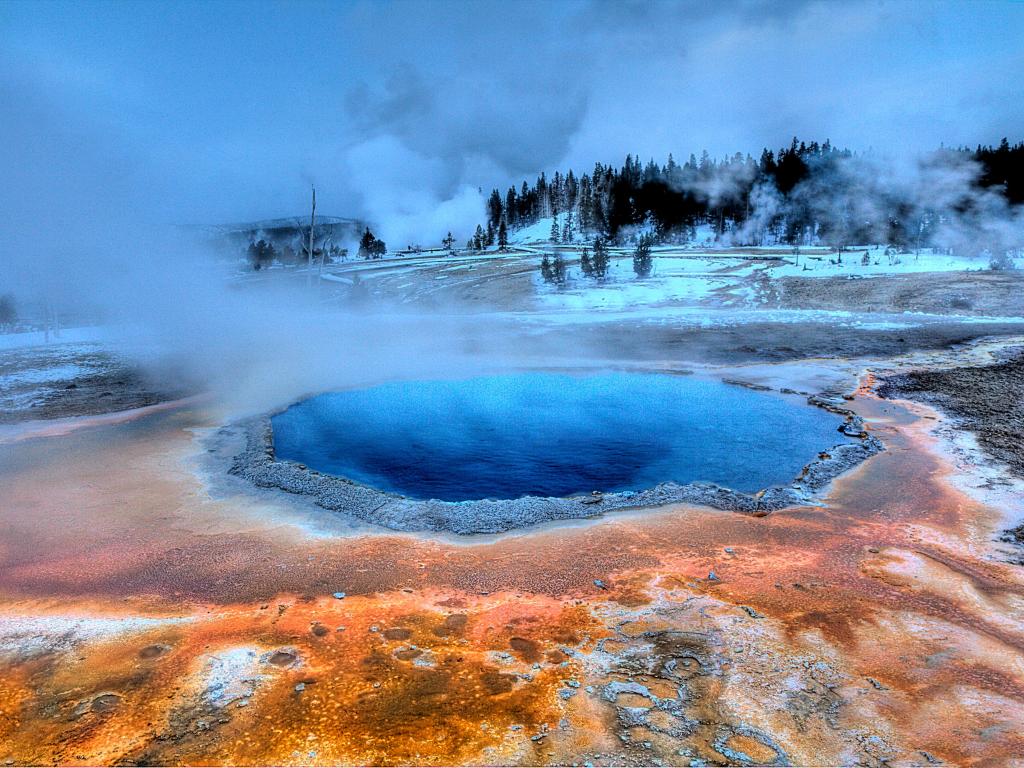 The hotel itself offers all the modern amenities you could want, including a gym where you unwind, an indoor swimming pool and the chance to relax in the hot tub. Shops, skiing, hiking, fishing, and cycling are all close by for hotel guests, plus free parking.
Things to see on a road trip from San Jose to Yellowstone National Park
With a huge variety of things to see and places to visit, you could be overwhelmed with choice on your trip from San Jose to Yellowstone National Park. If you're pressed for time, our list of some of the best bits should help you plan your trip with ease.
Both Routes
Idaho Falls - Known for its nature and natural phenomena, there are also local museums with regular exhibitions that attract customers from across the US.
Rexburg - Rexburg is close to Yellowstone National Park, and is home to the beautiful the Cress Creek Nature Trail. Another local highlight is the Legacy Flight Museum, which houses a collection of vintage military aircraft.
Island Park - The gateway to Yellowstone, Island Park is worth visiting for its wildlife, Henry's Lake, and mesmeric mountains looming in the distance.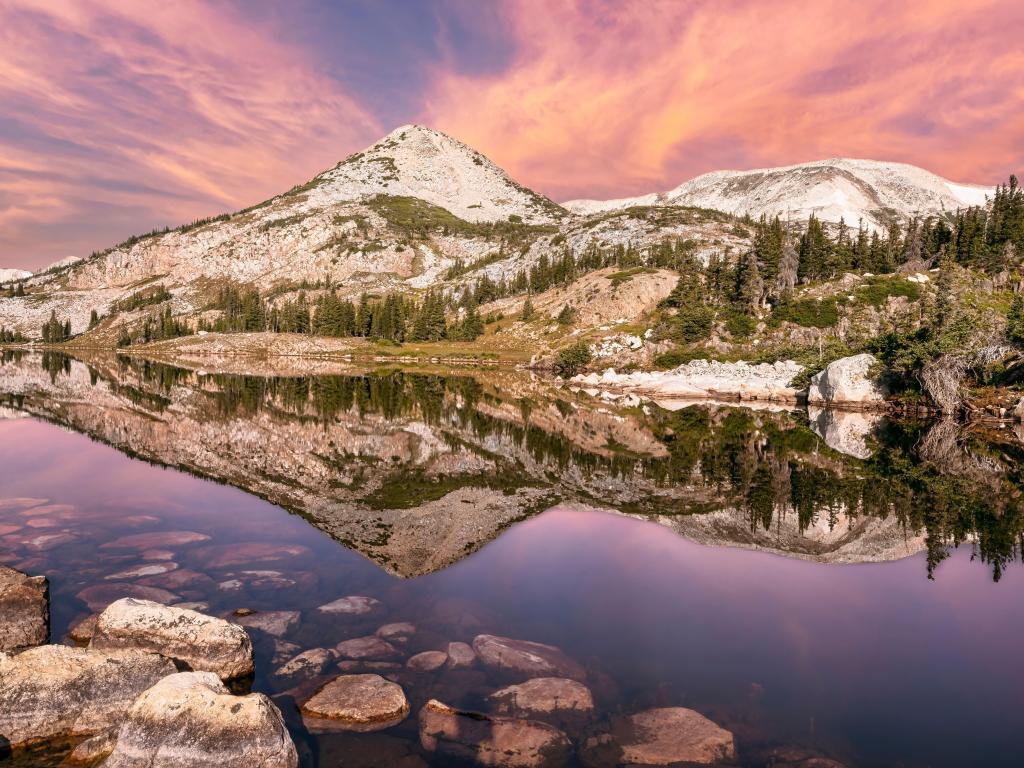 The Northern Route
San Francisco - 'The City by the Bay' awaits you as you start to make your way northbound. This city is famous for Alcatraz, Golden Gate Bridge, and cable cars to name a few.
Sacramento - This city is aptly nicknamed 'America's farm to fork' capitol due to its many local farmer markets in addition to offering much more to locals and tourists.
Tahoe National Forest - A year-round area for adventure, Tahoe National Forest is the perfect destination for outdoor enthusiasts. You can enjoy climbing, hiking, biking, and camping here as well as admire meadows filled with wildflowers in the spring.
Lake Tahoe - Lake Tahoe is an iconic American landmark that attracts tourists from far and wide. In the warmer months, Lake Tahoe is famous for hiking, cycling, Fishing, and water sports. It is possible to go skiing in the colder months.
Reno - Reno, or 'The biggest little city in the world' as it's otherwise known is famous famed for its neon lights and many casinos that attract visitors from near and far. There are also many museums and art galleries to add to your itinerary.
Mt. Rose Ski Resort - Starting at 8,260 feet, Mt. Rose Ski Resort is Tahoe's highest base elevation and is only 25 minutes from Reno. You can book either group or private lesson packages depending on your preference.
Boise - Boise is the capital of Idaho and is known for its rich natural resources that help to drive the US economy forwards. You can also make a detour to visit the Boise National Forest during your visit.
Twin Falls - Twin Falls is also located in Idaho, and you will encounter some breathtaking scenery that will simply leave you mesmerized. There are many different things to see such as the Sawtooth mountains and Shoshone Falls which are a must-visit.
Craters of the Moon National Monument and Preserve - This otherworldly scenery is created by lava flows of volcanic events that took place hundreds of years ago. Make sure to visit the Inferno and Sputter Cones while here.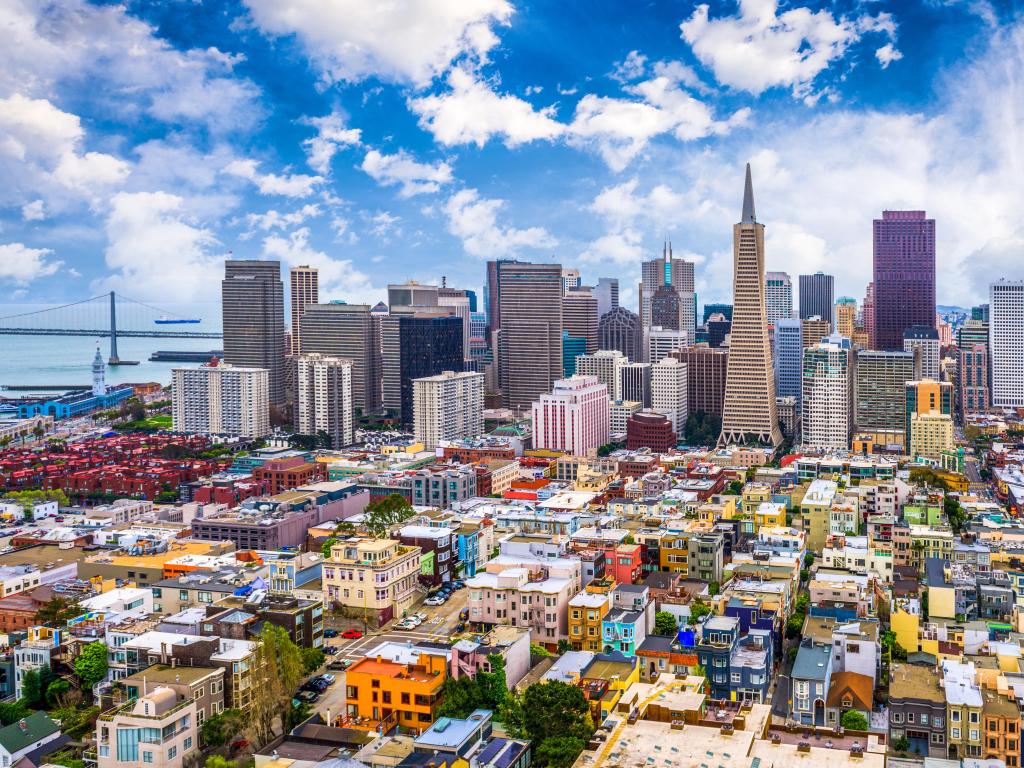 The Southern Route
Fresno - Fresno is known for its agriculture and wide-ranging produce that attracts traders from across the US.
Bakersfield - This is another city situated in the heart of California. You can visit places such as California Living Museum and Brooke Owens' Crystal Palace.
Los Angeles (Detour) - The fabled 'City of Angels' adds an extra five hours to your overall journey but it's a city that cannot be omitted from your itinerary. There's so much to see Hollywood and Universal Studios in addition to Hollywood Boulevard where you will find the Walk of Fame.
Mojave National Preserve - This fascination national preserve chronicles over 10,000 years of human history in the desert. It is also home to various ecological habitats, and the densest population of Joshua Trees (more so than the National Park named after them!)
Las Vegas - There's simply too much to mention when discussing what to do in Vegas. Be sure to head down the strip where you will find everything including nightlife, casinos, award-winning restaurants, and so much more to offer its guests and residents.
Hoover Dam - A magnificent engineering and architectural feat, the Hoover Dam is built on Lake Mead. It has a pedestrian walkway so you can enjoy the awe-inspiring scenery on foot.
Zion National Park - You will be following the footsteps of the pioneers and native people when you step into this national park. It is home to many hiking trails of various levels (perfect for families and experienced hikers alike). If you'd like to hike up to Angels Landing, you will need a permit and will need to make a reservation. Check the Zion National Park's website for more details.
Dixie National Forest - You will find the famous Red Canyon located in the heart of this scenic national forest, which is also the largest one in Utah. All of its areas offer camping options.
Salt Lake City - The capital of Utah and the most populous city. You will find plenty of things to do such as visiting the National History of Utah and Big Cottonwood Canyon in addition to the many bars and restaurants offering different cultural cuisine.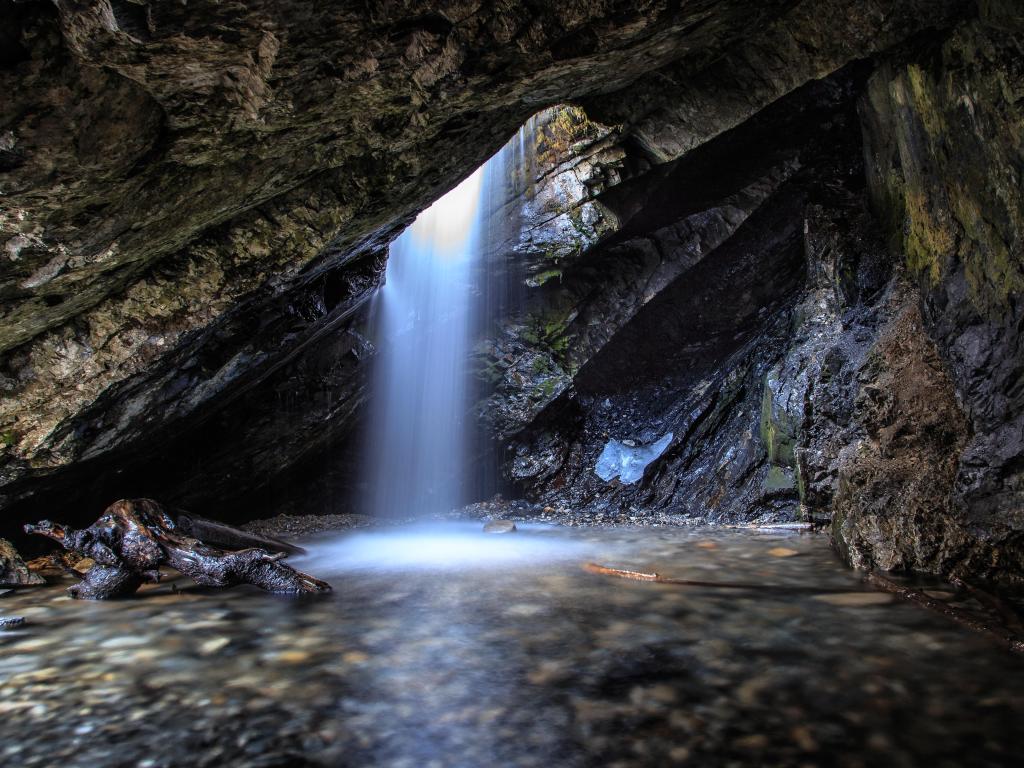 Best time to go on a road trip from San Jose to Yellowstone National Park
This trip can be enjoyed year-round depending on your preferences. If you prefer a colder climate and enjoy winter sports, then taking the trip from the Fall onwards might be the best bet.
However, if you enjoy hiking, cycling, and a combination of indoor activities, then the warmer months may be more suitable.
Temperatures in the summer tend to fluctuate between the low 70 and mid 80 degrees Fahrenheit, in addition to storms occurring in the afternoons. Despite this, the storms quickly blow over leaving you to bask in the glory of the Idahoan sunshine.
Winter can see bitterly cold temperatures, so be sure to plan your trip before departing. Temperatures can plummet to -4 degrees Fahrenheit at this time of year. Having said that, winter presents the opportunity to explore and see some of the wildlife and natural wonders.
Temperatures are more favorable (but still fluctuating between 45-55 degrees Fahrenheit) for tourists who wish to visit between April and June or August and October. Prices are still lower than summer rates and crowds quieter.
Bears tend to emerge from hibernation in the spring so there is more chance to sport enchanting wildlife and encounter smaller crowds too.
Finally, if you'd like to time your visit with an event, there is the fantastic annual Shoshone Bannock festival which takes place in the summer months. Be sure to book your tickets in advance though as crowds tend to form quite quickly at this time of year.