Road Trip from San Jose to Grand Canyon
The epic road trip from sunny San Jose to Grand Canyon is an adventure full of dramatic contrasts that takes you from the big cities of California, through the deserts and national parks that make up the stunning and unique landscapes of Arizona.
On the 1,050-mile road trip from San Jose to Grand Canyon, which takes 19 hours to drive, you can visit Yosemite National Park, Las Vegas and Lake Mead. Or travel via Los Angeles and Palm Springs to see Big Sur, Joshua Tree National Park and Sedona.
This journey is the perfect combination of urban attractions and untouched wilderness which gives you a superb snapshot of the variety that the United States has to offer. Keep on reading to find out what this amazing road trip has to offer.
How far is Grand Canyon from San Jose, and how long will the road trip take?
Comparison of road trip routes between San Jose and Grand Canyon

| Route | Distance | Driving Time |
| --- | --- | --- |
| Los Angeles Route | 1,000 miles | 17 hours 30 minutes |
| Las Vegas Route | 1,050 miles | 19 hours |
If you decide to drive Big Sur on your way to Los Angeles then stop in Palm Springs and Phoenix as you cross the desert, the 1,000-mile Los Angeles Route will take around 17 hours and 30 minutes to complete.
There's also a longer route which swings north up to Las Vegas before continuing on through Arizona to reach Grand Canyon National Park. This takes 19 hours, so it can still easily be driven in 5 days.
On your way to the Grand Canyon, you might want to spend a little longer enjoying the bright lights of LA and Las Vegas or exploring Yosemite National Park's hundreds of miles of hiking trails. That's the beauty of a road trip though - simply add an extra night or two before carrying on towards your final destination.
Best road trip route from San Jose to Grand Canyon
To turn a straightforward interstate drive into an unforgettable road trip, we've put together two routes which will take you through some amazing parts of California, Nevada and Arizona en route to Grand Canyon National Park.
Swinging south through Los Angeles, the longer of our routes is full of contrasts, taking you along California's dazzling Pacific coast before heading inland through the desert landscape.
As well as visiting the thriving metropolis of Los Angeles, you can spend time outdoors at Joshua Tree National Park and San Bernardino and Coconino National Forests along the way.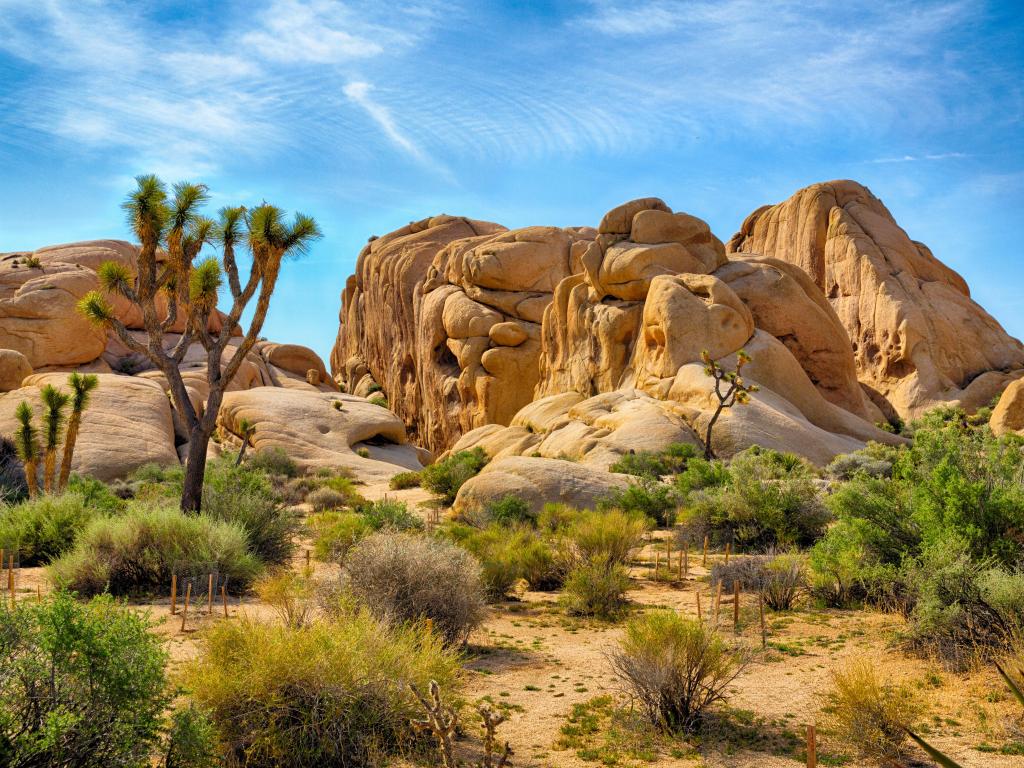 Keep in mind that you might have to negotiate the heavy traffic of the Greater Los Angeles metropolitan area on this route.
The longer Las Vegas Route links up some of the must-see destinations of the southwestern United States, taking you through Yosemite National Park, Mojave National Preserve and of course, the neon-lit city of Las Vegas.
The Los Angeles Route
You'll start this route by heading south from San Jose to Santa Cruz then following the Pacific Coast around Monterey Bay and past Carmel-by-the-Sea.
One of the highlights of this route is the chance to drive the stunning scenic highway through Pfeiffer Big Sur National Park, before switching onto US-101 from Pismo Beach as you head through Santa Barbara and Thousand Oaks on your way towards Los Angeles.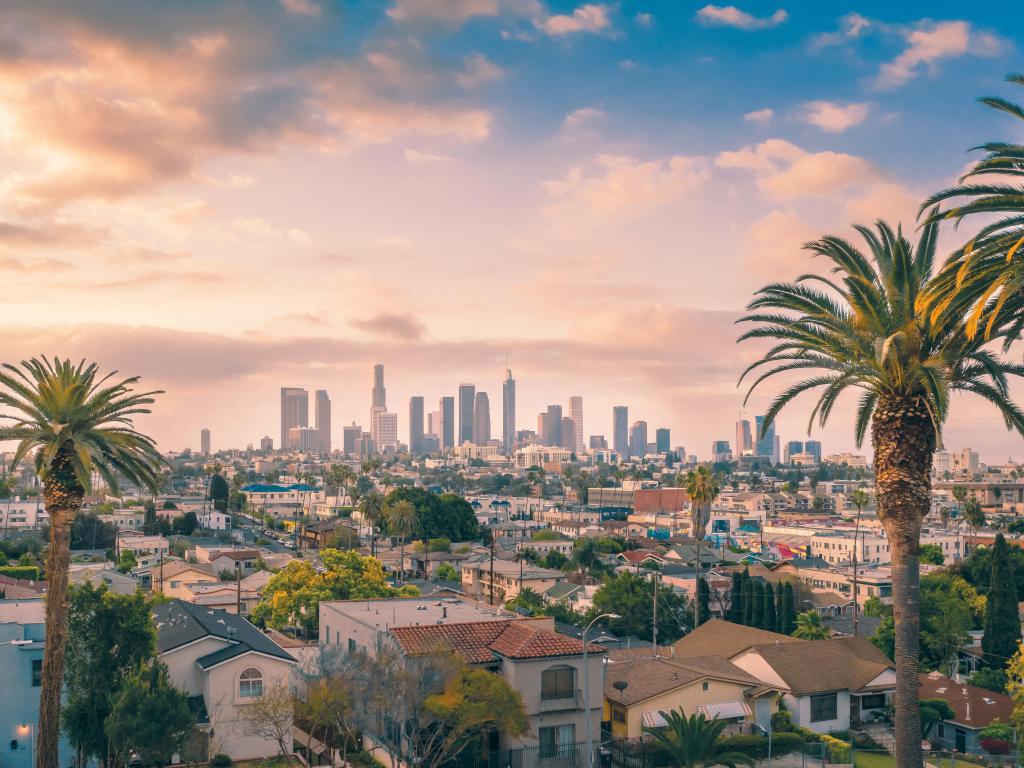 When you're ready to move on from the City of Angels, head back up to the northern side of the city to pick up Interstate 10 (I-10) which will take you east past San Bernardino and then on to Palm Springs.
Continue along the interstate which skirts the southern side of Joshua Tree National Park, where you can pause a while to explore the mesmerizing desert landscape.
At Blythe the I-10 crosses into Arizona then continues on to Phoenix. After spending some time in the city, head north on I-17 which will take you from the undulating desert around Sunset Point to the greener hills of Coconino National Forest. Hop onto the Red Rock Scenic Highway south of Sedona if you have time along the way.
Next, you'll pass Flagstaff, where you'll exit the interstate and continue north through Fort Valley on your way to Grand Canyon Junction, from where it's just a few more miles through Tusayan to reach Grand Canyon Village and the South Rim of the stunning national park.
The Las Vegas Route
Your first stop on the Las Vegas Route will be Yosemite National Park, so head north out of San Jose toward Fremont then turn onto the interstate which will take you as far as Lathrop.
From here, CA-120 takes you inland through the wide desert landscape around Jamestown, following the short of Woods Creek before the road winds through the hills at the far end of the lake.
You will soon approach Yosemite, heading through Yosemite Valley towards Bridalveil Fall trailhead. Allow plenty of time for this stunning drive as you'll want to stop and admire the scenery even if you're not planning on hiking in the national park.
Change on to Wawona Road to head south out of Yosemite National Park, making your way through Fish Camp and Sugar Pine on your way to Fresno.
From here, head towards Sequoia National Forest. After your visit, retrace your route through Lemon Cove then turn left onto CA-65 which you'll follow towards Bakersfield.
The interstate takes you around the northern edge of Mojave National Preserve before crossing the state border into Nevada. Then after a few more miles, you'll find yourself in Las Vegas. Before long you'll be crossing into Arizona past the Hoover Dam.
From here it's a straight run along the highway towards Grand Canyon National Park, heading through Grand Canyon Junction and Kaibab National Forest on your way to the stunning South Rim.
Best places to stop between San Jose and Grand Canyon
With 1,000 miles to cover you're going to need to make a few overnight stops as you travel from San Jose to the Grand Canyon. We've picked out some really special places to help make your stay a memorable one.
Party in Palm Springs
Just past the halfway point on the Los Angeles Route, you'll arrive in Palm Springs, around 8 hours from Grand Canyon National Park, a sparkling and stylish desert getaway which still holds onto its mid-century modern vibe.
At Palm Springs Art Museum you can learn about the many Californian artists on display, as well as enjoy performance art at weekends and see the displays of 19th and 20th-century European art in the permanent collection.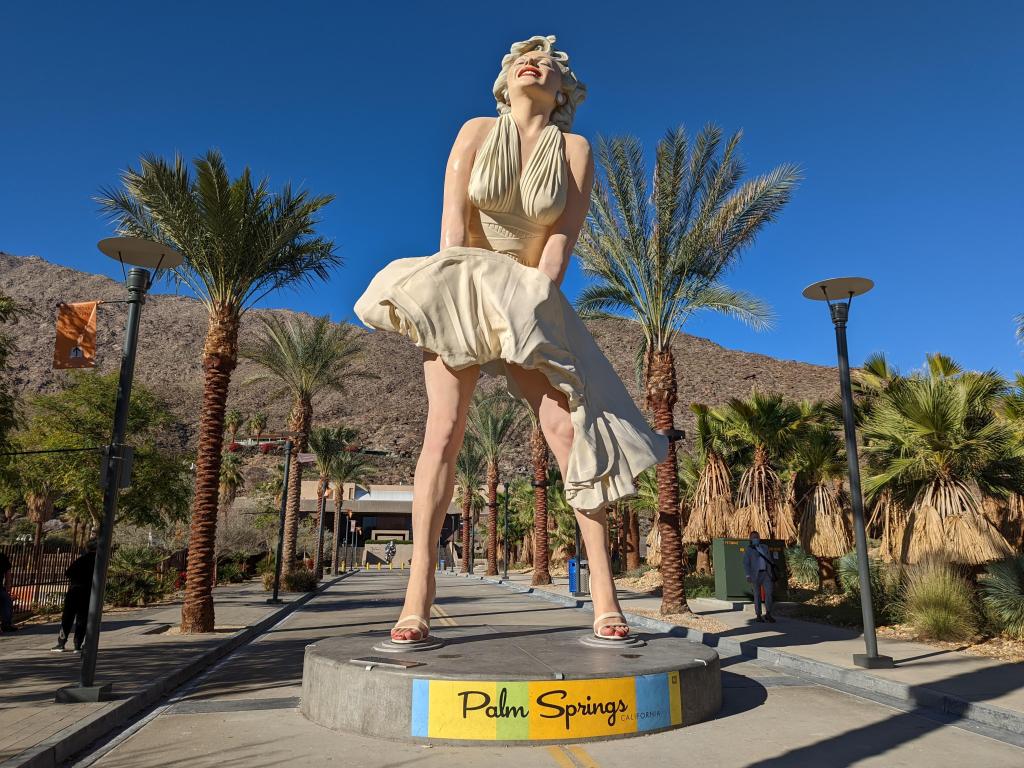 Back outdoors, the non-profit Living Desert Zoo and Gardens will allow you to learn more about the region's unique flora and fauna as well as to see animals from around the world.
Take the Palm Springs Aerial Tramway and you can enjoy the view from 5,800 feet with a hike or a meal in a mountain-top restaurant. It's a great place to cool down if you're visiting in the hotter months.
Aviation fans should also check out Palm Springs Air Museum, where you can take a tour of dozens of historic planes.
Palm Springs can be an expensive place to stay, but The Palm Springs Hotel is an affordable yet effortlessly stylish choice. The simple décor is full of subtle vintage flair, and some of the contemporary bedrooms even open up onto the beautiful pool terrace.
In the evening, sit out by the fire pit to reminisce about your day. You'll have the chance to see everything the city has to offer, as the hotel is in a fabulous central location just a short drive from Palm Springs Art Museum, Desert Museum and Air Museum.
Viva Las Vegas
Las Vegas is the perfect place to spend the last night of your road trip as it's only 4 hours and 30 minutes' drive to the Grand Canyon. In fact, it would be hard to enjoy the city's many attractions without an overnight stay here.
The main attraction of Las Vegas is the Strip. This 4.5-mile road is where you'll find the city's main resorts so admire the extravagant landmarks, try your luck at a casino or two before heading to one of the shows that run lengthy residencies in the city.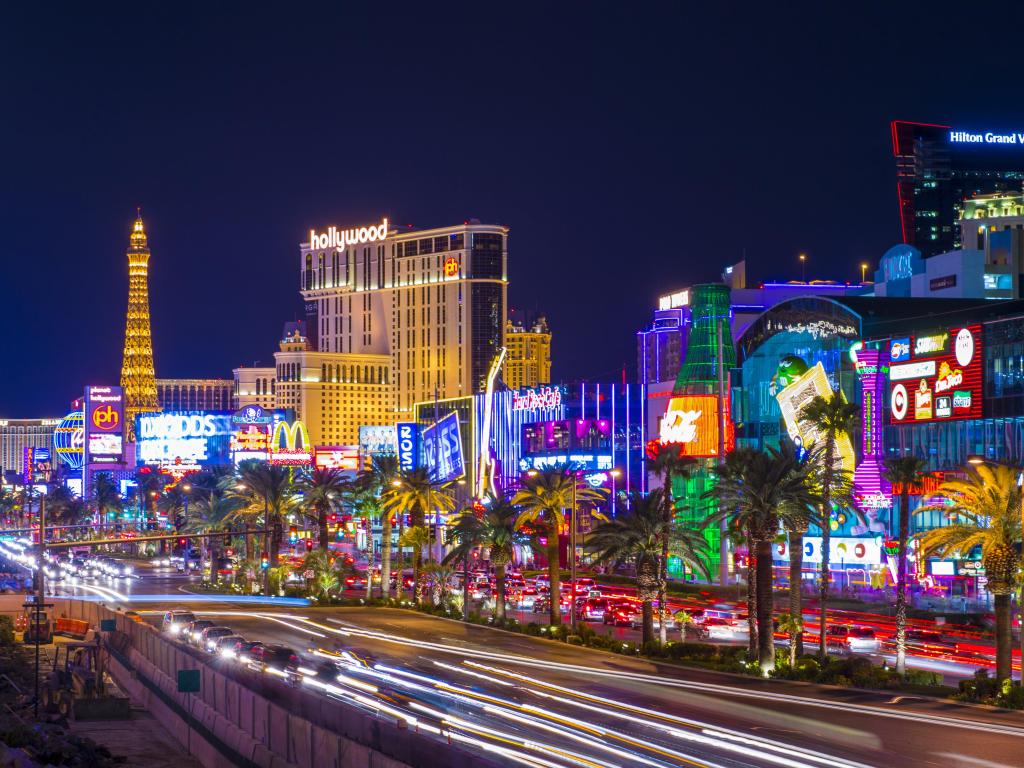 Step outside the resorts though and you can discover some other unique attractions in Las Vegas. Next, head over to the Mob Museum to take a tour of the darker side of Las Vegas as well as learn about the law enforcement battle against organized crime. Wrap up your visit in the on-site speakeasy.
Also in town is the Neon Museum. When casinos and other local institutions have an update, many of their old neon signs are brought here so a walk around the large outdoor site gives a glimpse into the city's past.
In a great location just off the Strip is Marriott's Grand Chateau, close to the famous Bellagio Fountain. The impressive high-rise building will make you feel like you're stepping into a film set, and many of the rooms have an amazing view across the city.
Relax with a drink by the rooftop pool when you need a break from the heat of the city or check out the stylish lobby bar - it's a non-gaming hotel which might be an appealing break for some guests.
It's within walking distance of the monorail too, so you can leave the car behind to check out other parts of the Strip.
Where to stay when you reach Grand Canyon
The spacious rooms at the Grand Hotel at the Grand Canyon offer a comfortable end to your road trip. After your long drive, relax in the bar or lounge, which is particularly cozy when the fire is lit on colder days.
The on-site restaurant means you don't have to drive out for an evening meal, and you can wind down at the fitness center and pool.
The hotel is located in Tusayan, one of the closest places you can stay near the Grand Canyon's South Rim, so you'll have excellent access to the routes around and into the canyon.
Things to see on a road trip from San Jose to Grand Canyon
The great thing about taking a road trip from San Jose to the Grand Canyon is that on the way to your bucket list destination, you'll pass through some fabulous cities and natural attractions.
We've put together some of our top picks which should appeal whether you're a fan of the great outdoors or city vibes:
Los Angeles Route
Monterey - Looking out across Monterey Bay, Monterey's waterfront restaurants are a great place to stop for a fabulous seafood meal with a view. You can also explore Monterey State Beach here.
Pfeiffer Big Sur National Park - Follow the highway along this stunning stretch of coast while you enjoy views along the cliffs and out to sea. Stop off at some of the stunning beaches along the way or hike inland too.
Los Angeles - Whether you'd prefer to follow the Hollywood Walk of Fame, top up your tan in Malibu or watch the parades at Anaheim's Disneyland, there's so much on offer in LA that you could spend your whole trip here!
San Bernardino National Forest - As well as hiking through this unspoiled natural area you can follow the scenic driving loop past Lake Arrowhead and Big Bear Lake for some amazing mountain views.
Santa Rosa Wilderness - Just outside Palm Springs head out to the Santa Rosa and San Jacinto Mountains Visitor Center to plan a day of outdoor exploration along the area's many trails.
Joshua Tree National Park - You can follow the scenic drive right the way across this national park to admire the changing desert landscape, punctuated by the Joshua trees that the park is named after.
Phoenix - Check out some of the city's unique attractions, including the Musical Instrument Museum (where you can see instruments belonging to some of the legends of 20th-century music) or the Hall of Flame dedicated to the history of firefighting since the 1700s.
Coconino National Forest - The contrast of the vivid red sandstone and deep green forest provides a stunning backdrop to another hike or scenic drive.
Sedona - Downtown Sedona is known for its new-age shops and creative community, but head out of town and you'll be treated to more stunning red rock landscapes where you can hike or watch for wildlife.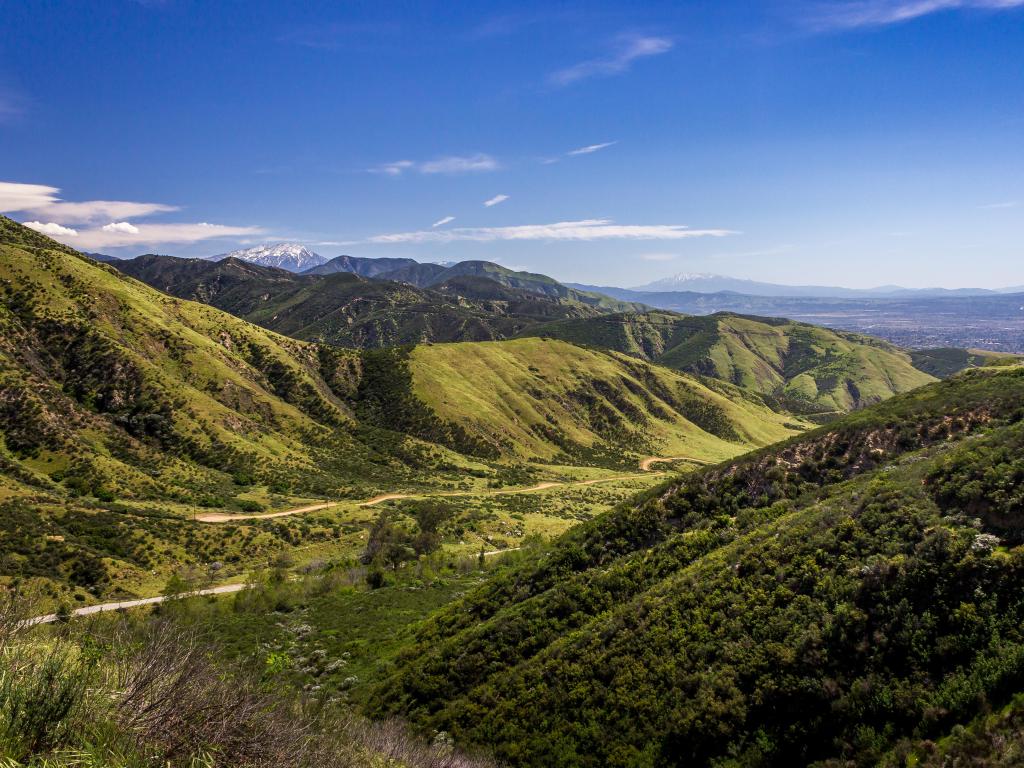 Las Vegas Route
Yosemite National Park - Make your way through the rugged granite landscape of this vast national park to visit Half Dome, El Capitan and Bridalveil Fall among others stunning natural icons.
Fresno - Explore the unique Forestiere Underground Gardens, where, inspired by the catacombs of Rome, an Italian farmer built a series of more than 60 underground rooms to protect his fruit trees from the Californian heat.
Sequoia National Forest - Admire the vast sequoia trees which grow on the slopes of the Sierra Nevada Mountains.
Mojave National Preserve - Explore the canyons and caverns of this stunning desert landscape, which is also great for hiking if the weather isn't too hot.
Lake Mead - Hit the water to enjoy boating and other watersports if water levels are high enough in the lake, then head to Hoover Dam Visitor Center to take a tour of this impressive monument which dates from the 1930s.
Kingman - Located on historic Route 66, Kingman has welcomed road trippers for decades. Head to the Historic Powerhouse building to visit the Arizona Route 66 Museum which now sits alongside the new Route 66 Electric Vehicle Museum.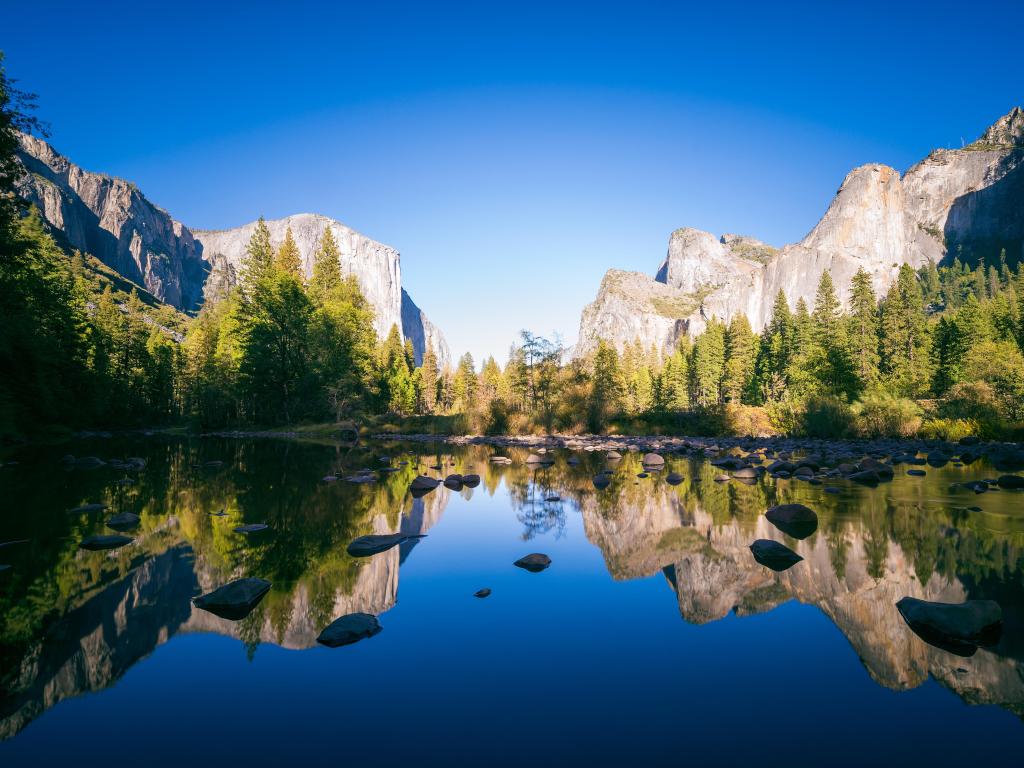 Best time to go on a road trip from San Jose to Grand Canyon
The Grand Canyon is open to visitors all year round, but it will look and feel very different depending on when you visit. You'll also have to factor in some significant seasonal changes along the route too.
Summers in the Grand Canyon are hot and can be crowded. Average temperatures at the South Rim sit in the low 80s Fahrenheit, increasing as you travel further down into the canyons, where they can exceed 100 degrees.
One bonus if you're traveling in early summer is that you can catch the Grand Canyon Star Party, held annually in June. You can enjoy spectacular views of the national park's dark skies as volunteers set up telescopes and help visitors to learn about the night sky.
The Grand Canyon can be spectacular in winter when it experiences regular snowfall. Make sure to pack warm clothes as temperatures won't get much higher than 40 degrees Fahrenheit, and often dip well below freezing. Keep in mind that the North Rim is closed during winter.
Along the way, parts of Yosemite National Park are closed to vehicles during the colder months so check ahead if there's a particular area that you'd like to visit. It's sometimes necessary to book a ticket in advance to drive the roads that remain open so check ahead with the NPS.
A drive along Big Sur will be much quieter in the off-season, with dramatic views across stormier seas, but keep an eye on weather and road warnings as parts of this route can be closed in winter.
Spring and fall are both great times to travel to Grand Canyon National Park. Daytimes will feel warm, with temperatures ranging from 75 to 90 degrees Fahrenheit as the season progresses but pack warmer clothes for the evenings which will feel much cooler.
You can also go rafting on the Colorado River in the spring to see the canyon from a different angle.
Other parts of the route are perfect to visit in both spring and fall too. Much of the route explodes with colorful spring flowers and it starts to get much easier to follow your pick of routes through Yosemite once the snow has melted.