11 Best Road Trips in Tennessee
Even in the cities, you can't escape the country ingrained in Tennessee. Musical metropolises like Memphis and Nashville put country music on the national radio. There are still hundreds of talented musicians that you can hear at the Grand Ole Opry as well as the dive bar on the corner.
If anything might be able to outdo the music in Tennessee, it's the food. From hot chicken to biscuits, Tennesseans know their way around soul and comfort good. Luckily for you, there are also dozens of outstanding parks in the Southern Appalachians to walk it all off.
In our list of best road trips in Tennessee, you'll find amazing adventures from your perfect summer swimming hole to celebrating everything country in Dollywood, being charmed by antebellum homes, and feeling the majesty of the Great Smoky Mountains.
Read on below to get some great tips on the best routes and hidden gems along the way. Soon enough you'll munch on succulent ribs and tap your toes to your favorite country ballad on your own Tennessee trip.
Road trip
Rating
1. Antebellum Trail


3 hours, 90 miles

Easy

2. Waterfall Trail


2 hours, 100 miles

Moderate

3. Knoxville to Big South Fork


2 hours 45 minutes, 105 miles

Moderate

4. Sevierville to Elizabethton: Tennessee's Covered Bridges


2 hours 35 minutes, 115 miles

Easy

5. Natchez Trace Parkway


2 hours 30 minutes, 120 miles

Easy

6. Chattanooga to Gatlinburg: The Great Smoky Mountains


4 hours 45 minutes, 200 miles

Moderate

7. Nashville to Pigeon Forge


4 hours 15 minutes, 235 miles

Moderate

8. Screaming Eagle Trail


6 hours, 270 miles

Ambitious

9. Pie in the Sky Trail


6 hours 15 minutes, 280 miles

Ambitious

10. Nashville to Memphis


6 hours, 290 miles

Easy

11. Ultimate Tennessee Road Trip


8 hours 30 minutes, 530 miles

Ambitious
1. Antebellum Trail
3 hours (90 Miles)
Difficulty level: Easy
Why you should take this trip: This trip is an utter delight for lovers of history and architecture alike. Starting and ending in Nashville, travel in a loop through some of the best examples of neoclassical, Gothic, and Greek revival homes and churches in middle Tennessee.
Main stops on this road trip: You'll see historic buildings in and around Franklin, Spring Hill, and Columbia then spend some time on the Natchez Trace Parkway.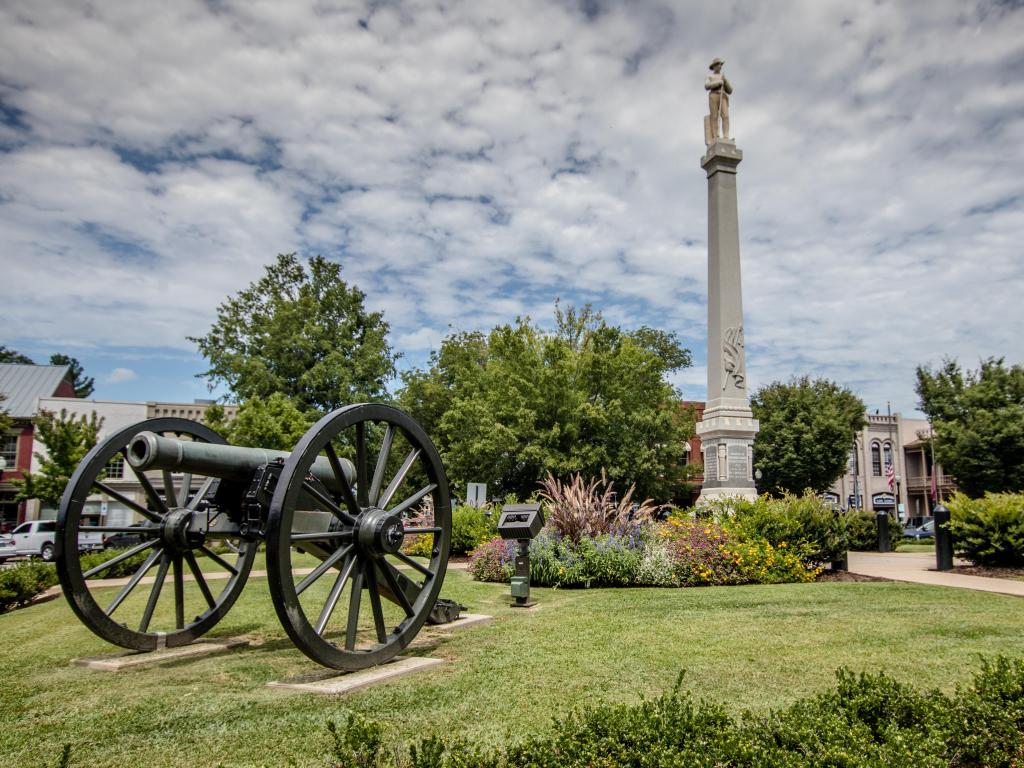 How to get there: From Nashville take Tennessee Route 31 South. This trip has dozens of potential stops between Nashville and Colombia so you can go at your own pace.
Just north of Mt. Pleasant, cut over via Tennessee Route 412 to the Natchez Trace Parkway and start heading north back towards Nashville. On this stretch of the trip there are about ten more trail markers to look out for, so drive nice and easy.
Our highlights: Franklin is a popular day trip from Nashville and there's a lot to do and see here. On this trip, you can focus on some of its historic buildings apart from the main attractions like the Carter House.
Right downtown you can admire the Gothic features of the Hiram Masonic Hall. Completed in 1823 and this building was the first Masonic Lodge as well as the first Three-story building in Tennessee.
A little ways south in Spring Hill you can find a picture-perfect example of Greek revival architecture in Ferguson Hall. For those inclined towards macabre Civil War history, this is also the site where a confederate general was killed in 1854.
Once you get to Columbia, find a place to park and then meander West 6th Street, which is on the National Register of Historic Districts. Here you will be awed at the variety of antebellum homes that line the street, creating an atmosphere that seems lost in time.
Another site of historical interest in Columbia is Clifton place, a surprisingly intact plantation once owned by a Confederate general.
Yet another treat towards the end of the trail is an early 19th-century ferry site and a house built by reported Creek War spy John Gordon.
Local gems: On your way back to Nashville along the Natchez Trace Parkway, keep an eye out for some natural beauties like the crystal-clear Jackson Falls and the inspiring vista at the Water Valley Overlook.
Our travel tips: You can buy or download a self-guided tour book for the Tennessee Antebellum Trail. When searching for guides and accommodations, be careful to note that there is another Antebellum Trail in Georgia.
Some of the beautiful homes on the trail are still private residences and not open to visitors. Look out for the Antebellum Trail logo at sites that are open to the public.
Best time to visit: This is truly an all-season trip, though the weather could get icy in the winter. The major bonuses during November and December are the dazzling decorations on these already gorgeous homes and holiday festivities in places like Franklin.
2. Waterfall Trail
2 hours (100 Miles)
Difficulty level: Moderate
Why you should take this trip: Bring your swimsuit and revel in the mist amongst some of Tennessee's most breathtaking natural attractions.
Main stops on this road trip: On this trip, you'll pass five different waterfalls: Cummins Falls, Fancher Falls, Twin Falls, Fall Creek State Park, and Savage Falls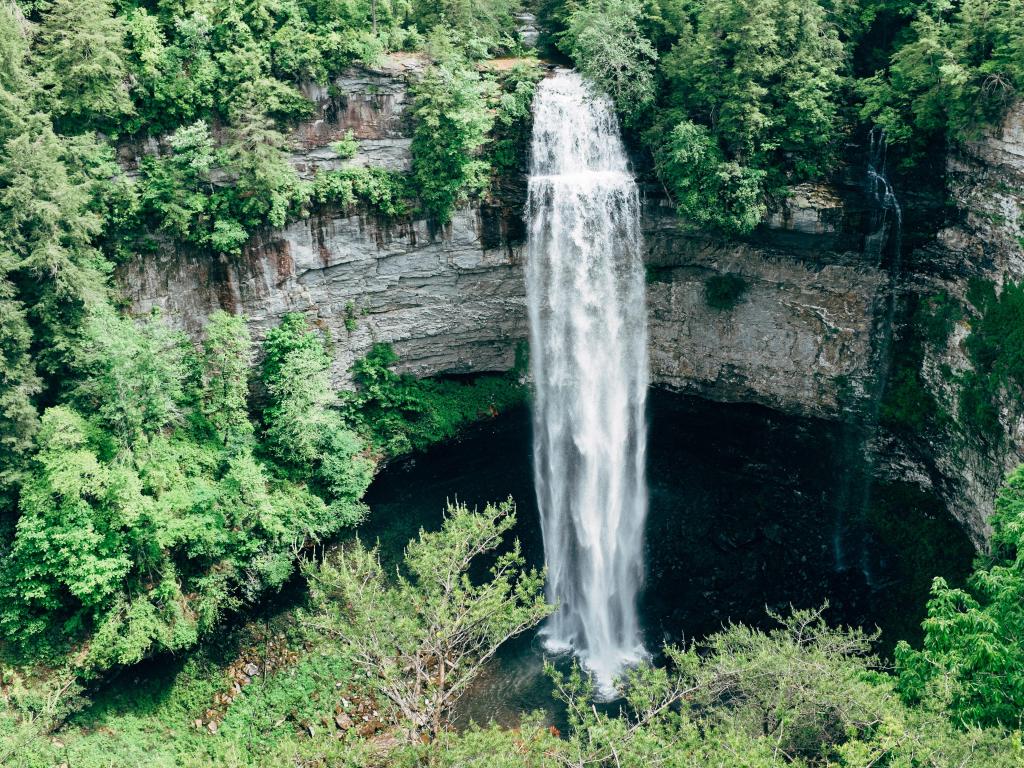 How to get there: Starting from Cummins Falls, head towards Mayfield, TN and take Tennessee Routes 56 and 135 South to Burgess Falls and Fancher Falls, just 5 miles further along some country roads.
Follow Fanchers Mill Road to Old Kentucky Road/Tennessee Route 136 South to get to Twin Falls. From there, head northeast towards Doyle, then cut over via E Gooseneck Road to Tennessee Routes 285 and 30 East to Fall Creek Falls State Park.
Continue along TN-30 East until you get to Tennessee Route 284 West and Tennessee Route 111 South to Savage Falls.
Our highlights: Admire the steep walls of the gorge along the Downstream Trail at Cummins Falls State Park. If you come on a hot day the swimming hole at the base of the falls will be simply irresistible. This might also make them crowded on warm weekends and holidays, so aim to get there later in the afternoon to avoid the crowds.
Rock Island State Park has some fantastic trails in addition to Twin Falls. This waterfall is unique in that it emerges from an underground source through the striated cliffs 80 feet above the Caney Fork River. Down below there is a swimming hole deep enough to jump into from the rugged cliffs.
The aptly named Fall Creek Falls State Park is home to five waterfalls, including the tallest one in Tennessee which plunges 256 feet from up on high. At the trailhead to Fall Creek Falls, take some time to learn about the area's fascinating natural history at the Betty Dunn Nature Center.
Local gems: Fancher Falls is the secret gem on this list that isn't as popular as it deserves to be. One barrier to accessing this graceful fall is that no trails lead here, so you will have to rent a boat or Kayak to get here over the waters of Center Lake. We think this only adds to the fun!
If you like utterly photo-ready places or just want to get even more hiking in on this trip, consider stopping at Window Cliffs State Natural Area just before you get to Burgess Falls.
Our travel tips: If you want to camp at any of the waterfalls in Tennessee State Parks, then consider making an online reservation ahead of time to be sure that you'll have a place to pitch your tent.
Even though the driving time is short, you'll be taking several smaller roads and will have to keep your eyes peeled for some of the turn offs to the waterfall trailheads.
Best time to visit: Each season offers its own charms and the only time to maybe avoid this trip is during the winter.
On those hot summer days during school holidays, keep in mind that some of these swimming holes can get pretty crowded.
3. From Knoxville to Big South Fork
2 hours 45 minutes (105 Miles)
Difficulty level: Moderate
Why you should take this trip: As fun as Knoxville is, sometimes the country roads call. This trip takes you past several gorgeous state parks to the Big South Fork River, situated in some hills that offer fantastic hiking opportunities.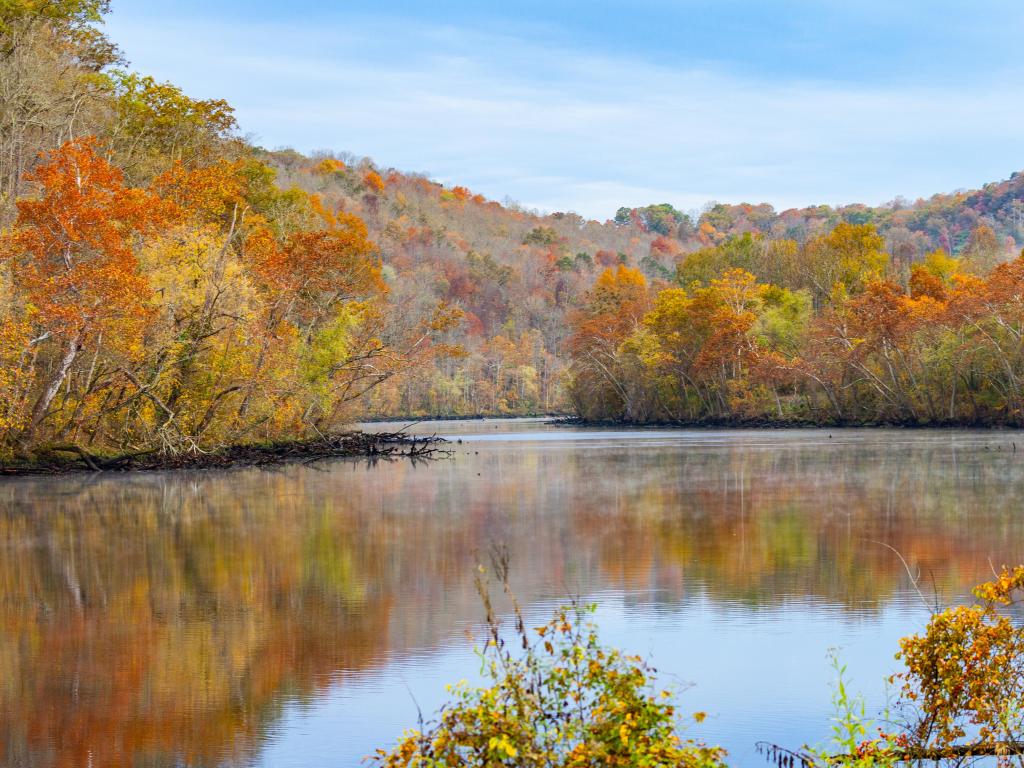 Main stops on this road trip: This route passes by Norris, Cove Lake State Park, Huntsville, Honey Creek Overlook, and Big South Fork National River & Recreation Area.
How to get there: From Knoxville take Interstate 275 to Interstate 75 (I-75) North and follow this all the way past Andersonville and Caryville until you reach Pioneer, where you'll take Tennessee Route 297 (TN- 297) to New River and the Honey Creek Overlook.
From Honey Creek drive back to New River, then go north through Helenwood to Oneida, where you'll get back on TN- 297 to Big South Fork National River & Recreation Area.
Our highlights: Just off I-75 in Andersonville the history of this mythic mountain chain comes to life at the Museum of Appalachia. This affiliate museum of the Smithsonian Institution has a working farm and interactive exhibits that tell the story of the people of southern Appalachia.
In the Norris Dam State Park which surrounds the large reservoir, you'll find over 20 miles of hiking trails and can even rent a boat to get some time out on the water. The dam itself is pretty impressive, so if you like to geek out over feats of engineering, this place is worth a stop.
A labor of love and local history, the Scott County Jail in Huntsville is a surprisingly fun and interesting niche museum to tour. If nothing else, it offers the greatest contrast possible with the expanses of open wilderness you'll wander later on in the trip.
The Honey Creek Trail is a challenging 5.5-mile loop trail that is widely regarded as among the best hiking trains in the US. Filled with hardwood forests, majestic hemlock trees, and colorful rhododendrons, this trail also passes by Echo Rock which amplifies the sounds of the rushing Big South Fork River below. Give yourself at least 3 hours to complete this trail at a leisurely pace.
From Honey Creek in the south of the park head north to the main entrance and nexus of trails that cover the Big South Fork National River and Recreation Area.
Here you can see magnificent sandstone gorges and arches, as well as wander the gentle, forested hills of the Cumberland Plateau. Buffalo Arch is particularly impressive and we think this area deserves at least two or three days to truly savor.
Local gems: In little Rocky Top you'll find the Coal Creek Miner's Museum. This small, but interesting collection tells the story of the brave miners who went deep into the earth to fuel America's Industrial revolution.
For "BBQ with a View" head to Rickard Ridge BBQ in Cove Lake State Park. Their patio looks over the serene lake and emerald lawn. This is an idyllic spot for a laid-back lunch.
If you simply care about the juiciest barbeque on the planet with no frills, then pick up some brisket and coleslaw at Smokin' Butts BBQ in Pioneer as you exit I-75.
Our travel tips: While this isn't a very long drive, some of the county roads, like the one leading to the Honey Creek Trail can be a challenge. Once again, a car with AWD would be best for this trip.
Big South Fork National Recreation Area has three designated campgrounds and also accommodated RV hookups. You can reserve your campsite online through the government website.
You can also hire a horse at Tally Ho Stables to get a whole different experience of the trails in Big South Fork.
Best time to visit: Since the biggest feature of this trip is the glory of nature herself, it would be best to go when the weather is warm, but not too hot. Spring and fall are both ideal, especially as the deciduous forests come alive with color as the weather changes.
Big South Fork is open year-round, so if you don't mind the cold, or even find it romantic to snuggle by a campfire, you can come here during a winter break.
4. From Sevierville to Elizabethton: Tennessee's Covered Bridges
2 hours 35 minutes (115 Miles)
Difficulty level: Easy
Why you should take this trip: This road trip is for romantics. What is dreamier than a rendezvous under the shelter of a wooden bridge with the sounds of a burbling creek down below?
Main stops on this road trip: This trip features the Harrisburg Covered Bridge, Bible Covered Bridge, and Elizabethton Covered Bridge. It also takes you past Johnson City.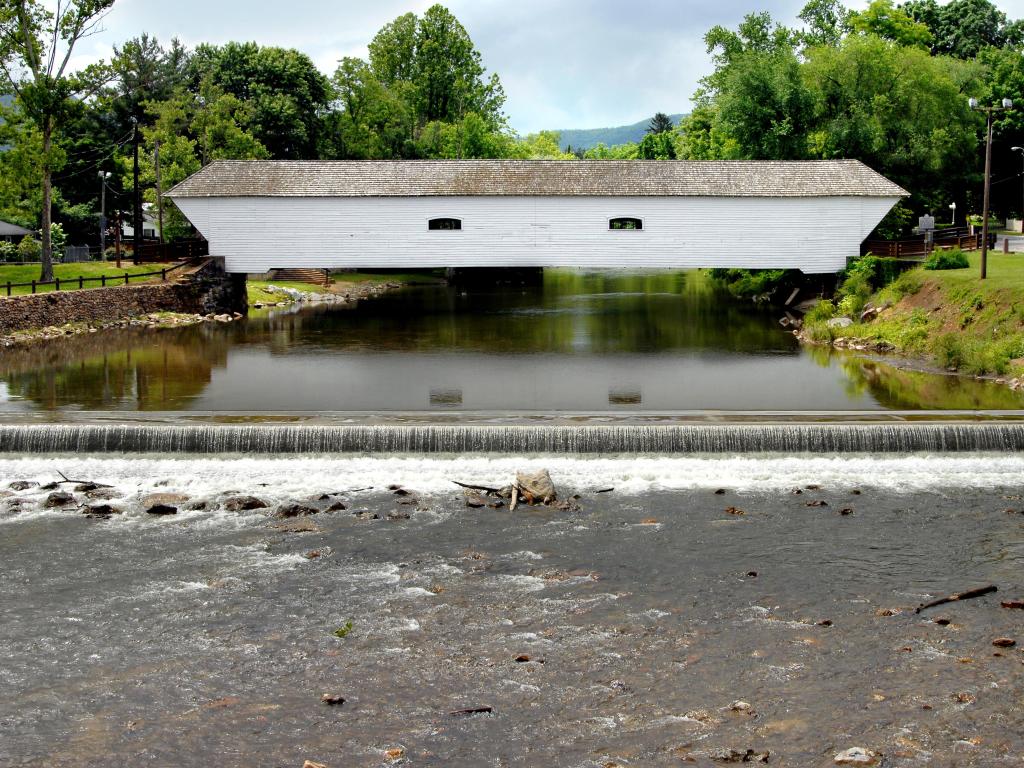 How to get there: Starting out in Sevierville, head towards Cherokee Hills then take Tennessee Route 339 East to the Harrisburg Covered Bridge. After spending some time here, get back to the Newport Highway and continue driving east to Newport.
Follow US Route 321 and Tennessee Route 340 North to Bible Covered Bridge. From this beautiful bridge, drive north towards Mosheim to link up with Interstate 81 North all the way to Colonial Heights where you'll change on to Interstate 26 East and stay on this until Johnson City.
From here, take a short drive along US Route 321 North to reach Elizabethton and the final covered bridge on this route.
Our highlights: This first covered bridge on this trip is in Harrisburg, less than 5 miles from Sevierville. Originally built in 1875, most of what we see today of the bridge is the result of its restoration in 1972.
The design is simple and elegant, sitting upon some impressive masonry, and you get some great views of the East Fork Little Pigeon River from the bridge, which is still open to traffic.
We went gaga over the little wooden windows on the Bible Covered Bridge in Greene County. Even though they were a later addition to this bridge originally built in 1923, it is hard to imagine this rustic little bridge without them. The bridge was restored in the 70's, yet the impressive truss system is from the original design.
Elizabethton has a particularly idyllic Historic District complete with white picket fences and grand, colonial-era public buildings. The surprisingly sleek covered bridge over the Doe River was built in 1882, but the angles seem to foreshadow the design trends of mid-century modernism.
Local gems: Though not exactly on the route, a short drive from Mosheim you will find the picture-perfect hamlet of Greenville. In addition to being too cute for words, here you can also visit the Andrew Johnson National Historic Site where the 17th U.S. President used to homestead.
Our travel tips: The roads on this route are accessible any time of the year, but the sights aren't quite as scenic in the winter. When the buds and birds are emerging in the spring and when the bridges are wreathed by orange and burgundy in the fall are probably the best times for this trip.
Best time to visit: In Elizabethtown, they have a fall festival in September called Covered Bridge Days filled with music, art, and plenty of restaurant options. This is yet another reason why this trip is irresistible in the fall.
5. Natchez Trace Parkway
2 hours 30 minutes (120 Miles)
Difficulty level: Easy
Why you should take this trip: Get ready to turn back time for a leisurely trip along this National Scenic Drive – no speeding, no billboards, no gas stations – just greenery as far as the eye can see and historic stops along the way.
Main stops on this road trip: Even though the journey is the destination on this trip, you can also hop off the Parkway to explore Pasquo, Leipers Fork, Fall Hollow Falls, Collinwood, and Cypress Creek.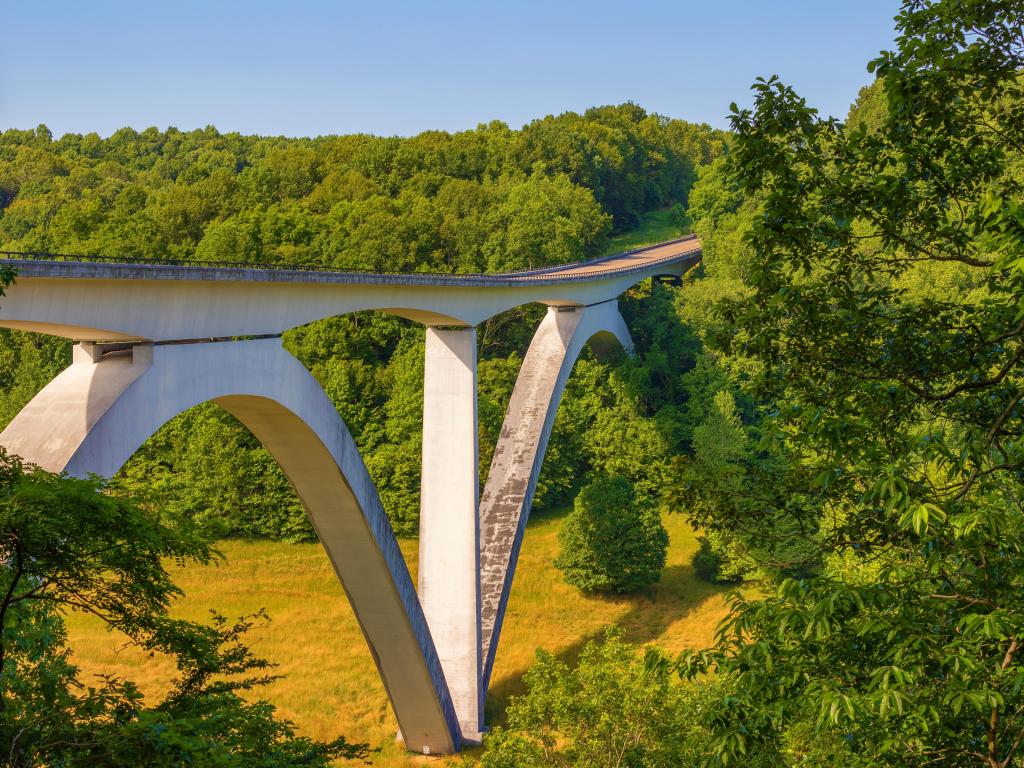 How to get there: The name of this trip says it all – just follow the Natchez Trace Parkway to the Tennessee and Alabama border. Take Interstate 40 West out of Nashville and exit on to McCrory Lane which will link up with the parkway in Pasquo.
Our highlights: As you leave Nashville, take time to admire the Natchez Trace Parkway double arch bridge just outside of Nashville. The white concrete of this engineering marvel stands in stark relief with the surrounding greenery.
A big draw for Civil War history aficionados, Franklin, TN was the site of one of the most gruesome battles of the war. The Carter House, where the battle was waged, still stands today and there are daily guided tours.
If you don't mind a steep trek to the basin of Fall Hollow Falls, you'll be amply rewarded by this magical waterfall set in a luscious forest with plenty of nooks and crannies to explore. It is exactly halfway through the route we've outlined and would be a great place for a picnic lunch.
Just after Gordonsburg, TN keep an eye out for Merriweather Lewis Park and National Monument. Here you'll find a reconstruction of the roadside inn, known as Grinder's Stand, where the early American explorer died under mysterious circumstances in 1806.
Local gems: Despite its name, the Loveless Café near Pasquo will make you feel deeply loved with their warm biscuits smothered in butter and peach jam. Be sure to stop by here for a hearty breakfast as you leave Nashville or order your lunch to go and picnic at one of the gorgeous parks along the Natchez Trace Parkway
Leiper's Fork is a must-see small town along the parkway. It's charming no matter when you visit, and you can get a sense of the community pulse at Fox & Locke. Yet they turn it up to eleven for their monthly farmer's market with live music and rustic country games.
The Leiper's Fork Distillery has perfected bourbon and is worth checking out as well.
Our travel tips: Being a parkway, you can expect lots of greenery on this trip, but one thing you won't see much of are gas stations and convenience stores along the way. You'll have to hop off the parkway in a little town like Collinwood, TN to do any refueling.
This scenic road stretches all the way from Nashville, TN to historic Natchez, MS, covering 444 miles of forests and swamps. If you'd like to make this a longer trip, consider driving the whole thing.
Best time to visit: As you can imagine, this trip is best suited for the spring and early summer, when the weather is warm, and the forest is bursting with life. Fall is also a particularly pretty time to do this trip with colorful foliage and fall festivals like Old Timer's Day in Collinwood Tennessee.
6. From Chattanooga to Gatlinburg: The Great Smoky Mountains
4 hours 45 minutes (200 Miles)
Difficulty level: Moderate
Why you should take this trip: Prepare to be mesmerized by this trip through misty mountains and even venture across the border into the scenic valleys of the Blue Ridge Parkway in North Carolina.
Main stops on this road trip: Towns and sights you'll pass along the way include Cleveland, TN, Vonore, Clark Bar Rock, Fontana Dam, NC, and Gatlinburg, TN.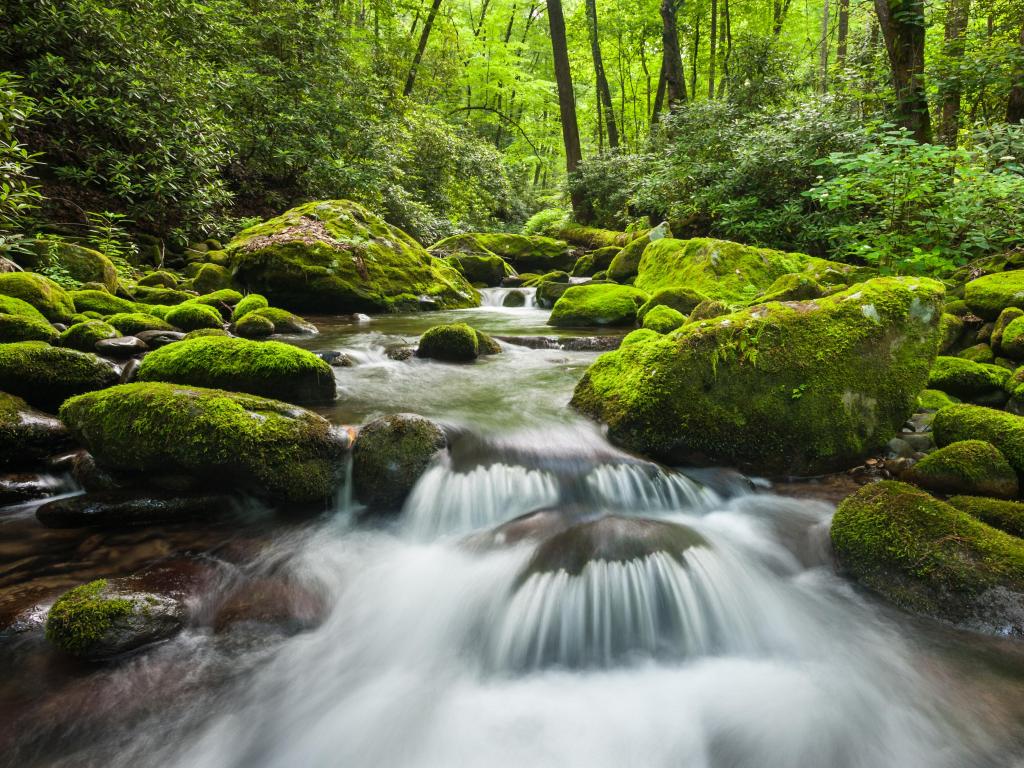 How to get there: Start driving north on Interstate 75 North all the way to Sweetwater, then take Tennessee Route 68 to Madisonville. From there, travel on US Route 411 North to Vonore where you'll navigate to Clark Bar Rock via Tennessee Route 72 East and US Route 129 South.
This is a point where you can choose to venture towards the Fontana Dam in North Carolina via US-129 and North Carolina Route 28.
Once you've gotten back to Clark Bar Rock, take Foothills Parkway and US Routes 321 and 441 to Gatlinburg.
Our highlights: A unique treat on this trip is Fort Loudoun State Historic Park. This depression era recreation of a wooden, mid-18th century British fort is expertly curated and sits in a bucolic park next to the Tellico reservoir overlooking the Appalachian hills. This is both a great place to learn as well as relax and stretch your legs.
Fontana Dam, located a short drive across the border in North Carolina, is the tallest dam in the eastern US and was built to supply electricity during WWII.
Fontana Lake, created by the dam, is scenic and offers many hiking opportunities. In case you are looking for a challenge with spectacular payoff, and have a full day to stay here, find the trailhead leading to the Shuckstack Fire Tower and prepare to be awestruck by the grace of the Great Smoky Mountains.
Just as you approach Gatlinburg, keep your eyes out for a series of forest streams and waterfalls. The Sinks is a short waterfall that has an ideal swimming hole beneath it, in case the weather is warm enough for swimming, and closer to Gatlinburg you'll see signs for Laurel Falls and Cataract Falls.
One of the most beloved tourist towns in the Great Smoky Mountains, Gatlinburg, is never short on things to do. There are multiple ways to see the town from up on high, like the Sky Lift, Anakeesta, and the Ober Aerial Tramway.
You will also meet people who can drink you under the table at Sugarlands Distilling Co and Old Smoky Moonshine. For nature lovers, the Great Smoky Mountains National Park is right behind this charming Appalachian town.
Local gems: Just as you get off the I-75 in Sweetwater, there's a great little Vineyard where you can do tastings and pick up a few bottles to enjoy in the evening. Tsali Notch Vineyard is located behind Strawberry Knob Farm in the cutest little log cabin you can imagine.
Between Fontana Dam and Clark Bar Rock there's a quirky roadside stop called the Tail of the Dragon. Though primarily a biker joint, all kinds of road trippers and automotive enthusiasts can be found here, along with tasty provisions at the general store.
Our travel tips: Since there are some opportunities for off-roading along the way, an AWD vehicle would be handy on this trip.
Best time to visit: Aside from any lodging, this is a trip where you can really take it easy and stop as you please. There aren't any attractions that get so crowded you need to book in advance.
That said, on a warm day when school is out, expect lots of families with kids and lodging in Gatlinburg gets harder to find during the peak vacation times.
Some of the mountain roads get icy in the winter months, but don't let that stop you. Gatlinburg has some of the only developed ski runs in all of Tennessee!
7. From Nashville to Pigeon Forge
4 hours 15 minutes (235 Miles)
Difficulty level: Moderate
Why you should take this trip: This is an inspirational road trip to the foothills of the Great Smoky Mountains and into the delightful realm of the Queen of Country, Dolly Parton.
Main stops on this road trip: You'll pass through Lebanon, Cookeville, and Knoxville on your way to Pigeon Forge. A little further along can also explore Locust Ridge.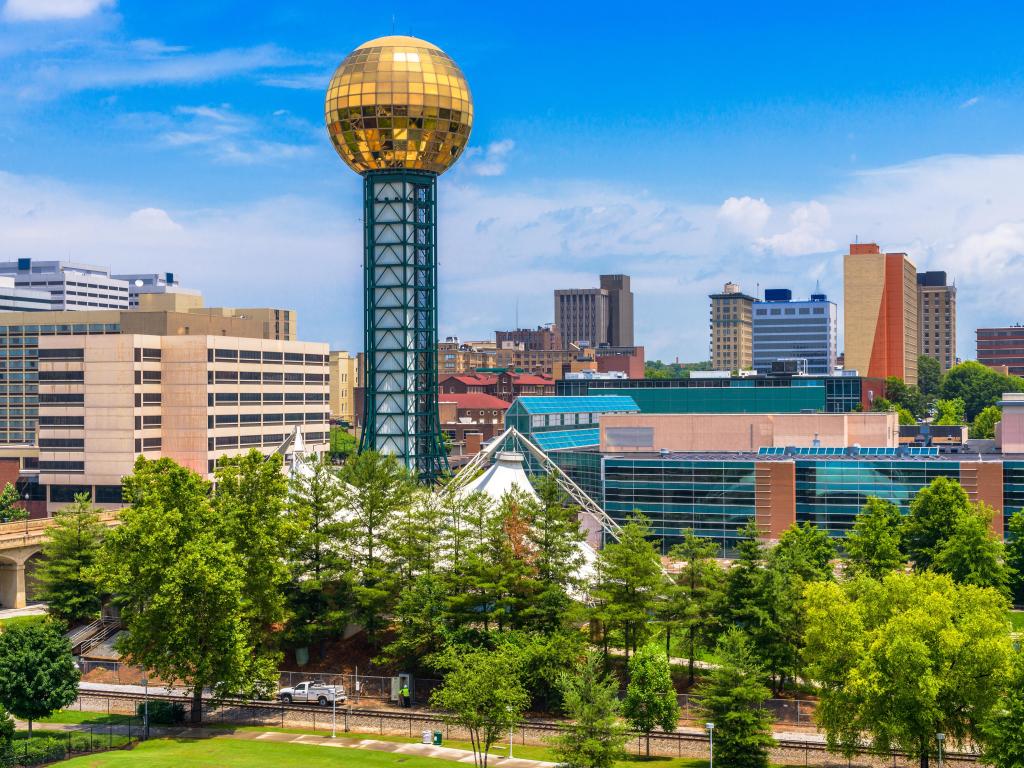 How to get there: From Nashville, take Interstate 40 East through Lebanon, Cookeville, and Knoxville. Once you hit Kodak, exit I-40 via the Winfield Dunn Parkway to Sevierville.
From there, take the Parkway to Pigeon Forge and Dollywood. To get to Locust Ridge, take Jayell Road and a series of country roads to Evans Chapel.
Our highlights: You'll also pass by Knoxville on this trip. Be sure to check out the newly revitalized market square for a relaxing lunch or spend a few hours learning about the region's history at the East Tennessee Historical Society.
Knoxville is known as the Marble City for the many quarries in the area and you can see some of the high-quality building material in the walls of the impressive Knoxville Museum of Art.
Just before you reach Pigeon Forge, take some time to smell the roses, and some fine whiskey, in Sevierville. In addition to a massive distillery, Tennessee Legend, here you can also indulge in something softer than moonshine spirits at Hillside Winery and Apple Barn Winery.
If you're itching for subterranean adventure, head to the dazzling Forbidden Caves and finally learn the difference between stalactites and stalagmites.
Pigeon Forge is a quaint town in the hills, but it is the star power and endless opportunities for fun at Dollywood that keep visitors of all ages flocking to this eastern Tennessee town.
This country-themed park has a stunning array of rides, music, crafts, gardens, and mouth-watering baked goods. The Queen of Country takes care of her people.
Local gems: Drive the road along Locust Ridge where Dolly Parton grew up in a two-room, log-cabin style home. It doesn't get any more country than this and seeing her humble roots will give you greater insights into one of America's musical treasures and a cultural icon.
If you appreciate a good Cuban sandwich as much as we do, then do your taste buds a favor and order a roast pork sandwich at Smokies Cuban Café in Pigeon Forge.
Our travel tips: You can buy tickets for Dollywood ahead of time online to make your visit even easier. Expect to pay for parking. There are free trams that service some of the more distant parking lots.
Some of the county roads around Pigeon Forge aren't paved, so it would be better to drive a vehicle that can handle off-road conditions.
Best time to visit: Spring is one of the most festive times to visit Dollywood. In this season you can catch world-class musical acts at the Festival of Nations and you can see a rainbow of arrangements at the Dollywood Food & Flower Festival.
While you could make this trip during any time of the year, Pigeon Forge can get pretty cold in the winter, and it can even snow here.
8. Screaming Eagle Trail
6 hours (270 Miles)
Difficulty level: Ambitious
Why you should take this trip: This is another loop trip that starts in Nashville and packs in as much history, music, and food as any mere mortal can handle. Get ready for a whole 'nother view of the Deep South.
Main stops on this road trip: You'll have a chance to see Burns, Hurricane Mills, Johnsonville, Camden, Dover, and the Cheatham Wildlife Management Area.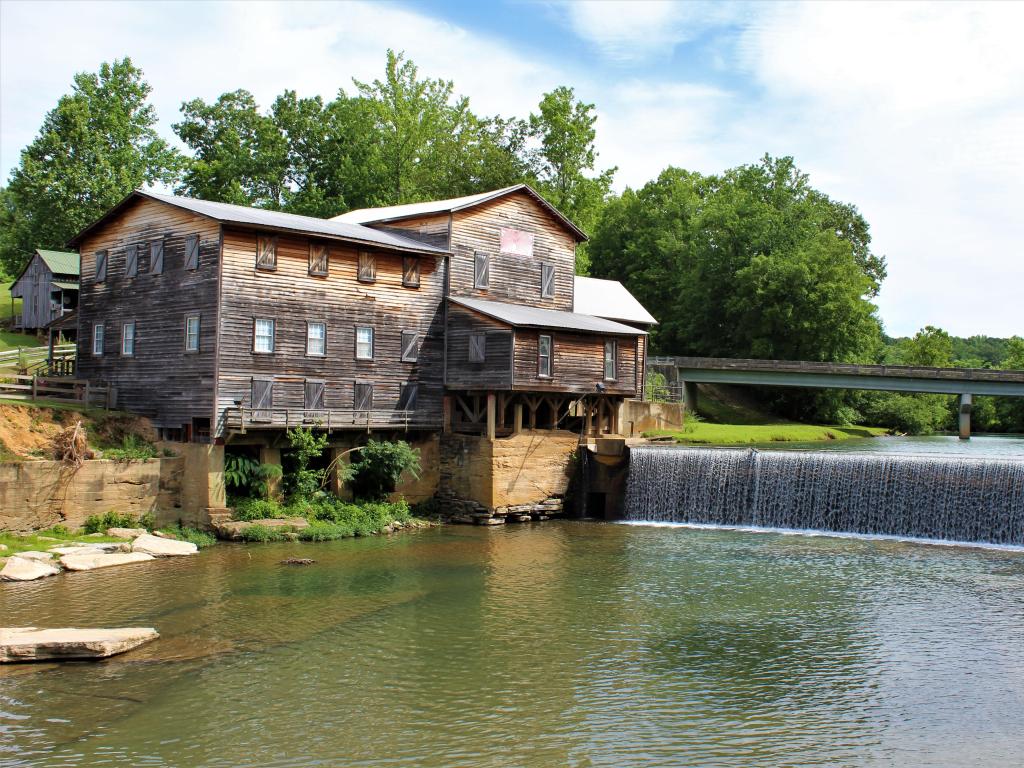 How to get there: Take Interstate 40 West out of Nashville and exit towards Dickson, where you'll hop on US route 70 (US-70) West. When you get to Waverly, take Tennessee Route 13 South to get to Hurricane Mills.
Navigate back to US-70 which will take you through Johnsonville, across Kentucky Lake, and eventually north towards Camden. There, change on to US Route 641 North to Paris where you'll link up with US Route 79 North.
Drive through Dover and towards Clarksville near the border with Kentucky. From there, start driving south towards Nashville along Tennessee Route 12 which will take you past Ashland and the Cheatham Wildlife Management Area.
Our highlights: Just north of Burns, along state Route 48, you will find the tiny hamlet of Charlotte. Here stands one of the oldest working courthouses in all of Tennessee. Built in 1804, the Dickson County Courthouse is the most prominent building in the quaint and historic Charlotte Square.
Prepare for an intimate and moving tour of the residence of one of country music's lady legends at Loretta Lynn's Ranch. This chart-topping singer and subject of the 1980 film "Coal Miner's Daughter" had a life with many ups and downs, many of which are chronicled, or should we say serenaded, at this rustic ranch in Hurricane Mills.
Johnsonville State Historic Park is named after former President Andrew Johnson and was the site of the Battle of Johnsonville during the Civil War. Here you can see 19th century artefacts in the visitor center's museum and hike tranquil trails along Kentucky Lake.
On the last leg of the journey, in Clarksville, you'll have another opportunity to stretch your legs in breathtaking surroundings at Dunbar Cave State Park. These limestone caves were home to prehistoric people. The wide, foreboding entrance sets any mythological imagination alight with tales of a great underworld.
Local gems: We were blown away by Customs House Museum and Cultural Center, which is also in Clarksville. The building itself is a worthwhile stop, but the eclectic collection of artefacts and factoids of local history kept us here longer than we expected to be.
On a trail with such an epic name, you better expect some over-the-top eats and country beats. You will find both at the Fillin' Station in Kingston Springs. Their juicy burgers will please every connoisseur and the local musicians were top notch.
Our travel tips: There's a lot to see on this trip, so even though it could conceivably be completed in a day, we really recommend taking a few days for this one. Plus, there are tons of converted properties that function as rustic B&Bs for a romantic stay.
Best time to visit: Go to the websites of Johnsonville State Historic Park and other historic sites to see if there's any battle recreation held annually, in case you're particularly interested in the abundant Civil War history along this route.
With many outdoor stops and opportunities for hiking, try to travel during a season that avoids the extreme heat and cold. As with many of the trips on this list, spring and fall are the most scenic times to do this road trip.
9. Pie in the Sky Trail
6 hours 15 minutes (280 Miles)
Difficulty level: Ambitious
Why you should take this trip: Who can say no to a trip that begins with pie? Starting in Chattanooga, home of the Moon Pie, this trip meanders past some stellar bakeries and breathtaking parks, so you can balance stretching your jaw and stretching your legs.
Main stops on this road trip: On this trip, you'll see Signal Mountain, Dayton, Crossville, Pikeville, Beersheba Springs, and Monteagle.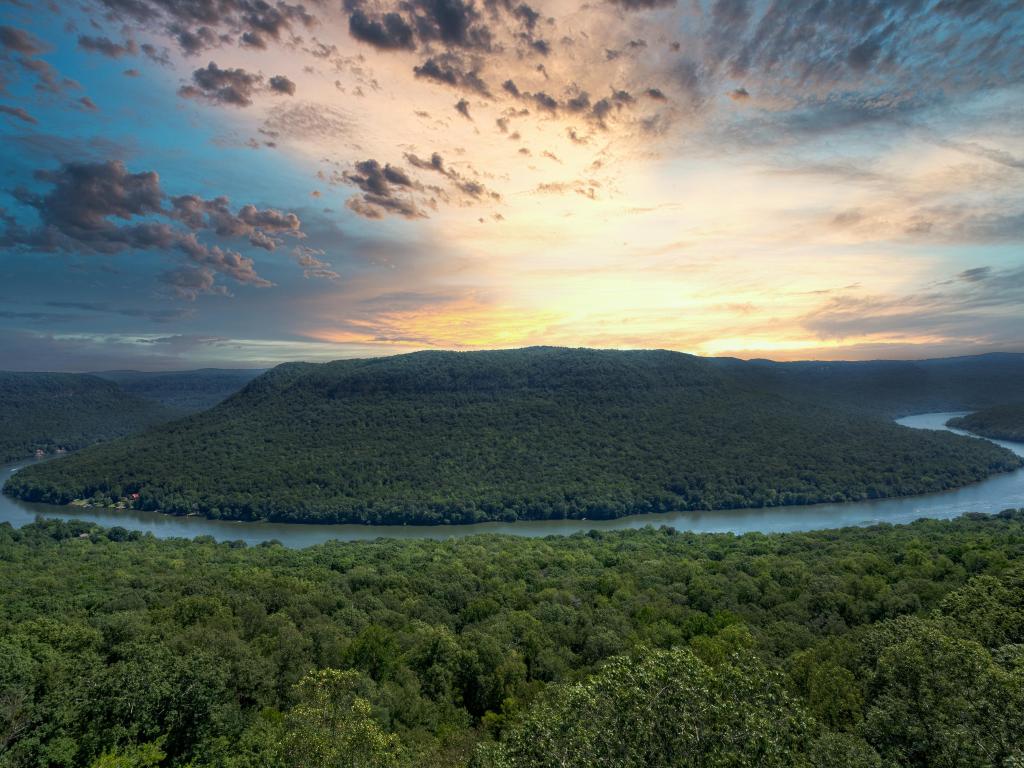 How to get there: From Chattanooga, head toward Signal Point and Prentice Cooper State Forest via Tennessee Route 29.
Then Take US Route 27 North through Dayton, all the way to Spring City, where you'll change onto Tennessee Route 68. Take this to Crossville, the northernmost point on this route.
After you've explored the area, hop on US Route 127 South to Pikeville, where you'll start heading west on Tennessee Route 30 towards McMinnville. Just before you reach the city, the route bends south along Tennessee Route 56, which will take you past Beersheba Springs to Tracy City.
From there, drive to Monteagle, where you'll find Interstate 24 South, which takes you all the way back to Chattanooga via South Pittsburg.
Our highlights: As if the scenic drive along Route 27 wasn't enough of a feast for the eyes, Prentice Cooper State Forest has over 35 miles of hiking trails through pristine woodlands along the Tennessee River.
If you have the time and energy, do the 6-mile hike out to Snooper's Rock for sweeping river views and rare bird sightings.
A must-see attraction in Dayton is the Rhea County Court House Historic landmark, where the famous 1925 Scopes "monkey" trial took place. While you're in town, pick up some goodies at Master Donuts of Dayton, a back-to-the-basics bakery that simply gets your sweet-tooth.
Especially if you love to get out on back-country trails, Savage Gulf State Natural Area will prove irresistible. The trails here take you to waterfalls, cliffs, and even historic sites like the Stagecoach Road.
Many people agree that this is one of the most beautiful nature preserves in all of Tennessee and its located just outside of Beersheba Springs.
Near Tracy City you'll find the Fiery Gizzard Trail. Don't ask us how it got its name, some legends point to Davy Crockett, but this is a fantastic trail along a creek to Foster Falls and a bright blue swimming hole. If you're making this trip in the summer, be sure to include this stop.
Local gems: Another bakery that deserves an honorable mention on this trip is the Bread Basket, just past Signal Mountain. Pick up a loaf to pair with local cheese and jam at one of the many idyllic picnic stops along the way.
For a literal take on an "underground concert", go to Cumberland Caverns. This 200-year-old venue is the largest show cave in Tennessee where you can enjoy bluegrass way down below.
Our travel tips: If you do plan on heading out to the back country, be sure to protect yourself against mosquitos which thrive in Tennessee's warm and humid climate. From March to October expect to hear that buzzing around your ear if you're not prepared.
Best time to visit: It's best to do this trip when the weather is warm, and you can enjoy swimming in the many creeks, lakes, and natural pools along the way.
Every spring, usually in April, the National Cornbread Festival takes place in South Pittsburg, just a few miles outside of Chattanooga.
If you opt for a trip on the cusp of summer and fall, try to catch the 127 Yard sale, the world's longest yard sale held every August in Pikeville.
10. Nashville to Memphis
5 hours (290 Miles)
Difficulty level: Easy
Why you should take this trip: This trip between some of the most musical places in America will have you toes tapping the whole way.
Main stops on this road trip: You'll pass through idyllic Franklin, TN and even dip into Muscle Shoals, AL and Corinth, MS on your way to Memphis, TN.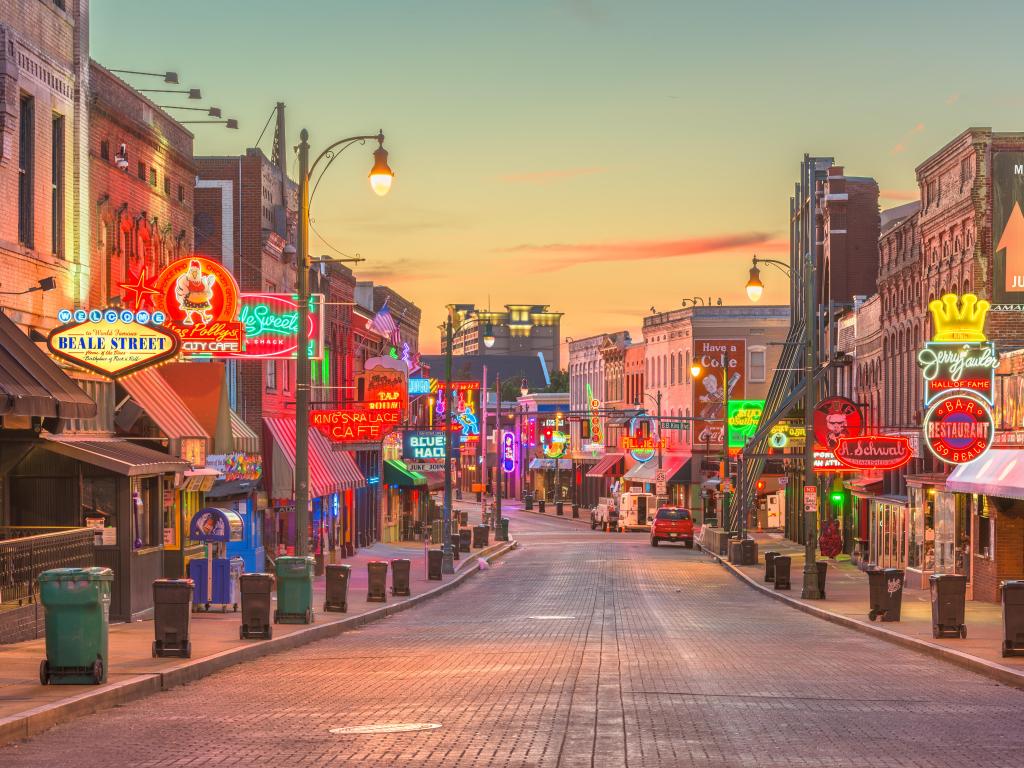 How to get there: Take Interstate 64 South past Franklin, to Frankewing, TN then follow the US-64 bypass to Tennessee Route 11 South over the border to Alabama Route 64 and Muscle Shoals.
After spending some time in this Blues-infused town, head west on US Route 72, which eventually meets up with Tennessee Route 385 and heads into Memphis.
Our highlights: Muscle Shoals, AL can go toe to toe with Memphis in claiming to be the birthplace of the blues. Here you can tour two prominent studios where world-class artists like the Rolling Stones, Aretha Franklin, Cher, and Willie Nelson recorded.
The older of the two studios is called FAME Studio, established in 1959 and across town you can tour the Muscle Shoals Sound Studio, which was founded in 1969.
Another famous resident of Muscle Shoals was Hellen Keller, who overcame her own hearing and visual impairments to advocate for other differently abled people. You can take guided tours of Ivy Green, her birth home.
Continue with the musical theme of this trip at Graceland, the beloved home and estate of Elvis just outside of Memphis. It is the second most visited house in America, after the White House, and contains a peaceful meditation Garden where Elvis and many of his family are buried.
In downtown Memphis, see where Elvis made his first recording at the tender age of 19 at Sun Studio. Between some fantastic soul food joints, you'll also find the Stax Museum of American Soul Music where you can learn more about this hip-shaking genre.
It would be a shame to come all the way here and not see the National Civil Rights Museum. Originally the Lorraine Motel, where Dr. Martin Luther King Jr. was assassinated, this museum transforms the pain of that event into purpose.
Local gems: See the living arts and music scene of Memphis along Beale Street; B.B. King's Blues Club would be a good start and not too far away you can see what's on stage at the Orpheum Theater.
With so many finger-licking barbeque restaurants around, it makes sense that Memphis also has a thriving micro-brew scene. You can taste all of them in one place by stopping at Hammer and Ale on Cooper Street.
Our travel tips: Given Graceland's popularity, make sure to book your tour tickets ahead of time.
Best time to visit: Memphis experiences extreme heat in the summer and is surprisingly cold in the winter; sometimes there are road closures due to freezing conditions. So the ideal times to visit are in the spring and fall. Hotel prices are generally lowest in the fall.
May is a particularly festive time to visit as the World Championship Barbecue Cooking Contest and Beale Street Music Festival both happen during that month.
11. Ultimate Tennessee Road Trip
8 hours 30 minutes (510 Miles)
Difficulty level: Ambitious
Why you should take this trip: On this grand ole road trip across the Volunteer State you'll see all the best that Tennessee has to offer and likely pack on a few pounds along the way. We think this trip deserves a week at least, though you could also cover it over a long weekend.
Main stops on this road trip: This trip includes all of Tennessee's most well-known cities like Memphis, Jackson, Nashville, Chattanooga, and Knoxville then winds up in the Great Smoky Mountains.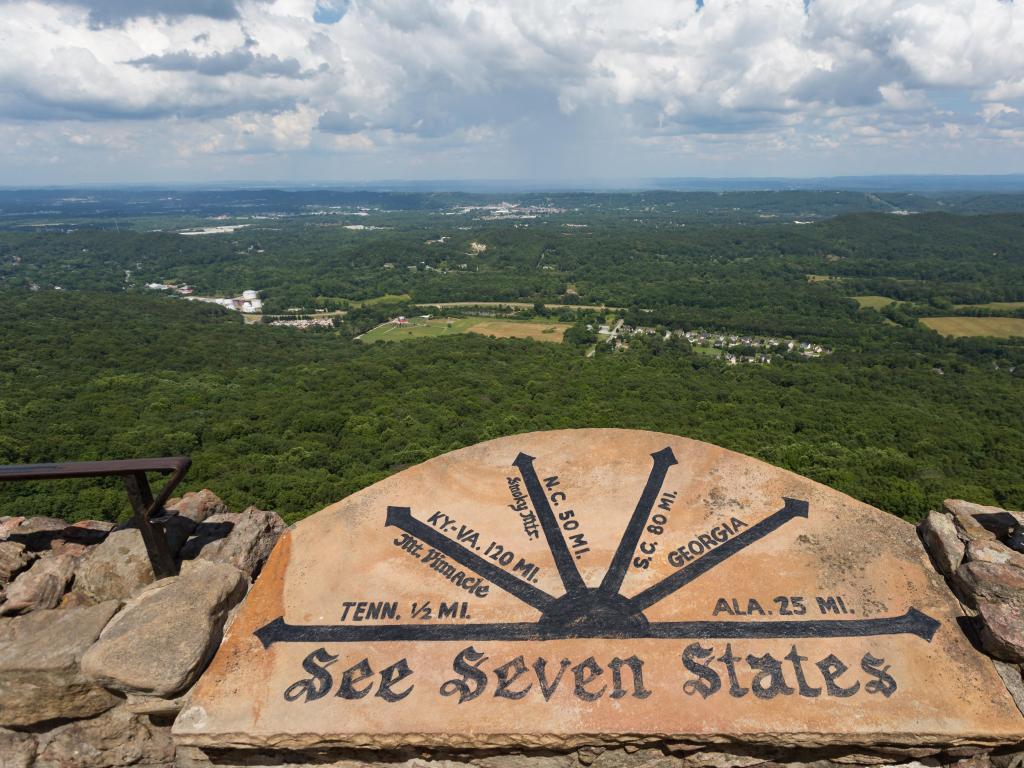 How to get there: From the heart of Memphis, navigate to Interstate 40 (I-40) East which you'll take across the Hatchie National Wildlife refuge to the first stop in Jackson. After some time here, get back on I-40 and follow it all the way to Nashville.
Freshen up here or stay a few days, then take Interstate 24 South to Chattanooga. From this nadir of the route near the border with Georgia, drive north along Interstate 75 to Knoxville.
For the final leg of the journey, take Interstate 40 East to Kodak, then head south through Sevierville, Pigeon Forge, and Gatlinburg, all the way to the Great Smoky Mountains National Park.
Our highlights: Especially if you cannot get enough of classic cars and pompadours, Jackson, TN, the birthplace of rockabilly, needs to be on you road trip radar. It's also home to off-beat museums like the TV and Movie Car Museum and the Tina Turner Museum, which is housed in a one-room schoolhouse where this songstress was once a student.
Nashville deserves its title as the Country Music Capital. Here you can see the live recording of the oldest radio show in America at the Grand Ole Opry, then wander the bedecked halls of the Country Music Hall of Fame.
In the evening, your eyes will flit from one neon sign to another while competing aromas of bourbon and barbeque tempt you to stop along Broadway for another tasty meal.
On the edge of Chattanooga lies Lookout Mountain. This area on the Georgia border is home to the blushing Ruby Falls, picturesque trail to Glen Falls, and rustic Incline Railway which takes you to the top of the ridge for unparalleled views of the surrounding town and countryside.
For Civil War Historians, few places are as significant as the Chattanooga National Military Park, where a battle waged in 1863 and won by the Union Army effectively put an end to the separatist aims of the Confederacy. Especially if you want to know more about the enormous role of Tennessee in the Civil War, add this stop to your itinerary.
On the edge of the Great Smoky Mountains, about an hour's drive from Gatlinburg, take a leisurely drive along the 11-mile Cades Cove Loop.
In addition to breathtaking mountain cliffs and early 19th century settlements this valley is known for wildlife sightings. Here it's common to see white-tailed deer grazing and black bears munching on ripe berries.
Local gems: If you simply can't get enough of Tennessee's enchanting greenery, consider taking a slight detour from the route described above along the Ocoee Scenic Byway/US Route 74.
This adventurous stretch of road follows the Ocoee River Gorge from Ocoee, just a few miles southeast of Cleveland, TN, to Ducktown Tennessee. Especially on a fall trip you won't want to miss this.
While you're in Nashville, try some of Prince's Hot Chicken; no trip here is complete without it. If you prefer pork, sweet and smoky, then make a b-line for Martin's Bar-B-Que Joint right downtown.
Our travel tips: If you plan on camping at any of the state or national parks along the way, consider making a reservation ahead of time through the park's website.
Some major attractions like the Saturday show at the Grand Ole Opry in Nashville or a tour of Graceland outside of Memphis are best booked ahead of time.
Best time to visit: Once again, for the abundant foliage, late spring to the height of fall would be the best time to do this trip, avoiding major school holidays.
While the Great Smoky Mountains take on a whole new charm when blanketed with snow in the winter, the roads can be a bit difficult to navigate and some, like the Cades Cove Loop, are even subject to occasional closures.