Road Trip from Iowa to Tennessee
Are you looking for the best way to explore modern American history, world-famous landmarks, stunning scenery and mysterious caves on a unique drive to the vibrant state Tennessee? Then hop on this road trip from Iowa to Tennessee which will leave you breathless and still wanting more.
This 1080-mile road trip from Iowa to Tennessee is about 19 hours long, driving through Des Moines, Columbia, Rolla, Memphis, Jackson, Nashville, Chattanooga, Knoxville, Burlington, Mt Vernon, Titanic Museum Attraction, Pigeon Forge and Gatlinburg.
Bustling with history, nature and music, this road trip from Iowa to Tennessee has something for everyone. Read on to discover the best routes to take, places to stay overnight, hotel recommendations and the best times to leave.
How far is Tennessee from Iowa, and how long will the road trip take?
Comparison of road trip routes between Iowa and Tennessee

| Route | Distance | Driving Time |
| --- | --- | --- |
| The Short Nashville Route | 720 miles | 12 hours 50 minutes |
| The Full Tennessee Experience Route | 1,080 miles | 18 hours 45 minutes |
The Short Nashville Route covers 720 miles and will take you almost 13 hours to drive. This is a direct route to Nashville and doesn't require long detours.
The Full Tennessee Experience Route is 1,080 miles and will take almost 19 hours to cover. This route will take you across the entire state of Tennessee before dropping you off at Gatlinburg.
We recommend taking at least 3 to 6 days for this road trip from Iowa to Tennessee, especially if you decide to take the Full Tennessee Experience Route.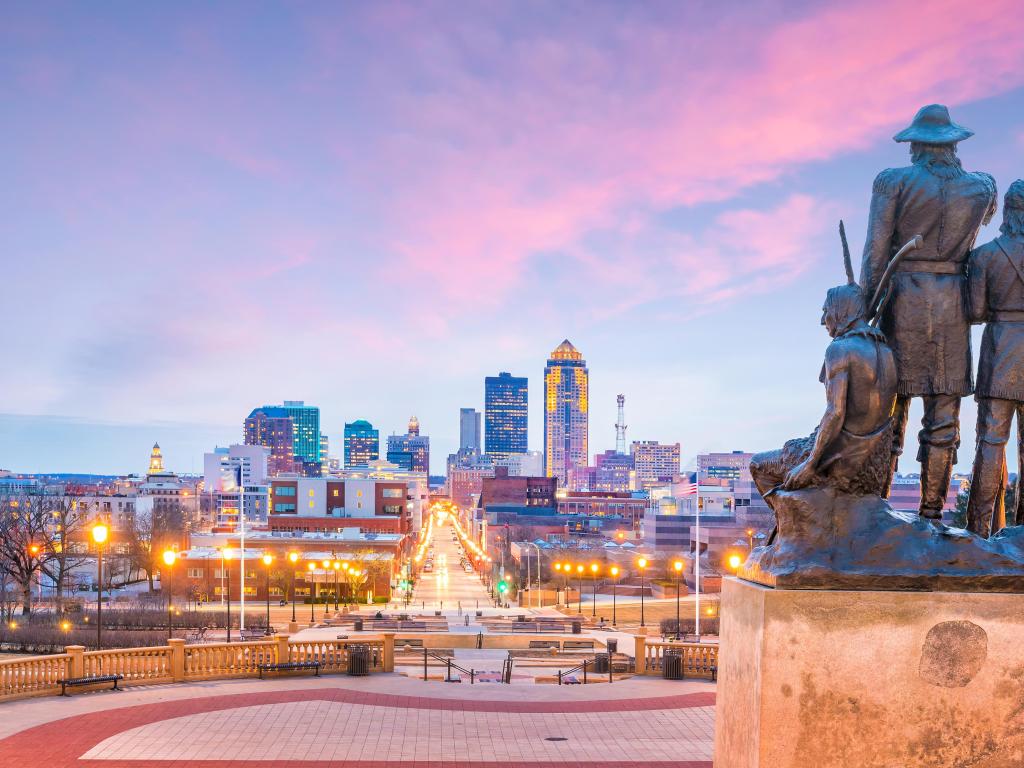 Best road trip route from Iowa to Tennessee
Regardless of the route you take, you are bound to end up in the exciting state of Tennessee. Read on to discover our curated routes and choose one depending on the time you have and the vibe you're after.
The Short Nashville Route is a direct and easy way from Iowa to Tennessee. This route takes you through quaint cities before meeting St Louis and its major landmark, the Gateway Arch. As you head South, you'll uncover a wealth of nature from hiking trails to lakes before ending up in Nashville.
If you are in for a journey around the whole state, take The Full Tennessee Experience Route. It takes you through quaint historic towns before arriving in Tennessee. The scene drastically changes to vibrant, musical heritage with a chance to explore lush forests before winding up your trip to Gatlinburg.
You will also get to visit Dolly Parton's Dollywood in Pigeon Forge and make a detour to the stunning Great Smoky Mountains National Park on this longer route.
The Short Nashville Route
To get directly to Tennessee, get on I-235 E and follow it to N Central Ave in Burlington. From there, get on US-34 E from S Central Ave. Take State Hwy 94 S to Broadway in Hannibal. Follow Warren Barett Dr to US-61 and follow Ave of the Saints to Saint Charles.
From there, get on I-70 E in Frontier Township and follow it to N Tucker Blvd in St Louis. Stop here for a while to explore the vibrant nightlife as well as the Gateway Arch. When you are ready to resume your journey, get on I-64 E from S Tucker Blvd. and take State Rte 142 S into the Garden of Gods.
Take Karbers Ridge Rd to IL-1 S in Bowlesville Township to reach Cave-In-Rock. Stretch your legs and explore for a while before continuing straight on KY-91 S. This will take you to the Land Between the Lakes National Recreation Area. Then get on I-24 E in Livingston County and continue on Wilma Rudolph Blvd.
This will take you to Dunbar Cave State Park. Then get on I-24 E from Dunbar Cave Rd. Follow I-24 E to Interstate Dr in Nashville.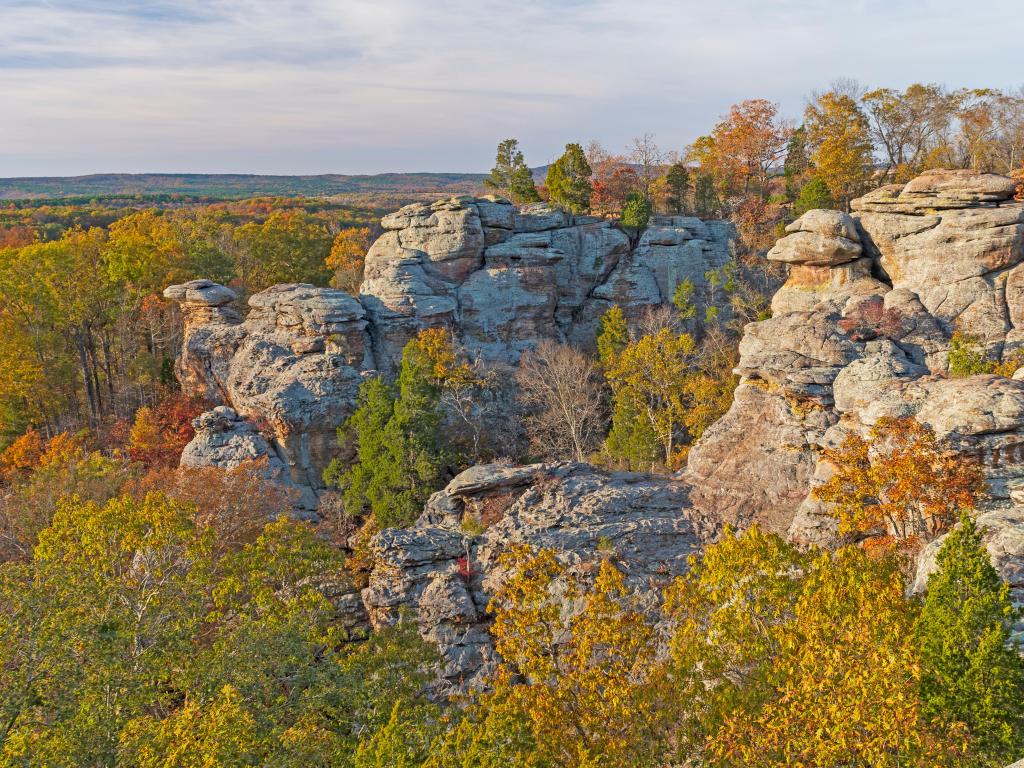 The Full Tennessee Experience Route
To explore the whole state, take Indianola Ave to US-69 S and continue on IA-5 S. Take US Hwy 63 S and follow MO-763 to N Providence Rd in Columbia. Then take Bardsley Rd and N Olive St to Pine St to reach Rolla. Continue on MO-72 E and drive into Oregon County.
This will take you to Eleven Point National Wild and Scenic River. Head Southwest on MO-19 S toward Oregon County 122. Take East Hwy and drive to Polar Ave into Memphis. Stop here overnight to regain your energy before getting on I-40 E to US-411 in Knoxville.
From there, follow I-40 E in Sevierville to Old Mill Ave in Pigeon Forge. Head southwest on Old Mill Ave toward S River Rd. Follow Baskins Creek Bypass to Parkway and then into your destination at Gatlinburg.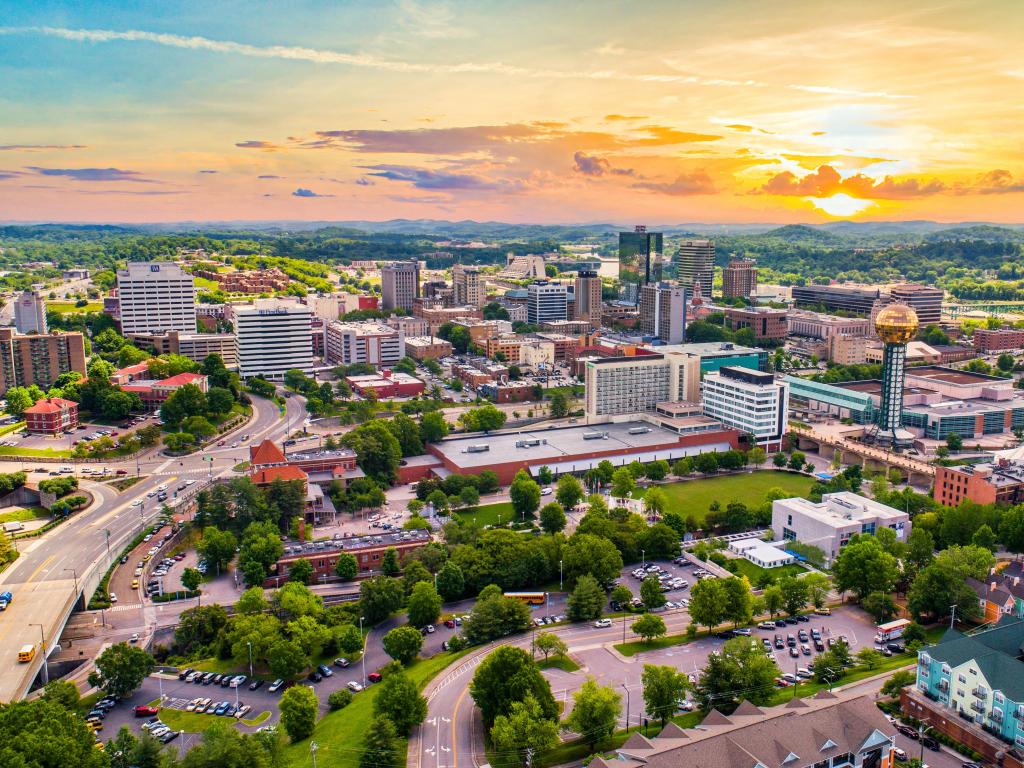 Best places to stop between Iowa and Tennessee
The road trip from Iowa to Tennessee is one of those where you can't resist stopping and exploring along the way. With a mix of musical heritage, history, culture, cuisine, and nature, you can't get enough of this trip without making some overnight stops.
Read on for our curated list of places to stay overnight, the things to do and see, and hotels to relax in.
Enjoy the vibrant nightlife in St Louis
Just over halfway on The Short Nashville Route on this road trip from Iowa to Tennessee, sits St Louis. Being 390 miles into the journey, it is a good marker and overnight halfway stop. This city is home to one of the USA's most famous landmarks and is known as the "Gateway to the West".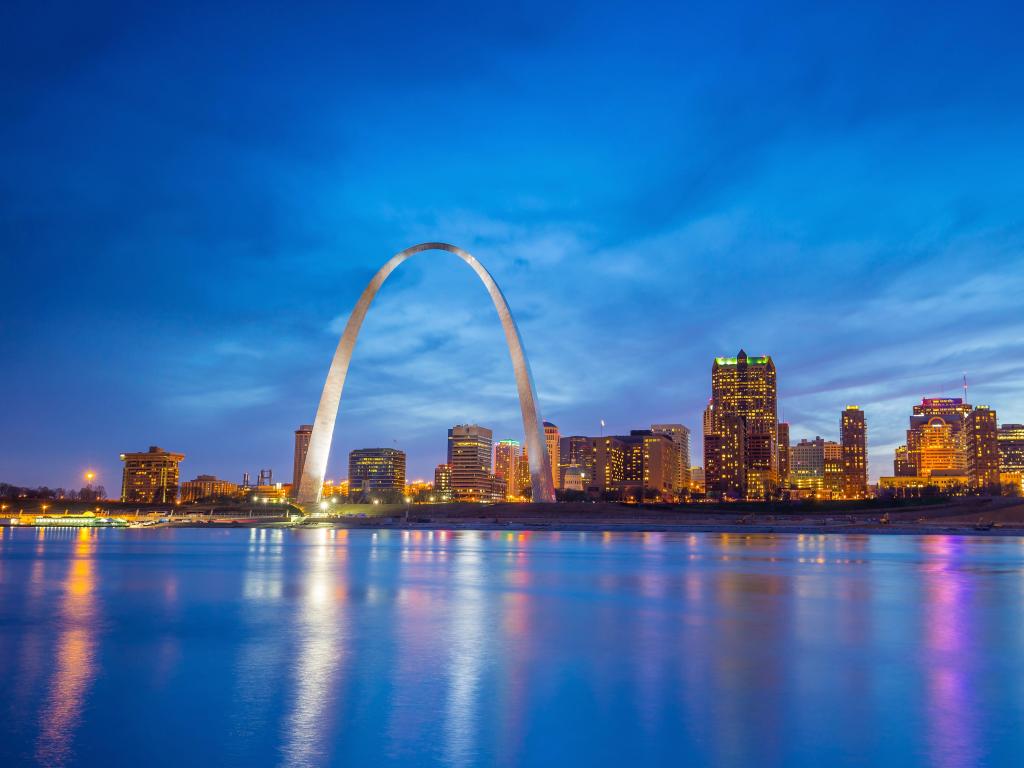 Start exploring St Louis with the iconic Gateway Arch. Ride up the 630-foot-high stainless-steel monument in a cabin for a bird's eye view of the city. St Louis also offers energetic nightlife with live blues music in the Soulard district. Ballpark Village has sports bars and Clayton is the swankiest part
Visit the National Blues Museum to immerse yourself in the blues heritage. Learn how the genre became the foundation for modern music through exhibits. Before resuming your journey, relax at Missouri Botanical Garden with 79 acres of lush greenery for a peaceful moment.
Our vote for accommodation goes to The Last Hotel which has been voted as the St Louis Boutique Hotel of the year. The rooftop swimming pool with bed loungers (which turns into a bar at night) is open year-round depending on the weather.
This hotel has a fitness center with treadmills and cycling machines. Breakfast, lunch and dinner are served on-site. It also boasts a stellar location with the City Museum, Gateway Arch National Park, Ballpark Village, National Blues Museum, Missouri Botanical Gardens and I-70 in close proximity.
Listen to some live music in Memphis
Covering this road trip from Iowa to Tennessee from the Full Tennessee Experience Route, you will encounter Memphis a little over the halfway mark. This culture-rich city, steeped in music tradition, is lovingly known as the "Home of the Blues".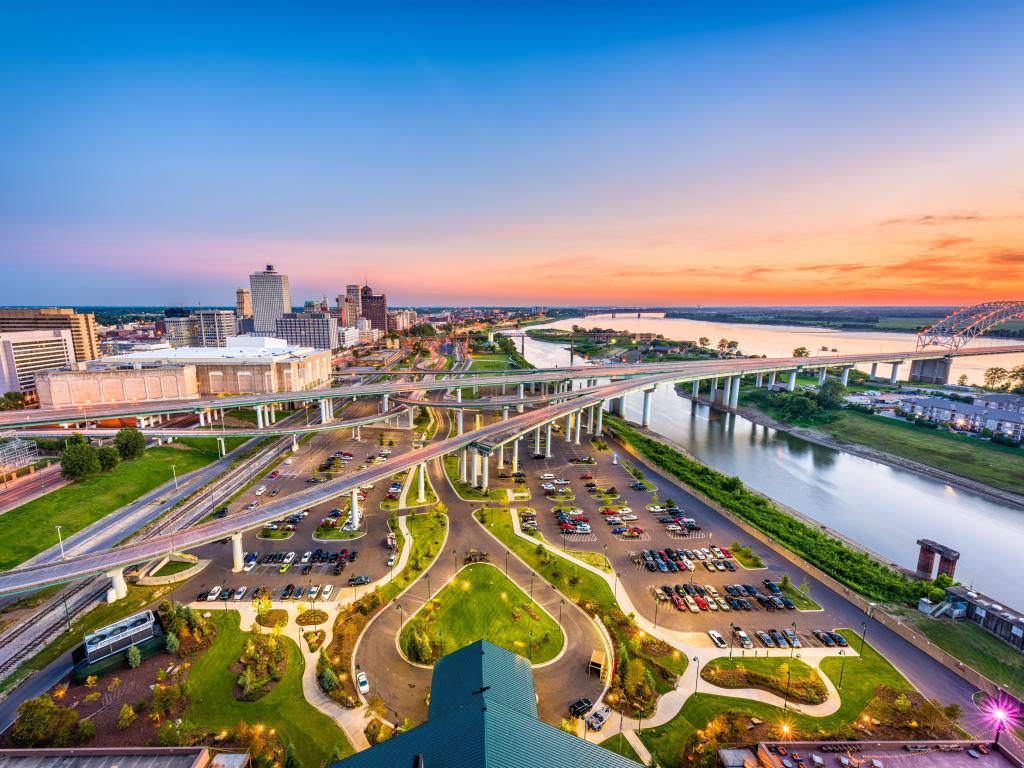 It is also the birthplace of Rock n Roll. If you have a musical soul, you are in for a pleasant surprise with The Memphis Rock n Soul Museum, the Music Hall of Fame and the Blues Hall of Fame.
Visit the National Civil Rights Museum located at the Lorraine Motel where Martin Luther King Jr was assassinated. It is a sobering yet educational site to delve into the Civil Rights movement. The Mud Island River Park gives you a chance to stroll next to the Mississippi River.
Before you hit the road again, make sure to visit Graceland, which attracts over 500,000 visitors per year. This is the former home of "the King" Elvis Presley where you can walk around his house still with the original furnishing chosen by the man himself.
We recommend staying in The Westin Memphis Beale Street. This hotel features fabulous fitness and wellness facilities including massage treatments. Penny's Nitty Gritty on-site restaurant serves everything from American to Creole food and a cocktail hour for comfortable dining.
There is parking available at the hotel, so leave your car behind and explore Mud Island Park, Graceland, National Civil Rights Museum, and Rock n Soul Museum on foot. Being a short distance from the interstate, this hotel gives you easy access to continue your trip.
Where to stay if you're visiting Nashville
If you're following the Short Nashville Route, then to thoroughly enjoy the history, culture, cuisine, entertainment scene, outdoor activities, and the vibrant music especially country that Nashville, Tennessee, has to offer, you would need to stop somewhere and catch your breath for a while.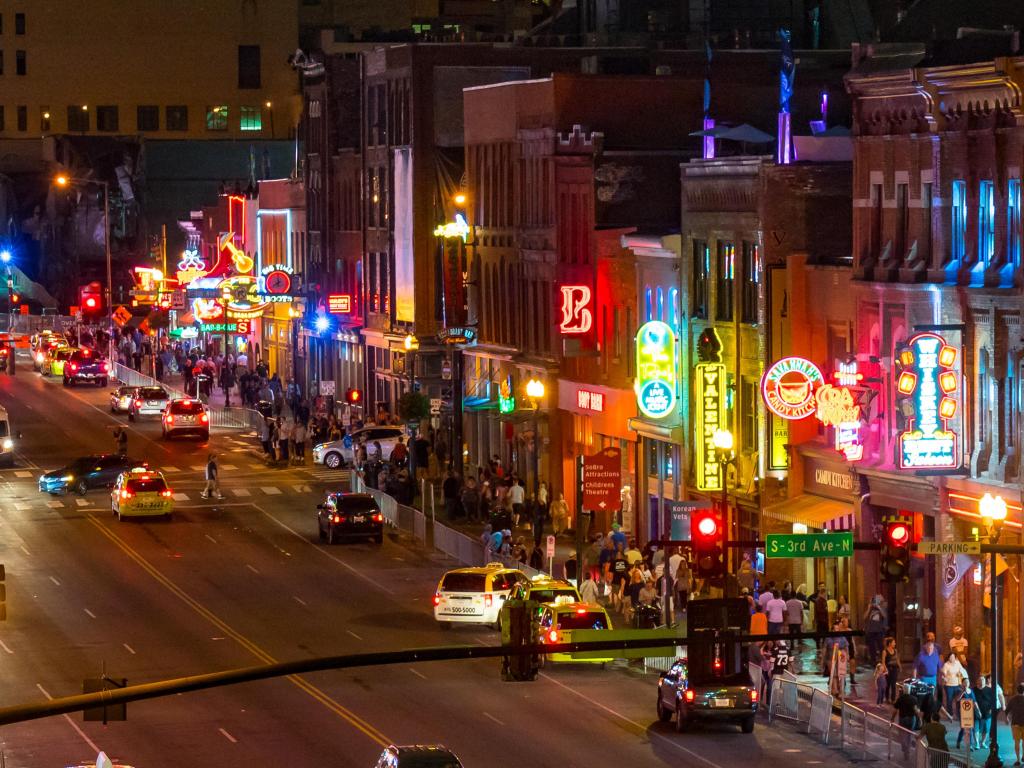 We recommend staying at The Hermitage Hotel and it's easy to see why. It is a 5-star luxury hotel with glamorous rooms. An on-site spa and wellness center with massage treatments make for a truly relaxing stay.
This hotel is close to famous attractions, so you won't have to navigate the roads for miles before reaching them. Ryman Auditorium is just 500 yards away and The Country Music Hall of Fame is 700 yards away from this hotel. Patsy Cline and Johnny Cash Museums are also 700 yards away.
Things to see on a road trip from Iowa to Tennessee
Although giving a contrasting experience, both the routes on this road trip from Iowa to Tennessee have exciting things to offer you round every corner. Here is our curated list of must-see places.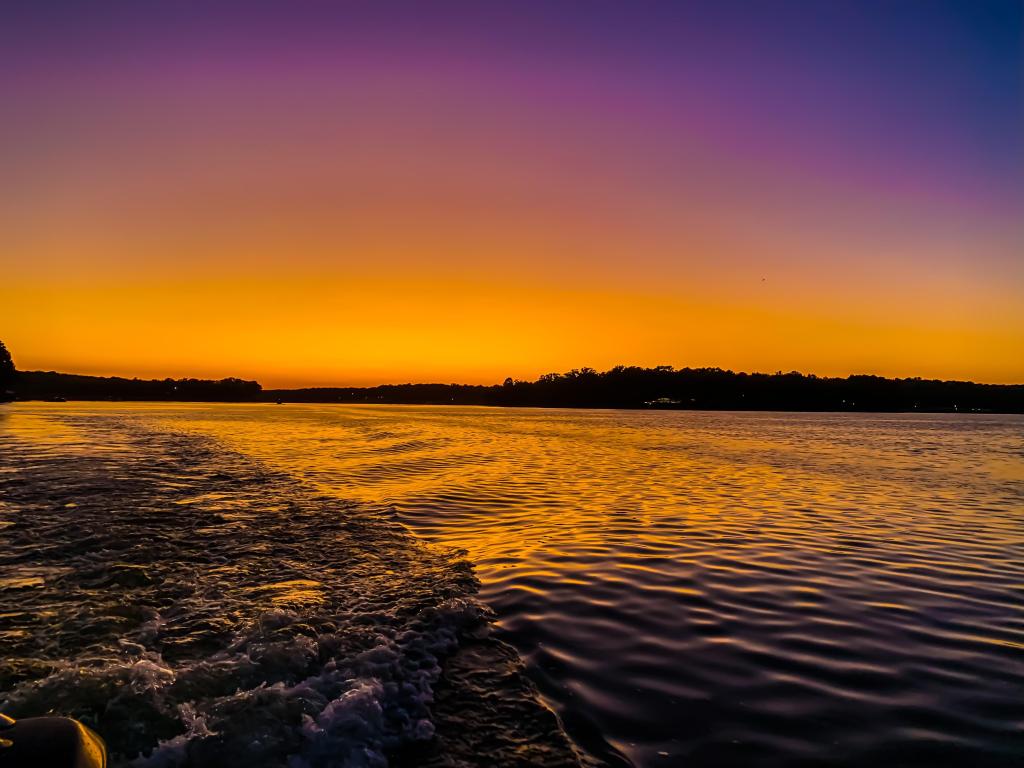 The Short Nashville Route
Burlington, Iowa – Built in 1894, this is "The World's Crookedest Street". Summer allows you to drive along the road, but it you're visiting in winter, you will have to walk along the crooked landmark.
Hannibal, Missouri – Visit the Mark Twain Boyhood Home and Museum in his hometown which is one of Missouri's most visited places.
St Charles, Missouri – Enjoy the relaxed pace of life in this riverside city, famous for its antique shops and many historic buildings to admire.
Mount Vernon, Illinois – Explore the Cedarhurst Center of Arts, stretching over a vast 90-acres and stroll the Goldman-Kuenz Sculpture Park with 73 works.
Garden of Gods, Illinois – Take a spectacular hoke on the intertwining trails where you'll discover unique rock formations in this garden located in the Shawnee National Forest.
Rim Rock National Recreation Trail, Illinois – Hike to the top of the Rim Rock surrounded by lush woodland and take your time to breathe in the fresh outdoor air on the benches.
Cave-in-Rock, Illinois – Hike on this exciting natural wonder which is 50-foot tall, 40-foot wide, and 120-foot deep. It was once a hideout for notorious gangs travelling the Ohio River.
Land Between the Lakes, Kentucky – Kayak from one of the access points, hike one of the many trails, see wildlife at Elk and Bison Prairie, and find a spot to camp out in the wilderness.
Casey Jones Distillery, Hopkinsville, Kentucky – Named after the prohibition master still-maker Casey Jones, take a tour and taste genuine Kentucky moonshine and bourbon.
Dunbar Cave State Park, Tennessee – Join a guided tour into the 8-mile Dunbar Cave which is worth the tickets to step foot in.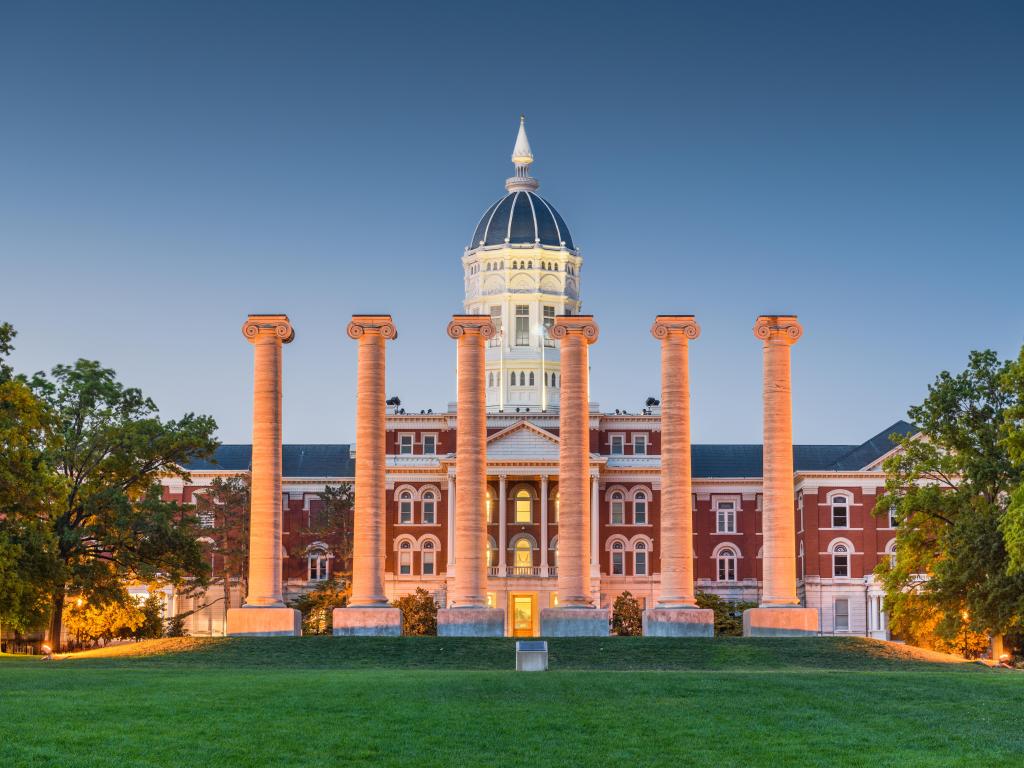 The Full Tennessee Experience Route
Columbia, Missouri – Walk through the wrought-iron gates to discover the beauty of Shelter Gardens, 5 acres of pristine, landscaped gardens await you to daydream and relax.
Rolla, Missouri – Step back into history and a city full of opportunities to see performing arts in action on Route 66 in Rolla.
Eleven Point National Wild and Scenic River, Missouri – See the Ozarks as you float along the river and find picnic spaces for enjoying the water from the banks.
Jackson, Tennessee - A quirky stop, but Rusty's TV and Movie Car Museum with over 50 iconic vehicles including The Ectomobile from the Ghostbusters is totally worth a visit.
Nashville, Tennessee – In this city filled with musical landmarks and museums throughout, stroll down Broadway at night and enjoy the live music coming in the vibrant bars and venues.
Chattanooga, Tennessee – Take a trip to the inclined Railway to the top of Lookout Mountain and admire the Rock City and Ruby Falls at the summit.
Knoxville, Tennessee – Visit the heart of downtown and head to Historic Market Square where you can shop, eat at trendy restaurants and enjoy bustling nightlife.
Titanic Museum Attraction, Tennessee - Walk the Grand Staircase made famous by the movie in this two-story museum that has 400 artifacts.
Pigeon Forge, Tennessee – If you're on the music trail, Dollywood, an amusement park owned by Dolly Parton, is a must-see in Pigeon Forge which is full of entertainment.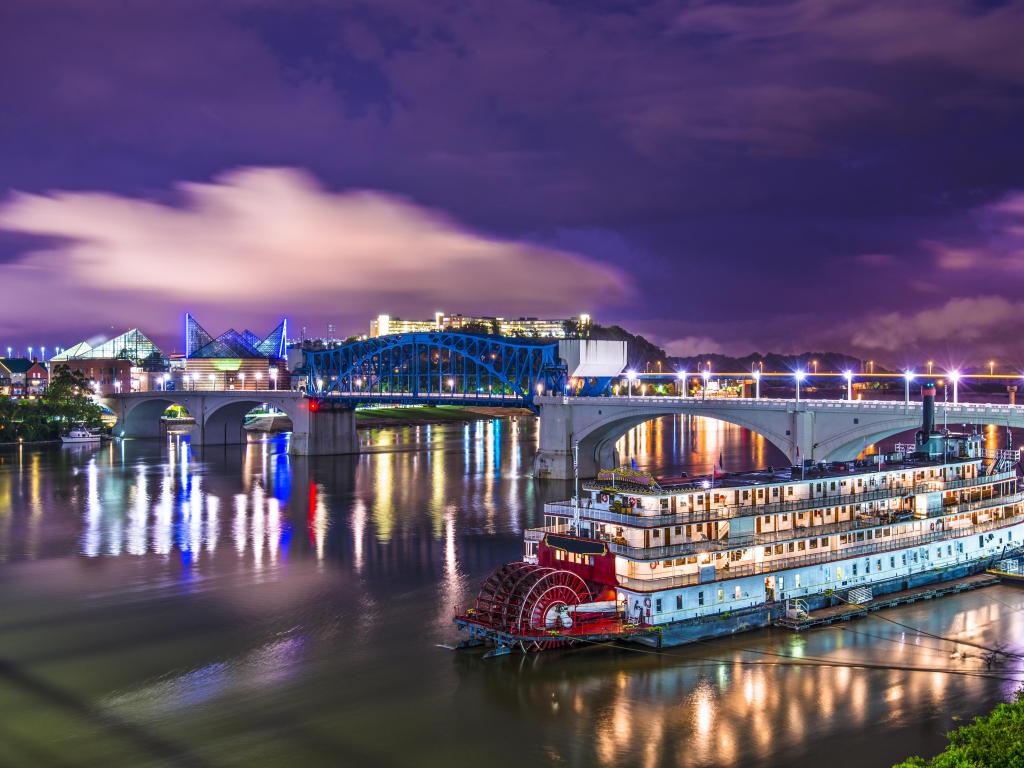 Best time to go on a road trip from Iowa to Tennessee
The musical city of Nashville is truly a year-round destination with swarms of visitors coming in to enjoy the music scene and vibrant nightlife. Summers in Nashville are hot, perfect to enjoy outdoor activities.
Winters might be cold, but museums remain open, and you can find live music indoors every day!
The summer months of June to August are peak seasons and you will find hotel prices skyrocket with temperatures between 77 degrees Fahrenheit to 79 degrees Fahrenheit, uncomfortable for hiking.
January is the coldest month with an average temperature of 38 degrees Fahrenheit. February and December average at 42 degrees Fahrenheit. Christmas and New Year's Eve are magical times to visit Nashville.
Spring and fall are also great times to visit Nashville. The average temperature in September is 72 degrees Fahrenheit when you can avoid peak season and enjoy pleasant weather. May has an average temperature of 69 degrees Fahrenheit. You can grab bargain hotel deals during this time.
If you are someone who enjoys festivals and events, Nashville has quite a few amazing annual events. Tin Pan South is held from March to April and is called the Songwriter festival. For fans of comedy and humor, April brings in the Nashville Comedy Festival.
June invites all country music fans to enjoy the CMA Fest Awards in Nashville, Tennessee. Let Freedom Sing has huge firework celebrations and is celebrated on the 4th of July. In September, you can enjoy the Americana Fest as well as The Americana Music Festival and Conference.