Best Time To Visit Portland, Oregon
Portland is known for amazing things to do outdoors, funky and weird neighborhoods and its beer but when is the best time to go to Rose City?
The best time to visit Portland is from June to September when the weather is warm and dry and the music and beer festivals are on. The roses bloom through the summer months, so book early as this is also the busiest time of year for tourists.
Read on to find exactly when the best months to come to Portland are and to see our month-by-month guide to the best events and festivals.
When should you go to Portland?
When to visit Portland - Summary
Best Time for Good Weather: Summer months from June to September offer the best weather in Portland with the sun shining and the skies clear and long warm days. Temperatures stay above 68 °F (20 °C) with peak summer days hitting the high 80s (over 30 °C). With the sun rising before 5:30 a.m. and setting at around 9 p.m., it's perfect weather for exploring the city or going on a hike nearby.
Best Time for Sightseeing: With so much of what Portland has to offer being outdoors and a number of events, summer concerts and festivals taking place during the summer, the best time to visit for sightseeing is between mid-April and mid-October. The weather holds up and is mostly dry through this period and if you come in late spring or early fall, you can avoid the summer tourist boom which means less queuing at popular venues.
Best Time for Saving Money: December to January are the cheapest months to come to Portland. Flight and hotel prices are at their lowest as the tourist season hits its annual low. The weather is also wet and miserably cold, so you have to weigh up whether the cost savings are worth it.
Best Time for exploring the rivers and the outdoors: June to September to catch the best weather and the numerous events hosted in the city along the Willamette River with Tom McCall Waterfront Park seemingly hosting a festival every week. Hiking near Portland and exploring some of the amazing nature around is best when it's warm and dry.
Best time to visit Portland
Best Time for trying local wine: Portland sits in the Willamette Valley - one of the most prominent wine regions in western USA. There are a huge number of wineries up and down the valley including a few located in Portland itself with bars and tasting rooms. You can try the local wine all year round but there are special events through the year that are great to attend. Memorial Weekend in the Wine Country (May) and Wine Country Thanksgiving (November) are perfect as over 130 wineries open up their cellars and wine tasting rooms for special events.
Best Time for Restaurants: July to mid-September is great if you want to catch the restaurants and bars opening up their yards and setting up tables outside in the sunshine. Alternatively, the Portland Dining Month happens in March with over 100 local restaurants participating and offering cut price meals and interesting menus.
Best Time for Concerts and Music: The summer months are the best time to visit Portland for concerts and music. A number of places host outdoor concerts and events through the summer including the Oregon Zoo Summer Concert series as well as festivals such as the Waterfront Blues Festival and the Cathedral Park Jazz Festival, which both happen in July.
Best Time for Families and Kids: Any time from May to September will work well. The crowds are higher in the summer, but the great weather makes up for it and the kids will love seeing the city in its best light with the sun shining.
Best time to Avoid Crowds: If you want to avoid the tourist crowds, come to Portland between November and March. January and February tend to be very quiet with few people about. Tourist numbers are low in November and December but the festive season draws out the locals to venues and shops around the city.
Portland travel seasons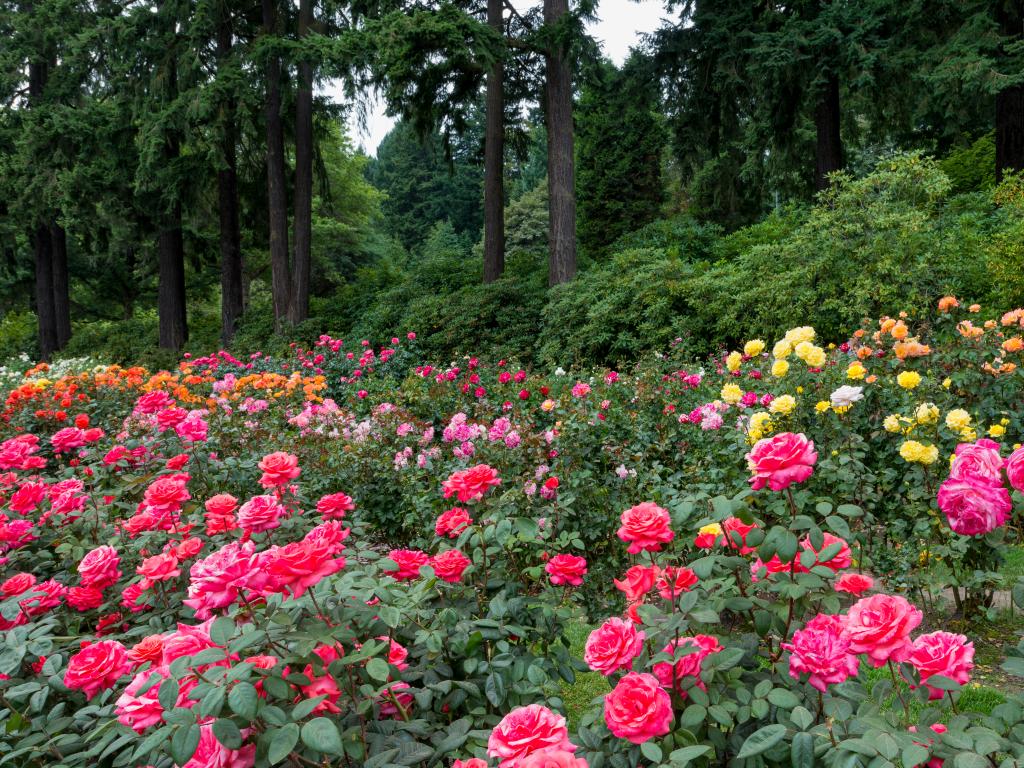 High Season for Tourists (June to August)
The summer months are the hottest and driest in Portland and this is the time when tourists flock to visit the Rose City.
Neighborhood festivals, summer concerts and the Farmers' Market are all on during the summer which, combined with the beer festivals draws the crowds.
The busy tourist season is not as bad as some other locations and you should be able to book at reasonable rates if you look two or three months in advance. The tourists and hotel rates come down a fair amount after the Labor Day Weekend.
Shoulder Seasons (April to May and September to October)
The weather is reasonably warm and the rainfall is still much lower than in the winter which makes spring and fall months moderately popular with visitors to Portland.
September tourist numbers tend to be a little higher as the weather stays very warm but the numbers die down considerably by the time October arrives.
The two main draws for tourists over shoulder seasons are the flower blooms and the rose season in particular starting in the middle of April and the fall leaves that come in October.
Low Season (November to March)
The winter months and adjoining parts of late fall and early spring and cold and very wet. Rain can be persistent and can go on for days in the middle of the winter which means the tourist numbers are at their lowest.
A lot of activities and things to do around Portland are focused on the outdoors. Many festivals and events happen in the city's parks and on the Willamette River, so the winter months are relatively quiet.
Hotel prices are at their lowest in December and January with these months traditionally seeing the fewest tourists.
Best time to visit Portland for the beer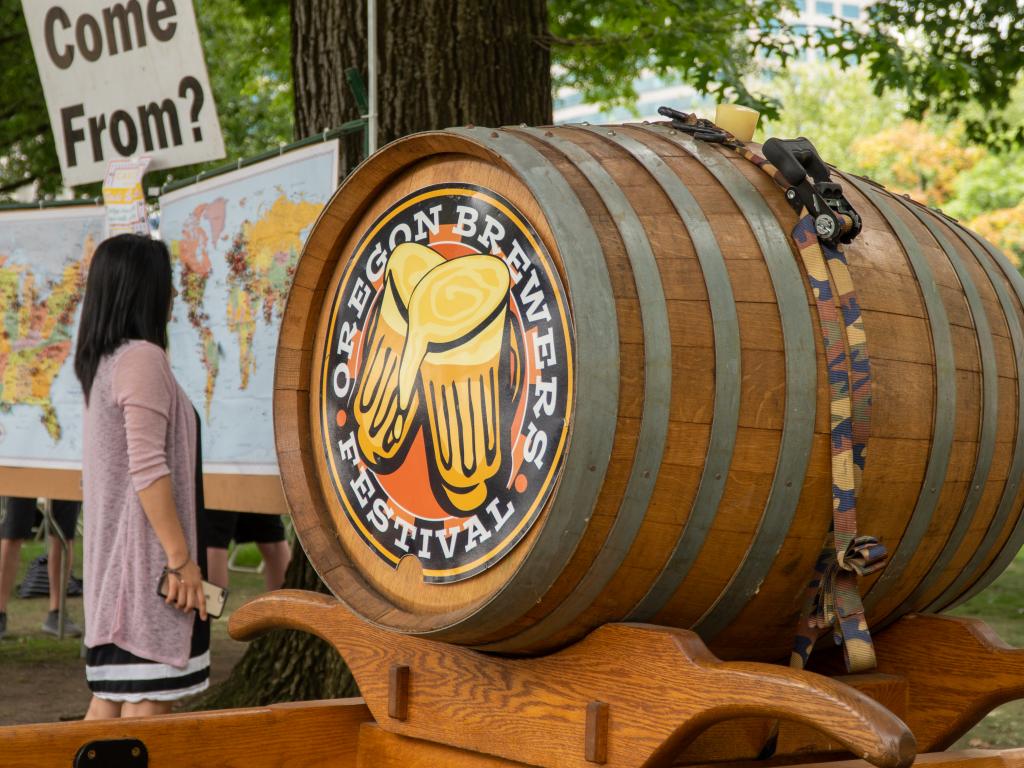 Portland is famous for its beer and has one of the most vibrant craft beer and ale scenes in the country.
There are 75 breweries in the city of Portland and this number is growing every year with local versions of fruity Belgian beers to cloudy wheat ales on tap all over town.
The best time to visit Portland to dive into the beer scene is either in September and October or June and July.
The fresh new batch of beer grown using this year's crop can be tried at the local breweries from mid-September on or come earlier in the season when the Portland International Beer Festival and the Oregon Brewers Festivals come to town with hundreds of local, national and international beer makers turning up.
Weather in Portland across the year
Average monthly temperature and rainfall for Portland
Average temperature highs and precipitation
Data sourced from U.S. NOAA Climate Data
Month
Temperature
Rainfall
January
46.9 °F / 8.3 °C

---

6.14 in / 156 mm

---

February
50.8 °F / 10.4 °C

---

4.63 in / 118 mm

---

March
56.0 °F / 13.3 °C

---

4.50 in / 114 mm

---

April
60.8 °F / 16.0 °C

---

3.40 in / 86 mm

---

May
67.4 °F / 19.7 °C

---

2.55 in / 65 mm

---

June
72.9 °F / 22.7 °C

---

1.69 in / 43 mm

---

July
79.6 °F / 26.4 °C

---

0.59 in / 15 mm

---

August
80.1 °F / 26.7 °C

---

0.71 in / 18 mm

---

September
74.6 °F / 23.7 °C

---

1.54 in / 39 mm

---

October
62.9 °F / 17.2 °C

---

3.42 in / 87 mm

---

November
52.0 °F / 11.1 °C

---

6.74 in / 171 mm

---

December
45.1 °F / 7.3 °C

---

6.94 in / 176 mm

---
Portland weather by month
Portland weather in January: January in Portland is cold and the winter rains continue to fall with over 6 inches of rainfall through the month. Snowfall is rare, but the strong winter winds can make it feel very cold and bring changing weather day to day.
Average temperature: 42.2 °F / 5.7 °C. Average precipitation: 6.14 in / 156 mm.
Portland weather in February: February remains cold and wet, although rainfall drops from the highs of December and January. Daytime temperatures increase to highs of 50.8 °F (10.4 °C) with nighttime frost melting in the afternoon.
Average temperature: 44.6 °F / 7.0 °C. Average precipitation: 4.63 in / 118 mm.
Portland weather in March: While March remains relatively cold and wet, the frosty nights that last from December to February finally disappear. Expect variable conditions with some days breaking 60 °F (16 °C) while others sitting just above 40 °F (4 °C).
Average temperature: 48.5 °F / 9.2 °C. Average precipitation: 4.50 in / 114 mm.
Portland weather in April: April is a transitional month with mixed weather and a big difference between the start and end of the month. Rainfall continues reducing although it will still rain every other day. Daily highs may reach into the 70s (above 21 °C) towards the end of the month as flowers begin to bloom.
Average temperature: 52.4 °F / 11.3 °C. Average precipitation: 3.40 in / 86 mm.
Portland weather in May: May is the start of the warm summer season in Portland. Daily highs climb to 67.4 °F (19.7 °C) and you should see a few days with temperatures in the 80s (over 27 °C) in late May. Rainfall is lower than earlier on in spring, but there will still be plenty of wet days so pack an umbrella.
Average temperature: 58.1 °F / 14.5 °C. Average precipitation: 2.55 in / 65 mm.
Portland weather in June: Summer arrives in earnest in June. daily highs average at a consistently warm 72.9 °F (22.7 °C) and you should expect some days to break into the high 80s (above 30 °C). Rainfall eases off with around 5 days of any meaningful precipitation and the summer fog that affects much of the Pacific coast is not a thing in Portland due to its inland location.
Average temperature: 63.1 °F / 17.3 °C. Average precipitation: 1.69 in / 43 mm.
Portland weather in July: The beautiful summer weather makes July a perfect month to go to Portland. Daily highs are 79.6 °F (26.4 °C) on average and even the nighttime lows are a balmy 57.4 °F (14.1 °C) making the long days pleasantly warm. July is the driest month of the year with rain being very rare and you will typically get a few days that go over the 90 °F (32 °C) mark so bring your sunscreen.
Average temperature: 68.5 °F / 20.3 °C. Average precipitation: 0.59 in / 15 mm.
Portland weather in August: August is the hottest month of the year with temperatures nudging marginally higher than July. The weather continues to be bright and dry - perfect for exploring the city or getting out of Portland to go on a hike. Expect to spend a lot of time in the sun with a number of outdoor events in August as well as restaurants, bars and cafes setting up their tables in the sunshine outside.
Average temperature: 69.0 °F / 20.6 °C. Average precipitation: 0.71 in / 18 mm.
Portland weather in September: Early September remains very warm, taking over from August with some days hitting over 85 °F (32 °C). As the month progresses, the average temperatures drop to below 60 °F (16 °C) although it will remain relatively dry all the way through.
Average temperature: 64.4 °F / 18.0 °C. Average precipitation: 1.54 in / 39 mm.
Portland weather in October: Fall season comes in October and the weather becomes changeable - temperatures can oscillate a lot with some days stretching above 80 °F (over 27 °C) while later on in the month, daily highs can sit a little above freezing. Rainfall becomes more frequent in the second half of October announcing the arrival of the wet season in Portland.
Average temperature: 55.2 °F / 12.9 °C. Average precipitation: 3.42 in / 87 mm.
Portland weather in November: The winter rains take hold in November as the temperatures drop. Expect most days to have rain and unlike some other destinations, these rains come in slow drip-like fashion through the whole day rather than an afternoon burst. Nighttime lows hit 41.4 °F (5.2 °C) with overnight frosts happening towards the end of the month.
Average temperature: 46.7 °F / 8.2 °C. Average precipitation: 6.74 in / 171 mm.
Portland weather in December: December is the coldest and wettest month of the year in Portland. Daily highs average 45.1 °F (7.3 °C) while nighttime lows are at 36.5 °F (2.5 °C) with frequent dips below freezing point. While snow only happens occasionally, expect it to be icy with strong cold winds.
Average temperature: 40.8 °F / 4.9 °C. Average precipitation: 6.94 in / 176 mm.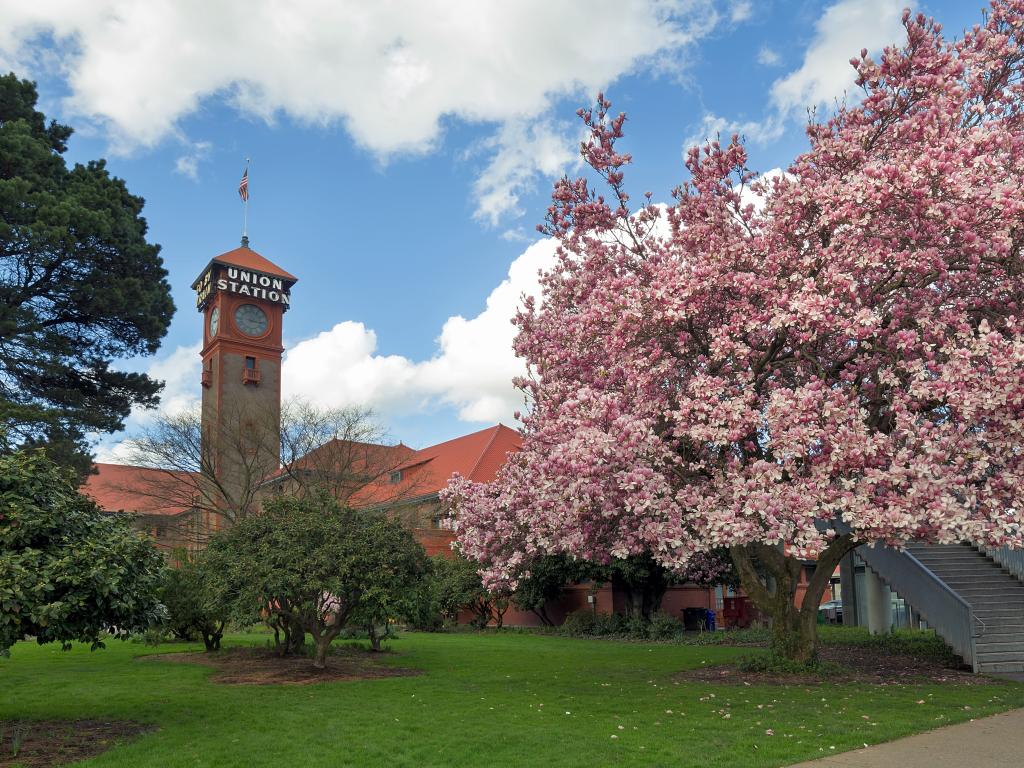 Portland events and things to do by month
January in Portland
Chinese New Year at Lan Su Chinese Garden - A 2-week celebration starting at the end of January and lasting into February with cultural performances, traditional dances and evening lantern light displays.
Portland Boat Show - One of the largest off the water boat shows in the United States, you can check out boats and yachts in the warmth of the Portland Expo Center.
Reel Music Festival - Taking place over 3 weeks from late January to mid-February, the Portland Reel Music Festival is all about music film from movies about musicians to other forms of musical cinema.
February in Portland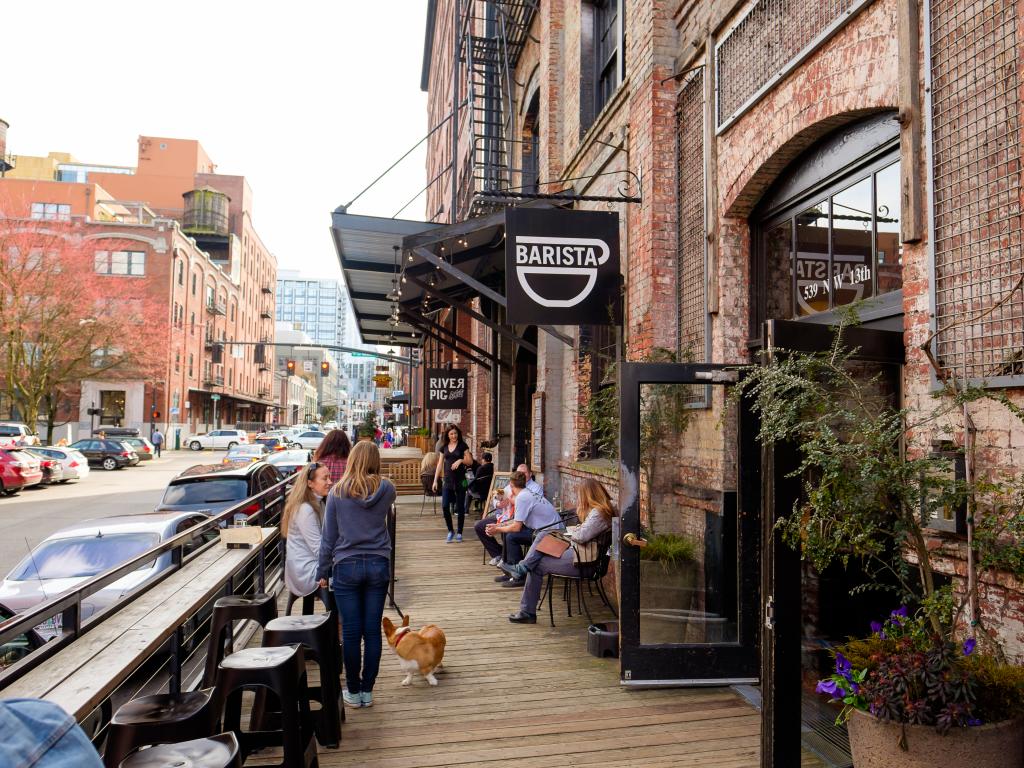 March in Portland
Portland Dining Month - Over 100 local restaurants participate offering three-course meals for just $33 along with donating money to the Oregon Food Bank.
Kells St. Patrick's Festival - 3 days of Irish singing, dancing, green costumes, beer at Kells Irish Pub, the giant tent set up behind it and along Pine Street.
April in Portland
Soul'd Out Music Festival - A huge series of events over the course of a week with soul music played at venues across town with as many as 7 concerts happening at the same time in different locations.
Wooden Shoe Tulip Fest - 30 miles south of Portland, but super popular with the locals is the annual Tulip Fest which starts at the end of March with the main bloom happening in the first half of April.
May in Portland
Cinco de Mayo Fiesta - An annual Cinco de Mayo event held at the Tom McCall Waterfront Park with live music, carnival rides and great food stalls.
Memorial Weekend in Wine Country - The Willamette Valley runs south from Portland and over 130 wineries and tasting rooms host tastings and special events over a weekend in late May.
Rose City Chocolate Festival - A weekend of chocolate indulgence with dozens of the finest artisan producers letting you try the good. Children under 12 go free which makes this a must event for families.
June in Portland
July in Portland
August in Portland
September in Portland
Time-Based Art (TBA) Festival - 10 days of contemporary art of different genres performed by artists from across the world alongside exhibitions, workshops, lectures and other events.
Feast Portland - An amazing food festival that combines cooking demonstrations, tasting events and food competitions as well as having local wine and beer on show.
Art in the Pearl - One of the top arts and crafts festivals in the country takes place over Labor Day Weekend in Pearl District's North Park Blocks - it's free and there are over 100 artists as well as music and food.
October in Portland
November in Portland
December in Portland
Holiday Ale Fest - There seems to be a beer festival every single month in Portland and December is no exception with 5 days of ale drinking and 50 breweries taking part in downtown Portland.
Christmas Ships Parade - A popular local event where ships big and small parade up and down the Columbia and Willamette Rivers for 15 nights in the run up to Christmas.
Crafty Wonderland Art and Craft Market - This market with over 250 artists showcasing and selling their art at the Oregon Convention Center happens in May and December although the December edition is a lot more festive!