Road Trip From Seattle To Yellowstone National Park
If you enjoy long, scenic drives that incorporate both mountainous and forest terrain, you should consider a road trip from Seattle to Yellowstone National Park. With so much to see and do on the way, you'll be coming back to this incredible drive for years to come.
The 755-mile road trip from Seattle to Yellowstone National Park takes 11 hours 30 minutes to drive. On the way, explore Mt Rainier National Park & Craters of the Moon, make a stop in Portland, Missoula, or Idaho Falls, and visit the Grand Teton National Park.
If an adventure of epic proportions sounds appealing to you, read on and find out just what makes this drive one of the most scenic in all of North America.
How far is Yellowstone National Park from Seattle and how long will the trip take?
Route
Distance
Driving Time
North Route


(via I-90)

790 miles
12 hours 30 minutes
South Route


(via I-84)

1,040 miles
17 hours
The road trip from Seattle to Yellowstone National Park will cover around 740 miles and take just over 11 hours to complete, not taking gas stops and food breaks into consideration.
There's also an alternate South Route that takes around 14 hours and 30 minutes, and it passes through Portland and south Idaho, completely bypassing Montana until the very end.
This means that you'll have to split your drive into at least two to three days, although the more time you take, the better.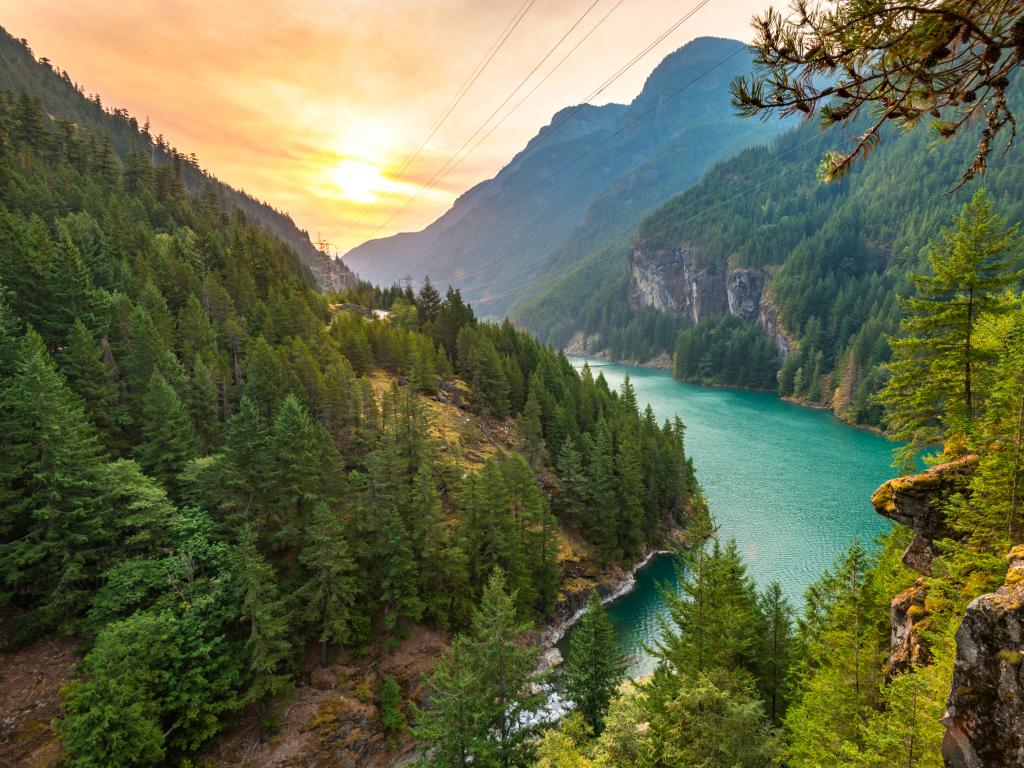 Best road trip route from Seattle to Yellowstone National Park
There is no definitive best route from Seattle to Yellowstone National Park, especially if time isn't a concern for you. If you want to get to Yellowstone quickly, though, the northern route along the I-90 is probably your best bet.
What you can expect from this itinerary are forests, and lots of them - all the way through Washington, Idaho, and Montana. The route gets a little bumpy as you enter Montana, courtesy of the Rocky Mountains, but it mostly circumvents Idaho's high-altitude terrain by cutting through the state's thin northern strip.
On top of having its own set of gorgeous forests, the South Route U-curves around the Boise Mountains and Sawtooth Range, among others, giving you gorgeous mountain scenery but also extend your drive by nearly 250 miles.
Although this is a great route, another factor to consider is traffic – the Seattle-Portland portion of the drive is very likely to be congested, especially on weekends and holidays, which is another reason why the northern route is probably easier to drive.
If you truly want to see everything there is to see, the best move would be to take one route on the way to Yellowstone and the other on the way back. This is likely to extend your trip to a couple of weeks, if not more, but it's one of the most scenic drives you can make in the States.
How to drive from Seattle to Yellowstone National Park
The map above shows our suggestions for the best road trip routes between Seattle and Yellowstone National Park. Keep reading for detailed descriptions of both routes, where to stay on either, and the best things to do on the way.
The North Route (I-90)
Take the interstate east out of Seattle, between Okanogan-Wenatchee National Forest and Mt Rainier National Park.
After passing Columbia National Wildlife Refuge and Turnbull National Wildlife, drive through Spokane and check out the nearby Riverside and Mt Spokane State Parks, or detour further north to Colville National Forest.
Once you're past Lolo National Forest and in Missoula, consider a detour toward Nez Perce – Clearwater National Forest or Flathead Lake.
When you're done, drive the Montana Secondary Highway 359 past Lewis & Clark Caverns State Park, then take Montana Highway 287 along the Rockies, past Hebgen Lake and into Yellowstone National Park
The South Route (I-84)
From Seattle, take the I-5 south through Tacoma and Lakewood, and pass Capitol State Forest, Mt St. Helens National Volcanic Monument, and Clatsop State Forest into Portland. From there, take the I-84 east, driving between Gifford Pinchot and Mt Hood National Forests.
Hug the Washington-Oregon border along the Columbia River, and either stay on the interstate or detour to Umatilla and Cold Springs National Wildlife Refuges. Further south, pass Umatilla National Forest, and drive across Snake River into Idaho.
Past Boise, check out Sawtooth National Forest, and hop onto the I-86 when the two interstates split after Burley. Pass Lake Walcott, and take the I-15 north just out of Pocatello.
Keep going north through Idaho Falls (which is a great pivot into Grand Teton National Park, if you're interested), and pass Caribou-Targhee National Forest before entering Yellowstone.
Best places to stop between Seattle and Yellowstone National Park
Stopping for at least one night is a must when doing a road trip from Seattle to Yellowstone National Park, regardless of route. There are a number of interesting hotels worth considering, and these are some of the best:
Relax under the stars in Portland, Oregon
If you want to do a stopover at a bigger city on your drive to Yellowstone, it doesn't get any bigger than Portland. Although there are plenty of amazing hotels here, the best would have to be The Duniway Portland.
From the stylish, spacious rooms with an amazing city view to the incredible bar and lobby area, every part of this hotel looks amazing. Once you've settled in, you can enjoy a delicious meal and cocktails at the on-site restaurant, go for a swim in the pool, or get a workout in at the fitness center.
The highlight feature of the hotel would have to be the rooftop patio space, as this is where all the magic happens – relax under the night sky as you enjoy live musical performances, wine tasting, and much more.
Centrally located in downtown Portland, this hotel is the perfect pick for you if you're planning a night out here. Besides just having a convenient location in Oregon's biggest city, the price is quite reasonable considering the quality of the experience.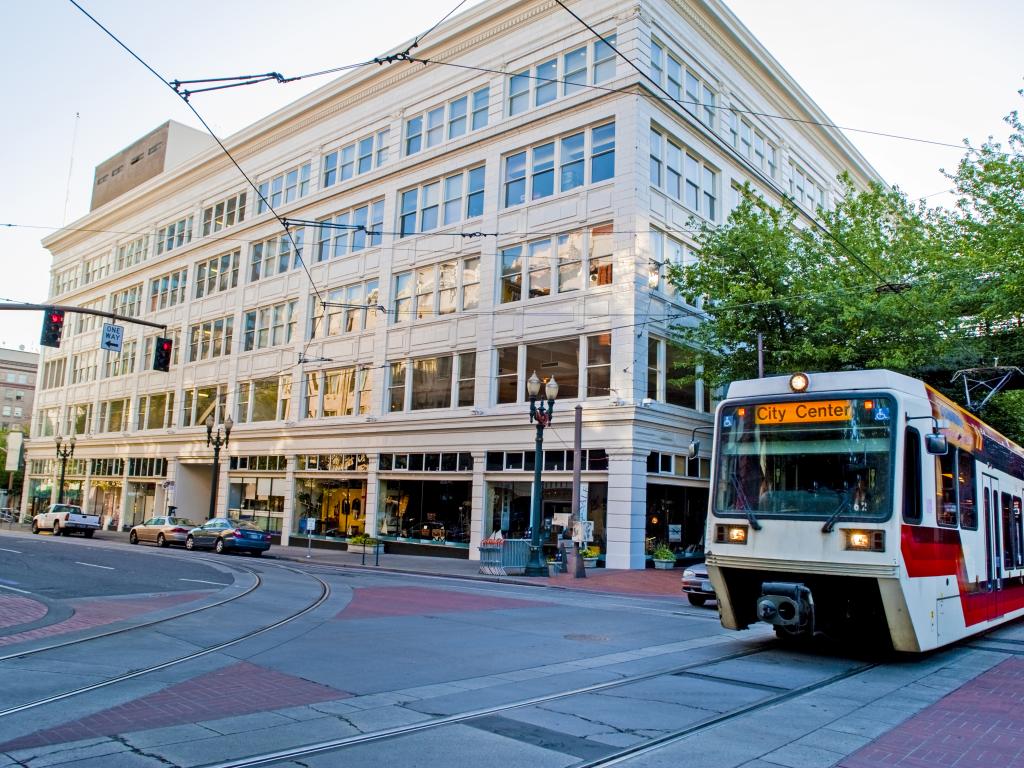 Enjoy the skiing season in Jackson
Although it's much closer to Grand Teton National Park than it is to Yellowstone, Jackson makes for a great place to stop as it is surrounded by incredible landmarks from all sides. There are some really great resorts in town, but Snow King Resort is one of, if not the best.
Featuring a jacuzzi and outdoor pool, massage and concierge services, and the Haydens Point Restaurant, this hotel truly has it all. The rooms come with amazing views of the mountains, and some of them feature a beautiful fireplace.
On chillier nights, you can sit and chat around a fire pit on the charming patio.
Jackson is great for outdoor activities, especially hiking and skiing. During your stay, Teton Village is a great place to hit the slopes - you can easily drive there or take the free shuttle to allow for après-ski.
Finally, it's worth noting that this hotel is rather affordable - the amount you get is amazing considering the price. That's why, instead of waiting around for that elusive free room in Yellowstone's hotels, consider making Snow King Resort your base of operations as you explore this corner of Wyoming.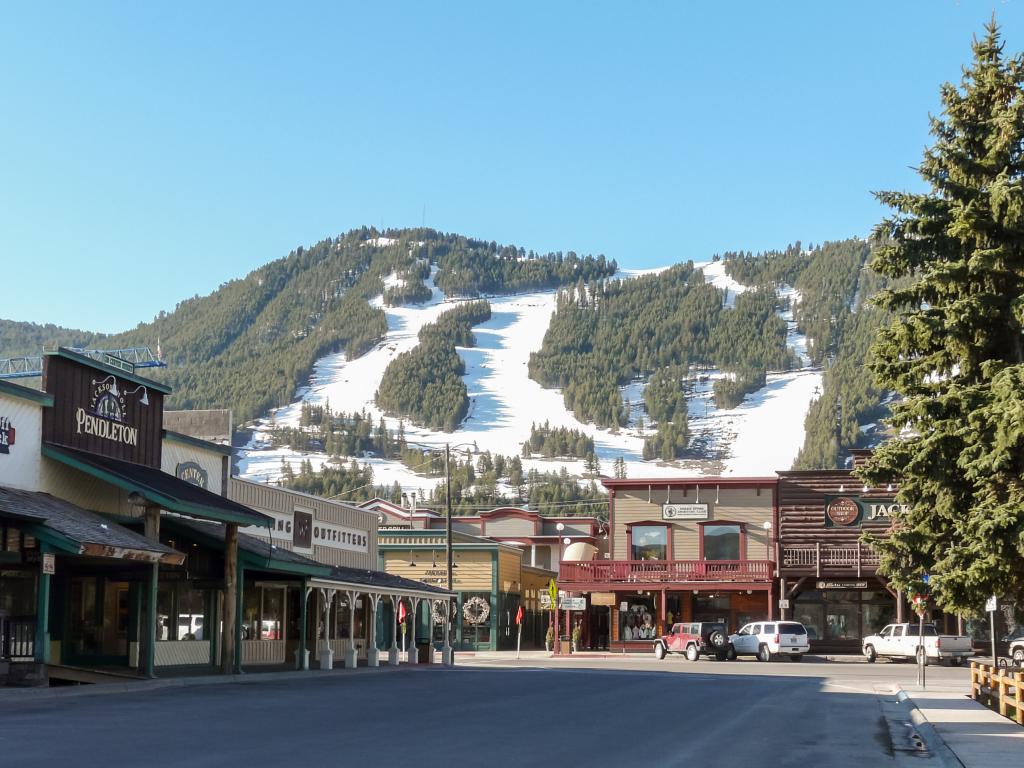 Things to see on a road trip from Seattle to Yellowstone National Park
The number of landmarks between Seattle and Yellowstone National Park is nothing short of staggering. If you have several weeks, combine the two itineraries into a super-road trip you won't soon forget.
Although there are countless others, these are some of the places you'll definitely want to check out:
Mt Rainier National Park – Bearing the name of its colossal stratovolcano, this park's unique blend of forests, grasslands, and elevated areas makes it among the most scenic in the region.
Okanogan-Wenatchee National Forest – This park features the beautiful Okanogan Valley and incredibly picturesque mountain landscapes.
Spokane – Home to the beautiful Riverfront and Manito Parks, and very close to various state parks, this city is one of the most scenic urban stops you can hope to make on a trip.
Riverside & Mt Spokane State Park – The two largest state parks in Washington offer some beautiful sights and are perfect for recreational activities.
Lolo National Forest –This 2-million-acre forest stands out thanks to its beautiful scenery and wide assortment of bird, fish, and plant species.
Missoula – One of Montana's largest cities, Missoula is perhaps best known for the University of Montana, as well as for being the meeting point between several epic mountain ranges.
Flathead National Park – Nestled between the Rocky Mountains, this beautiful forest features Flathead Lake and is an incredibly scenic campout spot.
Capitol State Forest – Countless hiking trails, mesmerizing waterfalls, and Mima mounds can be found in this forest.
Olympic National Park & Forest – A gorgeous combination of beaches, mountains, and forest areas, suited for every outdoor activity under the sun.
Mt St. Helens National Volcanic Monument – This active stratovolcano is known for its occasional ash eruptions and makes for a popular climbing and hiking spot.
Portland, Oregon – Oregon's biggest city stands out thanks to its beautiful architecture, as well as its parks and nature areas that make it one of America's greenest cities.
Umatilla National Forest – Located in Washington's Blue Mountains, the epic valleys and ridges make this forest a must-see.
Morley Nelson Snake River Birds of Prey National Conservation Area – Various species of mammals and raptors call this place home thanks to the richness of the soil.
Sawtooth National Forest – Dramatic terrain shifts make this mountainside forest a popular recreational spot.
Craters of the Moon National Monument & Preserve – A gigantic flood basalt featuring huge rift cracks, strange cave formations, and a surface that overall resembles that of the moon.
Idaho Falls – This city is home to beautiful parks, museums, and various walkways along the Snake River.
Grand Teton National Park – This incredible park is at the very least on par with Yellowstone in terms of scenery, owing to its gigantic mountains and U-shaped valleys.
Caribou-Targhee National Forest – On top of beautiful flora, this forest also houses several gorgeous limestone caves.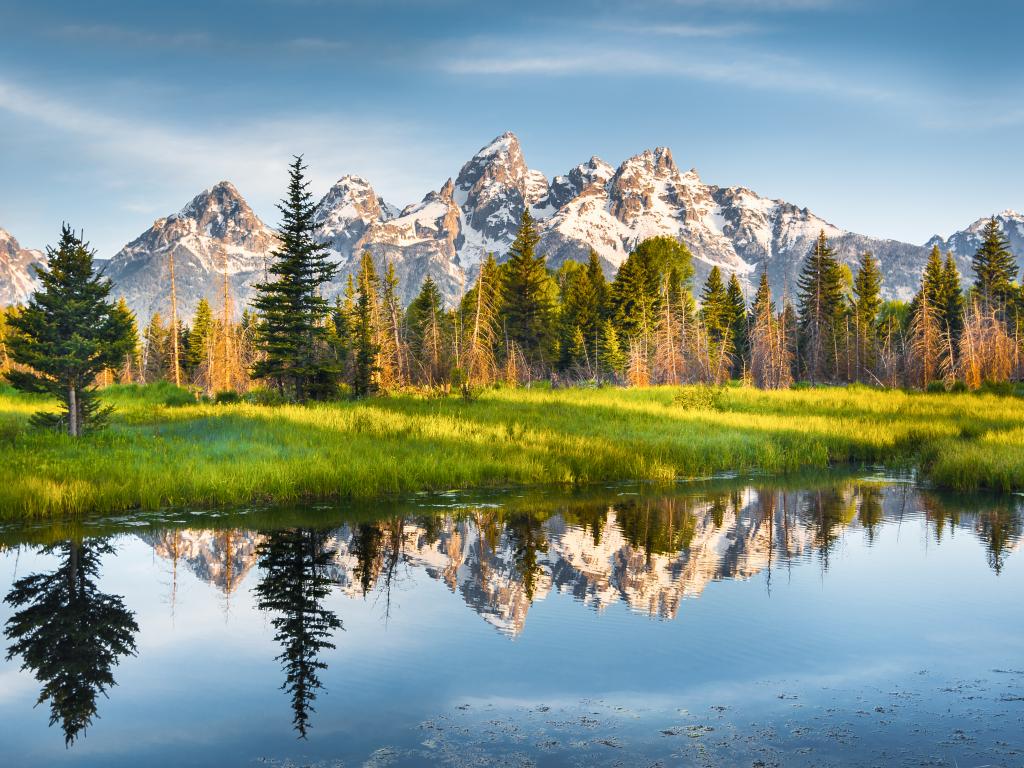 Best time to go on a road trip from Seattle to Yellowstone National Park
There is definitely a right and wrong time to do a road trip from Seattle to Yellowstone National Park. On top of the long trip, you'll have to account for the unique weather conditions in the park itself.
The preserves and forests along the way can be enjoyed any time of year, although heavy snowfall can potentially close off certain areas.
Also worth noting are the mountainous parts of the trip – both routes mostly stay on the interstate, but certain sections of the drive (particularly Montana) can be tricky in the snow, especially with an RV or other slow-moving vehicle.
With its highest points reaching over 6,000 feet, snowfall is never really off the table in Yellowstone, even in June or July. In fact, most if not all resorts in the park won't even be working in early spring – temperatures will seldom exceed 60 degrees (and will often be around 30), and even if the snow's melted, getting around with all the mud and puddles can be a nuisance.
Needless to say, as unpredictable as spring and fall can be here, they pale in comparison to wintertime – temperatures will commonly hit 0 degrees, meaning you should come prepared if you plan on visiting around this time.
Cold nights and high-altitude snow notwithstanding, summer is generally a great season to visit Yellowstone. Just about everything in the park is up and running, and peak daytime temperatures are almost never higher than 80 degrees.
Because of the great conditions, however, most hotels will be booked well in advance for the summer, so you may have to find a place to stay outside the park.