Road Trip From Seattle To Portland
If you are an adventurist, and you want to explore the Pacific Northwest, then a road trip from Seattle to Portland is just the ticket. A perfect short road trip taking you through some amazing nature with plenty of options to stop and break up the journey.
The road trip from Seattle to Portland is around 180 miles and the drive will take you approximately 3 hours. These cities make a great vacation pair with Mount Rainier, Mount St Helens, Cannon Beach and a lot more to see along the way.
Read on to find out everything you need to know.
How far is Portland from Seattle and how long will the road trip take?
There are several route options with the fastest and most direct one following the I-5 through Tacoma and Olympia. With only 180 miles between Seattle and Portland, you can cover the whole road trip within 3 hours if all you're interested in is getting there quickly.
Route
Distance
Driving Time
The Direct Route


(via I-5)

180 miles
3 hours
The Coastline Route


(via Westport and Cannon Beach)

336 miles
6 hours 34 minutes
The direct route also passes through Castle Rock, and Vancouver (no, not the Canadian one) as well as great options for exploring wildlife just minutes off the highway.
Although this is the fastest route, it's not the only one. Alternatives include following the coast down through Westport and Cannon Beach or approaching Portland via the Columbia River Highway from the east.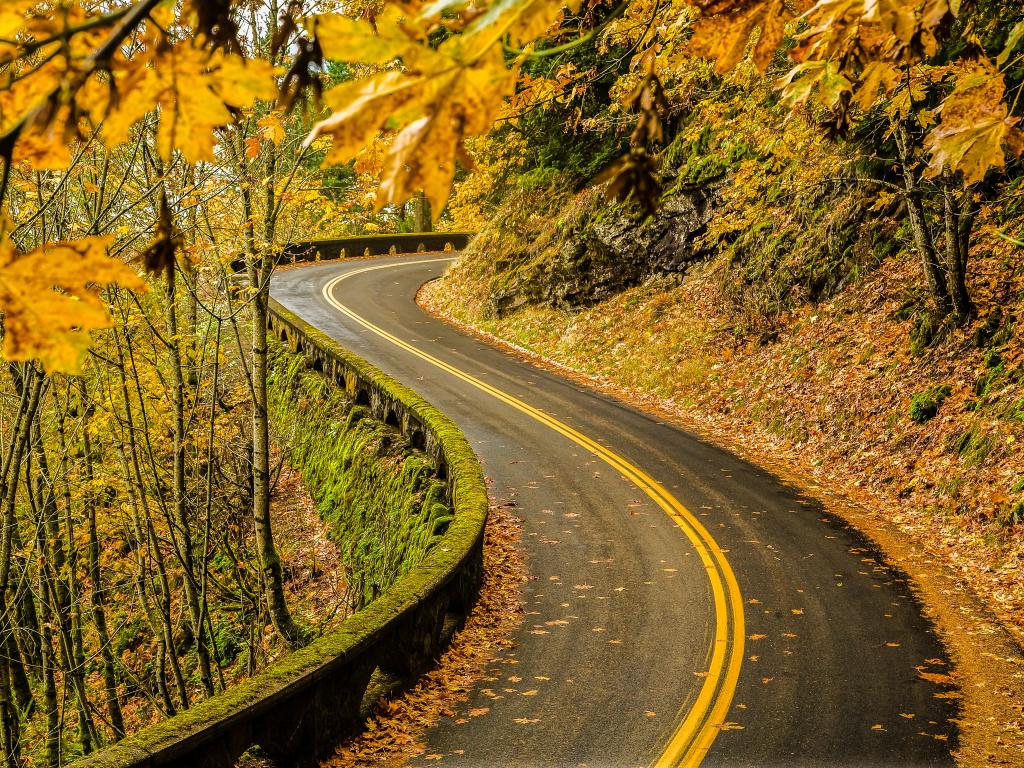 Keep in mind, with places like Mount Rainier, Cannon Beach and Westport, your trip can and should take a lot longer than a few hours – a few days would be perfect. If you're coming back to Seattle, you may want to pick one route for the way down and come back up via the other.
Best road trip route from Seattle to Portland
Washington State doesn't come with too many major highways or interstates, but the I-5 that stretches all the way down the country from the border with Canada to the border with Mexico is the fastest route down to Portland.
However, if time is not an issue - or you're planning to come back up from Portland to Seattle via Mount St. Helens and Mount Rainier National Park - you might want to mix it up a little and head down to Portland along the coast.
How to drive from Seattle to Portland
The map above shows our suggestions for the best road trip routes between Seattle and Portland. Keep reading for detailed descriptions of both routes, where to stay on either, and the best things to do on the way.
The Direct route via the I-5
The first major city worth stopping over for lunch on your road trip from Seattle to Portland is Tacoma.
This town is located only 40 minutes into your drive and while it may not make many travel guide top lists, there's plenty to see on your way around from the Tacoma Art Museum and the Museum of Glass to the Nisqually National Wildlife Refuge.
Seeing as we're on a road trip, you should probably check out LeMay America's Car Museum to get your classic horsepower fix.
The capital city of Washington State, Olympia, is further down along the route and is another worthy candidate for a quick stop. Look out for the metal statues of Jesus and Mother Teresa as you're driving on to Portland.
The Coastline Route through Westport and Cannon Beach
Follow the I-5 to Olympia as with the fastest route above or hop on a ferry over the Puget Sound and keep going west until you hit Westport.
This quiet seaside town is full of character and charm and for those who love their seafood, the local Dungeness crab is well worth the detour.
From Westport, keep following the coastline south through Raymond and Astoria and eventually you'll reach Cannon Beach. Starting from Ecola State Park, this beautiful windswept beach has rocks just off the coast with the Haystack Rock dominating the view.
Look out for tufted puffins that call the rock home!
Follow US-101 down to Nehalem before following Nehalem River's north fork up to US-26 which will take you right into Portland.
Best places to stop between Seattle and Portland
Going on a road trip means that you are an individual who has a free spirit and wants to explore new things. This road trip is perfect for your next vacation.
Go hiking in Mount Rainier National Park
After around 40 minutes of driving south from Seattle, you'll approach the city of Tacoma and you won't be able to miss the towering Mount Rainier in the distance.
Washington State's highest peak is surrounded by a national park bearing its name offering some of the most amazing hiking routes through wild forests.
You can hike all the way up Mount Rainier but the way up the 14,410-foot mountain is tough – it's as high as climbing Everest from base camp and you may well be passing through blizzards as you make your way over the ice sheet at the top in the middle of August.
For the more relaxed hiker, the Sourdough Ridge Trail is a better choice. This hiking route climbs from the Sunrise Visitor Center area to the top of Sourdough Ridge and continues east to Antler Peak. If you feel a bit tired, you can enjoy a delicious meal at the Paradise lodge.
Riding the Mount Rainier scenic railroad is a must. This beautiful ride takes you right through the foothills on an 18-mile ride on a vintage logging locomotive into the countryside. With friendly and fun staff, this train is the perfect way to see some amazing scenery.
With so much to see and do, you may well want to spend the night to make the most of your stop on the way down to Portland.
The Silver Cloud Inn Tacoma-Waterfront is a great place to stay, especially as it's located so close to the Point Defiance Zoo and Aquarium. Add in a few great local hiking routes and you'll be glad you took the time rather than spend an hour or two in the park.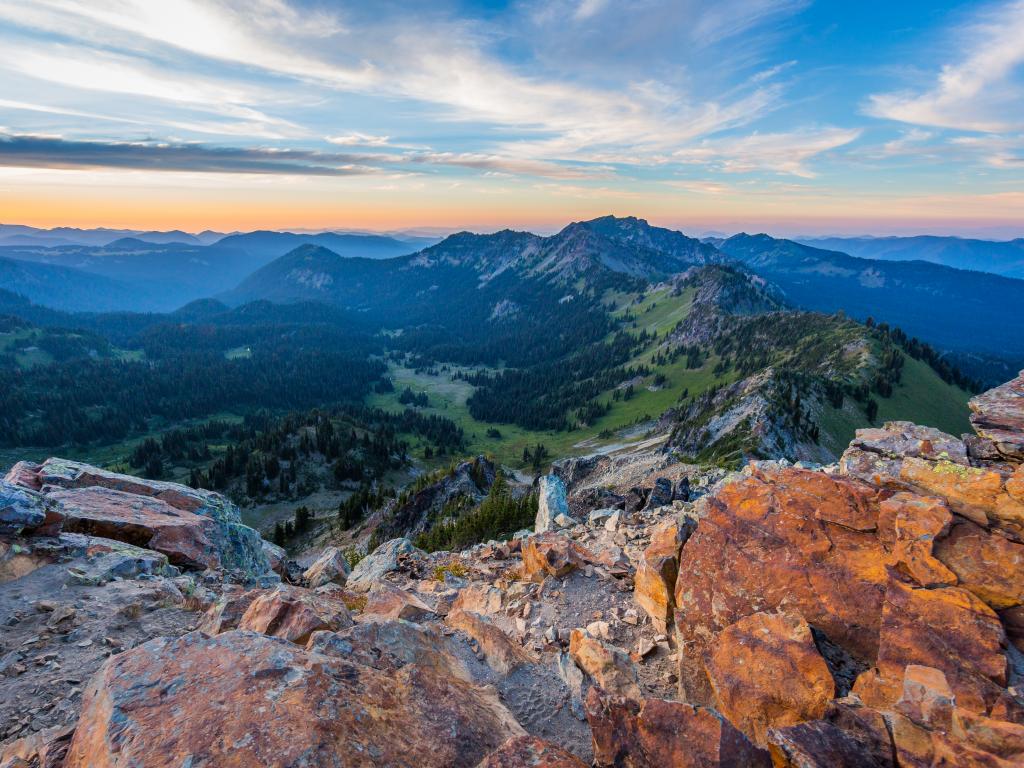 Cannon Beach and the Haystack Rock
If you're following the coastline route or just wanting to make the detour to see one of the best known sights in the Pacific Northwest, head to Oregon's Cannon Beach.
Cannon Beach is home to the gorgeous and iconic Haystack Rock. This giant rock looms over the beach and is the centerpiece for most beachgoers, providing excellent photo opportunities that no one can resist.
Haystack Rock is also protected as part of the Oregon Islands National Wildlife Refuge, providing habitat and viewing of a wide range of seabirds as well as many intertidal animals, including sea stars, anemone, and crabs.
Just a 7-minute drive south of Cannon Beach, you can hike along the coast and check out waterfalls and caves on the Hug Point. Hug Point also offers an easy access to the beach, with some interesting local scenery you don't want to miss.
In case you want to spend more than a few fleeting minutes at Cannon Beach, there's plenty of lodging options nearby.
Webb's Scenic Surf may well be the best with bedroom views right over Cannon beach, and quite literally a stone's throw away from the waves coming in from the Pacific.
While you're here, you can also visit the Haystack Gallery, Coaster Theatre, and Les Shirley Park - all within walking distance.
Please check our comprehensive guide out to learn more:
READ MORE - Our Guide to Cannon Beach
Things to see on a road trip from Seattle to Portland
On your trip, you will see a lot of captivating sights that will take your breath away. No one can resist and not to stop and enjoy for a moment. In addition, we have separated the most interesting and unique spots where you must stop if you travel from Seattle to Portland. It would be a waste if you miss them.
Point Defiance Park, Tacoma - This park lies on more than 700 acres. With vast flower species, gardens, beaches, a zoo, including an aquarium, this is an urban park visited by three million people per year. It is one of the most visited destinations in Washington.
Lewis and Clark State Park, Toledo - If you love hiking, this is the perfect place for you. The park allows a self-guided tour of the old trees. Besides, it offers an opportunity to ride on horseback.
Mount Rainier National Park - Although hiking up Mount Rainier itself will take you 2 days, there is so much more to explore in the park with hikes that are a little more friendly for the casual stroller.
Mount St. Helens Visitor Centers, Castle Rock - Its eruption in 1980 was of great importance. It represents an active stratovolcano. The sights that you will see there will leave a remarkable scar in our memory.
Silver Lake, Silverlake - You can find this place on your way to Mount St. Helens. The visitors here can go fishing, boating, and do many interesting activities. If you don't want to camp, you have an option to stay at the resort nearby, with a view of the lake.
Bachelor Island, Columbia River - This place was named 'Green Bryor Isd' in 1805, and it is an important place for history buffs and an interesting destination. This island is a part of the Ridgefield National Wildlife Refuge.
Westport Maritime Museum - Built in France in 1888, this museum is the home of the amazing Destruction Island lighthouse lens. The museum showcases exhibits on the maritime history of the area.
Haystack Rock off Cannon Beach - One of the iconic sights of the Pacific Northwest, the Haystack Rock is a spectacular sight and you can find a lot of wildlife living on the rock and in the tide pools below the shallow water.
Best time to go on a road trip from Seattle to Portland
Summer, somewhere between June and August, is the best time to do this trip. The reason why you should do the tour in summer is that you will have more time as the days are longer which makes a difference given you are relatively far north within the United States.
During summers in Portland, the days are warm with low humidity, which is a bonus. Rain is rare and the evenings are long, the sun doesn't set until around 9 p.m.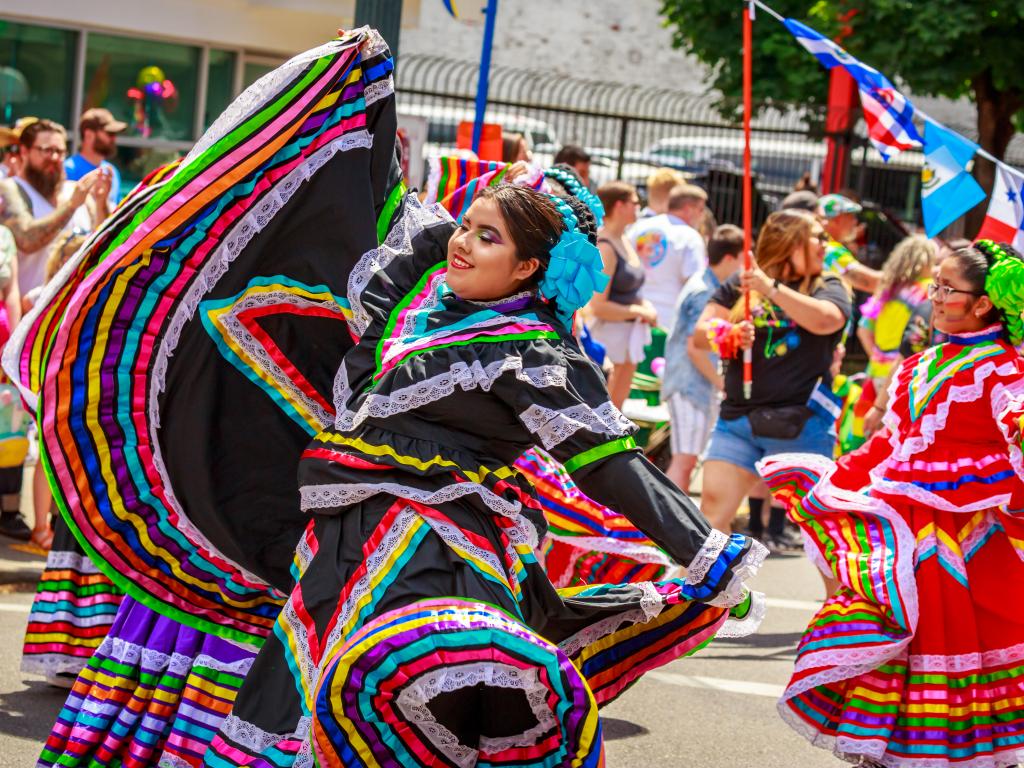 With many outdoor celebrations, such as the Portland Pride Parade, the epic Oregon Brewers Festival, and the Pickathon Music Festival, Portland is great for a summer visit and some of the national parks restrict hiking routes in the winter.
Beware though – because of everything above summer is also by far the busiest season in Washington State and Oregon and with so much nature to explore, expect tourists to flock here and the locals to take time off meaning there will be a lot more people everywhere you turn up.