Road Trip From Los Angeles to Portland
Planning a road trip from Los Angeles to Portland is no small undertaking. You'll be in for a long drive whichever route you take, and you'd have to be really set on exploring to justify not going by plane. Thankfully, this is one of the most beautiful stretches of land in all of America, and you won't want to miss out by flying instead.
The road trip from Los Angeles to Portland can be done in about 15 hours of non-stop driving. The scenic route along the Pacific Coast Highway will take a week allowing for time to explore the beautiful scenery throughout California and Oregon.
Make sure you read to the end to get tips on the best places to stop and sights to explore on the way to Portland.
How far is Portland from Los Angeles and how long will the road trip take?
Route
Distance
Driving Time
The Fastest Route


(via I-5)

960 miles
15 hours
The Pacific Coast Highway
1,260 miles
28 hours
The Desert Route


(via Death Valley and Nevada)

1,150 miles
19 hours
The drive from Los Angeles to Portland can be anywhere between 960 and 1,260 miles, depending on the route you take. The quickest route can get you there in just under 15 hours without accounting for stops, but the two scenic options will extend your drive to 19 or 28 hours spent on the road.
Whichever route you take, it's most definitely not a one-day road trip, but if you can only afford to stop for a single night, the shorter I-5 route would be your best bet.
You can split the trip in 2 roughly equal segments by stopping in Sacramento, but the catch is that day 1 will be fairly boring with the route only getting scenic once you're past the California capital.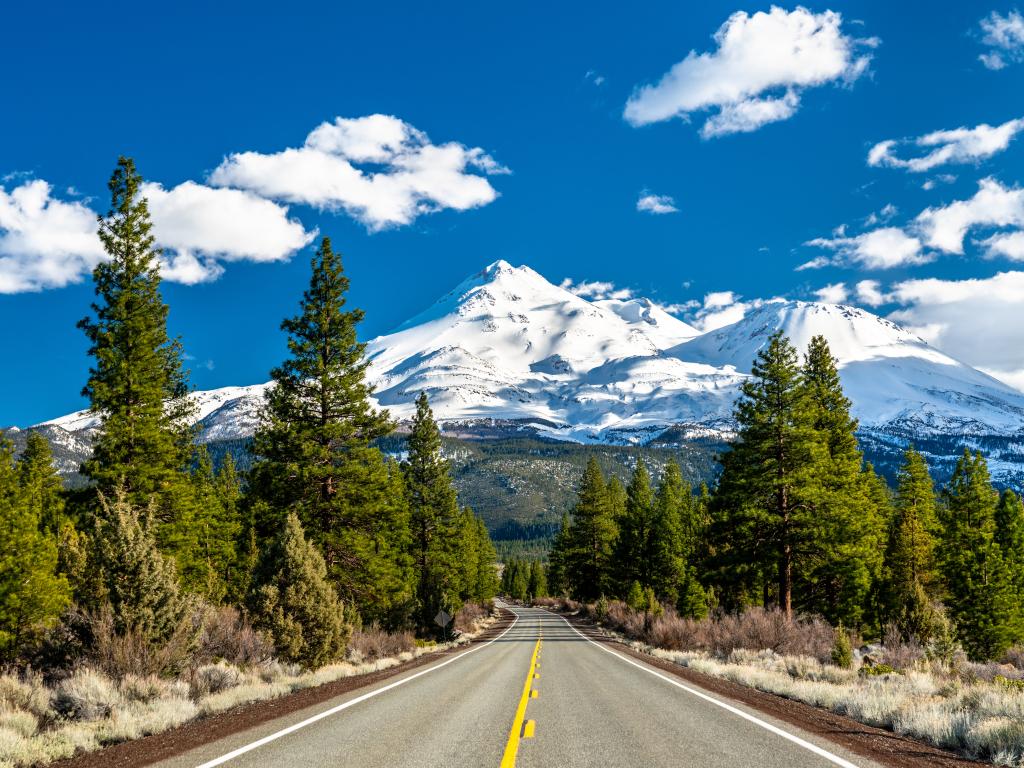 With that said, if you're undeterred by lengthy trips and the coastal twists and turns, taking Highways 1 and 101 along the Pacific Coast will be one of the best travel experiences of your life.
Travel times will differ depending on traffic congestion at different points of the route, but an average drive along the Pacific Coast Highway would take about 28 hours if you hug the coastline the entire way from Los Angeles to Portland.
An alternative route through the deserts of California and Nevada offers a very different set of landscapes and views and clocks in at 1,150 miles that will take you around 19 hours to drive.
Best road trip route from Los Angeles to Portland
Ultimately, when driving from Los Angeles to Portland, choosing between the 3 routes comes down to personal preference. You can make the trip in a couple of days or enjoy a once-in-a-lifetime vacation exploring some truly remarkable landmarks.
To make the most of your trip, consider taking either of the scenic routes on the way to Portland and the other on the way back. It can be quite the investment, time and money-wise, but you get to explore the most beautiful coasts, parks, and forests along the West Coast across a few weeks of traveling.
If you simply don't have the time for all that adventuring, don't feel bad about taking the I-5, as the Sacramento-Portland stretch of this itinerary is quite lovely in its own right and there's still amazing places to stop along the way.
How to drive from Los Angeles to Portland