Chasing Autumn: The Ultimate Guide to Fall Foliage in New England and the Appalachians
By
Pat Dorri
| Published on 13 September 2023
It's that time of year again: when the sweltering summer has simmered down and, in the evenings, you need to keep extra layers handy. With changing leaves and migrating birds, the fall is an especially pretty time to take a road trip. And few places have as many eye-catching fall arboreal displays as New England and the Appalachians on the East Coast.
In this article of the ten best fall foliage viewing road trips, you'll find harvest festivals along the stunning Maine Coast, a quintessential fall route through Vermont, and views over marvelous carpets of reds and yellows in the Great Smoky Mountains.
Rummage through your closet for all things plaid, a favorite scarf, and some trustworthy boots as you prepare for days of sipping cinnamon-infused cider and watching the leaves dance in the breeze. Read on below to see which of our journeys inspires you the most and choose your perfect fall foliage road trip.
1. Portsmouth to Portland
Via York, Ogunquit, and Cape Elizabeth
1 hour 45 minutes (70 miles)
Why you should take this trip: This road trip is a delightful coastal fall adventure, weaving through picturesque towns and a vibrant mosaic of fall colors on your way to historic Portland, Maine.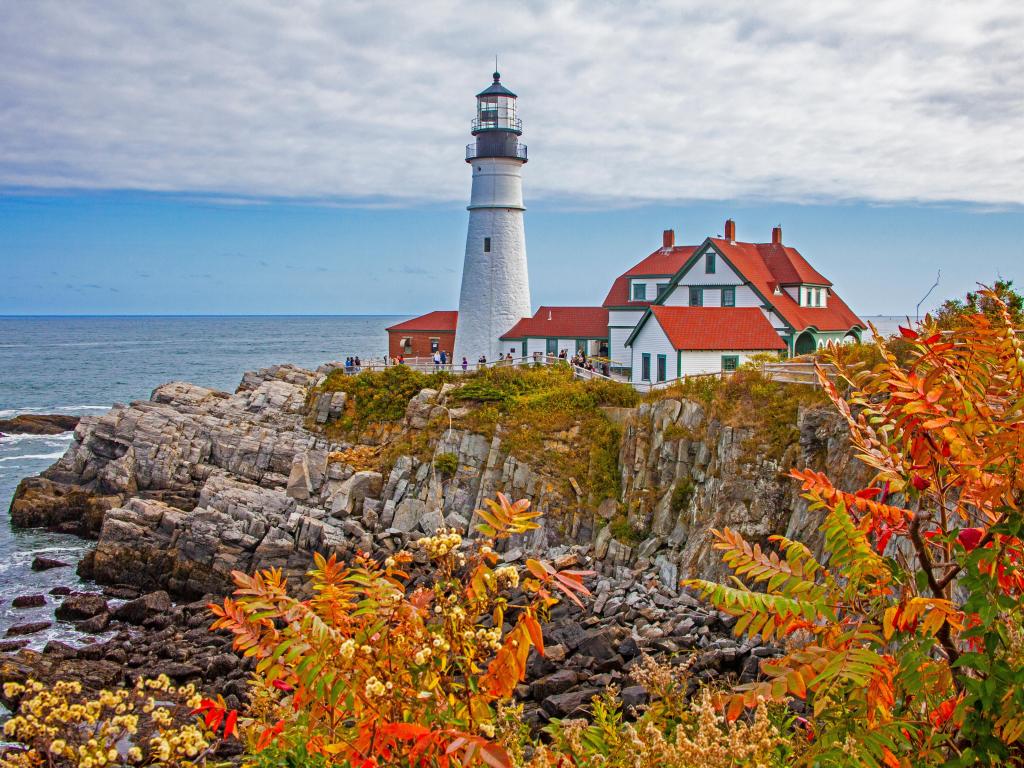 The ultimate fall foliage locations:
York's Harbor Beach
Marginal Way in Ogunquit
Wells Reserve at Laudholm
Cape Elizabeth's Crescent Beach State Park
Two Lights State Park
Fort Williams Park in Portland
How to get there: Begin your journey from Portsmouth by heading north on Interstate 95 (I-95), and within 20 minutes, you'll pass by the charming town of York. Continue your scenic road trip along US-1, and in just under 30 minutes, you'll reach the coastal gem of Ogunquit.
From here you can continue on US-1 or take I-95 North to Scarborough, where you'll change on to ME-77 to reach Cape Elizabeth and continue in a curve along ME-77 to reach Portland, Maine
Our highlights: If you can't get enough of the crisp fall air and enjoy getting up close and personal with the turning trees, then go for a hike to Mount Agamenticus near York. Continue your leaf-peeping adventure in the stunning York Harbor Beach and then take a final pit stop at the iconic Nubble Lighthouse.
Don't miss the Marginal Way Cliff Walk in Ogunquit. This oceanside trail offers sweeping panoramic views of the coastline, with trees aglow in fiery shades, making it a perfect spot for fall photography. Grab a succulent lobster roll to snack on before you continue heading north.
While on your way through Cape Elizabeth, detour to the tranquil Two Lights State Park and catch a glimpse of auburn leaves near Crescent Beach State Park. The coastal forested area here transforms into a vibrant mosaic of autumnal colors, making it a superb place for a fall picnic.
As you approach Portland, don't forget to visit Fort Williams Park, home to the iconic Portland Head Light. The surrounding parkland comes alive with fall's splendid display, creating a balanced blend of history and nature.
Bonus: If you want to include a short maritime adventure on this trip, take a boat to Fort Gorges. Though it never saw any battles, this fort has a truly unique design and will be a special treat for any history buffs.
Our travel tips: While there's no longer a ferry to Fort Gorges, you can hire a charter boat or kayak to this gem of maritime military history.
When is the best time to visit: The best time to drive this route to see the changing fall leaves is typically in mid-October when the foliage in New Hampshire and Maine is at its peak. Further north, the leaves start to turn earlier.
However, the exact timing can vary from year to year, so it's a good idea to check local foliage reports and forecasts for the most accurate information before planning your trip. The Smithsonian has a helpful and regularly updated fall foliage map.
Events: Sample some of Maine's finest food and drink at the Harvest on the Harbor in Portland. This annual food festival typically takes place in October.
2. Newport to Boston
Via Providence
1 hour 45 minutes (85 miles)
Why you should take this trip: Make an unforgettable fall road trip from Newport to Boston to witness a symphony of fall colors painting the New England landscape.
As you journey through Rhode Island and Massachusetts, you fall in love with the fiery foliage surrounding ornate, historic monuments like the Rhode Island State House.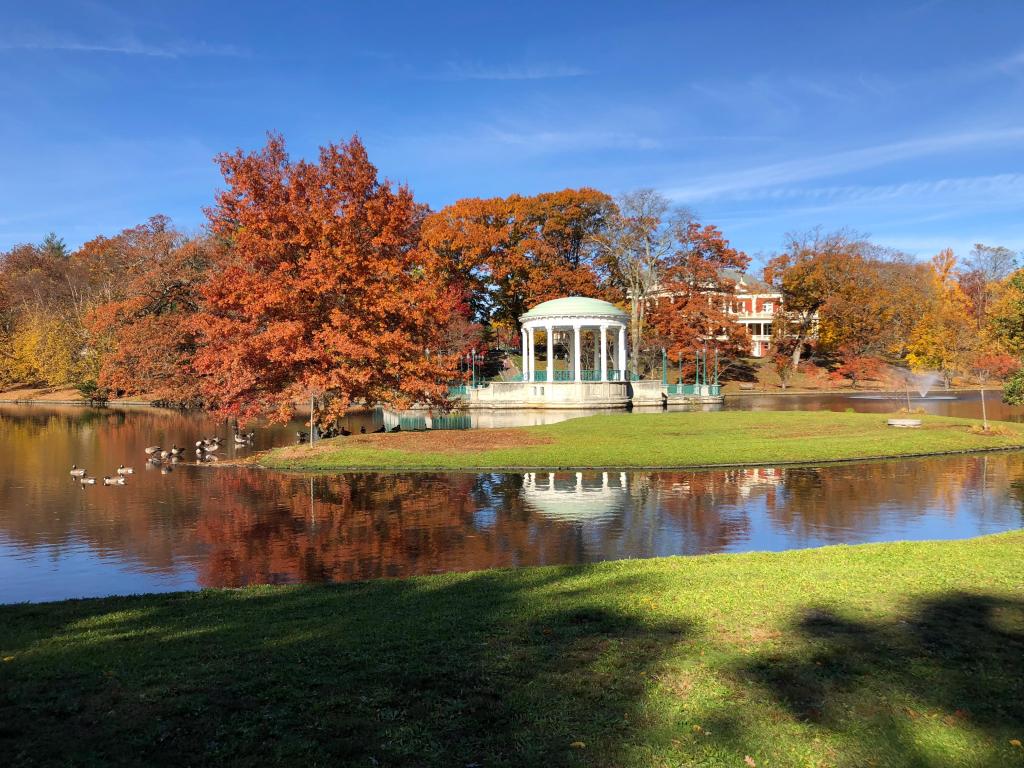 The ultimate fall foliage locations:
Fort Adams State Park
Wrentham State Forest
Borderland State Park
Blue Hills Reservation
Roger Williams Park
How to get there: From Newport, take the Claiborne Pell Bridge, RI Route 138 and RI Route 4 to I-95 North towards Providence. Continue on I-95 N through Providence, following the signs for Boston.
Our highlights: After seeing the stunning neoclassical State House, cruise through the Blackstone River Bikeway in Providence, where the lush trees put on a brilliant display, making it an ideal spot for a fall bike ride.
Enjoy the picturesque landscape of Borderland State Park, with its serene lakes and fiery trees, offering the perfect fall picnic spot. This is another place where you can soak up local history with a tour of the impressive Ames Mansion, built in 1910.
As you approach Boston, visit the Blue Hills Reservation in Milton, where the hillsides come alive with the vibrant fall colors. Choose from a handful of scenic hiking trails; the 7-mile-long Skyline Trail is equally challenging and rewarding, while the modest 1.5-mile-long Hemlock Path still packs a diverse range of fall foliage.
If you'd like to learn more about places you can visit and things you can see on your back from Boston, check out our essential guide on the road trip from Boston to Providence.
Bonus: As you make your way across the multi-hued forests of the Northeast, make a stop in Boston at the "Mapparium" inside the Mary Baker Eddy Library.
It's a three-story, stained-glass globe you can walk through, offering a unique and immersive cartographic experience that will complement the kaleidoscope of fall colors you'll see on this trip.
Our travel tips: Around Boston you might hit some traffic around the commuting hours which will increase the time it takes to drive this route.
When is the best time to visit: Mid to late October is also the best time to see the changing leaves in this part of the Northeast.
Events: If you prefer the lively and tipsy to the quaint, then Boston has a bevy of Halloween events to choose from, including Halloween on the Harbor, which includes cruises and costume contests, and the Boston Halloween Pub Crawl.
3. Lincoln to Portland
Via Kencamus Highway
2 hours 10 minutes (95 miles)
Why you should take this trip: The Kancamagus Highway in the fall is a tapestry of nature's artistry, with its winding roads weaving through the White Mountains, adorned by brilliant autumnal hues. This beautiful drive offers a unique blend of scenic vistas and waterfalls.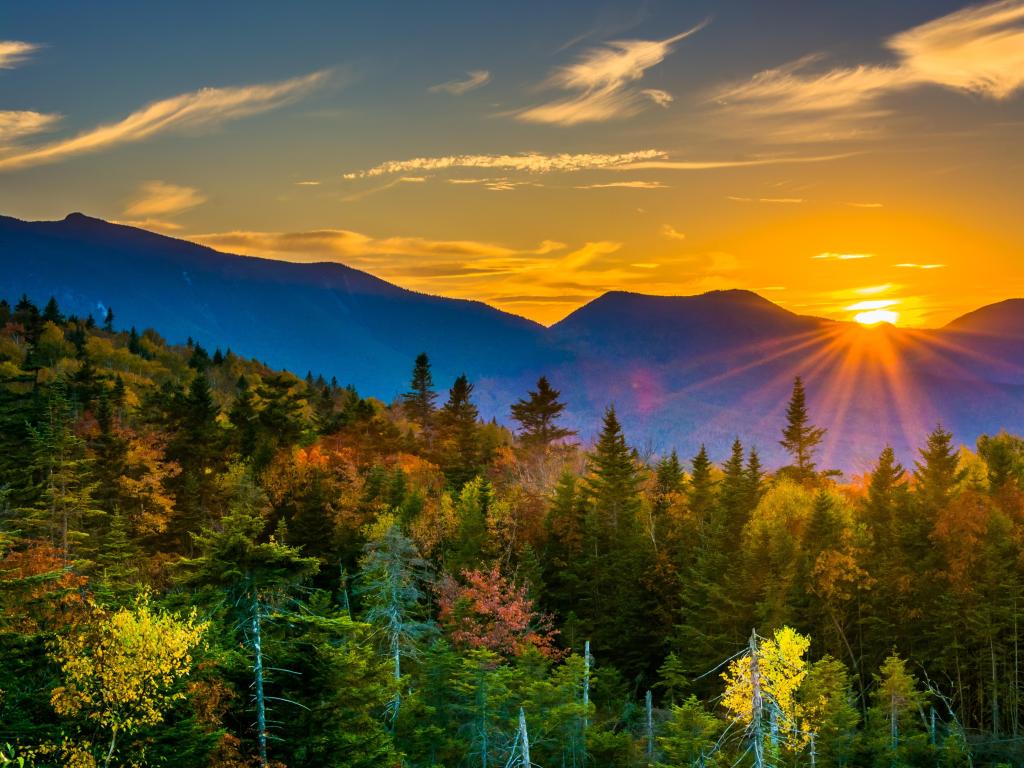 The ultimate fall foliage locations:
Sabbaday Falls
Kancamagus Pass
Lower Falls
Diana's Baths
Cathedral Ledge
Sebago Lake State Park
How to get there: Begin by heading east on NH Route 112, which is the Kancamagus Highway itself. Meander along this winding road, taking in the awe-inspiring colors and views along the way.
Continue your journey east on the Kancamagus Highway until it intersects with NH Route 113 in Conway, which quickly merges with US Route 302 East and takes you to ME Route 113 East across the border in Maine. Take this and ME Routes 25 East, 112 North, and 114 South to Portland on the coast.
Our highlights: Sabbaday Falls is an essential stop along the Kancamagus Highway in any season and doubly so in the fall. After a short walk to the observation site, you'll be mesmerized by the cascading water framed by vibrant fall colors, making it a picture-perfect spot for leaf-peeping.
Look out for the Champney Falls Trailhead for a longer hike amidst amber-hued leaves and past calming waterfalls. This 7-mile trail leads up to the slopes of Mt. Chocorua, from which you can get some breathtaking views over the changing canopy.
A short detour from Conway to North Conway leads to Cathedral Ledge, an iconic granite cliff that offers another vast vista of fall foliage covering an outstanding natural landscape.
On this trip, you'll have the chance to see Portland in a new light. Make a stop at Sebago Lake State Park, to the northwest of town and savor the season reflected in the serene waters and dense woods.
Here, you can take some phenomenal pics of the blushing trees reflected in the rippling water of the lake.
Bonus: If you'd like to take a deeper dive into understanding this enchanting environment, stop by the Tin Mountain Conservation Center in Albany, NH. They have a wonderful schedule of events and curated nature walks as well a beautiful, solar-powered building set in 138 acres of old-growth forest.
Our travel tips: Given the popularity of the Kancamagus Highway during peak foliage season, it can experience heavy traffic in the fall. Be ready for a slower drive and consider visiting during off-peak times. On the bright side, it gives you even more time to enjoy this scenic drive.
When is the best time to visit: Typically, the best time to drive the Kancamagus Highway to see the fall foliage is from late September through early October. Seasonal variations in rain and temperature can affect this, so check some local foliage fan sites before you set out.
Events: Just on the border of New Hampshire and Maine along US Route 302 in East Conway you'll find the Sherman Farm Market. Here you can pick the perfect pumpkin, pet a friendly goat, or even make your way through an elaborate corn maze.
You can book tickets ahead of time on their website.
4. Burlington to Bennington
Via Manchester and Green Mountain National Forest
2 hours 55 minutes (130 miles)
Why you should take this trip: Vermont is a world-famous destination for watching the leaves turn, so we couldn't resist including this trip between two of its quaintest tree-laden towns.
In between, you can stop by Manchester, another cozy New England town that truly comes alive in the fall will picturesque streets adorned with vibrant fall colors and boutique shops.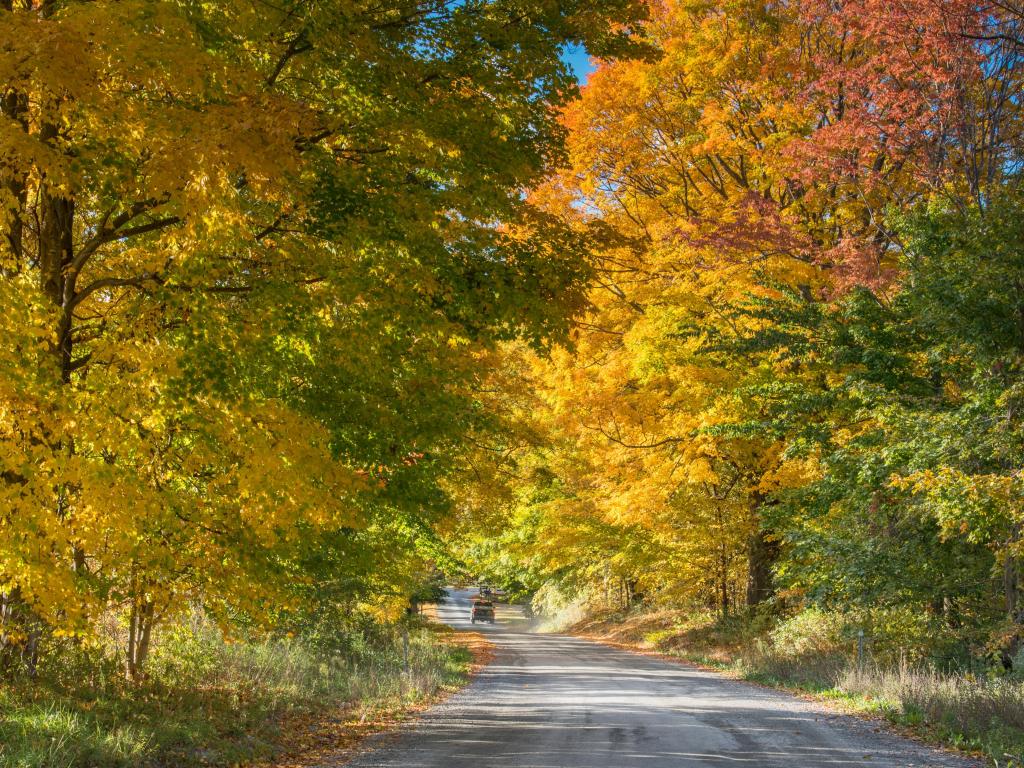 The ultimate fall foliage locations:
The Shires of Vermont Byway (on US-7)
Equinox Mountain
Hildene, The Lincoln Family Home
Green Mountain National Forest
Emerald Lake State Park
How to get there: Head south on US-7 from Burlington, this will lead you through the charming town of Manchester. Alternatively, you could take the more scenic VT Route 22A to Middle Granville and then hop on VT Route 30 South to Manchester.
From there, get back on US-7 which will take you past the Green Mountain National Forest and in to Bennington.
Our highlights: In Manchester, set off on a scenic drive up Equinox Mountain or take the Skyline Drive for breathtaking panoramic views of the surrounding mountains dressed in their fall finery.
Explore the historic estate of The Lincoln Family Home in Hildene, which was the residence of the former President's eldest son Robert Todd Lincoln and his wife Mary. Surrounded by beautifully manicured gardens, the fall foliage complements the beauty of this former Lincoln family residence.
Between Manchester and Bennington, be sure to take The Shires of Vermont Scenic Byway, also known as Route 7A. This road winds through the heavily forested Green Mountains and past some charming towns where you might just be tempted to stop and taste the local fare.
Along this route you'll also pass by the Chiselville Covered Bridge in case you simply can't resist this rustic infrastructure.
Once you reach Bennington, be sure to climb the 306-foot Bennington Battle Monument for a unique vantage point to admire the foliage and learn more about the town's rich history.
Bonus: Nestled amidst the charming town of Whitehall, a fall visit to the stately Skeen Manor is the best place for cozy fireside moments, scenic walks along the shores of Lake Champlain, and the chance to witness the beautiful transformation of the surrounding Adirondack landscapes into a palette of rich fall colors.
Our travel tips: The Lincoln Family Home in Hildene is open on most days in the fall except major holidays. You'll have to buy tickets to tour the property on site.
When is the best time to visit: The best time to see fall foliage in southern Vermont is typically during the first two weeks of October.
Events: The Vermont Fall Foliage Festival celebrates the state's famous leaf-peeping season with parades, music, and craft fairs. It rotates between Vermont towns, so check to see if any events will be in Burlington, Bennington, or Manchester when you're planning your trip.
5. Portland to Bar Harbor and Acadia National Park
3 hours 50 minutes (165 miles)
Why you should take this trip: This scenic fall road trip from Portland to Bar Harbor and Acadia National Park offers a front-row seat to Maine's stunning fall transformation.
The journey along this coastal route is dotted with flashing hues of red and golden foliage, coastal charm, and the opportunity to explore the inspiring landscapes of Acadia National Park in their fall splendor, making it a must-do adventure for any fall enthusiast.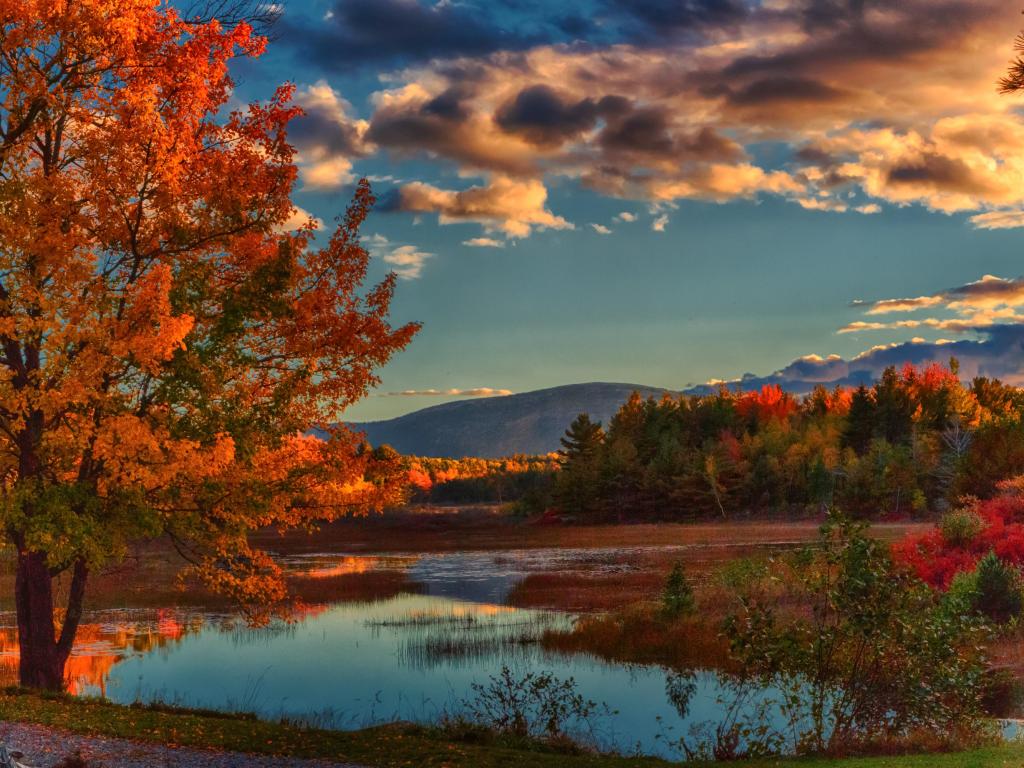 The ultimate fall foliage locations:
Rockland
Camden Hills State Park
Town of Belfast
Penobscot Narrows Bridge Observatory
Acadia National Park
How to get there: On this refreshing coastal trip, you'll take US Route 1 (US-1) most of the way north from Portland, ME. In Ellsworth, you'll hop on ME Route 3 East to Bar Harbor. From here hop on the scenic Park Loop Road to drive around Acadia National Park.
Our highlights: Take a leisurely stroll along the Belfast Harbor waterfront to witness the charming town's picturesque views adorned with vibrant fall foliage.
Make sure to continue walking along Main Street of the historic district, where you can find craft bakeries, breweries, and of course, plenty of fresh seafood.
A quick yet rewarding stop on this route is the Penobscot Narrows Bridge Observatory. While the name might be bulky, the view over the stylish cable-stayed bridge from here couldn't be more elegant or enchanting in the fall. You can also park your car and walk across the bridge if you feel like fresh air.
With its cozy coastal charm and vibrant foliage, Bar Harbor offers a perfect fall retreat for a getaway of any length. While the main attraction here is Acadia National Park, the town itself has a romantic charm and more than one place purveying buttery lobster rolls.
Fall is a popular time to visit Acadia, and when you come here, you'll instantly know why. Everywhere you set your gaze, you'll see maples, oaks, birches, and beeches in various stages of their annual costume change.
One of the most photogenic locations within the park is Jordon Pond, where the foliage reflects beautifully in the crystal clear waters.
Bonus: If you have the time on this trip, stop in Ellsworth, Maine and visit the Woodlawn Museum, Gardens & Park. This historic estate boasts beautiful gardens, walking trails, and a glimpse into the region's rich history, making it a delightful stop on your coastal Maine journey.
Our travel tips: As lovely as fall is in Bar Harbor and Acadia National Park, it still isn't the area's peak season so it won't be as crowded as in the summer. In case you're making a late fall trip, check for road closures within the park that can start as early as the last weeks of November.
You might need to make a reservation before visiting Acadia National Park, so check the official national park website to avoid disappointment.
When is the best time to visit: A mid-October trip usually guarantees a fair amount of colorful leaves, but it's a good idea to check local foliage reports and the official Acadia National Park website for up-to-date information on the timing of fall foliage in the park as you plan your visit.
Events: Not too far off the route in inland Bangor, there's an annual Maine Harvest Festival. It celebrates Maine's agricultural heart with local foods, artisans, and entertainment.
READ MORE - Road Trip from Portland to Bar Harbor
6. Albany to Boston
Via Mohawk Trail
3 hours 50 minutes (190 miles)
Why you should take this trip: Lose yourself in the splendid fall landscapes of western Massachusetts on this scenic journey that weaves through lush forests, charming villages, and picturesque vistas.
This is a perfect New England adventure to savor the beauty of fall as well as enjoy the vibrant, year-round offerings of Boston.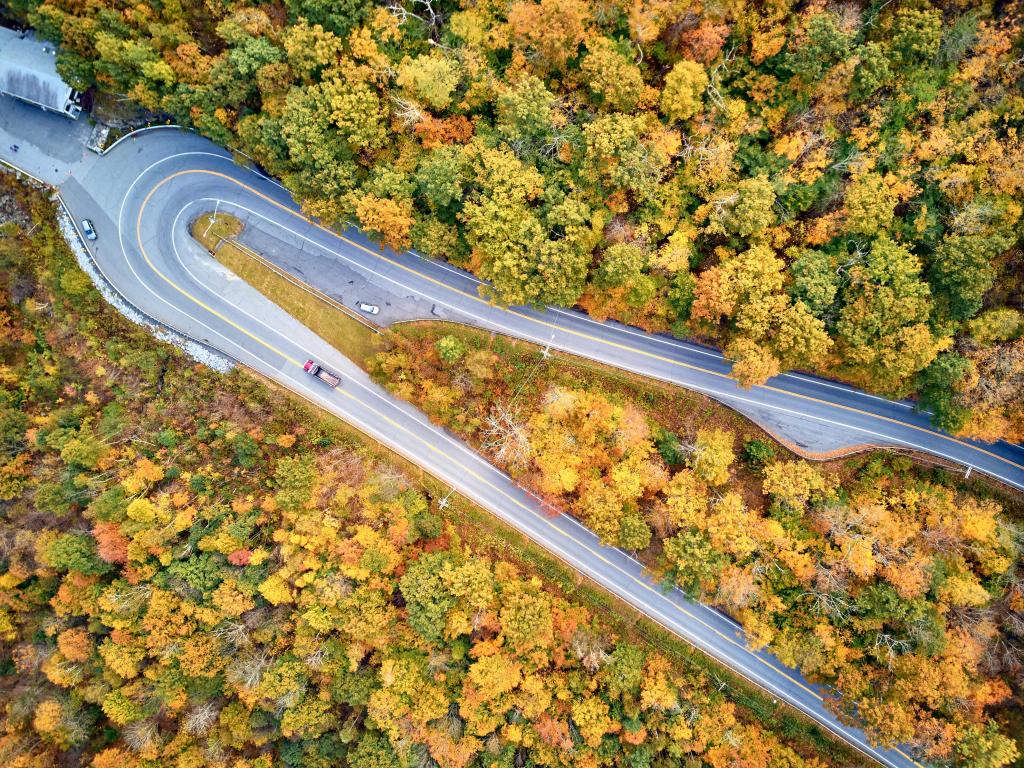 The ultimate fall foliage locations:
Mohawk Trail State Forest
Shelburne Falls
Deerfield
Wendell State Forest
Quabbin Reservoir
How to get there: For most of this route, you'll follow the Mohawk Trail, which is a historic Native American route that is currently along MA Routes 2 (MA-2) and 2A (MA-2A).
From Albany, take US Route 20 to Pittsfield, then MA Routes 9 East and 112 North to hop on the Mohawk Trail in Shelburne Falls. This road goes all the way to the outskirts of Boston and you can take Interstates 95 and 90 to get to the heart of this historic city.
Our highlights: If you navigate to the Mohawk Trail via Savoy and Hawley, just north of Windsor along MA Route 8A, those seeking a more adventurous way to explore the fall trees can get their fill of adrenaline at the Berkshire East Canopy Tours.
You'll have a bird's-eye view of the foliage wile soaring through the treetops on an expertly maintained zip line.
The Shelburne Falls' Bridge of Flowers is a turn-of-the-century industrial bridge that has come into a second bloom as a leisurely way to explore quaint Shelburne Falls.
Even towards the end of the blooming season it is a whimsical experience to walk across this bridge of blossoms while listening to the calming river sounds and enjoying panoramic views of Shelburne Falls.
A short detour south of Greenfield, lovers of that old New England colonial charm will be enamored with Historic Deerfield, MA. Here you can immerse yourself in a living museum: stroll along the charming Old Main Street, where you can tour historic houses, and visit the Flynt Center of Early New England Life.
Surrounded by lush forests, the Quabbin Reservoir in the fall is a serene and picturesque landscape perfect for nature enthusiasts and photographers alike.
The reservoir's waters reflect the vibrant foliage covering the rolling hills surrounding it, creating a stunning and tranquil scene that is equally lovely for a picnic.
Bonus: You don't need to be a train enthusiast to appreciate the charm of the Shelburne Falls Trolley Museum. The feather in their cap is a restored 1896 trolley that you can still take a short ride on, but they also have some other attractions like a pump car and a small museum.
Many people miss this hidden gem in Shelburne; don't be one of them!
Our travel tips: The ever-popular Shelburne Falls' Bridge of Flowers is set to close for intensive maintenance for most of 2024, so if this is a highlight you'd like to see, be sure to get out there on this year's trip.
They also close seasonally at the end of October, so this is a better stop for an early to mid-fall trip.
When is the best time to visit: This is another good trip to do in October, though sometimes the foliage peaks a bit later.
Events: If you can't get enough of that tart ruby nectar and don't mind driving another hour south of Boston, the Cranberry Harvest Celebration in Wareham, MA offers visitors a chance to see cranberry harvesting while enjoying local foods and craft vendors
7. Atlanta to Asheville
3 hours 30 minutes (200 miles)
Why you should take this trip: Feast on the mesmerizing beauty of the Blue Ridge Mountains during the fall season on this scenic journey from Atlanta to Asheville through winding roads and lush forests that are particularly stunning this season.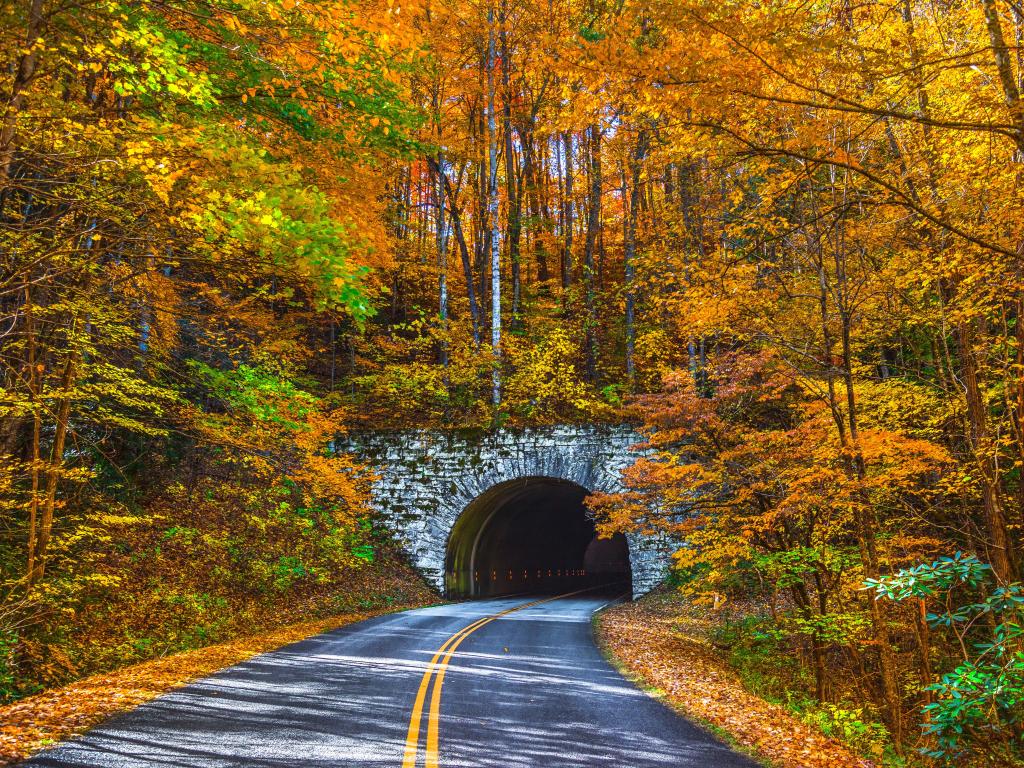 The ultimate fall foliage locations:
Tallulah Gorge State Park
Clayton, Georgia
Highlands, North Carolina
Great Smoky Mountains National Park
How to get there: From Atlanta, take Interstate 985 North to Gainesville and then hop on US Route 23 North, which you'll follow all the way to Dillsboro. Here, change on to US Route 74/Great Smokey Mountain Expressway all the way to Asheville.
Our highlights: One of the first of many spectacular natural areas you'll pass on this trip is Tallulah Gorge State Park in Georgia. Prepare to be awestruck by the magnificent beauty of Tallulah Falls and the deep gorge adorned in vibrant fall foliage.
Hike the suspension bridge, take in breathtaking overlooks, and witness the waterfalls at their most picturesque point in the year.
Fall becomes the Great Smoky Mountains. In this most visited national park in the country, you will have access to unparalleled fall vistas in the South. These gentle, rolling mountains become an undulating carpet of yellow and orange hues, making this a must-see spot for hikers and photographers alike.
Highlands, North Carolina, beckons with its own enchanting fall charm, offering visitors a chance to explore the quaint downtown, surrounded by lush forests and crowned with vibrant foliage, or venture to nearby waterfalls and hiking trails.
They also have an exquisite 12-acre botanical garden for people with a green thumb looking for inspiration for their own fall gardens.
Just before you reach Asheville, you'll pass by Lake Junaluska. This reservoir, nestled in the Blue Ridge Mountains, is surrounded by lush forests as well as a carefully maintained Rose Walk that follows the edge of the lake and connects with the 3.8-mile walking trail around a significant portion of the lake.
If you have more time, you can extend your trip to make a detour to the Blue Ridge Parkway.
When is the best time to visit: This area has a more variable leaf-changing season that can stretch from late September to early November. Check the park service website for the leaf status at the Great Smoky Mountains National Park.
Events: The Leaf Lookers Gemboree in Franklin, North Carolina, celebrates the region's rich gem and mineral resources amidst the fall colors.
A fun fall event in Asheville is their iteration of Oktoberfest. This annual celebration features live music, craft beer, and traditional German cuisine, providing a lively and festive atmosphere befitting the colorful season.
READ MORE - Road Trip from Atlanta to Asheville
8. Vermont's Route 100
4 hours 40 minutes (200 miles)
Why you should take this trip: Witness nature's artistry as the Green Mountains transform into an array of reds, oranges, and golds along Vermont's Route 100, one of the most popular fall foliage routes.
This is a road trip replete with fall flavors as well, as you'll have many opportunities to feast on the seasonal harvest at farm-to-table eateries along the way.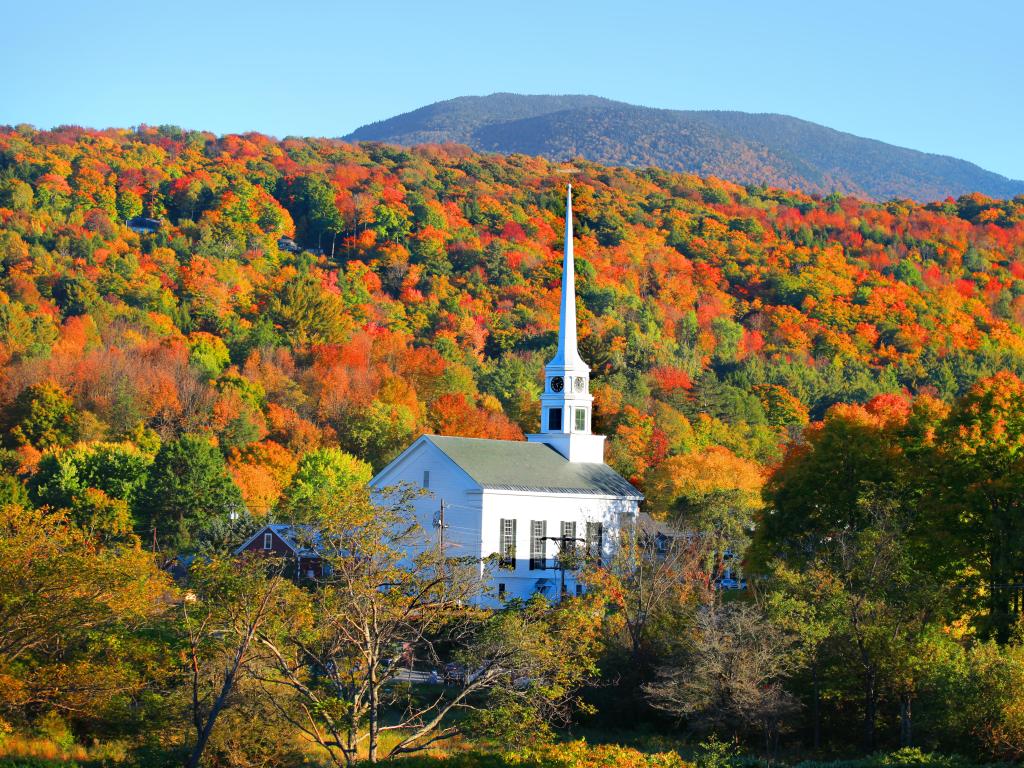 The ultimate fall foliage locations:
Green Mountain National Forest
Warren and Waitsfield
Waterbury
Stowe
Moss Glen Falls
Woodstock
How to get there: This route couldn't be easier as it's all along Vermont Route 100 (VT-100). The road begins in Heartwellville, towards the south of the state, and ends in the town of Troy in the north. Feel free to drive it in either direction.
Our highlights: While not an activity restricted to the fall, shopping in Wilmington is a must for anyone who appreciates antiques, hand-crafted goods, and one-of-a-kind finds.
The town is surrounded by the Green Mountain National Forest, meaning the season's colors will be on full display every time you pry your eyes away from your next turn-of-the-century treasure.
If you prefer crisp air and muddy boots to boutique adventures, be sure to hike some of the trails of the Green Mountain National Forest. This is the most immersive fall experience you could ask for and will leave you speechless.
Stowe is a splendid fall destination that beckons with its vibrant foliage, cozy atmosphere, and delightful offerings. Explore the iconic Main Street, adorned with charming shops and eateries like Harrison's, which has a rustic interior complete with wooden beams and the ample inclusion of maple on the menu.
Who could resist a tour of the Ben & Jerry's factory in Waterbury for a behind-the-scenes look at their indulgent ice cream creations?
Don't fill up on ice cream though; while you're here, don't miss a visit to Hen of the Wood, a renowned farm-to-table restaurant where you can savor the season's best ingredients paired with craft cocktails, making it a perfect fall culinary experience.
Bonus: Woodstock, VT isn't exactly on VT-100, but it isn't very far away, either. In addition to being another quintessentially cute Vermont town, here you can visit the Billings Farm and Museum.
This working farm has a wide variety of educational and interactive offerings and farm-fresh produce. They usually have a Harvest Festival in early October.
Our travel tips: As this is a popular route, be prepared to share the road with many other leaf peepers around peak foliage.
When is the best time to visit: During the first two weeks of October are typically the best time to do this trip.
Events: Stowe, Vermont, hosts a Foliage Arts Festival, which is a celebration of local artists enwreathed in saffron-hued boughs.
This is another route that might pass by one of the towns hosting the Vermont Fall Foliage Festival. Check the festival's website for this year's details.
READ MORE - Ultimate Vermont Route 100 Road Trip
9. Nashville to Gatlinburg
3 hours 45 minutes (220 miles)
Why you should take this trip: Revel in the glory of an Appalachian fall from another angle on this scenic trip from Nashville to experience the magic of the Smoky Mountains draped in the warm shades of the season.
This scenic journey from Nashville to Gatlinburg along winding roads offers open mountain vistas, charming mountain towns, and the opportunity to embrace the fall with country flair.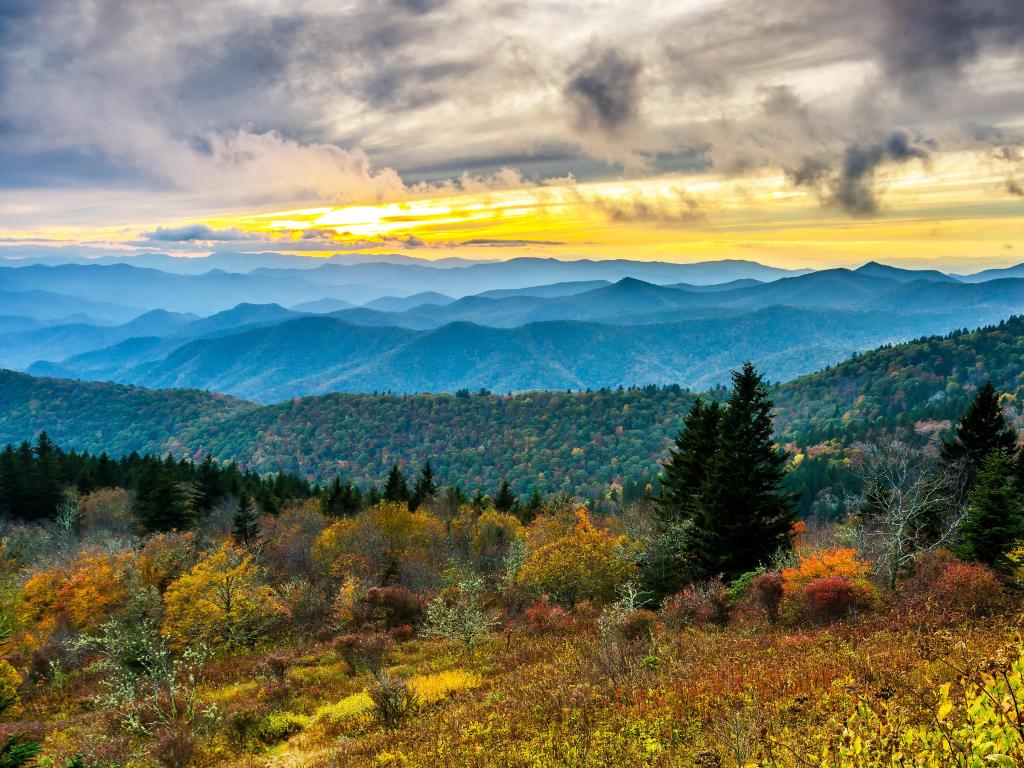 The ultimate fall foliage locations:
Knoxville Urban Wilderness
Seven Islands State Birding Park
Roaring Fork Motor Nature Trail
Gatlinburg SkyLift Park
Great Smoky Mountains National Park
Cades Cove
How to get there: Most of this route follows Interstate 40 (I-40) East from Nashville. Just after Knoxville, look for the turn off onto TN Route 66 South in Kodak. Take this and US Route 441 through Pigeon Forge, then look for US Route 321 South which will take you the rest of the way to Gatlinburg.
Our highlights: Knoxville is a vibrant city full of rhythm year round, but in the fall the smartly developed Urban Wilderness is a kaleidoscope of autumnal beauty. Walk around this beautiful area in the heart of the city before checking out some of the not-to-miss attractions like Market Square.
Visit the Seven Islands State Birding Park for an enchanting nature retreat that promises tranquility and birdwatching delights. Explore its serene trails, witness the seasonal shifts in wildlife, and take in stunning views of the French Broad River.
Pigeon Forge in the fall is a spellbinding destination where the fiery foliage frames a world of entertainment and outdoor adventures. Savor seasonal treats at Dollywood and embrace the light-hearted fun of the many amusement parks and roadside attractions that can be found on every corner here, from wax museums to a recreation of the Titanic.
Roaming the Great Smoky Mountains National Park in the fall is a nature lover's dream come true. The park transforms into a breathtaking mosaic of amber and crimson, with its dense forests and rolling hills ablaze with the vibrant colors of fall, offering unparalleled opportunities for hiking and immersing yourself in the beauty of the season.
Bonus: If you want to spend a bit more time on the road, lost in a whirl of color, Continue driving on US-441 South from Gatlinburg and take in the view over the Newfound Gap. This mountain pass between Tennessee and North Carolina is utterly picturesque in the fall and worth the drive on a longer trip.
Our travel tips: Both Dollywood and the Great Smoky Mountains National Park can experience crowds during the fall, especially on weekends and during peak foliage season. Hotel prices in the area may also be higher during this time. Consider booking in advance and planning your visit on weekdays or during the early part of the fall season.
When is the best time to visit: Anytime in October is a great time to visit, provided you book you room well in advance and are prepared to share the trails and attractions with more fall visitors.
Events: In Gatlinburg, you can celebrate the season at the Smoky Mountain Harvest Festival with fall decorations, events, and fall activities throughout the town.
Another nearby Fall Harvest can be found at Dollywood in Pigeon Forge, with an extra emphasis on entertainment to make this cozy time of year even more fun.
READ MORE - Road Trip from Nashville to Gatlinburg
10. Blue Ridge Parkway and Skyline Drive
15 hours 10 minutes (575 miles)
Why you should take this trip: Finally, a fall trip for the ambitious who do not shy from many hours of diving and countless curves on the road.
Drive through this tapestry of fall colors suspended between the Blue Ridge and Great Smoky Mountains on two of the most scenic roads in the Appalachians - this is the fall road trip of a lifetime!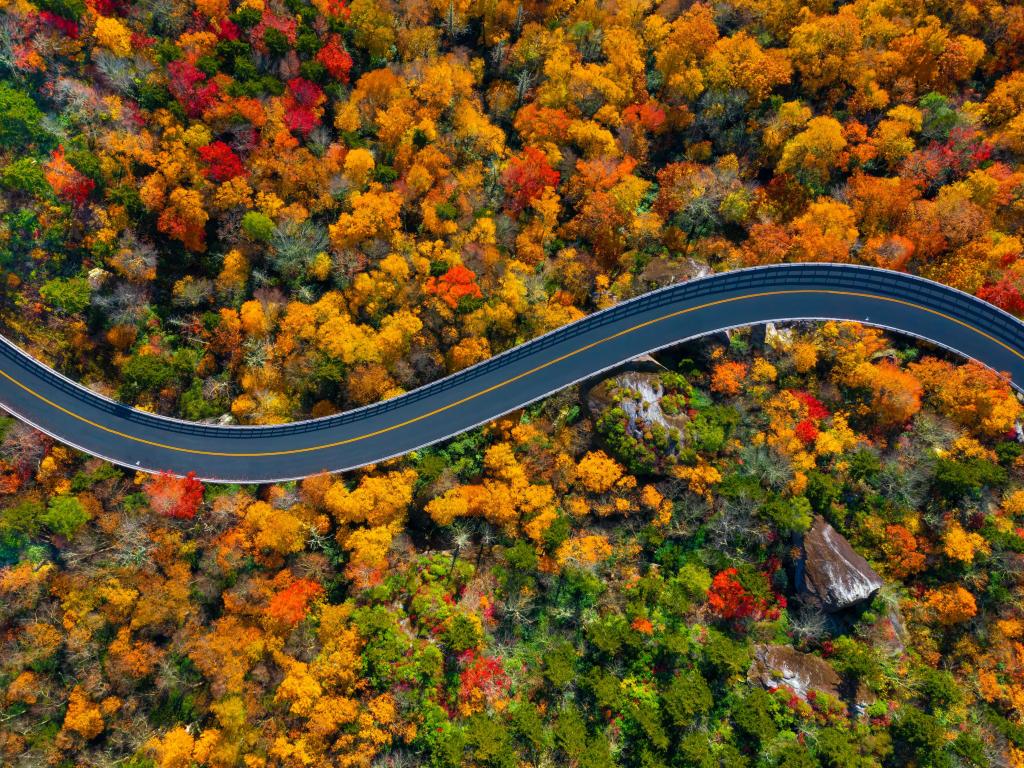 The ultimate fall foliage location:
Shenandoah National Park
Thornton Gap
Luray Caverns
Humpback Rocks Visitor Center
Mabry Mill
Craggy Gardens
How to get there: You can drive this route from the southern beginning of the Blue Ridge Parkway in Cherokee, NC and head all the way north to Front Royal, VA at the northern terminus of Skyline Drive, or go in the reverse direction from north to south.
The two roads meet south of Shenandoah National Park in Afton, VA. They are both circuitous, rural roads so make sure to take your time and enjoy the spectacular ride.
For more information about the Blue Ridge Parkway and Skyline Drive, you can reach our detailed guides by clicking these links.
Our highlights: Of course, the biggest perk of driving along Skyline Drive is traversing through the middle of Shenandoah National Park. Just off Skyline you can hike the meandering trails of Bearfence Mountain or drive to The Point Overlook nearby to get that picture-perfect vista of a rolling, golden canopy.
Other lookouts and inspiring cascades like Big Meadows and Dark Hollow Falls are also near the road.
Along the Blue Ridge Parkway, visit the Humpback Rocks Visitor Center at milepost 5.8 for interpretive exhibits and a short hike to Humpback Rocks, where you'll be rewarded with panoramic views over the surrounding hillocks.
A few wooden cabins at the adjacent Mountain Farm Outdoor Museum really add a rustic charm to all the pictures of colorful foliage.
For even more photo ops of weathered wooden structures and technology of yesteryear, be sure to stop by Marby Mill at milepost 176.1 of the Blue Ridge Parkway. This gristmill was first built in 1903 and is still somewhat functional, with occasional demonstrations by volunteers. The whole area is particularly lively on Sundays.
Craggy Gardens at milepost 364.6 is another scenic area with a visitor center and idyllic picnic spots that you won't want to miss. Here, you will get to admire sweeping views of the Blue Ridge Mountains and the fiery fall foliage covering their facades.
Bonus: While fall imagery usually doesn't include butterflies, the monarchs do their best to keep with the autumnal color scheme. Near milepost 413.2 you'll find the Pounding Mill Overlook, where, in addition to bedazzling views, there is a steady stream of migrating monarch butterflies here in the early fall.
Our travel tips: There are no gas stations on the Blue Ridge Parkway, though there are places along the highways on either side of the parkway. Make sure you're starting this journey on a full tank and be mindful of when you might need to refill.
As with many of the other routes on this list, the best time to make this trip is usually the busiest.
When is the best time to visit: In these parts fall colors peak from mid to late October. Usually, the third week in October is recorded as the busiest. To catch hints of color with slightly fewer crowds, aim for an early October trip.
Events: In Shenandoah Valley near Skyline Drive, you can celebrate the season at the Shenandoah Autumnfest. This fest showcases regional crafts, wines, and foods with horse racing as an additional attraction.
If you love nothing more than apples, sweet or tart, add the Apple Harvest Festival in Waynesville to your itinerary. Just a short detour from the Blue Ridge Parkway, close to Cherokee, this Waynesville event celebrates the apple harvest with music, dance, and plenty of apple products.
Another event to keep an eye out for is the Mountain Glory Festival in Marion, North Carolina. It showcases local arts and crafts against the backdrop of vibrant fall foliage.