Vermont Route 100 Road Trip: our ultimate itinerary (with map)
On this unforgettable road trip through Vermont's Route 100, you'll experience charming towns, breathtaking waterfalls, lakes, forests, cliffs, mountains, and relaxing beaches. Even though you stay within one state, this route has it all. So pack up the car, put on some tunes and get ready for the road trip of a lifetime.
This incredible journey on Vermont Route 100 will take you 200 miles with 4 hours and 40 minutes of driving time. You'll see Vermont's top destinations like Heartwellville, Dover, Ludlow, Pittsfield, Stowe, Troy, Burlington and Lake George.
On your drive, you'll create so many memories, all within one state. Keep reading to learn more about the best routes, places to stay, and top destinations along the way.
Where is Vermont Route 100?
Vermont Route 100 is unsurprisingly located in Vermont and runs from the southern tip of Vermont to the state's northern border with Canada. It's an incredibly scenic and very manageable trip, perfect any time of year and offering a gorgeous travel experience through the adorable towns and forests this state is known for.
The route will pass beautiful towns like Burlington, Stowe, Troy, and many others. You'll get to enjoy nearby parks like Green Mountain National Forest and Mt. Mansfield State Forest.
Where does Vermont Route 100 begin and end?
Vermont Route 100 begins in the beautiful town of Heartwellville, near the border of Massachusetts. Heartwellville is near the popular Dutch Hill Ski Area and scenic Herriman Reservoir.
The end of the route is the northern town of Troy. This delightful town is just a few miles from the Canadian border and is surrounded by natural scenery.
How long is Vermont Route 100, and how long will it take to drive its entire length?
Comparison of road trip routes along Vermont Route 100

| Route | Distance | Driving Time |
| --- | --- | --- |
| The Entire Scenic Route | 200 miles | 4 hours 40 minutes |
| Round Trip from Burlington | 420 miles | 9 hours 20 minutes |
The Entire Length Route will cover 200 miles and only takes place on Vermont Route 100 from the southern end of the state to the north, near the Canadian border. You'll be driving for 4 hours and 40 minutes.
The Round Trip from Burlington Route covers 420 miles of Vermont landscapes. You'll drive for 9 hours and 20 minutes on this incredible loop through the Green Mountain State.
This journey covers a vast amount of territory all within a small state. To get the most out of it, we recommend taking two to three days for the whole length of the scenic road. To get the most out of a slower round-trip drive, it would be best to take four to five days.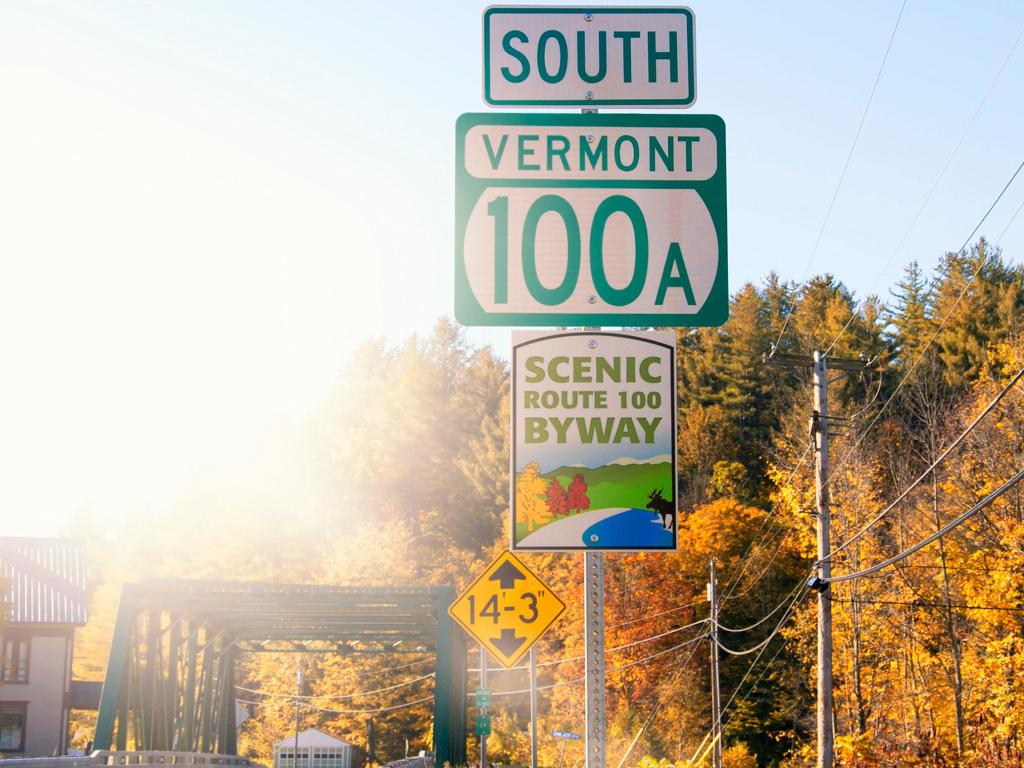 Best way to drive on Vermont Route 100
There are two routes that will cover the best of Vermont Route 100 and the gorgeous area that surrounds it. One takes you directly along the route while the longer one takes a different way back on a circular road trip.
The Entire Scenic Route is the best way to explore the stunning Green Mountain National Forest in Vermont, as well as the many charming New England villages and towns that this state is known for.
While you could do part of this route and still get a great experience, part of the charm is getting to see the variety of villages along the way, including Dover, Ludlow and Stowe amongst others.
There are lots of lakes and rivers along the route, such as the Harriman Reservoir at the southern end of the route to the Missisquoi River near Troy near the northern border.
The Round Trip from Burlington Route allows you to drive the entirety of Route 100 but still get to discover a larger city in Vermont like Burlington, which is located on the scenic coast of Lake Champlain.
Another benefit of this round trip is that you can choose whichever direction you'd like to take it. You can choose to descend from Burlington and make your way up Route 100, or descend down Route 100, making your way back to Burlington.
Driving the entire length of Vermont Route 100
Starting in Heartwellville, jump on the famous Vermont Route 100 east. Head past the south shores of the Harriman Reservoir and into the town of Jacksonville.
Continue north and drive to the lovely town of Dover. From here, make your way through the edge of the Green Mountain National Forest.
Drive past the popular Stratton Mountain Ski Resort and continue north to the town of Ludlow. From here, head through the beautiful Coolidge State Forest and into the wonderful town of Pittsfield.
From here, continue on north through some of the most unspoiled forests in America. Soon, you'll pass the striking Moss Glen Falls.
Keep heading north, past the Waterbury Historic District and into the town of Stowe. After spending some time in Stowe, get back on the route and continue on until you hit your destination in Troy.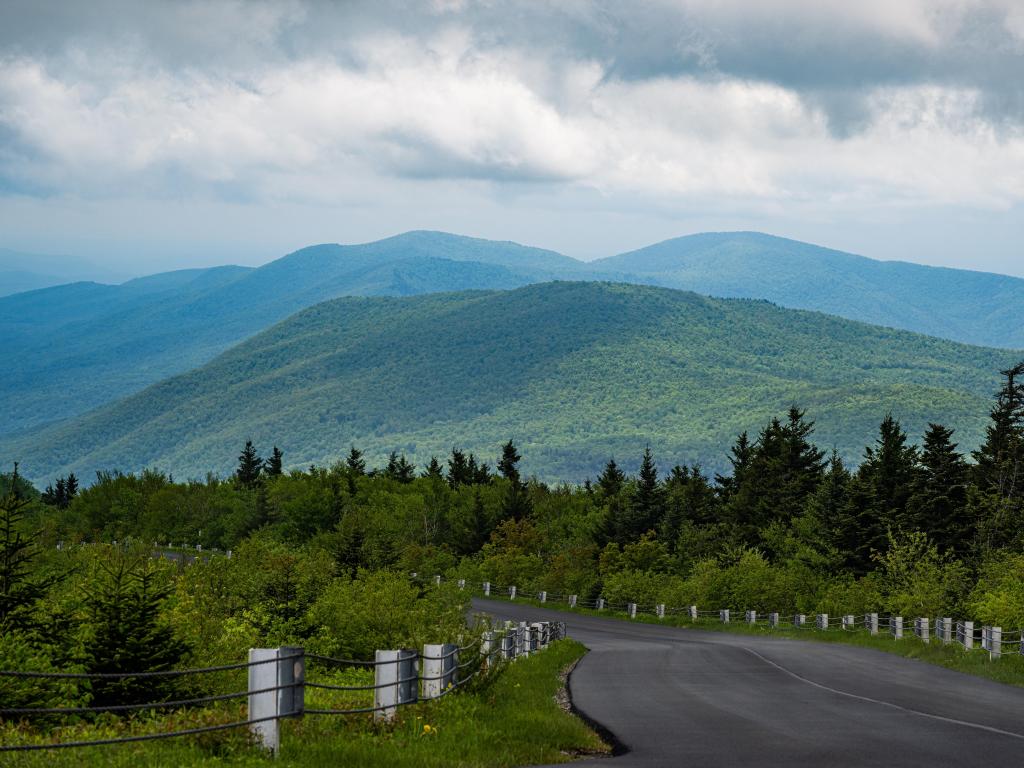 Driving on Vermont Route 100 on a round trip from Burlington
From Heartwellville, take the epic Vermont Route 100 around the beautiful shores of the Harriman Reservoir. From here drive through the town of Jackson and into Dover, the quiet gateway to the Green Mountain National Forest.
Continue north past the Stratton Mountain Ski Resort and into Ludlow. Head into the Coolidge State Forest and drive on until the town of Pittsfield.
From here, drive north past Moss Glen Falls, Waterbury Historic District, and into the town of Troy. After Troy, head on highway 242 past Jay State Forest.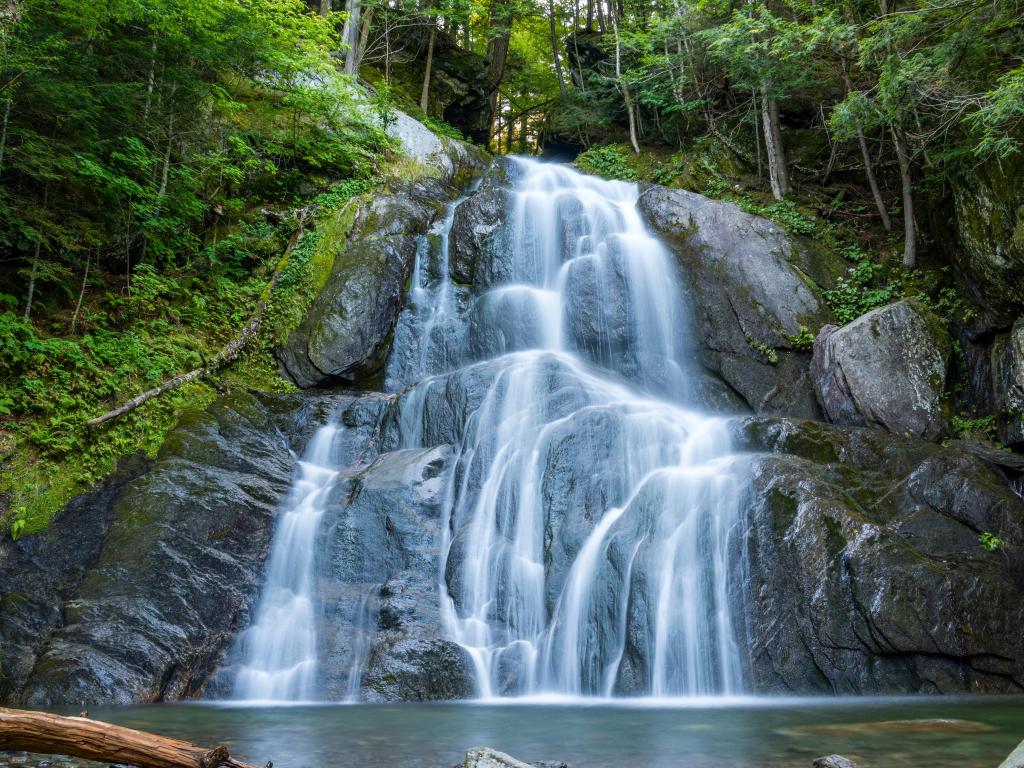 Drive to the forests and communities of beautiful Lake Champlain. Continue on into the city of Burlington, Vermont's largest city and one of the most vibrant small cities in America.
After exploring Burlington, head back on route and continue south on Route 7, past the western edge of the Green Mountain National Forest, and into the town of Bennington to complete the loop.
Best places to stay along Vermont Route 100
You'll find so much to do and see on this road trip through Vermont. Because of the length of the drive, we've selected two wonderful locations to stop for the night.
A taste of ice cream and nature in Stowe
About halfway on the Entire Scenic Route is the town of Stowe. This wonderful little community is one of the highlights of Vermont Route 100. Stowe is a stunning town known for its beautiful scenery, rich skiing culture and year-round events. There are plenty of highlights to experience in the town.
First, head to Stowe's iconic Main Street. Here you'll experience tons of cute shops, restaurants, and more. You can find all kinds of Vermont products like maple syrup and even wine.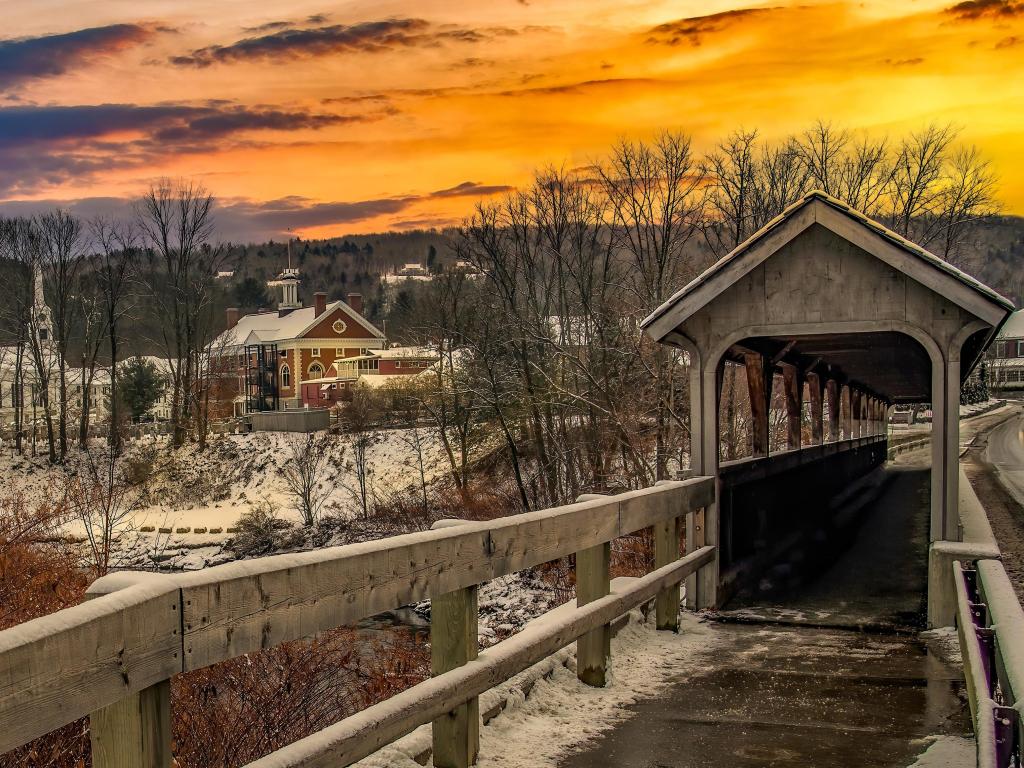 For lovers of ice cream, a must-visit destination is the original Ben & Jerry's factory. Take a tour of where it all began in nearby Waterbury. You'll get to see how B&J's famous ice cream is made, as well as visit an adorable ice cream graveyard for flavors-gone-by.
Once you reach Stowe, we recommend staying at the Trapp Family Lodge. This iconic hotel offers old-world comforts and stunning mountain views.
The hotel is named after the famous Von Trapp family (which manages it), largely fictionalized by the famous film The Sound of Music. It has beautiful Austrian-inspired architecture and European-style accommodations.
There are two swimming pools, a restaurant and a bar to help you relax. There's also free parking, so after your long drive, you can be sure to get right to R&R.
There are tons of skiing trails, local wineries, and scenic hiking paths nearby. You can spend days exploring the nearby trails and quiet streets of Stowe.
Relax and explore the history of Bennington
About halfway along the Round Trip Route is the town of Bennington. This is an ideal stopover on the round-trip route, close to the start of Route 100, so you can rest up before embarking on the stunning drive across Vermont Route 100.
Bennington is mostly known for the Bennington Battle Monument, one of the prominent historic sites in Vermont. It also boasts several museums and art galleries.
There are other beautiful sights to explore but first, explore the Bennington Battle Monument. This 306-foot-high obelisk commemorates the Battle of Bennington during the American Revolutionary war.
From here, head to the Bennington Museum. The museum offers you the perfect opportunity to explore the history of this unique and picturesque town.
When you arrive in Bennington, our top choice for lodging is the luxurious Four Chimneys Inn. Housed in a mansion on an 11-acre property with extensive gardens, this hotel stay is sure to be memorable. The hotel is just over a mile from the center of town and is surrounded by quite natural areas.
Once you're ready to explore, just head outside as the hotel is within walking distance to the Bennington Battle Monument as well as the Bennington Museum. Once you're done sightseeing, there's a garden and on-site bar to enjoy.
Things to see on a road trip on Vermont Route 100
Both routes are full of adventure and fabulous sights along the way. Below we've included our top highlights on the way, so you can make the most out of your journey through Vermont.
The entire length of Vermont Route 100
Wilmington - Make sure to visit this stunning little village, known as a "shoppers mecca" for it's many quirky stores, delicious restaurants and art galleries.
Dover - A celebrated skiing spot along Route 100, Dover also offers tons when it comes to small-town charm. Visit one of several museums in this village, or simply spend a couple hours exploring.
Ludlow - Another unique town along this route, known for nearby Buttermilk Falls as well as many gorgeous mountain and forest trails.
Pittsfield - There is tons to do in this adorable town, from exploring the Berkshire Museum to enjoying the slopes of the Bousquet Mountain Ski Area.
Stowe - Stowe is chock-full of attractions, though you might most enjoy walking through the town center and visiting a variety of breweries and restaurants.
Waterbury - Visit the celebrated Ben & Jerry's factory, where you can get a sneak-peek into this ice cream goliath's world-famous sweet treat recipes.
Sherbrooke - Located across the border to Canada but well-worth bringing your passport for, Sherbrooke is a stunning city about an hour off your route that boasts gorgeous nature and a celebrated Natural History Museum.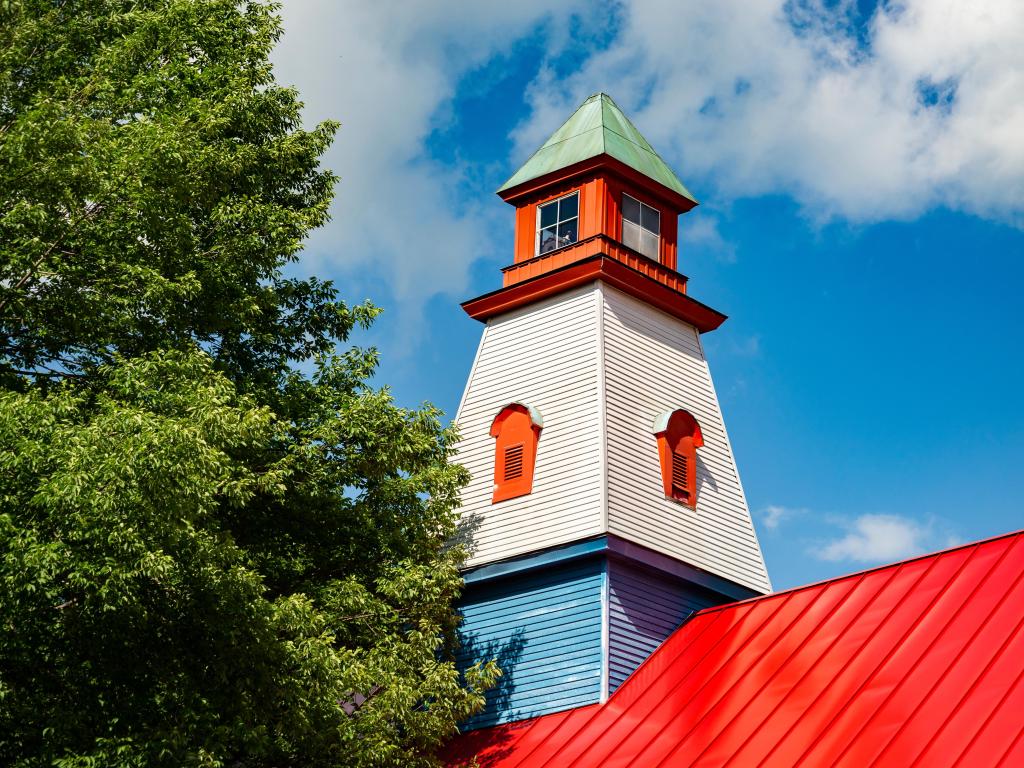 Things to see driving on a round trip from Burlington
Vermont Teddy Bear Factory - This colorfully painted toy factory near Burlington, Vermont offers informative tours as well as a build-your-own-bear experience.
New England Maple Museum - Discover the secret behind a delicious bottle of maple syrup at the New England Maple Museum, a popular stopping point along this route.
Green Mountain National Forest - Take in the beauty of this massive national forest, where you can find dozens of ponds, cliffs and waterfalls that can be reached through several walking trails.
Lake George - Discover this stunning lake, located across the Vermont-New York State border and boasting beautiful blue waters.
Saratoga National Park - The site of an unprecedented Revolutionary War victory, the Saratoga National Historical Park offers educational tours of its battlefield and monument. Visit this park for just an extra 30 minutes of travel time.
Billings Farm and Museum - Thirty minutes off-route find the Billings Farm and Museum. This working farm offers attractions perfect for adults and children alike, including wagon rides, a gift shop, and barns full of farmyard animals.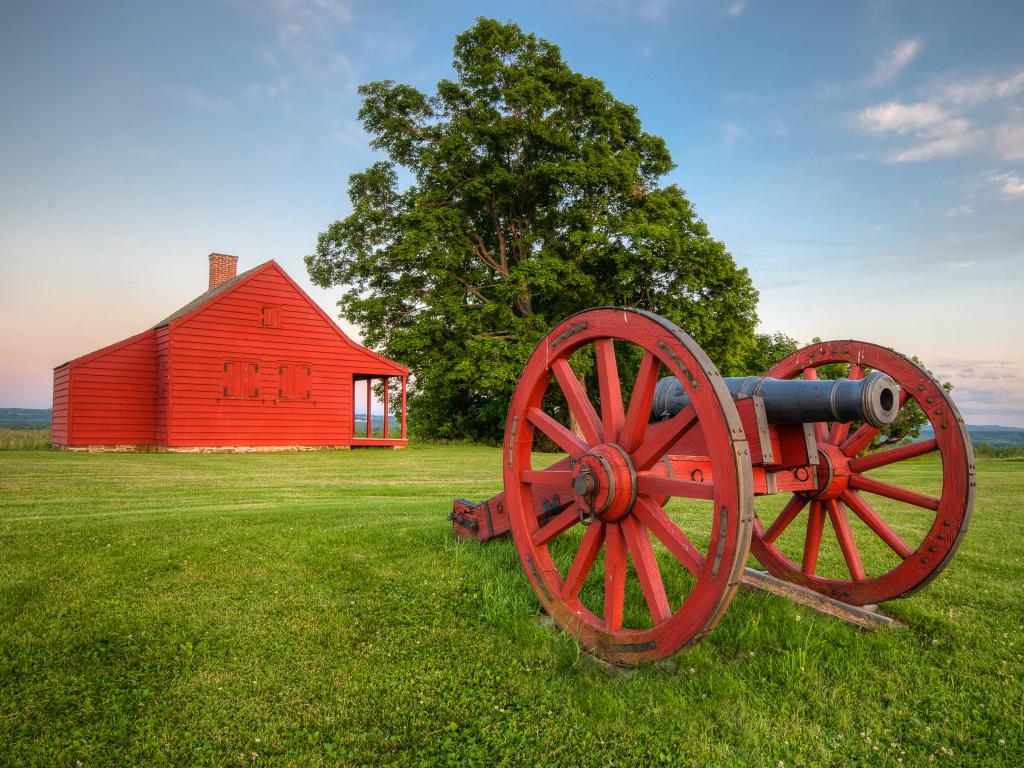 Best time to drive on Vermont Route 100
Both wonderful routes are traversable any time of the year, though we recommend visiting during the late spring/early summer or during the fall for the best combination of driving conditions and tourist attractions.
Summers in Vermont are warm and quite sunny, with minimal rain. This is generally the busiest season when it comes to tourism, so expect slightly pricier accommodations and busier attractions (especially if you're visiting parks or forests). The temperature in the summer is between 77-82 degrees Fahrenheit.
Vermont Route 100 is well-known for its many winter offerings, so travelers shouldn't worry about not having anything to see or do during the season.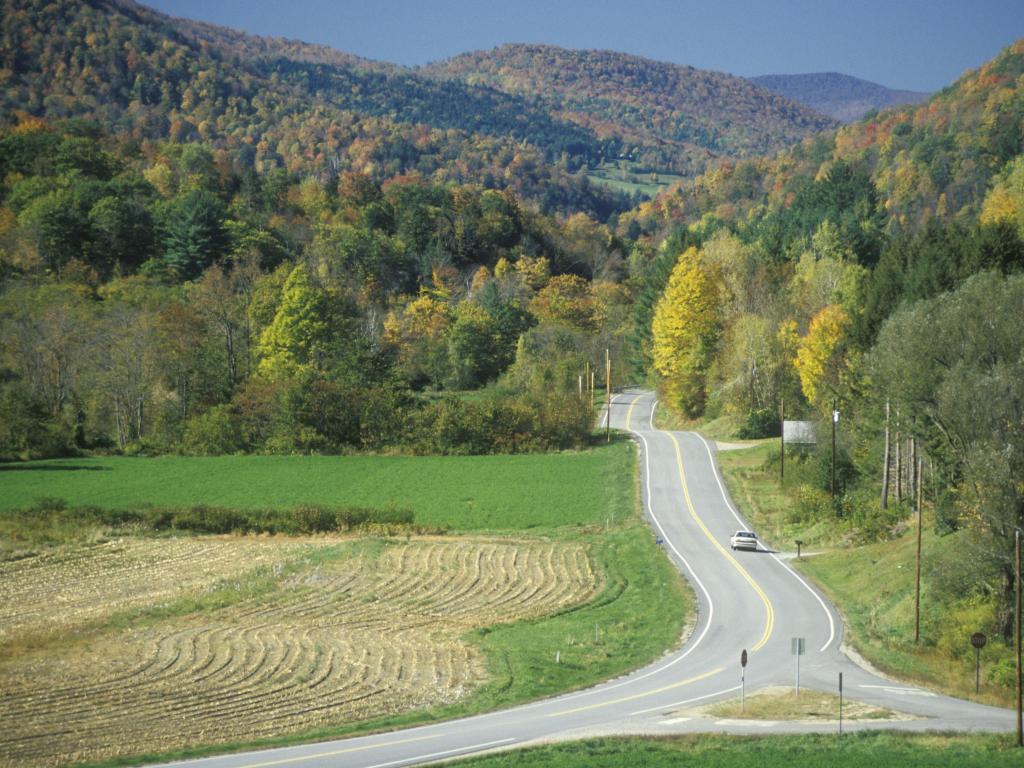 The route's many surrounding forests are arguably at their most beautiful when they are covered with the heavy snow typical of a Vermont winter; just be sure to have chains or winter tires on, and to avoid driving during a winter storm as conditions can get quite bad. The winter temperatures are around 25 degrees Fahrenheit.
Fall is a wonderful time to travel Vermont Route 100, especially if you're driving during the last weeks of September and the first few weeks of October when the leaves begin changing and surrounding foliage takes on warm reds and yellows.
Spring is also a great time to visit, and one of the seasons with a lower tourism rate, so you'll have lots of privacy visiting the many attractions along your route.
There are tons of events happening year-round along route 100, from Christmas and holiday events during the winter months to outdoor events during the summer.
Some highlights include the Vermont Renaissance Faire (Stowe, June), the Stowe Tango Music Festival (August), and the Green Mountain Bluegrass & Roots Festival (Ludlow, Summer).