Road Trip from Portland to Bar Harbor
If you are looking for a short trip that packs a punch with stunning scenery, coastal views, amazing seafood and charming small towns, the road trip from Portland to Bar Harbor is the perfect opportunity to shake off the cobwebs. This adventure will showcase the best of Maine with its vibrant seasons.
The 180-mile road trip from Portland to Bar Harbor will take 3 hours and 30 minutes to drive nonstop. Notable sights are Augusta, Waterville, Brunswick, Popham Beach, Bath, Reid State Park, Camden Hills State Park, Mt Desert Island and Rockland.
From breathtaking forests, charming towns, rocky coves, and small islands, you'll experience an unforgettable American road trip. Continue on to learn more about the best routes, places to stay, and things to do and see along the way.
How far is Bar Harbor from Portland, and how long will the road trip take?
Comparison of road trip routes between Portland and Bar Harbor

| Route | Distance | Driving Time |
| --- | --- | --- |
| The Direct Route | 180 miles | 3 hours 30 minutes |
| The Scenic Route | 250 miles | 6 hours 30 minutes |
There are two incredible routes that will take you from Portland to Bar Harbor. The Direct Route takes you quickly to your destination, through forests and small cities and towns. The Scenic Route will take you along the photogenic beaches of Maine's Atlantic coastline.
The Direct Route covers 180 miles and you'll be driving for 3 hours and 30 minutes, not including any stops or detours you might want to take.
The Scenic Route is slightly longer at 250 miles, which means that you'll be on the road for 6 hours and 30 minutes total driving time.
Maine is beautiful with so many things to see and do, even though this is a relatively shorter road trip. Therefore, we suggest taking at least 2 days to enjoy all that this amazing road trip has to offer at your own pace.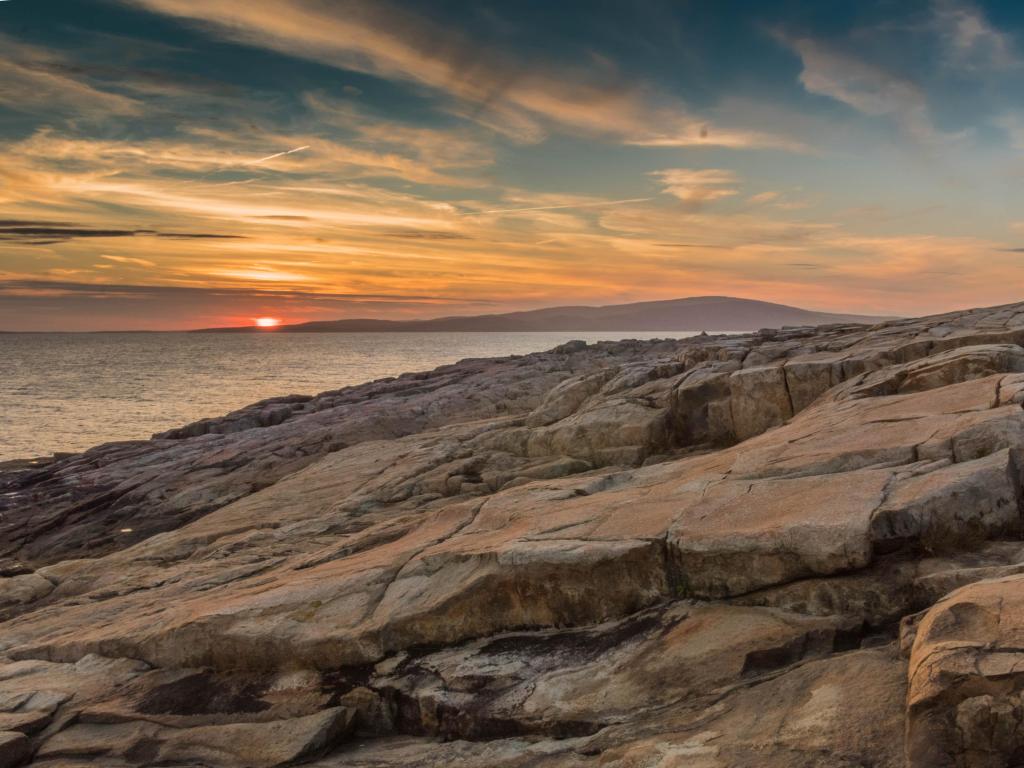 Best road trip route from Portland to Bar Harbor
The Direct Route is the most direct and quick route to get to your destination. This route is ideal for a short day or weekend trip. You will be following a well-maintained road on this route, meaning that your journey will be quite straightforward.
You'll visit many larger cities and towns along the way such as Augusta and Waterville. Plus, you'll get the chance to explore the thick forests and natural landscapes of inland Maine.
The Scenic Route is longer and takes you along the state's wild coastline. You'll get to see many quaint seaside towns and picturesque beaches along the Atlantic Ocean, as well as sample the state's famous seafood.
This route takes you through many state beaches and lots of opportunities to experience the history of fishing on these coasts. If you love rugged beaches and maritime culture, this route is for you.
The Direct Route
From Portland, head north into inland Maine on Interstate 295 (I-295). Take a slight detour into the charming northeastern towns of Gardiner and Augusta.
From here, continue on I-95 north into the beautiful community of Waterville. Then, get back on route and drive north into the lakeside paradise of Newport.
Next, hit the road east and travel through the rural natural areas and beautiful farmlands of eastern Maine. Continue on US-1A to your destination of Bar Harbor.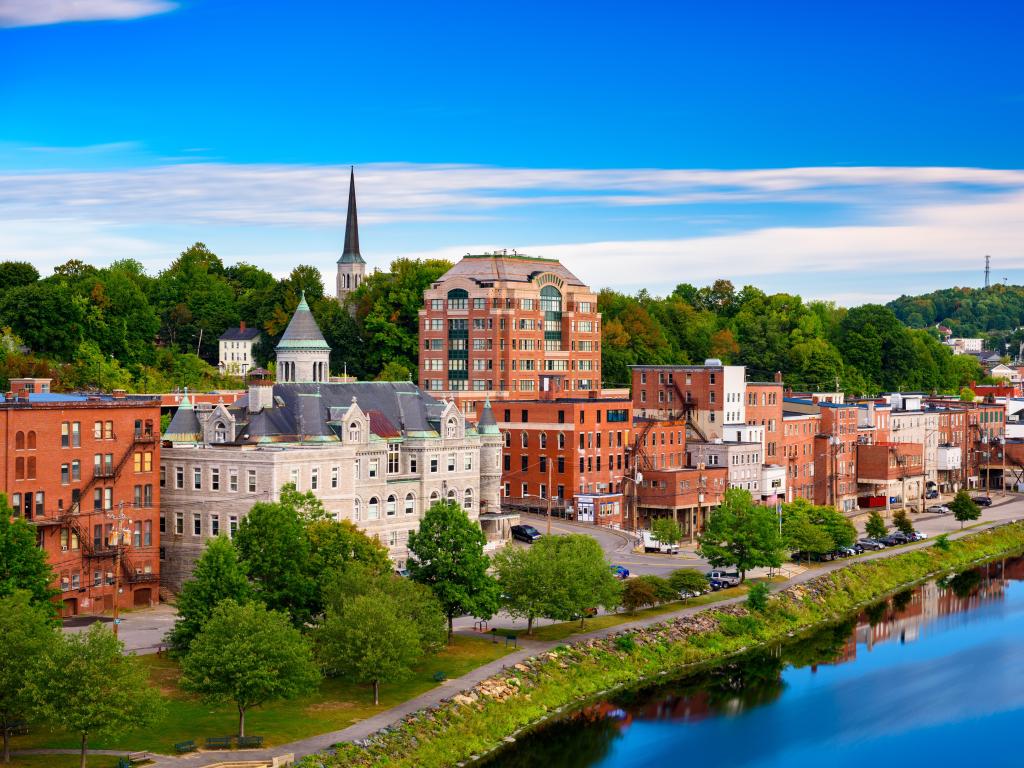 The Scenic Route
Head north on I-295 along the rugged and beautiful coast of the Atlantic Ocean. Continue on into the beautiful towns of Brunswick and Bath.
Next, take a detour to the coastal destinations of Popham Beach and Reid State Park. Head back to the town of Bath and get on US-1. Take the windy roads along the coastal peninsulas until you reach the town of Rockland.
After soaking up the coastal charm of Rockland, continue on the route along West Penobscot Bay. Drive into the town of Ellsworth and into your destination of Bar Harbor.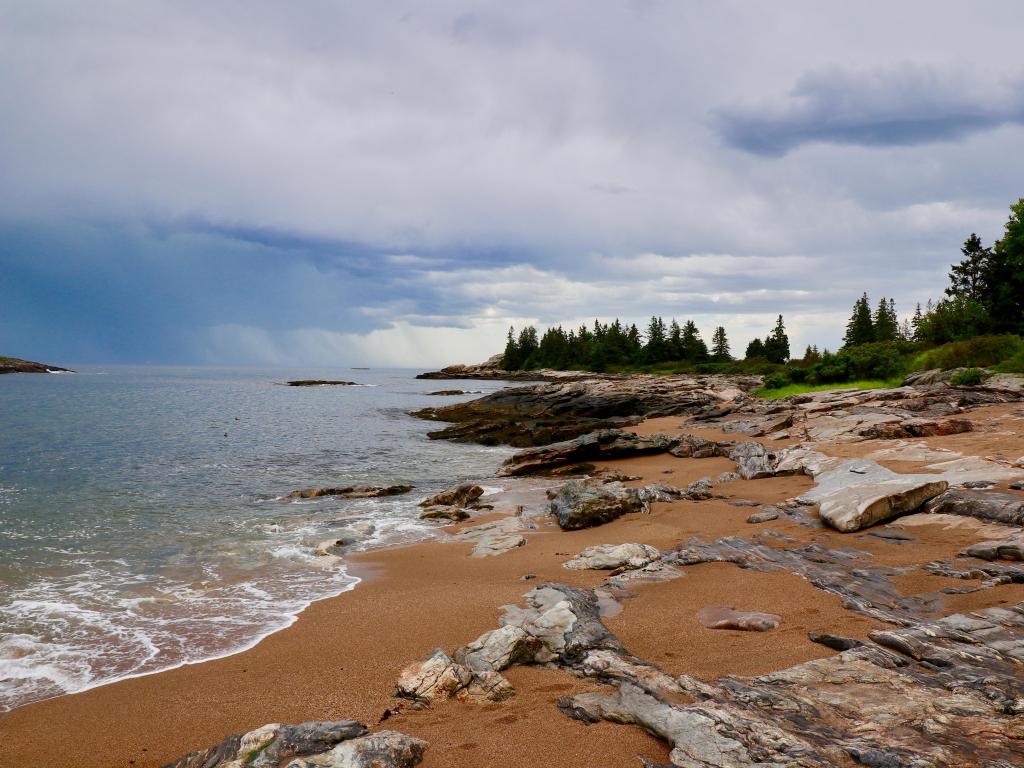 Best places to stop between Portland and Bar Harbor
Although the journey's short, there's plenty to do and see along the way. Below are our top places to rest and things to do and see on your way from Portland to Bar Harbor.
Enjoy a charming welcome at Waterville
About 2 hours away from your destination is the charming city of Waterville. Waterville boasts a scenic location between the mountains and has convenient access to other cities in Maine. Visitors enjoy the small town charm and the opportunity to explore the culture of Maine.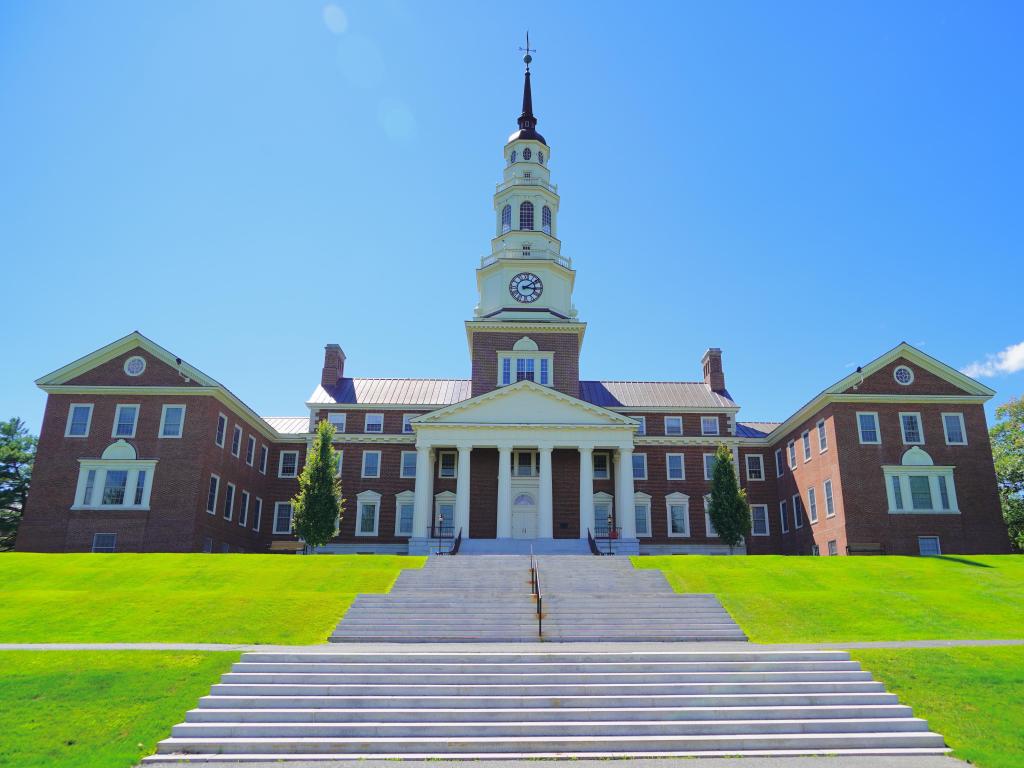 There are plenty of things to do and see in the town, including some incredible restaurants and bars. First off, make sure you visit the Waterville Opera House. This beautiful building is registered on the National Register of Historic Places and hosts many music, theater, and comedy events.
Next, head to the Head of Falls & Riverwalk. This lovely walk takes you along the river and the Two Cent Bridge and is a lovely place to relax and spend some time outdoors.
Once you reach Waterville, we recommend staying at the luxurious Lockwood Hotel. This beautiful hotel is classic and elegantly modern. If driving has worked up an appetite, there's a popular restaurant on site serving excellent cuisine featuring locally sourced ingredients.
The Lockwood Hotel is located right downtown, close to all the town's major attractions. Feel free to walk downtown and check out the riverfront and exciting main street. After you explore Waterville, make sure to head to the fabulous bar on the premises for a night cap before calling it a day.
Admire the quintessential coastal views in Rockland
About halfway on the Scenic Route is Rockland, Maine. This beautiful city is a scenic spot where the mountains and ocean meet. It offers incredible and picturesque ocean views and embodies the best of New England's charm.
First off, check out the Project Puffin Visitor Center. The town has created this project to bring puffins and other seabirds back to their historic nesting grounds. Visitors can learn about the conservation of these species at this visitor center.
If you love maritime history, then you should check out the Sail Power and Steam Museum. This museum is full of fascinating collections related to the maritime and local industrial heritage of the coast.
Finally, no visit to Rockland would be complete without seeing the Maine Lighthouse Museum. This speciality museum educates visitors on the long-standing traditions and history of the lighthouses through coastal America.
Once you reach Rockland, you cannot beat a stay at the 250 Main Hotel. This luxury boutique hotel has superb ratings and offers incredible city and water views. Enjoy the uniquely modern and industrial décor and lovely outdoor terrace to enjoy your continental breakfast.
The 250 Main Hotel is situated on the main street of downtown Rockland. It's just steps away from many attractions and spectacular food and drink options, including some of the best seafood restaurants in the state.
Where to stay when you reach Bar Harbor
Once you reach your destination, we recommend staying at The Inn on Mount Desert. This quaint bed and breakfast in the heart of Bar Harbor is located just a short distance from Acadia National Park.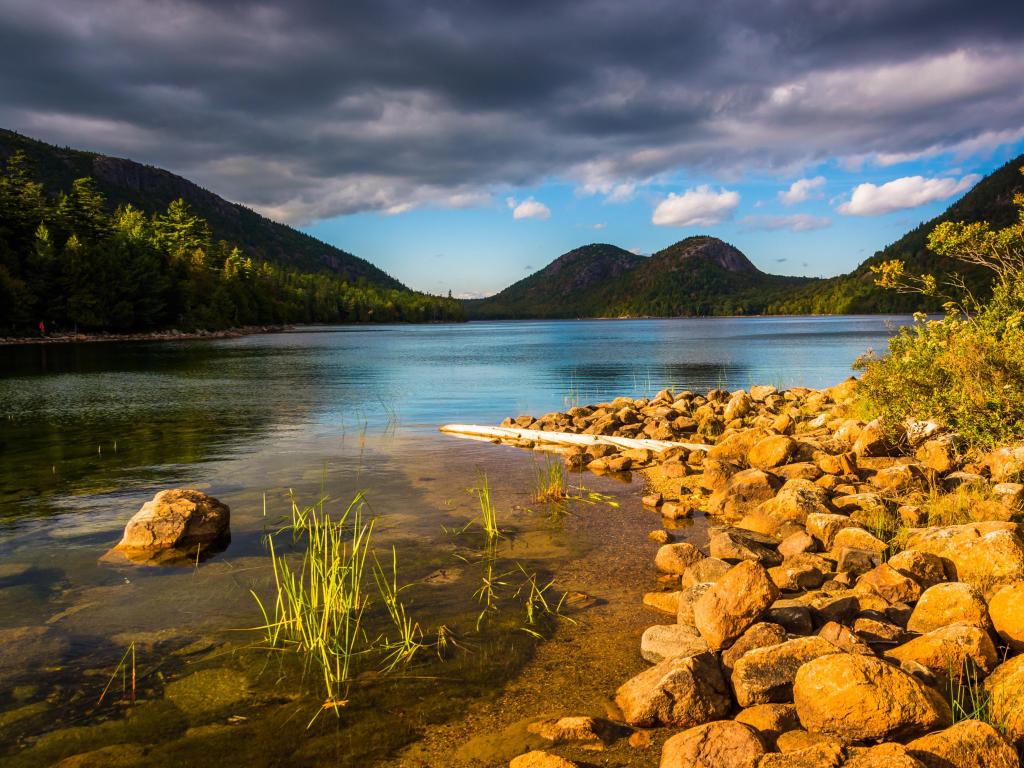 The bed and breakfast is just walking distance from the waterfront and many local shops and restaurants, which makes it easy to get up and check out all the incredible sights around town.
There are plenty of amenities included as well as a team of helpful staff who will help you relax and find any fun activities you need. What's more, breakfast is included with your stay, so you can get a nutritious start to your day.
Things to see on a road trip from Portland to Bar Harbor
There are several beautiful destinations and quick stops along the way. Below, we've included our favorites to help you make the most out of this road trip.
The Direct Route
Historic Downtown Shopping District, Gardiner - Take a wander through this historic shopping district and visit many local food and shopping vendors.
Phinizy Swamp Nature Park, Augusta -1,100-acre acre park contains many wetlands and woodlands used for water research and environmental education.
Two Cent Bridge, Waterville - Popularly known suspension bridge that crosses over the Kennebec River.
L. C. Bates Museum - You can visit this curious and quirky museum by appointment. Here, you will find wildlife dioramas of Maine as well as learn about the history and archaeology of the state.
Moore Manor Lavender, Newport - Experience this unique farm that grows lavenders and visitors are welcome to explore the grounds and relax with the soothing scents.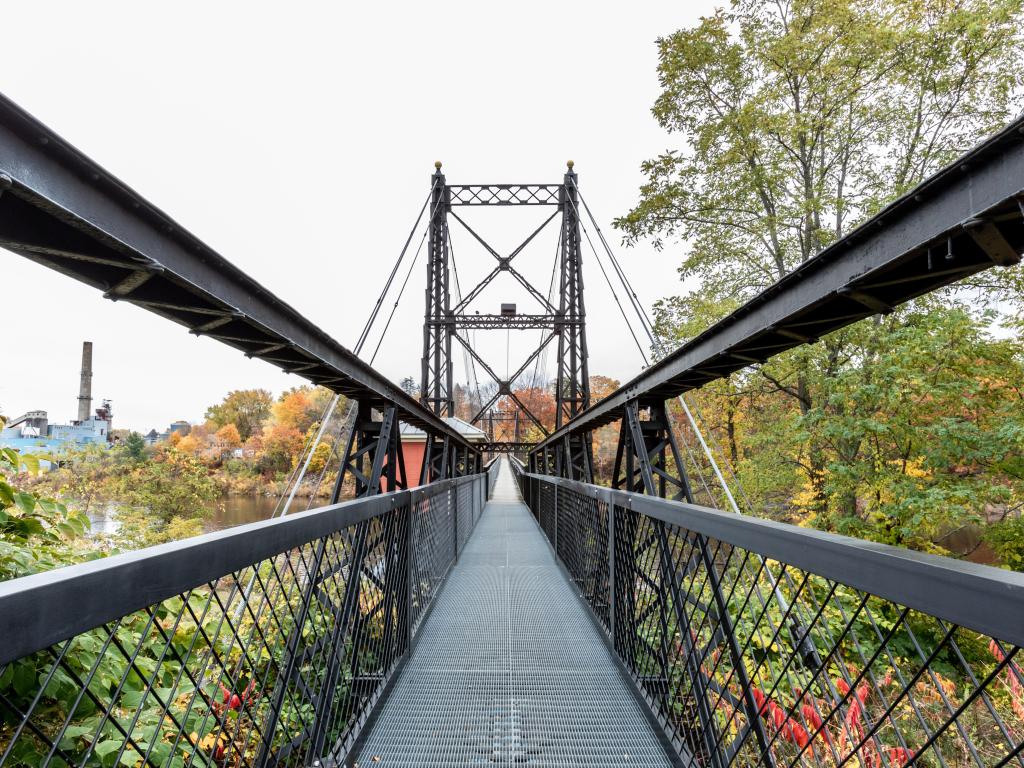 The Scenic Route
Maine Maritime Museum, Bath - Visit this museum to see many artifacts related to the history of shipbuilding, sailing and lobstering
Popham Beach - Bordering the Kennebec River, this state beach is full of rare geologic landforms.
Reid State Park - Enjoy the incredible sandy beaches and look for many resting shorebirds along the coast.
Wiscasset's Waterfront Main Street - This tiny town has one of the busiest seaports in all New England. You can take self-guided tours and visit the many museums this town has to offer.
Pemaquid Point Lighthouse - Lighthouses are must-see along coastal Maine. This one gives you incredible views of Muscongus Bay.
Camden Hills State Park - In this park, if you hike up Mount Battie, you can take in the amazing views looking across the ocean.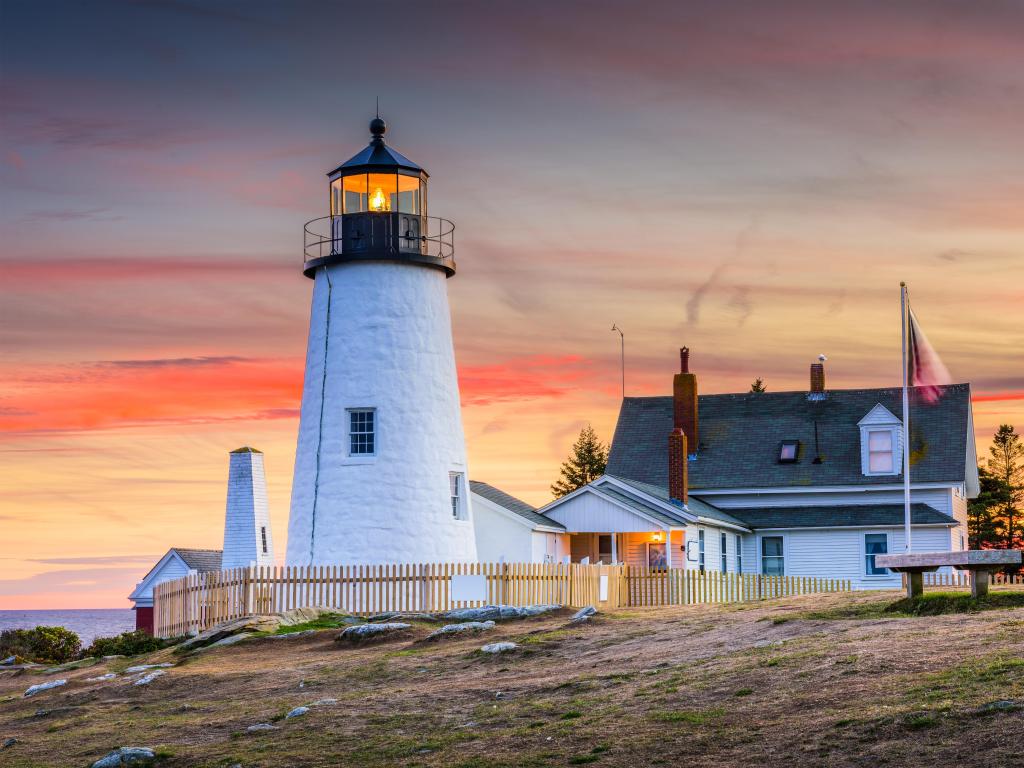 Both Routes
Desert of Maine, Freeport - This landmark desert area is full of rolling sand dunes and is an iconic tourist destination in Maine.
Wolfe's Neck Woods State Park - Perfect place to guide yourself along the woodlands and rocky geography of the coast, great for osprey watching
Mt Desert Island - A part of Acadia National Park. This island is home to several villages and is a romantic stop along your journey.
Acadia National Park - This National Park is a natural beauty where you can find the highest rocky headlands while enjoying picturesque views of the Atlantic Ocean.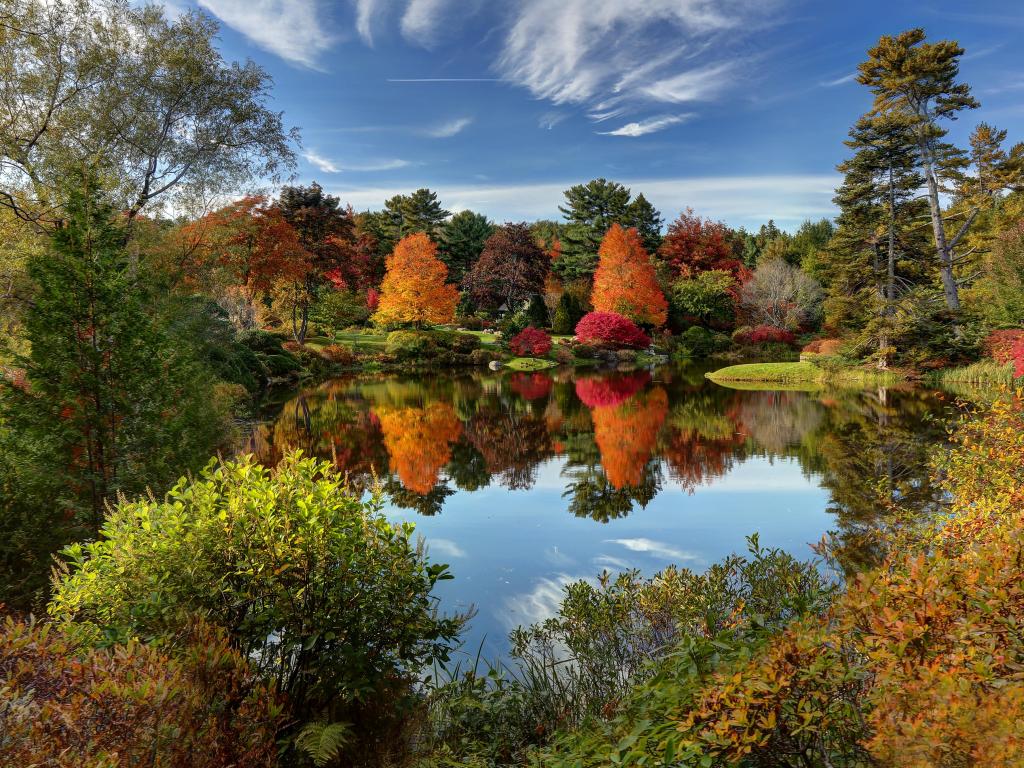 Best time to go on a road trip from Portland to Bar Harbor
This road trip can be completed year-round, but summer or fall is highly recommended as the weather is the best and you avoid any icy winds coming in from the coast. Be prepared as rain occurs many times during the year.
While summer is the busier season, the summer months are the best time to visit Maine. All seasonal attractions are open during the season and will make the coast and beaches more enjoyable.
Nights will be cool and comfortable, and days will be warm and enjoyable. Depending on where you are in Maine, temperatures can range from 50 to 85 degrees Fahrenheit.
Winters along coastal Maine can be snowy, which creates picturesque scenery. While you may not see much snow along the coast, cold winds are unavoidable. Unfortunately, many attractions aren't open during the winter. Temperatures can range from 15 to 25 degrees Fahrenheit.
Spring is characterized by some of the rainiest months of the year but also brings beautiful blossoms with it. If you want to stay dry, you can opt to visit during the warmer months or pack waterproof layers.
Fall provides some of the best experiences as inland Maine is adorned in stunning colors of fall foliage during this season. The weather will be chilly to mild with temperatures ranging from 40 to 60 degrees Fahrenheit.
If you are visiting in summer, check out the Bar Harbor Music Festival. This area is beautiful in winter as well. You can enjoy the Acadia Winter Festival if you are visiting during the colder months.