How long does it take to drive across California?
California, also known as "the Golden State," is home to some of the most beautiful and popular destinations in the USA. From the wild coast of the Pacific Ocean to the towering peaks of the Sierra Nevada Mountains, crossing California will be full of breathtaking scenery and adventure.
Crossing California north to south takes about 12 hours and 20 minutes and east-west route to San Francisco will take about 3 hours 30 minutes. Driving east-west to Santa Monica will take 4 hours and crossing the state from the direction of Phoenix will take 5 hours.
California is a big state and crossing it can be one of the most rewarding road trip experiences of a lifetime. Whether you're crossing the length of the great state or its narrower width, we've put together this reference for you to choose your ideal route and stops along the way.
Time to drive across California
Comparison of routes across the state of California
Route
Main road
Distance
Driving time
East to west


Nevada to San Francisco

I-80
210 miles
3 hours 30 minutes
East to west


Nevada to Santa Monica

I-15
240 miles
4 hours
East to west


Arizona to Santa Monica

I-10
250 miles
4 hours and 30 minutes
North to south


Oregon to Mexico

I-5
800 miles
12 hours 20 minutes
California is bordered by Oregon in the north, Nevada and Arizona in the east, and Mexico (Baja California) in the south. California features some of the most popular destination cities worldwide, such as Los Angeles, San Francisco, and San Diego, with Sacramento being the state's capital.
Driving through California is very straightforward. We've included the best routes that use the wide interstates that traverse the state.
Crossing California from Oregon in the north to Mexico in the south you'll travel 800 miles for over 12 hours without stopping. You'll be on I-5 South for most of the way.
If you choose to travel from Nevada in the east to the Pacific Ocean in the west going through San Francisco, you'll drive 210 miles for 3 hours and 30 minutes non-stop. This route will take you along I-80 West.
Another popular east-to-west crossing is from Nevada to Santa Monica directly through Los Angeles. This crossing will take you 240 miles along I-15 to Santa Monica and will take 4 hours.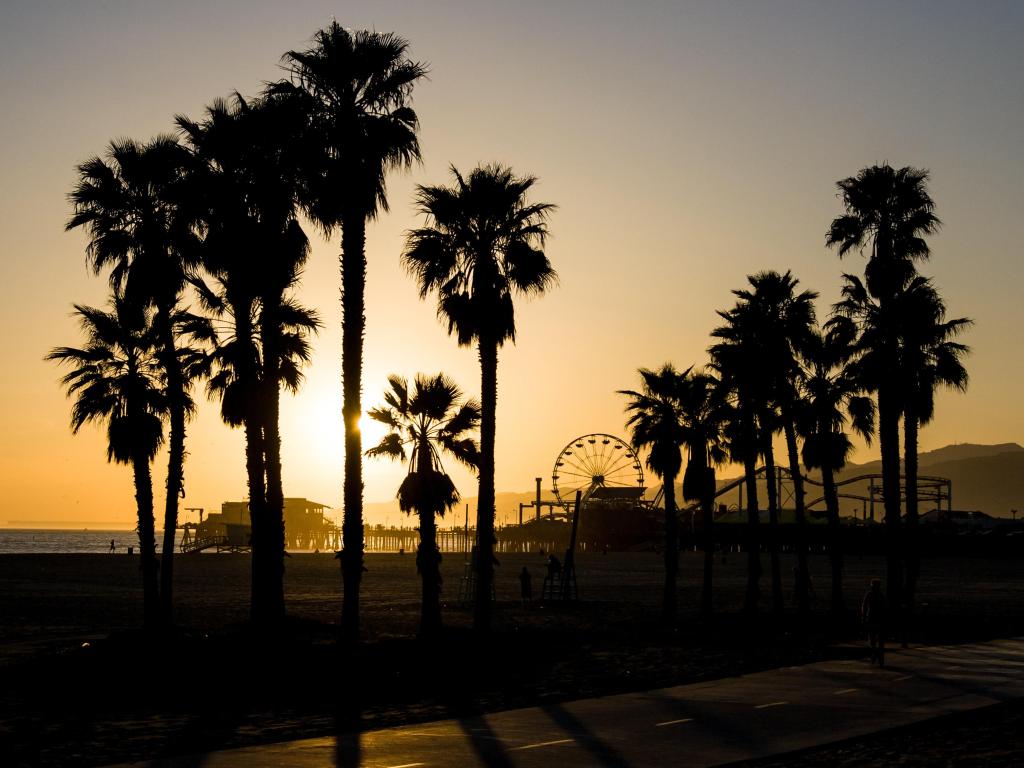 You can also choose to drive across California from Arizona, in the direction of Phoenix, in which case you will travel 5 hours to cover 250 miles to Santa Monica on the shores of the Pacific Ocean.
Driving across California from Oregon to Mexico
There is one main route that runs from the Oregon border to the Mexican border south of San Diego. This will take you through some amazing parts of the state including the edge of the Sierra Nevada Mountains and the Pacific Ocean.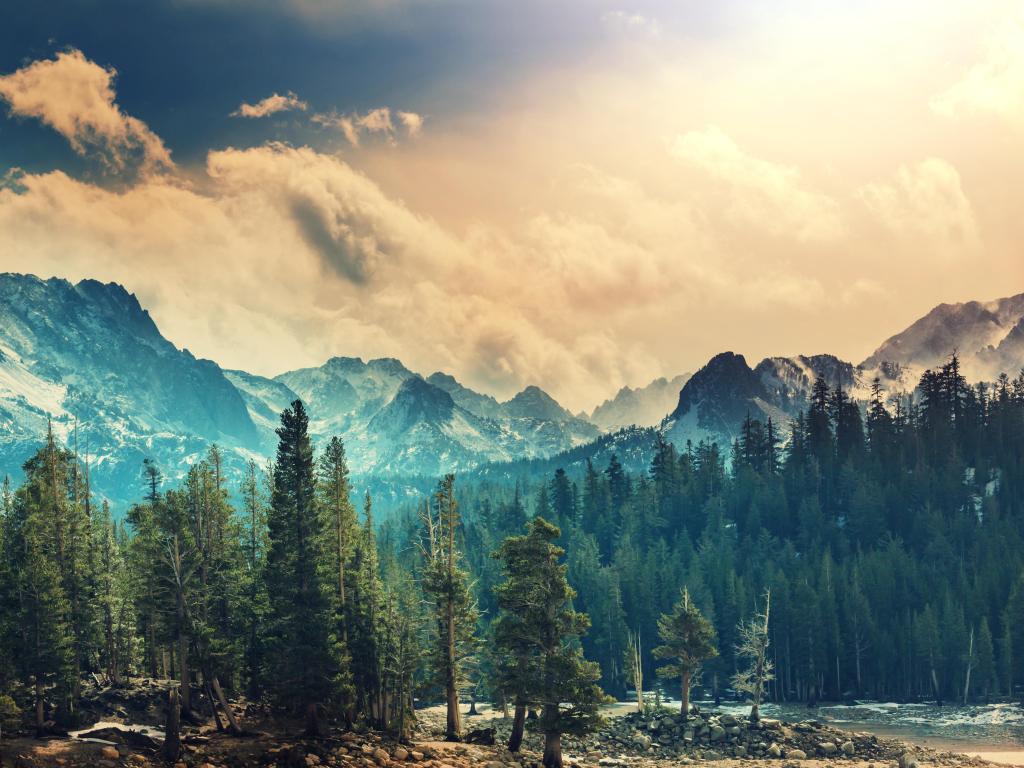 California is home to a few international hubs and popular metropolitan cities. Los Angeles and San Francisco (the latter is best to avoid on this route if you are looking for a speedy journey) are notoriously prone to congestion.
Since this is a long drive, we recommend you stop four times for meals and refueling if necessary with one overnight stop. We suggest stopping at Red Bluff (2 h 30 min drive, 150 miles from the Oregon border), Sacramento (2 hours from Red Bluff, 130 miles), Kettleman City (3 h 20 min, 210 miles from Sacramento), San Diego (4 h 30 min, 300 miles from Kettleman City).
We suggest making beautiful Sacramento an overnight stop to recharge. California's capital is about 4 hours and 40 minutes nonstop from the northernmost tip of California. Sacramento has a good hotel and motel scene that's really close to the main route.
Driving through California from Reno to San Francisco
Driving from Reno to San Francisco will be a beautiful journey through northern California's heartland. You'll get to drive through the mighty Sierra Nevada mountains, California's capital, and the endless central valley.
Given a short drive from Reno/Lake Tahoe area to San Francisco, we recommend stopping once, before entering Sacramento, which is 120 miles and 2 hours and 10 minutes away from the Lake Tahoe area, and 1 hour and 20 minutes away from San Francisco.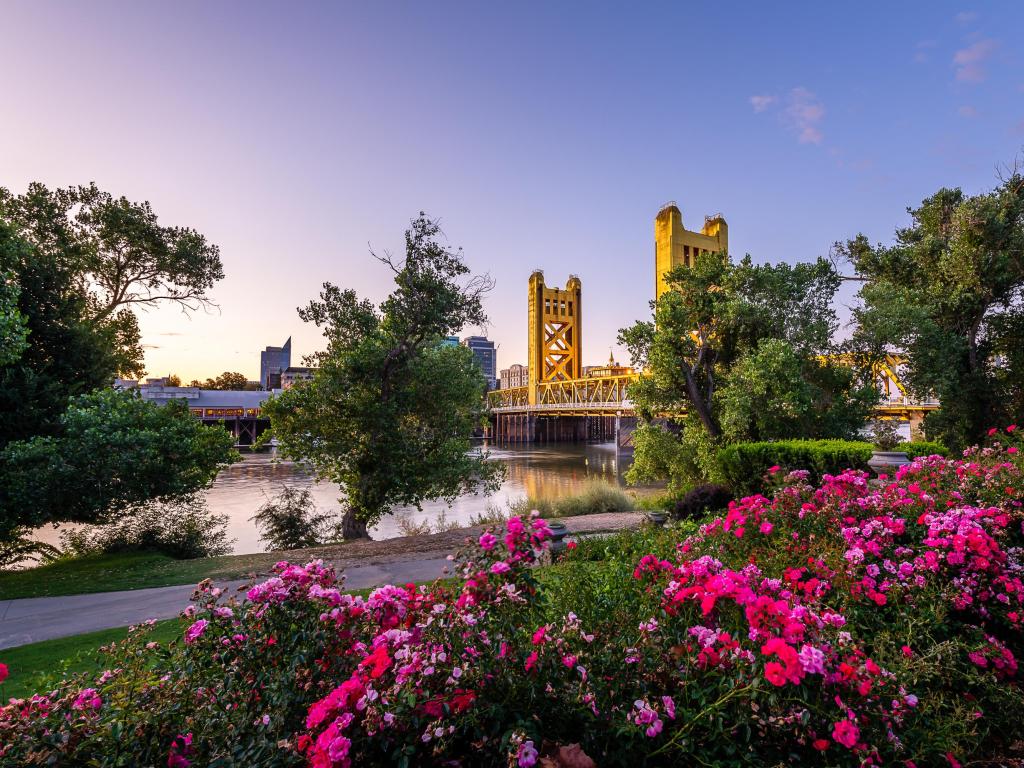 You can expect the most congested traffic around San Francisco. This city is known for its congestion problems, especially during rush hour. Anything from the bridge in Oakland to downtown is prone to experiencing severe traffic.
San Francisco was founded in the late 18th century, which means that its main roads are not equipped to handle many vehicles at once.
Driving through California from Las Vegas to Los Angeles
This route will take you through beautiful desert landscapes and America's second-largest city. We recommend taking a half day for this journey.
You can expect delays in and around Los Angeles, including the entry to Santa Monica. Rush hour is around 7-10 AM and 4-7 PM. Keep in mind that LA gets very busy during holidays as well.
The famous Walt Disney World Resort and Universal Studios in Anaheim draw lots of crowds, and therefore traffic.
We recommend stopping once along the way in Barstow, 1 h 50 min and 110 miles from the Nevada border. Traffic will pick up as you get into Los Angeles so this will be the perfect place to rest before the busy last leg of your journey.
Comparison of the routes that cross California

| Starting from | Arriving to | Distance | Driving time |
| --- | --- | --- | --- |
| Lake Tahoe | San Francisco, CA | 190 miles | 3 hours 40 minutes |
| Las Vegas, NV | Santa Monica, CA | 290 miles | 4 hours 30 minutes |
| Phoenix, AZ | Santa Monica, CA | 390 miles | 6 hours |
| Portland, OR | Tijuana, MX | 1,100 miles | 17 hours 10 minutes |
Things to know that can impact your driving time
Traffic can get extremely congested in and around Los Angeles, with often delays around Sacramento too. Be aware of possible road constructions which can also delay your journey.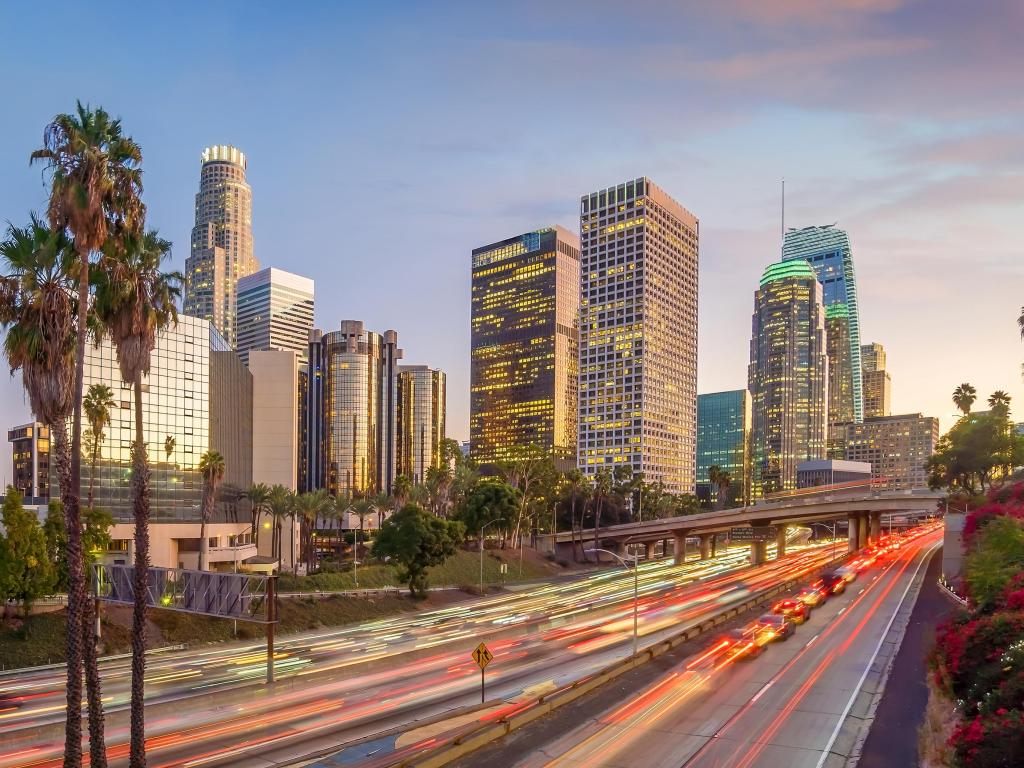 Rush hours sometimes bring huge delays, particularly in entries/exits to big cities, and on major interstate highways. Avoid traveling on Fridays. San Diego, Sacramento, and other smaller cities may see bad traffic as well.
Delays can occur anytime, but it is a good idea to keep an eye out for rush hours, which are between 7-9 AM and 4:30-6:30 PM.
Although California is known for having bright and sunny skies and perfect weather it does on occasion get dumped on. Winter rain storms come in fast and usually pack some heavy rainfall. We recommend always checking the weather before hitting the road and planning accordingly.
Tips to drive across California in the shortest possible time
There are a few things you can do to make your trip across California safe and comfortable. First, have two drivers available so that you can drive safely while your companion rests and the switch.
It is a great idea, especially in this age and day, to choose a car that is economical to minimize refueling stops. Keep in mind to avoid rush hour and holidays if you can.
You can stock up on snacks and make sure to have your favorite playlist handy, to enjoy the drive. Having snacks will also reduce the need for stops and detours. Since this is California, there is plenty of iconic music that sings about the places you'll be driving through.
Check road closures and warnings before setting off and always check the weather report. California can get strong rainstorms in the winter which can reduce visibility and make the road slick.