How Long Does It Take To Drive Across Pennsylvania?
Pennsylvania is one of the country's most populated states, and also one of its smallest. That means that the relatively short drive across the Keystone State can take you past some vibrant towns and cities, as well as stretches of fabulous mountain scenery.
It takes 5 hours 30 minutes to drive the 335-mile route across Pennsylvania that runs from West Virginia to New Jersey, but allow extra time for food, fuel or sightseeing stops. Alternatively, you can travel from New York down to Maryland in around 4 hours.
Whether you'll be spending time exploring Pennsylvania, or maybe driving through as part of a bigger trip, keep on reading for all the information you need to plan your journey.
How long does it take to drive across Pennsylvania?
Comparison of routes across the state of Pennsylvania

| Route | Main road | Distance | Driving time |
| --- | --- | --- | --- |
| West to east | I-76 | 335 miles | 5 hours 30 minutes |
| North to south | I-81 | 230 miles | 4 hours |
| Northeast to southwest | I-95 | 55 miles | 1 hour |
The time it will take you to drive across Pennsylvania depends on where you start and end your route.
The most commonly travelled route across the state takes you from West Virginia to New Jersey. This West-to-East Route takes around 5 hours 30 minutes of straight driving time, but you should allow at least a couple of hours extra if you plan on stopping along the way.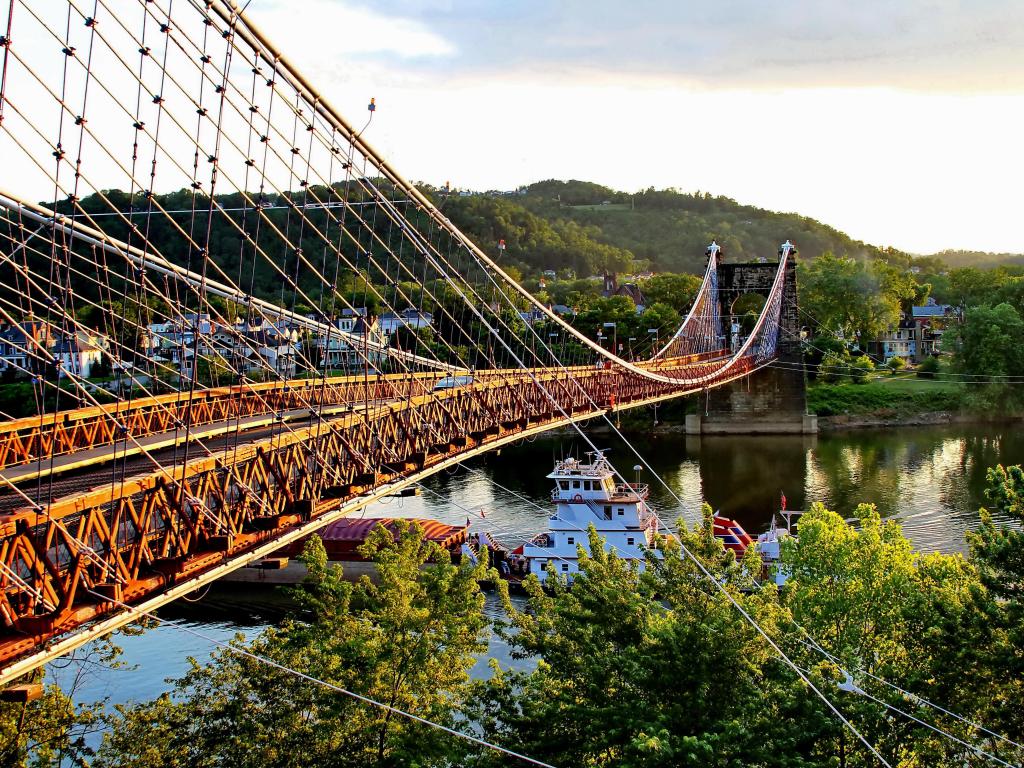 If you're heading from the state of New York in the north down to Maryland in the south, your drive will be a little shorter. This alternative route takes 4 hours to drive.
And let's not forget the short drive across Pennsylvania that you'll take if you're heading from New York to Baltimore or Washington DC. These popular road trip routes will see you driving for a little less than an hour, if the traffic's in your favor.
Of course, there's a high chance you'll be driving across Pennsylvania en route to another destination. Check out the table below to get an idea of driving times and distances between some common start and end points for drivers crossing the state.
Comparison of intercity routes that cross Pennsylvania

| Starting from | Arriving to | Distance | Driving time |
| --- | --- | --- | --- |
| New York | Pittsburgh | 370 miles | 6 hours 10 minutes |
| New York | Philadelphia | 90 miles | 1 hour 50 minutes |
| New York | Washington DC | 230 miles | 4 hours 10 minutes |
| Syracuse | Washington DC | 380 miles | 6 hours 20 minutes |
Driving across Pennsylvania from West Virginia to New Jersey
The most common way to cross Pennsylvania is along the west-east route which links West Virginia and New Jersey. It's a pretty straightforward 340-mile drive.
You'll cross into Pennsylvania on Interstate 70 (I-70), near Valley Grove WV, and continue east until New Stanton, where you merge onto I-76.
On this first part of the drive, you'll be passing just south of Pittsburgh, so it's an easy detour off the interstate if you want to spend some time in the city. Factor in some extra time if you're heading to Pittsburgh, since traffic in the city can be significant, especially during rush hour.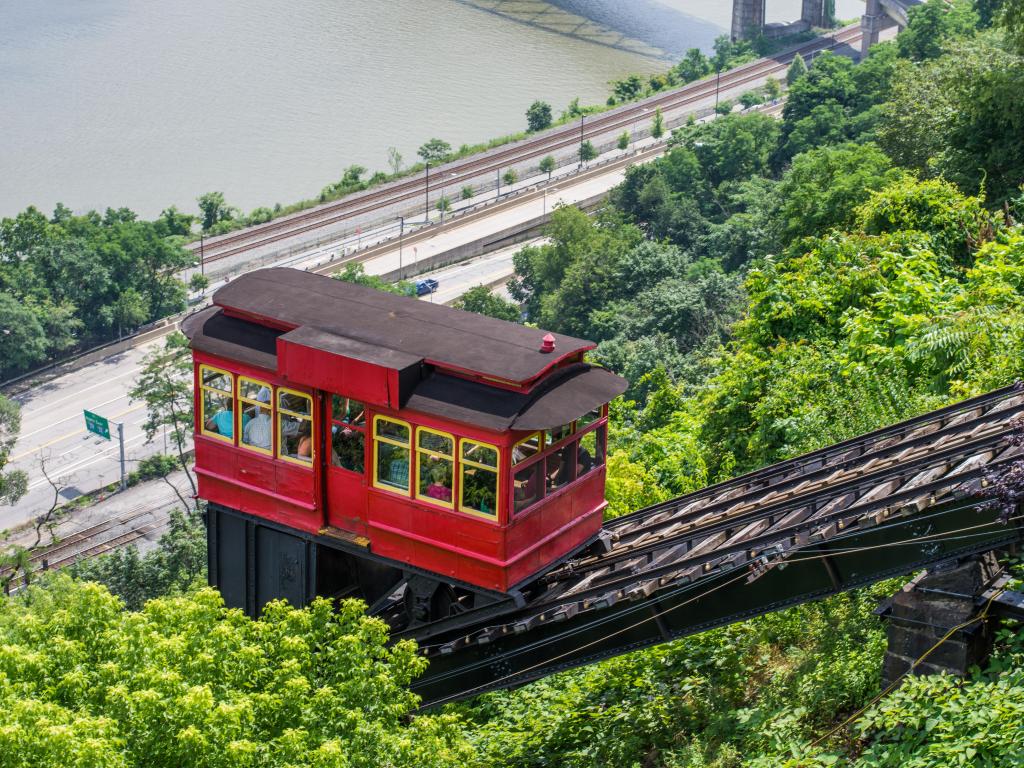 From New Stanton, all that's left is to follow the interstate all the way to Philadelphia, where you'll cross over into New Jersey via the Walt Whitman Bridge.
Along the way, you'll pass Manns Choice, which at 2 hours 20 minutes into your journey would be a well-timed rest break. From here you can visit Shawnee State Park and Coral Caverns.
Carrying on east the route cuts through the northern end of the Appalachian Mountains, so you could stop to visit Tuscarora State Forest. Then, just after crossing the Susquehanna River you have the option of detouring into Hershey to celebrate all things chocolate.
Driving through Pennsylvania from New York to Maryland
This is the route you're most likely to follow if you're heading south from Syracuse or Rochester, and the most common entry point into Pennsylvania, if you're coming from the north, is near Kirkwood, in New York State.
Once you've crossed into Pennsylvania it's a straightforward drive along I-81, which takes you right the way to Maugansville in Maryland.
On this 230-mile drive, you'll pass the towns of Scranton and Harrisburg, as well as enjoy a scenic stretch through the state's forest-covered hills.
To break up the journey, we'd suggest a stop in Harrisburg, which is 3 hours into your drive. You'll have traveled 175 miles through the state by then, so you'll be ready to stop and stretch your legs.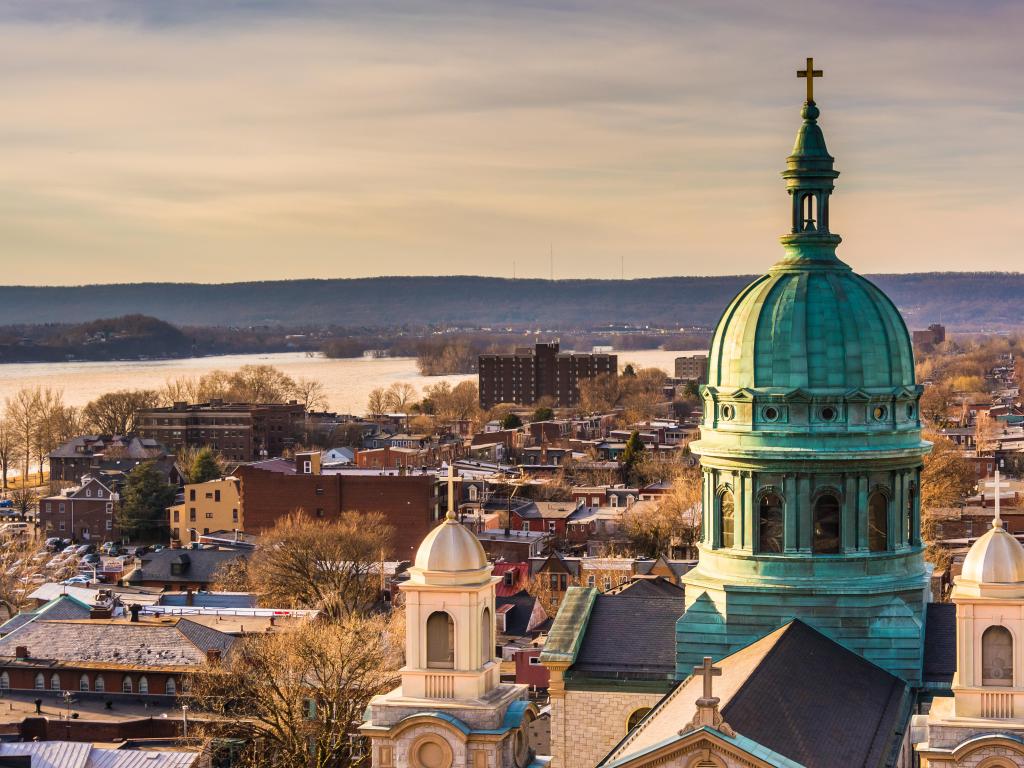 Harrisburg, the capital of Pennsylvania, is famous for its historic and industrial past, so it's excellent as a short sightseeing stop, and there are plenty of places to get a meal or refreshments.
Allowing for a stop in Harrisburg, you should expect your total travel time on this route to be 5 hours 30 minutes.
Crossing Pennsylvania from New Jersey to Delaware
From your entry point into the state via Trenton, NJ, to Claymont, DE, where you'll leave it, this short hop across Pennsylvania follows the Delaware River almost all the way. You'll spend the entirety of this short drive on I-95.
The 50-mile route carries you right all the way across the outskirts of Philadelphia, so if you'd like to make a stop along the way you can exit the interstate to visit some of the historic attractions of one of the great American Cities.
Although the drive itself will only take about an hour, there's so much to see in Philly that you should give yourself at least 2 hours in the city. That takes the total travel time upwards of 3 hours if you drive across Pennsylvania from New Jersey to Delaware.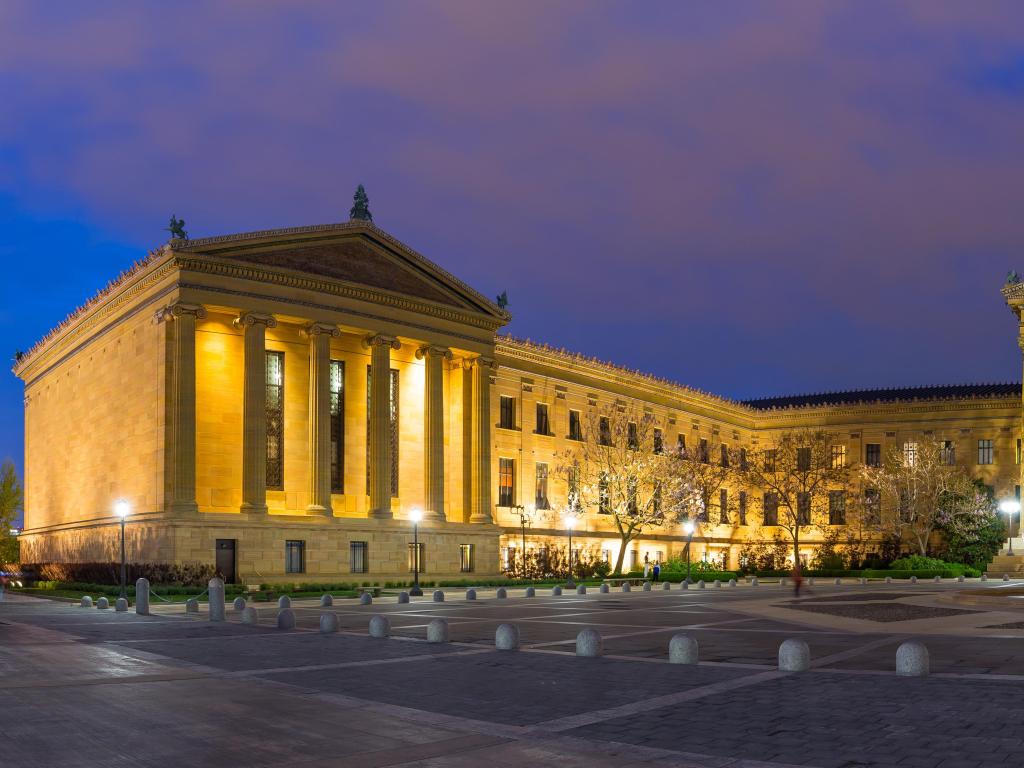 Things to know that can impact your driving time
There are two main things that are likely to impact on your driving time on these routes: traffic conditions, and the fact that there are so many places to visit along the way.
Since driving takes barely half a day, even on the longest route, we'd suggest stopping at least once along the way. This will affect your driving time, and we've allowed an extra 2 hours if you're visiting Pittsburgh or Philadelphia, but of course, you could spend a lot longer in the cities if you have the time.
On the main route from West Virginia to New Jersey, traffic can add up to an hour onto the average travel time, or more if you hit a construction zone on I-76. On the route from New York State to Maryland, you should also expect traffic around Scranton and Harrisburg.
The drive along I-95 from New Jersey to Delaware is notorious for its traffic, particularly as you'll spend most of this route option travelling through the Great Philadelphia area.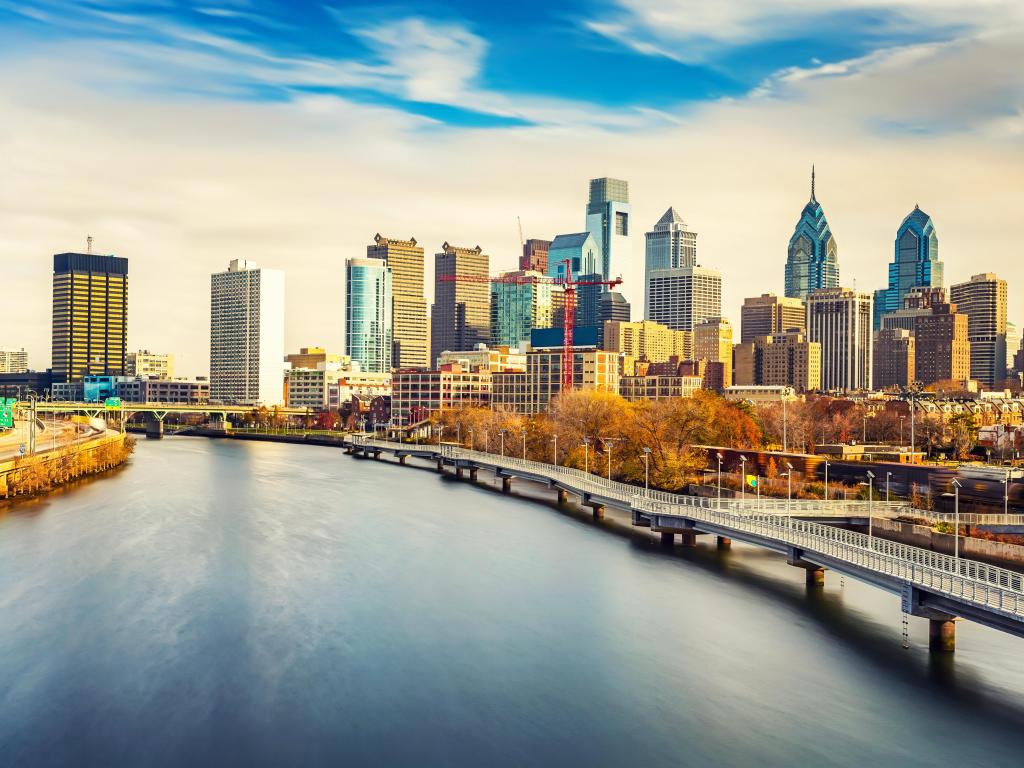 In winter, snow can also slow down the traffic in Pennsylvania State, so check for local advice if you're taking your drive in the colder months.
Whichever route you take, you'll spend most of your time on the interstate, except for any detours you take into the cities. You should expect speed limits of 65 mph, which means you might not cover the distance as quickly as you'd expect.
Our routes and time estimates take Pennsylvania speed limits into account, but we can't predict any closures, roadworks or diversions that might slow you down a little. Be sure to check local information before setting out, especially if there's a chance that adverse weather conditions might also affect your journey time.
Tips to drive across Pennsylvania in the shortest possible time
Driving across Pennsylvania is a pretty short trip, no matter which direction you are traveling from and to, but keep in mind that there are certain pointers to keep in mind to avoid delays and drive across Pennsylvania in the shortest time possible.
With so many major cities along the way, it makes sense to try and time your drive to avoid the weekday rush hours. You might also find that traffic is less substantial on a Sunday.
Other than that, make sure your vehicle is fueled up and that you have all the snacks and entertainment you need, so that you can avoid any unnecessary stops that would slow you down.