Road Trip from Raleigh, NC to Niagara Falls
If you're looking for southern charm with a city vibe, then the road trip from Raleigh to Niagara Falls is the ideal adventure. Taking you through the wilderness of the mountains along the epic Blue Ridge Mountains, you'll arrive at your destination in awe at the wonder of the falls.
The 660-mile road trip from Raleigh to Niagara Falls takes 15 hours to drive. Key stops include Appomattox, Pittsburgh, Winchester and Buffalo, as well as Blue Ridge Mountains, Lake Erie, Camp Creek State Park, West Virginia and Moraine State Park.
To help you make the most of your journey, we've set out the best routes and places to stop overnight, as well as our favorite things to do along the way and the best time of year to make the trip from Raleigh, NC to Niagara Falls.
How far is Niagara Falls from Raleigh and how long will the road trip take?
Comparison of road trip routes between Raleigh, NC and Niagara Falls

| Route | Distance | Driving Time |
| --- | --- | --- |
| The Pittsburgh Route | 780 miles | 13 hours |
| The Shenandoah Route | 660 miles | 15 hours |
The quickest drive from Raleigh, North Caroline to Niagara Falls spans a distance of 780 miles, taking you through the iconic city of Pittsburgh, and takes 13 hours of non-stop driving.
An alternative route, taking you through the Blue Ridge Mountains, is a shorter distance of 660 miles, but given the winding (but stunningly scenic) roads you will drive on, it will take you longer to complete at closer to 15 hours.
Given the distance and incredible scenery you'll pass along the way, we'd recommend spending a minimum of three to four days to complete the trip. This will allow you several overnight stops along the way, giving you more opportunities to get the very most out of it.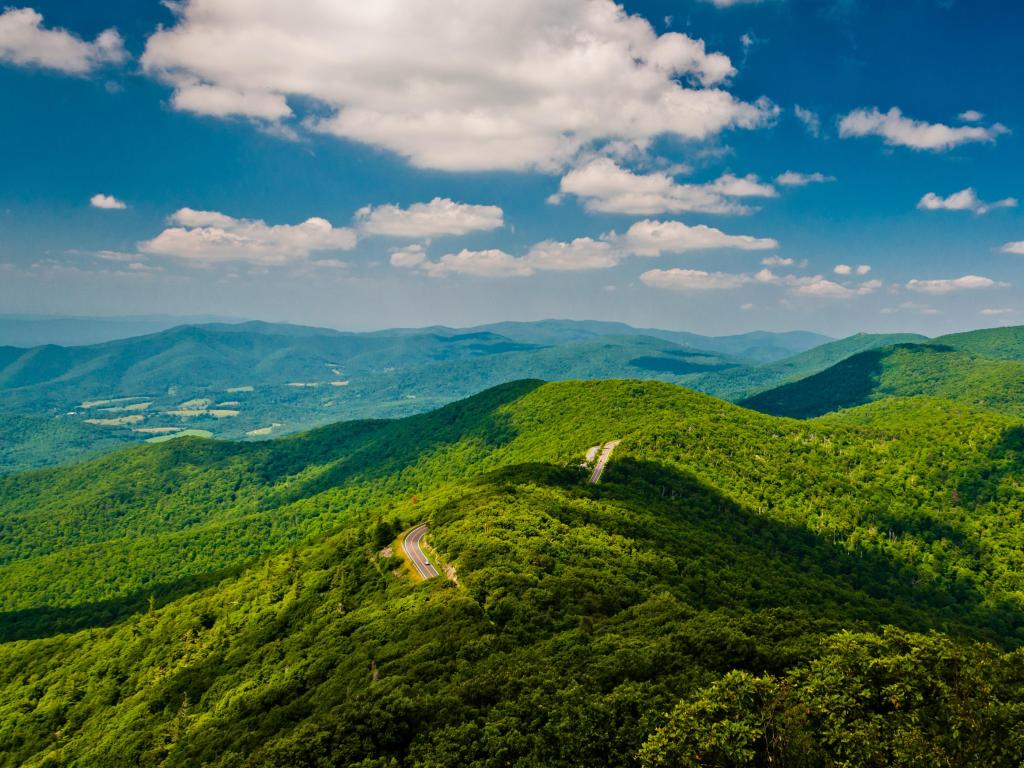 Best road trip route from Raleigh to Niagara Falls
Both route options offer incredible views taking you from the state of North Carolina all the way to Niagara Falls. The best route will largely depend on exactly what type of scenery you fancy and which great cities you'd like to visit along the way.
Our Pittsburgh Route takes you on a journey through a section of what's considered one of the most spectacular drives in the US: the legendary Blue Ridge Parkway. Along the way, you'll find state parks and a drive surrounded by mountains and greenery.
As you head north, you'll reach Pittsburgh and its iconic art galleries and museums. You'll cover more miles on this route but will be rewarded with a good selection of cities, as well as Lake Erie. Be prepared for a slower drive on the Blue Ridge Parkway - a perfect excuse to take in the views.
While not the fastest, the Shenandoah Route passes through the heart of the Shenandoah National Park. This route covers 80 miles on the stunning Skyline Drive, which begins where Blue Ridge Parkway ends and offers an immersive experience of the Blue Ridge Mountains.
The extra miles on Skyline Drive do add a considerable amount to the journey time since the roads are narrow, but you'll appreciate the views so much more for it. After the scenic drive, you'll still pass through several cities including Winchester and Buffalo.
The Pittsburgh Route
Leave Raleigh in North Carolina on Interstate 40 (I-40), heading west through Burlington and towards Greensboro. You can head into the city or drive along the outskirts, still following the interstate as far as Exit 188.
Take US-421 to Exit 265A where you'll join Interstate 77 (I-77) North towards Elkin. From here take US-21 to Roaring Gap. From here you'll join the scenic Blue Ridge Parkway and enjoy stunning views as you pass into Virginia.
You'll leave the Parkway and join I-77, still heading north, through Fort Chiswell where you'll take Interstate 81 (I-81) a short drive before reaching Exit 72 and getting back on I-77.
Continue heading north, eventually crossing into West Virginia and through Camp Creek State Park. Follow I-77 to Exit 48 where you'll switch to US-19, past Mount Hope and Mount Lookout, beside Gauley River National Recreation Area.
Eventually, the road will merge back with Interstate 79 (I-79), passing through several smaller towns, near Coopers Rock State Forest before reaching Exit 18 which you'll take to continue on the same interstate heading north.
Take Exit 59A to arrive in Pittsburgh, Pennsylvania. A great overnight stop on this route as it's just a 4-hour drive from here to Niagara Falls.
After exploring this great city, feeling refreshed and energised, you'll need to join Interstate 279 (I-279) before merging back with I-79. Make a quick detour to discover Moraine State Park, before continuing to head north on the interstate.
Driving through several towns, you'll eventually reach Exit 178A which takes you onto Interstate 90 (I-90) alongside Lake Erie. Follow the coast, taking Exit 58 for NY-5, stopping at Lake Erie Beach for a stretch of your legs.
Continue to follow NY-5 to Buffalo, a great final city to take a well-deserved rest before embarking on your final stretch. Take Interstate 190 (I-190) from the city and follow it north to Niagara Scenic Parkway and finally to the falls.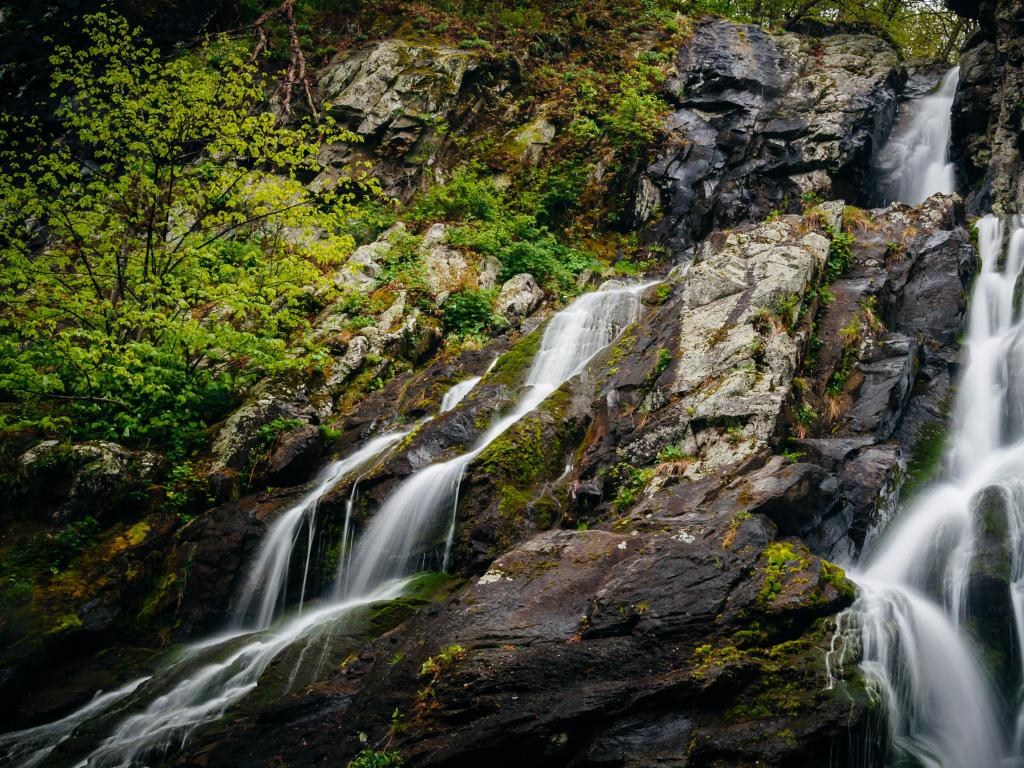 The Shenandoah Route
Our alternative route takes you on NC-50 north before joining US-15 through several towns before reaching Fort Mitchell. From here switch to VA-47 north to Appomattox in Virginia.
Next take US-460 west, US-60 and VA-151. All these road changes will be worth it as you'll join the Skyline Drive Scenic Roadway, a simply stunning drive that'll take you through the Shenandoah National Park.
Take advantage of the many overlook points for photos or simply marvel at the scenery as you drive along it, before reaching US-211 West. This is also a great point for a scenic overnight stop.
Continue next on US-340 north before taking US-522 all the way to the city of Winchester, another overnight option if you'd prefer a city vibe to a rural retreat.
Leave Winchester on US-522, crossing over into West Virginia and past Sleepy Creek Wildlife Management Area. Just past the town of Hancock you'll switch to PA-655 in the state of Pennsylvania.
Continue on this stretch past Raystown Lake Recreation Area and through Three Springs, before joining US-22 west and PA-453. Switch to PA-153 and drive through Moshannon State Forest.
Turn right onto US-219 heading north, through Lafayette and alongside Allegany State Park. Continue on this stretch through several more towns before turning right onto NY-5. At this point the route joins the one above, taking you through Buffalo and joining I-190 to your destination of Niagara Falls.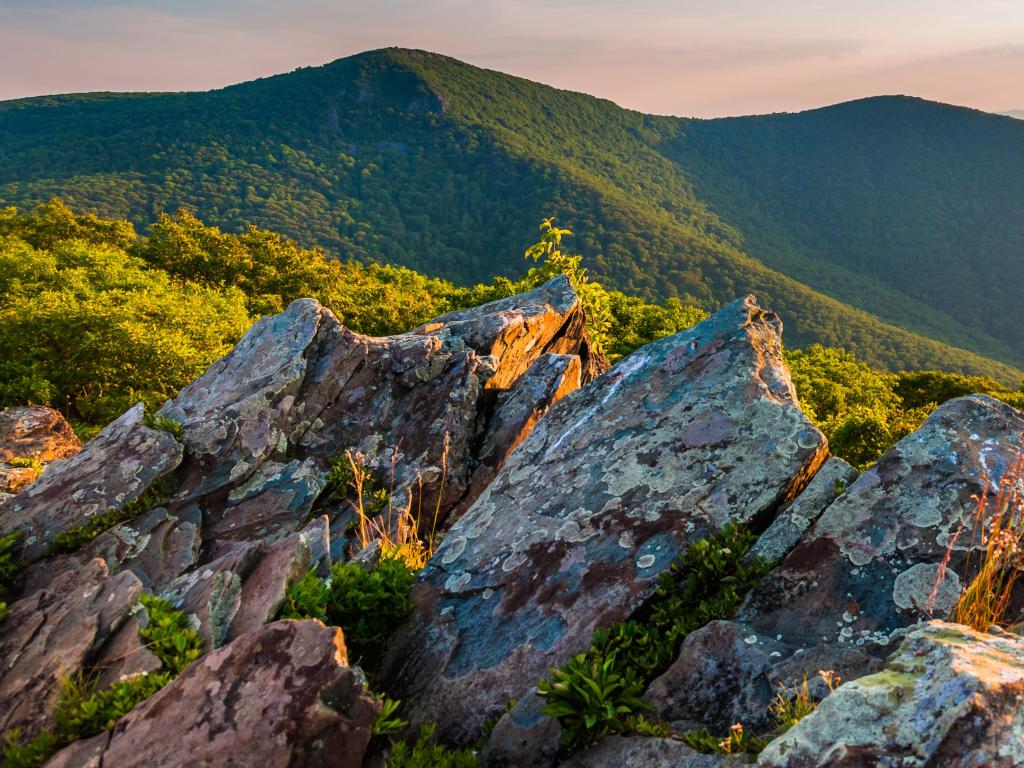 Best places to stop between Raleigh and Niagara Falls
The road trip between Raleigh, NC and Niagara Falls is a reasonable distance, meaning that you'll definitely need a couple of overnight stops along the way to make sure you're well rested for the drive and to enjoy more of the great scenery you'll be passing.
There are plenty of great cities, towns and rural options for places to stay, but here are a few of our favorites:
Stay in "the Steel City", Pittsburgh
Given that the route is named after it, an overnight stop at Pittsburgh is almost a rite of passage. Located just 4 hours from Niagara Falls, Pittsburgh is also ideally placed as a final rest before embarking on your final day of driving.
Known as the Steel City, due to it being the center of the steel industry, nowadays Pittsburgh is full of culture and is a hotspot for nightlife. There's also a significant number of art galleries to explore, and a fantastic downtown area.
You'll be spoilt for choice when it comes to finding a hotel in Pittsburgh, but for one of its best, a night at Renaissance Pittsburgh Hotel won't disappoint. The stunning interior will make you not want to leave, while if you're too tired to explore, there are two fabulous restaurants onsite.
This 4-star hotel offers fantastic views and guests can relax in the stunning lounge area with a domed roof, the beautifully decorated bar or just relax in the modern and stylish rooms.
Centrally located, the hotel is just a short walk from The Andy Warhol Museum, as well as the major galleries and museums. You're also conveniently close to the main interstate to continue your journey.
If you want to wind down after your long drive, why not take a visit to The Phipps Conservatory? Pittsburgh's green botanical gardens are a serene haven amid the bustle of the city and make the ideal spot to relax before embarking on the rest of your drive.
Stunning views in Luray
If you've opted to follow the Shenandoah Route, then a scenic town ideally placed a third of the way to Niagara Falls, is Luray in Virginia. It's ideally placed at the end of your stint on Skyline Drive, which means you can take a relaxing break.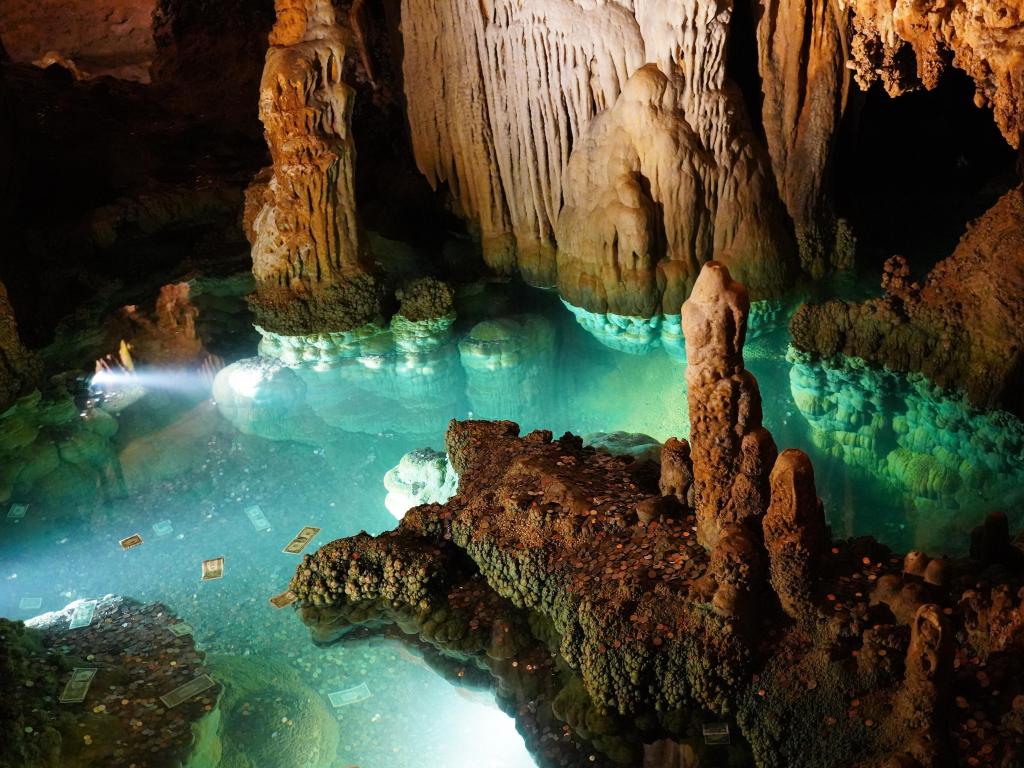 Sitting in the Shenandoah National Park, Luray is famous for its views of the Blue Ridge Mountains. If that's not alluring enough, it also has an underground cave system that you can explore. The Luray Caverns feature 140-foot columns and impressive stalactites.
If you'd prefer to stay above ground, there's the Shenandoah Heritage Village to explore which recreates life in a rural farming community in the nineteenth century. There's also the Car and Carriage Caravan Museum, which features vintage cars including an 1892 Mercedes-Benz.
After a busy day exploring or hiking (depending on your preference), Hotel Laurance is the perfect luxurious stay. This 5-star hotel promises the celebrity treatment. Expect large beds and relaxing spa-style showers, which will help revitalize you ready for the next leg of your journey.
The beautiful property also boasts stunning gardens surrounding it, waiting to be explored, and optional terraces with garden views in some of its splendid rooms. You'll also be conveniently close to Luray Caverns and Pinnacles Viewpoint.
An unforgettable stay at Niagara Falls
Prepare to be wowed as you arrive at the stunning Niagara Falls. A group of three waterfalls, spanning the border of Canada and the US, Niagara Falls is one of the most popular destinations in the world.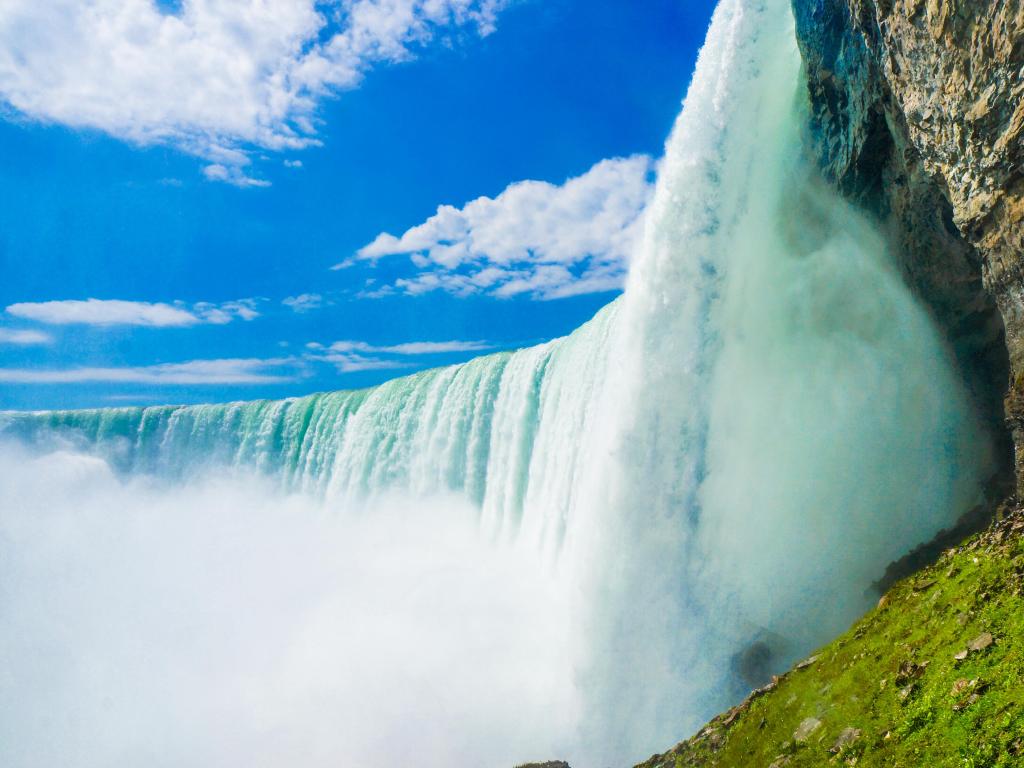 Thought to be the fastest-moving waterfall, the most popular Horseshoe Falls is the tallest at 188 feet tall and 170 feet deep. Take a walk to the edge or view the falls from the water, regardless of what time of year you arrive, you'll be guaranteed a spectacular view.
To top off your visit, a stay at The Cadence is a solid option. This new hotel has a great contemporary interior and features onsite parking. Best of all, Niagara Falls State Park is less than a mile away and the Maid of the Mist is even closer.
This 5-star hotel might be on the pricy side, but its fantastic location, amenities and modern, sleek design make it a really convenient option, which is especially important after a long drive to get here!
Things to see on a road trip from Raleigh to Niagara Falls
There's so much to see on this road trip from Raleigh to Niagara Falls, that you could easily spend a month just visiting them all. If you're pressed for time, here are some of the highlights along the way:
Both Routes
The Blue Ridge Mountains - Both routes take you through the Blue Ridge Mountains. If the mountains are on your bucket list, the Shenandoah Route will offer a more immersive experience of the mountains.
Canalside, Buffalo - Buffalo has invested big money into the Canalside. Take a stroll to soak in the atmosphere and you'll fall upon the Naval & Military Park.
Buffalo City Hall, Buffalo - The art déco Buffalo City Hall is an iconic building. If outside photos aren't enough, you can visit the observation tower for panoramic views of the city.
Theodore Roosevelt Inaugural National Historic Site, Buffalo - They inaugurated Theodore Roosevelt as President of the United States in Buffalo, NY. The Theodore Roosevelt Inaugural National Historic Site tells the story.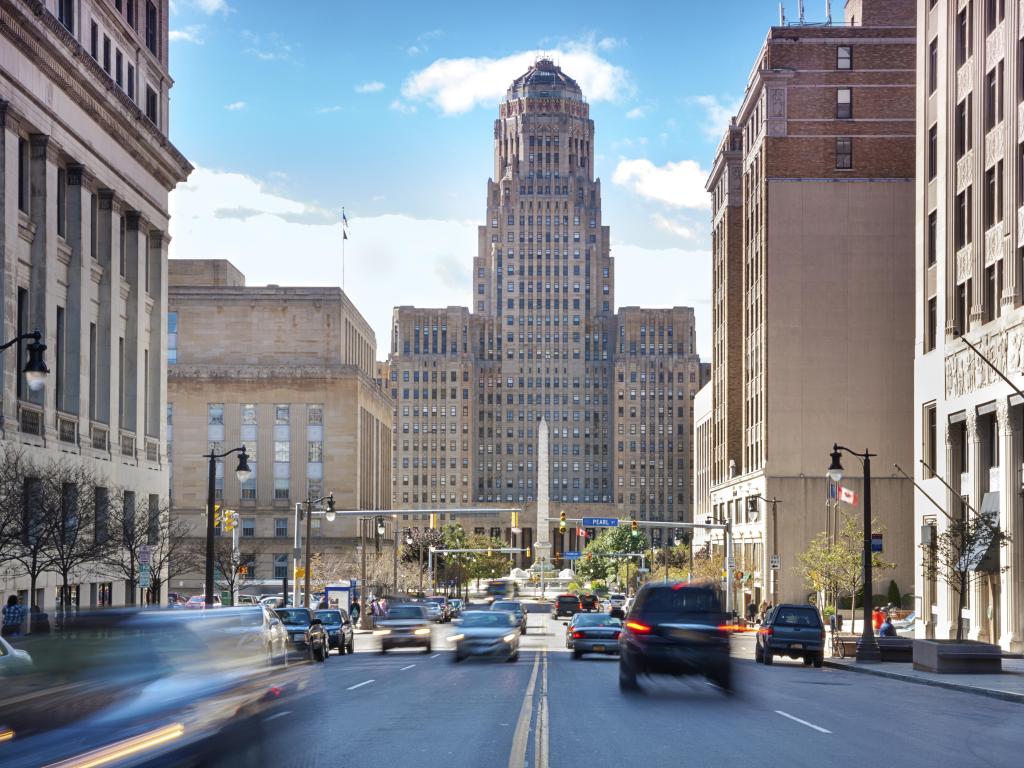 The Pittsburgh Route
US 21 Overlook, Thurmond - Before entering the Blue Ridge Parkway, stop at US 21 Overlook. A small vista point to stretch your legs and take a moment to admire the views. Especially iconic at sunrise.
Blue Ridge Parkway, Virginia - By driving through the Blue Ridge Parkway, you'll have a once-in-a-lifetime view of the Blue Ridge Mountains. It's a prominent US recreational road with photo opportunities galore.
Camp Creek State Park, Camp Creek, WV - Hiking and horseback riding are two of the many outdoor activities available at Camp Creek State Park. A great place to relax and take in the beauty of West Virginia.
Moraine State Park, Portersville, - At Moraine State Park, you'll have ample opportunity for swimming, boating, hiking, and fishing. Or, take a picnic and enjoy a scenic rest stop.
Andy Warhol Museum, Pittsburgh - Andy Warhol was a prominent force in the Pop Art movement. At the Warhol museum, you can take in original works with the massive selection of Warhol art.
Fort Pitt Museum, Pittsburgh - Here you'll learn about Pittsburgh in its infancy. You'll walk away with knowledge of how history shaped the city into what it is today.
Wood Street Galleries, Pittsburgh - The Wood Street Galleries are open to the public for free. Discover exceptional visual art created by artists all over the world.
Lake Erie Beach, Erie - Lake Erie is the fourth biggest lake in the USA. At Lake Erie Beach Park, you can experience the vastness and take a dip in the water, only if the weather permits, of course.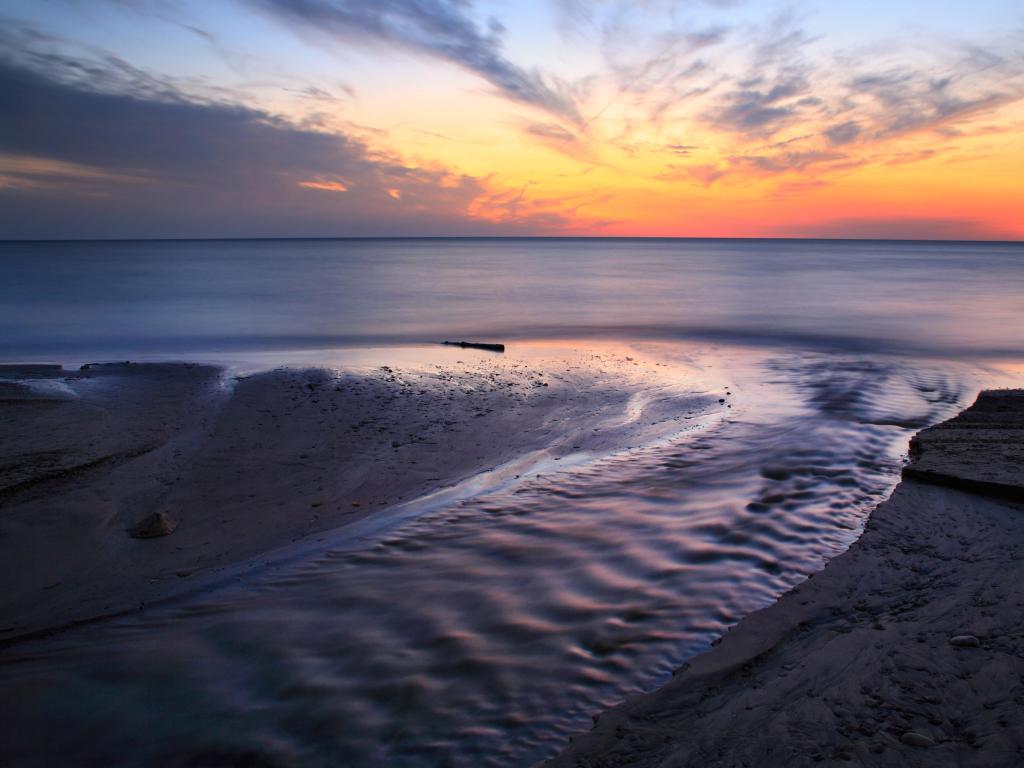 The Shenandoah Route
Falls Lake State Recreation Area, Wake Forest - With over 300 campsites scattered around the 12,000-acre reservoir, here you can find your own private space to enjoy Falls Lake.
Prestwould Plantation, Clarksville - Prestwould dates back to 1974. It's thought to be the most intact plantation in the Virginia region.
Skyline Drive, Virginia - Skyline Drive is the unsung hero of American roads. It flows straight through the Shenandoah National Park. Take advantage of the many overlook points for photos or simply marvel at the scenery.
Skyline Caverns, Front Royal - Marvel at the underground wonder of the Skyline Caverns. Tours run every 30 minutes between 9 AM - 4 PM and last an hour, so it won't take away too much journey time.
Old Town, Winchester - The old town of Winchester is a quaint stop-off. There's a mall with outdoor cafes, unique shops, and points of historic interest.
Art's Cafe, Springville - A stop-off at Springville will have you yearning for more of small-town America. There are flea markets and the Art's Café, which is both a bakery and an arts center.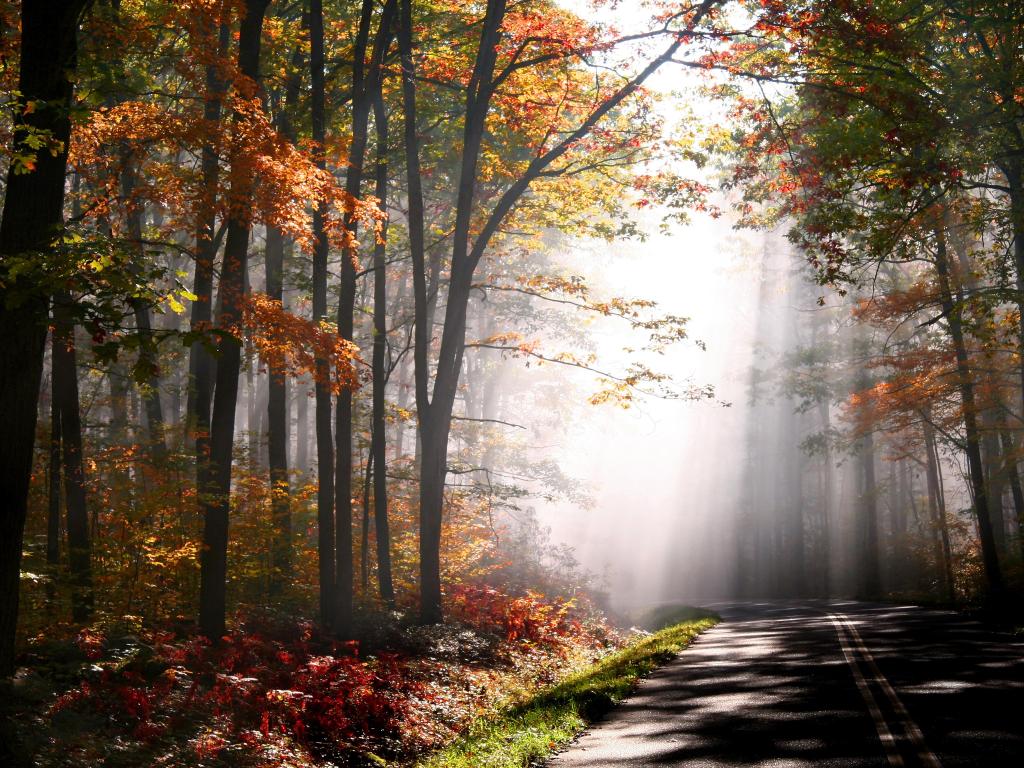 Best time to go on a road trip from Raleigh to Niagara Falls
Niagara Falls, as a major landmark, is popular all year round. That said, the climate changes all year around. So if you'd prefer to visit under certain conditions, consider the time that you visit. Throughout the year, temperatures range from 18 to 81 degrees Fahrenheit.
While summer is a great time to visit, the months of July and August are the busiest time to arrive at Niagara Falls. What's more, with temperatures ranging from 64 to 81 degrees, it can get quite hot and uncomfortable.
The shoulder months of June and September are ideal, as you'll experience less crowding and instead will enjoy less extreme temperatures. Early spring temperatures range from 26 to 40 degrees, but September is warmer, between 54 and 70 degrees. Plus you'll get great fall colors on your drive.
During winter you can experience freezing temperatures at Niagara Falls, between 18 and 30 degrees. Although it's rumored the falls freeze, this isn't the case. In fact, it's the mist that freezes, making it look like the falls have stopped. If that appeals to you, winter may be an ideal month, but if you want to witness the falls in full force, opt for warmer months.
If you'd like to include an event or two to your trip, you'll find that from August to September there are some great festivals in Niagara Falls. Though these are in the town itself. Make sure to check out the Niagara Blues Festival if you are visiting in September.