How Long Does It Take To Drive The Blue Ridge Parkway?
The Blue Ridge Parkway is a scenic road that travels 469 miles through the states of North Carolina and Virginia. It runs through the Blue Ridge Mountains, part of the Appalachians, offering fabulous views for much of the route.
It takes at least 12 hours to drive the whole 469 miles of the Blue Ridge Parkway. You'll pass through Asheville, Blowing Rock and Roanoke plus scenic landmarks like Grandfather Mountain, Linn Cove Viaduct, Otter Lake Overlook and Mabry Mill.
Whether you're looking to hike, climb or simply enjoy the views, a trip along "America's Favorite Drive" is sure to be a memorable one. With so many miles to cover and hundreds of viewpoints and trails along the way, keep on reading to find out more about the highlights of this unforgettable route.
How long is the Blue Ridge Parkway?
The Blue Ridge Parkway is 469 miles long, winding its way through some of the most beautiful landscapes in the United States.
The Blue Ridge Parkway begins just southeast of Waynesboro, Virginia and ends at the banks of the Oconaluftee River, five miles north of Cherokee in North Carolina.
All along the route you'll find mileposts to help track progress and guide you to popular stopping points. These are measured from north to south so we've given them in that order here to keep things simple, but of course, you can drive the route in either direction.
Time to drive the Blue Ridge Parkway
Driving the entire length of the Blue Ridge Parkway will take you at least 12 hours 25 minutes, without stops. As this is one of the United States' most glorious roads, however, you'll definitely want to pause frequently to stretch your legs and take in the incredible views.
To help with planning your trip, we've listed the driving time and distance to some of the most popular overlooks, trails and landmarks along the route.
Approximate distances and driving times to the best scenic overlooks on The Blue Ridge Parkway
Overlook / Landmark
Milepost
Driving time
Ravens Roost
10.7 miles
17 minutes
House Mountain Overlook
49.3 miles
1 hour 19 minutes
Otter Lake Waterfalls
63.1 miles
1 hour 41 minutes
Roanoke (South)
120 miles
3 hours 8 minutes
Devil's Backbone Overlook
143.9 miles
3 hours 49 minutes
Mabry Mill
176.1 miles
4 hours 37 minutes
Wildcat Rock Overlook
238.6 miles
6 hours 15 minutes
Cascade Falls
272 miles
7 hours 4 minutes
Linn Cove Viaduct
304 miles
8 hours 2 minutes
Linville Falls
316 miles
8 hours 23 minutes
Chestoa View Overlook
320.7 miles
8 hours 29 minutes
Ridge Junction Overlook
355 miles
1 hour 48 minutes
Asheville
384 miles
2 hours 29 minutes
Big Ridge Overlook
403.6 miles
10 hours 37 minutes
East Fork Overlook
418.3 miles
11 hours
Waterrock Knob
451 miles
11 hours 55 minutes
Bunches Bald Overlook
459.5 miles
12 hours 9 minutes
Parkway South End
469 miles
12 hours 25 minutes
Whether you choose to start your drive along the Blue Ridge Parkway at the northern or southern entrance, the drive time and distance are the same. For the purposes of the table above, though, miles and driving time are calculated from the northern end of the Parkway.
As we've already said, in theory, you could drive the 469-mile route in little over 12 hours. However, many travelers report that in reality, it takes closer to 15 hours to complete the drive on the Blue Ridge Parkway. Slower traffic could also add up to 3 hours to your driving time if you're unlucky.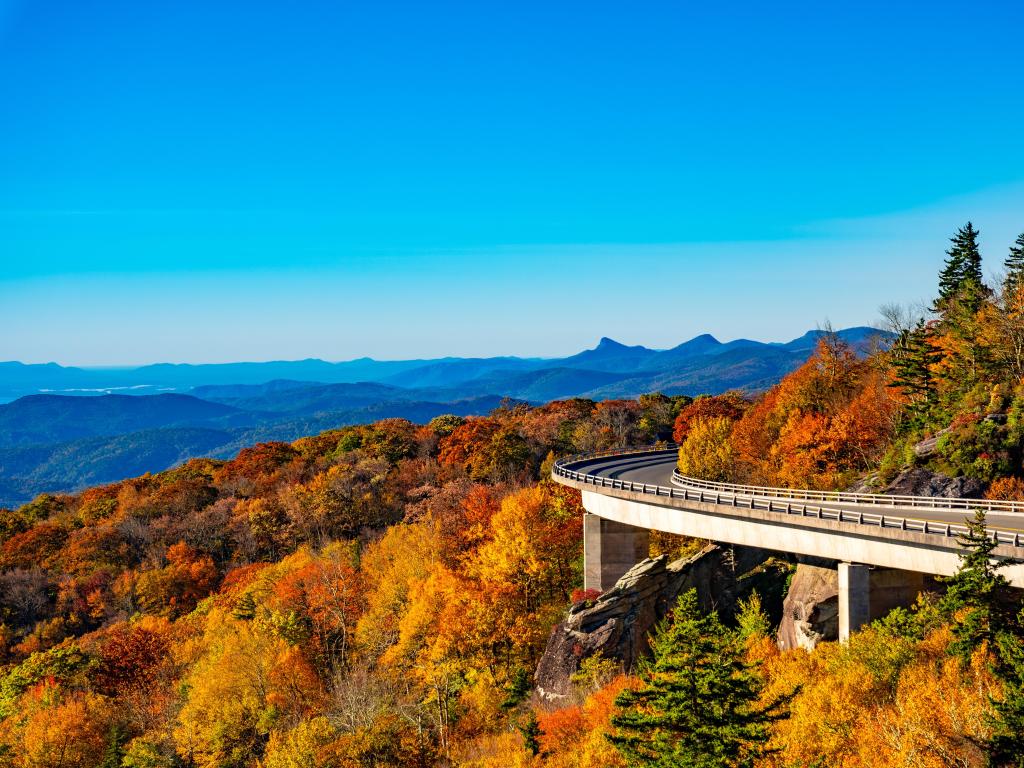 As a minimum, we'd suggest stopping at least every 2-3 hours to stretch your legs or switch drivers, which could add up to an hour to your driving time. This means that, while it's technically possible to complete the route in one very long day, we wouldn't recommend trying to do this.
One of the reasons to drive the Blue Ridge Parkway is to stop to admire the views, follow some of the scenic trails or explore the small towns along the route, and you'll need at least one overnight stop to make this possible.
Even a 2-day trip will be a stretch if you stop to hike and have lunch as you'll spend 7 to 8 hours on the road each day. If you're hoping to spend time relaxing in the evenings or want to take on a couple of longer hikes, you'll need to stretch the trip out over 3 to 4 days.
Best way to drive the Blue Ridge Parkway
One of the great things about driving the Blue Ridge Parkway is that once you're on the road, you can pretty much just follow it all the way to the end.
If you're driving the whole route, the northern entrance is close to Waynesboro, VA, where the road connects with Interstate 64 (I-64). The southern entrance is off US-441 near Cherokee, NC, just outside Great Smoky Mountains National Park.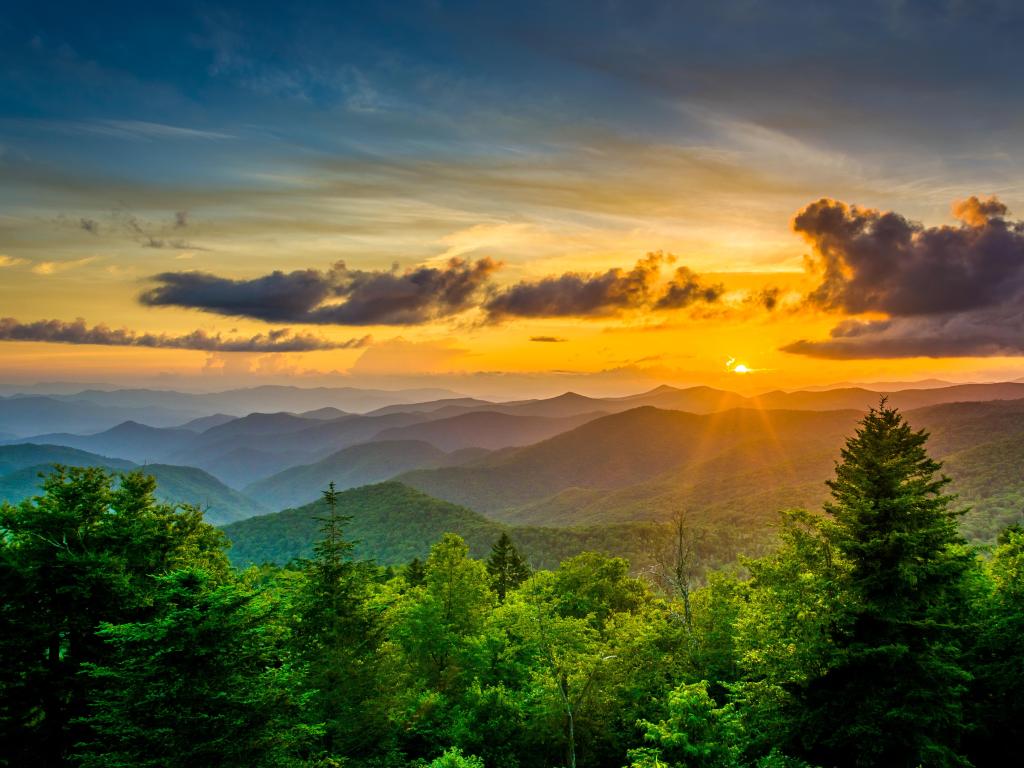 If you haven't got your fix of scenic views from the Blue Ridge Parkway itself, you can add another 100 miles of scenic driving by continuing along Skyline Drive. This runs straight on from the northern end of the parkway, through Shenandoah National Park.
On the flip side, if you don't have time to drive the whole route there are several entrances/exits along the Blue Ridge Parkway so it's possible to just drive a section of the parkway.
Some of the entrances you'll see on maps can be hard to navigate, and many exits off the parkway aren't signposted, so to keep things simple we'd suggest using one of the main entrances and exits:
Some convenient places to enter/exit the Blue Ridge Parkway
Location
Milepost
Adjoining road
Peaks of Otter
85.6 miles
VA 43
Roanoke (North)
105 miles
US-460
Roanoke (South)
120 miles
US-220
Bent Mountain
135.9 miles
US-221
Meadows of Dan
177.7 miles
US-58
Fancy Gap
199.5 miles
US-52
Blowing Rock
297 miles
US-321 / US-221
Gillespie Gap
330.9 miles
NC 226
Buck Creek Gap Overlook
344 miles
Buck Creek Road (NC 80)
Asheville (North)
378 miles
US-70
Asheville (South)
382 miles
US-25
Bent Creek
393.6 miles
US-74
Note: all mileposts are calculated from the North End of the Blue Ridge Parkway.
Road trip route on the Blue Ridge Parkway
The Blue Ridge Parkway starts near Waynesboro, and you can also drive north from here into Shenandoah National Park along the Skyline Drive.
Heading south though, simply leave Waynesboro in the direction of Afton and from either US-250 or I-64 you can hop on to the Blue Ridge Parkway.
The route is simple to navigate as it's just one long, winding road. You'll pass Ravens Roost and Otter Lake Overlook before reaching Roanoke, the main city along the parkway.
Continuing south from here you'll make your way past the tranquil Mabry Mill and Cascade Falls on your way to Blowing Rock, a scenic small town which is the starting point for some great hikes as well as being home to the Art & History Museum where you can learn more about the history of the Appalachians.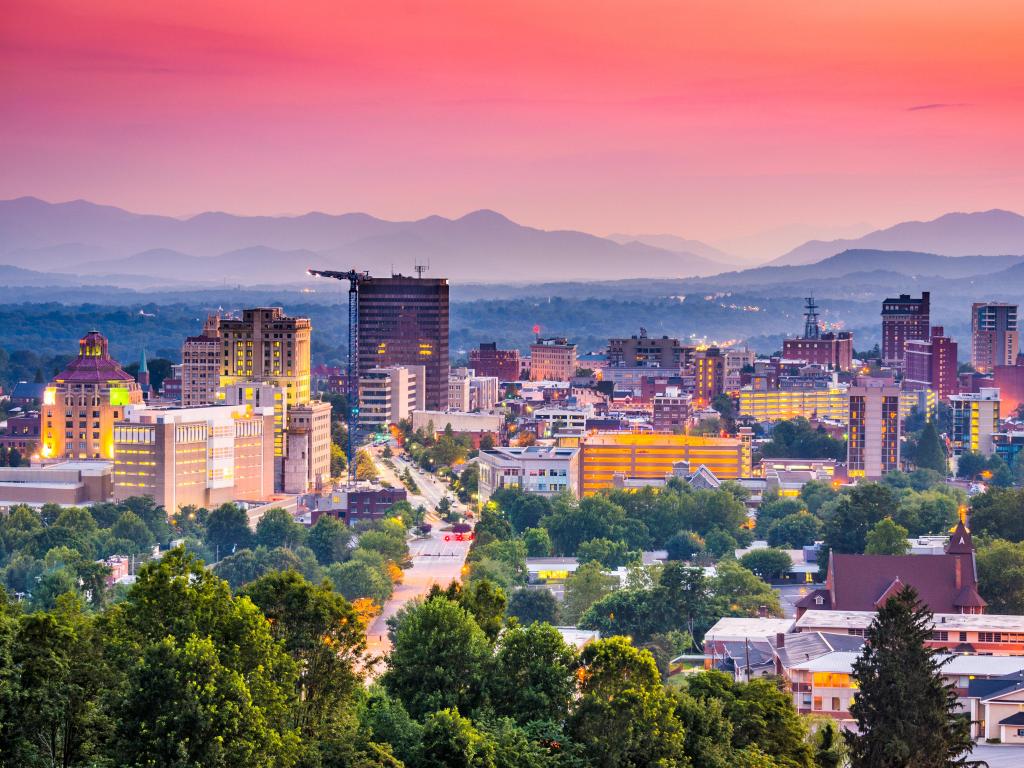 The next stretch of the road takes you through some of the parkway's most popular natural landmarks. In the space of 12 miles you'll see the Linn Cove Viaduct, mighty Grandfather Mountain, and Linnville Falls too. Stop to enjoy some of the trails here.
After nearly 400 miles of driving you'll reach Asheville. Stop here to enjoy some time in the city, to visit the historic Biltmore Estate or call in at the Blue Ridge Parkway Visitor Center.
The final section of the route takes you through the forest and mountains of North Carolina before you finish up close to Cherokee. Just past the end of the route, visit the Cherokee Indian Museum to learn more about the history of the native American people who have called this part of North Carolina home for centuries.
Best scenic views on the Blue Ridge Parkway
The whole of the BRP is a scenic wonderland, with hundreds of places where you could stop and enjoy the view.
Ravens Roost - This spectacular viewpoint close to the southern end of the parkway looks out across the valley and is a popular place to watch the sun go down.
Otter Lake Overlook - Take a break from the ridge views and catch a peaceful moment by the water.
Mabry Mill - This century-old watermill is one of the iconic views of the Blue Ridge Parkway.
Doughton Park – With beautiful springtime blooms, stop here for a picnic or a meal at The Bluffs Restaurant.
Linn Cove Viaduct – This engineering masterpiece is almost certainly one of the views of the Blue Ridge Parkway that you will have seen before, so make sure to stop and see it for real on your drive. There's an informative museum here too, but check ahead for opening times.
Beacon Heights Overlook – Take in views of Table Rock, Grandfather Mountain and Grandmother Mountain, some of the most iconic parts of the parkway.
Chestoa View Overlook – Look out over Pisgah National Forest and Grandfather Mountain from this viewpoint which is a short walk from the parking area.
Graveyard Fields – Eagles and black bears are often sighted at this popular stop, which has never actually been a graveyard.
Best places to hike on the Blue Ridge Parkway
There are hundreds of trails leading off the Blue Ridge Parkway and you could spend weeks exploring them. Given that most people travel this route in 4 days or less, here are some of the most popular hikes and other outdoor activities that you might like to include on your trip.
Cascade Falls – Just a 1-mile hike will take you to this fabulous scenic spot to see the beautiful waterfalls.
Price Lake Overlook – Stop to kayak or fish by this stunning lake in the mountains.
Rough Ridge – Near Blowing Rock, this 1.5-mile hike lets you capture an unsurpassable viewpoint photo at the end of the route (not for the fainthearted or those with a fear of heights!)
Linville Falls – Follow a series of short trails to reach one of the most impressive waterfalls on the Blue Ridge Parkway.
Mount Mitchell – At the highest mountain on the ridge you can enjoy huge views without a long walk as a road takes you most of the way to the top. Longer hikes are available if you're keen!
Waterrock Knob – A steep climb at this stop near the southern end of the parkway takes you to more amazing views at one of the highest points on the route.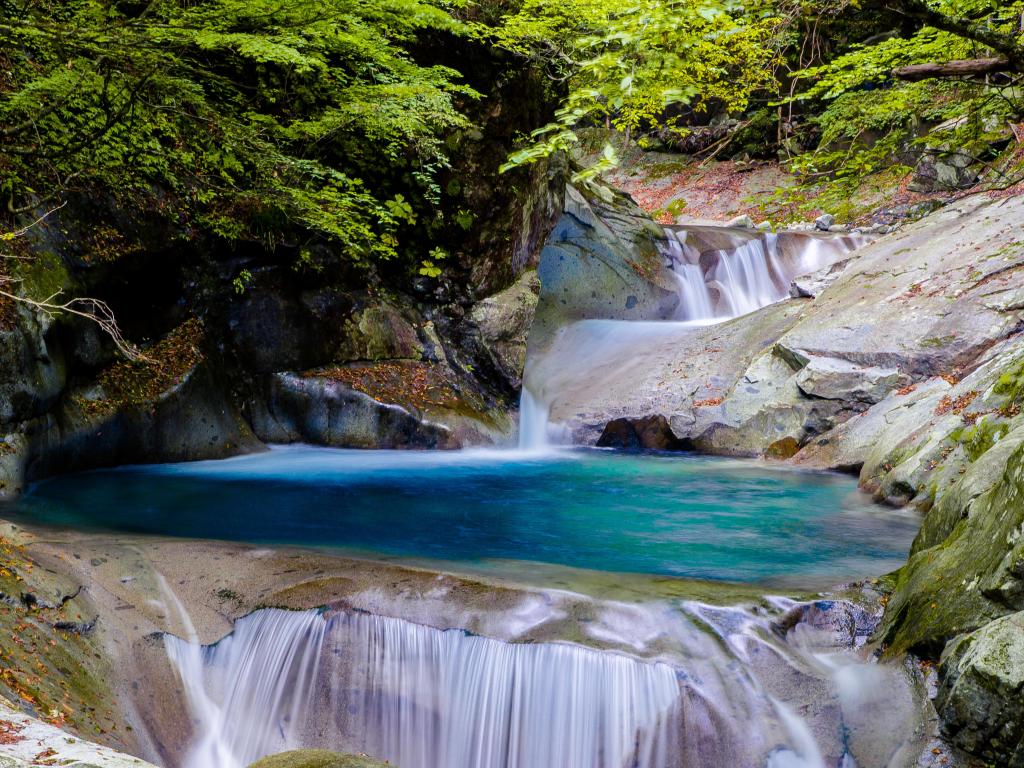 Best places to stop on a drive on the Blue Ridge Parkway
If you stick to the 45mph speed limit all the way, it will take at least 11 hours to drive the whole route, without allowing time for rest stops or to enjoy the view.
This doesn't include any time you'd like to spend following some of the fabulous trails which run off the parkway, so as we've already mentioned, we recommend at least one overnight stop when you drive this route.
An overnight stay also means you can hit the road early on your second or subsequent days and get to some of the more popular overlooks and trails while they're still quiet.
Here are some of our top picks of places to stay along the way:
Enjoy small town charm in Blowing Rock
Driving this whole route in a single day is technically possible, but definitely not the most enjoyable way to see the Blue Ridge Parkway. The distance covered means you'll have to drive past pretty much all of the amazing natural attractions without stopping to enjoy the view.
A great place to spend a night on your road trip is Blowing Rock. It's just over halfway along the Blue Ridge Parkway and as well as being the starting point for some great hiking trails there are places here to get a meal or a drink in the evening.
With its scenic location in the forest and log cabin-style accommodation, a stay at Swiss Mountain Village is sure to get you into the mountain spirit.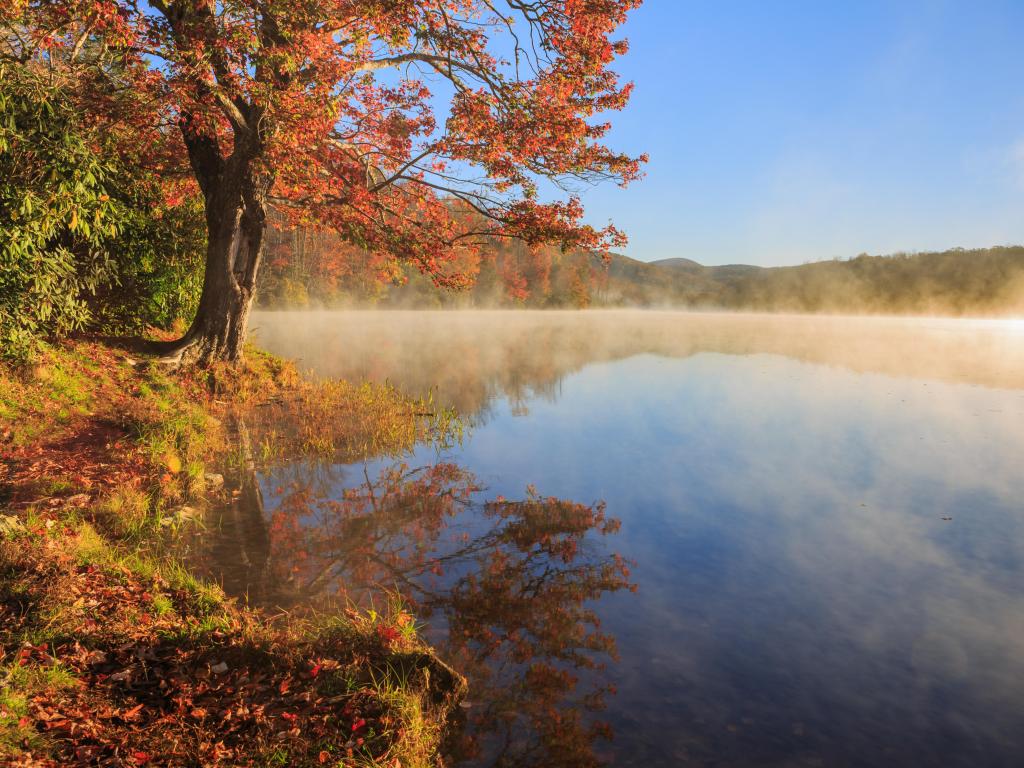 There's plenty of outdoor space here to relax after a day of hiking and driving, and you can warm up by the fire on cooler days.
Some rooms here have lake views and most have a kitchenette so you can prepare your own meal if you want. Blowing Rock's restaurants are also in walking distance or a short drive away
Blowing Rock is the ideal place to stay around the halfway point of a 2-day trip. Or stay here on day 1 and spend longer exploring the second half of the parkway as you head through the extremely scenic North Carolina stretch.
Get into the creative vibe at Spruce Pine
Spruce Pine is conveniently located around an hour from Grandfather Mountain and Linn Cove Viaduct so a stay here means you can take your time exploring some of the parkway's most popular stops.
You can also start or finish a drive along the Blue Ridge Parkway at the nearby Gillespie Gap entrance, so this is a great place to stay the night if you're not going to be driving the entire road, or if you're heading to a destination away from the parkway the following day.
It's a creative small town, and you can see works by regional artists at Toe River Arts Council or at the One of a Kind Gallery in nearby Micaville.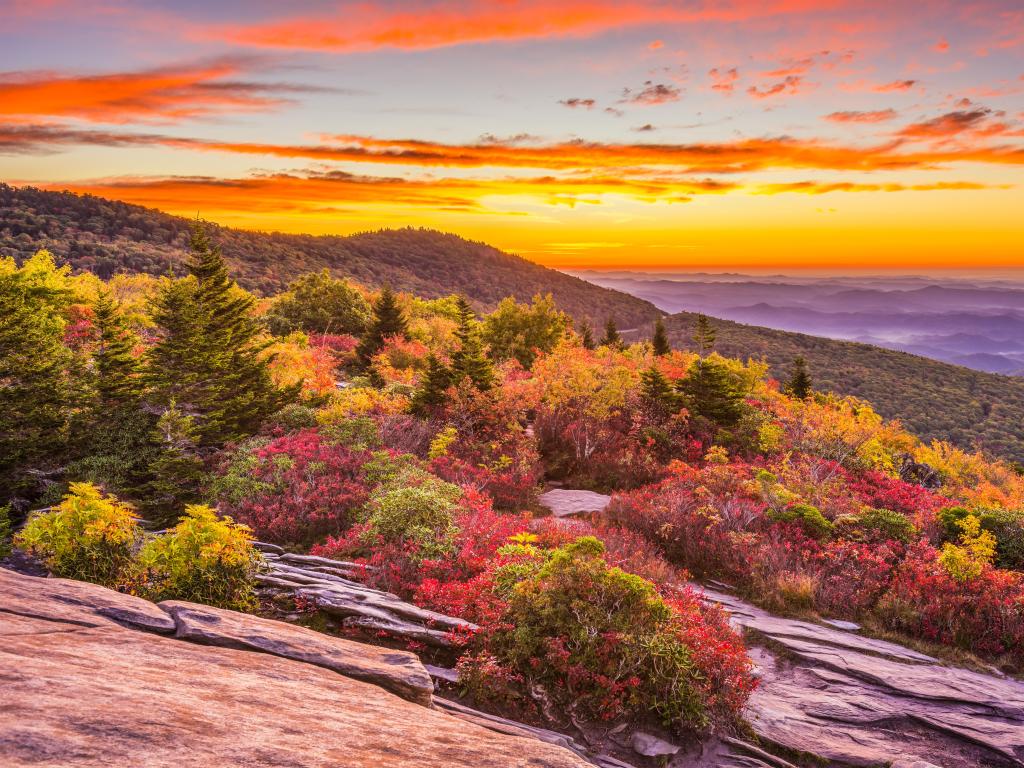 The area is also known for its gem mining, and you can take a tour of one of the gem mines nearby or try out prospecting for yourself.
The town hosts the Fire on the Mountain Blacksmith Festival every April and there's the Bluegrass & BBQ Festival if you're here in July.
With friendly and welcoming staff, Skyline Village Inn offers chalet-style accommodation with a homely vibe. At the on-site restaurant, you can enjoy a meal on the terrace with amazing views.
The Inn is also easily accessed as you travel along the parkway, and free parking is a bonus when you're taking a road trip.
Things to know that can impact your driving time
Like any other road, sometimes things crop up that can slow you down. Luckily, the Blue Ridge Parkway doesn't pass through major intersections or built-up areas so you won't experience the standard rush hour delays on this route. However, there are a few other things to keep in mind when you take this trip.
Firstly, remember that is road trip isn't called "America's Favorite Drive" for no reason, so you might experience holdups if you're traveling at the weekends during busy periods. You might also experience short delays leading up to popular overlooks if traffic is queuing to enter or exit parking areas.
The Blue Ridge Parkway is an extremely popular fall destination so you might find yourself stuck in a line of vehicles slowing down to admire the stunning foliage.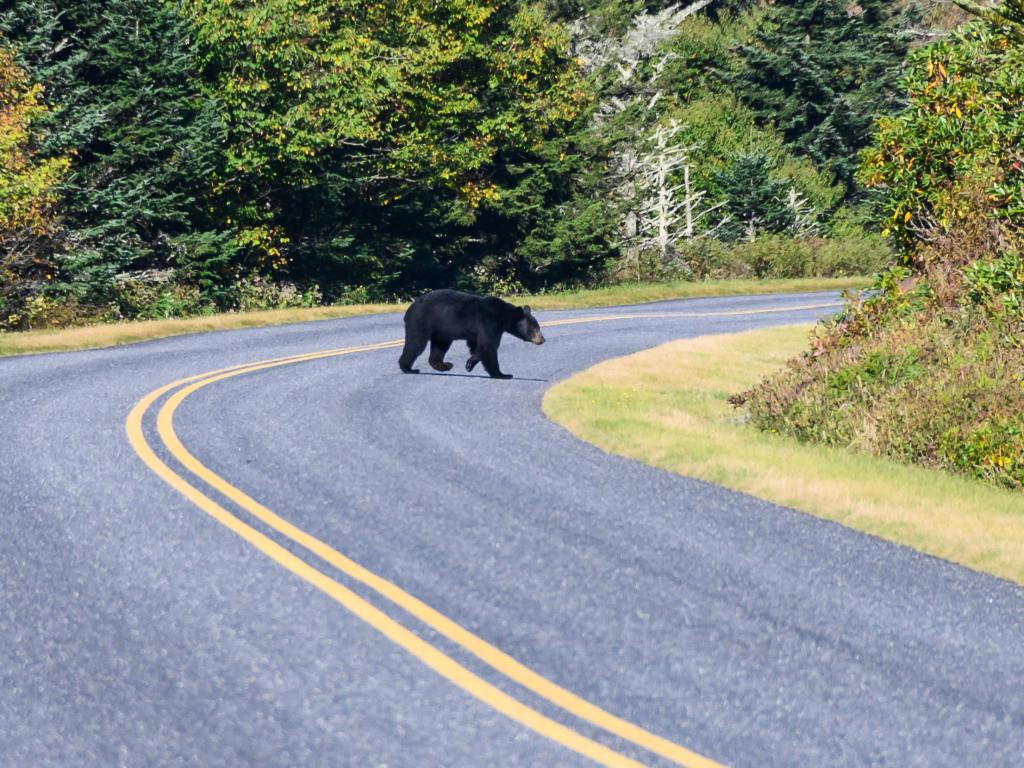 In fact, it's possible to get stuck behind a slower vehicle at any time of year. As this is a 2-lane road you'll have to wait for a safe place to pass.
Winter snow and icy conditions often close sections of the parkway. If you're traveling in winter, allow extra time in case of detours, and be prepared to slow down to stay safe if conditions require.
In spring, repairs due to damage from winter weather may mean that sections of the road have to be closed, so diversions can add to driving time.
If you're heading straight back along the interstate, I-81 and I-40 are your best options. I-81 is less congested than many interstates but you'll have to contend with a lot of large trucks.
The speed limit on most of the parkway is 45 mph, with lower limits on some sections where there are more twists and turns. Our routes and time estimates take these speed limits into account, but any closures, roadworks, weather conditions or diversions may impact these. Be sure to check local advisories before you travel.
Tips to drive on the Blue Ridge Parkway in the shortest possible time
To avoid any delays due to the crowds, avoid traveling at the weekends during summer and fall and aim to get to popular waypoints early or late in the day if the road is busy.
If you do have to travel at busy times, start early in the morning if you're planning on visiting popular mileposts so that you can avoid the crowds both on the roads and along the trails.
Alternatively, travel in the shoulder season when the road will be less busy – the weather in April, May and September is usually fabulous but you'll miss the peak summer and leaf peeping crowds.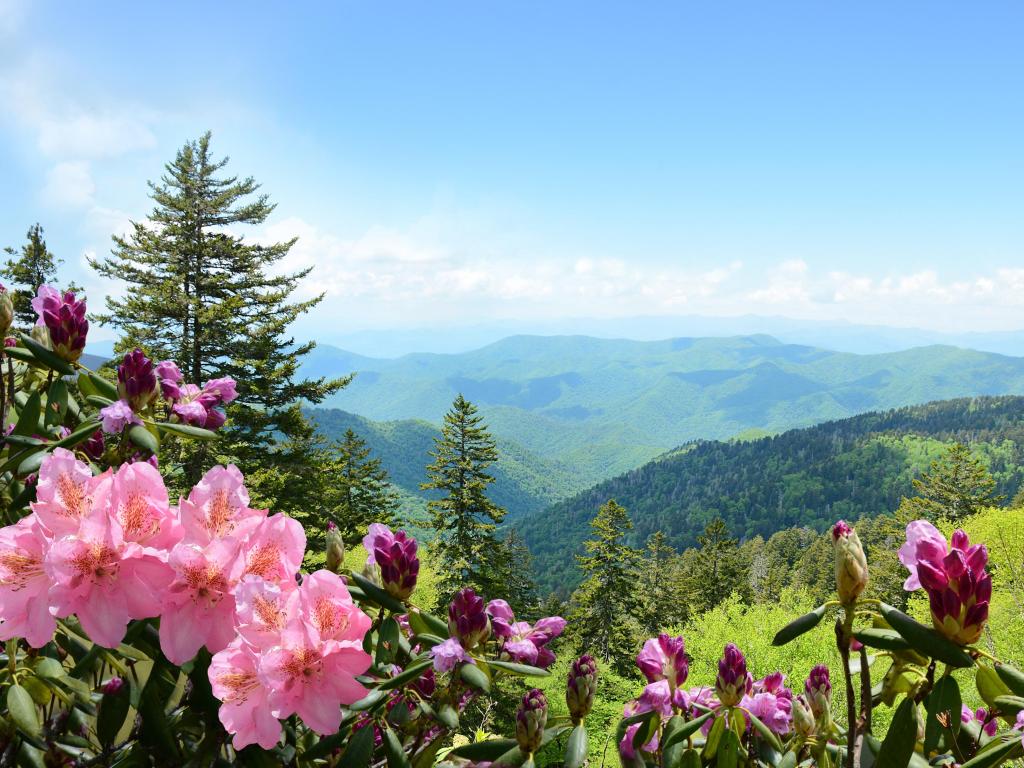 Whatever time of year you travel, plan your route and make sure you leave time for any stops you don't want to miss – while you can always backtrack a few miles the next morning, this will add to the time you spend on the road.
It's also an idea to stock up on snacks or bring a picnic so that you don't have to take detours off the parkway to find lunch.
Have two drivers available so you can alternate and stay fresh, especially if you're trying to do the drive in just a day or two. This also means you can take turns enjoying the view as your travel.
If you have to return to your starting point at one of the route you'll be able to make one leg of the drive much quicker on the interstate, but whether you do this before or after enjoying the drive along the parkway is entirely down to personal preference.