Road Trip from Miami to Washington DC
You might not have considered taking a road trip from Miami to Washington DC before. After all, who would want to leave the beautiful beaches of Miami? Well, if it means taking in some of the most stunning countryside in North America, culminating in a visit to the country's capital, then this is certainly a trip worth making.
The 1,150-mile road trip from Miami to Washington DC takes about 17 hours of nonstop driving. Highlights on the way include Orlando, Savannah, Charleston, Raleigh, Richmond, Walt Disney World, Universal Orlando, Forsyth Park and Middleton Place.
This trip will take you through five different states along the beautiful east coast, before reaching the nation's capital. Along the way, you will be able to find all sorts of entertainment ranging from gorgeous beaches to lush mountains. Be sure to read on, below, for some helpful information on planning this great road trip.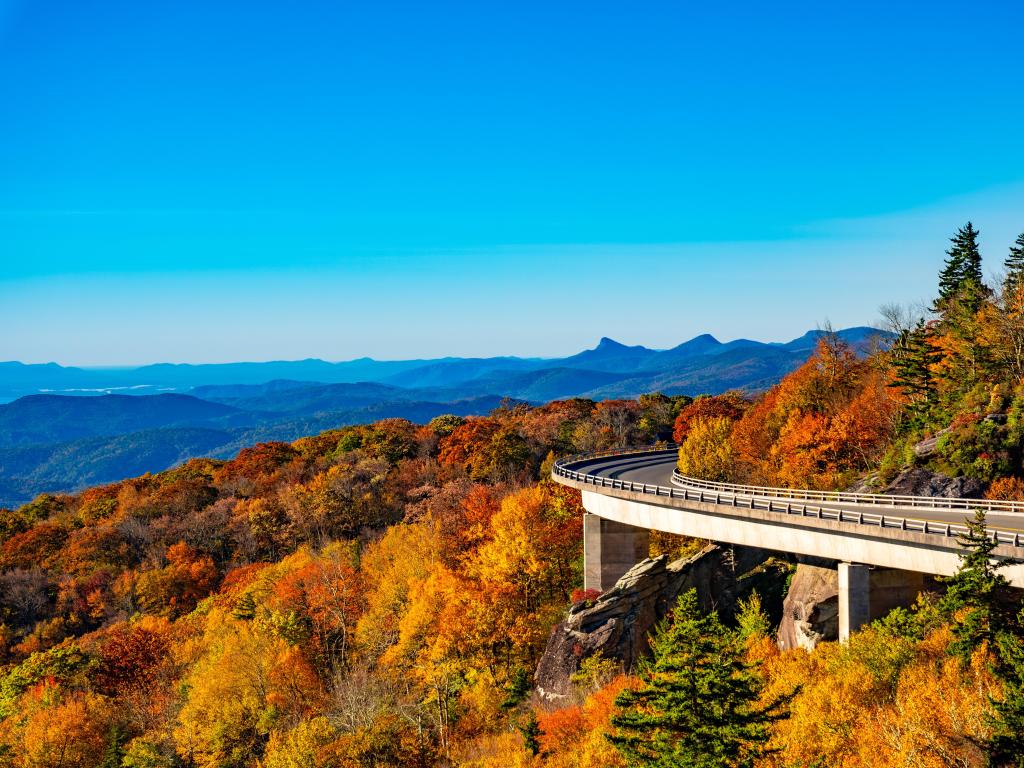 How far is Washington DC from Miami and how long will the road trip take?
Two contrasting options for the trip from Miami to Washington DC

| Route | Distance | Driving Time |
| --- | --- | --- |
| Quicker Route | 1,150 miles | 17 hours |
| Blue Ridge Parkway Route | 1,260 miles | 20 hours |
Miami is about 1,150miles away from Washington DC following the Quicker Route through Charleston, which will take about 17 hours of uninterrupted driving time mostly on I-95. You will get to enjoy iconic cities and beautiful scenery on the way.
If you would like an even more relaxing drive with stunning views, the Blue Ridge Parkway Route is an amazing alternative. This epic 1,260-mile route will take you through rugged mountains and pastoral landscapes and takes about 20 hours of nonstop driving.
No matter which route you choose, we recommend setting aside at least 4 days to enjoy every epic sight and amazing attraction you will drive past on this unforgettable adventure from Miami to Washington DC.
Best road trip route from Miami to Washington DC
Which route to take comes down to your preferences and time constraints. Quicker Route offers vibrant urban atmospheres while the Blue Ridge Parkway Route will take you through scenic beauty.
You will want to start this trip early in the morning on a Monday to avoid possible traffic congestion in Miami. You will also pass through Orlando on both routes, which can have heavy traffic because of its popular attractions.
If you have been to the amusement parks in Orlando before then you might prefer to skip Orlando and make your first stop at St Augustine. From here you will continue north until reaching the capital.
The Quicker Route will take you through the historic city of Charleston and the bright lights of Richmond. You will also drive past parks, gardens and museums, promising an exciting journey for everyone.
The Blue Ridge Parkway Route offers unparalleled landscapes of long-range vistas and the Appalachian Highlands as you make your way to Washington DC. After all, this route is called America's most scenic drive for a reason!
How to drive from Miami to Washington DC
The map above shows our suggestions for the best road trip routes between Miami and Washington DC. Keep reading for detailed descriptions of both routes, where to stay on either, and the best things to do on the way.
Quicker Route
Take Florida's Turnpike as you set off on your journey from Miami, which will take you all the way to Orlando. Keep right and take the exit onto I-4 as you enter the city.
After spending some time in this vibrant city, drive on I-4 and merge onto I-95 to reach Savannah in Georgia. You will be driving through Jacksonville on your way.
From Savannah, continue to drive on I-95 and then take Exit 33 to merge into US-17 towards Charleston, South Carolina. This drive will be the shortest part of your road trip and will only take about an hour and a half.
From Charleston, get back on I-95 and continue to drive north towards Washington DC. If you wish to take a detour and sightsee, you can head off up the I-40 to visit the Raleigh-Durham triangle, or stop off in Richmond before the I-95 brings you into Washington DC.
Blue Ridge Parkway Route
The start and finish of this route are pretty straightforward, but we've included a map of the route along the Blue Ridge Parkway to guide you along its many twists and turns.
Follow the same directions as the Quicker Route until you drive through Savannah. Continue on I-95 and take Exit 86B to merge onto I-26 W towards Columbia.
On the outskirts of Columbia, keep left to stay on I-26 then take Exit 107B to merge onto I-20 E. Take Exit 70 right after to merge onto US-321, which will take you to the Blue Ridge Parkway, "America's Favorite Drive", just after Blowing Rock.
After following the winding Parkway for about 125 miles, a good place to turn off and pick up the pace again is where State Route 615 splits off to the left a mile or so after Rakes Mill Pond.
At Floyd, turn right onto E Main St and then left onto E Oxford St. Turning right from here will take you onto VA-8 N. Continue on this road until you merge onto I-81 toward Roanoke.
You have two choices as you follow I-81. If you have time and want to see some more of the Blue Ridge Parkway, join I-64 at Exit 221 for an option detour to Shenandoah National Park. Pick up the Skyline Drive Scenic Roadway at Exit 99 of I-64, follow it through the park until you meet Route 340 at Belmont, then change to Route 522 to rejoin the main route on I-66.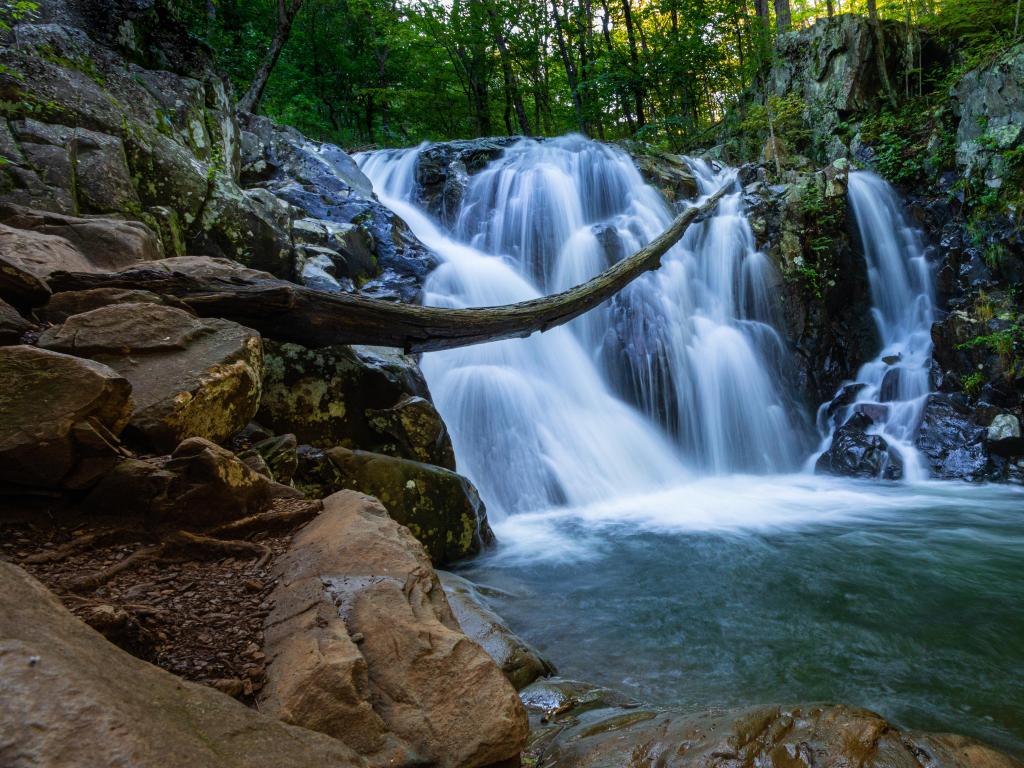 For a more direct route into Washington DC, simply carry on along I-81 until you reach Exit 300, then merge onto I-66. This will take you right to your final destination, Washington DC.
Best places to stop between Miami and Washington DC
We suggest you take at least four days on either route, to enjoy the epic landmarks and attractions leisurely and not be rushed for time. Here are some of our top suggestions to help you plan your stops.
Explore the magic at Walt Disney World
For many people - kids and big kids alike - visiting Walt Disney World is a fairytale dream and a must-visit while driving through Orlando on both routes. If you wish to visit all the fantastic parks in this resort, it is a good idea to plan accordingly, and you can even consider staying for an extra night or two.
Given the popularity of this destination, you won't be short of choices for accommodation, but The Grove Resort & Water Park is hard to beat with its marvellous location right across from Walt Disney World. This chic resort even has its own water attractions for guests of all ages!
If you are craving some more magic after your trip to the Disney Resort, The Wizarding World of Harry Potter in Universal Orlando is just half an hour away from the hotel. Here you can enjoy many rides, visit the famous Diagon Alley in person, pick your own wand and try Butterbeer.
Lake Louisa State Park is ten minutes away from the hotel if you would rather escape into nature. There are three lakes in this natural theme park with opportunities for canoeing, kayaking and paddleboarding.
After a long day of epic adventures, you can enjoy a meal in the resort's restaurant or in the comfort of your own suite as the resort offers a fully equipped kitchen, a living room, and a dining area for the ultimate relaxation.
Experience natural beauty in Savannah
One of the oldest planned cities in the United States, Savannah, accessible on both routes, is worth exploring with its gorgeous coastal landscapes, greenery, well-preserved architecture and rich history.
If you are looking to experience the old Victorian charm of the city, look no further than McMillan Inn in the heart of the historic district. This elegant accommodation offers beautiful rooms which will make you feel as if you were teleported back in time!
The inn offers opulent rooms with fireplaces and period antiques, with the opportunity to experience a piece of the city's rich history firsthand. The beautiful shared courtyard has the same charming Victorian atmosphere and houses the hotel's outdoor pool.
Right across the property, you will find the famous Forsyth Park. This majestic 30-acre park houses the city's most famous fountain and is a stop for tour buses if you fancy sightseeing without having to walk for miles.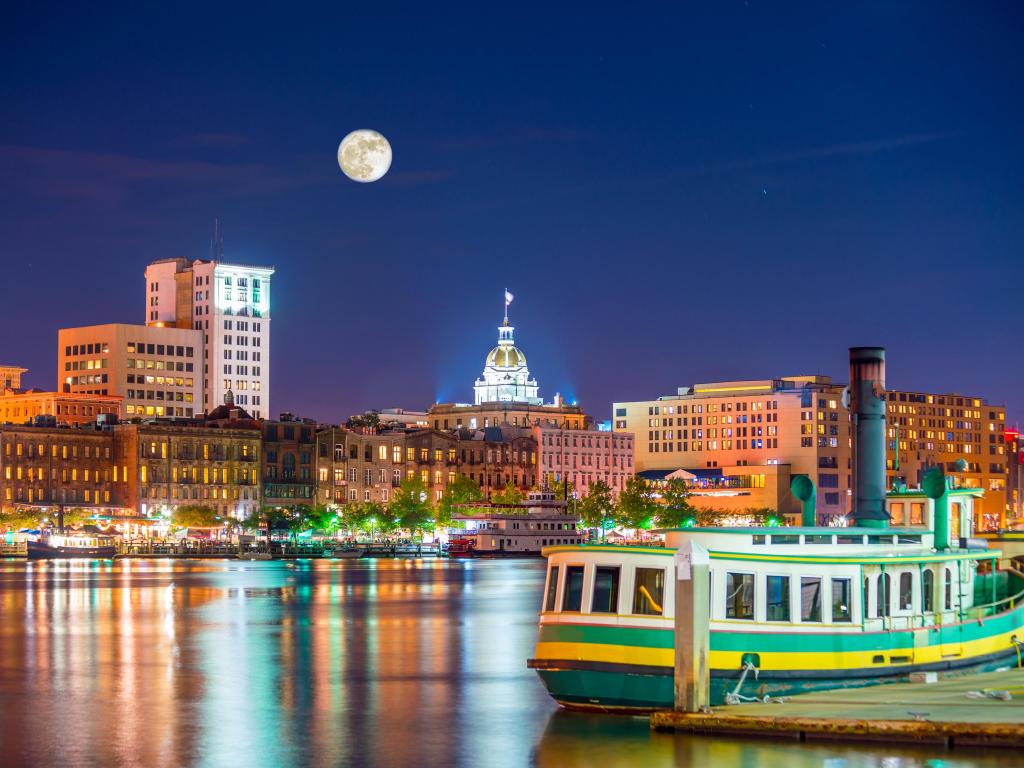 Thomas Square in the historic district is a must-see for anyone who appreciates history and architecture. The area houses around 1,100 historic buildings, galleries, restaurants and fabulous antique stores.
If you still have some energy after your adventures, The Cathedral Basilica of St. John The Baptist is a historic neo-gothic church within walking distance of the accommodation. You will definitely be impressed by this example of French Gothic architecture.
Remember History in Charleston
Charleston is a city brimming with history, making it an enticing stop on your way to Washington DC on the Quicker Route. Here, you can learn about the troubling history of slavery and plantations in the deep South and how they relate to today's world.
In addition to the downtown and plantation tours, you will also be able to enjoy exploring museums, beautiful churches, and Charleston harbor.
It is a good idea to consider making an overnight stop in Charleston after a day filled with history, excursions, and sightseeing. Planters Inn is one of the best accommodation options with its fantastic location in the historic district.
The Historic Charleston City Market, adjacent to the property, is designated as a National Historic Landmark. The complex also houses Charleston's Confederate Museum and souvenir shops, which is the perfect opportunity to bring history back home with you.
Staying in the historic district, you won't be short of museums and landmarks to visit. The Old Exchange and Provost Dungeon, Postal Museum, Gibbles Museum of Art, Nathaniel Russell House, and Rainbow Row are all within walking distance.
Take in the mountain scenery at Blowing Rock
Named after an immense cliff 4,000 feet above sea level that overhangs Johns River Gorge, Blowing Rock is the only full-service town on the Blue Ridge Parkway, which makes it a perfect overnight stop on your journey. This overnight stop is located on the Blue Ridge Parkway Route.
When it comes to accommodation choices, it is hard to beat Chetola Resort with its cozy rooms overlooking the incredible scenery of Chetola Lake. The hotel also boasts a beautiful restaurant with a charming lodge atmosphere.
Using this resort as a base, you can easily explore the beautiful scenery and iconic landmarks of the Blue Ridge Parkway during your stay. Located in the Moses H. Cone Memorial Park, the famous Cone Manor is less than a 10-minute drive away.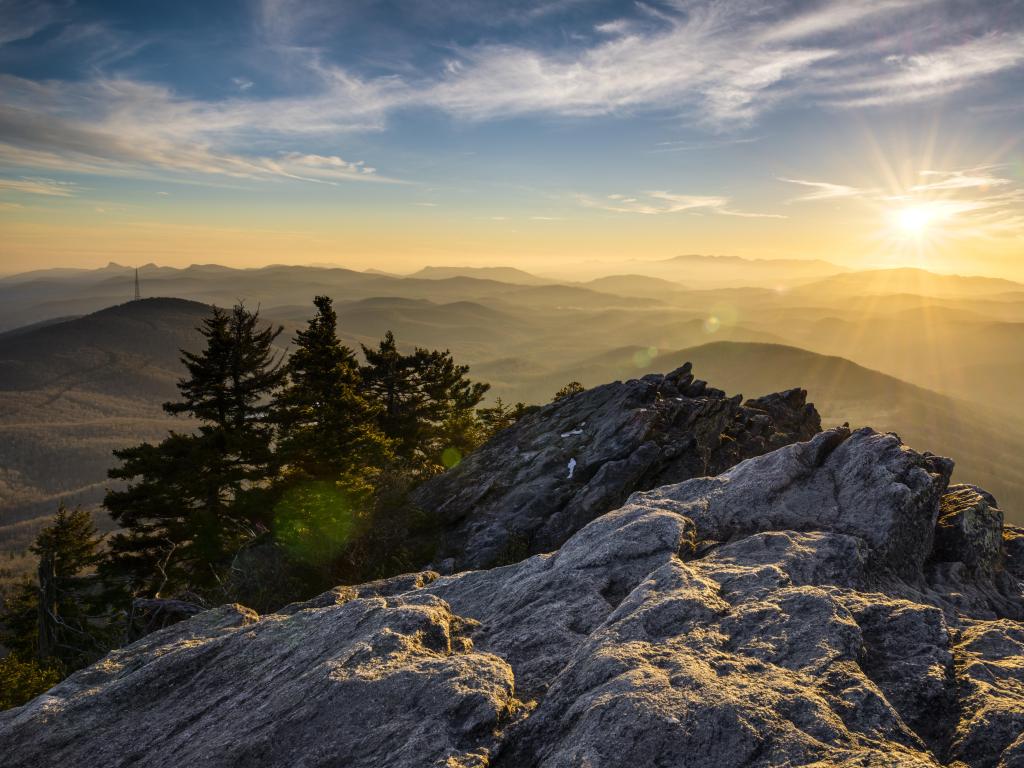 Hands down the most photographed section of the parkway, the Boone region nearby is popular for its stunning views of the iconic Linn Cove Viaduct, Crabtree and Linville Falls, the Cascades and Mount Mitchell.
You can unwind in the indoor swimming pool of the hotel or the hot tub before setting on the rest of your epic Blue Ridge Parkway journey.
Things to see on a road trip from Miami to Washington DC
The best thing about this road trip is that there are so many wonderful things along the way that you will be spoiled for choice when it comes to what to do and see.
This trip could easily be dragged out to be a month-long and you would not get bored. To make your decisions easier, here are some amazing options for the best things to see on a road trip from Miami to Washington DC:
Both Routes
Kissimmee Prairie Preserve State Park, Okeechobee - A breathtaking expanse of infinite grassland, this park is the home to numerous endangered species.
Walt Disney World Resort, Orlando - The most-visited amusement park complex in the world, this resort houses four magical theme parks and two water parks.
Wizarding World of Harry Potter, Orlando - This amazing amusement park attracts Harry Potter fans from around the world.
Universal Orlando Resort, Orlando- One of the most popular attractions in the world, let alone in Florida, this entertaining amusement park offers three amazing theme parks.
Lake Louisa State Park, Clermont - A natural theme park near Orlando that showcases a diversity of wildlife, including deer, bobcat, gopher tortoises, fox squirrels and flighted creatures like bald eagles and osprey.
St. George Street, St. Augustine - A main attraction with many restaurants, bars and shopping options, this street is a must-visit if you choose to bypass Orlando and drive to St. Augustine instead.
Castillo de San Marcos National Monument, St. Augustine- This historic castle has been standing since it was built by Spanish colonizers in the 1500s.
Timucuan Ecological and Historic Preserve, Jacksonville - This preserve is one of the last unspoiled coastal wetlands on the Atlantic Coast.
The Golden Isles - A series of barrier islands on the Georgia coast south of Savannah, which combine stretches of pristine wetland habitats, wide sandy beaches, and luxury golf resorts.
Savannah Historic District, Savannah - Located in downtown Savannah, this district is filled with museums, churches, mansions, monuments and famous forts of the Revolutionary & Civil War eras.
Forsyth Park, Savannah - A gorgeous park featuring a famous fountain and areas for picnic in the heart of the city.
Thomas Square, Savannah - A historic neighbourhood boasting beautiful period architecture, shops, restaurants and bars.
The Cathedral Basilica of St. John The Baptist, Savannah - A historic neo-gothic church in the heart of the historic district.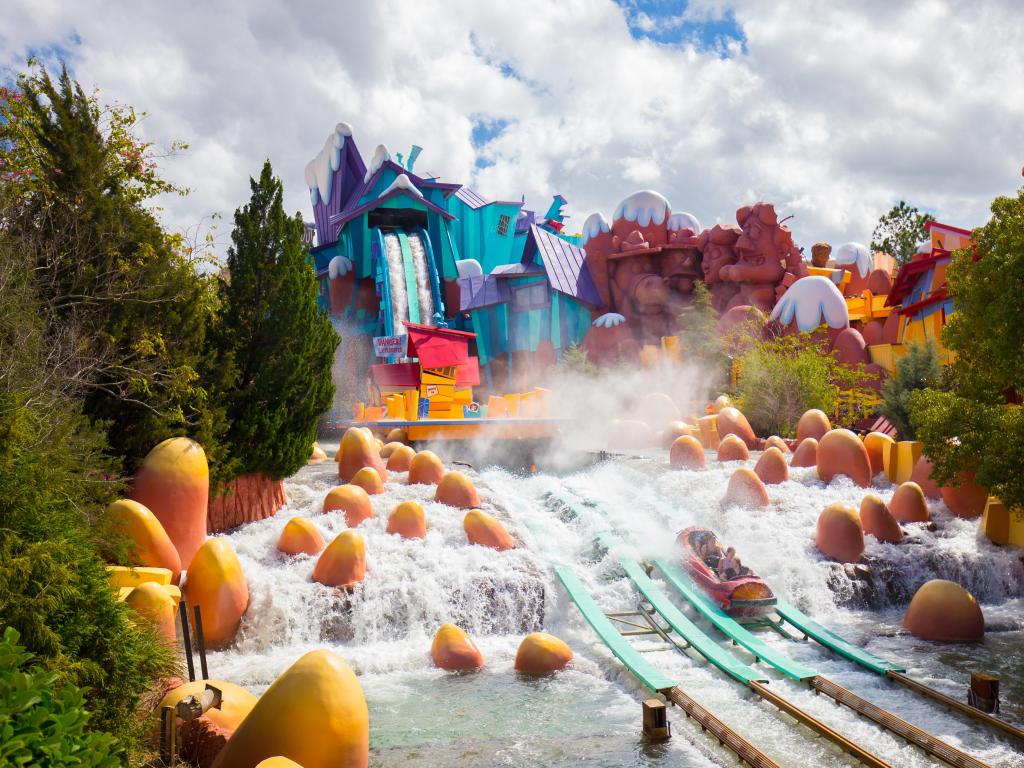 The Quicker Route
Beaufort - A beautiful waterfront town a short hop off the Interstate.
Rainbow Row, Charleston - A famous row of pastel-colored historic homes, this iconic location is a popular stroll and photography spot.
The Old Exchange and Provost Dungeon, Charleston - A Charleston landmark for nearly 250 years, you can take tours of this historic building.
Middleton Place, Charleston - Home to America's oldest and most important landscaped gardens.
Fort Sumter National Monument, South Carolina - Only accessibly by boat, this monument is a great stop for all history lovers.
North Carolina Museum of Natural Sciences, Raleigh - The largest museum of its kind with six facilities on five campuses to explore for all nature enthusiasts.
Pullen Park, Raleigh - This fifth oldest amusement park in the US offers entertainment for guests of all ages.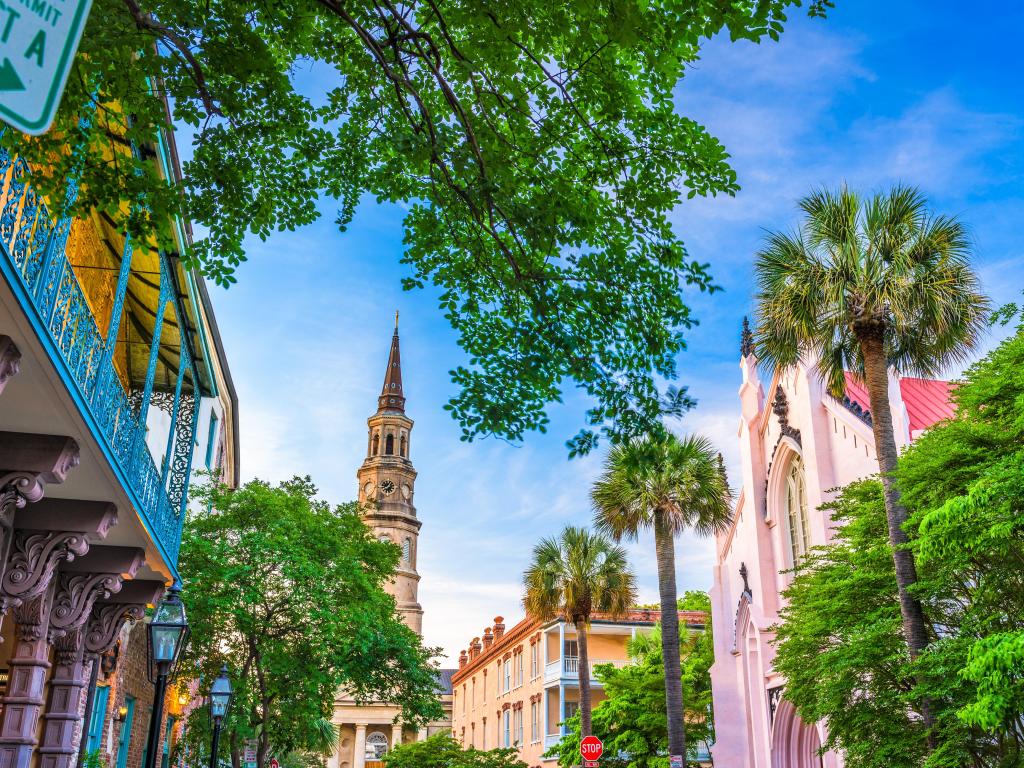 The Blue Ridge Parkway Route
Cone Manor, Blowing Rock - With abundant natural beauty at the Moses Cone estate, you will have the opportunity to enjoy hiking and horseback riding around this manor.
Linn Cove Viaduct, Boone - Recognized internationally as an engineering marvel, this popular photography spot hugs the face of Grandfather Mountain.
Stone Mountain State Park, Roaring Gap - Famous for its massive granite dome, this park offers opportunities for camping, hiking, climbing, fishing, picnicking, horseback riding and more.
Mabry Mill, Meadows of Dan - Picturesque mill on the Blue Ridge Parkway.
Rocky Knob Recreation Area, Floyd - A gorgeous recreation area with a campground, picnic areas and hiking trails.
Best time to go on a road trip from Miami to Washington DC
Since you will be traveling up north from Miami, you will likely want to avoid visiting Washington DC during the winter season to travel more comfortably as the winter temperatures in Washington DC reach an average low of 30 degrees Fahrenheit.
It is also a good idea to check road and traffic warnings in the colder months if you opt to follow the Blue Ridge Parkway Route as some attractions might be closed.
The best time to take this trip would be late spring or early fall, when you can enjoy the beauty of seasonal colors in cities like Savannah and Charleston while avoiding the summertime crowds in the stops along the way.
If you prefer the livelier months of summer to plan your visit, you might be able to participate in the glamorous celebrations of "A Capital Fourth" to experience the 4th of July in the nation's capital in style as you watch fireworks explode over the Washington Monument!