How long does it take to drive the Oregon Coast?
Located on the beautiful Northwest Coast of the United States, the Oregon Coast is a stunning and wild place with roaring seas, dense temperate rainforest, and some of the most striking scenery in the lower 48 states.
It takes around 7 hours and 30 minutes without stopping to drive along the entire length of the Oregon Coastline from Astoria to Brookings. You'll follow 340 miles of coastal highway and pass through some of the most charming towns in America.
To assist you in determining how long a drive along the Oregon coast will take, we put together a detailed summary of the distances you'll drive, places of interest along the way, and important things you should know before taking on the incredible drive along the coast of Oregon.
Time to drive the Oregon Coast
The coast of Oregon follows a pretty straight path. However, it does have plenty of winding terrain and elevation changes. The time it takes to drive on this highway depends on several factors like traffic, weather, and how many stops you choose to make along the way.
The primary route you'll be taking is the famous Highway 101. This famous road goes from coastal California, all the way up to Olympia, Washington.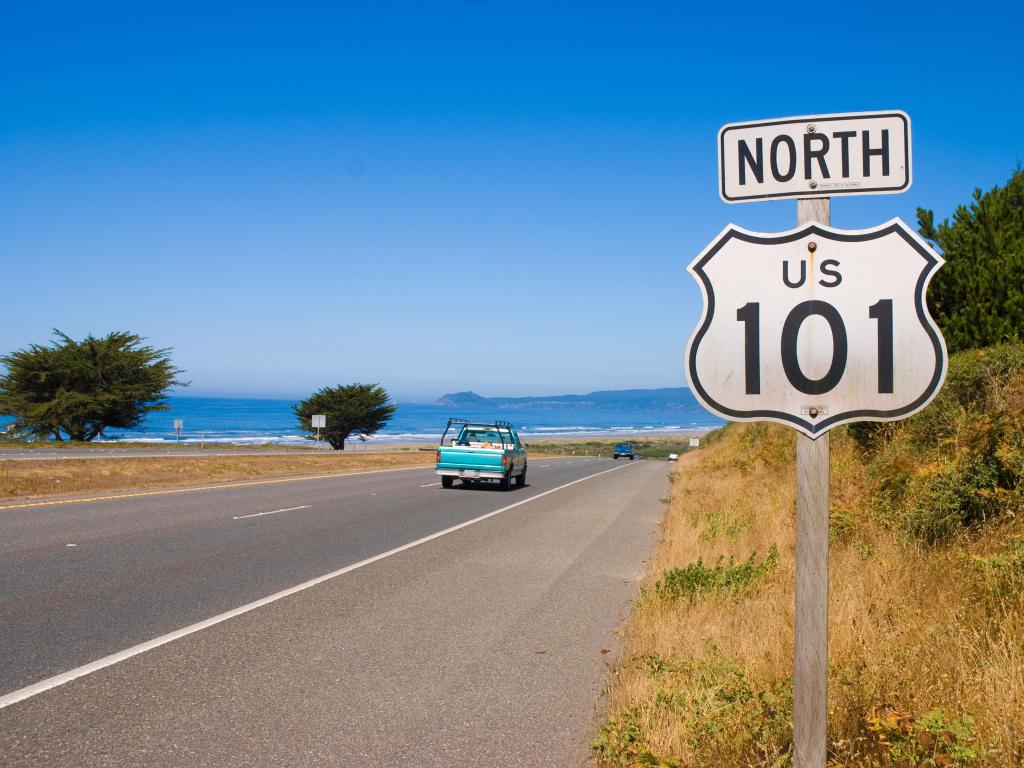 How long does it take to drive the Oregon Coast
The incredible Oregon coastal road trip is best driven from either north to south or south to North. You'll pass key places like Astoria in the north and Brookings in the south, both fun places to spend a few hours or more exploring.
The main road along the coast, Highway 101, intersects towns that can be busy during rush hour. Towns like Florence, Coos Bay, Bandon, Port Orford, Gold Beach, and Brookings can have periods of backed up traffic from 7am to 9am.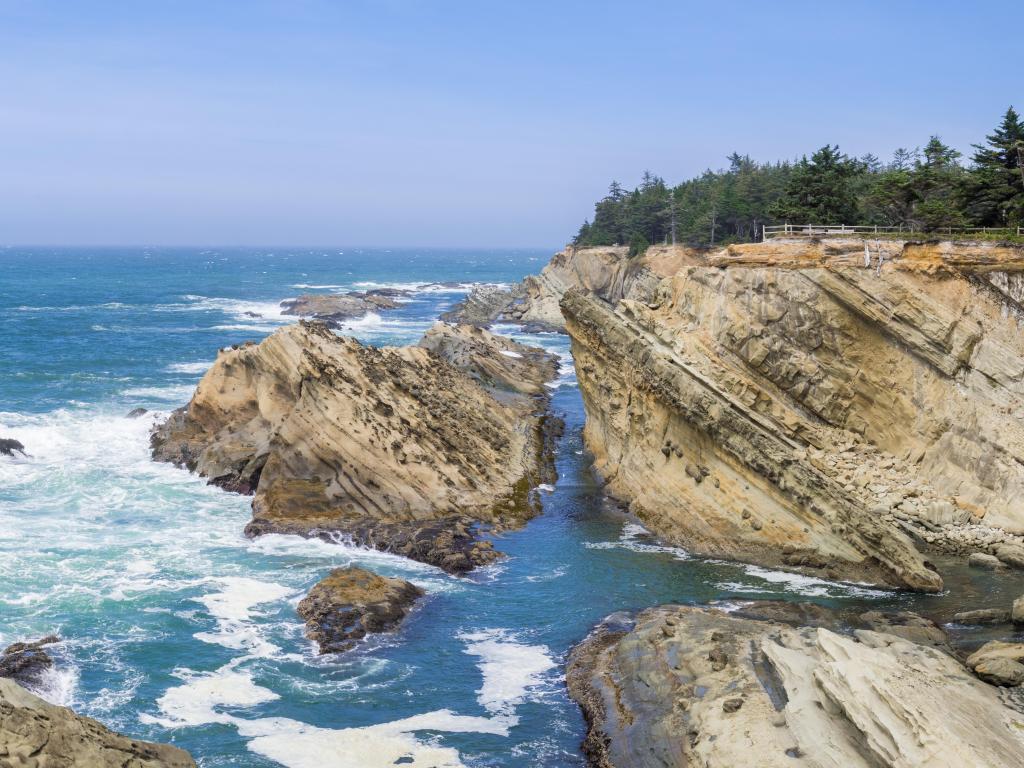 Taking traffic into consideration, plus the wonderful stops along the way, will help you determine the amount of time to take for this drive. At the very minimum, if you were to stop for 30 minutes in each town, it would add 2 hours and 30 minutes to your trip, giving you a new total of 10 hours of travel time.
However, because there's so much to see and do along this beautiful stretch of coastline, we strongly recommend breaking the trip up into two days.
We suggest staying the night in the town of Newport, about one-third of the way south from Astoria. The town has a wonderful selection of resorts and hotels, plus many restaurants and bars as well.
Driving the entire length of the Oregon Coast
There are many fun stops on the Oregon Coast Highway. The first is Astoria. This is the iconic home of the Goonies house and where you can see a genuine shipwreck.
Further down is Seaside. This beautiful resort town has a traditional seaside promenade that's perfect for calm walks by the shore. Next up comes Cannon Beach, a short Sand Beach with a pristine forest backdrop.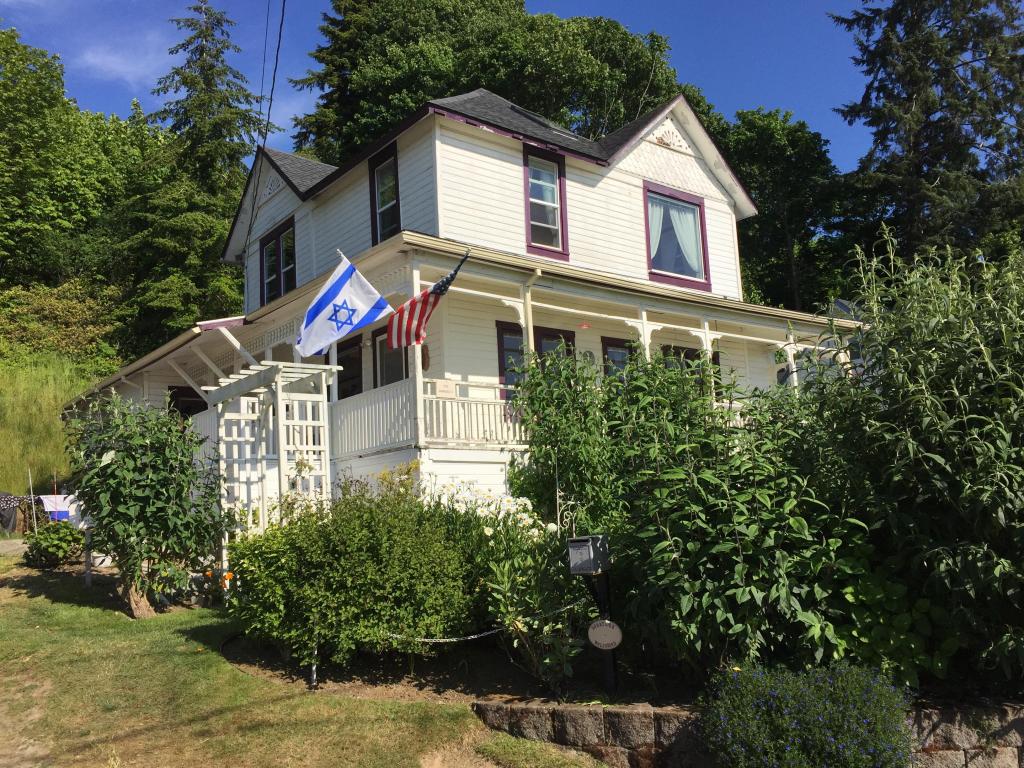 Heading further south from here is Depoe Bay, a great spot for whale watching. And finally, the town of Bandon, famous for its rock stacks on the beach that make for wonderful photo opportunities.
Astoria to Seaside is 17 miles of beautiful highway driving. Then Seaside to Cannon Beach is 9 miles followed by another 96 miles to Depoe Bay.
Depoe Bay to Bandon is the farthest stretch, at 134 miles through rural wilderness and majestic ocean views. To close the route, Bandon to Brookings is 83 miles.
Driving to the Oregon Coast from major cities
Comparison of driving times and distances from major cities to the Oregon Coast

| Origin city | Entry point | Distance | Driving Time |
| --- | --- | --- | --- |
| Portland | Astoria | 100 miles | 1 hour 50 minutes |
| Seattle | Astoria | 190 miles | 3 hours 10 minutes |
| San Francisco | Brookings | 350 miles | 7 hours |
The Oregon coast is relatively easy to reach from many cities in America. The closest big city is Portland, Oregon. The city is only 100 miles from Astoria and 9 hours away from Brookings.
From the south, San Francisco is only 350 miles to Brookings and 720 miles from Astoria in the north. To drive the entire coast from San Francisco, you're looking at 14 hours in total driving time. Driving from California's capital, Sacramento, is roughly the same distance.
From Seattle, Astoria is only 190 miles away, and Brookings in the south is 520 miles. To drive from Seattle, through Astoria and along the coast to Brookings, it will take you 10 hours and 20 minutes of driving time.
Things to know that can impact your driving time
Oregon is a state prone to wild weather, including rainstorms and fog. Floods, landslides, and traffic are the biggest risks that will add time to your trip.
Other factors include traffic in the towns you'll drive through. Turning vehicles and general traffic will cause delays, so make sure to be patient as this is a well-used highway, especially for local commuters.
The Oregon Coast Highway is a two-lane road with some passing lanes in certain sections. Summer holidays will have heavier traffic and be prepared to follow trucks that use the road to transport goods between the state's coastal towns and lumber mills.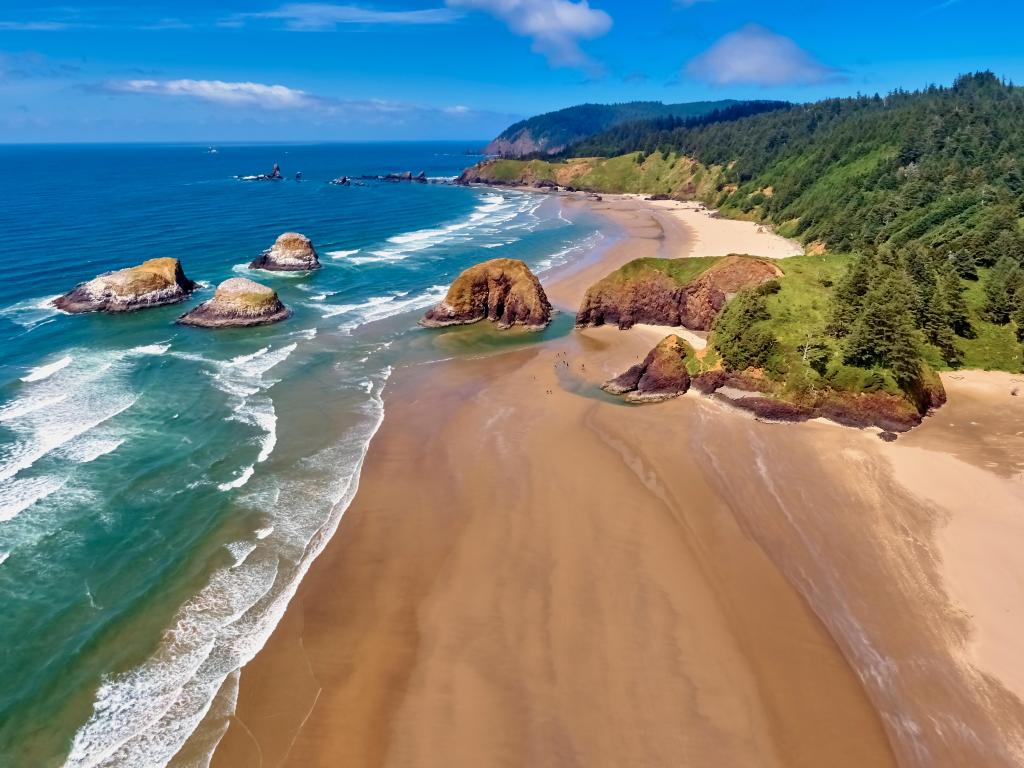 Tips to drive the Oregon Coast in the shortest possible time
Below are some tips to cut your driving time so you have more time to enjoy the sights along the way. These tips will also help to make the journey safer, so you can have a stress-free road trip along one of the most beautiful stretches of coastline in America.
The first piece of advice is to have two drivers available so you can alternate and stay fresh. This will allow you to also have the opportunity to admire the coastal scenery during the drive, on and off.
To minimize the refueling stops, it is a good idea to choose an economical car, if that is an option.
If you are a confident driver, you can also opt to drive at night when there is likely to be less traffic. However, keep in mind that some states enforce reduced speed limits in the dark, so always make sure to double-check.
Stock up on snacks and in-car entertainment, to reduce the need for stops and detours. And finally, as always, check the weather before you depart and make sure not to drive during a storm or winter weather.