How Long Does It Take To Drive Up Pikes Peak?
Located in the western United States, Pikes Peak is a mountain in the Front Range of Colorado's stunning Rocky Mountains. It rises up majestically from the town of Manitou Springs, reaching an elevation of 14,115 feet.
It's about a 20-mile drive from Cascade at the base of Pikes Peak up to its summit, which will take you 50 minutes if you drive straight to the top. There are stunning views from the mountain though, so allow some extra time to stop and enjoy them.
Pikes Peak is an easy trip from Colorado Springs, which is just 10 miles to the west, but you can also enjoy the drive there and back from Denver in a day. Keep on reading to find out more about how long the drive up Pikes Peak will take, and other information to make the drive as enjoyable as possible.
Time to drive up Pikes Peak
Time and distance to the top of Pikes Peak from nearby locations
Route
Distance
Driving Time
Main Route


From the base to the peak

20 miles
50 minutes
Colorado Springs Route
30 miles
1 hour
Denver Route
100 miles
2 hours 20 minutes
Pikes Peak Toll Road starts at the foot of the mountain in the town of Cascade and takes you all the way to the top in around 50 minutes.
As it only takes 50 minutes to get to the top, Pikes Peak is a popular one-day trip from other cities including Colorado Springs and Denver. If you're starting at Colorado Springs, you can be at the top of the mountain around 1 hour after leaving town.
Denver is a little further away so you'll have to make the trip along the interstate before you start the drive up the mountain. From Denver, it takes around 2 hours 20 minutes to reach the top of Pikes Peak.
Wherever you're starting out, we'd also suggest adding at least 30 minutes on to of your driving time to stop and enjoy the view at the Halfway Picnic Area. And don't forget to leave time to get back down again when you're ready to head home.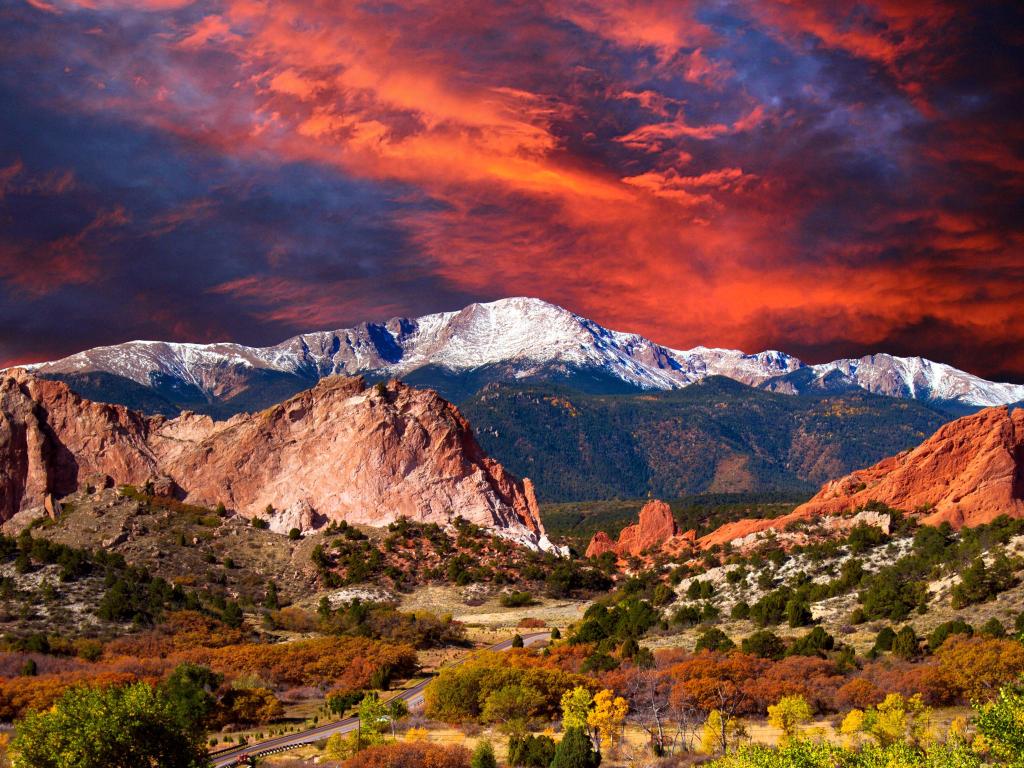 Driving up Pikes Peak from Cascade
There's only one road up Pikes Peak from Cascade so it's a simple trip to navigate - just keep on heading uphill once you've passed the tollgate.
The road winds its way up the mountainside, taking you around many switchbacks along the way. Despite the remote outlook, you can hit tailbacks along the way, especially if you're travelling between 9am and midday, so plan your departure time carefully if you'd rather be looking out across mountain peaks than the back of another vehicle.
The Pikes Peak Highway is open all year round, but there are times when it has to close due to bad weather. Check the weather report before setting off on your journey.
If you're afraid of heights or not a confident driver the windy roads might be overwhelming for you, and as there's only one road up Pikes Peak they're unavoidable if you're travelling by car. As an alternative, we'd recommend taking the Cog Railway from Manitou Springs if you don't feel confident driving.
Driving up Pikes Peak from Colorado Springs
Travelling from Old Colorado City you'll take Highway 24, the Midland Expressway, to reach the entrance to Pikes Peak.
It's only a short journey, and most of it follows the Pikes Peak Highway that you've already read about. However, if you're travelling out of Colorado Springs with the commuters between 4 and 6pm, you're likely to hit heavier traffic so leave a few minutes extra to reach Pikes Peak.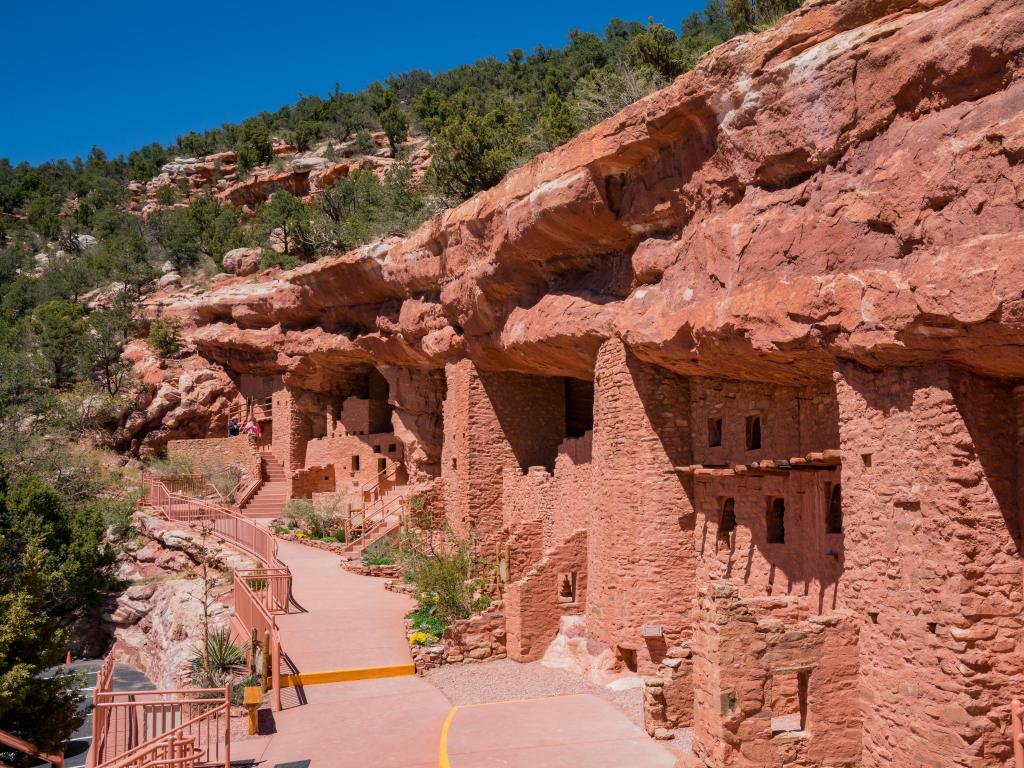 This is still a pretty short drive so you won't need to make stops to be able to enjoy your day out. However, you'll pass some fabulous sites along the way, including Manitou Cliff Dwellings, Cave of the Winds Mountain Park, and, with a short detour, the Garden of the Gods.
Allowing for the driving time too, if you were to enjoy a brief visit to each of these three attractions it would add around 2 hours and 30 minutes. This gives you a new total of 3 hours and 30 minutes of travel time.
How to drive up Pikes Peak from Denver
Many visitors to Pikes Peak have started their day in nearby Denver. If this is where you'll be travelling from, simply head south from the city on I-25 until you reach Old Colorado City and can join up with the main route up to Pikes Peak via Highway 24 and the Pikes Peak Highway.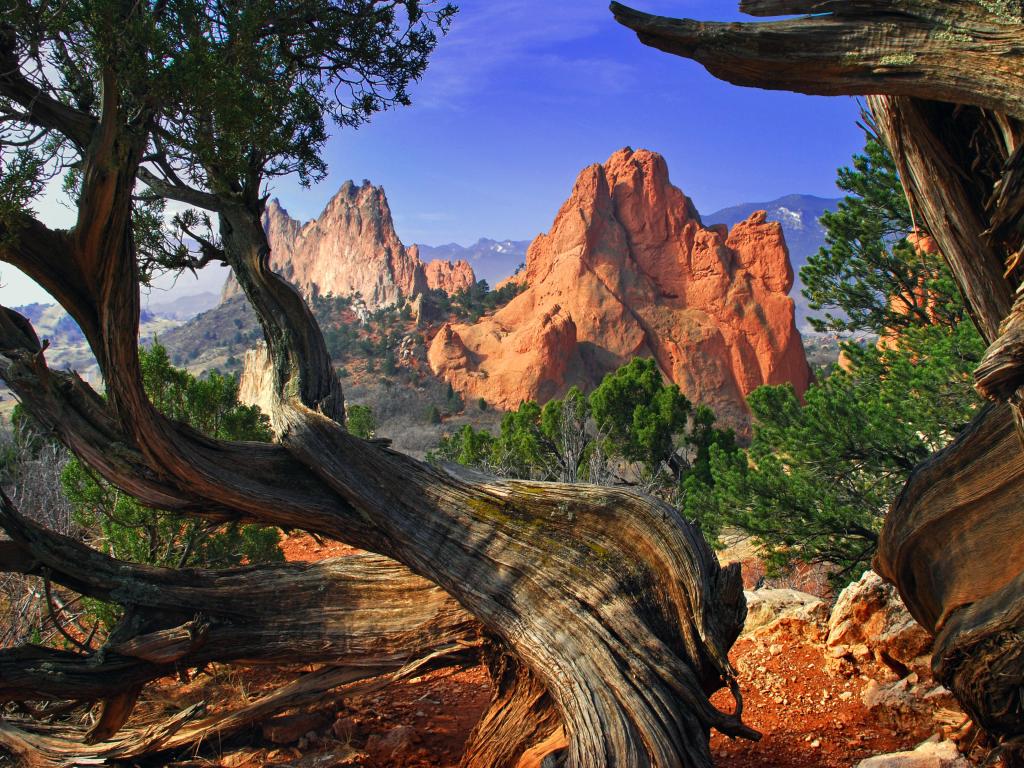 Leaving Downtown Denver it's possible that you'll hit traffic if you're travelling in the afternoon - aim to avoid the hours between 4 and 6pm to avoid this if possible.
Average traffic could easily add another 40 minutes onto your 2-hour and 20-minute drive so always leave plenty of time to get parked up and to find your bearings. Leave longer if you're travelling in peak rush hour though.
To make your journey more relaxed and to allow time to see Manitou Cliff Dwellings, Cave of the Winds National Park or Garden of the Gods, you could stay overnight in Colorado Springs if you're travelling from Denver.
This also gives you the chance for an early start on your drive up Pikes Peak Highway.
In case you're starting your journey further afield than Denver, we've put together a list of popular routes to Pikes Peak, together with the driving time and distance from other starting points. Driving times include the drive up the Pikes Peak Highway.
Comparison of driving time and distances to reach Pikes Peak

| Route | Distance | Driving Time |
| --- | --- | --- |
| Fort Collins | 160 miles | 3 hours 30 minutes |
| Albuquerque | 410 miles | 6 hours 30 minutes |
| Oklahoma City | 620 miles | 10 hours 20 minutes |
| Las Vegas | 800 miles | 13 hours 30 minutes |
| Phoenix | 820 miles | 13 hours 10 minutes |
| Los Angeles | 1,070 miles | 18 hours |
Things to know that can impact your driving time
With a spectacular alpine landscape to admire, it's likely that you'll want to hop out of your vehicle to look out at the view as you make your way to the top of Pikes Peak. For most travelers this will add around 30 minutes to the drive time.
On busy days, it's possible that congestion at the tollgate or along Pikes Peak Highway itself can add up to 3 hours to your round trip. The toll road can even be closed at certain points in the day, which will slow down your drive even more.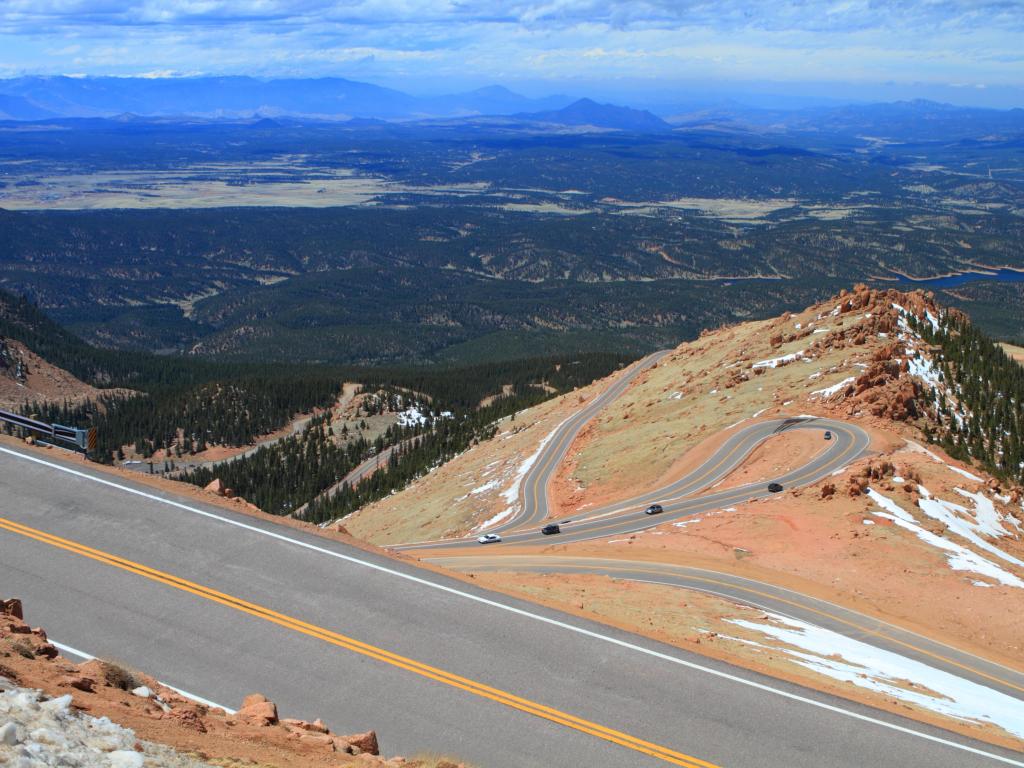 What's more, there are picnic areas along the way too, so add another 30 minutes if you want to stop for lunch. And of course, once you've reached the summit you'll probably want to stop and spend some time up there too.
There are many other places to pull over as you make your way along the Pikes Peak Highway. It would take all day if you stopped at them all, but the Halfway Picnic Area is a good place to aim for.
Even with these delays, you don't need to make an overnight stop on the mountain or in nearby Colorado Springs - unless you want to, that is!
Another factor in how quickly you can make the drive is the speed limit. Pikes Peak Highway has a limit of just 25 mph, and you'll need to take the switchbacks even slower. Drive safely and keep to these limits - it's not a race to get to the top.
Please note that our routes and time estimates take these speed limits into account, but any closures, roadworks, weather conditions or diversions may impact these.
As we've mentioned, adverse weather conditions can also have a big impact on your journey time, as Pikes Peak Highway can close during heavy snowfall. Check for local information before you travel - you may need to be flexible if you're travelling during the colder months.
Tips to drive up Pikes Peak in the shortest possible time
Once you've read all this information if you're still not feeling confident about the drive, use The Cog Railway at Manitou Springs to reach the summit.
If you're driving you'll need to factor in opening times to avoid a wait when you arrive at the toll gate.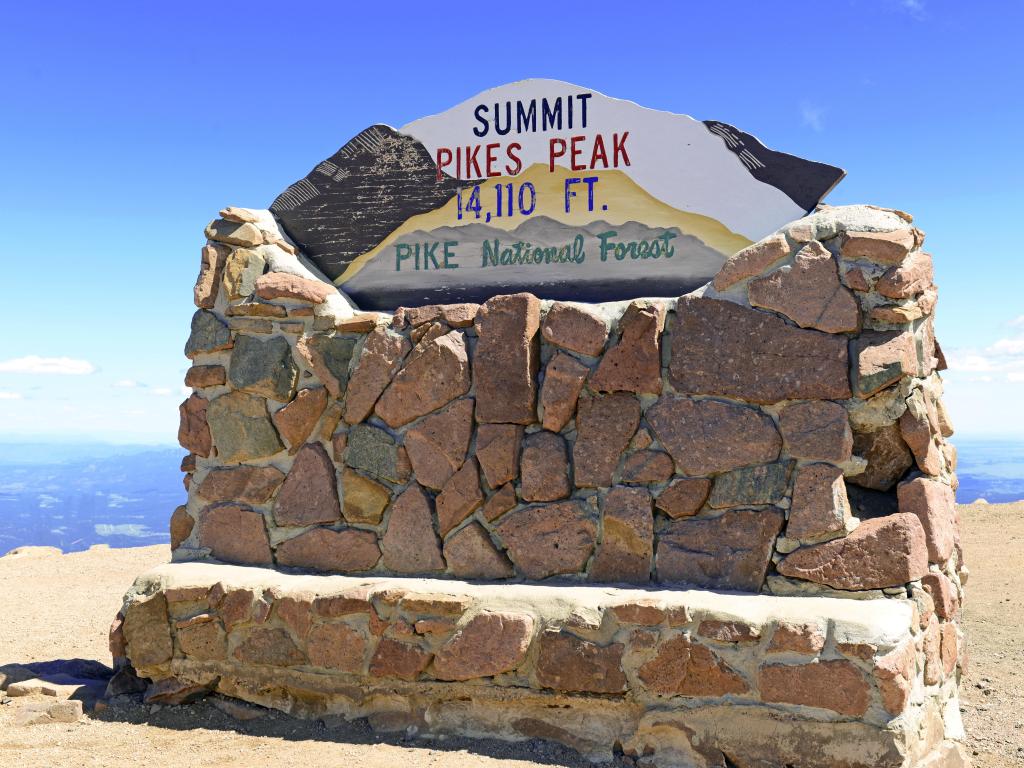 From October to May the uphill gate opens at 9am and you'll need to leave the summit by 4pm. From Memorial Day to Labor Day opening hours increase so that you can start your drive at 7.30am and stay at the summit until 7pm. Then from Labor Day the summit closes earlier again at 6pm.
Make sure you have a full tank of gas. The drive will guzzle gas so stop at Manitou Springs to fill up.
The rangers will assess the conditions throughout the road, so they'll only allow you to make the drive if it is safe. You might also need to take precautions against altitude sickness.
The difference in temperature between the gate and the summit is often 30 degrees Fahrenheit. Expect colder weather when at the top. But be careful of the sun too.
Only stop at the designated areas to take photographs and don't overtake - if someone is wanting to get past use the pullovers.
Our final piece of advice for this picturesque route is to slow down and relax. Take your time and enjoy the drive so that you can bring back a whole host of unforgettable memories.