Road Trip from Denver to Monument Valley
We know what you're thinking: You need a vacation. It's your lucky day because this trip from Denver, Colorado, to Monument Valley, Arizona, is the perfect way to escape the city, get away from it all, and get back to nature.
The 630-mile road trip from Denver to Monument Valley will take about 13 hours to drive. You will get to visit Vail, Palisade, Moab, Colorado Springs, Pagosa Springs, Pikes Peak, Great Sand Dunes, Arches and Canyonlands National Parks on the way.
Monument Valley has an enchanting landscape with striking views of the mountains and vistas. It's also the location of some notable film and TV sets. Read on to find out the best routes, where to stop and what to do before getting to this stunning natural landmark.
How far is Monument Valley from Denver, and how long will the road trip take?
Comparison of road trip routes between Denver and Monument Valley

| Route | Distance | Driving Time |
| --- | --- | --- |
| The Moab Route | 570 miles | 9 hours 30 minutes |
| The Colorado Springs Route | 630 miles | 13 hours |
The Colorado Springs Route is 630 miles and takes 13 hours to drive nonstop. This doesn't take any stops or detours you might want to make into account.
On the Moab Route, the drive is 560 miles and about 9 hours and 30 minutes. It's shorter and passes through remote desert roads.
Both routes can be driven in a day but set aside two to five days to give yourself enough time for rest and exploration.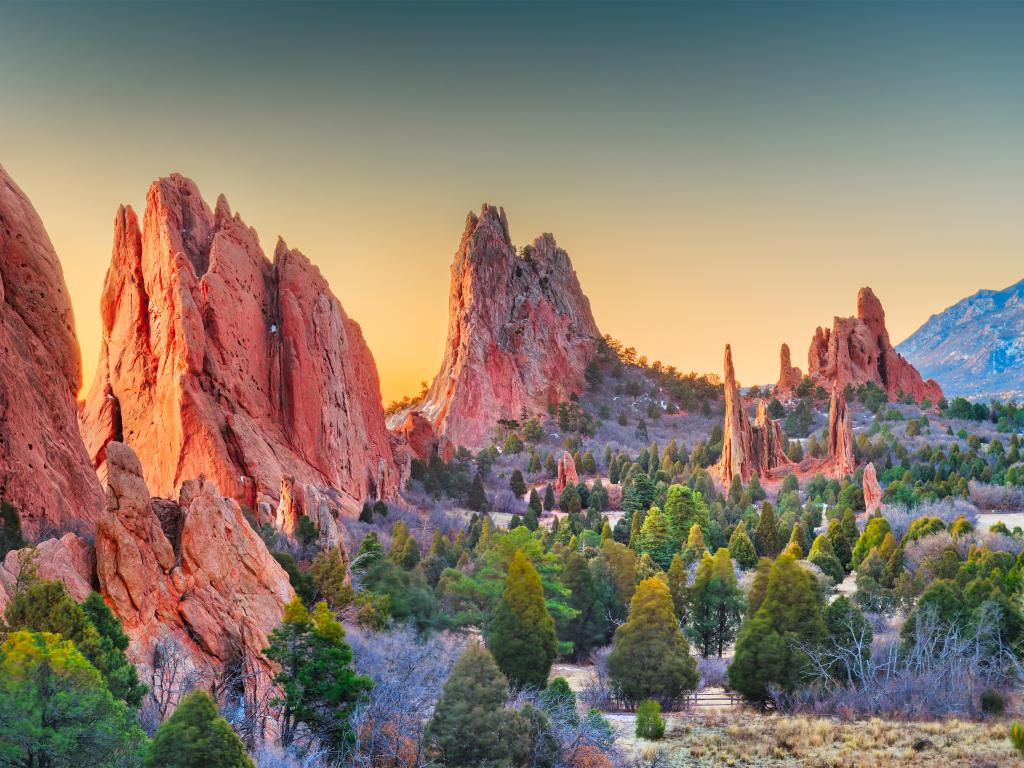 Best road trip route from Denver to Monument Valley
Driving from Denver, Colorado, to Monument Valley in Arizona is a road-trippers dream. Whether you take the Colorado Springs or Moab Route, you will find open roads, gorgeous desert landscapes, and quaint small towns.
On the Colorado Springs Route, you pass through the resort towns of Colorado and Manitou Springs. While here, visit Pikes Peak summit and explore this breathtaking area.
Enjoy a leisurely drive to the Great Sand Dunes National Park and Preserve, where you can see the grasslands and the wetlands. The road to Monument Valley is paved with beautiful southwestern scenery.
If you go through Moab, you will visit the picturesque towns of Vail and Palisade in Colorado. The Arches and Canyonlands National Parks are on this route, and they are beautiful places to see when you get to Moab city.
There's a mix of desert and grasslands on this path, where the drive is as pleasant as the landscape.
The Moab Route is a good option if you would like to visit the Arches and Canyonlands National Parks. If you want to see more of Colorado, take the Colorado Springs Route. Both routes show off the beauty of the American west.
The Colorado Springs Route
Start in Denver and take Interstate 25 (I-25) S to Colorado Springs, about an hour away. This beautiful mountain town has outdoor activities for nature lovers and delicious food. After your visit, head to Manitou Springs.
Visit the Garden of the Gods and check out the Manitou Cliff Dwellings. Go to the summit of Pikes Peak by hiking or cog railway. It's an alpine forest wonderland with gorgeous views.
When ready, hit I-25 S and go to the Great Sand Dunes National Park and Preserve. There's a diverse landscape of wetlands and grasslands to explore here, so take a minute to wander around this protected reserve.
About two to four hours away on the US-160 W, you can stop to visit the Rio Grande and San Juan National Forest. Otherwise, continue on the US-160 W to your final destination, Monument Valley.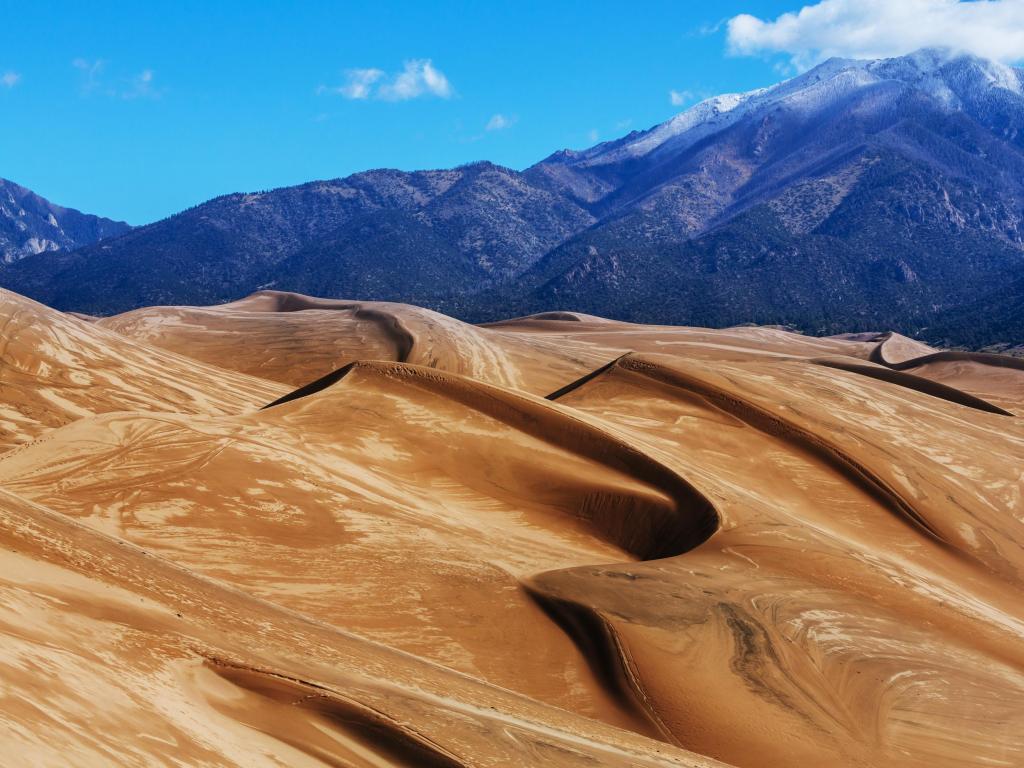 The Moab Route
From Denver, hop onto I-70 W for a two-hour drive to Vail. This mountain town is home to a ski resort and sits in the Vail mountains. From Vail, drive to Palisade on I-70 W.
This quaint town is well-known for its fruit and wine and has over 30 local wineries. Explore a few of them, and if you want to take a detour to Grand Mesa, follow I-70 E to get there. It's just over an hour from Palisade and is a stunning natural attraction.
From Palisade, head to Arches National Park by following the I-70 W and US-191 S. This region is full of open desert landscapes, iconic rock arches, and mountain views for miles.
Take pictures and explore, and when ready, get onto the US-191 S to Moab. Stop overnight here and visit the Canyonlands National Park, where the striking red dunes are enticing. When ready, get onto the US-160 W to your final stop, Monument Valley.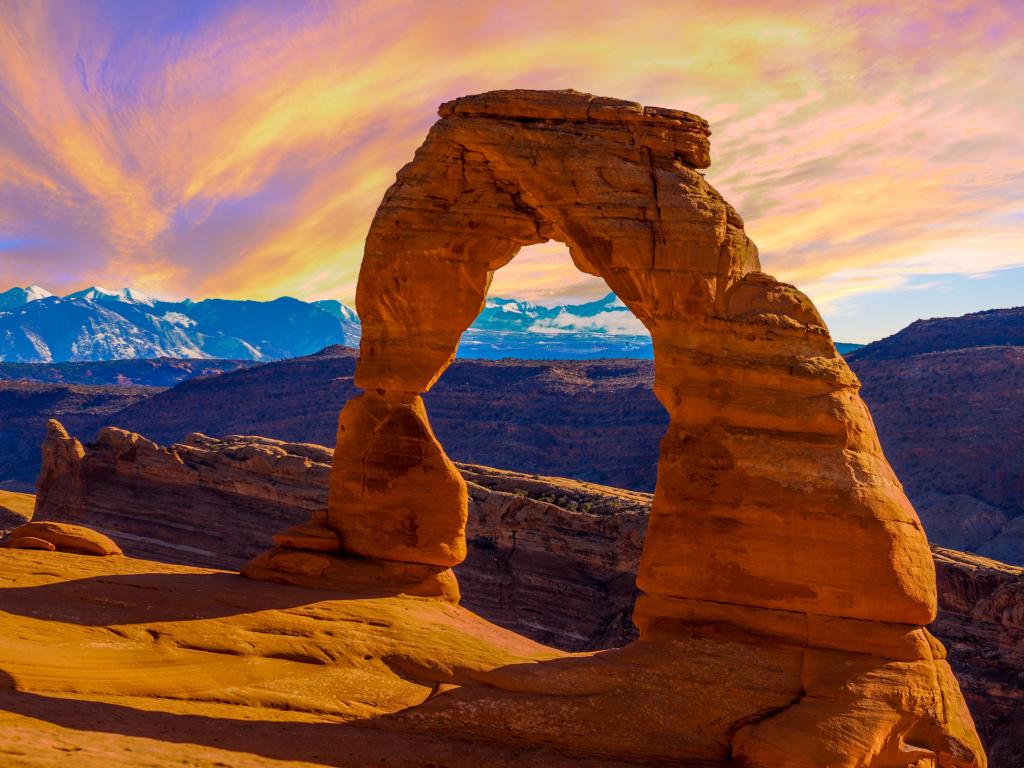 Best places to stop between Denver and Monument Valley
This road trip is not just an ode to the pioneers, it's a scenic adventure into the American West. From Denver to Monument Valley, the roads take you through the desert – with mountain views and plenty of outdoor activities to enjoy along the way.
You will want to stop overnight, so here are some great suggestions for places to stay on each route.
Take a dip in Manitou Springs
About 6 miles west of Colorado Springs, stop overnight at Manitou Springs. It's about 2 hours from Denver on the Colorado Springs Route, right at the base of Pikes Peak. If you'd like to learn more about the drive up to Pikes Peak, here is our comprehensive guide.
This small resort town is as charming as it looks in the brochure. Manitou is a place to relax and soak in one of the many mineral hot springs around town. If you're feeling adventurous, some hot spring facilities allow tourists to taste the water.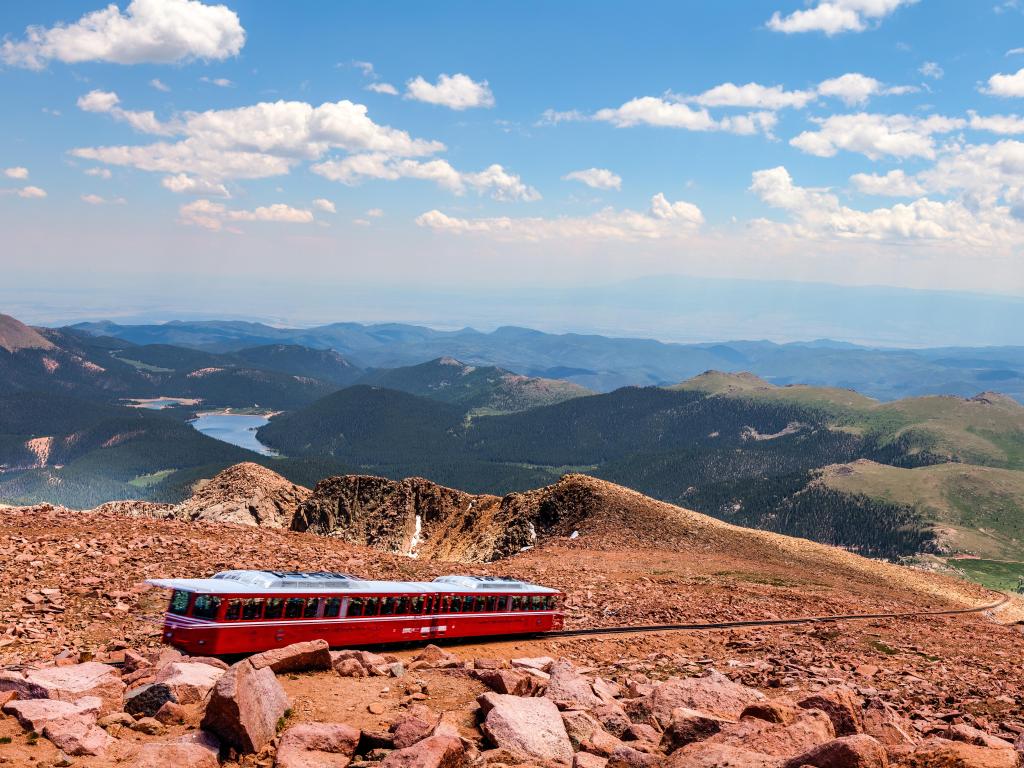 The town has a lovely historic district with shops, galleries, and restaurants. Visit Pikes Peak summit while hiking or take the Pikes Peak Cog Railway to get to the top.
The Manitou Cliff Dwellings are a curious attraction where you can learn more about Native American history. Check out the Garden of the Gods, a divine landmark with beautiful red rock formations and sandstone cliffs.
While here, we suggest staying at The Cliff House. The historic Victorian design of this hotel is enchanting, and there is free parking for guests.
The Cliff House has many different room styles, and each one is comfortable with a beautiful 19th-century feel. Stroll around the grounds and explore the buildings while enjoying open mountain views. The restaurant has a continental breakfast and a fitness center for guests.
The hotel is on the main route, so it's near the downtown district. The Cliff House is within walking distance of the Pikes Peak Cog Railway, Garden of the Gods, and the Manitou Cliff Dwellings.
Visit the gateway to the desert, Moab City
About 5 hours out of Denver, stop overnight in Moab on the Moab Route. It is your entry into the desert and a preview of the gorgeous landscapes ahead.
Moab is a friendly town and very popular with tourists. The small area is a gateway to several national parks, including the Arches and Canyonlands. Dead Horse Point State Park is also located here and is a stunning, underrated lookout where you can see the canyons for miles.
There is plenty of hiking, rock climbing, and river rafting. Adrenalin-seekers should try out the Slickrock Bike Trail, a challenging 12-mile mountain biking route. Moab also has a vibrant downtown district with galleries and shops. There are some great local dining spots like the Moab Brewery, a lively microbrewery with delicious local beers.
Since it's a popular rest stop, Moab has a lot of lodges and hotels. We recommend staying at the Best Western Plus Canyonlands Inn. Located in the center of Moab, this hotel has free parking for guests.
The lodge-styled rooms are modern, comfortable, and spacious. Relax in the peaceful location and enjoy a breakfast buffet on the lovely terrace. There is also a 24-hour gym, hot tub facilities, and a pleasant picnic and playground area.
The downtown district is just outside the hotel, so you can explore and eat out whenever you like. Best Western Plus Canyonlands is a short drive from the Arches, Canyonlands, and Dead Horse Point State Parks.
Where to stay when you reach Monument Valley
Monument Valley is the site of popular film and TV locations like Forest Gump and Westworld. Luckily, you don't have to see it on the big screen to appreciate its haunting beauty.
Iconic red rock formations dot the valley, which goes out into the horizon. Sandstone pieces interrupt the view stretching up to 1,000 feet. There is something spellbinding about the open vistas, which look particularly beautiful when the sun is high, and the shadows are just right.
Most hikes through this pristine valley require a guide, so book ahead. There are also guided driving trails across the desert. Visit the Lower Monument Valley in the morning or evening to catch the sunrise or sunset.
There are plenty of places to stay around Monument Valley, and we suggest Goulding's Lodge. Located near the main highway, this hotel has free parking for guests.
The lodge is right next to a massive mesa, surrounded by mountains. After a long drive, you can enjoy comfortable and spacious cabin-style rooms with a kitchenette. Some suites come with a balcony with stunning views of the vista. The hotel has a lovely indoor swimming pool and on-site restaurant with a small museum and theatre.
Goulding's Lodge is about 3 miles from Monument Valley, with plenty of tours and outdoor activities nearby.
Things to see on a road trip from Denver to Monument Valley
Going west is not just an Americanism, it's a whole adventure. This road trip from Denver to Monument Valley has stunning national parks, beautiful landmarks, and charming southwestern towns.
If you're finding it hard to decide where to go, we've got you covered. Here's a list of things to see and do on each route.
The Colorado Springs Route
Red Rocks Park and Amphitheatre – This beautiful park has stunning red rock formations and is a famous outdoor concert venue.
Lookout Mountain Park – Enjoy scenic views of the Rocky Mountains and the city of Denver and visit the grave of Buffalo Bill.
Garden of the Gods Park – This breathtaking park is a popular hiking, rock climbing, and wildlife-watching spot.
Pikes Peak Highway – Take a scenic drive up to the summit of Pikes Peak for panoramic views of this beautiful area.
Manitou Cliff Dwellings – This archaeological site has ruins of ancient Native American cliff dwellings and a museum showcasing the history and culture of this ancient region.
Cave of the Winds Mountain Park – Take a tour of these caverns and try ziplining, hiking, and other outdoor activities here.
Royal Gorge Bridge and Park – This park is home to the world's highest suspension bridge, with thrilling attractions like ziplining, and rides including aerial gondolas.
Cameron Trading Post – This historic trading post is near the east entrance of the Grand Canyon. There are shopping, dining, and cultural attractions to enjoy here.
Cheyenne Mountain Zoo – This beautiful zoo is on a mountainside overlooking Colorado Springs. It has over 750 animals from around the world.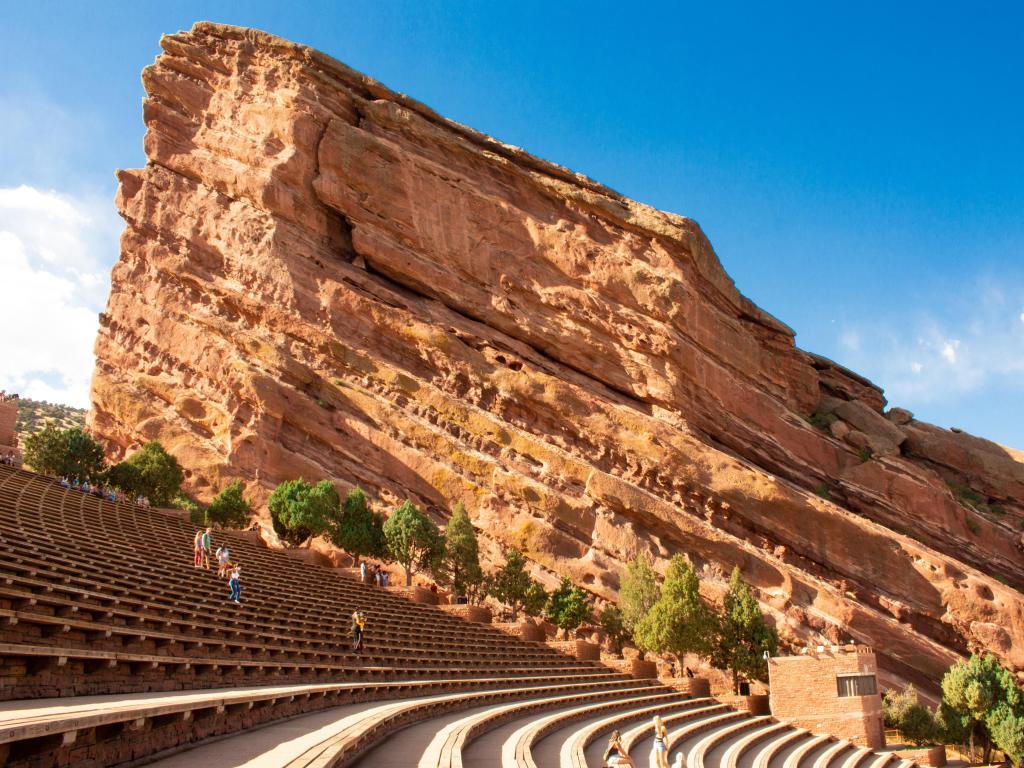 The Moab Route
Dead Horse Point State Park – Enjoy breathtaking views of the Colorado River and Canyonlands National Park from 2,000 feet above the canyon floor at this gorgeous park.
Canyonlands National Park – There are stunning views of the canyons and mesas here, with hiking, camping, and stargazing.
Arches National Park – The iconic park is home to over 2,000 natural sandstone arches and is a great hiking, camping, and photography spot.
Moab Giants Dinosaur Park – This place is delightful for kids and adults and has life-size dinosaur replicas and interactive exhibits.
Hole N' The Rock – Check out this unique home carved into a giant rock.
La Sal Mountain Loop Road – A scenic route that takes visitors through stunning mountain vistas. Take advantage of the hiking and wildlife watching here.
Manti-La Sal National Forest – This beautiful forest is a popular hiking, fishing, and camping area. It's a lovely place for scenic drives.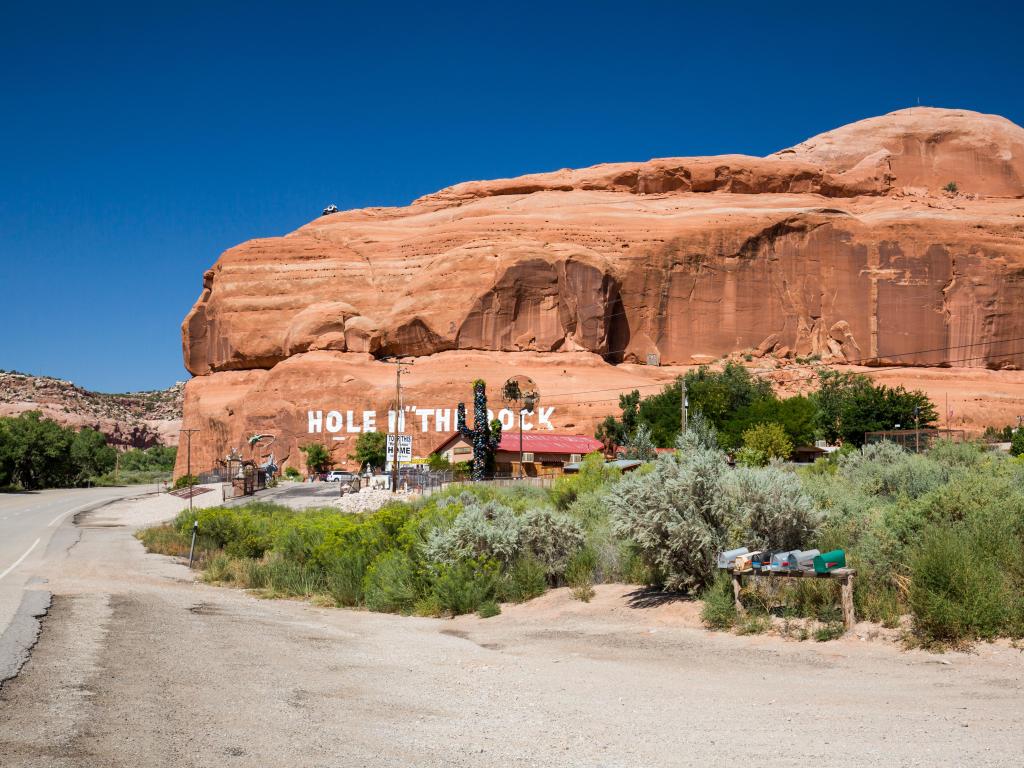 Both Routes
Rocky Mountain National Park – Visit this park before you hit at the road, on the Colorado Springs Route. There are stunning views of the Rocky Mountains with outdoor activities like hiking, wildlife watching, and scenic drives.
Monument Valley Navajo Tribal Park – See some of America's most striking red rock formations in this sprawling desert. Visitors can explore the area on guided jeep tours or hiking trails.
Best time to go on a road trip from Denver to Monument Valley
It's possible to take a road trip from Denver, Colorado, to Monument Valley in Arizona year-round.
Summer is peak season and hot, with temperatures exceeding 100 degrees Fahrenheit. Outdoor activities like hiking and camping can be uncomfortable if you're not used to the heat. Summer is also a popular time for visitors, so expect crowds and higher rates for tours, accommodations, and attractions.
Winter is cold, with temperatures dropping to below freezing at night. Expect road closures because of snow and mud. There are fewer visitors in winter, but if you don't mind the cold, you may enjoy visiting during this season.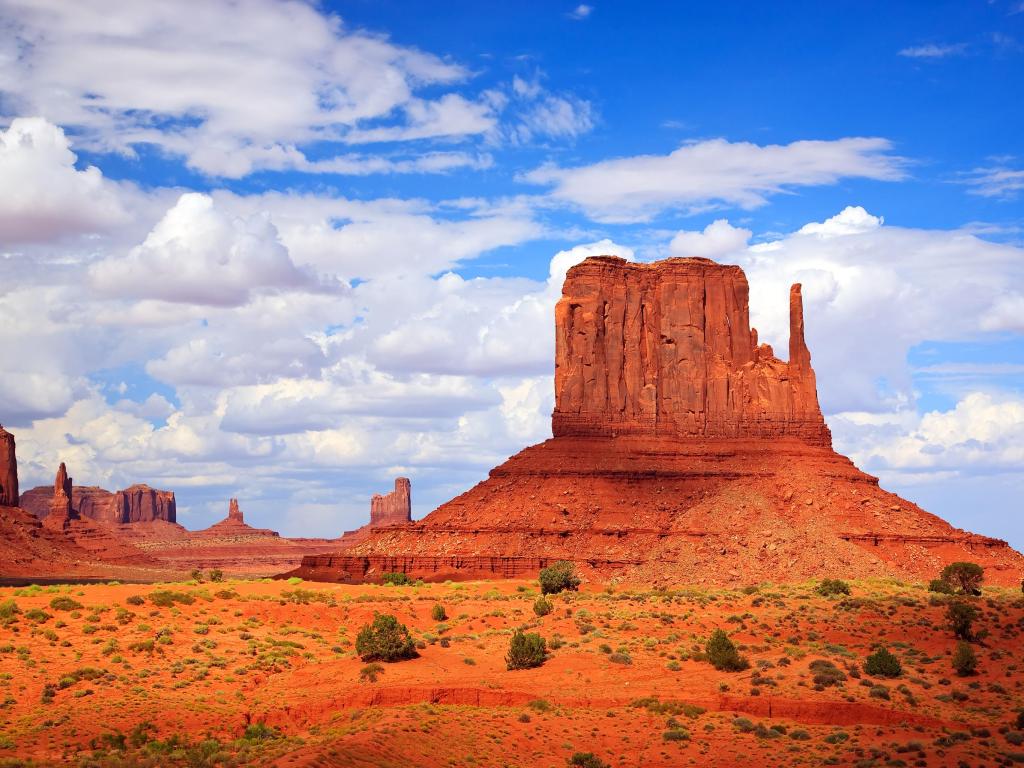 Spring and fall are popular seasons to visit since the weather is milder and more pleasant. Spring does have some unpredictable temperatures and occasional snowstorms.
Flowers bloom from March to May, and there is fall foliage from September to November. Rates and crowds are more reasonable during these seasons.
Monument Valley has a score of events and festivals throughout the year. In January, check out the Monument Valley Balloon Festival, an event for hot-air balloonists from all over the globe. The Monument Valley Wild West Days event is in May and includes a rodeo, live music, arts and crafts, and a parade.
The annual Navajo Nation Fair is a week-long event in September with traditional Navajo ceremonies, rodeos, parades, and a carnival. And the challenging but scenic Monument Valley Marathon takes place in November.