Road Trip from Denver to Moab
The road trip from Denver to Moab is the perfect adventure to get back to nature as you drive past picturesque lakes, epic canyons and spectacular mountains. This trip also offers plenty of amazing outdoor activities as you feast your eyes upon breathtaking scenery.
The 480-mile road trip from Denver to Moab takes 7 hours to drive. On the way you'll pass through Colorado Springs, Aspen, Cisco, Marble, Lands End, Pikes Peak, Twin Lakes, Mount Elbert, Grand Mesa, Arches National Park and Canyonlands National Park.
Packing in plenty of breathtaking natural scenery, plus hikes and opportunities for adventure, there's so much you'll want to experience on this road trip to Moab. Read on to find out the best times to make the journey, plus our favorite things to do along the way.
How far is Moab from Denver, and how long will the road trip take?
Comparison of road trip routes between Denver and Moab

| Route | Distance | Driving Time |
| --- | --- | --- |
| The Direct Route | 480 miles | 9 hours 20 minutes |
| The Scenic Route | 620 miles | 12 hours 50 minutes |
This nature-filled adventure promises national parks in abundance, including the incredible Arches National Park and Canyonlands National Park, whichever route you take.
Our shorter, more direct route from Denver to Moab takes you through beautiful scenery, covering 480 miles and taking 9 hours and 20 minutes total driving time, not accounting for stops or detours along the way.
However, if you choose to take the scenic route, you'll cover 620 miles and be driving for about 12 hours and 50 minutes.
We recommend doing this trip over 4 days to give you ample time at all the stops (although it would be easy to stretch it out much further). If you have a week's vacation, this road trip is the ideal way to spend it!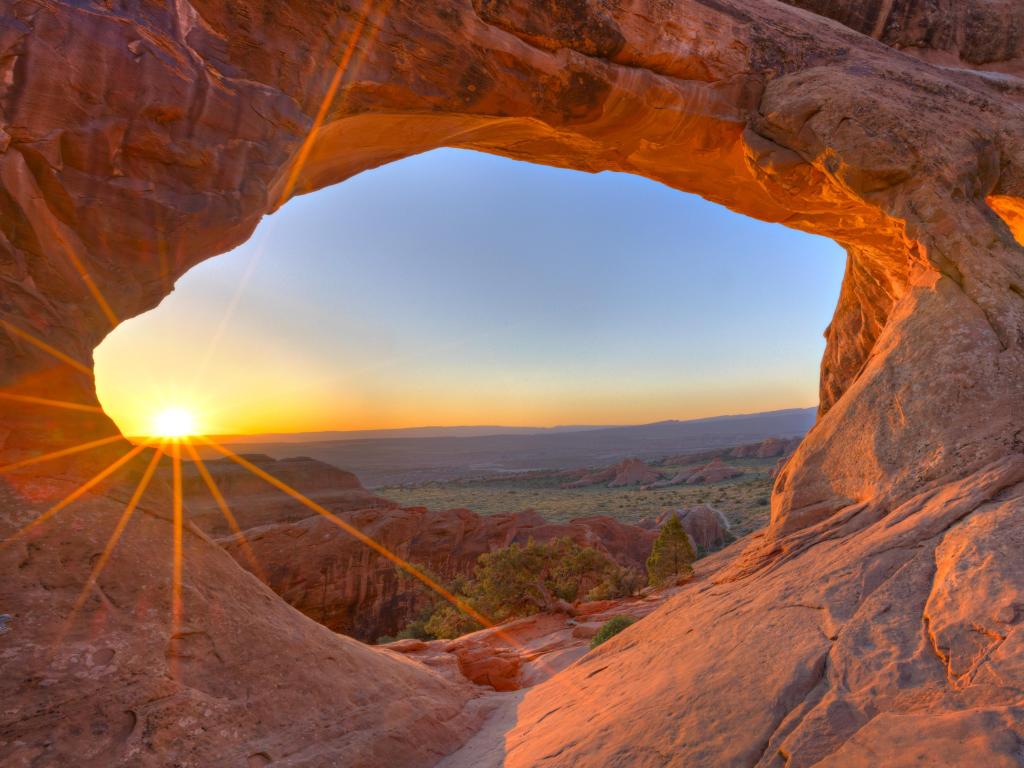 Best road trip route from Denver to Moab
Both of our recommended routes to drive from Denver to Moab take you through the dramatic Colorado landscape and hit Arches National Park and Canyonlands National Park just outside of Moab.
The Direct Route takes you through the beautiful nature of Idaho Springs, Hanging Lake and Glenwood Springs, with additional stop-offs at Rifle Falls State Park and Colorado National Monument. This route takes you mostly on the interstate, so it's a quicker and slightly easier drive.
If a real mix of landscapes appeals to you, however, our Scenic Route also includes the peaks of Aspen, the epic views of Black Canyon of the Gunnison National Park and Needle Rock Natural Area. This route follows some smaller roads, making for a more interesting drive.
If you're a hiking and climbing enthusiast, the Scenic Route also gives you the option to go all out, with Pikes Peak, Mount Elbert and Grand Mesa all optional stops along the way.
You might need to make a reservation for a timed-entry permit while visiting Arches National Park. Please check the national park's website for up-to-date information.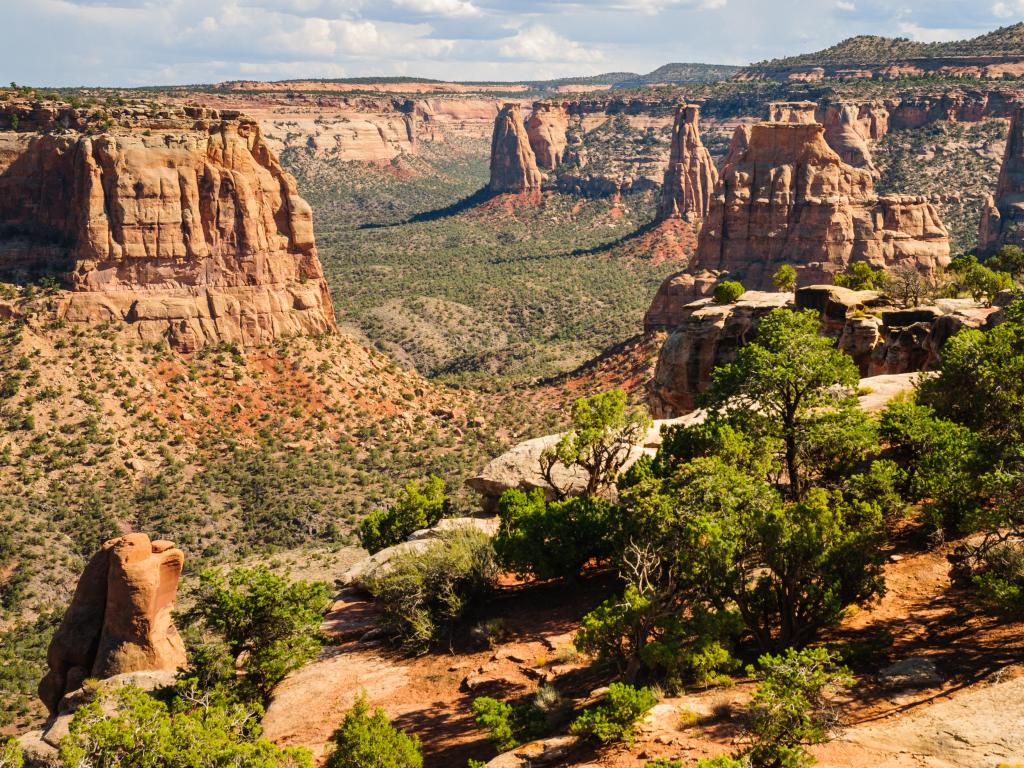 The Direct Route
Head west out of the city, following Interstate 70 (I-70) through Genesee Park to Idaho Springs. Continue along the interstate, passing the Saxon and Silver Plume Mountains before turning onto CO-9 towards Breckenridge.
Get back on the interstate and take a detour to White River National Forest or carry on driving until you reach Hanging Lake. From there it's just a short drive to Glenwood Springs.
After Glenwood Springs, you'll turn off the interstate and drive towards Rifle Falls State Park. After your visit, return to the interstate and drive through the city of Grand Junction (worth a stop if you have time) to Colorado National Monument.
Drive through Fruita and Thompson Springs before turning off towards Moab to reach Arches National Park. It's then just a short detour back on yourself to get to Canyonlands National Park, before heading on to Moab itself.
The Scenic Route
Head south on I-25, passing Castle Rock towards Colorado Springs and taking US-24 towards Twin Lakes. Along this road, you'll find worthwhile detours in Pikes Peak and Antero Junction. From Twin Lakes, follow the road onto Aspen.
Continue on towards Black Canyon of the Gunnison National Park, passing through Carbondale and Marble. You can take a detour to Needle Natural Area, or head straight to the Black Canyon.
Carry on the trip towards Lands End, driving through Orchard city and stopping at Grand Mesa. From Lands End, drive on to Grand Junction.
Get back on the interstate. Just after Thompson Springs turn off towards Moab and head to Arches National Park. It's then just a short detour back on yourself to get to Canyonlands National Park before heading to Moab itself.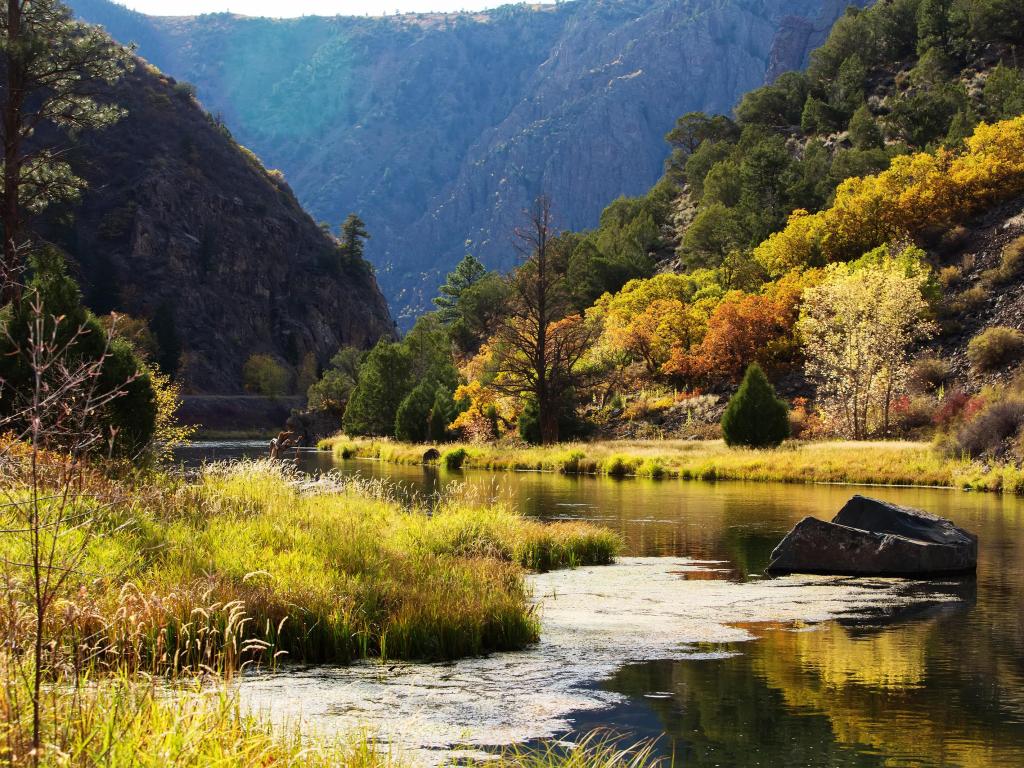 Best places to stop between Denver and Moab
Whichever road you choose to take to Moab, there are plenty of places in between we're sure will warrant a longer stop off. With so many to choose from, we've narrowed it down to our favorites.
Relax in the stunning Glenwood Springs
Situated just under four hours into your road trip, Glenwood Springs is almost halfway along your journey if you follow the Direct Route. Built on top of natural hot springs, it's the perfect place to spend a day or two relaxing and taking in the beautiful scenery.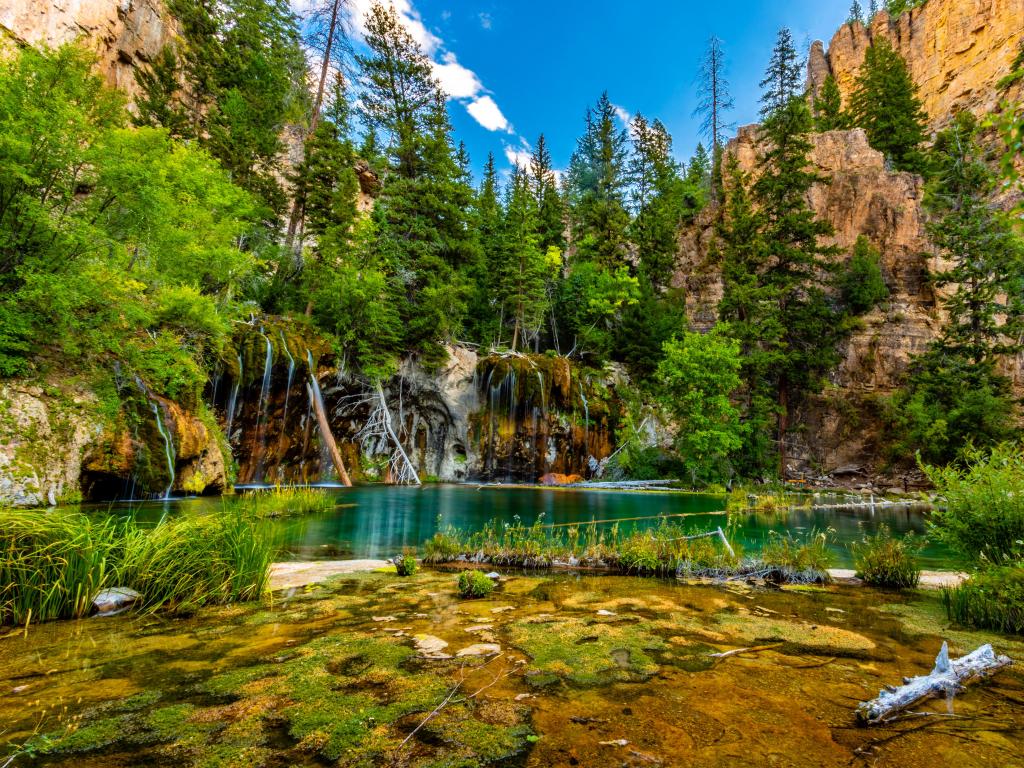 Just a short distance away from the hot springs, Best Western Antlers Hotel is perfectly located to make the most of these natural amenities. With cozy rooms that boast beautiful garden views, you will feel immersed in the surrounding scenery during your stay.
This beautiful hotel offers an outdoor swimming pool and beautiful gardens where you can relax after your drive. The property is conveniently just off the interstate too, giving you ample time to explore more of what Glenwood Springs has to offer.
Not only are you close to Glenwood Hot Springs Pool, the largest mineral hot springs in the world, but you can also enjoy hiking and stunning views nearby at Glenwood Canyon at your doorstep.
After so much exploring and activity, you can head downtown and try the famous tacos of Glenwood Springs, which brings plenty of visitors to the area, before you head to the hotel for a dip in the hot tub for a well-deserved rest.
Soak up alpine scenery in Aspen
Hidden away in the Rocky Mountains, the winter ski resort of Aspen is just over four and half hours along our Scenic Route. The incredible scenery requires plenty of time to be absorbed, while the array of restaurants and boutiques make it an ideal place to spend a little extra time.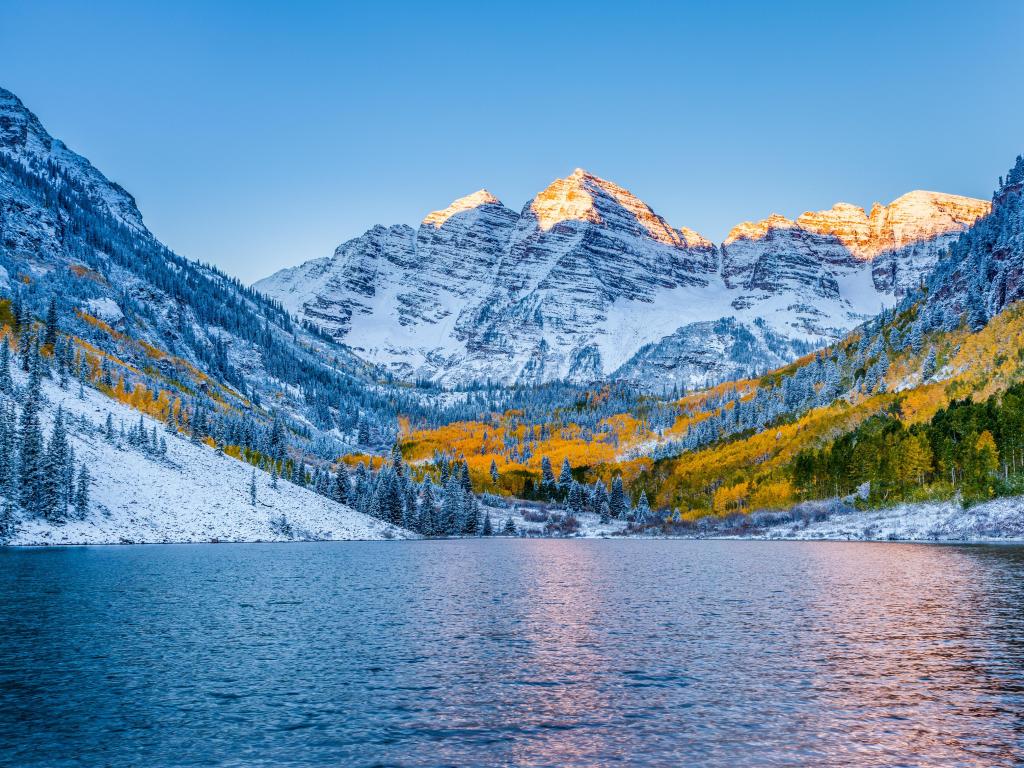 With a stylish minimal look accompanied by homely touches, the Limelight Hotel is the perfect place to relax and take in the stunning scenery – we think the view from their rooftop terrace is among the best in Aspen. Speaking of relaxing, there's also a hot tub and an outdoor pool.
Before a day of exploring, fuel up on the delicious breakfast offered by the hotel, then take your pick of attractions, all under half a mile away. The Mill Street Fountain, Aspen Art Museum, and Maroon Lake Scenic Trail are all within striking distance.
The sights of Aspen don't stop there either. Enjoy a ride on the Silver Queen Gondola to the top of Ajaz Mountain for panoramic views and visit Maroon Bells where you can walk around the lake, or – if you're feeling adventurous – hike to the summit of Elk Mountain.
Music fans will love the John Denver Sanctuary where lyrics are etched into boulders and live performances take place in the summer. When you're ready to kick back, visit Aspen Brewing Company, which combines tasty Aspen beers, mountain views and a lively atmosphere.
Where to stay when you reach Moab
Moab is surrounded by some of the most gorgeous views in Utah, and you will definitely want to stay in a hotel that embraces and is surrounded by its natural beauty. Our top choice is Hoodoo Moab, Curio Collection by Hilton, for an overnight stay in this beautiful city.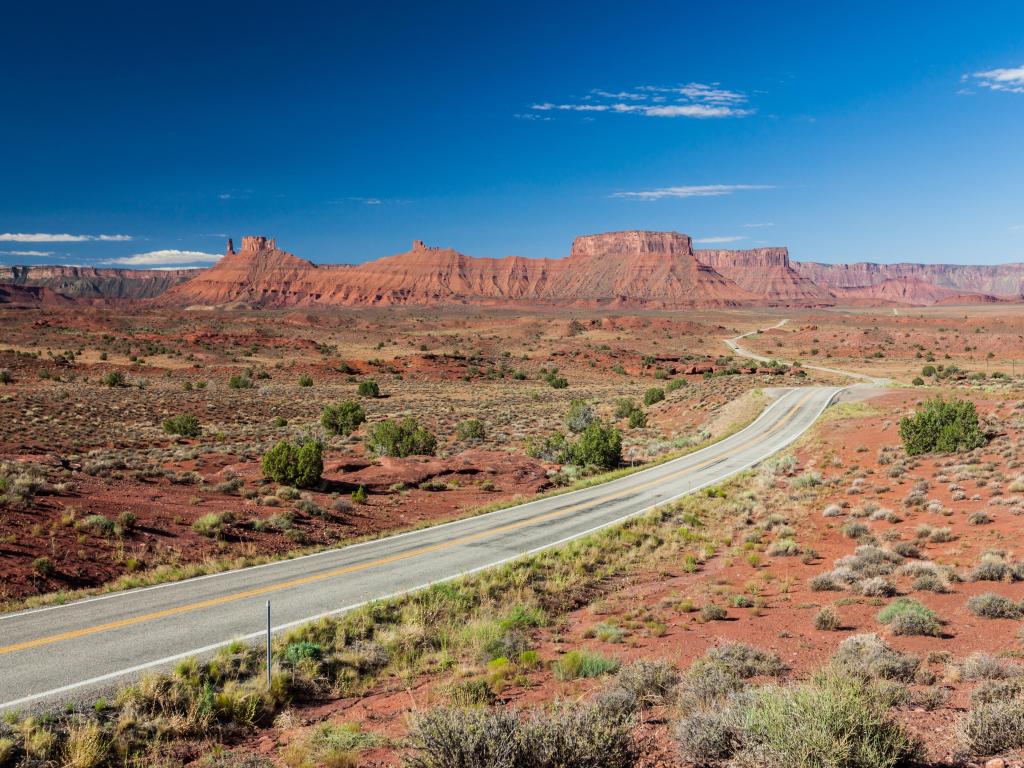 This stylish hotel is nestled in the beautiful scenery of the mountains, whose views you can enjoy in some rooms as well as while relaxing in the fabulous outdoor pool.
You will be in the close vicinity of the famous Arches National Park and Canyonland National Park, as well as Castle Valley, which makes this hotel the perfect choice to base yourself in while exploring the great outdoors.
Things to see on a road trip from Denver to Moab
Whether you choose the Direct Route or the Scenic Route to Moab, there are plenty of beautiful vistas and activities to enjoy. To help you plan your stops, here's our pick of the best things to see and do along the way.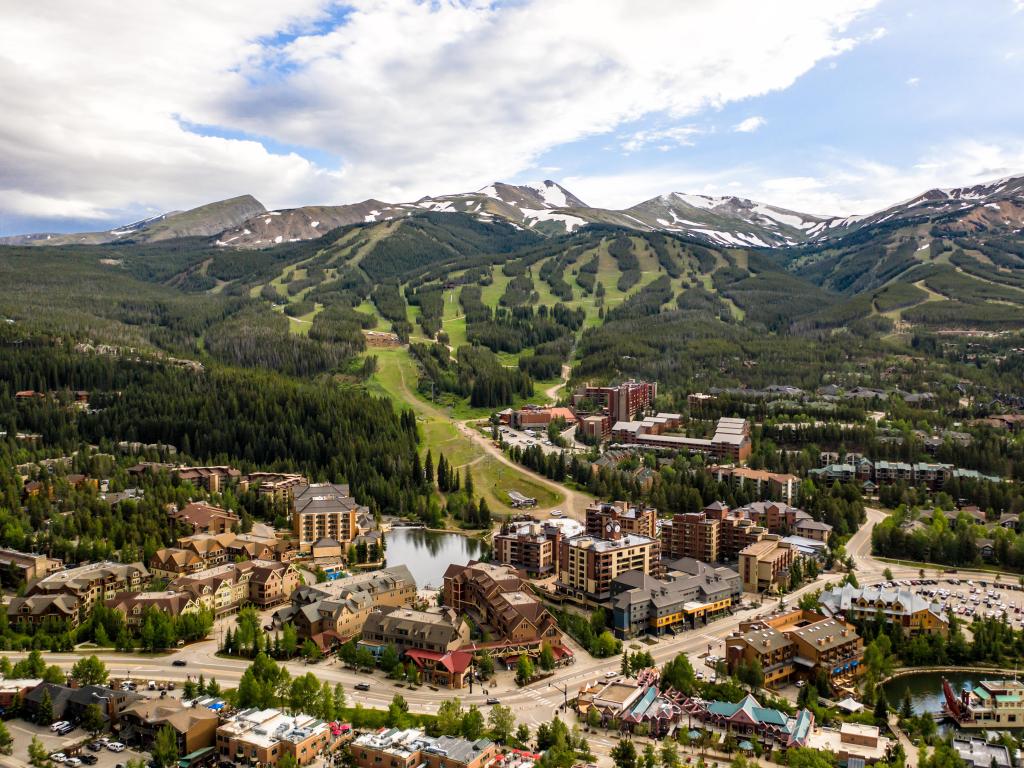 The Direct Route
Idaho Springs – Enjoy seasonal activities here; go rafting in the summer and skiing in the winter. There's also gorgeous scenery surrounding a cute downtown area, giving you the authentic mountain town feel.
Breckenridge – this picturesque mountain town has a plethora of shops, restaurants and activities. Hike the Blue Riverwalk and be sure to explore the town's rich gold mining history.
Copper Mountain – One for the adrenaline junkies, head here for skiing, snowboarding, tubing and ice skating in the winter, or go-karting and zip-lining come summer.
Vail – Not just a ski resort, once the snow melts Vail also offers golfing and hiking. Go in the fall for Oktoberfest, or in summer for concerts.
Mount of the Holy Cross – Named for its distinctively shaped snowfield, experienced mountain climbers will revel in the challenging 11.7-mile hike to the top.
White River National Forest – This renowned forest is home to the world's most photographed mountain, Maroon Bells.
Hanging Lake – Hike this trail through Glenwood Canyon. Pass trailing waterfalls and rugged cliff sides to reach the breathtaking turquoise waters.
Glenwood Springs – After so much activity, your legs will be glad for a soak in these incredible natural hot springs. The world's largest mineral hot springs, they're also surrounded by snow-capped mountains and vast forestry.
Rifle Falls State Park – While an incredible, triple 70-foot waterfall is the main attraction here, be sure to also keep a lookout for deer and coyotes in this beautiful state park.
Rifle – Get your dose of cowboy culture in this town known for its picturesque scenery. Explore the town and grab lunch or dinner at one of the great eateries.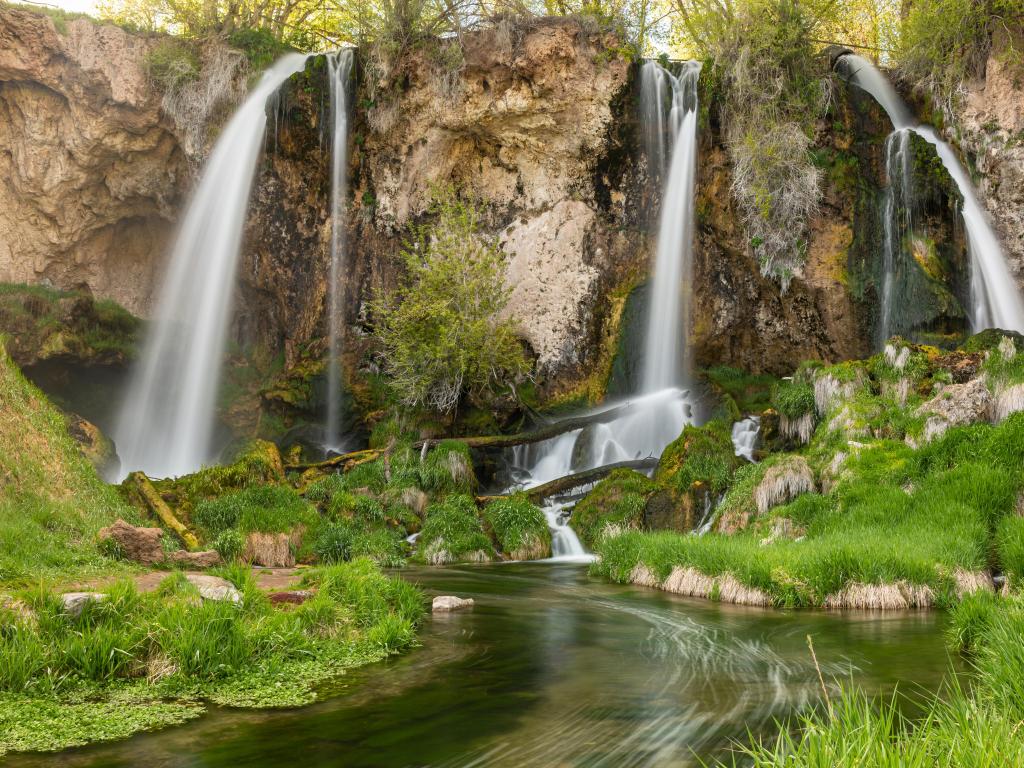 The Scenic Route
Pikes Peak – Enjoy breathtaking scenery of alpine beauty, mountain reservoirs, and timber forests as you drive, hike, bike or take the train to the summit of Colorado Springs' famous mountain.
Garden of the Gods – Visit this famous city park to check out iconic red sandstone rock formations and impressive mountain views.
Antero Junction – Taking its name from nearby Mount Antero, this atmospheric ghost town is worth a stop to experience a unique time in history.
Twin Lakes – A beautiful alpine town set beside a pair of pristine, glacier-carved lakes. Hike around the lakes and take in the stunning views.
Mount Elbert – Not only the highest summit of the Rocky Mountains, Mount Elbert is the highest point in the whole state. It's also one of the less-taxing Rocky Mountains to hike, with an elevation gain of 4,100 feet.
Marble, Colorado – Take a detour to visit this quaint mountain town. Be sure to visit the Crystal Mill – you'll feel like you've stepped back in time.
Needle Rock Natural Area – A completely unique area, the iconic rock formations can be seen from the highway (but are even more impressive close up). This geological wonder is surrounded by cliffs, forests, canyons and greenery, and boasts excellent hiking trails.
Grand Mesa, Uncompahgre and Gunnison National Forests – Visit the largest flat top mountain in the world, situated between Colorado and the Gunnison Rivers.
Black Canyon of the Gunnison – A must-see in Colorado, this huge Canyon has the most incredible views. Hike along the Painted Wall Cliff and keep your eyes peeled for deer, elk and golden eagles.
Lands End Observatory – Sat on the rim of Grand Mesa, this decommissioned ranger observatory gives incredible views. From one side you'll see the Book Cliffs and Utah, while on the other you'll gaze over the San Juan Mountains and Uncompahgre Wilderness.
Grand Junction – Boasting multiple attractions, spend some time in the city and be sure to visit The Museum of the West for its prehistoric pottery. Colorado State Park is also on the doorstep, with biking trails, and lake and river access.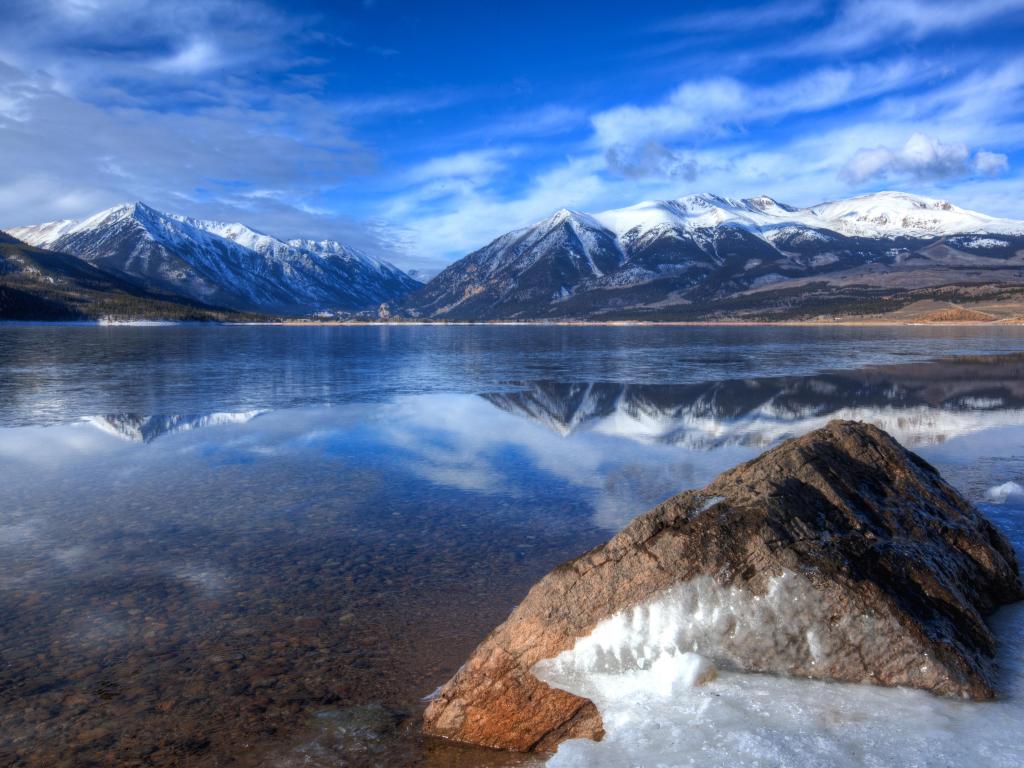 Both routes
Colorado National Monument – Take an hour to drive through the incredible Colorado National Monument. View sheer canyon walls cut deep into the landscape, and a plateau of juniper forest.
Cisco – This eerie, abandoned ghost town is being brought back to life by an artist. Take a drive through to see it for yourself.
Sandy Beach River Access – Fancy a beach break? The sandy riverbank is perfect to catch some rays. Or try paddle boarding or kayaking – the calm waters make it a great spot for beginners.
Arches National Park – Home to more than 2000 natural sandstone arches, this national park is a must-see. Take in panoramic views from the Garden of Eden, and watch the sunset at Delicate Arch. You might need to make a reservation for a timed-entry permit while visiting Arches National Park. Please check the national park's website for up-to-date information.
Canyonlands National Park – You'll need at least two days to explore this incredible national park. Split into distinct sections: Island in the Sky, The Needles, the Maze and Horseshoe Canyon are just some of the main areas to explore.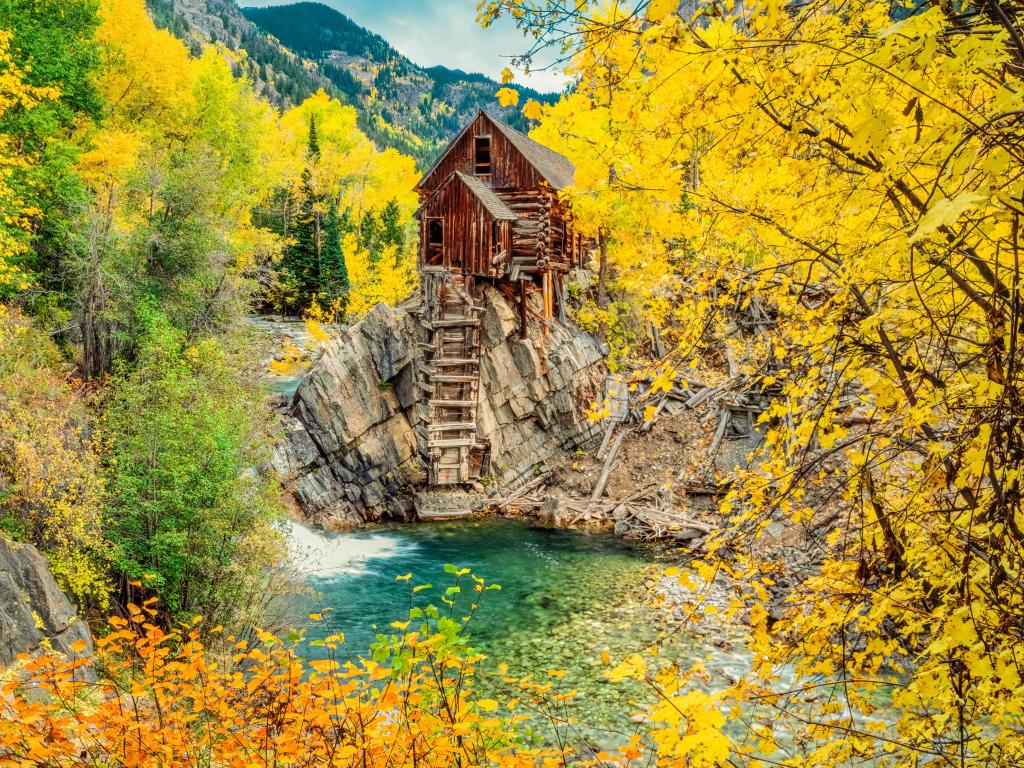 Best time to go on a road trip from Denver to Moab
The best times of year to drive to Moab from Denver are in spring and fall when the temperatures are comfortable, and attractions are less crowded.
Summers in Moab are scorching, so if you plan to visit then, it's best to plan to reach sites early in the morning to avoid the midday heat and crowds (July often averages 94 degrees Fahrenheit). If you fancy a unique cowboy experience, Moab holds the Canyonlands Rodeo in June.
If you'd rather the national parks to yourself, winter tends to be very quiet in Moab. You may even see the arches of Arches National Park with snow caps!
However, some hikes can be made difficult by adverse weather, and the scenery has been said to be less distinctive in color at this time of year.
The best times to visit Moab are during fall and spring. Not only is it quieter than the summer months, but you'll also find the temperatures more palatable with temperature averages of 70 degrees.
Fall in Moab is full of activity and events, making it a wonderful month to spend some time there. Multiple festivals take place in September, including Moab Music Festival and Green River Melo Days Festival. If a Folk Festival sounds more your thing, Moab's takes place in November.