Best Time To Visit Denver, Colorado
Denver attracts people all year round with its outdoor lifestyle, amazing city sights and things to do whether it's winter or summer. But when choosing what time of year you should visit Denver, there are a few things to take into consideration including weather, events and festivals, things you want to do and how busy and expensive it is.
The best time to visit Denver is from April to October when the weather is at its best and the busy summer event schedule is on. If you want to avoid the heat and get better hotel rates, September and October are the perfect months to go to Denver.
Read on to get all the details including Denver's climate, event schedule and other tips on when it's best to visit the Mile High City.
When should you go to Denver?
When to visit Denver - Summary
Best Time for Good Weather: May to October with September and October having the best weather of the year
Best Time for Exploring the Outdoors: September and October when the crowds lessen and it's not as hot
Best Time for Sightseeing: April, May, June, September, October
Best Time for Skiing: January to March for the best snow conditions with March having the best weather
Best Time for Saving Money: November to February when hotel prices are lowest
Best time to visit Denver
Best Time for Shopping: Shopping in Denver is great all year round and with a few large indoor shopping malls, the weather is not a factor in choosing when to come for your shopping trip. Outdoor shopping areas such as Larimer Square become festive and pretty in the winter which might make it even better to visit then. Discounts are available from November to January in the festive and January sales windows and with less people visiting during the winter, this can be a great time to come.
Best Time for Museums and Activities: Museums in Denver are open throughout the year and the opening hours and prices in the vast majority of cases don't change in the different seasons. The Denver Botanic Gardens close 3 hours earlier from October to April at 5 p.m. and the Elitch Gardens Theme Park in Denver's downtown shuts its doors from November so if you want to spend time outdoors, come during the summer months.
Best Time for Restaurants: When the weather is cold and tourism is at its lowest in the winter, the best restaurants in town will have availability at short notice and in many cases you'll be able to get yourself a table on the day (as long as it's not Friday or Saturday). With a really buzzing restaurant scene, if you want to get into the best restaurants and relax with fewer people around, January and February are the best times to go to Denver.
Best Time for Concerts and Music: The music scene in Denver is varied and carries on through the year - there are a number of great bars and indoor music venues where you can hear live music whatever the month. Some of the best concerts and performances take place outdoors and these only happen during the summer - the Red Rocks Amphitheatre, for example, has a busy schedule from late April through to October.
Best Time for Families and Kids: Summer is the time to come to Denver as a family with kids. The weather is great and there is a huge amount to do and see outdoors, making sure children enjoy themselves and you can spend quality time together. If you're heading out of the city, make sure you book ahead as hotels, campsites and other activities can get very busy and some will be fully booked months in advance.
Best time to Avoid Crowds: Summer is the most popular time for people visiting Denver so if you want to avoid the crowds, mid-winter is the best time to visit. While museums and key sights are all open year-round, some of the outdoor activities and things to do may be shut or not available so check ahead.
Denver travel seasons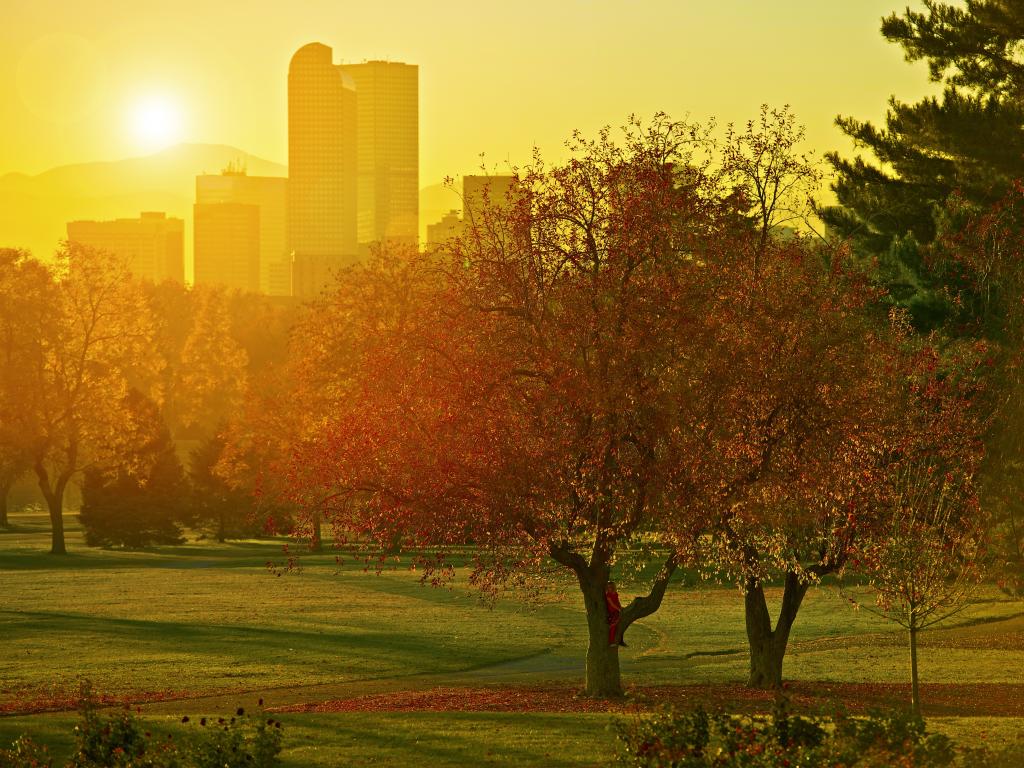 High Season for Tourists (mid-June to August)
The summer is a very busy period for Denver tourism as crowds from across the country make their way to the biggest city in Colorado to enjoy the balmy weather, explore the outdoors and spend some time in the Rocky Mountains.
The crowds usually arrive from mid-June and last to the end of August or into the first week of September. As schools resume, the number of visitors drops sharply around Labor Day.
During the High Season, you will visibly notice more people around town, the restaurants and key sights will feel a lot busier and you'll even notice that the hiking trails near Denver suddenly have a lot more people hiking along them.
Hotel prices are at their highest and despite this, some of the best hotels in town can get booked up months in advance so make sure you get your rooms booked well ahead if you're coming during the summer season.
Shoulder Seasons (April to May and September to October)
The two shoulder seasons in Denver are a little different to each other. The one thing they share is that the weather is warm and pleasant, but the crowds that you will see during the summer months are not there giving you a bit more space.
Prices tend to be low from April to May as this is a relatively quiet period in Denver. The main travel season hasn't begun yet while the ski season has finished and the outdoors is still not quite ready to be explored - there can still be snow on the ground in places and it can get wet and muddy.
September and October have the best weather for visitors to Denver with pleasant temperatures in the eighties and seventies and little rainfall. The mountain trails are usually dry and free of snow which makes this a perfect time to go and explore.
Low Season (November to March)
The winter in Denver is a low season for tourism. The main thing that props up the visitor numbers is the proximity of a number of very good skiing areas with some of the best in the world, such as Vail and Aspen only a short drive away.
Weather in Denver during the winter is cold but relatively dry. While there is snow from December to February, it's not as cold as you might think with daily highs in the fourties, although temperatures dip below freezing overnight.
Hotel prices and availability are the best during the winter season with January and February the best time to come to Denver if you're looking to get good value for your money.
Best time to visit Denver for hiking and the outdoors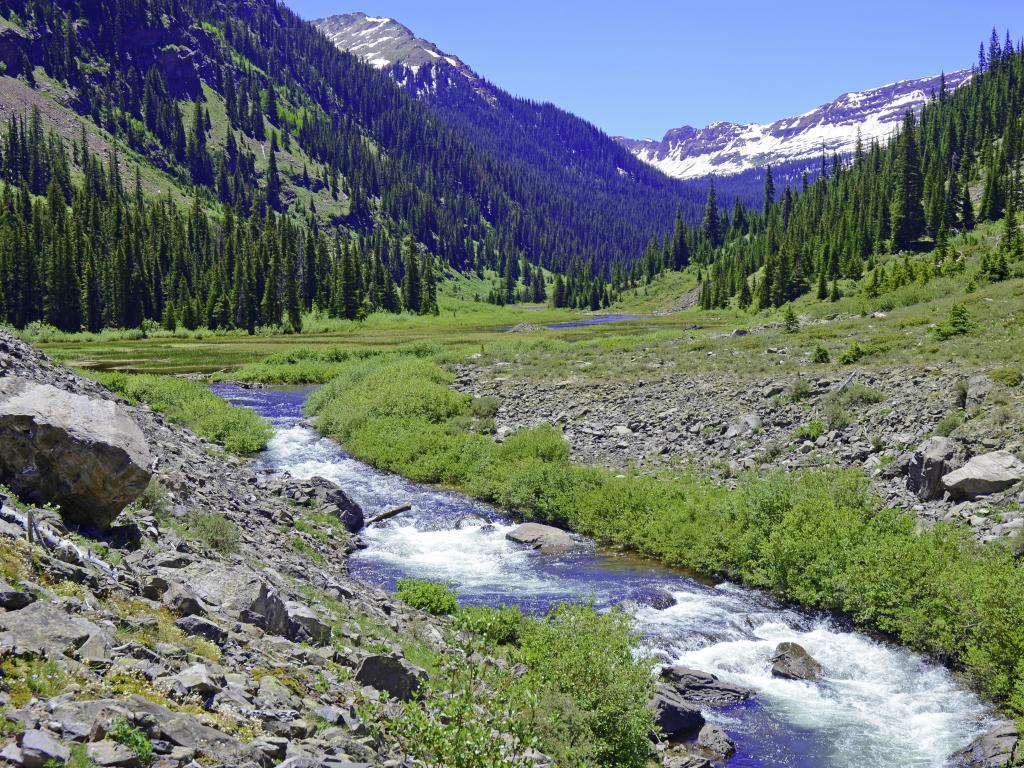 Denver and the surrounding Rockies are one of the most popular destinations for hikers in the United States. If you are visiting Denver for the outdoors and the opportunity to explore the trails, paths and nature, the weather is good from April to October.
Keep in mind the fact that although spring weather is warm, there is a lot of mud and slush from the melting snow coming from the mountains above and April and May are the months with the most rain in Denver.
From mid-June through to August, Denver gets very busy with tourists coming from across the United States and abroad. Centrally located in the country and with a major international airport, Denver attracts outdoor enthusiasts from all corners of the world, which means that hikes within a few hours of Denver can get crowded, making it a frustrating experience.
In September and October the crowds die down considerably and the weather dips from the nineties of July and August making for much more comfortable t-shirt temperatures throughout the day. Campsites have considerably more availability (in the summer, they can get booked several months in advance) and the prices are often cheaper after Labor Day on the first Monday of September.
Check ahead of your trip as some campsites and hiking locations close for the winter period due to financing and staff availability.
Best time to go to Denver for skiing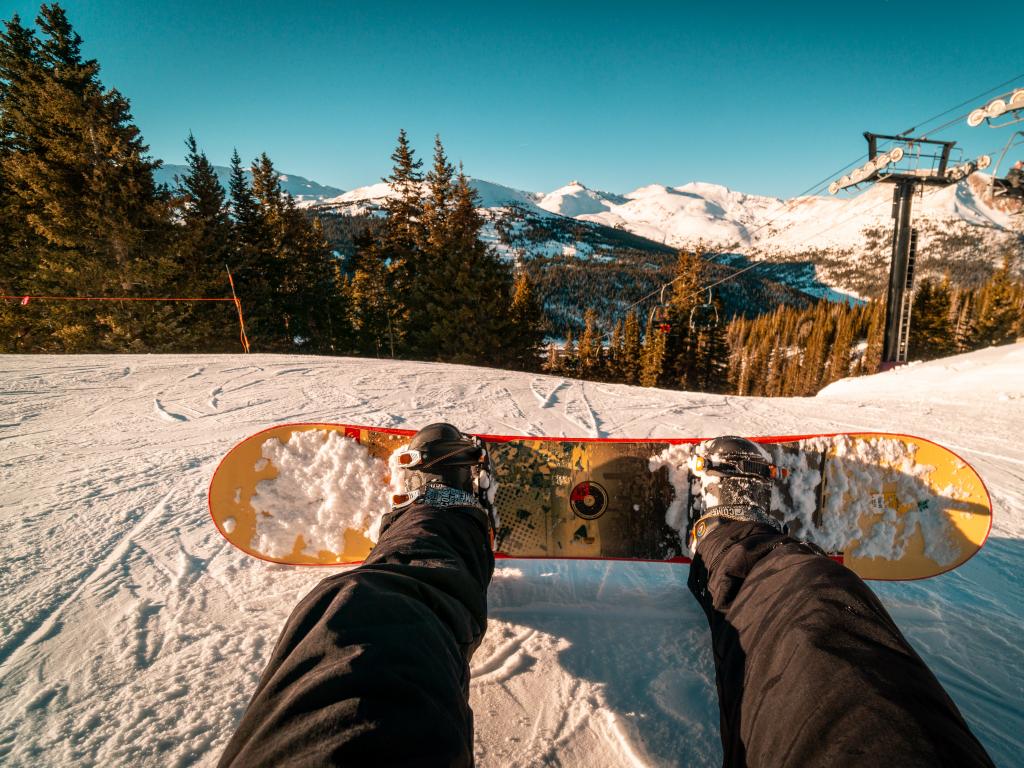 The majority of ski resorts near Denver open the season at the end of November or early in December.
While some keen skiers and snowboarders will want to get on the trails early, snow in November and even December is variable and large parts of the Ski Areas may not have any or you'll have to rely on the snow making machines.
The best snow for skiing in Denver lasts from January to March with the majority of resorts closing at some point in April as the weather gets too warm.
While January and February have great snow conditions, March edges it as the best month for skiing due to the significantly better weather - the sun comes out and skiing is considerably warmer rather than the freezing conditions earlier in the season.
Weather in Denver across the year
Average monthly temperature and rainfall for Denver
Average temperature highs and precipitation
Data sourced from U.S. NOAA Climate Data
Month
Temperature
Rainfall
January
48.8 °F / 9.3 °C

---

0.49 in / 12 mm

---

February
48.9 °F / 9.4 °C

---

0.57 in / 14 mm

---

March
56.4 °F / 13.6 °C

---

1.48 in / 38 mm

---

April
63.7 °F / 17.6 °C

---

2.08 in / 53 mm

---

May
73.0 °F / 22.8 °C

---

2.50 in / 64 mm

---

June
83.6 °F / 28.7 °C

---

1.96 in / 50 mm

---

July
91.5 °F / 33.1 °C

---

1.97 in / 50 mm

---

August
88.9 °F / 31.6 °C

---

2.13 in / 54 mm

---

September
80.8 °F / 27.1 °C

---

1.31 in / 33 mm

---

October
67.6 °F / 19.8 °C

---

1.26 in / 32 mm

---

November
54.9 °F / 12.7 °C

---

0.81 in / 21 mm

---

December
46.8 °F / 8.2 °C

---

0.51 in / 13 mm

---
Denver weather by month
Denver weather in January: January in Denver is cold and snowy. Daily highs don't usually go above 50 °F (10 °C) and night-time temperatures are cold, dipping below 20 °F (-7 °C). January is the lowest month for precipitation, but it all settles as snow with the city covered in snow for the duration of the month. Average temperature: 34.2 °F / 1.2 °C. Average precipitation: 0.49 in / 12 mm.
Denver weather in February: February weather remains cold with near-identical temperatures and precipitation to January. Some days, the temperatures may dip below 0 °F (-17.8 °C) and bitter cold winds blowing up the valley can make it feel even colder. Average temperature: 35.0 °F / 1.7 °C. Average precipitation: 0.57 in / 14 mm.
Denver weather in March: March signals the arrival of spring. Average temperatures begin rising with daily highs climbing towards the 60s (over 15 °C) towards the end of the month. Snow begins melting, although it will stay for most of the month higher up in the mountains. Average temperature: 42.5 °F / 5.8 °C. Average precipitation: 1.48 in / 38 mm.
Denver weather in April: April temperatures become warm and it's a great time to visit Denver. Daily highs are comfortably in the 60s (over 15 °C) with a few days stretching into the 70s (over 21 °C). Spring rain also arrives with April being one of the wettest months. Average temperature: 49.3 °F / 9.6 °C. Average precipitation: 2.08 in / 53 mm.
Denver weather in May: May weather is near perfect with daily highs averaging 73.0 °F (22.8 °C) and night temperatures rising bringing the average up towards the 60 mark (15 °C). May is the rainiest month of the year with two to three rainy days per week on average. Average temperature: 59.3 °F / 15.2 °C. Average precipitation: 2.50 in / 64 mm.
Denver weather in June: In June the weather gets hot in Denver. Daily highs begin regularly being in the 80s (above 27 °C) and the evenings are warm with t-shirt weather. Rain is relatively consistent with an average of 2 rainy days a week. Average temperature: 69.0 °F / 20.6 °C. Average precipitation: 1.96 in / 50 mm.
Denver weather in July July is the hottest month of the year - average daily temperatures peak at over 76 °F (24.5 °C) and daily highs are comfortably in the 90s (above 32 °C). A few days can go over 100 °F (38 °C) so air conditioning is an absolute must. Average temperature: 76.1 °F / 24.5 °C. Average precipitation: 1.97 in / 50 mm.
Denver weather in August August is another hot month in Denver. Temperatures continue to stay high with highs typically in the 90s (above 32 °C). August is also the second wettest month in the year with 10 or more rainy days during the month, before the rains subside from September. Average temperature: 74.2 °F / 23.4 °C. Average precipitation: 2.13 in / 54 mm.
Denver weather in September The weather is near perfect in September. Daily highs remain warm, but not as blistering hot as in the summer averaging at 80.8 °F (27.1 °C). The rains easy considerably with almost half the rainfall of August and nights remain warm with daily lows at 49.9 °F (9.9 °C). Average temperature: 65.3 °F / 18.5 °C. Average precipitation: 1.31 in / 33 mm.
Denver weather in October October remains surprisingly warm with almost the entire month having daily highs above 50 °F (10 °C). Nights will get cooler with the last week dipping into freezing temperatures. Average temperature: 52.2 °F / 11.2 °C. Average precipitation: 1.26 in / 32 mm.
Denver weather in November November weather becomes considerably colder with daily highs at 54.9 °F (12.7 °C) and the average low being 26.1 °F (-3.3 °C). Rains almost completely disappear which means that the cold weather brings crisp and clear autumnal days. Average temperature: 40.5 °F / 4.7 °C. Average precipitation: 0.81 in / 21 mm.
Denver weather in December December is the coldest month of the year in Denver. Daily averages hover around the freezing point with daily lows at 18.4 °F (-7.6 °C). Although precipitation is at its lowest point in the year, snow typically begins to fall towards the end of the month making for a snowy festive period. Average temperature: 32.6 °F / 0.3 °C. Average precipitation: 0.51 in / 13 mm.
Denver events and things to do by month
January in Denver
Colorado Indian Market & Southwest Art Fest - A visual and performing arts festival by artists representing Native & Western US heritage including traditional and modern art and entertainment.
Winter Brew Fest - Annual event celebrating local and national breweries, craft beer producers and anything beer related to the sound of live music.
February in Denver
March in Denver
St Patrick's Day Parade - One of the largest celebrations in Colorado, the huge St Patrick's Day Parade celebrates Irish heritage with a colorful display... and stout.
Colorado Anime Fest - Event for lovers of Japanese comics, anime and alternative art forms with a big expo and a cosplay competition.
April in Denver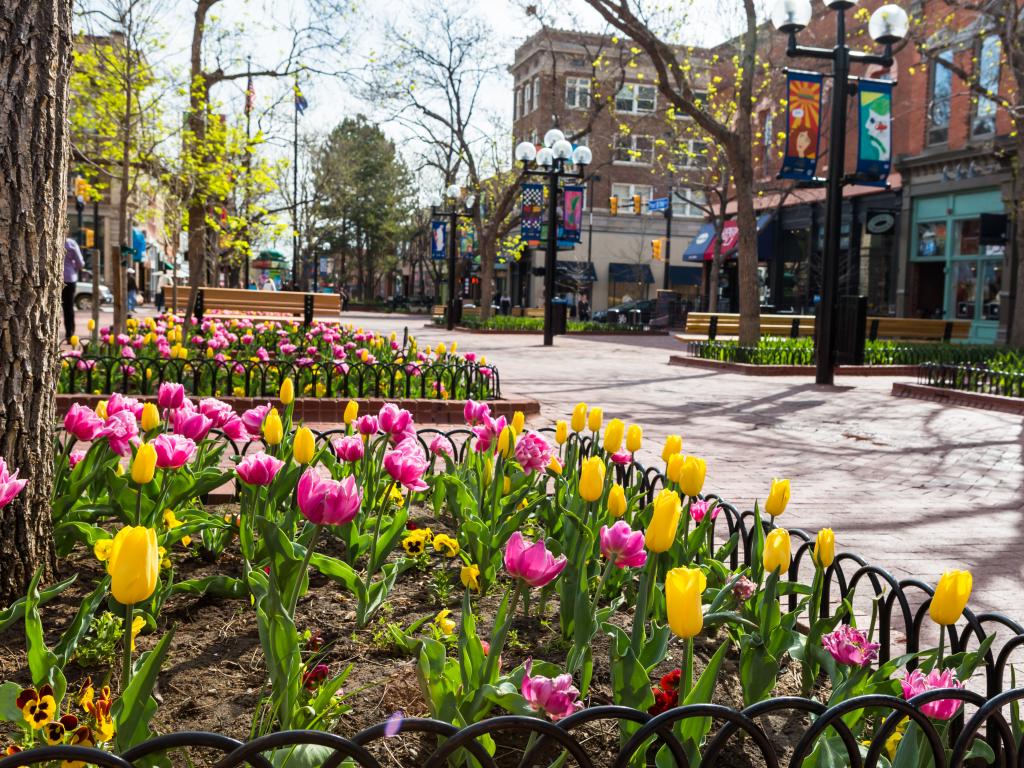 Pearl Street Mall Tulip Festival - There are a number of tulip-themed events around the city, but check out the 15,000 tulips that bloom along Pearl Street.
Denver Auto Show - New cars and innovations being presented by U.S. and international car manufacturers with demonstrations and new model announcements.
Denver Indie Comics and Art Expo - DiNK Denver celebrates artists, comics writers, creators and publishers and alternative arts and crafts.
May in Denver
Denver Arts Festival - A fine arts and fine crafts festival with artists from across the state coming to showcase their works, many of which are for sale.
Colorado Chocolate Festival - 2 day exhibition of over 100 different chocolate producers showcasing chocolate everything from chocolate truffles to chocolate coffee.
June in Denver
Denver Chalk Art Festival - Early June transforms streets around Denver's Larimer Square into canvases for chalk artists from around the world.
Denver PrideFest - Large celebration of Denver and Colorado's LGBT community with hundreds of thousands of visitors coming to see the events and parade.
Westword Music Showcase - Large music festival with some of the best local bands and performers as well as national and international stars in Golden Triangle.
July in Denver
August in Denver
City Park Jazz - FREE concerts every Sunday from June to August in the City Park with a variety of jazz acts - you'll need to bring your own folding chair if you want to sit.
Union Station Summer Concert Series - FREE concerts on the last Friday of June, July and August with a mix of music styles.
September in Denver
Great American Beer Festival - The most prominent beer festival in the United States with over 800 breweries presenting 4,000 different types of beer. Tickets can sell out in hours!
Colorado Oktoberfest - a one day event at the Breckenridge Brewery celebrating freshly brewed beer in a traditional Bavarian style.
A Taste of Colorado - A foodie event that takes place on Labor Day weekend with around 300 different food stalls and several music stages.
October in Denver
Farm to Bottle Festival - A large event on Historic South Gaylord Street has dozens of distilleries, breweries and wineries from Colorado and beyond showcasing their new season offerings.
November in Denver
Denver Film Festival - Annual event that happens in early November with 200+ films being screened at 4 different locations around the city.
Denver Arts Week - Annual arts festival with over 300 events across art galleries, theaters, museums and concert halls.
December in Denver
Blossoms of Light - An amazing display of lights and color through the entire month of December at the Denver Botanical Gardens with activities for children and warm festive drinks.
Mile High Holidays - A season of festive events including the Mile High Tree that gets set up in Sculpture Park. Shops, restaurants and attractions offer special discounts. Runs through to end of January.