20 Best Day Trips From Denver
If you live in Denver and want to get out of the city or if you're just visiting the Mile High City, there is a lot to do and see within a day's drive of the biggest city in Colorado.
The rocky mountains are on your doorstep with skiing, hiking, scenic roads up in the clouds and picture-perfect lakes among snow-covered mountain peaks. Then there's historic cities, mountain mining towns and even a wolf sanctuary to visit.
Here's our list of the 20 best day trips from Denver.
1. Red Rocks Park and Amphitheatre
30 minutes from Denver (19 miles)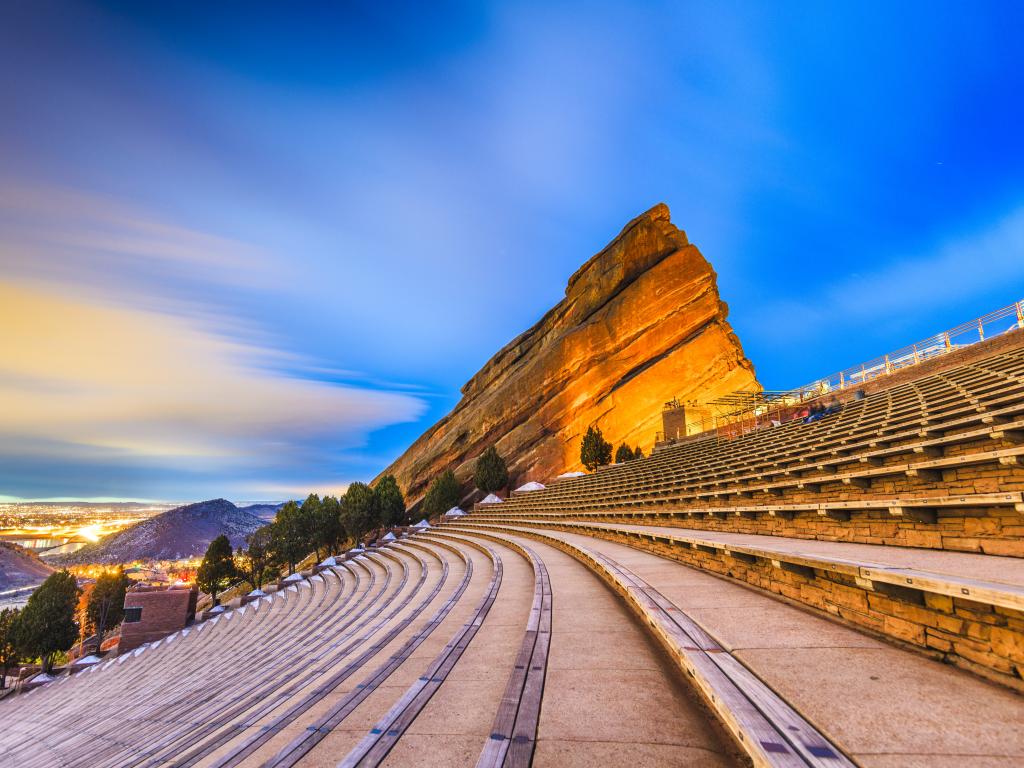 The Red Rocks Park is only 19 miles from downtown Denver and we included it in our list of the best things to do in Denver as well!
A very short day trip out of Denver it may be, but there are two big reasons why you should consider getting in the car and coming to the Red Rocks Park.
The first reason is the spectacular Amphitheatre which is set right into some of these red rocks with an amazing view past the stage below.
There is a series of summer concerts that takes place here, but with less than 10,000 seats, tickets can go early so check ahead for the performer schedule.
The Red Rocks Park itself is great for a short hike. It used to be known as the Garden of Titans after the way the red rocks tower above the hilly landscape and with plenty of parking on offer, it's one of the easiest ways of getting out of downtown Denver to explore the nature.
2. Mount Evans Scenic Byway
1 hour 30 minutes from Denver (60 miles)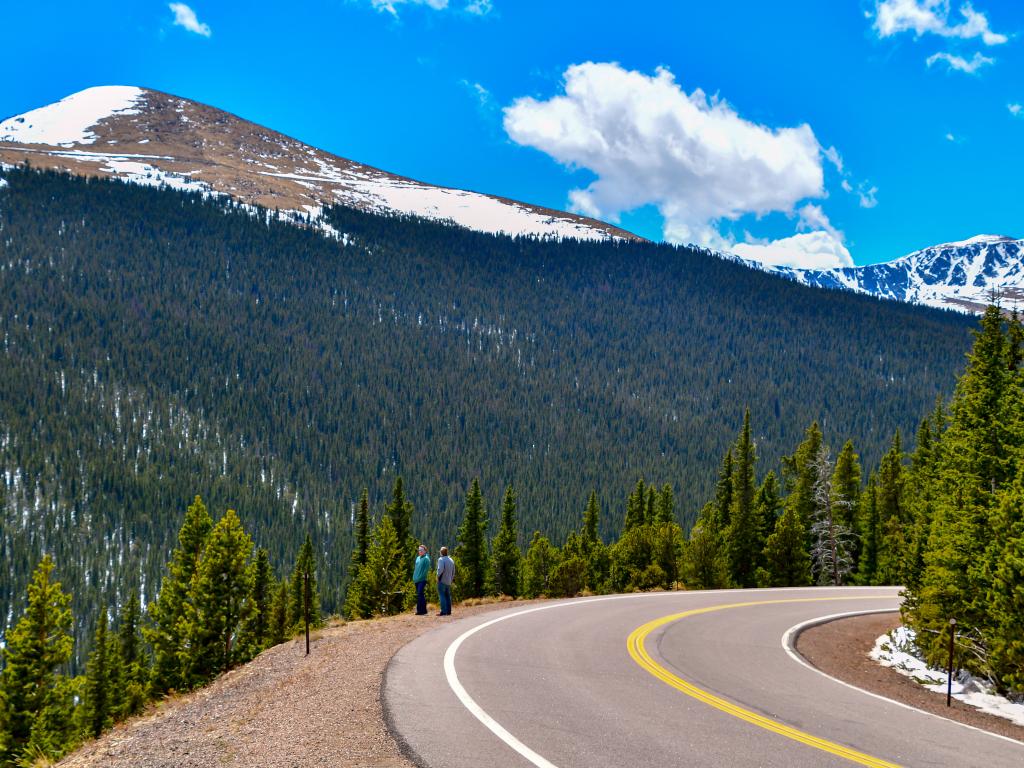 This epic road starts just 40 minutes away from downtown Denver at the small town of Idaho Springs. Denver itself sits at a relatively high altitude, giving it the famous nickname as the Mile High City.
The Mount Evans Scenic Byway goes a lot higher than that though. As you make your way from Exit 241 of Interstate 70, the road climbs 7,000 feet reaching the peak at a massive 14,130 feet above sea level (4,310 m).
If you're after views that stretch far, this road has plenty with the Rockies stretching to the west and Denver below you to the east. The Mount Evans Scenic Byway is the highest paved road in North America and is the 5th highest paved road in the world, so there's not many places you can go on a road trip that will get you higher up!
Only open from Memorial Weekend to Labor Day due to the weather, it costs $10 to drive the 28 miles up to the top, but it's worth it with amazing views, sheer drops, hairpin turns and everything we love about a good road trip drive.
3. Boulder, Colorado and Chautauqua Park
50 minutes from Denver (31 miles)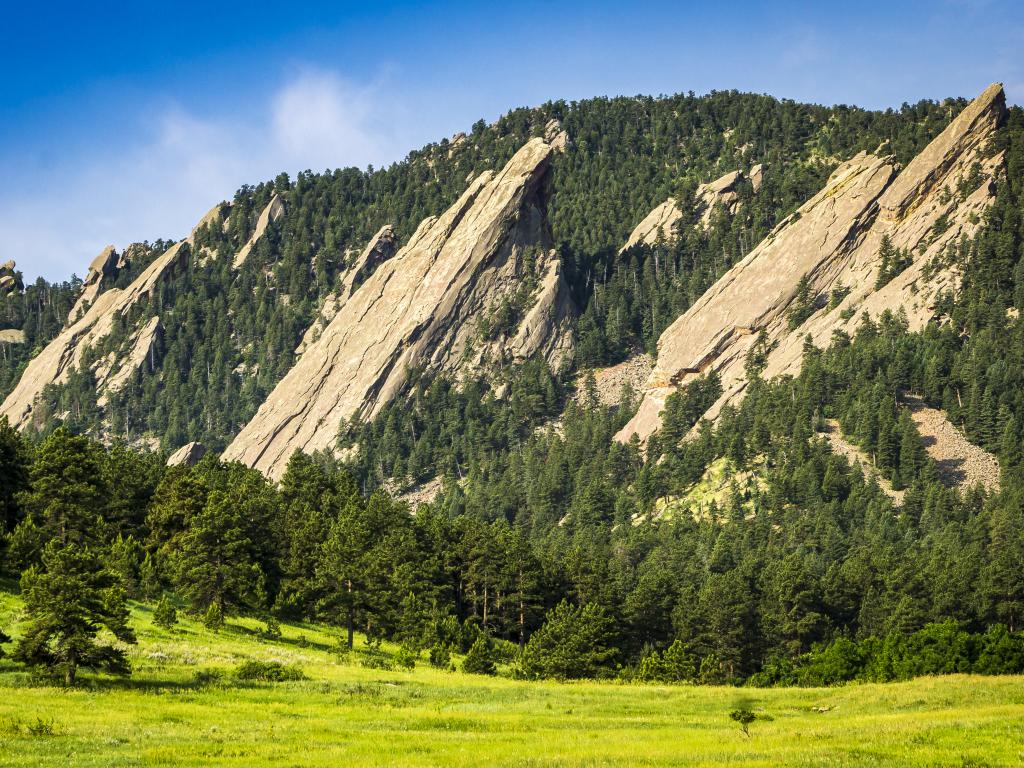 Another day trip that won't take you long to get there is a drive up to Boulder, just outside Denver.
Boulder is a small town in the foothills of the Rockies and offers a great small town feel compared to Denver's big city vibe. Like many places in Colorado, Boulder is particularly known for its outdoors.
Sure, there are some great restaurants, craft beer breweries and a beautiful mountain backdrop, but the best thing to do here is to hike the 300 miles of trails through the Flatirons whether you're coming in the summer or winter.
Most of the trails around Boulder are in Chautauqua. This huge open space right next to Boulder has trails leading up tall mountain peaks and mountain passes with stunning views and plenty of clean mountain air (Boulder is over 5,000 feet above sea level).
If you're coming over from Denver in the winter and want to get even more active, there are a few mountains you can ski within a 30 minute drive into the Rockies.
4. Vail, Colorado
1 hour 40 minutes from Denver (97 miles)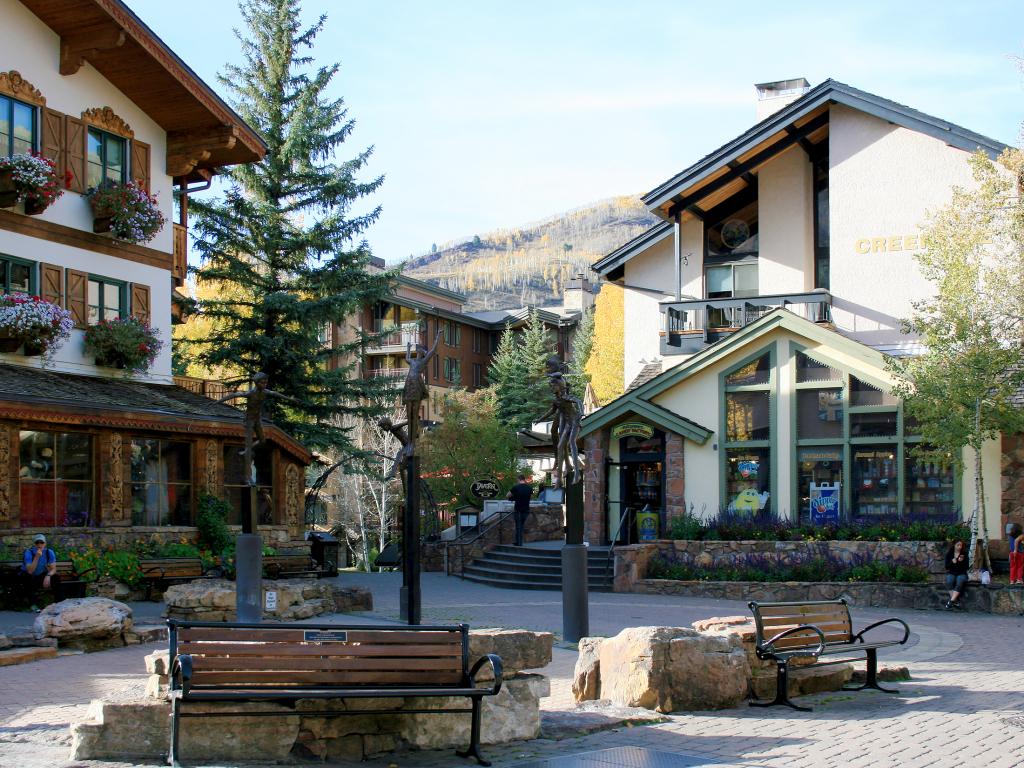 Vail is best known as the biggest ski mountain in Colorado and is one of the most famous ski resorts in the United States. There are good reasons for this - there are 193 official ski trails and 7 ski bowls covering all faces of the Vail mountain!
Skiing is not everything there is to Vail, though.
The town of Vail and the valley it's in are worth visiting in any season. There's summer and fall festivals, skiing in the winter and spring. There's hiking, mountain biking and the highest botanical garden in the world and then there's snowmobiling and night-time ski biking (yes - it's a thing) during the cold season.
The town itself is unusual among big ski resorts. There are different parts of Vail with very different character and feel - Vail Village is the heart of the ski resort and oozes almost European levels of charm while the Lionshead district is all about fancy hotels that require fat wallets.
With so much to do, it's a great idea to stay in Vail for the weekend, but it's perfectly doable as a day trip from Denver and you can get there in an hour and a half if traffic and conditions are kind to you.
5. Cheyenne, Wyoming
1 hour 40 minutes from Denver (102 miles)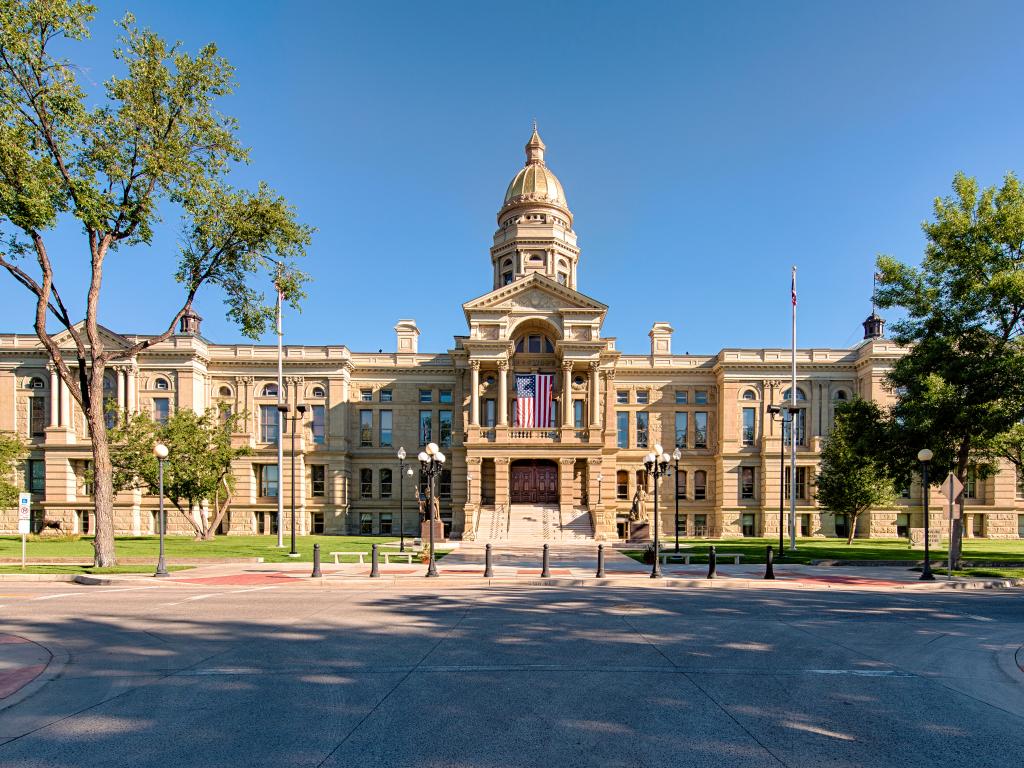 Often overlooked as a destination, Cheyenne is a beautiful town, just across the border in Wyoming as you drive north from Denver.
This quiet town is the capital of Wyoming and is perfect for a day trip. There are several interesting museums detailing the history of the city and the state including the Governors' Mansion building that has been a museum since 1976.
Downtown Cheyenne is very walkable. The Wyoming State Capitol and the neighborhood surrounding it are a good place to start. There are 5 museums within a short walk or you can take a tour on the Cheyenne Street Railway Trolley that uses 100-year old buses to show you the best sights.
Cheyenne also boasts the largest outdoor rodeo in the world so if you're coming on a day trip in the summer and want to see what it's all about, try driving up on a Saturday. The Cheyenne Frontier Days is a huge Rodeo and Western event at the end of July - the town gets very busy with visitors from across the country, but it also an awesome reason to go!
6. Central City and Blackhawk
50 minutes from Denver (40 miles)
The quaint towns of Central City and Blackhawk are less than a mile apart in the mountains to the west of Denver.
They sprung up during the Pike's Peak Gold Rush that started in 1858 and became known worldwide for the riches found in the mountains. But almost as quickly as the cities grew, the mining industry collapsed at the beginning of the 20th century as the mines were depleted.
As the towns dwindled, a massive change came in the 1990s with the introduction of gambling and today Blackhawk and Central City share 24 casinos between them.
There are hotels, restaurants and bars alongside the casinos and two separate highways leading to each as they compete to attract gamblers. As Blackhawk was the first town along the original route, it is the busier of the two with 18 casinos in the town but you can stay and enjoy the attractions in either as they are so close.
There are other things to do including local hikes and breweries, but we'll be honest - there's better places to go for those things. If you fancy playing some cards or feeding your dollars into a one-armed bandit, a day trip to Central City and Blackhawk should be on the menu.
7. White River National Forest
1 hours 30 minutes from Denver (87 miles)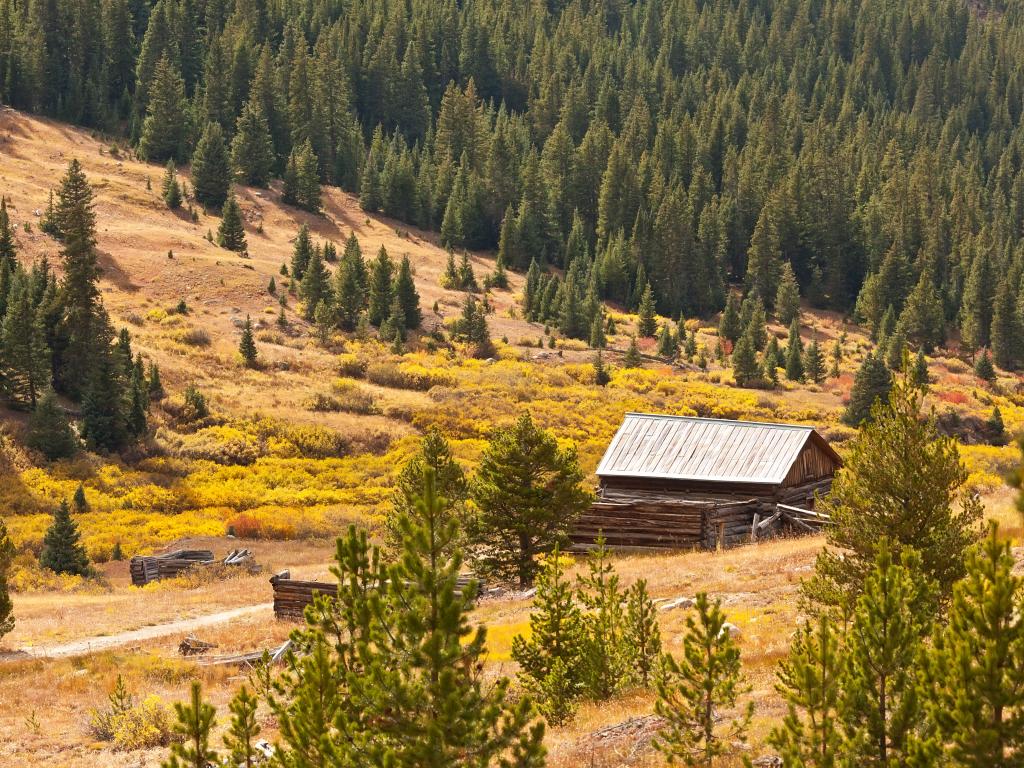 The White River National Forest is a large preserve to the west of Denver, covering a big chunk of the Rocky Mountain landscape.
You enter the White River National Forest as you drive along the I-70, approaching Vail and stretches into much of Northwestern Colorado.
There area includes 12 ski areas with some of the best known in the U.S. all within its boundaries such as Aspen, Vail and Beaver Creek. But if you're not into skiing, there is a whole lot of nature to see.
There are 10 fourteeners (mountains over 14,000 feet tall) in White River and a number of large wilderness areas that are perfect for hiking - there are 2,500 miles of hiking trails so you can go on day trips every weekend for years and not have to do follow the same track!
Unsurprisingly, White River is the most visited National Forest in the United States but withe the size of it and the number of different activities, it doesn't feel crowded.
Keep your eyes open for the deer, moose and elk on your way around the forest but take care as there are lynx, bobcats and mountain lions in the area, although your chances of meeting one are very slim.
If you're feeling lazy, White River has some amazing roads that wind through its area and you can go on a scenic drive around instead!
8. Rocky Mountain National Park
1 hour 30 minutes from Denver (73 miles)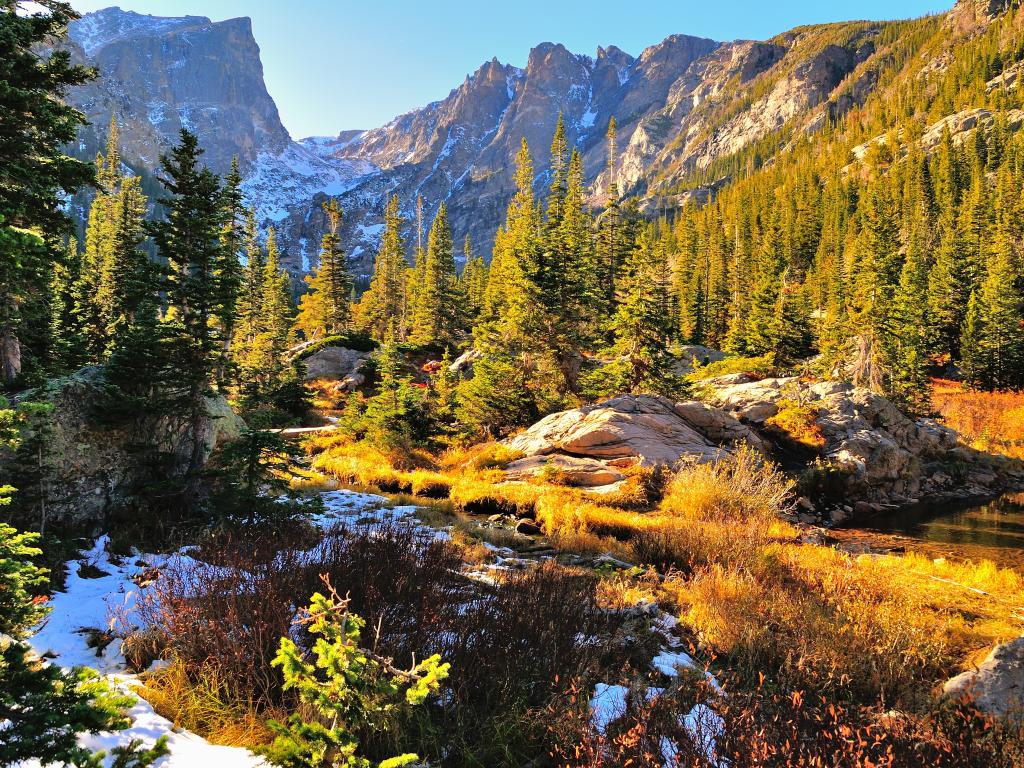 Another popular place to hike, explore nature and see the tall mountain peaks is the Rocky Mountain National Park.
Getting there from Denver is straight-forward - head north along the I-25, then follow Highways 66 and US-36 all the way to Estes Park. This is the main base for visitors to the National Park with the main visitor center and plenty of places to stay if you want to spend the night.
The park offers loads of hiking trails, places you can camp and a lot of small lakes wedged in-between the mountains which gives the park its unique look and provides amazing photo opportunities.
Rocky Mountain National Park sits either side of the Continental Diviee and there are 5 distinct parts of the park that have very different vibes and nature from large green meadows to steep, rocky mountains with glaciers and permanent snow. Check the map and plan ahead to make the most of your day!
If you want to delve deeper into the park, you can drive along the very pretty Trail Ridge Road - it's only open during the summer months so if you're visiting in the winter, you'll have to take the long way around from Denver through Idaho Falls and around Lake Granby.
9. Georgetown, Colorado
50 minutes from Denver (45 miles)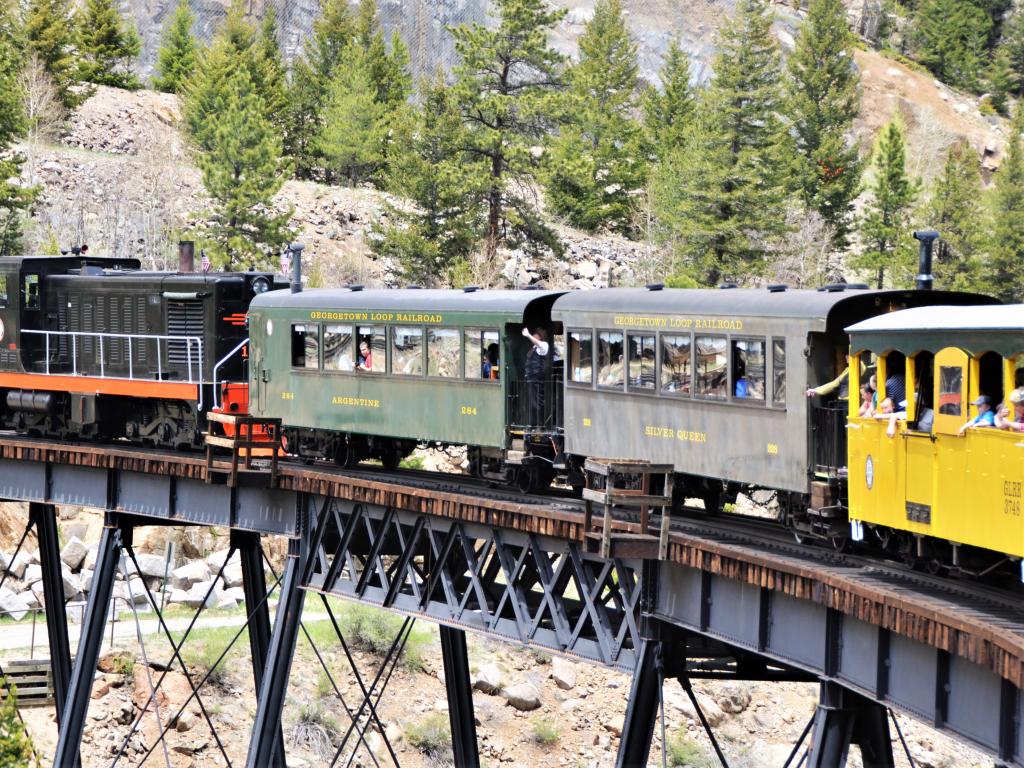 Georgetown is not what you might expect from an old mining town, an hour's drive from Denver into the Rocky Mountains.
Sitting on the Georgetown Lake and along the I-70, Georgetown is surrounded by mountains and is known for its Victorian-era buildings that have been recently restored.
Just outside the town is the Georgetown Loop Railroad where you can ride a train on an 1880s narrow gauge track that runs up and down the valley during the summer months.
If you're visiting Georgetown, or even if you're just driving past on your way to Vail, Aspen or other parts of the White River National Forest, it's a worthwhile stop if you have the time.
A top tip is to take the Guanella Pass Road that comes off the I-70 at Georgetown and snakes its way up the mountains going south until it meets Highway 285 at Grant. Only open during the summer months, you are guaranteed amazing views and not too many other visitors as this is one of the lesser known mountain roads in the area.
10. Glenwood Springs, Colorado
2 hours 40 minutes from Denver (157 miles)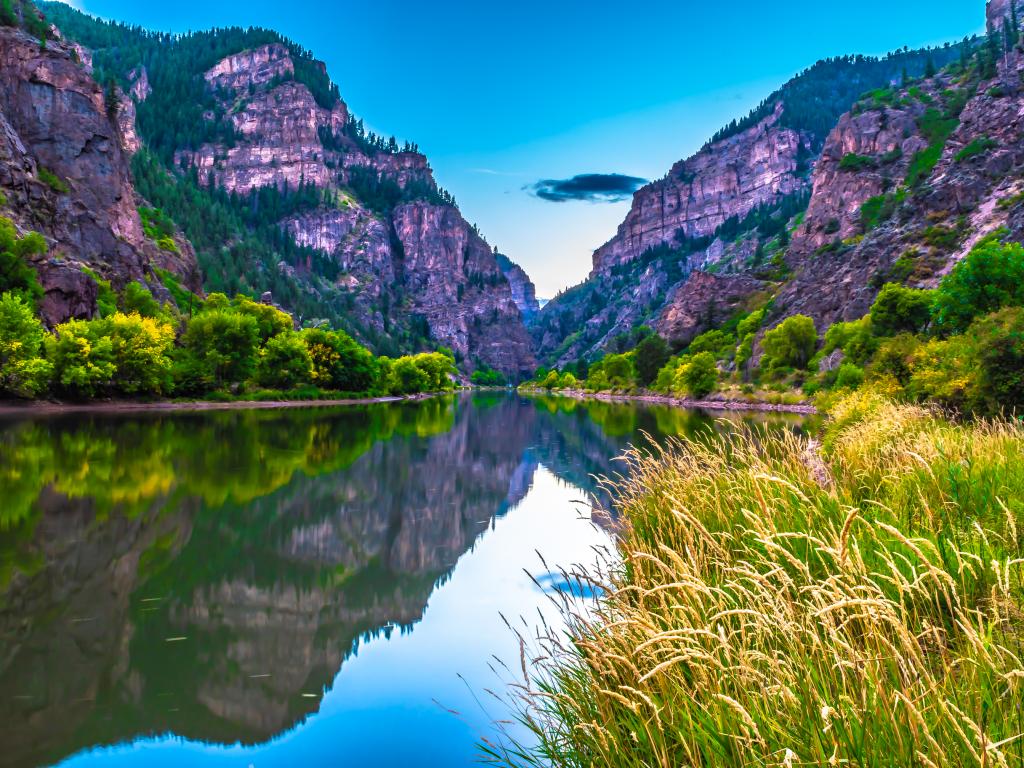 Glenwood Springs is another place you can get to from Denver located right in the heart of White River National Forest. All you have to do is follow the I-70 west towards Grand Junction and you will come to Glenwood Springs at the point where Highway 82 splits off towards Aspen.
The main reason to come here is the enormous Glenwood Hot Springs Pool. This is the world's largest hot spring pool in the world and has over 1 million gallons of water at a balmy 90 to 93 °F (around 33°C).
If that feels a little cool, there's a small (100 feet long!) Therapy Pool where the water is kept at a temperature of 104 °F (40 °C). The amazing thing is that even in the snowy winter, water coming out of the Yampah Spring has to be cooled as it is a scorching 122°F (50 °C).
About 10 miles before you get to Glenwood Springs is the Hanging Lake Trail. In the off-season you can park up your car and hike around 1 mile uphill to see a beautiful mountain lake sitting in a narrow gorge.
From May to October, you'll have to drive into Glenwood Springs and park up at the Hanging Lake Welcome Center to take the shuttle instead. Remember that whenever you come, it's a good idea to get your Hanging Lake permit in advance to avoid disappointment and save you time.
11. Pawnee National Grassland
1 hour 45 minutes from Denver (109 miles)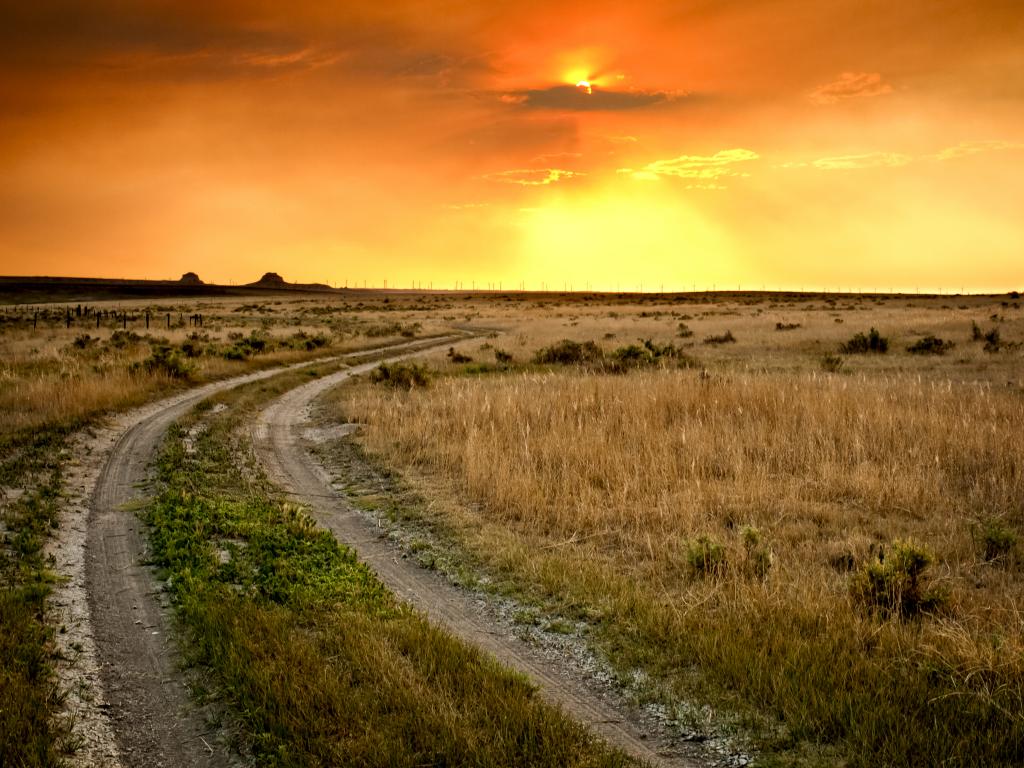 Day trips from Denver generally tend to head west into the Rocky Mountains as that's where the amazing landscapes, activities, towns and nature reserves are and they are so close to the city.
We felt guilty as the first 10 entries on our list are all about the Rockies or at least based in the foothills so here comes a day trip in the opposite direction to the flat plains of Pawnee National Grassland.
Sitting on the northern border of Colorado where it meets Wyoming and Nebraska, this is a vast area of wild grassland that goes on for miles and miles without so much as a hill in sight.
There are a number of trails and even campsites if you want to stay longer, but you can get a really good feel for the place and enjoy it on a day trip from Denver.
Be careful with the network of small roads and dirt tracks that criss-cross the Grassland - some of these are publicly accessible roads but others are private drives so look out for the signs as you might annoy the local farmers.
12. Bear Creek Canyon & Evergreen
40 minutes from Denver (29 miles)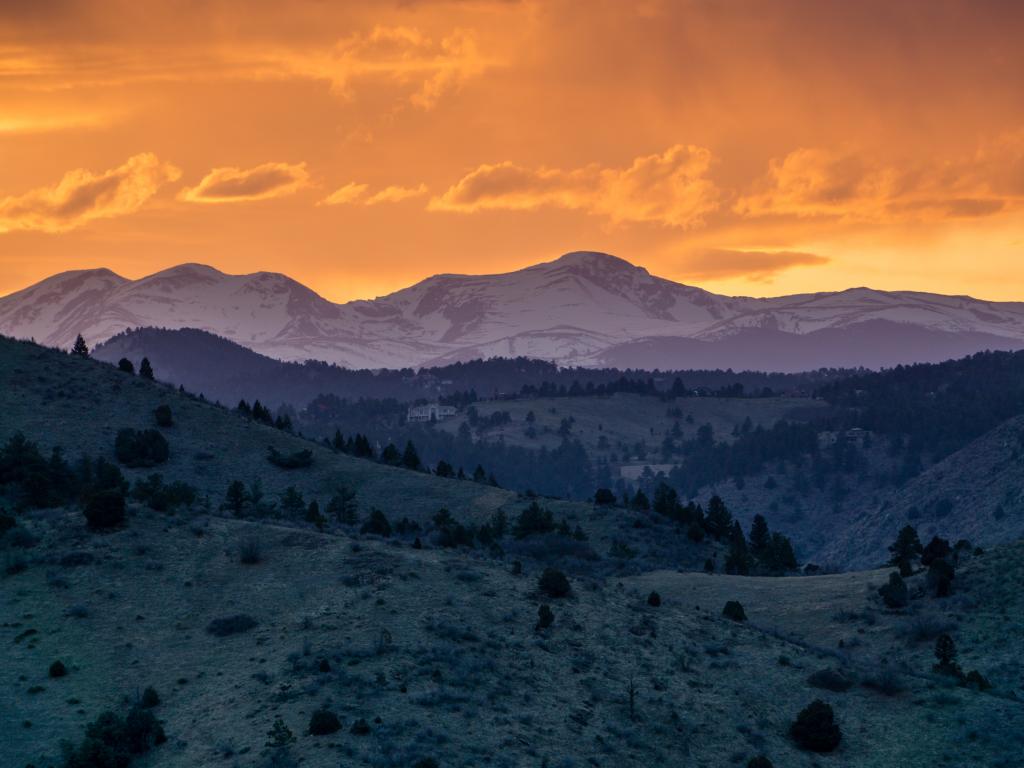 This is a short day trip from Denver at less than 30 miles' worth of driving to get to Evergreen, but it's definitely worth it and if you're short on time, this is a great way to have fun and get out of the city.
The Bear Creek Canyon Scenic Mountain Drive is a pretty road that runs from Morrison to Idledale. The starting point is almost in the same spot as the Red Rocks Park (see #1 above) so you can combine these two together and still get around to see everything in one day.
After you wind your way up Colorado State Highway 74 to Idledale, keep going all the way to Evergreen - the scenery continues to be great and Evergreen is a great place to stop and enjoy lunch or even stay for dinner.
There's a saloon where you can catch a show later on and the Revival Brews brewery with a dozen unique craft beers to try (although you might need to book a hotel if you get into the beer tasting!).
In downtown Evergreen you will find a bunch of pretty local shops and then there's the Evergreen Lake you can stroll around.
All the way from Morrison to Evergreen, there are parks and places you can go on a hike either side of the Highway.
If you get the trail to the top of Mount Falcon, you'll be rewarded with amazing views in every direction and higher up the road, the Lair o' the Bear Park has relaxing trails that run along Bear Creek.
13. Golden, Colorado
25 minutes from Denver (15 miles)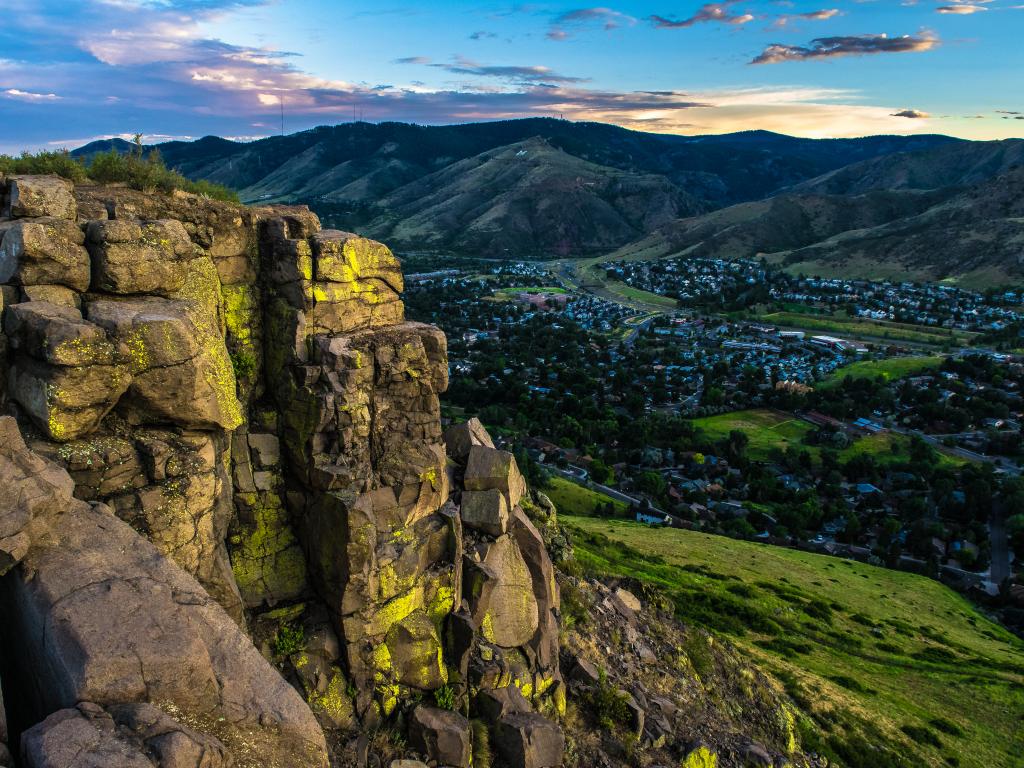 Golden is only a short drive from Denver - you can get here in under half an hour from most of downtown areas but it could not be more different to the hustle and bustle of the city.
The short day trip from Denver brings you to a relaxed traditional mountain town with two amazing mountain parks on either side - the Lookout Mountain Park and the North Table Mountain Park.
You get the feel of being in the mountains even though Golden is almost at the same elevation as Denver and the vibe is a lot more chilled than the big resorts like Aspen or Vail in the Rockies.
If you want to break up your hiking, the Colorado Railroad Museum is a good place to stop. You can also do a tour of the original Coors Brewery where the company first started back in 1873.
14. Colorado Springs, Colorado
1 hour 20 minutes from Denver (69 miles)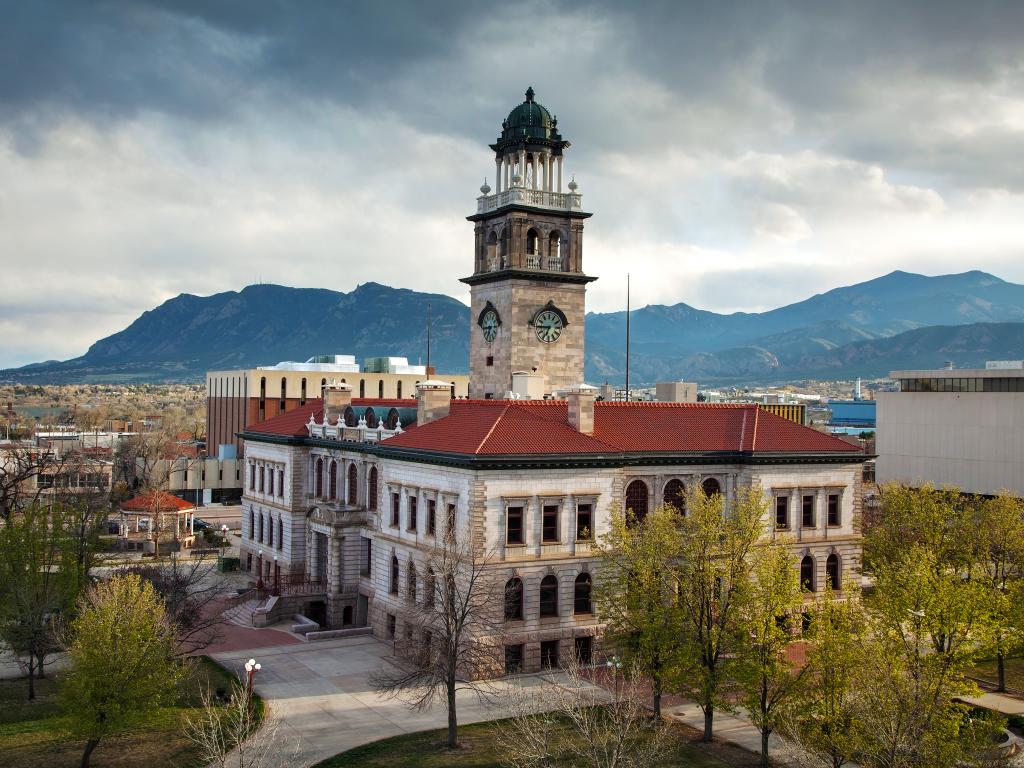 We have split out Colorado Springs from the Garden of the Gods and Pikes Peak (see below) as there's so much to see, a day trip won't do either justice. You can stay the night and enjoy all there is to do and see around Colorado Springs or come more than once.
Most people who visit Colorado Springs don't even make it into the city, focusing on the mountains and parks around it, but it's definitely worth your time.
Old Colorado City is to the west of downtown Colorado Springs and was formed in 1859 as the capital of the state of Colorado. You can take a stroll and check out some great local shops, restaurants and art galleries.
The city of Colorado Springs has some really unusual and interesting museums - there's everything from quirky Rocky Mountain Motorcycle Museum to the grand Colorado Springs Pioneer Museum with special museums dedicated to classic trolleys, planes, mining and even a preserved bordello.
15.Garden of the Gods and Pikes Peak
1 hour 30 minutes from Denver (74 mies)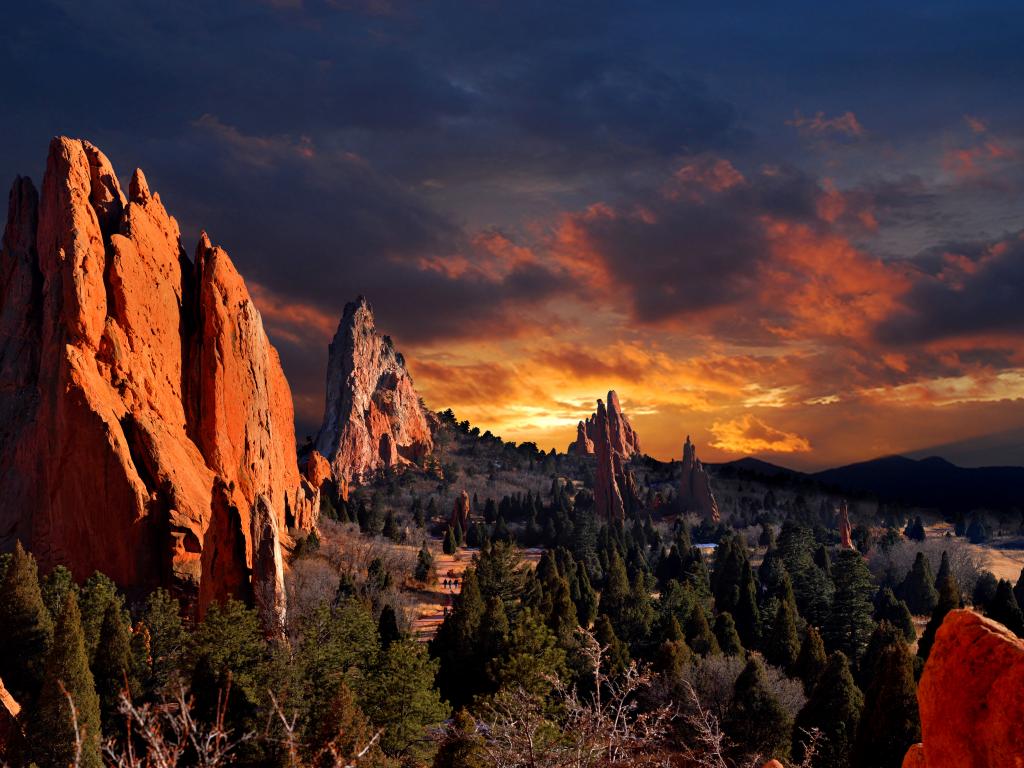 Pikes Peak is the mountain that towers over the city of Colorado Springs and is one of a number of fourteeners in the area, rising to a height of 14,115 feet above sea level (4,302 m).
You can get to the top via a few different ways - the Pikes Peak Cog Railway from Manitou Springs is one of the easiest ways to go up if you want to have a relaxing day. The highest railway in North America is currently closed for reconstruction and is scheduled to reopen in 2021.
While it is closed, you can drive all the way up via the Pikes Peak Highway. It's a toll road, but the 19 miles of twists and turns are worth it - the road is home to one of the best known mountain races in the world - the Pikes Peak International Hillclimb.
You can hike all the way up, but the 13-mile trail that climbs over 8,000 feet (2,400 m) will take you several hours just to go one way so allow enough time if you plan on going up and down.
Garden of the Gods is the park that sits between Colorado Springs and Pikes Peak. It's known for its unusual red rock formations - there's thin tall structures, a giant balancing rock and rocks that look like spires and religious buildings in the aptly named Cathedral Valley.
16. Biking trails in Fort Collins and Lory State Park
1 hour 30 minutes from Denver (75 miles)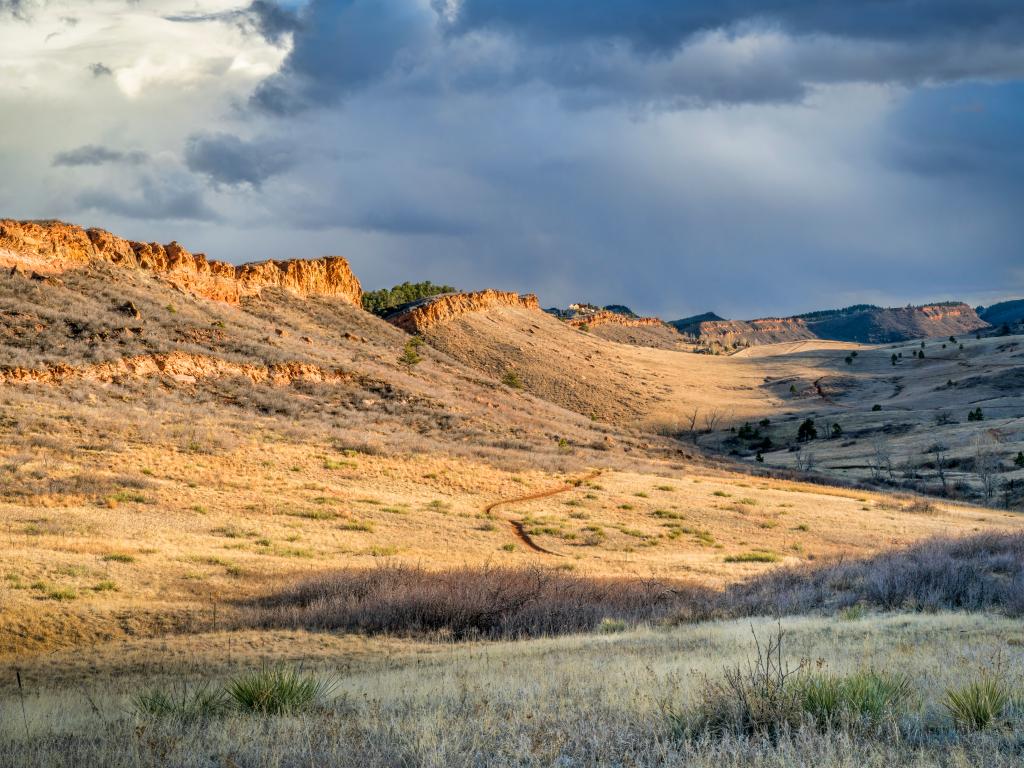 Fort Collins is just over an hour's drive up the I-25 to the north of Denver and is often overlooked as a place to visit, but you should definitely spend some time in the city.
The historic city has a great Old Town district where you'll find quaint shops selling everything from silver to spice.
If you choose to stay the night, you might find out why Fort Collins is known as the Napa Valley of beer - there's 2 dozen local breweries in the area and you can try a lot of the craft beers around town.
One of the most noticeable things in Fort Collins are the bike trails throughout the city - the locals love bicycles and there are dedicated paths everywhere you look. You can even hire a bike if you've not brought one with you - you'll see them parked up at bike racks everywhere you go and you can get set up on the app in a few minutes.
Lory State Park is just outside Fort Collins - you'll need to drive around the Horsetooth Reservoir to get there. Once you're there, you'll find many trails waving through the rugged terrain that you can hike or try your hand at mountain biking.
17. Lake Dillon
1 hour 15 minutes from Denver (69 miles)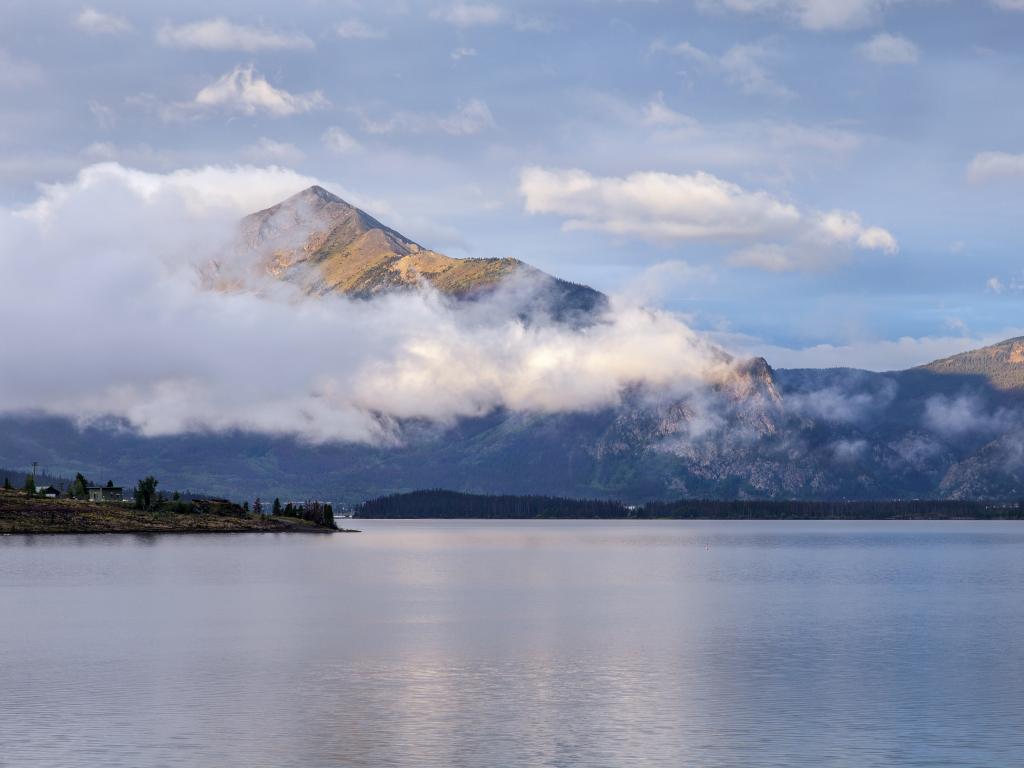 Lake Dillon is a man-made reservoir along Blue River that flows in the Rockies. It is a very popular destination for tourists all through the year as the lake is a great base for hiking, exploring the mountains and skiing.
The calm waters of the lake, surrounded by snow-covered peaks have some amazing RV sites, bike paths and golf courses for those who want to relax in the warm summer months.
There is a summer concert series in the town of Dillon and you can hire boats from the marina from late May to the end of September.
In the winter (and actually all the way through the year), there are 4 major ski resorts within a 10-mile radius of the lake including the large Copper Mountain, Keystone and Breckenridge resorts.
You can do virtually every snow-based activity here and given how close these resorts are to Denver, you can easily come skiing on a day trip from Denver.
18. Aspen, Colorado
3 hours (159 miles) from Denver in the summer, 4 hours 20 minutes (223 miles) from Denver in the winter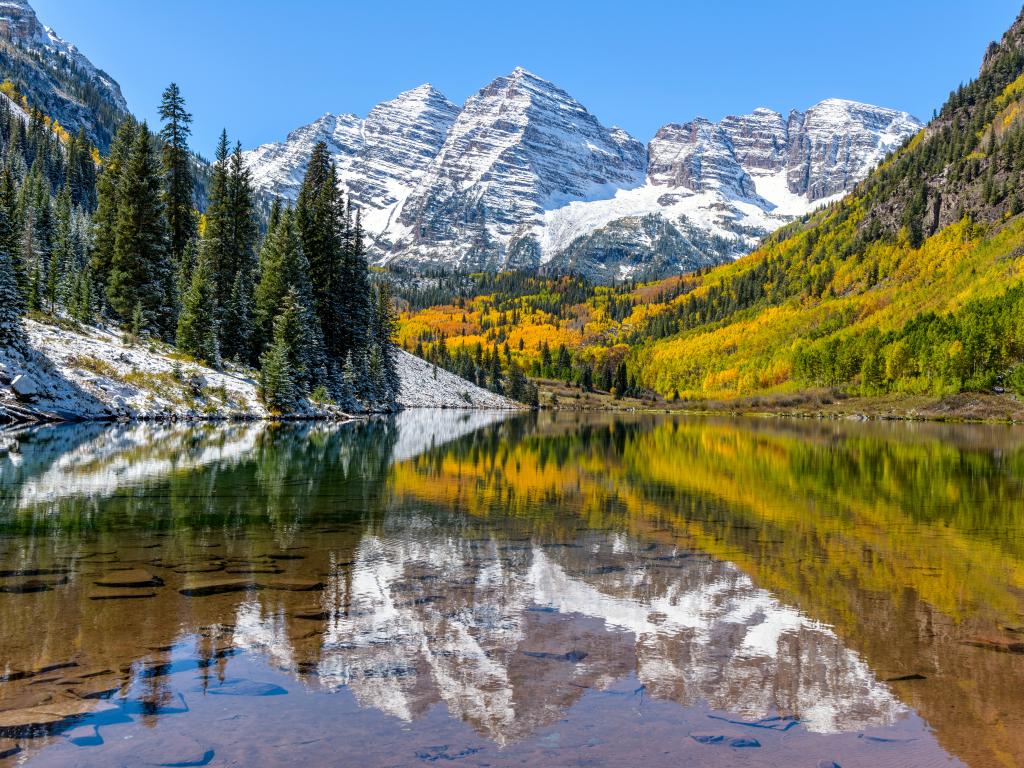 Aspen is another great ski resort within a day's drive from Denver, but at 3 hours on the road, it is one of the furthest on this list and you may want to extend your day trip to make more of what Aspen has to offer.
The quickest way to get to Aspen from Denver is to follow the I-70 all the way to Copper Mountain and then turn onto Highway 91 heading south. After a while, there will be a turning right into the mountains onto Highway 82 and this leads all the way into Aspen.
As the road runs so high in the mountains, Highway 82 is closed for much of the year, only reopening once the ice and snow subsides in the summer months. So if you're coming in the winter, you'll have to take the longer route, following the I-70 to Glenwood Springs before following Highway 82 south.
Skiing is the number one reason people come to Aspen and it's not surprising - there are 4 separate ski resorts on neighbor mountains! These are Aspen Mountain, Aspen Highlands, Buttermilk and Snowmass, a few miles up the road.
But even if you're not here for the skiing, there is a lot to get on with while enjoying the clear mountain air. Beautiful hikes, mountain top restaurants with unbelievable views and even the Wheeler Opera House, built in the 1890s, which hosts concerts and events year round.
19. Colorado Wolf and Wildlife Center
2 hours from Denver (97 miles)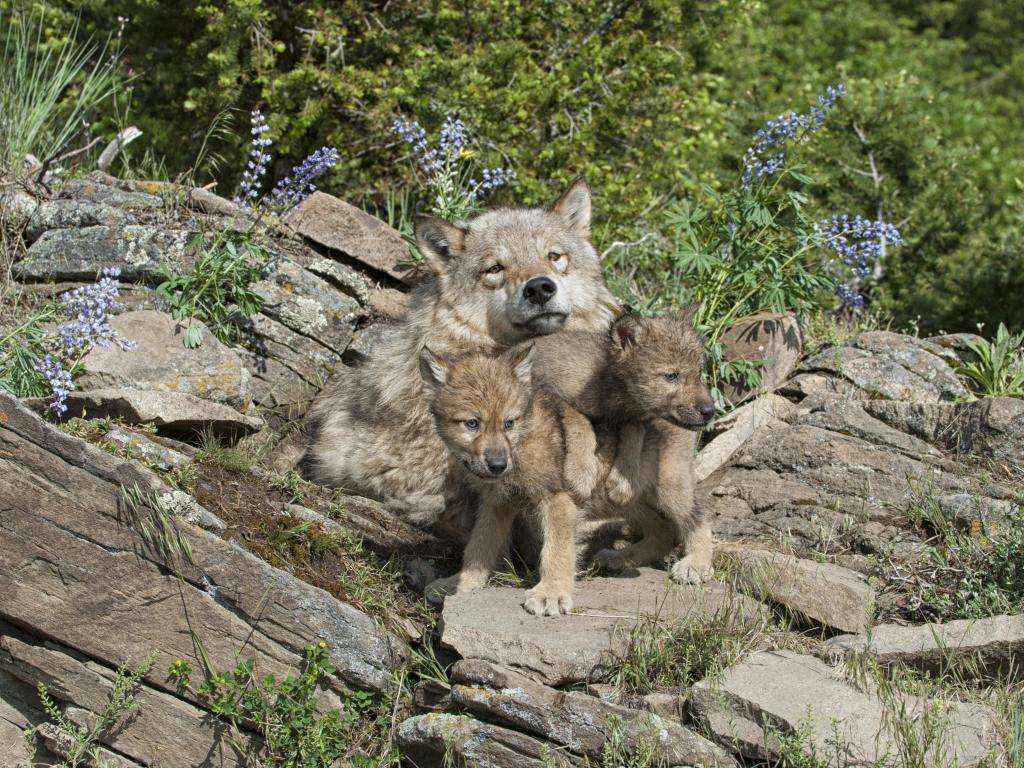 The Colorado Wolf and Wildlife Center is located south of Denver, near Pikes Peak and you can either drive along highways through Colorado Springs or take the more scenic route through the mountains following Highways 67 down to Woodland Park.
You can get up close and personal with the wolves that live in the sanctuary - there are different tours running through the day and although you can opt for the Standard, Meet & Greet, the Feeding Tour or even a VIP tour - all depends on how much time you've got, how much you want to spend and how close you want to get!
Alongside the wolves, the center houses coyotes and foxes and even within the wolf population, there are different types and you'll find it's a really rewarding and interesting experience.
The animals here would not be able to survive in the wild and this refuge lets them lead their lives in as natural an environment as possible.
20. Steamboat and the Fish Creek Falls
3 hours from Denver (159 miles)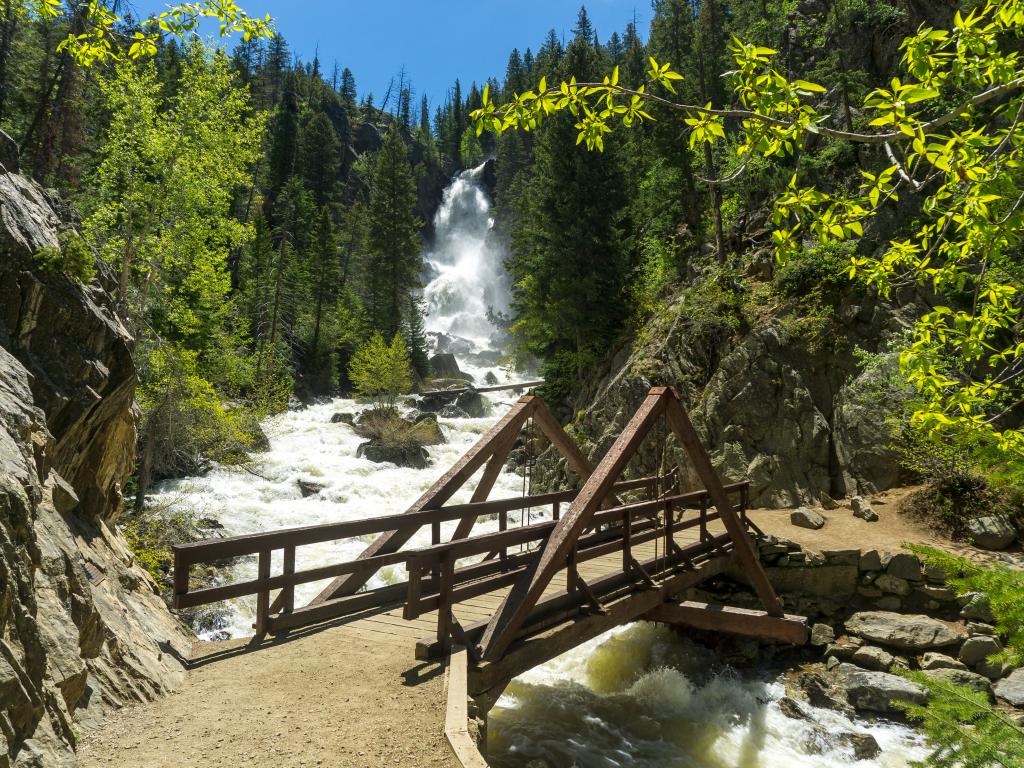 At around 3 hours' worth of driving, Steamboat is a little stretch for a day trip from Denver, but you could just about do it if you like a good mountain drive.
The city of Steamboat is far enough from Denver that it feels like you've driven to a whole different state. You get a proper mountain town feel, ranches surrounding the city and a great ski resort.
Healthy lifestyle is a big deal here - there's hiking trails almost right out of the city with one going up to Fish Creek Falls which is definitely worth it if you have the time to get there.
The city boasts of the fact that 98 Olympians hail from Steamboat - a mighty return for a small town in the Rockies. Appropriately enough, the Swiss ski resort of Saas Fee is twinned with Steamboat!
If you're not into skiing, you can try other snow-based activities from snowmobiles to tubing.
In the summer, Steamboat's ski runs are swapped for mountain bike trails and the hot springs at Strawberry Park are a great way to relax after a day of activities.