Is there a car ferry from Boston to Cape Cod?
Cape Cod is a beautiful peninsula located on the Atlantic Ocean that stretches southwest of Boston. It's famous for its stunning beaches, wineries, and historic towns full of things to do and see. With such a close proximity, you might be wondering whether or not there is a car ferry between the Boston and Cape Cod.
There is no car ferry from Boston to Cape Cod. However, there are two passenger ferries that take around 1 hour and 30 minutes to travel from Boston to the port of Provincetown. If you'd like to take your car, the most convenient way is to directly drive there.
Whether you travel by passenger ferry or decide to drive, the journey from Boston to Cape Cod will be full of beautiful views and fun activities. Read on below to learn more about the ferry routes, other ways to get there, and top things to see when you arrive.
Is there a car ferry from Boston to Cape Cod?
There is no car ferry that will take you from Boston to Cape Cod. You'll have to either leave your car behind and take a passenger ferry or choose to drive.
The two existing ferry operators that provide services between Boston and Cape Cod are for pedestrians only.
That being said, there are car ferries that will take you from the mainland to the Cape Cod Islands. To do this, you'll drive to the town of Woods Hole, then book a ticket for the vehicle ferry to Martha Vineyard or Hyannis, then a car ferry to Nantucket.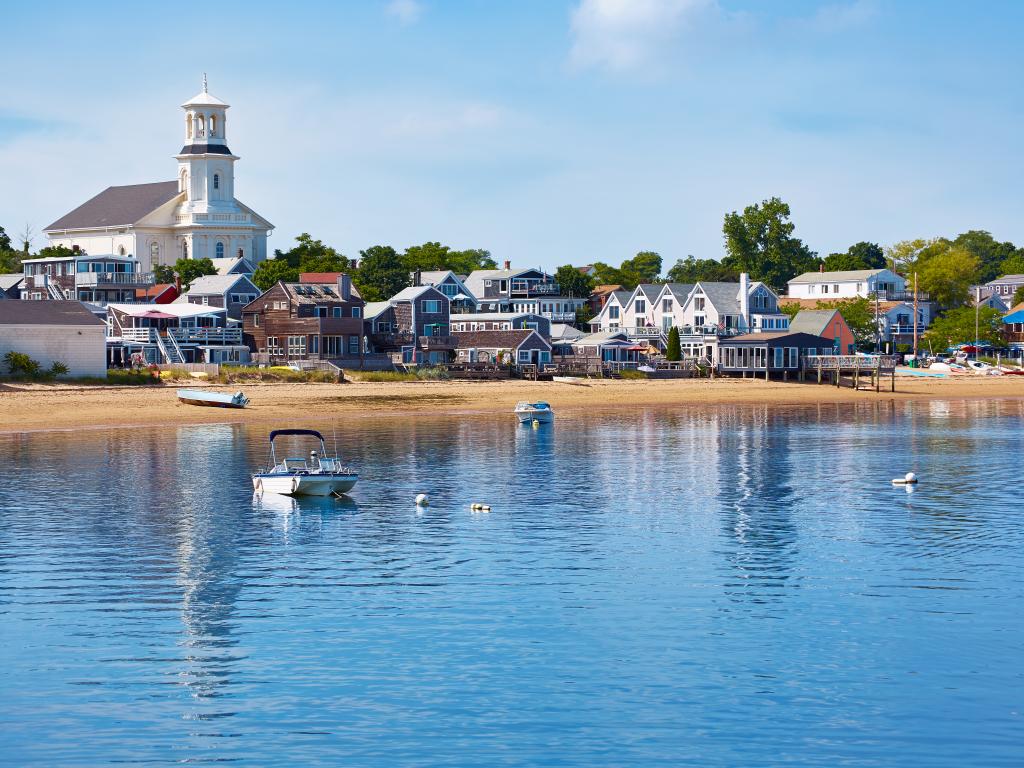 Driving from Boston to Cape Cod
If you choose to drive instead of taking the car ferry from Boston to Cape Cod, you'll find well-kept highways and plenty of things to see and do along the way.
You can drive along the MA-3 South, past the historic town of Plymouth. Then, you'll head on US-6 East, taking the Sagamore Bridge over the Cape Cod Canal.
You'll pass historic towns such as Sandwich and coastal gems like Eastham. Here, the famous Nauset Lighthouse stands as an icon of the area's history.
Driving gives you more freedom to check out all the vineyards, museums, and beaches on the peninsula.
Taking the passenger ferry from Boston to Cape Cod
There are two excellent passenger ferries that will bring you from Boston to Cape Cod. Both depart from Boston's World Trade Center Pier and will arrive at MacMillan Pier, Provincetown.
The Bay State Cruise Company is the first, taking roughly 1 hour and 35 minutes to cross. The frequency of ferries depends on the time of year.
From the 16th of May to the 9th of October, there are 3 crossings per day 7 days a week. From the 13th of October to the 2nd of December, they only run on weekends. As always, these are subject to change to check ahead of time to avoid any disappointment.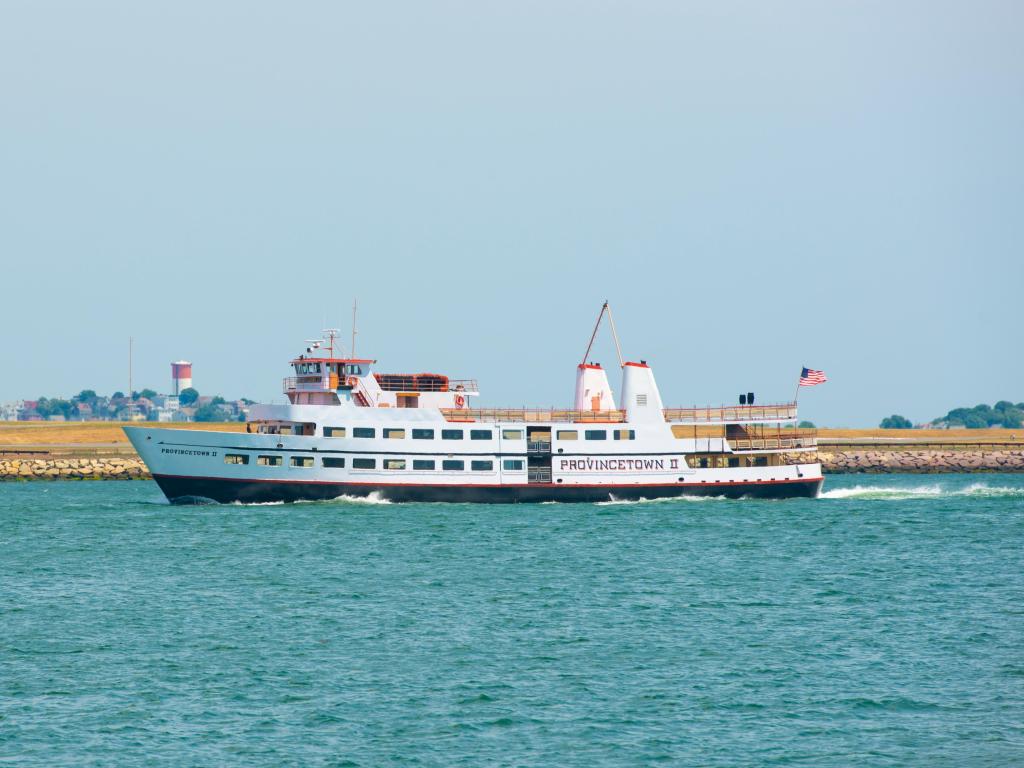 Boston Harbor City Cruises operates the other ferry option. The journey usually takes 1 hour and 30 minutes.
The Boston Harbor City Cruises ferry only operates from mid-May to mid-October. From 5th of September to 24th of September, there are 2 crossings daily on Monday, Friday, Saturday and Sunday.
During midweek from 5th of September, the service is reduced to 1 crossing. Please check the schedule ahead of time in case there is a change.
How long does it take to reach Cape Cod from Boston?
Both ferries take around 1 hour and 35 minutes. However, during bad weather, this may be longer. Always arrive between 30 minutes to an hour early to board. This will give you plenty of time to get seated and relax for the journey.
If you choose to drive, you'll get there in around 2 hours and 10 minutes. This doesn't account for traffic or bad weather.
During the summer, expect longer drive times due to tourists. Cape Cod is a popular summer beach destination so plan to add an hour to your journey times by car.
The fastest option is to fly from Boston to Provincetown. Although expensive, this only takes 30 minutes.
If you're taking the car ferry to one of the outside islands it will take a bit more time. This is because you'll need to drive to the southern towns of Cape Cod and then board a car ferry from there.
To get to Martha's Vineyard, you'll travel 2 hours and 50 minutes, including the 45-minute ferry crossing. To get to Nantucket, you can expect 4 hours of travel time, including a 1-hour ferry and a 3-hour drive.
How much does it cost to travel from Boston to Cape Cod?
Comparison of the passenger ferry prices from Boston to Cape Cod

| Operator | Travel time | Adult fare |
| --- | --- | --- |
| Boston Harbor City Cruises | 1 hour 30 minutes | $66 |
| Bay State Cruise Company | 1 hour 35 minutes | $70-$90 |
*Prices are calculated at the time of writing
There are several options to get from Boston to Cape Cod. Traveling from Boston to Provincetown Ferry by Bay State Cruise is around $70-$90, depending on the time of year.
The Boston to Provincetown Ferry by Boston Harbor City Cruises will be cheaper, running around $66.
To take the car ferry to Martha's Vineyard, it will run around $64 to $98 with a vehicle. The car ferry to Nantucket will be $177 to $260 with a vehicle.
The short flight from Boston to Provincetown will set you back $99 - $179. This depends on the season, as weather and high tourist seasons will raise the prices.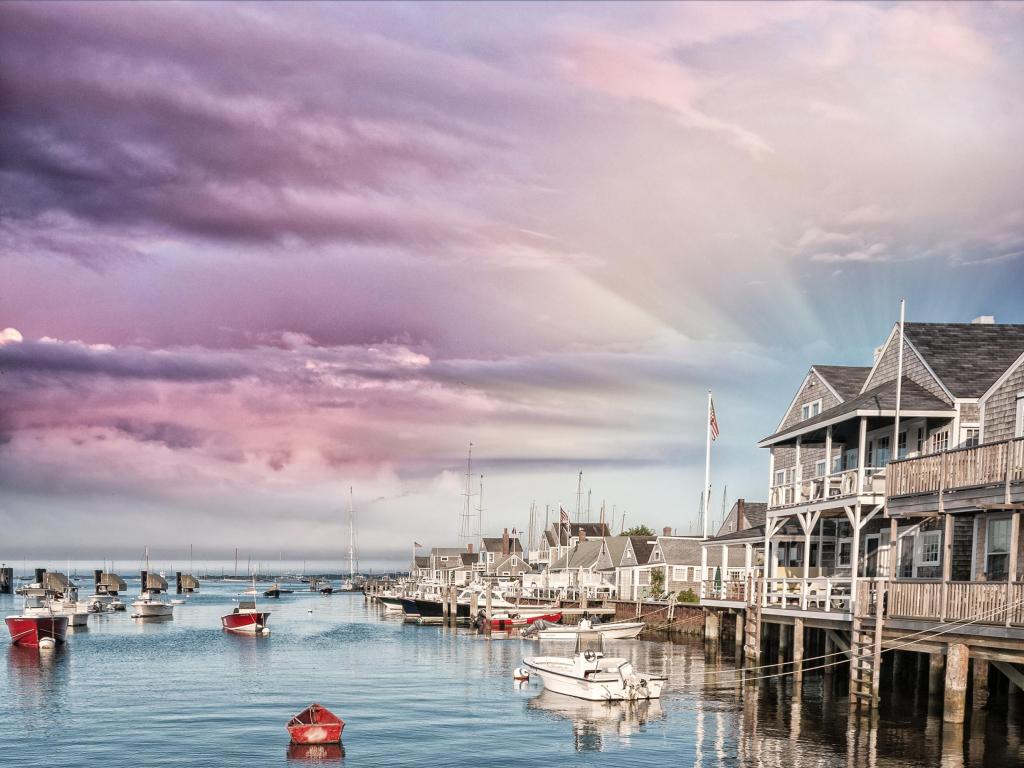 Things you need to know about traveling from Boston to Cape Cod
Traveling from Boston to Cape Cod is an incredible journey with tons to see. To make your journey even more enjoyable, there are a few things to keep in mind.
First, the weather during winter can be quite harsh. Starting from November and lasting until March, winter storms can bring lots of snow and bad weather.
When arriving at the ferry terminal, get there at least 30 minutes to an hour early. This way, you'll be able to get on board stress-free.
Be aware of traffic in the summer. Cape Cod is an incredibly popular summer destination, so make sure to book your accommodations early.
Once you arrive in Provincetown, you can walk everywhere. Car rentals are also available if you want to explore the peninsula, as are bikes.
Best time to visit Cape Cod
Although people visit Cape Cod all year long, summer is the most popular time. Summer brings the most favorable weather with warmer temperatures and sunshine.
The sunny weather makes the beaches a hotspot for visitors to swim and sunbathe. Summer is also the perfect time for hiking, biking, kayaking, golfing or even whale watching.
Summer is also the top season for events and festivals on the peninsula. From parades to family-friendly events, there's something for everyone.
Check out the Provincetown International Film Festival and the popular SandwichFest in June. The Cape Cod Hydrangea Festival, Cape Cod Music Festival, and the Barnstable County Fair are all in July.
August brings the Pops by the Sea festival, and in September, you can experience the Harwich Cranberry Arts & Music Festival.
The shoulder seasons are also pleasant, with mild weather and fewer crowds. If you're coming during May, make sure to check out the Cape Cod Maritime Days festival.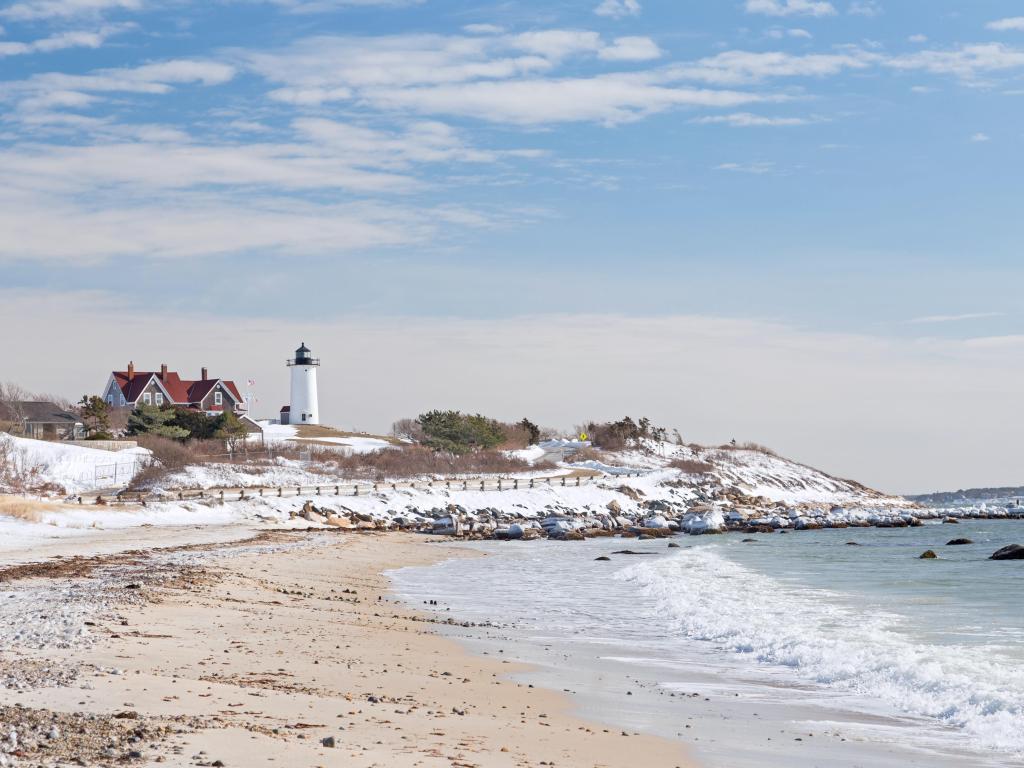 Things to see once you reach Cape Cod
There is so much to see and do once you reach beautiful Cape Cod. Below are our top highlights and things to check out once you reach this beautiful East Coast destination.
Cape Cod National Seashore - The east coast seashore covers 40 miles. See the pristine sand beaches, hike the trails, photograph the lighthouses and enjoy the natural beauty.
Provincetown - Visit the vibrant and artful Provincetown. Enjoy the seafood restaurants and delve into the nightlife.
Martha's Vineyard and Nantucket - Jump on a ferry, with a car or without, to the islands of Martha's Vineyard and Nantucket. Visit the quaint village and walk the famed beaches.
Whale Watching - Find a boat tour near you and explore the marine wildlife. See whales, dolphins and seals.
Hyannis Harbor - Stroll along the historic harbor. Visit the John F. Kennedy Hyannis Museum to learn of the family's connection to Cape Cod.
With so much to see and do, you'll want to take the trip over to Cape Cod from Boston. No matter if you take a ferry, car ferry to the outside islands, or drive, you'll be sure to have the time of your life.