Is there a ferry from Bar Harbor to Nova Scotia?
Nova Scotia is a beautiful and expansive province of Canada, located due east of Bar Harbor, across the Bay of Fundy. The province is known for its maritime history, fishing industry, and some of the largest tide swings on the planet.
There is one ferry that departs from Bar Harbor to Nova Scotia. It takes roughly 3.5 hours and takes you through the scenic coastline of the state of Maine and Canadian Province of Nova Scotia.
It's also possible to drive from Bar Harbor to Nova Scotia or take a flight. Read on to learn more about how to get to Nova Scotia, how much it costs, and things to do and see when you're there.
Is there a ferry from Bar Harbor to Nova Scotia?
Getting to Nova Scotia from Bar Harbor, Maine is straightforward. There is one main ferry available that makes the journey.
The CAT Ferry runs from Bar Harbor, Maine, to Nova Scotia, Canada. It departs from the main port of Bar Harbor, Maine, and arrives at the port of Yarmouth, Nova Scotia.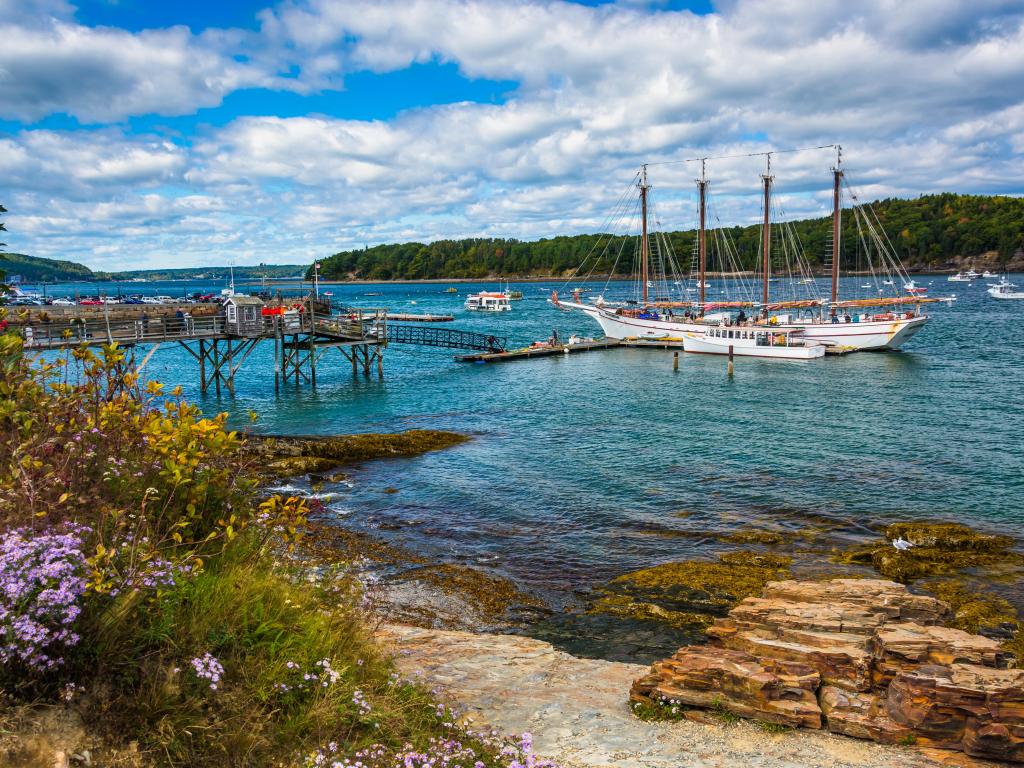 The ferry takes roughly 3.5 hours to make the journey from Maine to Nova Scotia. It departs at 9:30 AM Atlantic Time from Yarmouth and at 3:00 Eastern time from Bar Harbor, Thursday, Friday, Sunday, and Monday only.
The CAT ferry sails in late May (May 25) and continues through the summer and fall until October 9. You can walk on or take your car. The rate for taking a car is higher than walking on board.
How to reach Nova Scotia from Bar Harbor
The best way to get to Nova Scotia from Bar Harbor is by taking the CAT ferry. This ferry makes it easy to reach your destination in comfort. However, there are several other options to keep in mind if you need an alternative.
Flights from Bangor Maine fly to Halifax or Sydney. Bangor Maine is 1hr 15 mins from Bar Harbor. These flights would all have other stops so it wouldn't make sense to fly, as it would take significantly longer to get there. The closest airport to find a non-stop flight from is New York or Newark.
There's another ferry from Saint John to Digby Nova Scotia. It departs Saint John, New Brunswick and arrives in the port of Digby, Nova Scotia.
The ferry takes 2 hours 15 minutes to 2 hours 30 minutes to reach Nova Scotia. Most days it leaves Saint John at 9:00am (Atlantic Time) and returns from Digby at 4:00pm. Some days, there are two ferries from Saint John at 8:00am and 2:15pm and two from Digby at 11:00am and 5:30pm.
The ferry costs around $42 per passenger and $119 per vehicle. This ferry operates year-round, so if you can't catch a ferry from Bar Harbor, this is a great option.
How to drive from Bar Harbor to Nova Scotia
Although you can take ferries and fly to Nova Scotia, you can also choose to make the drive. Although many roads face severe weather in winter, it's possible to drive safely if you're prepared.
To get to Nova Scotia from Bar Harbor, you can drive around the Bay of Fundy on Highway 1 to Trans-Canada Highway 2 to NS-104 (from Bar Harbor ME to Halifax, NS). This journey will take roughly 7 hours, 20 minutes, and 439 miles.
How long does it take to reach Nova Scotia from Bar Harbor by ferry?
The ferry ride usually takes a comfortable 3 hours and 30 minutes. Weather conditions can sometimes be rough and cold due to the high latitude of Nova Scotia.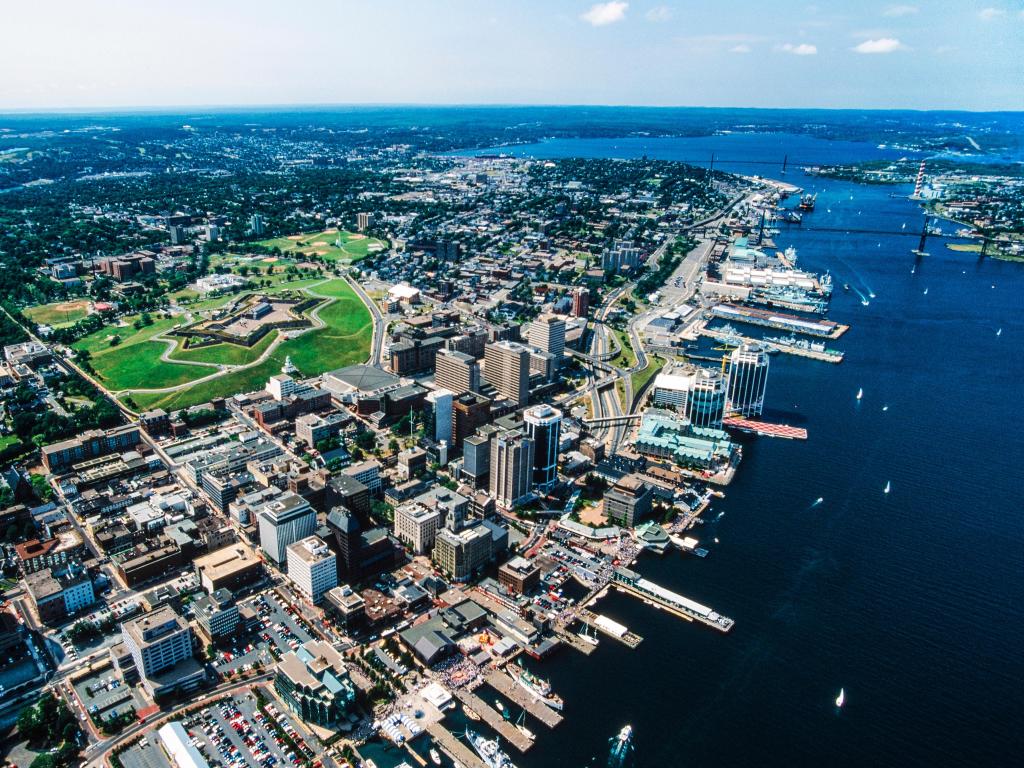 As always, check the website of the CAT ferry to get the latest weather conditions and see if there are any delays to your trip. Usually, the crossing is very pleasant and the views are spectacular.
How much does it cost to take the ferry to Nova Scotia?
Comparison of the ferry prices from Bar Harbor to Nova Scotia via The CAT
Ticket Type
Fare
One way
$115
Round trip
$210
Vehicle


up to 7' high and 20' long

$199
*Calculated at the time of writing for 1 adult
You can take your car for an increased fare. You can also take your motorcycles, or bikes, as well as pets, or can just walk on as a pedestrian. If you're taking a vehicle, it will add about $199 each way.
Which ferry port should you choose as your destination in Nova Scotia?
The main port of entry when you arrive in Bar Harbor is the Port of Bar Harbor. Bar Harbor Maine is located across the Bay of Fundy from Nova Scotia, about 110 miles. Bar Harbor is located northwest of Yarmouth.
You can park your car at the Bar Harbor ferry terminal if you don't wish to take it. In Yarmouth, you don't need a car to explore the seaside town because there are walking trails and the ferry terminal is located in close distance to the town where you can find attractions, restaurants and shopping.
Keep in mind that there is no parking in Yarmouth at the ferry terminal. You would have to arrange parking for your vehicle elsewhere.
Things you need to know about taking a ferry to Nova Scotia
Although it's straightforward to take a ferry from Bar Harbor to Nova Scotia, there are things you'll need to keep in mind before setting off on your journey. Continue on to learn more.
Here are our top tips when it comes to preparing for a ferry ride to Nova Scotia:
The ferry crosses one time a day each way, only on Thursday, Friday, Sunday and Mondays. It leaves in the morning from Yarmouth and the afternoon from Bar Harbor.
Make your reservation in advance to reserve your spot. Make sure to show up at the port at least 1 hour before checking in.
Best time to visit Nova Scotia
The ferry runs from Bar Harbor to Yarmouth from May to October only, due to weather and demand. Prices never change based on the season.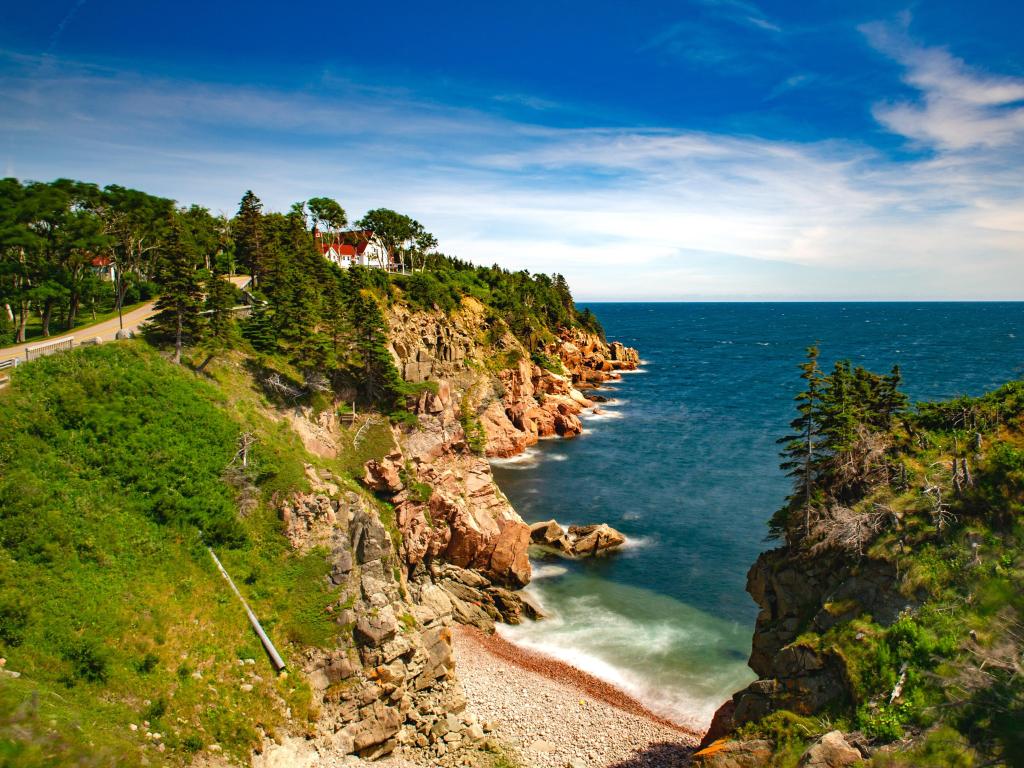 Summer has the best weather to enjoy in Nova Scotia. It's also a popular travel time to experience the incredible scenery.
Early fall has beautiful scenic fall foliage that's also worth seeing. The Bay of Fundy has whale season from June to October, so if you love nature and want to spot one of these magnificent mammals, this is the time to do so.
Does the ferry to Nova Scotia run all year round?
Although the ferry from Bar Harbor only runs from May to October, you have other options. Just a short drive away is Saint John, where you can hop on the ferry to Digby, Nova Scotia all year long.
When is the best time to travel to Nova Scotia?
Depending on what you want to see and experience, there are several seasons that are perfect for visiting Nova Scotia.
The off season runs from October to March. You can take advantage of lower fares and fewer other tourists around this time, although the weather will often be cold. June to October are peak times with higher rates for fares.
Summer in Halifax and Nova Scotia brings many local festivals and celebrations of the peak seasons. These include the Pride festival in July, National Acadian Festival in August, Tree lighting and Holiday festivals in December, and many other cultural, sailing, music, beer, and seafood festivals all summer long.
For seafood lovers, there are several must-see festivals during the year. The main ones include the Lobster festivals in July and the Digby Scallop Days in August, which is a festival honoring the scalloping industry. You're sure to get your fill of seafood during these celebrations.
Things to see once you reach Nova Scotia
There are plenty of amazing sights and experiences on the large island of Nova Scotia. Below, we've included some of our recommended destinations for you to explore.
Yarmouth Rail Trail - The town of Yarmouth has a walking path on the waterway called the Yarmouth County Rail Trail that takes you from the ferry terminal all the way along the coast and into Nova Scotia through woods, farms, and lakesides.
Cape Forchu Lighthouse - Can be seen from the rocky shores of Yarmouth and is a picturesque site to see. You can hike here on Cape Forchu on the Leif Erikson Trail and witness a spectacular sunset.
Cafes and Breweries - Sip Café, Boatskeg Distilling Co, Heritage Brewing, and others for craft brews, quaint cafes and eateries to fill your time in Yarmouth with local delights.
Lobster Cars - In downtown Yarmouth there's the colorful and eclectic Lobster Cars art installation that has won awards.
Art Gallery of Nova Scotia - With a branch in Yarmouth, explore the Acadian art and international art on display here.
Deep Sky Eye Observatory - If you stay the night in Yarmouth, don't miss out on this experience of stargazing in the Deep Sky Eye Observatory about 30 minutes from Yarmouth, where you can camp in a Sky Bubble.
Halifax - A drive from the port of Yarmouth will take you to Halifax, Nova Scotia's biggest city where you can explore downtown, the waterfront, and the Halifax Boardwalk.