Road Trip from Ottawa to Halifax, Nova Scotia
If you've longed to explore more of Canada, including its rich cities and quant towns, natural wonders and incredible waterfalls and bays along the way, then the historic and picturesque road trip from Ottawa to Halifax, Nova Scotia is the epic adventure for you.
The 1,530 km road trip from Ottawa to Halifax Nova Scotia will take around 16 hours to drive. Key stops include Montreal, Quebec, Plattsburgh and Montpelier, as well as Bar Harbor, Lake Temiscouata, Fraconia Notch State Park and Fundy Discovery Site.
To help you make the most of your adventure, we've set out the best routes and places to stop overnight, as well as our favourite places to see along the way and the best time to year to make the trip from Ottawa to Halifax, Nova Scotia.
How far is Halifax, Nova Scotia from Ottawa, and how long will the road trip take?
Comparison of road trip routes between Ottawa and Halifax, Nova Scotia

| Route | Distance | Driving Time |
| --- | --- | --- |
| The Canadian Route | 1,530 km | 15 hours 45 minutes |
| The Scenic American Route | 1,560 km | 18 hours 30 minutes |
The quickest route from Ottawa to Halifax, Nova Scotia avoids any international crossings. Spanning a distance of 1,530 km, the route will take 15 hours and 45 minutes to drive without stopping along the way.
An alternative route which passes through Northern America, is only slightly further in terms of distance at 1,560 km but given the number of scenic drives (as opposed to the major highways on the previous route) it will take longer to drive at 18 hours and 30 minutes.
Neither option can be achieved in a single day of driving. We suggest you take a minimum of two to three days and include a couple of overnight stops along the way. After all, you haven't chosen this road trip just to get from X to Y, after all there's a lot to see along the way!
Whilst the Canada Route doesn't include international crossings, the Scenic American Route does. Therefore, you will need to check ahead of travelling that you have the correct documentation and proof of identity for a smooth border crossing.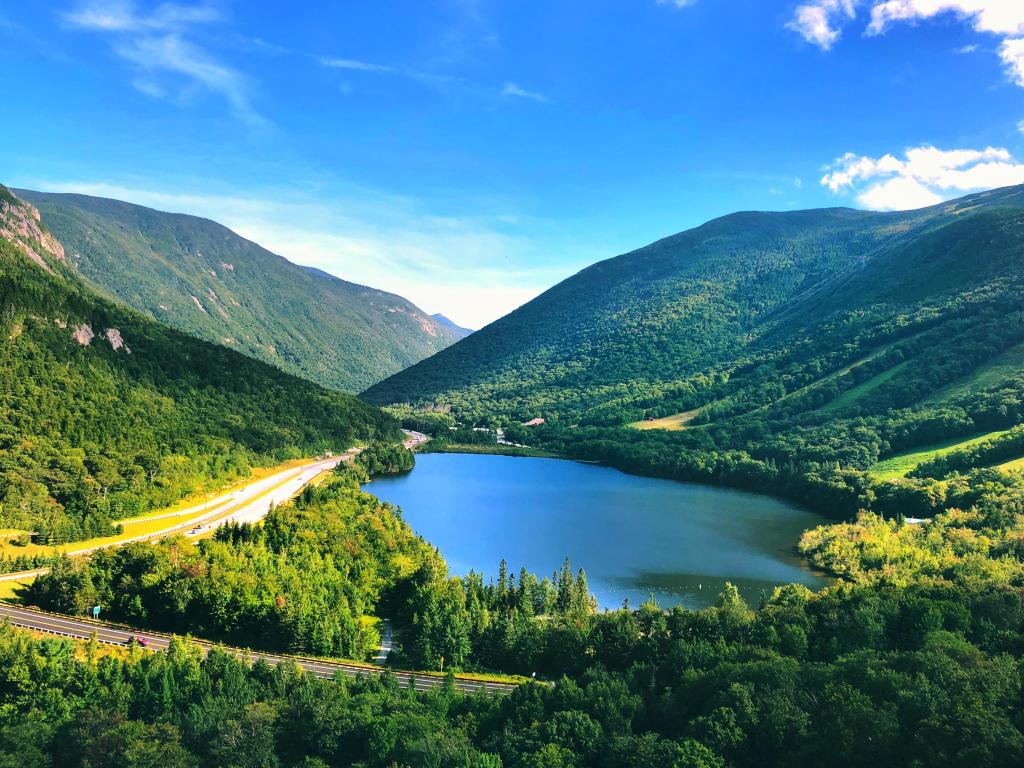 Best road trip route from Ottawa to Halifax, Nova Scotia
The road trip from Ottawa to Halifax, Nova Scotia gives you two very different route options to choose from. While both offer great views and fantastic cities and towns, there are some distinct differences between them.
Our Canada Route is perhaps the simplest of the two. Keeping you on the Trans-Canada Highway, this trip is straightforward and direct. That said, it still includes some amazing cities such as Montreal and Quebec, as well as pretty scenery like Lake Temiscouata.
This route is best if you'd prefer not to cross into the US and want to make the most of the beautiful Canadian towns and cities. Meanwhile, if you would prefer more variety, then our Scenic American Route is a solid option.
Our alternative option takes you across four US states including New York and Vermont and alongside the beautiful Lake Champlain mountains and forests. Pass the White Mountains, and take a stop at Bar Harbor in Maine before crossing back into Canada.
This route will take you longer to drive and includes the border crossing, but if you prefer outdoor attractions and beautiful changing scenery, then the American Route is a solid option for you.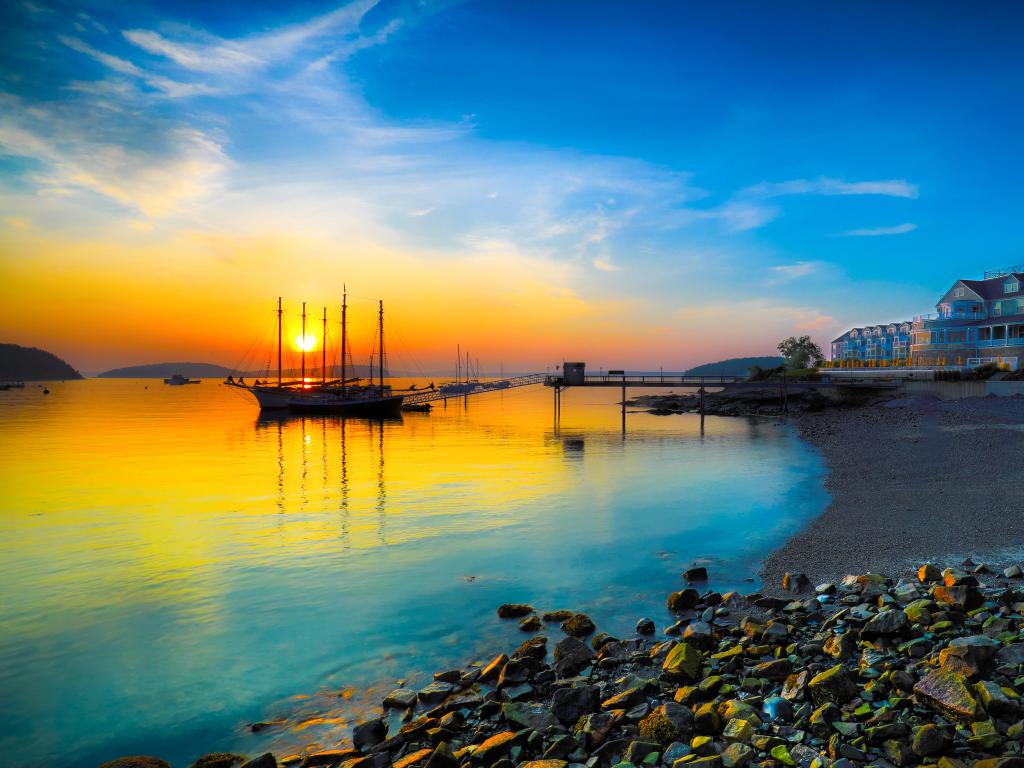 The Canadian Route
Leave Ottawa on ON-417 east past Casselman before continuing Trans-Canada Highway to Montreal. Stop here for an exploration of the largest city in Canada's Quebec province, surrounded by the Saint Lawrence River.
Leave the city on Route Transcanadienne passing several small towns and villages before taking Exit 312N towards Quebec. You'll cross St. Lawrence River to arrive at Quebec City, a beautiful place with stone buildings and pretty narrow streets.
Retrace your steps and merge back onto Autoroute 20 east, following the shore of St. Lawrence River all the way to Saint Patrice where you'll switch to A-85.
Continue on this road until you reach Lake Temiscouata by taking Exit 14 and then QC-295. After exploring this national park and enjoying the scenery, you will need to retrace your steps back to A-85 east.
This road will see you cross into New Brunswick, where the road will merge to become the Trans-Canada Highway. Follow this through several towns and villages, passing close to Spednic Lake and Portobello Creek National Wildlife Area which is set by Foshay Lake.
Continue on the Trans-Canada Highway to River Glade, where you'll be north of Fundy National Park Of Canada and just a short detour away if you'd like to explore it.
Otherwise, continue following the highway to Nova Scotia, where the road merges with NS-104 East. Follow this road to Fundy Discovery Site, where you will get on NS-102 south which you will follow, alongside Waverley Salmon River Long Lake Wilderness to your destination of Halifax.
The Scenic American Route
The American alternative route takes you out of Ottawa on the Trans-Canada Highway/ON-417 east through Casselman and Churchill, before crossing the border into the US. From here the road becomes NY-37 east.
Merge with NY-122 and then take US-11 north as you pass through several towns before arriving at your first city of Plattsburgh, New York on the shores of the stunning Lake Champlain. This is a great base for exploring several natural areas including Jay Mountain Wilderness.
Leave the city by taking a ferry across to Grand Isle and joining US-2 and then Interstate 89 (I-89). Now in the state of Vermont, the interstate will take you alongside Camel's Hump State Park and Mt Mansfield State Forest, both beautiful areas for hiking and wildlife exploring.
Take Exit 8 for Montpelier, before getting on Interstate 91 (I-91) and passing by Groton State Forest. Take Interstate 93 (I-93) at Exit 19 and head south through a scenic stretch of the White Mountain National Forest, which includes Mount Lafayette and Mt Moosilauke, as well as the city of Lincoln in New Hampshire.
Take NH-112 as your drive through the next scenic stretch before crossing into Maine and merging with US-302 heading east. Continue on this road, passing Long Lake and Sebago Lake, before taking ME-11 and then ME-122.
Finally join Interstate 95 (I-95) which will take you a long stretch through the taste of Maine, before arriving at Exit 182A. Continue on Interstate 395 (I-395) and merge with US-1A all the way to High Street in Ellsworth. Continue on this road and then follow ME-3 east to Bar Harbor.
This beautiful town on Mount Desert Island serves as a gateway to Acadia National Park, so if you have a little extra time on your trip, this would be a great place to extend it as the park is simply a stunning sight.
Retrace your steps back on ME-3 heading north, before taking ME-179 past Lyle Frost Wildlife Management Area. Take the right at State Route 9 and follow it east to US-1.
Stop here to explore Moosehorn National Wildlife Refuge, before arriving at Calais, your last city in Maine. Cross back into the Canada border and continue on New Brunswick Route 1 east which you will follow, driving alongside Passamaquoddy Bay and below Lake Utopia.
Continue heading east, arriving at Prince of Wales and below Loch Alva Wilderness Area before reaching Saint John, an ideal overnight stop in New Brunswick.
When you leave the city, simply continue on the same road through several towns and villages before joining the Trans-Canada Highway at River Glade. The rest of your drive to Halifax will be exactly the same as the Canada Route above.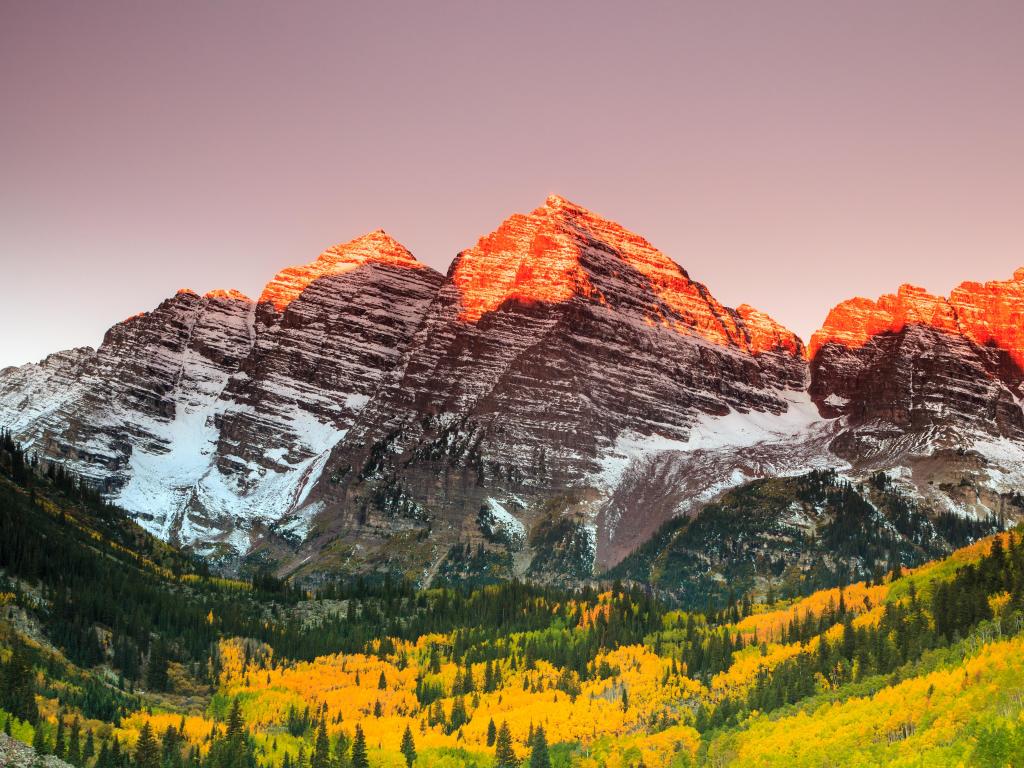 Best places to stop between Ottawa and Halifax, Nova Scotia
Where you want to stop along the way from Ottawa to Halifax in Nova Scotia, will largely depend on how many days you'd like to dedicate to this trip and which of the two routes you've decided to follow.
Here's a pick of some of our favorite places you might want to consider en route:
Fit for a Queen, Quebec City
Five hours from Ottawa on the Canadian Route is the beautiful Quebec City, an ideal overnight stop to not only rest before a final day of driving, but it's also a fantastic attraction in its own right.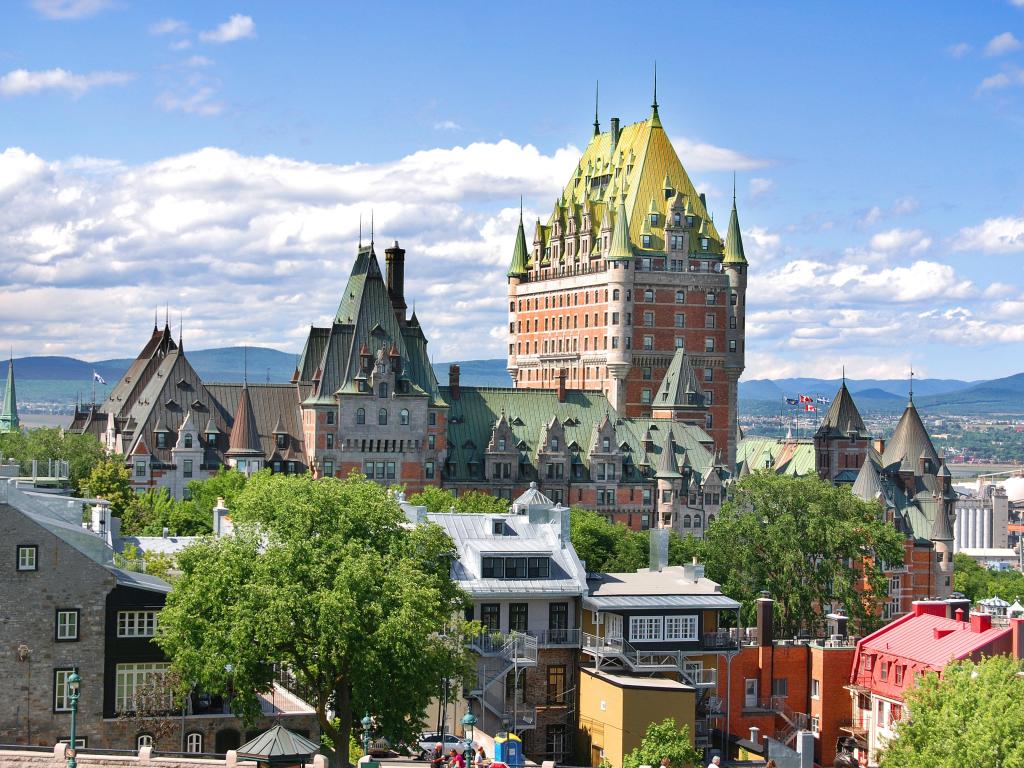 Conveniently located on the route, the capital city of the province of Quebec offers an abundance of attractions and history to explore. Discover Old Quebec and La Citadelle de Québec, a National Historic Site and active military base, where you can take guided tours.
For something more outdoorsy, make a visit to Parc de la Chute-Montmorency - a stunning park that is home to beautiful waterfalls on the Montmorency River that are even higher than Niagara Falls!
One of the best hotels you can stop in this fine Canadian city is the Fairmont Le Chateau Frontenac. This luxury 5-star property sits right on the St. Lawrence River and boasts beautiful views from its stylish rooms.
There are several fabulous on-site restaurants that offer different cuisines, as well as an indoor pool, hot tubs, steam rooms and most importantly, a world-class spa where you can treat yourself to a massage or two after your long drive.
Located within the historic district of Old Quebec, this hotel means you can easily explore the area on foot. The famous Montmorency National Park and the Notre Dame Cathedral are all within walking distance of the resort.
Explore the mountains in Lincoln, New Hampshire
If you've decided to opt for the Scenic American Route, depending on how many days you've allowed for the trip, a great base at around a third of the way to Halifax (and an ideal city if you've opted for a 3-day drive) is Lincoln in New Hampshire.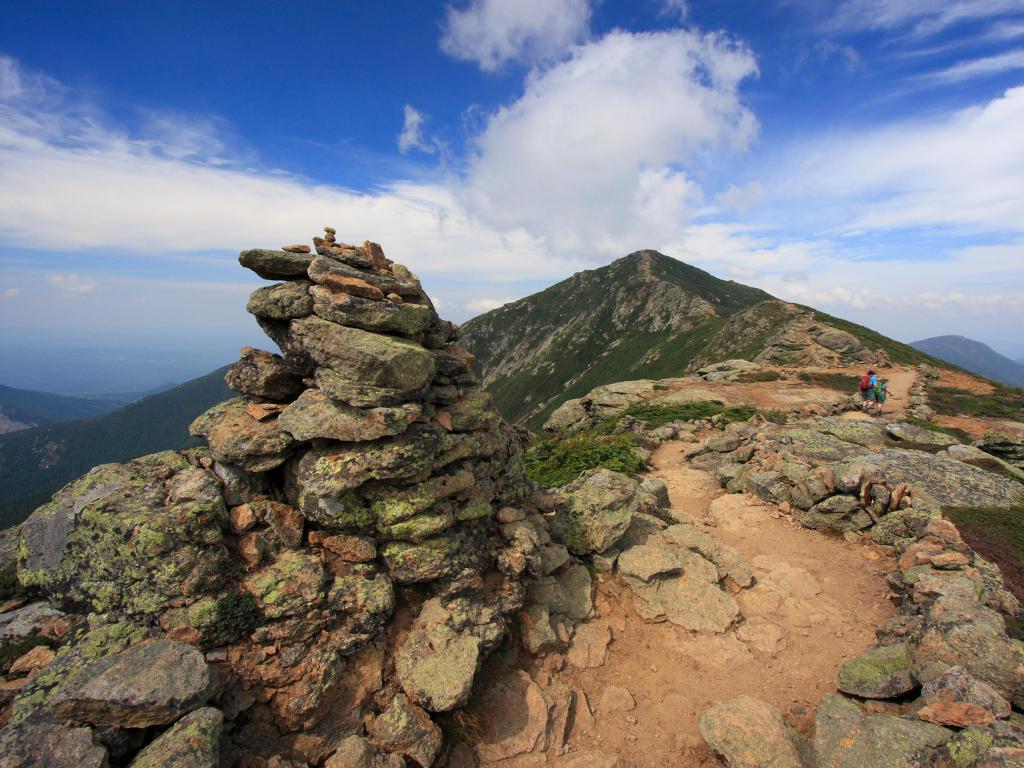 Known as the gateway to the White Mountain region of New Hampshire, Lincoln is an idyllic stop. After a little rest, take a hike to nearby Franconia Notch State Park or White Mountain National Forest. Both are great for hiking, skiing, and scenic drives.
A great resort to explore this part of New Hampshire is the Woodwards White Mountain Resort. Helpfully located directly along the highway, the hotel offers great amenities including indoor and outdoor pools and easy access to the nature trails all around.
Between options for hiking trails and scenic overlooks, the hotel is also at the starting point of the Kancamagus Highway, which will take you to some of the most expansive views of the White Mountains, the Swift River, Sabbaday Falls, Lower Falls and Rocky Gorg.
With the Woodwards White Mountain Resort as your base, you can easily access the center of Lincoln for great dinner or breakfast options, or simply enjoy a complimentary breakfast from the comfort of the hotel before getting back on the road for more adventure!
A coastal stop at Saint John, New Brunswick
For a second overnight stop option on the Scenic American Route, how about a beautiful Canadian city? Saint John in New Brunswick is 11 hours and 30 minutes to Halifax, meaning it could be a great final stay before reaching your destination.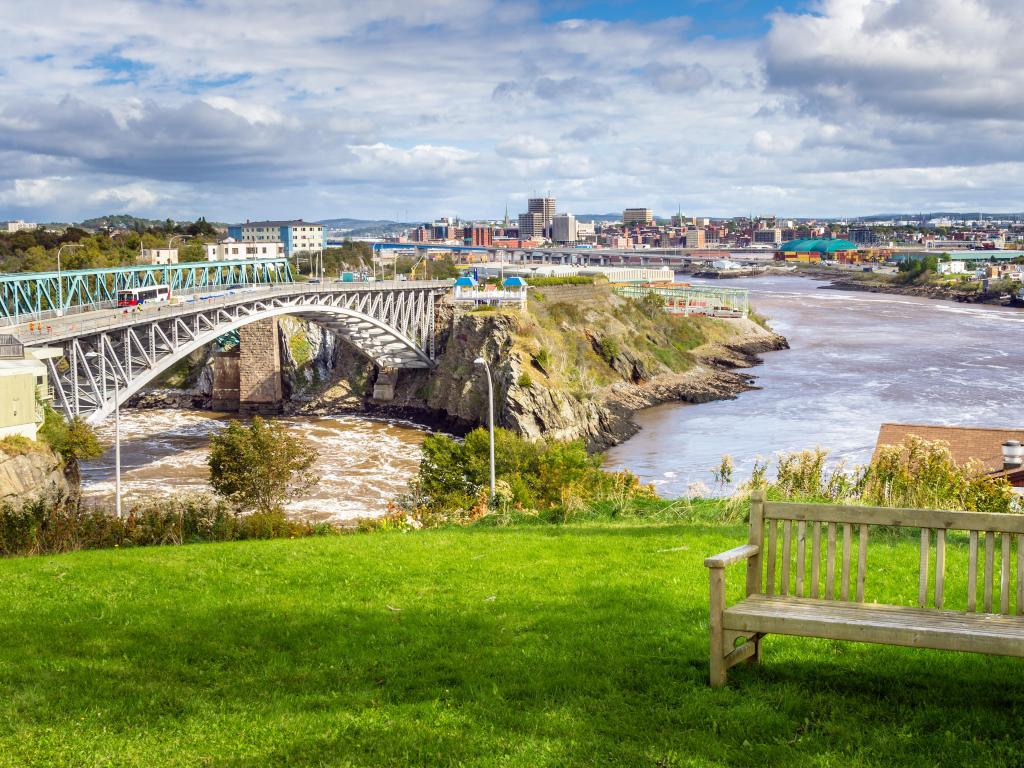 Located on the Bay of Fundy, Saint John is the founding city of Canada. It's therefore not surprising that it offers fantastic history, art, culture, and natural attractions (including the highest tides in the world!).
The extra night at Saint John will give you the chance to explore Reversing Falls, which is actually the reverse flow of the St. John River and Irving Nature Park, a scenic park on the shores of the Bay of Fundy.
As well as beautiful outdoor attractions, there's also King Street to explore which features the largest collections of Victorian architecture in Canada, and Saint John City Market which has been operating since 1785. Here you can buy a range of goods, as well as crafts, art and more.
There are plenty of options for hotels nearby, but one which ticks every box is the Delta Hotels by Marriott Saint John. Located above the Brunswick Square shopping complex, it's the ideal spot to explore both the city and natural surroundings while enjoying a comfortable stay.
The modern hotel features a great indoor pool, as well as a hot tub, gym and parking. The on-site Mix Resto/Bar serves local cuisine from the Atlantic Region and has stunning views overlooking the Bay of Fundy if you would like to enjoy a fantastic staycation.
Staying at a historical port in Halifax, Nova Scotia
When you reach your destination of Halifax in Nova Scotia, you'll definitely want to stop for at least one night to explore this Atlantic Ocean port.
The provincial capital of Nova Scotia, Halifax is best known for its maritime history. As the world's second-largest natural harbour, it's also full of historical charm, community spirit, fresh seafood and incredible natural landscapes.
Just some of the nearby attractions include the hilltop Citadel, a star-shaped fort which dates back to the 1850s, the Pier 21 Museum and the Maritime Museum of the Atlantic.
After exploring the historical side of the city, you can always take an afternoon stroll through the beautiful public gardens or explore Point Pleasant Park, a stunning wooded park on the south end of the peninsula.
A great option for exploring more of Halifax is The Barrington Hotel. This unique boutique resort offers style as well as a fabulous location convenient to downtown, the waterfront and the Halifax Boardwalk.
The 4-star hotel also offers in-house dining at an award-winning restaurant and a beautiful indoor pool. Rooms at this great resort are modern and stylish and guests can also enjoy tapas and cocktails for a fabulous end to a great day of exploring the city.
Things to see on a road trip from Ottawa to Halifax, Nova Scotia
There's so much to see on this interesting and scenic drive from Ottawa to Halifax in Nova Scotia. Depending on which route you decide to follow, there are great cities and villages to explore, beautiful waterfalls and rugged forests.
If you are pressed for time, here are a few of our favorite things to see along the way:
Both Routes
Fundy National Park of Canada - A little detour south to the Bay of Fundy shore would take you to this national park, revealing all the beauty nature has to offer such as trails, hiking, scenic coastline, beaches, and a golf course, if interested.
Hopewell Rocks Provincial Park - While on the Bay of Fundy detour, this attraction would be on the route back to the main road where you could stop and see unique eroded rock formations caused by the tides of Fundy.
Fort Beauséjour, Fort Cumberland National Historic Site - Tour this historic fort near Fort Lawrence, where you can see 18th-century architecture and a battleground museum.
Fundy Discovery Site - Discover the most powerful tides in the world at the Bay of Fundy Discovery Site and Information Center, as you cross the Salmon River in Truro.
Victoria Park - This 3,000-acre park near Truro offers many trails and waterfalls to stretch your legs and take in some sites before heading inland towards Halifax.
Shubenacadie Provincial Wildlife Park - Located in Shubenacadie Nova Scotia, this park offers a nice rest stop with accessible paths and viewing native wildlife.
The Canada Route
Montreal, Quebec - The largest city in Quebec. Explore the cobblestone streets of French-colonial villages or the bohemian and eclectic streets of the Plateau area.
Quebec City - Practice your French in Quebec as you explore stone building-lined narrow streets, gorgeous buildings and discover a lesser-known bistro for lunch.
Citadelle of Quebec - Stop and view the Citadelle of Quebec which includes a fort, museum, and historical ceremonies. It's a great attraction if you love history and culture.
Parc des Chutes - In Riviere-du-Loup make a quick stop to stretch your legs and see the stunning waterfalls at the Parc des Chutes observation deck.
Lake Temiscouata - This national park is best known for its scenic beauty and natural trails, found in the heart of the Notre Dame Mountains.
Dam of Lake Temiscouata - Why not take a break from driving and enjoy a scenic walk across the dam to view the Madawaska River? This is the perfect place to enjoy some scenery and stretch your legs.
Grand Falls Gorge - See this large waterfall on the Saint John River in the town of Grand Falls. You can even take a zip line over the gorge and waterfalls or take a pontoon ride to view the Grand Falls Gorge.
Bill Thorpe Walking Bridge - See stunning views of the Saint John River across this bridge in Fredericton. Reward yourself with a beer from Picaroons Brewing Company on the other side.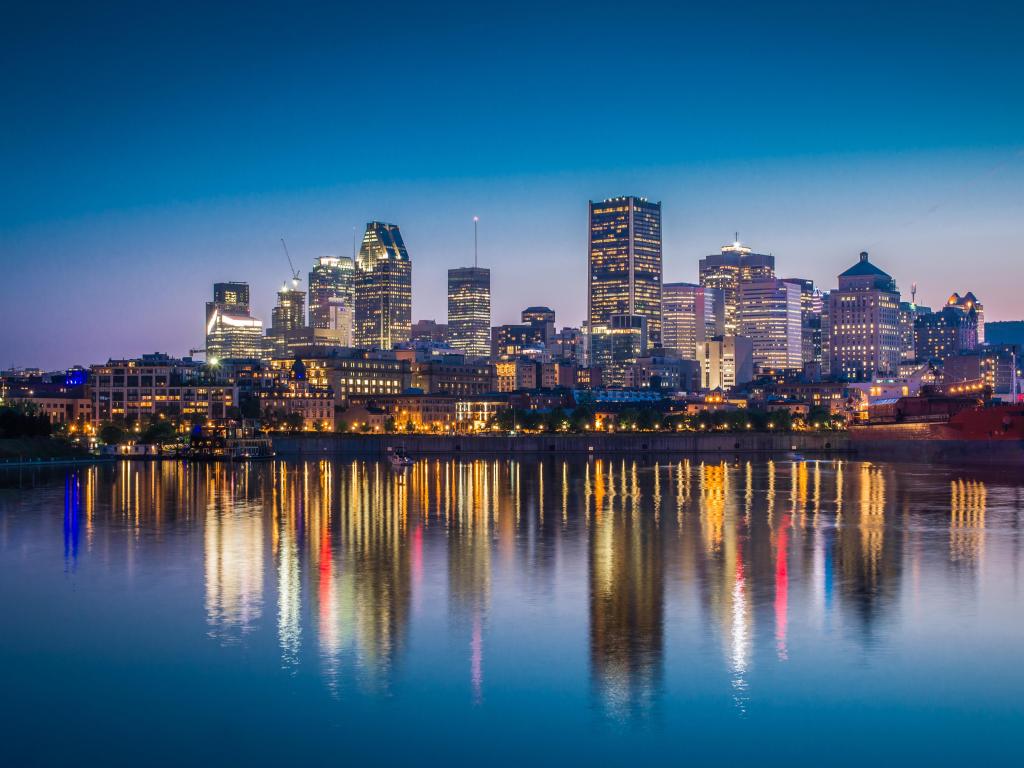 The Scenic American Route
Seaway International Bridge - Cross this modern suspension bridge from Canada to the US in Cornwall. You'll get incredible views as you drive across.
Plattsburgh, New York - This historic city offers culture, art and great scenery. Stopover in Plattsburgh for a walk around the state art museum or enjoy views of Lake Champlain.
Lake Champlain Ferry - On the shores of Lake Champlain, take a ferry across to Vermont and take in the scenery of the Adirondack Mountains. The journey takes you 10 minutes.
World's Tallest Filing Cabinet, Burlington, Vermont - Because why not? Burlington has much to offer besides the world's tallest filing cabinet including downtown shops, a marketplace, revolutionary war history and Lake Champlain views.
Franconia Notch State Park - Within the White Mountains of New Hampshire, explore the boardwalk in the Flume Gorge and see the picturesque bridge.
Kancamagus Highway - Not necessarily a "stop" but a must-do bucket list item – drive along the scenic highway as you make your way across New Hampshire.
Old Fort Western, Augusta, Maine - See the oldest wood fort in New England in Augusta, as well as explore this Maine city's other attractions along the Kennebec River.
Moosehead National Wildlife Refuge - See if you can spot a moose within this wilderness area, before crossing back into Canada near Calais.
Saint John, New Brunswick - A recommended overnight stop if you are in need of shelter. Saint John offers history and a view of the world's highest tides at the Bay of Fundy.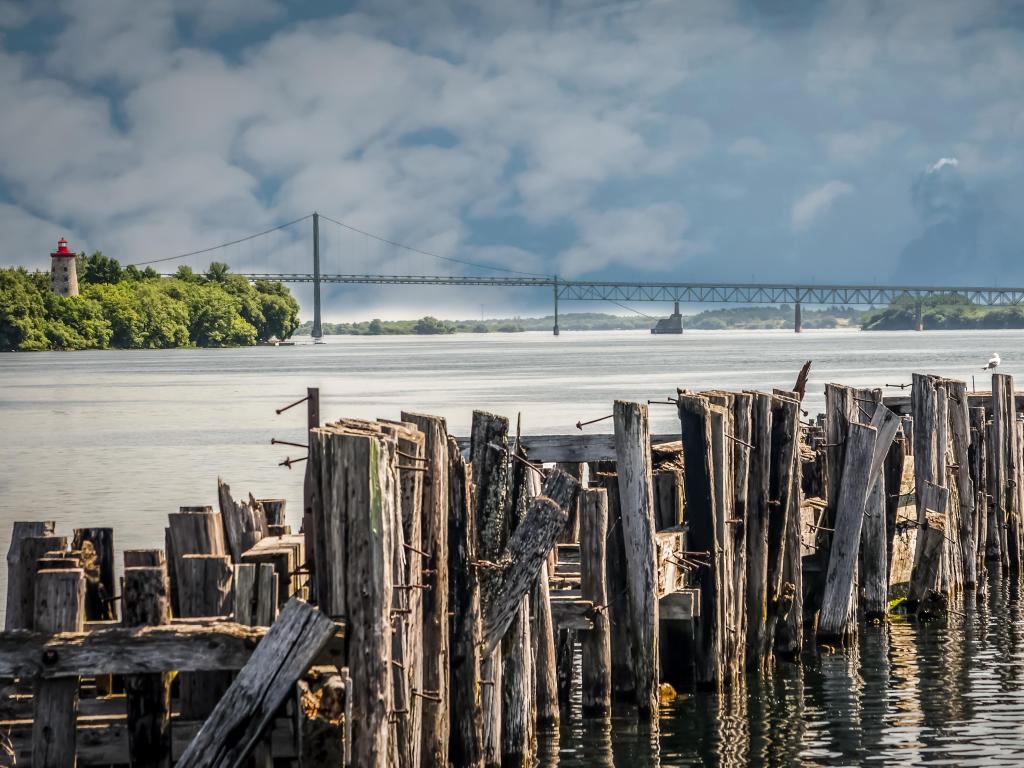 Best time to go on a road trip from Ottawa to Halifax, Nova Scotia
Whilst you could make the road trip from Ottawa to Halifax, Nova Scotia any time of year, you might want to plan your trip carefully depending on what attractions you would like to stop at along the way.
For the best weather, travelling in summer or early fall is a safe option. With temperatures in summer a comfortable average of 60 degrees Fahrenheit, you will find that this part of Canada is less likely to be crowded and hotels at their busiest.
Shoulder season, either May or October, would offer the fewest crowds but still nice weather with temperatures around 45-50 degrees. Meanwhile, early fall brings beautiful foliage and warm temperatures, though you might still experience crowds at tourist hotspots.
You could still enjoy this road trip in the winter, though you will experience snow and colder temperatures below 40 degrees. Great if you like outdoor winter activities such as skiing or snowshoeing, though not so great if you want to enjoy the lakes and forests en route.
If you aren't put off by larger crowds, then timing your visit with a festival is a great idea. Summer in Halifax sees the return of the Lobster festivals in July, as well as the Pride Festival in July and the National Acadian Festival in August.
For a winter event, there are the Tree Lighting and Holiday Festivals held in December, plus many other cultural, sailing, music, beer and seafood festivals held all year long. As they often attract large crowds, you'll just want to remember to book your accommodation in advance.