Road Trip from Portland, Maine to Nova Scotia
Leave the city behind and enjoy a laid-back international adventure along the Northern Atlantic Seaboard, discovering numerous quaint towns, hiking trails and lookouts as you journey on the road trip from Portland, Maine to Nova Scotia, the maritime province of Canada.
The 630-mile road trip from Portland, Maine to Nova Scotia takes over 11 hours to drive. Key stops include Bangor, Bar Harbor, Calais, Truro, Moncton and Saint John as well as Island Falls, New River Beach, Fort Beauséjour and Big Pokiok Nature Park.
To help you make the most of the ride, we've set out the best routes and the places to stop overnight, as well as our favorite things to do along the way and the best time of year to make the trip from Portland, Maine to Nova Scotia.
How far is Nova Scotia from Portland, and how long will the road trip take?
Comparison of road trip routes between Portland, Maine and Nova Scotia

| Route | Distance | Driving Time |
| --- | --- | --- |
| The Coastal Route | 630 miles | 11 hours 20 minutes |
| The Inland Route | 740 miles | 12 hours 20 minutes |
The most direct and yet still packed full of great coastal scenery route option spans a distance of 630 miles from Portland in Maine to Nova Scotia. The drive will take a minimum of 11 hours and 20 minutes without stopping en route.
An alternative inland route, which is full of great forests and fascinating towns, will take you slightly longer on the road at 12 hours and 20 minutes and covers a distance of 740 miles.
While a road trip of this distance could be completed in a single day if you were really pressed for time, a much better idea would be to stop along the way and spread the drive out between two and three days. That will allow you plenty of time to enjoy the great sights you'll pass.
Regardless of which route you decide to follow, the trip between Portland, Maine and Nova Scotia will involve a border crossing between the US and Canada. Therefore, make sure you bring the correct documentation and proof of identity to ensure a smooth, hassle-free crossing.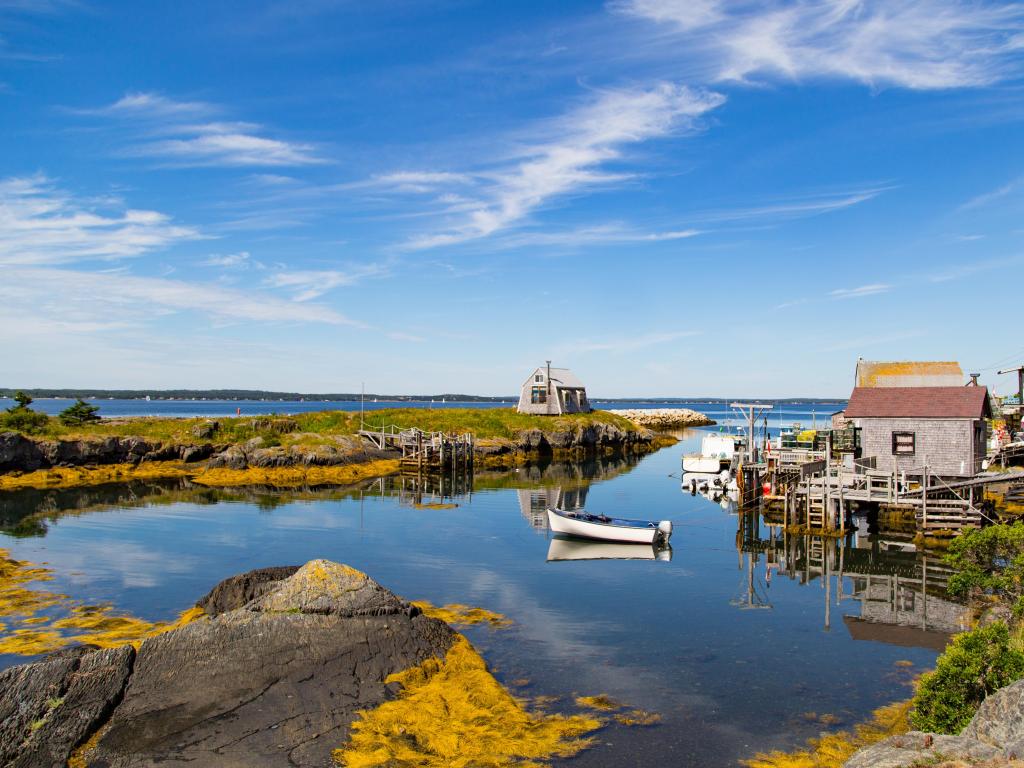 Best road trip route from Portland to Nova Scotia
Whether you like driving alongside beautiful coasts or through dense, stunning forests, we've got you covered on this awesome road trip from Portland, Maine to Nova Scotia.
The quickest of our two recommended routes takes you along the scenic Bay of Fundy coastline. Despite being the shorter of the two, it offers the most varied scenery.
You'll get to enjoy Maine's coast, including a stop at Bar Harbor, as well as several cities and parks as you journey through Canada. Explore the famous Hopewell Rocks before passing through Saint John, Four Corners and several others on the well-maintained Trans-Canada Highway.
Our Inland Route is no less impressive. Sharing the first and last third with the first route, this option is slightly longer and veers away from the coast, but it makes up for it with gorgeous forest, river and lake views.
Heading north from Bangor in Maine, you'll pass quaint towns like Woodstock before joining the Trans-Canada Highway and catching a glimpse of the Bay of Fundy before entering Nova Scotia. There are stunning parks, cities and amazing sights to enjoy along the way too.
The Coastal Route
Begin by leaving Portland in Maine on Interstate 295 (I-295) heading north. Pass through several towns before merging with Interstate 95 (I-95) and continuing to head north inland towards Newport.
Continue following I-95 to Exit 183 for US-2 to Bangor, your first major city on this route. From Bangor, you can visit the nearby Sunkhaze Meadows National Wildlife Refuge.
Leave by taking Exit 6A for US-1A East, following it as far as ME-3, following signs for Bar Harbor. Stop here for an overnight rest and explore the stunning Acadia National Park, a simply stunning park with coastal and mountain views.
Retrace your steps on ME-3 before joining ME-182 east to Cherryfield, where you'll join US-1 and follow the coast, switching to ME-214 through Moosehorn National Wildlife Refuge and to Calais, on the border with Canada.
Leaving America behind, the road becomes New Brunswick Route 1, which you'll follow along the coast through several towns and pass alongside Loch Alva Wilderness Area. Continue on NB-1 east, passing by the beautiful Bay of Fundy and Saint John.
Continue on NB-1 as you head inland towards Four Corners. Just past River Glade, you'll merge onto the Trans-Canada Highway/NB-2, passing the outskirts of Moncton.
Make a stop along the way at Fort Beauséjour - Fort Cumberland, a National Historic Site before taking NS-104 east through several towns and villages. The road will take you to Truro, a small town with a stunning park that's definitely worth an explore.
You'll leave Truro on NS-102 heading south, which you'll follow all the way, passing by the Waverley-Salmon River Long Lake Wilderness Area (a final opportunity to stretch your legs) before arriving at your destination of Nova Scotia.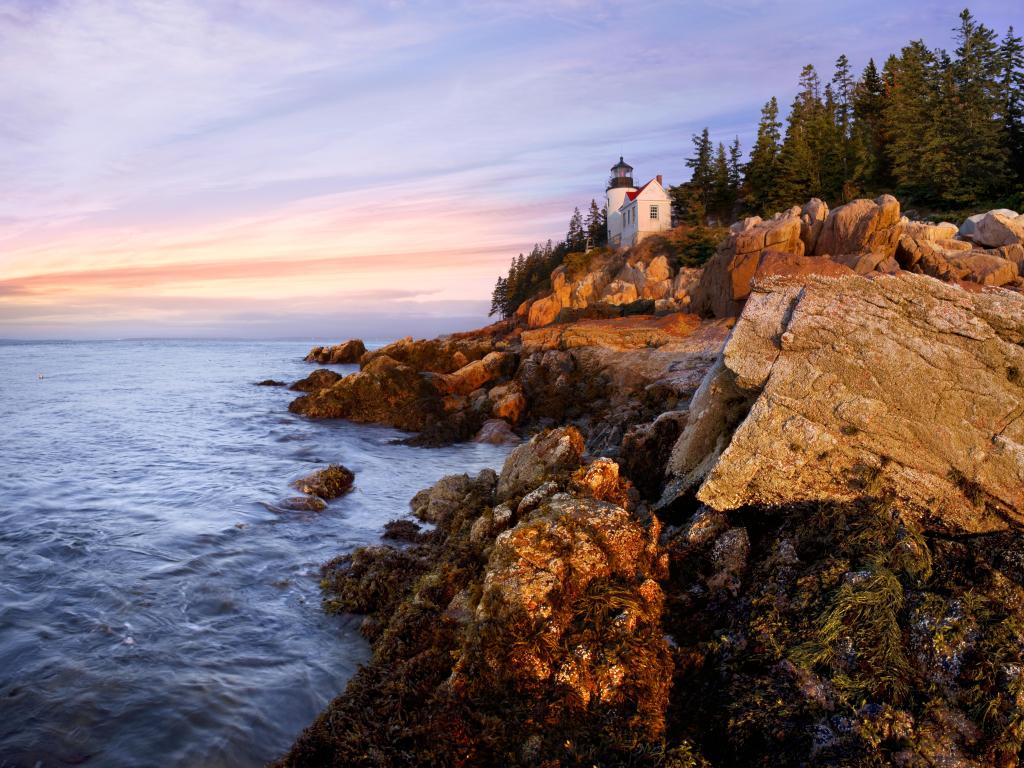 The Inland Route
Beginning in the same direction as the above route on I-295 North, you'll also follow I-95 all the way to Bangor, however, at this point our two routes split. Instead of following the coast, you'll next head further inland by following I-95 North.
Passing through several towns, the road will pass close to the Appalachian Mountains and several wilderness areas before you arrive at Island Falls, a small village offering stunning views of the surrounding rivers and lakes.
Continue on I-95, crossing the Canadian border to Woodstock. At this point, you'll merge with NB-95 heading east. Leave the town on the Trans-Canada Highway and follow it to Fredericton and then Oromocto.
Follow the Trans-Canada Highway alongside Foshay Lake all the way to Moncton, one of the larger Canadian cities you'll pass on this route and an opportunity for an overnight rest.
Rejoin the Trans-Canada Highway before margining with NS-104 and rejoining the above route the rest of the way to your destination of Nova Scotia.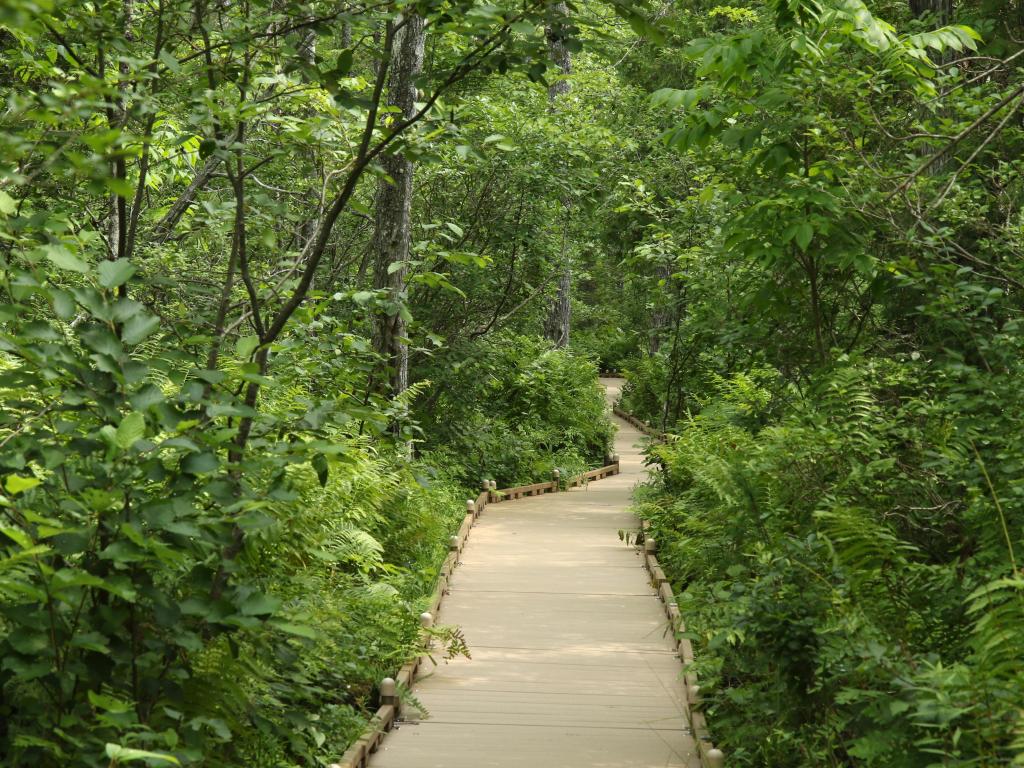 Best places to stop between Portland and Nova Scotia
Although you could manage the drive between Portland, Maine and Nova Scotia in a single day, the distance and time it would take you to reach your destination would prevent you from enjoying the beautiful views along the way.
We'd instead recommend adding at least one overnight stop along the way to make your road trip more enjoyable - and fun! Here are a few of our favorite hotels you might just want to consider:
A stunning setting at Saint John
Just slightly past the mid-point of the Coastal Route to Nova Scotia is the city of Saint John in New Brunswick. Ideal not only for its location on this route, but this city is also an ideal stop because of its unique blend of Canadian history and natural wonder.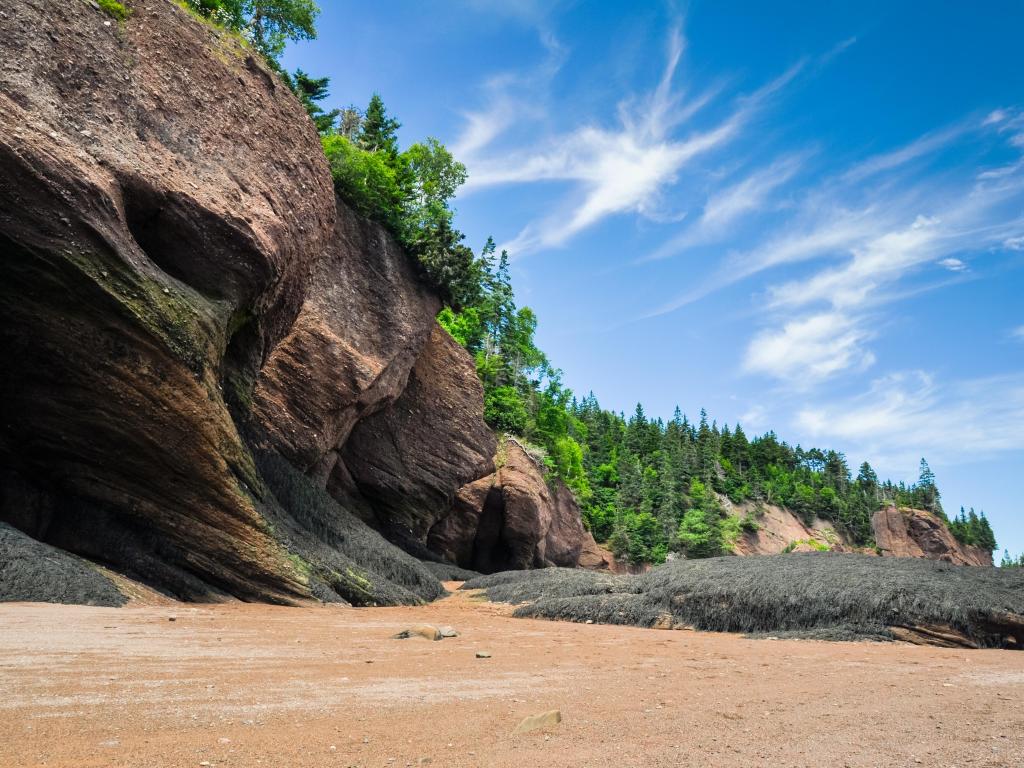 Situated on the Bay of Fundy, Saint John is not only the oldest incorporated city in all of Canada, established in 1785, but it Is also home to the Reversing Falls, a unique natural phenomenon caused by the strong bay tides.
Of course, this location is ideal for exploring the nearby natural landscape, including the Irvine Nature Park, a beautiful 600-acre park which provides fantastic recreational opportunities.
A perfect hotel to enjoy your surroundings is the Chateau Saint John Trademark Collection by Wyndham
. This conveniently located hotel is just off NB-1 and offers free parking and comfortable rooms for the weary traveler.
Ideally placed, you're only a short walk to the historic King's Square or a five-minute drive to Reversing Falls. The sprawling Irving Nature Reserve is also only six miles away. There's also a bar and great breakfast on offer, giving you the rest and energy for another day's adventure.
A cultural visit to Fredericton
If you're looking for an early stop on the slightly longer Inland Route, then a great base is the city of Fredericton. A little over 5 hours from Portland, Maine, this city is the capital of New Brunswick and is home to plenty of attractions.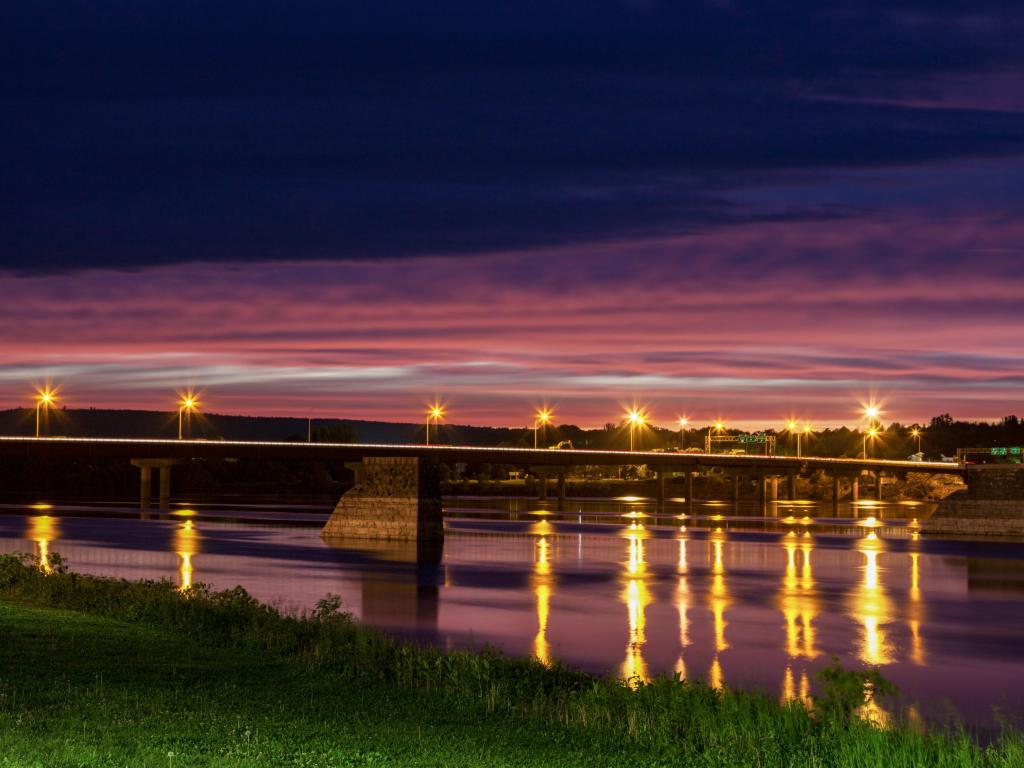 Known as the "craft brewing town of Canada", Fredericton is the cultural, artistic and educational center of New Brunswick. After a long day of driving, why not take a slower pace at the Beaverbrook Art Gallery where you can enjoy Atlantic Canadian art and its temporary exhibitions?
There's also the fabulous Fredericton Boyce Farmers Market, a great opportunity to shop for local and organic produce, as well as Officers' Square where if you time your visit just right, you'll get to witness the impressive changing of the guard ceremony.
Located in the heart of downtown, Delta Hotels by Marriott Fredericton is a great hotel for your stay in this great city. Set on the stunning riverfront, this hotel boasts modern amenities and stylish rooms.
The luxury hotel also has onsite spa options as well as a welcome outdoor pool, a modern lounge and bar area and great views. You're just a short walk from the stunning Victorian homes, endless trails and lush forests nearby.
A coastal stay in Halifax
Halifax is the provincial capital of Nova Scotia and an ideal base for exploring more of this part of eastern Canada. Known for its maritime history, there are a lot of attractions and places to visit in this great province of Nova Scotia.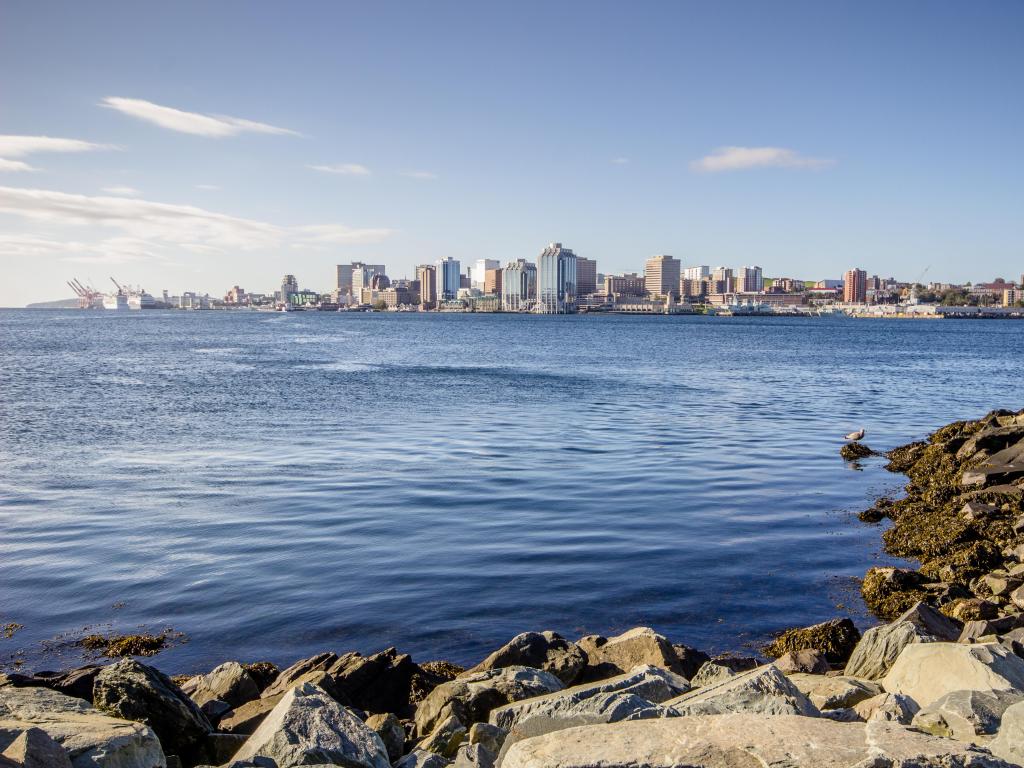 There are some great hotels you can stay at, but one of our favorites has got to be The Lord Nelson Hotel & Suites. This beautiful hotel is located just a short walk from the Citadel National Historic Site.
From the hotel itself, you can easily access the stunning Public Gardens, located across the property, for a leisurely stroll. There's an outdoor summer patio which faces these gardens and serves dinner, plus an upscale restaurant on the property.
After a restful stay at the modern and beautiful decorated hotel, you can enjoy more of the city of Halifax, including visiting the world's second-largest natural harbor and enjoying its fresh seafood, before relaxing on one of its many beaches and enjoying a stunning sunset.
Things to see on a road trip from Portland to Nova Scotia
There's a lot to see on this international road trip from Portland, Maine and crossing into Canada to Nova Scotia. You could easily spend several weeks visiting them all, but if you are pressed for time, here are a few of our favorite things to see along the way:
Both routes
Bangor, Maine - Come here to marvel at a statue of Paul Bunyan or catch a glimpse of the real house of horrors, the residence of Stephan King.
Moncton, New Brunswick - As one of the larger cities on the route, Moncton offers a surprisingly colorful place to stop for lunch or a stroll on the second day of the journey. There are plenty of restaurants, dazzling architecture, and street art along the way.
Beaubassin and Fort Lawrence National Historic Sites - This 18th-century archaeological site at the edge of the Beausejour Marsh is humble in appearance but may be of interest to avid military historians as it was once a highly contested strategic location.
Fort Beauséjour – Fort Cumberland National Historic Site - Situated at the edge of the Bay of Fundy, this five-bastioned fort was initially built by the French but was captured and renamed Fort Cumberland In 1755, shortly after Its completion.
Truro, Nova Scotia - At the tip of the Minas Basin, this small town offers a cute downtown area as well as the stunning Victoria Park which contains many winding trails and luscious waterfalls.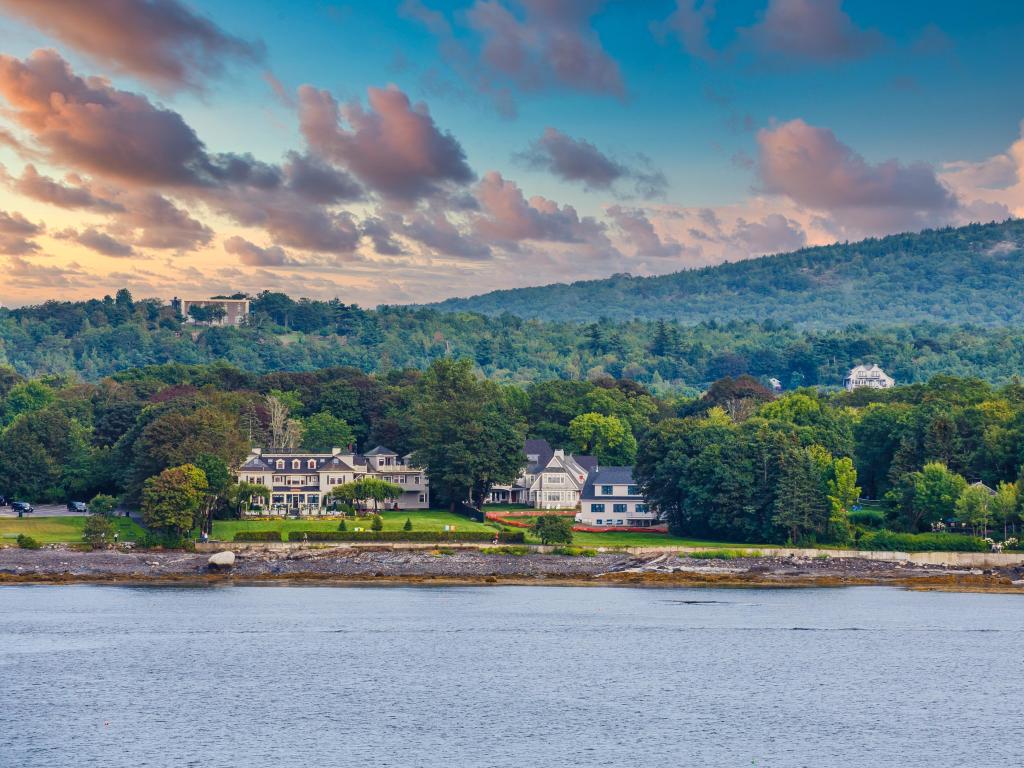 The Coastal Route
Parks Pond Bluff Trailhead - If you're up for the 5-mile hike up the bluff, you will be able to find a romantic look out over the pond and surrounding forest.
Bar Harbor, Maine - Bar Harbor is the perfect place for an overnight stay with its scenic beaches and close proximity to the stunning Acadia National Park.
Moosehorn National Wildlife Refuge, Maine - This sprawling wildlife refuge sits just within the U.S. border. Natural scenes will definitely tempt the hiker or wildlife photographer in you.
Calais, Maine - The border city of Calais is home to the first railroad built in the state of Maine. You can visit the St. Croix Island Historic Site here.
St. Andrews, New Brunswick - A 10-minute detour will bring you to this charming seaside town and former colonial settlement built by the British in the 18th century and still bursting with character.
New River Beach Nature Trail - Accessible from Haggertys Cove, this trail for all skill levels takes you by several ocean overlooks and eventually to Chitticks Beach. Popular with tourists and locals alike.
Renforth Lighthouse - On your way out of Saint John, be sure to check out this historic landmark located just of NB Route -1 on the bank of the Kennebecasis River.
Maritime Motorsports Hall of Fame - For the classic car lover, this little gem is located conveniently along NB Route -1 in Petitcodiac, about 10 miles before Moncton.
Saint John, New Brunswick - Home to the peculiar natural phenomenon of the Reversing Falls, you can also visit Irving Nature Park of ride the Bay Ferries here.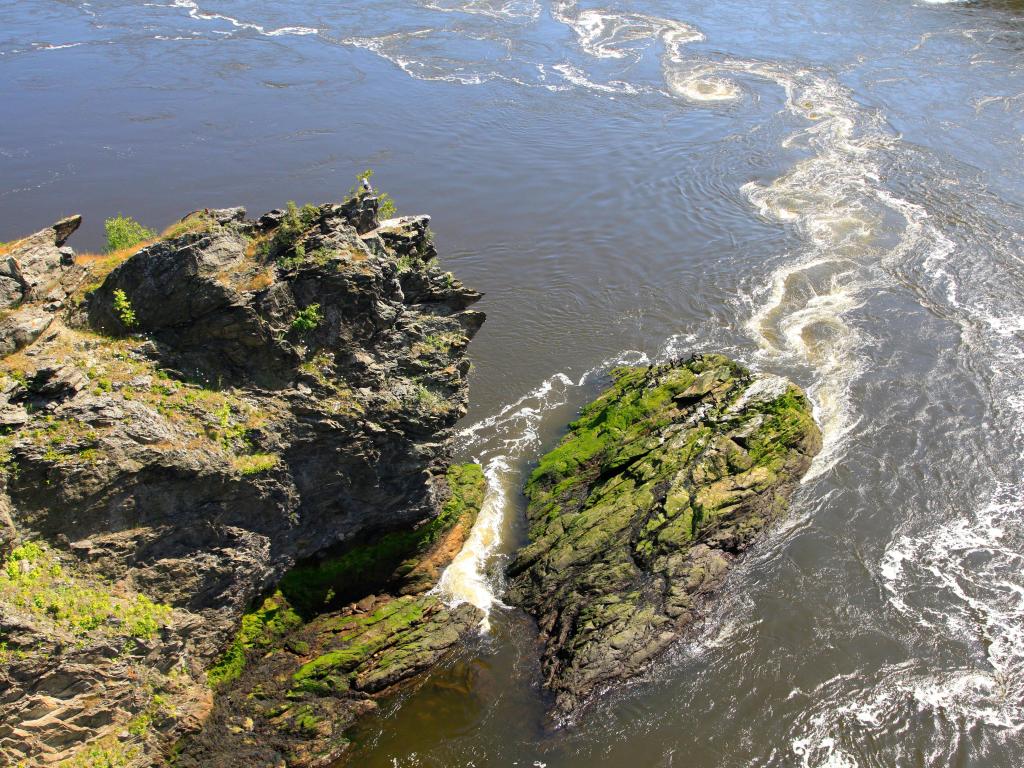 The Inland Route
Island Falls - A few miles before you reach your overnight stop at Fredericton, you should stop by this small village to take in the outstanding natural beauty of the surrounding river and lakes.
Woodstock, New Brunswick - Before you hop on to the Trans Canadian Highway, it is worthwhile to stop by this small town with several historic buildings on Main St. and ample waterfront strolls to stretch your legs before the lion's share of the drive.
Big Pokiok Nature Park - A short way from the hamlet of Pokiok off the Trans Canadian Highway is this nature park which is perfect for a breath of fresh air and a relaxing hike. There are also several broad waterfalls in the park.
Fredericton, New Brunswick - As the provincial capital, this riverfront city rewards the minor detour off the main route. It Is full of Acadian pride and culture, including a celebration on August 15. On any day It is worthwhile to take an hour-long tour of the Garrison District.
Oromocto, New Brunswick - This charming town became known as "Canda's Model Town" due to the expansion caused by the foundation of a military base here. You can stop by and take a leisurely stroll by the river for a break from driving here.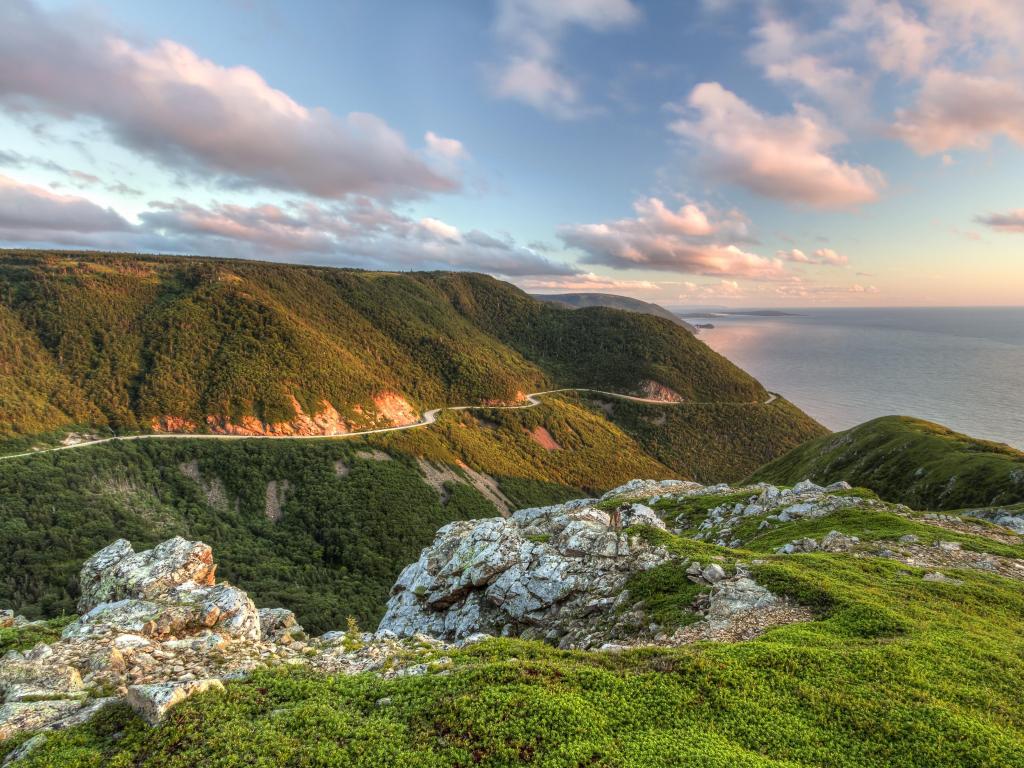 Best time to go on a road trip from Portland, Maine to Nova Scotia
You can enjoy the road trip from Portland, Maine to Nova Scotia any time of the year, but the best time will largely depend on what you'd like to get out of your trip.
The best weather for a stay in Nova Scotia is from May through October. The summer months will see warm temperatures between 70-80 degrees Fahrenheit, which is ideal weather if you want to make the most of the beaches on the Coastal Route.
That said, you will be visiting during the busiest time for tourists, so you'll need to be prepared for bigger crowds at the popular attractions along the way, as well as busy hotels at their most expensive.
Spring or fall make for ideal months. You'll still experience warm weather and temperatures of 45-55 degrees, plus you'll have the added bonus of spring flowers or the red and golden splendor of turning leaves in early fall.
If you want to avoid the crowds and high prices, you could opt to visit between November and February, though you will have to be prepared for temperatures as low as 15 degrees. While Halifax is not as cold as other inland destinations, the freezing temperatures would make this harbor city less hospitable.
If large crowds don't phase you, you could time your visit to Halifax with the International Busker Festival which takes place during Nova Scotia's Natal Day long weekend around the cusp of July/August - it's sure to be an incredibly fun way to finish your trip with a bang!