Road Trip from Ottawa to PEI (Prince Edward Island)
If you're looking for a scenic road trip that includes a great mix of outdoor activities, cities, history and culture the road trip from Ottawa to PEI (Prince Edward Island) is the perfect city break for you. You'll also get to enjoy beautiful Canadian scenery or the stunning US coasts.
The 1,400 km road trip from Ottawa to PEI takes 15 hours to drive. Key stops include Montreal, Quebec City, Port Elgin, Portland, Bar Harbor, as well as Acadia National Park, Grand Falls, Hopewell Rocks, Parc Omega, Gault Nature Reserve and Calais.
To help you make the most of your adventure we've set out the best routes and places to stop overnight along the way, as well as our favorite attractions and the best time of year to make the trip from Ottawa to PEI (Prince Edward Island).
How far is PEI from Ottawa, and how long will the road trip take?
Comparison of road trip routes between Ottawa and PEI (Prince Edward Island)

| Route | Distance | Driving Time |
| --- | --- | --- |
| The New Brunswick Route | 1,400 km | 15 hours |
| The Maine Route | 1,490 km | 18 hours |
The road trip from Ottawa to PEI (Prince Edward Island) is a fairly lengthy drive. While there are a few options to make the journey, our recommended two routes offer a Canada-only route or the chance to head into America to enjoy views along the Atlantic Coast.
The Canada-only route spans a distance of 1,400 km, while the Maine Route (which takes you through parts of the US) is only slightly longer at 1,490 km. Without stopping, you can complete the first option in 15 hours while dipping into the US will add 3 hours extra to your drive.
Neither route can be completed in a single day, given the distance and the sheer number of great places you'll pass en route. We'd instead recommend a minimum of three to five days, which allows a couple of great overnight stops along the way.
If you decide to opt for the Maine Route to PEI, you'll need to check ahead of driving that you have the correct proof of identity and documentation to allow for a smooth border crossing. You won't need this for the Canada-only option.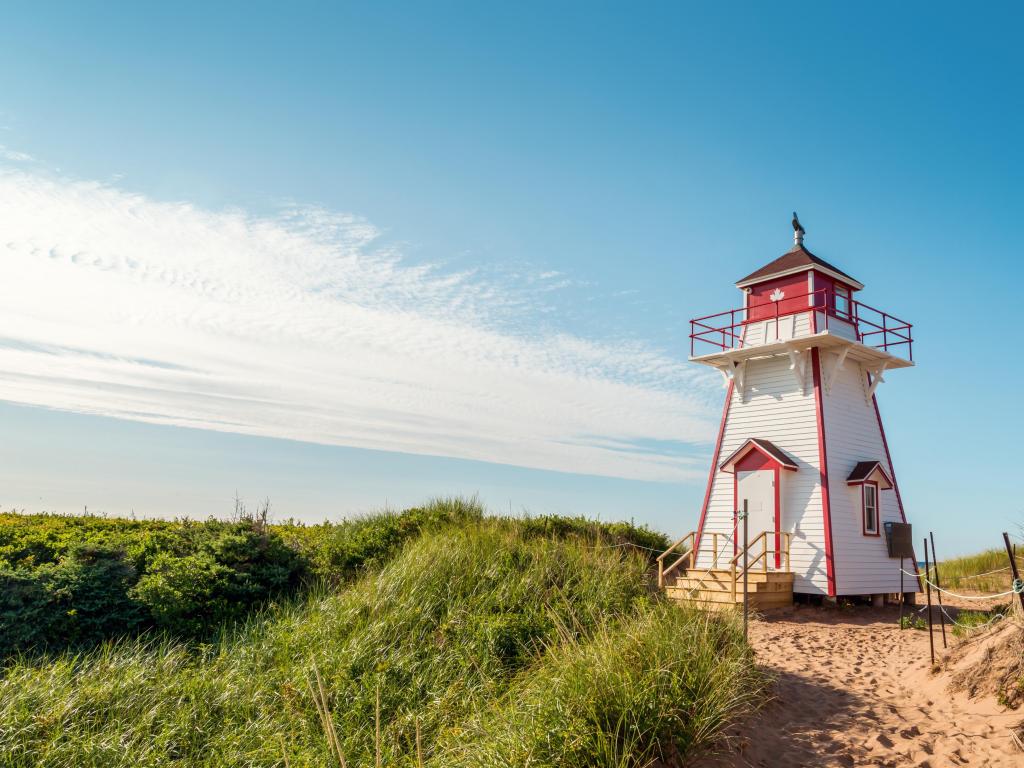 Best road trip route from Ottawa to PEI
There's no "best" route from Ottawa to PEI, both of our options offer beautiful scenery, a good mix of cities and include beautiful parks along the way that allow you to take a hike or rest from your drive. The choice between the two will depend on what you'd like to see en route.
Our New Brunswick Route doesn't cross into the US border, so this option is the simplest to follow. This route is still incredible scenic, you'll follow the Saint Lawrence River to the north of Canada, making a pit stop at Quebec City as well as stunning natural settings including the Grand Falls.
There aren't any drawbacks to this route, however, if you haven't visited the beautiful state of Maine, then our alternative route might be a better option.
Taking you from Ottawa and crossing the US border into Maine, this route takes you along the Atlantic Coast to visit Portland and Bar Harbor, giving you the chance to visit the incredible Acadia National Park before heading back into Canada again.
With a similar distance, both routes offer a great number of sights and beautiful vistas, so you can be sure of a great road trip whichever option you decide to follow.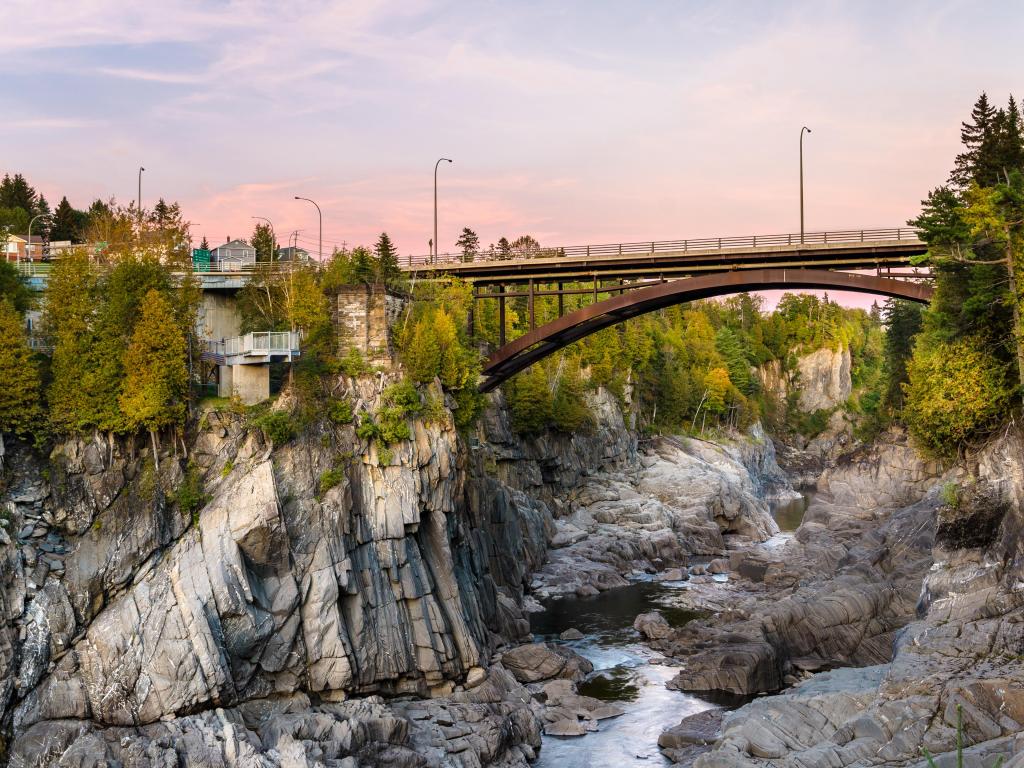 The New Brunswick Route
Take the Trans-Canada Highway/ON-417 east out of Ottawa towards Montreal. You'll drive alongside Ottawa River where you'll join A-40 all the way to the city, a great early stop to explore.
Outside of Montreal, you will follow QC-136 as you cross the river and join A-20 east towards Quebec. This stretch follows the St Lawrence River as you pass several unique towns like Joliette and Trois-Rivières before arriving in Quebec City on QC-136.
From Quebec City, take A-73 to A-20 east. Enjoy the scenic drive along the Saint Lawrence River on A20 until arriving in Rivière-du-Loup. Here you will exit onto A-85 and pass Parc national du Lac-Temiscouata before entering New Brunswick and continue on the Trans-Canada Route 2 (NB2).
Following Route 2 (NB2) you will have plenty of stops to choose from like Edmundston, Grand Falls, and Fredericton. Continue on this road and pass Portobello Creek National Wildlife Are and Foshay lake.
When NB2 arrives in Moncton, exit onto NB15. Stay on this route through Port Elgin and you will soon arrive at your destination of PEI (Prince Edward Island).
The Maine Route
Leave Ottawa on Trans-Canada Highway/ON-417 east to Country Road 17, before joining A-40 which you will follow all the way to the stunning city of Montreal.
After leaving, take A-10 as you drive through several towns and reach the border with the US. When you cross, you'll be on US-3 heading south through New Hampshire before taking NH-26 into Maine.
Get on ME-26 and pass close to Mount Washington, before joining Interstate 95 (I-95) just before you reach the coastal city of Portland, a great option for an overnight stop.
Take Interstate 295 (I-295) North as you follow the Atlantic Coast, margining with US-1 before taking the exit for Bar Harbor, another great stop on this route.
You'll need to join ME-182 back to US-1 along the coast and towards Moosehorn National Wildlife Refuge, where you will cross back into Canada at Calais. From here the road becomes NB-1.
Follow this past Loch Alva Wildness Area to Saint John, set on the Bay of Fundy, before heading inland. Merge with NB-2 and then NB-15 as you drive to Port Elgin and then take NB-16 across to PEI.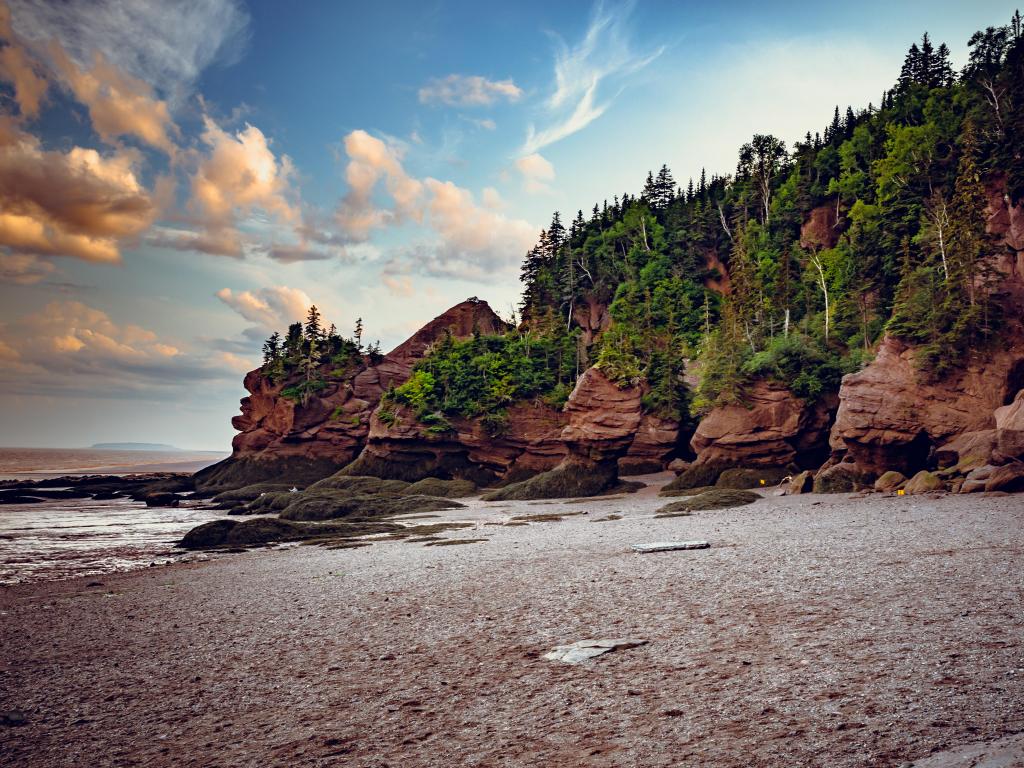 Best places to stop between Ottawa and PEI
Regardless of which route you decide to take between Ottawa and PEI (Prince Edward Island), you're going to need to make a couple of stops along the way to take a break from driving and to ensure you have time to explore your surroundings.
Of all the great places you'll pass along the way, these are a few of our favorite hotels that you'll want to keep an eye out for.
The royal treatment in Quebec City
A great option on our New Brunswick Route is located just five hours into your drive. Quebec City is not only a city already on your route to PEI, but it's a manageable distance from Ottawa and a great destination in its own right.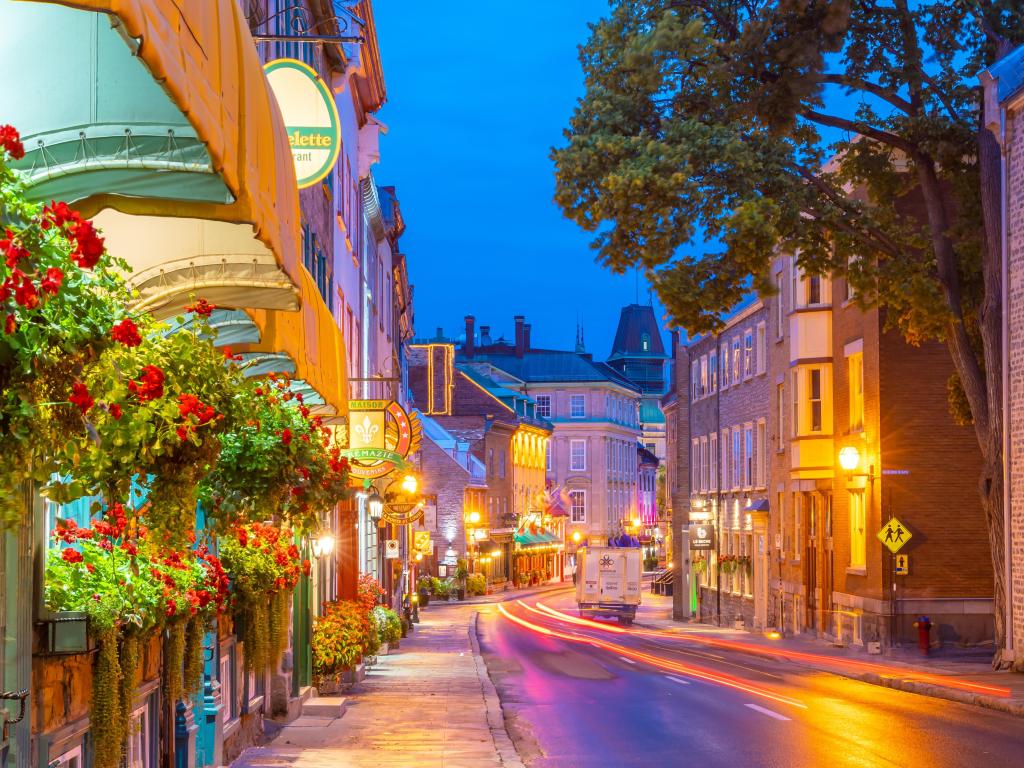 While staying in this historic city, make sure you make a stop to visit Musée de la civilisation, La Citadelle de Québec and Musée national des beaux-arts du Québec. The stunning Montgomery Falls are also located nearby if you want to escape the city and get lost in nature.
One of the very best resorts in Quebec City is the iconic Fairmont le Chateau Frontenac. This imposing hotel offers stunning architecture and luxury accommodation and amenities, plus stunning views of the St. Lawrence River and is centrally located.
This fabulous hotel has a fantastic indoor swimming pool, a world-class spa, hot tubs and steam rooms for the ultimate relaxation. It also has several restaurants onsite if you fancy having your meals in the comfort of this luxurious hotel.
If that's not enough to entice you, the famous Citadel of Quebec and Notre Dame Cathedral are within walking distance of the hotel, meaning that you can spend a whole day on foot while exploring the city. Montmorency National Park is also just a short distance away.
A seaside retreat at Bar Harbor
If you've opted for the Maine Route, then an ideal final overnight stop before reaching PEI is Bar Harbor. Located just 6 hours and 30 minutes from your destination, Bar Harbor is a gorgeous city in Maine that's adjacent to the stunning Acadia National Park, the popular coastal park.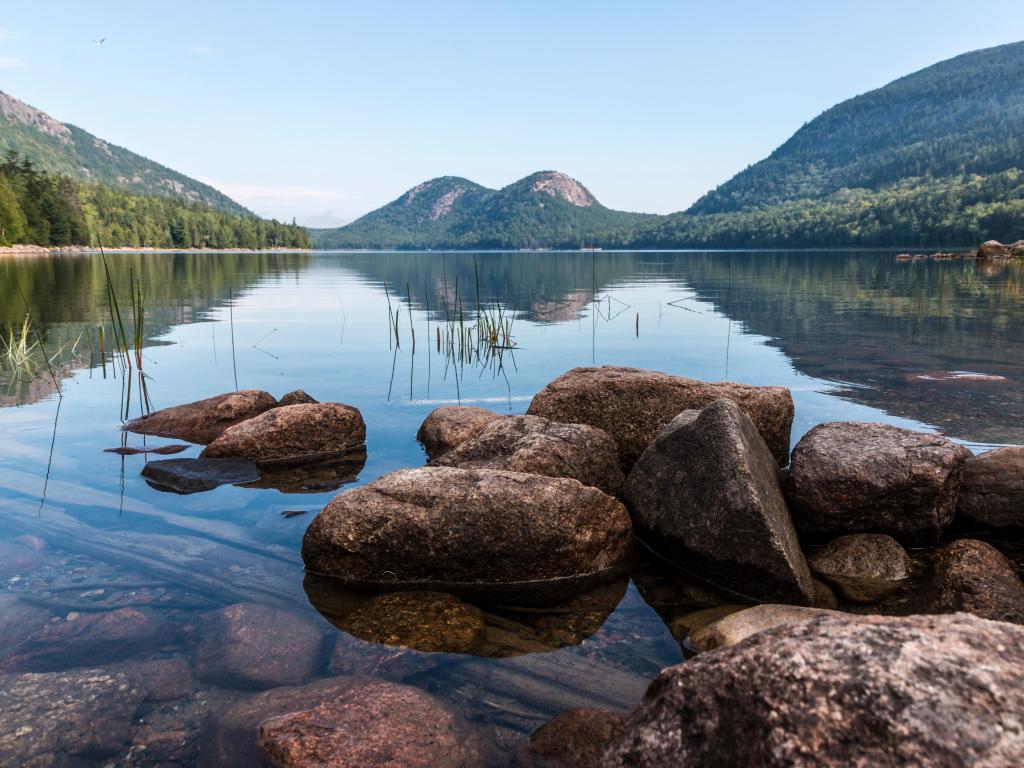 Known for its breathtaking coastal beauty and its island views, Bar Harbor is also famous for the expensive yachts that frequent the waters in its vicinity. As well as Acadia National Park, you'll also be within reach of Shore Path, where you can take a leisurely stroll and enjoy great views.
After taking a wander around the Wild Gardens of Acadia, a nearby picturesque garden, why not book a room at the beautiful Queen Anne's Revenge. This centrally located hotel boasts stunning rooms that give amazing oceanside vibes.
Featuring a fantastic bar where you can enjoy your favorite cocktail, as well as a relaxing lounge and beautiful gardens, this hotel is just a short walk from Town Beach, the Abbe Museum, Agamont Park and West Street Historic District.
A historic stay in Charlottetown
The drive to PEI is a beautiful but long one, so you'll definitely want a great base to explore the island and all its stunning attractions and scenery.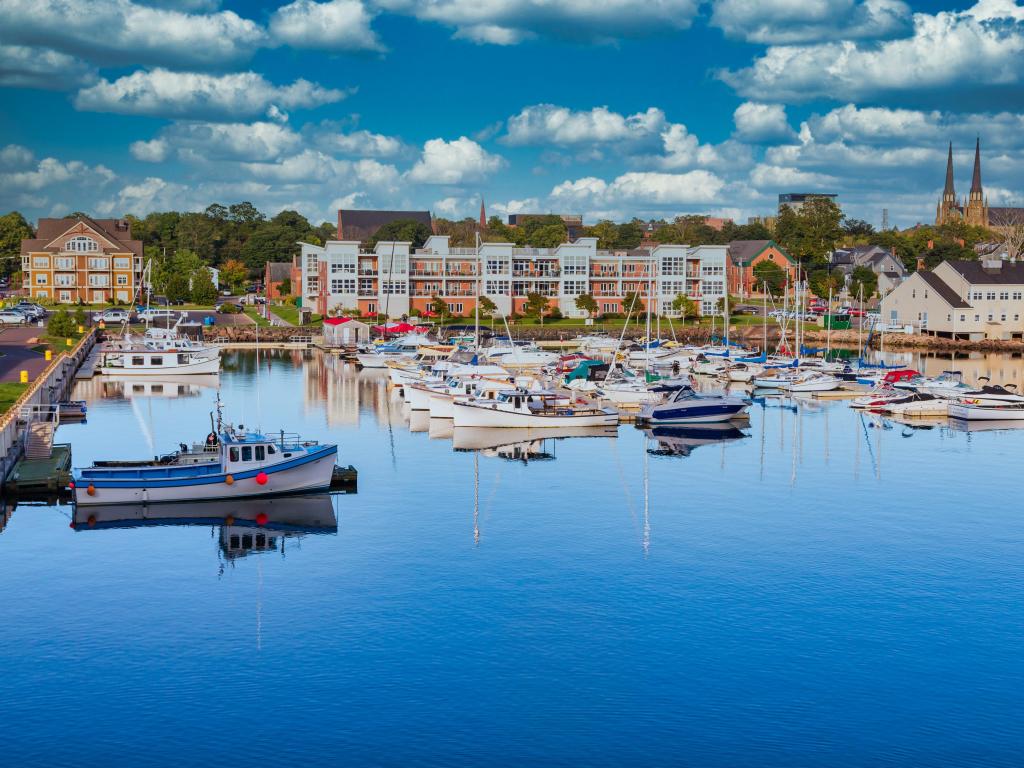 The large Prince Edward Island is marked by red-sand beaches, plenty of lighthouses and fertile farmland. With great seafood and stunning vistas, it's not surprising that this part of eastern Canada is particularly popular.
Charlottetown, the capital of the island, is home to Victorian government buildings as well as the modern Confederation Centre of Arts, with a theatre and art gallery. This makes it the ideal place to stay and explore more of island life.
For a historic, unique boutique hotel which is centrally located, our top pick has to be The Great George. This resort boasts beautifully appointed rooms and is located in downtown Charlottetown, which is convenient if you wish to explore the city on foot.
If you would like to try your luck, The Red Shores Racetrack and Casino is a short distance away, although, with such a beautiful setting and elegant rooms you will get to enjoy at the hotel, you might not want to leave.
Things to see on a road trip from Ottawa to PEI
There's so much to see on this fabulous trip from Ottawa to PEI, including great cities, beautiful countryside and fantastic coasts. If you're short on time, here's a selection of some of the best places you'll pass along the way:
Both Routes
Parc Omega - A drivable wildlife park about an hour outside of Ottawa. You can spend as much or as little time as you like on the 15km trail observing local wildlife in their natural habitat.
Montreal - The second most populous city in Canada located on an island in the Saint Lawrence River. There's no shortage of activities and sights in Montreal. Some of our favorites include Notre Dame Basilica, Parc Jean-Drapeau, the Underground City and Mount Royal.
Gault Nature Reserve - This nature reserve protects more than 1,000 hectares of forest with 24km of hiking trails to explore. Gault Nature Reserve is located about an hour outside Montreal.
Parc Marie Victorin - Located less than an hour off the A20, this attraction has gigantic 3D mosaïcultures across various gardens. You won't be disappointed if you check out this one-of-a-kind attraction.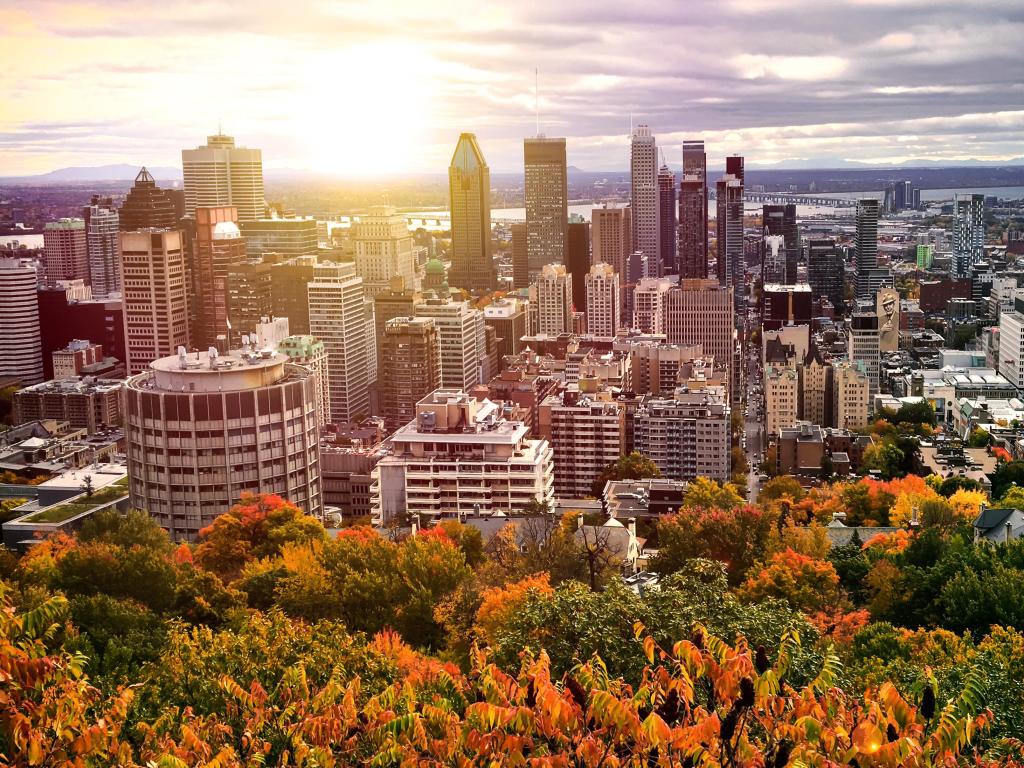 The New Brunswick Route
Trois-Rivieres - A small historical town located on the river. Here you'll find a charming old city, a historic prison and other museums, as well as the landmark Laviolette Bridge.
Parc récréoforestier Saint-Mathieu - A regional park located outside Trois-Rivières. This park has waterfalls and mountains with plenty of hiking trails to explore.
Vallee Bras-du-Nord - A nature preserve offering a variety of outdoor activities no matter the season. Enjoy great hikes, picnics or just enjoy the local wildlife.
Parc de la Pointe - Located on the shore of the Saint Lawrence River in Rivière-du-Loup, this is the perfect place to stop and admire the river before heading inland to New Brunswick.
Edmundston, Canada - A city in New Brunswick nestled on the border with the United States. Whether you're interested in railroad and automobile museums or botanical gardens and parks with trails, this city has something for every traveler.
Grand Falls - A popular detour for viewing Grand Falls Gorge and Waterfall. You can even zipline over the falls keeping in mind the water flow varies throughout the year.
Hartland Covered Bridge - Opened in 1901, this is the longest covered bridge in the world and is still open for driving and walking - it offers great views.
King's Landing - Living history museum located about 20 minutes from Fredericton. This village showcases historical living and offers horseback riding, dining, shopping, and more.
Hopewell Rocks - Located in Hopewell Cape less than an hour from Moncton, these sea stacks on the shores of the Bay of Fundy are a natural marvel. Admire the rock formations, go for a walk, or even kayak around the bay and the rocks.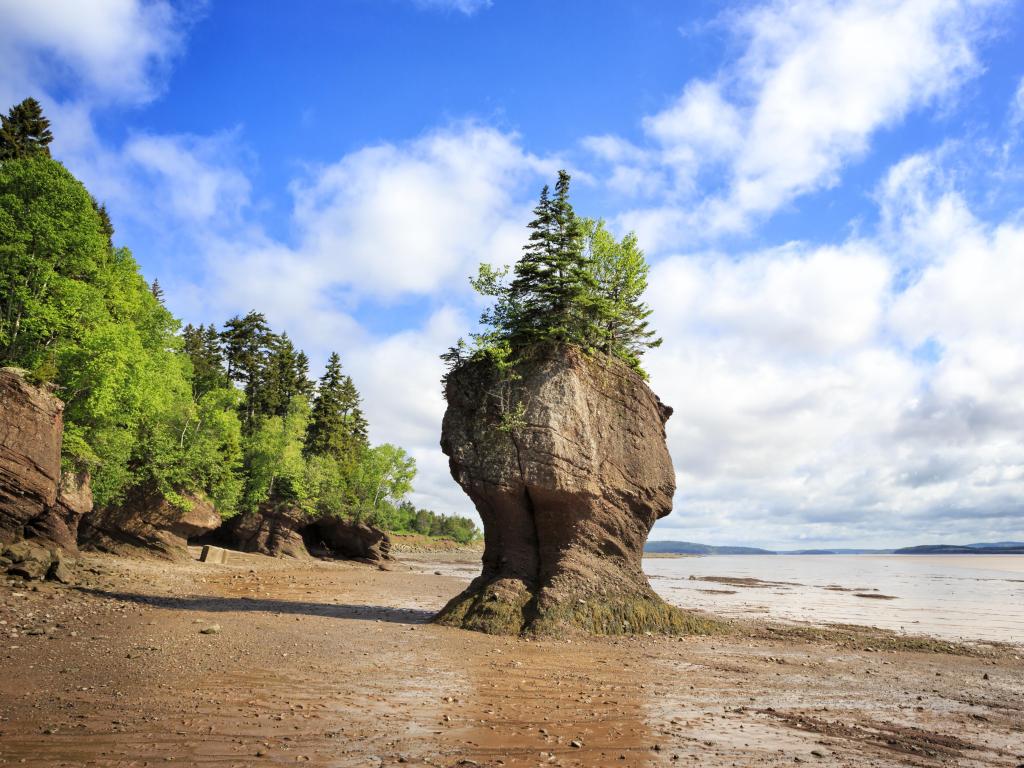 The Maine Route
Zoo de Granby - One of the major zoos in Canada, this zoo complex houses about 1500 animals of 225 species. You can see tigers and lions among other impressive animals here.
Mont-Orford National Park - This national park has a mountainous terrain which is home to a variety of habitats. You can enjoy swimming, kayaking, hiking, canoeing and paddle-boarding here.
Beaver Brook Falls Wayside - This beautiful area is popular for hiking, so expect to run into crowds during good weather. Make sure you bring your camera as the waterfalls here are gorgeous and very photogenic!
Grafton Notch State Park - Another scenic stop on the way, this scenic park is located in Maine. You can stretch your legs and enjoy the great hiking and biking trails here. These trails cater to all levels, so families are welcome!
Portland, Michigan - Known as the "City of Two Rivers", Portland in Michigan is home to the scenic Portland Riverwalk and the Willow Wood Golf Club, where you can enjoy a game or two surrounded by beautiful scenery.
Fort Edgecomb - This octagonal fort is a wooden wonder that you should visit on your way to PEI, as it conveniently sits on the route.
Acadia National Park - One of the most scenic parks on the East Coast, Acadia National Park offers recreational opportunities such as hiking, biking and bird watching. You can also stargaze as this is a dark sky area.
Bar Harbor, Michigan - Known for its stunning coastal beauty, Bar Harbor is located adjacent to Acadia National Park, which means that it will make the perfect base for your exploration.
Bad Little Falls Park - A hidden gem on the way, you can make a stop at this scenic park to admire the waterfalls or to have a picnic before setting on the last leg of your trip.
Saint Croix Island Historic Site - This historic site commemorates Pierre Dugua's French expedition. Tragically 35 of 79 men who were in this expedition died due to freezing temperatures. This marks the beginning of French presence in North America.
Saint John, Canada - This popular tourist destination is known for its historic uptown streetscapes, natural wonders and cultural attractions.
Magic Mountain SplashZone - Atlantic Canada's largest waterpark is a great place to stop for some family fun before you reach your destination. Let your inner child out and enjoy the many water slides and fun in this fantastic water park!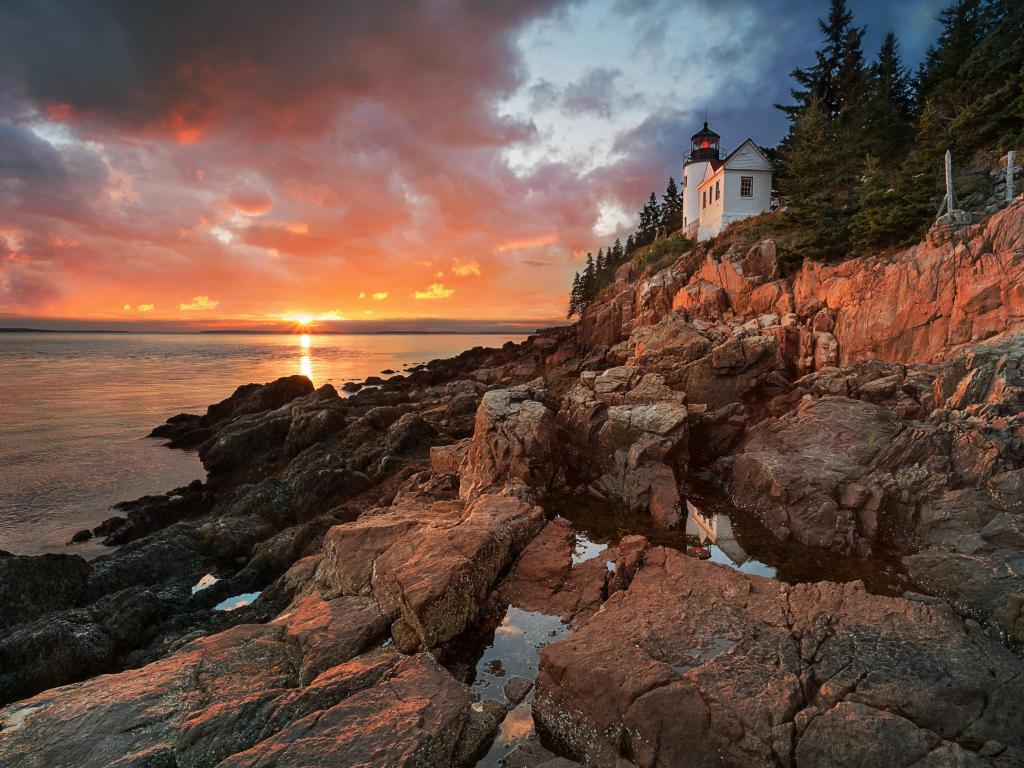 Best time to go on a road trip from Ottawa to PEI
The road trip from Ottawa to Prince Edward Island can be done any time of the year as the attractions are located both indoors and outdoors. However, if you plan to enjoy the beaches on the way (as we suspect you might), summer might just be the preferred time to visit.
The peak season in PEI is in summer due to its great weather and warm temperatures that fluctuate between 70-80 degrees Fahrenheit. However, being the popular season, you'll find that the island will be crowded during this season and prices will also be at their peak.
If you travel in winter, you will get to enjoy picturesque snowy scenery. However, make sure to check road warnings as temperatures drop below 30 degrees, especially in parts of the New Brunswick Route. You can expect some snowfall during these colder months as well.
Spring and fall will bring beautiful natural scenery, think blossoming flowers or foliage that looks like it is on fire. With temperatures averaging around 40-45 degrees, you'll need to pack something warm, but it'll still be pleasant enough to enjoy the outdoor attractions and parks.
For a trip with a bang, why not time your visit for a festival or two? If you are visiting in summer, make sure to check out Cavendish Beach Music Festival in July and the Charlottetown Festival throughout the summer season.