Road Trip From Boston to Acadia National Park And Bar Harbor
If you're up for an adventure featuring epic coastal views, beautiful parks, historic cities, and perilous mountain peaks, the quick yet scenic road trip from Boston to Acadia National Park and Bar Harbor is one you definitely have to do.
The 275-mile road trip from Boston to Acadia National Park and Bar Harbor takes 5 hours 30 minutes to drive. Stops include Portsmouth, New Hampshire, Portland, Rockport, Camden and the stunning views along the Highway 1 route through Maine.
Keep reading for all the details on the best route, places to stop and things to do along the way!
How far is Boston from Acadia National Park and Bar Harbor and how long will the road trip take?
The road trip from Boston to Acadia National Park and Bar Harbor takes 4 hours 30 minutes to drive and covers 275 miles. While this means you can easily make the drive in an afternoon, you should take things slow and do some exploring along the way.
Featuring some of the loveliest attractions in Massachusetts, New Hampshire, and Maine, this drive offers an ideal mix of urban and natural attractions you won't want to miss out on.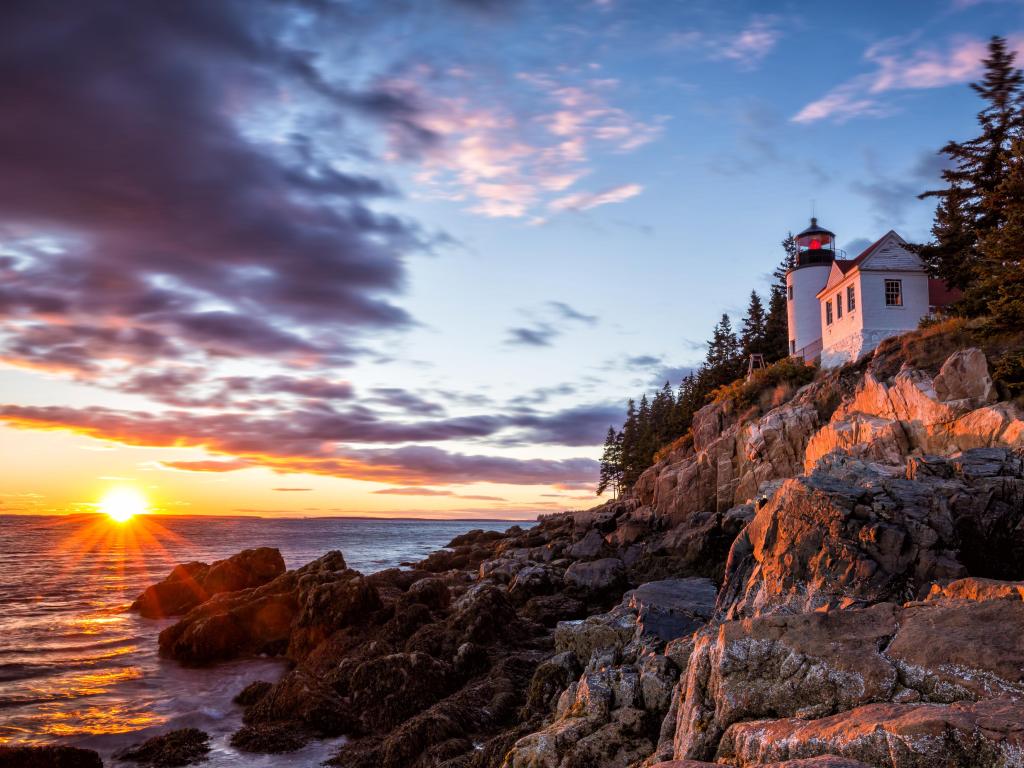 The first half of the drive will have you hugging the Atlantic Coast, giving you some beautiful scenery to look at as you make your way North. Much of the trip takes place on major interstates, so you can expect the drive to be rather smooth no matter the season.
One thing to be wary of is the traffic leading out of Boston - with such a busy city, you can expect massive congestions during the weekends and holiday seasons, so time your stops accordingly to avoid staring at tail lights.
Best road trip route from Boston to Acadia National Park and Bar Harbor
The best road trip route from Boston to Acadia National Park and Bar Harbor is the most straightforward one - despite the drive being so short, it's packed with countless things to check out.
If you are visiting Acadia National Park and plan to drive on the Cadillac Summit Road, keep in mind that vehicle reservations might be required. Please check the national park's website to avoid any disappointment.
Road trip route from Boston to Acadia National Park and Bar Harbor
Taking Route 1 out of Boston, pass Middlesex Fells and Breakheart Reservations before detouring to Salem. Once you're done, get back to Route 1 and follow it into Interstate 95, then pass Water Park of New England and Mass Audubon's Ipswich River Wildlife Sanctuary.
Drive through Georgetown-Rowley State Forest and stop at Maudslay State Park before crossing the Merrimack River and entering New Hampshire. If you want, detour inland to see Pawtuckaway and Bear Brook State Parks before returning to the interstate.
Cross over into Maine, then drive past Rachel Carson National Wildlife Refuge before cutting through Biddeford. Make your way to Portland to visit the Portland Head Light, then consider doing a lengthy yet scenic detour to White Mountain National Forest.
Back in Portland, take Interstate 295 along the coast and pass Wolfe's Neck Woods and Bradbury Mountain State Parks. From Brunswick, detour to Marine Maritime Museum, Coastal Maine Botanical Gardens, and Pemaquid Point Lighthouse.
Once you're done, follow the interstate to Augusta (and consider a coastal detour to Camden Hills State Park), then take Interstate 95 again through Waterville, Pittsfield, and Newport. From Bangor, you can detour southward to Prospect to see Fort Knox State Park.
Return to Bangor, take Interstate 395 and cross the Penobscot River, then hop onto Route 1A, following it to Ellsworth. Take Route 3 before hopping onto Bar Harbor Road over Mt Desert Narrows, and follow Routes 102 and 198 the rest of the way.
Best places to stop between Boston and Acadia National Park and Bar Harbor
To make the road trip from Boston to Acadia National Park and Bar Harbor more memorable, you'll want to book yourself the finest hotels the route has on offer. Here are some of the very finest options:
Enjoy the coastal views in Portland, Maine
Maine's largest city is home to some of the East Coast's most stunning architecture, so you'll definitely want to devote a day or two of your trip to checking it out. Portland Harbor Hotel is the city's finest resort - the stylish rooms are by far the fanciest in all of Maine.
Nothing beats a steamy walk-in shower and a nap in a cozy bed after a tiring drive, and the suites at this hotel are bound to revitalize you and charge you up for a day out in the city.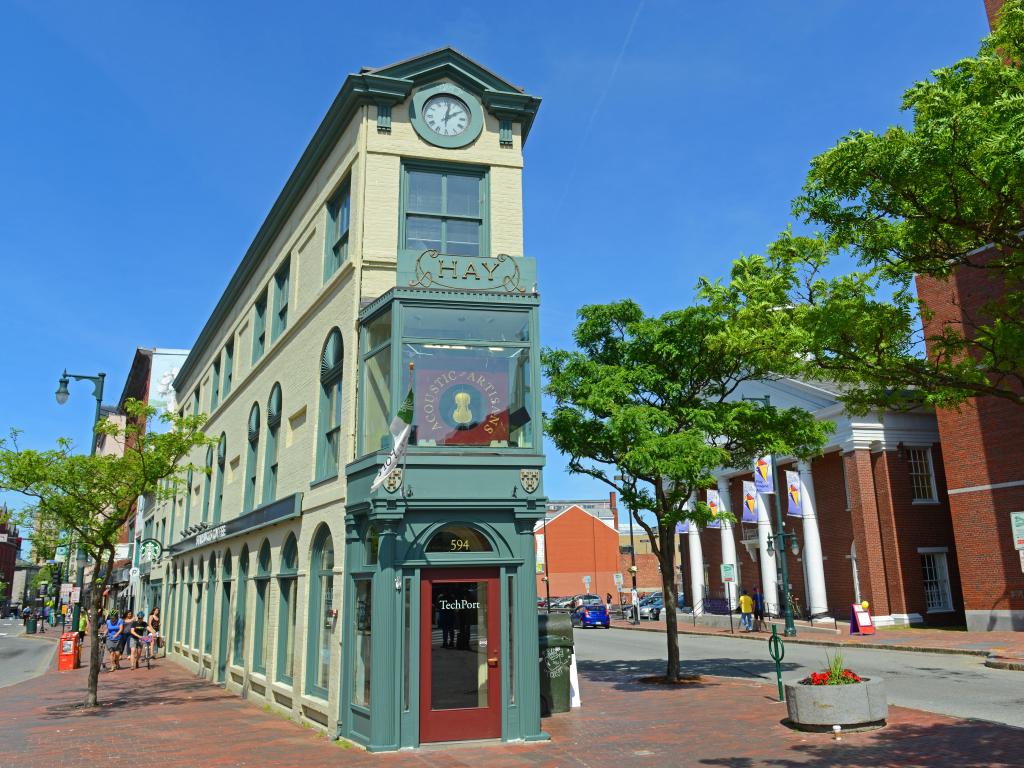 The BlueFin North Atlantic Seafood Restaurant serves some amazing dishes that perfectly capture the essence of an oceanside vacation. If you overstuff yourself on the irresistible seafood, you can always sweat it off at the fabulous fitness center.
Located within walking distance of the Downtown District and only about 4 miles from Portland Head Light, the resort is the perfect base of operation for those looking to explore every inch of Portland.
The price of the hotel is absolutely fair when you consider how great the accommodation and location are, so you can definitely think about more than just an overnight stay.
Marvel at the beautiful mountain vistas in Acadia National Park
When visiting Bar Harbor, it's not uncommon to run into some of showbusiness' biggest stars, and with so much beautiful nature in every direction, it's not hard to see why. For the ultimate morning view of Frenchman Bay, consider booking a room at Bar Harbor Inn and Spa.
Mount Desert Island isn't the warmest place in the States, but warming your bones by the fireplace is guaranteed to tucker you out no matter the weather. It also helps that the tranquil window views are unlike anything else in Maine!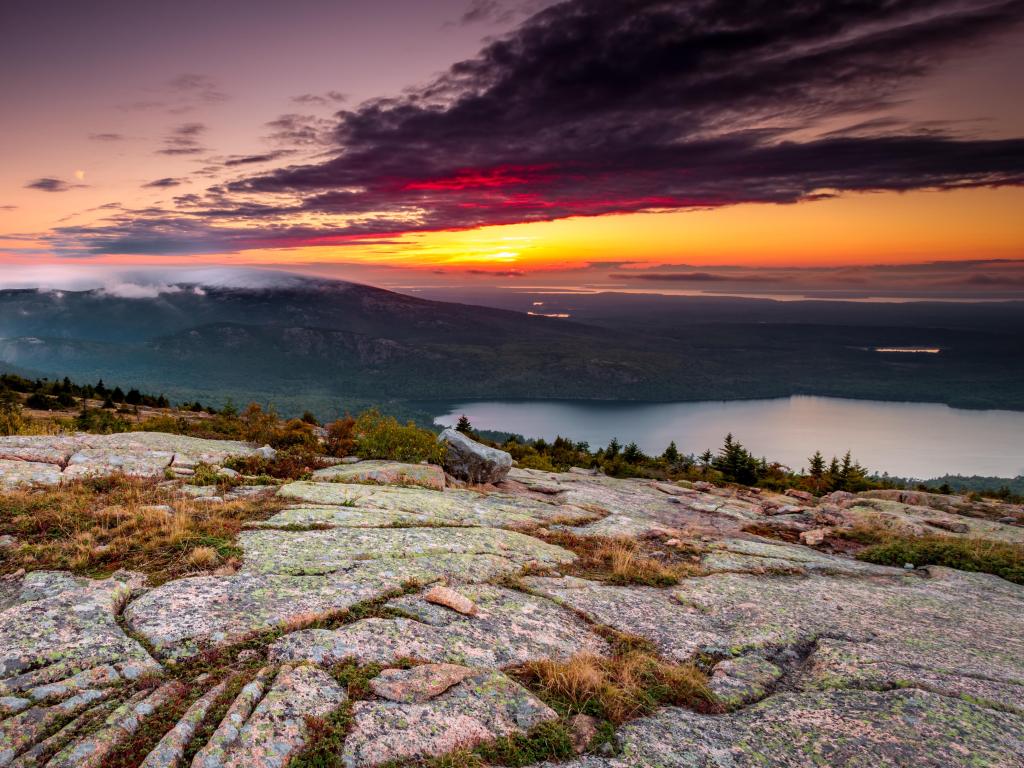 From a luxurious outdoor swimming pool to a fabulous hot tub, the resort has everything you could possibly want from a high-end resort near a major tourist attraction.
With two fantastic on-site restaurants to choose from, you won't be going hungry either, and once you're full, you can enjoy a relaxing walk around the hotel premises before heading out for a hike in Acadia National Park.
While it's not exactly a budget hotel, the price is as reasonable as it can be considering the popularity of the region - just be sure to book a room well in advance.
Things to see on road trip from Boston to Acadia National Park and Bar Harbor
The road trip from Boston to Acadia National Park and Bar Harbor is one of those drives that manage to fit a lot of adventure into a small window of time. Here are some of the places you'll want to watch out for:
Middlesex Fells Reservation - Anyone passing though Massachusetts looking to check out some unforgettable greenery is guaranteed to find it at this nature retreat.
Breakheart Reservation - Featuring the Breakheart Parkways and some beautiful lakeside vistas, this place is a nature lover's dream come true.
Salem Witch Museum - If you've ever wondered what the witch trials of yesteryear were like, you can see an unforgettable reenactment at this historic museum.
Salsbury Beach State Reservation - If you're going to go camping at any point during the trip, this beach area would have to be your best option.
Hampton Beach State Park - One of the most gorgeous swimming spots this route has to offer, this park is also close to various beautiful beach resorts.
Pawtuckaway and Bear Brook State Parks - This New Hampshire park is a must-see for lovers of canoeing and other water-based activities.
Rachel Carson National Wildlife Refuge - A refuge featuring the Webhannet River and plenty of beautiful flora you won't find in many other parts of the States.
Funtown Splashtown USA - If you're traveling with children or have a bit of a youthful spirit yourself, you're guaranteed to have a blast at this top-notch amusement park.
Old Orchard Beach Pier - An amazing pier off Saco Bay that offers countless dining and entertainment options.
Portland Head Light - Located in Fort Williams Park, this historic lighthouse boasts beautiful ocean views and is home to a fabulous museum.
White Mountain National Forest - Although it's a bit of a detour, this iconic forest houses some of the finest hiking trails in all of the States.
Marine Maritime Museum - Located in the "River City" of Bath, this museum features some of the finest maritime artifacts in North American history.
Coastal Maine Botanical Gardens - Intricately built for over a decade, this network of blooming gardens is one of Maine's definitive nature-based attractions.
Pemaquid Point Lighthouse - A 200-year-old lighthouse with a beautiful park and fisherman's museum.
Augusta - Despite its small size, Maine's capital city is always bustling with life and activity, largely owing to its student community.
Camden Hills State Park - Offering numerous outdoor activities, from hiking to snowmobiling, you can visit this amazing park any time of year.
Fort Knox State Park - This iconic ex-military granite fort is now a popular tourist draw thanks to its amazing observation tower - Penobscot Narrows is a sight you won't soon forget!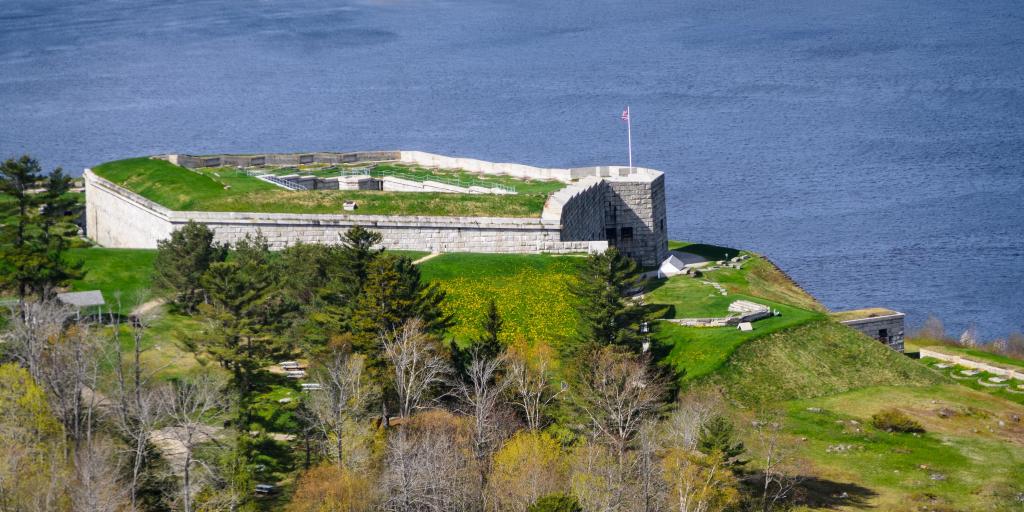 Best time to go on a road trip from Boston to Acadia National Park and Bar Harbor
The road trip from Boston to Acadia National Park and Bar Harbor is definitely best enjoyed when the weather is pleasant - the mountainous terrain of the park can make the temperature rather unpredictable, so keep an eye on the forecast before taking off.
When it comes to a summer visit, the good news is that temperatures will often reach a comfortable 70-or-so degrees. That said, this also means you can expect flocks of tourists all over the park, so you may want to steer clear if you're looking for a quiet trip.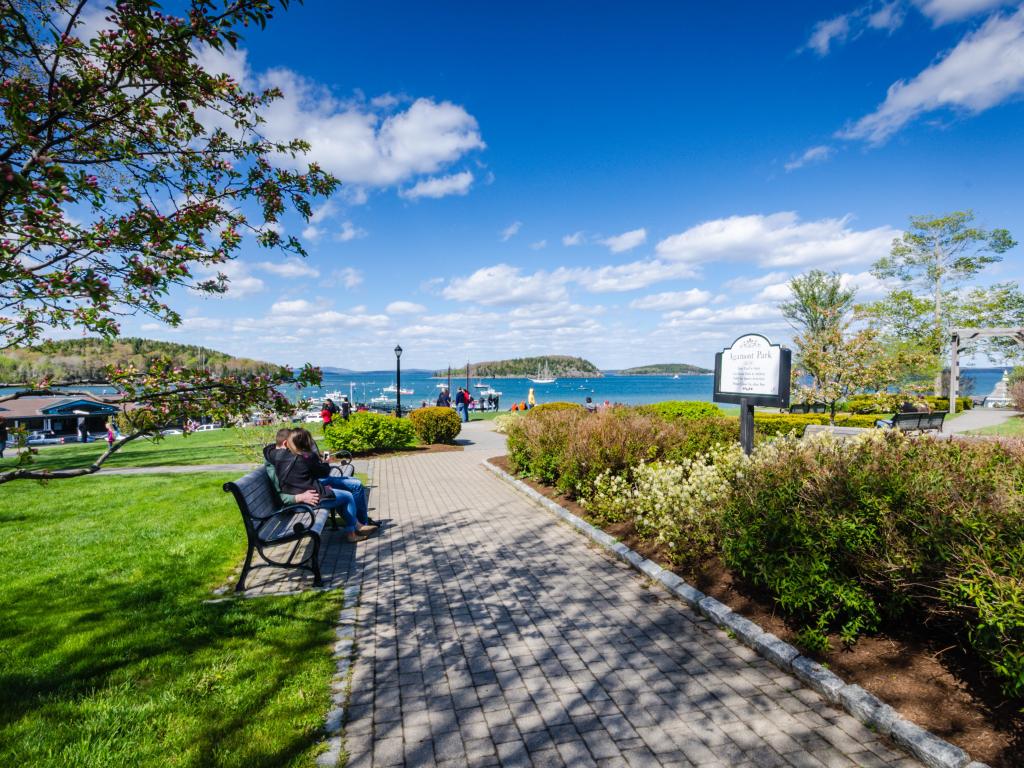 On the other extreme, most of the park's services and amenities are inaccessible in the winter, and the freezing temperatures don't help either. If you really want to see Acadia during the snow season, your best bet for accommodation would have to be Bar Harbor itself.
Although spring should be a good time to visit in theory, you'll often find that there's residual snow left over from the winter. Still, if you've been keeping tabs on the weather and you think you're coming up on a warmer spring, you can expect a fairly empty park and low prices.
The best time to visit would have to be fall, though - beautiful sights, declining prices, and a relative lack of tourists makes this a great time to go hiking and sightseeing in Acadia. Be sure to check out Cadillac Mountain for some of the most epic views along the East Coast!