Is there a ferry from Boston to New York?
Boston and New York are both located on the beautiful shores of the Atlantic Ocean, and their proximity might have lead you to wonder about the transport links between them. But if you're specifically considering a ferry service from Boston to New York, you might be disappointed.
There is no direct ferry route from Boston to New York, neither is there a port near Boston where you can take a ferry to New York from. However, other transportation options include driving via the I-90 and I-84 or taking a train, bus or a quicker commercial flight.
Dive deeper into this guide to explore the best travel advice for this route, insider tips for a seamless journey, and the must-visit attractions that await in the vibrant city of New York.
Is there a ferry from Boston to New York?
As of now, no ferry service connects Boston to New York directly. This might seem surprising given the coastal nature of both cities, but thankfully, there are other efficient ways to bridge the distance.
One of the most scenic and comfortable ways to travel between the two cities is by car, as the road trip from Boston to New York is an adventure in itself. Here is our comprehensive guide to the best way to drive from Boston to New York.
If you aren't keen on driving though, Amtrak offers a relaxing journey that runs from Boston's bustling South Station straight into the heart of New York's Moynihan Train Hall.
This route gives travelers a chance to unwind, perhaps catch up on some reading, and gaze at the northeastern landscapes.
For those who are conscious about budget and are seeking an economical way to get to the Big Apple, the bus is a commendable option. Greyhound, a renowned name in inter-city bus services, operates a route between Boston's South Station and the ever-busy New York Port Authority.
Lastly, if speed is what you're after, the skies await. Both American Airlines and JetBlue rise to the occasion, offering direct flights that bridge Boston's Logan International Airport and New York's iconic JFK. Within a short span, you'll find yourself transitioning from the charms of Beantown to the hustle and bustle of NYC.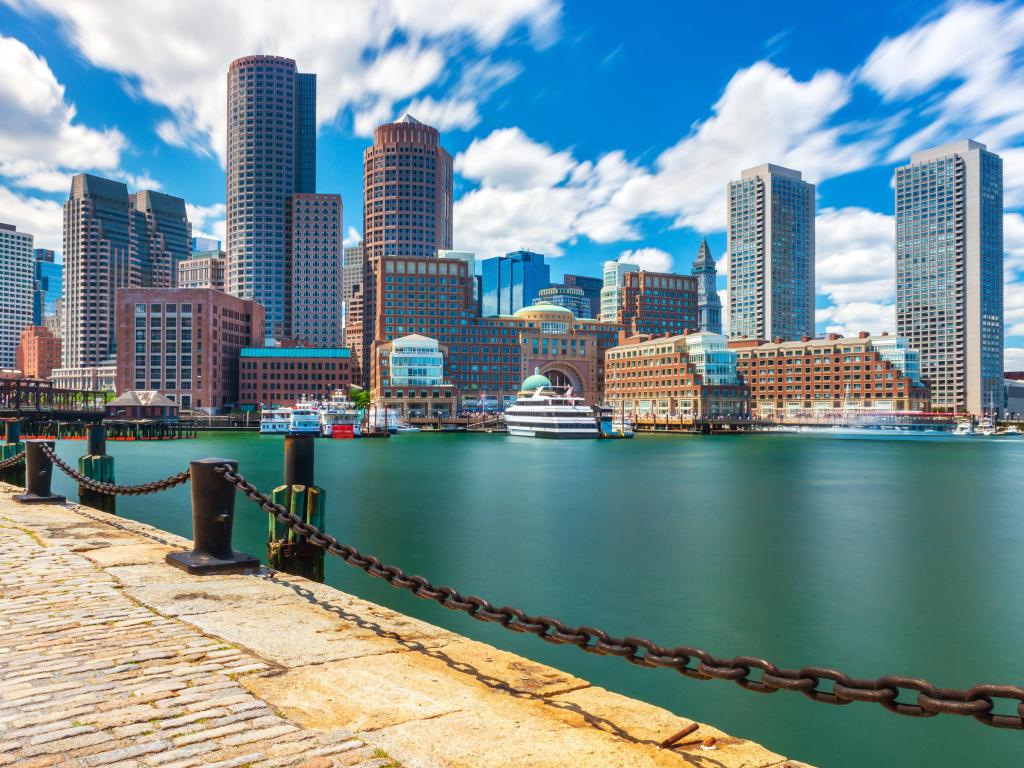 Driving from Boston to New York
Driving from Boston to New York? You're in luck, as the journey is not only feasible but also offers an enjoyable road experience. With well-maintained infrastructure and clear signage, the route between the two major cities is a testament to the efficiency of the northeastern road network.
Spanning approximately 225 miles, a direct drive from Boston to New York will take around 4 hours and 10 minutes under optimal conditions.
However, it's worth noting that these cities are major hubs, so heavy traffic, especially during rush hours, can potentially extend your travel time. Therefore, it's always a good idea to factor in some buffer time, especially if you have strict timelines in NYC.
Commencing your journey from Boston, you'll embark on Interstate 90 (I-90), heading southwest. This leg of your trip will usher you out of Massachusetts and into the picturesque landscapes of Connecticut.
The road then merges into I-84. Following the interstate, you'll weave your way through Connecticut, eventually reaching the border of New York State. Here, I-84 continues to snake through parts of New York.
If your destination is New York City, you'll find convenient connectors that lead you into the heart of the Big Apple.
How long does it take to reach New York from Boston?
For those in a hurry, the fastest way is undoubtedly by air. Commercial flights between Boston's Logan International Airport and New York's major airports, like JFK or LaGuardia, will take a brisk 1 hour and 15 minutes. So, if speed is of the essence, soaring through the skies is your best bet.
On the other hand, driving offers an unparalleled sense of freedom if you relish the journey as much as the destination. The route, covering a distance that takes approximately 4 hours and 10 minutes, provides a beautiful glimpse into the changing landscapes of the Northeast.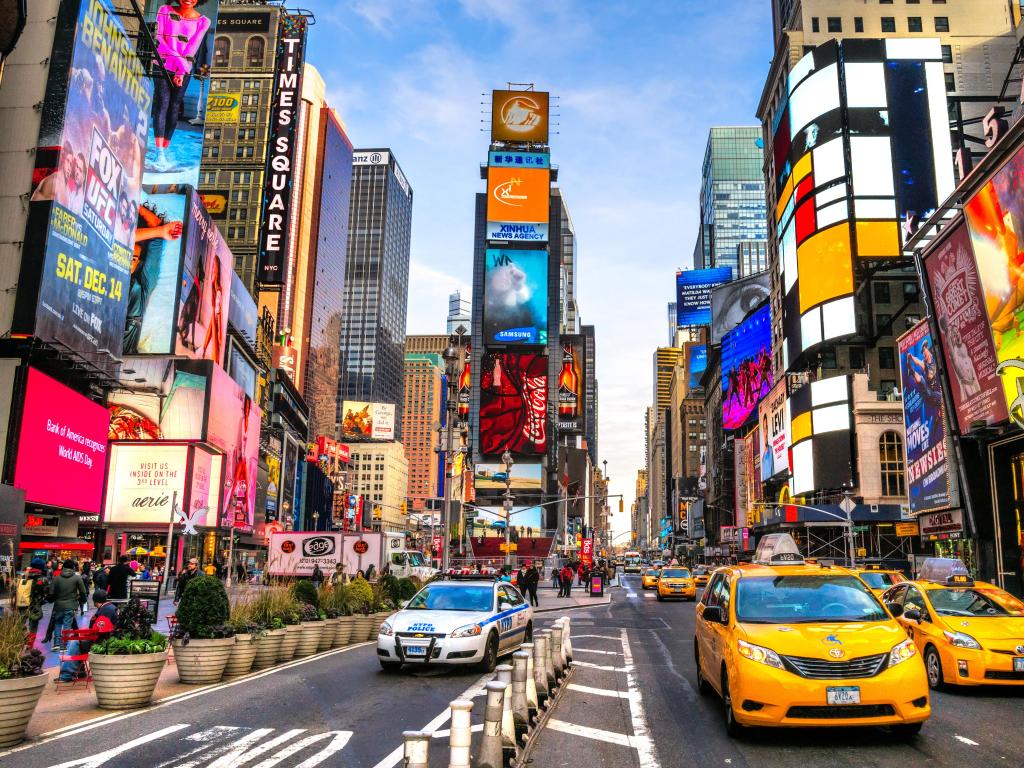 But a word of caution for those unfamiliar with New York's streets: the city's hustle and bustle can be daunting for drivers. Parking can be a challenge, and the city's vibrant neighborhoods are often best experienced on foot.
Opting for a train ride, you can expect a journey of about 3 hours and 50 minutes. The trains culminate their journey at the Moynihan Train Hall, a mere stone's throw from the iconic Madison Square Garden. It's an ideal drop-off point to dive straight into the heart of the Big Apple's excitement.
Buses, such as Greyhound, are an economical option, albeit a tad longer. Expect a journey of around 4 hours and 55 minutes. It's a choice favored by those who prefer to sit back and relax, leaving the driving to someone else.
How much does it cost to travel to New York from Boston?
Comparison of fares from Boston to New York

| Mode | Operator | Price |
| --- | --- | --- |
| Bus | Greyhound | From $30 |
| Flight | American Airlines | From $50 |
| Flight | JetBlue | From $50 |
| Train | Amtrak | From $60 |
*Prices are for a single journey, calculated at the time of writing
Things you need to know about traveling to New York from Boston
Setting off on a journey from Boston to New York is not just a simple inter-state commute; it's an adventure that brings you closer to the heart of the Northeast.
Given this, here are a few vital pieces of advice to ensure that your trip is not just enjoyable, but also hassle-free:
Traffic can significantly affect how long it takes to reach your destination. Try to avoid rush hours on weekdays, which might stretch your travel time to at least 5 hours or more.
While on the route, be especially alert when passing through potential traffic hotspots like Hartford, Connecticut, and while entering New York City.
The driving route to New York does involve tolls. For an economical trip, consider using a transponder. Without one, toll charges can escalate to nearly $20, while with a transponder, it might just be around $8 (calculated at the time of writing).
If you are flying in, it is always wise to book flights in advance, as last-minute bookings typically come with a hefty price tag. Also, remember that Airlines might have baggage restrictions, so ensure you check those details before packing.
Irrespective of your mode of transport, always keep an eye on the weather forecast and be prepared for the occasional unpredictability of Northeastern weather.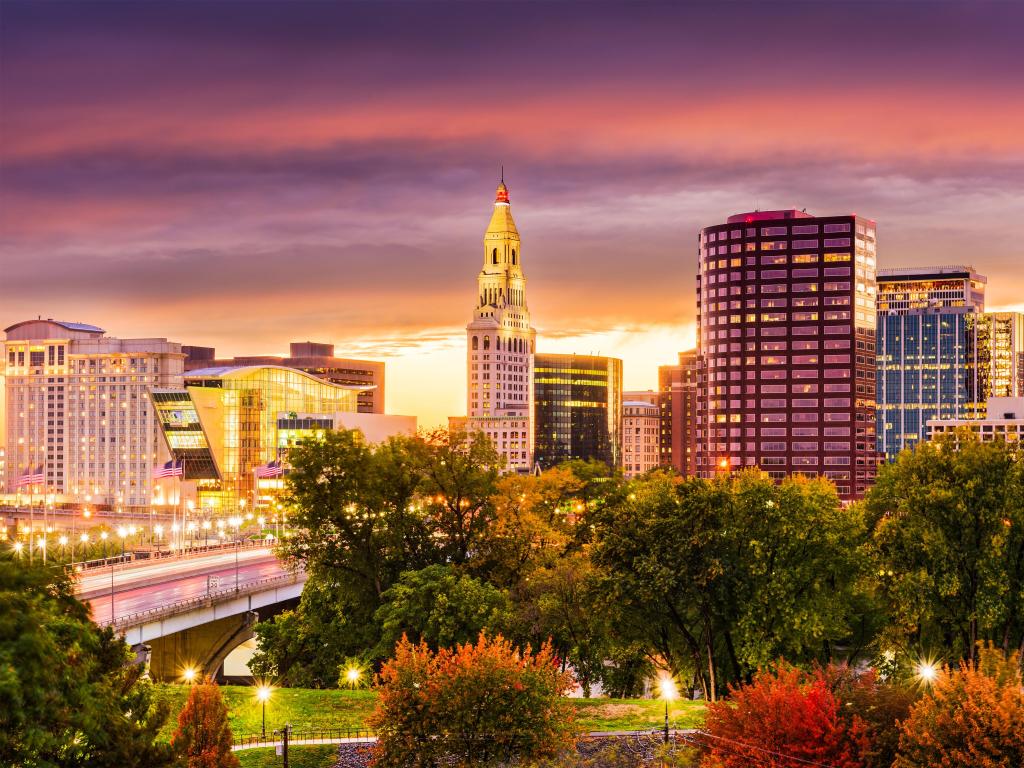 Best time to visit New York
Come rain, shine, or snow, New York remains accessible. Thanks to its well-connected transport hubs, you have a plethora of options to reach the city. Flights, trains, and buses operate seamlessly all year, ensuring you have the flexibility to choose your travel dates.
For those considering a road trip, integral roads like I-90 and I-84 are usually open. However, it's worth noting that road closures can happen, especially during the winter when the area is prone to severe snowfall.
Cost can often be a determining factor when planning a trip. If budget is a concern, you might want to strategize your travel dates. Buses and trains tend to maintain consistent pricing throughout the year.
Prices for flights tend to surge during peak times, especially around significant holidays like Christmas and Thanksgiving. So, if you're looking to save some money, consider traveling during off-peak times.
It's often said that New York is always in celebration mode. While the city buzzes with energy all year long, certain times see a heightened influx of visitors. Events like the Macy's Thanksgiving Day Parade draw massive crowds.
As the year winds down, the New Year's Eve celebrations in Times Square are nothing short of legendary. Expect a riot of colors, music, and festivities as the ball drops, ushering in the new year. If you loves being a part of grand celebrations, these times might just be perfect for your visit.
Things to see once you reach New York
New York City, often referred to as the "Concrete Jungle," is an exhilarating blend of culture, history, and urban landscapes. With its skyline etched with iconic structures and the streets echoing stories from centuries past, every corner of the Big Apple holds a tale waiting to be told.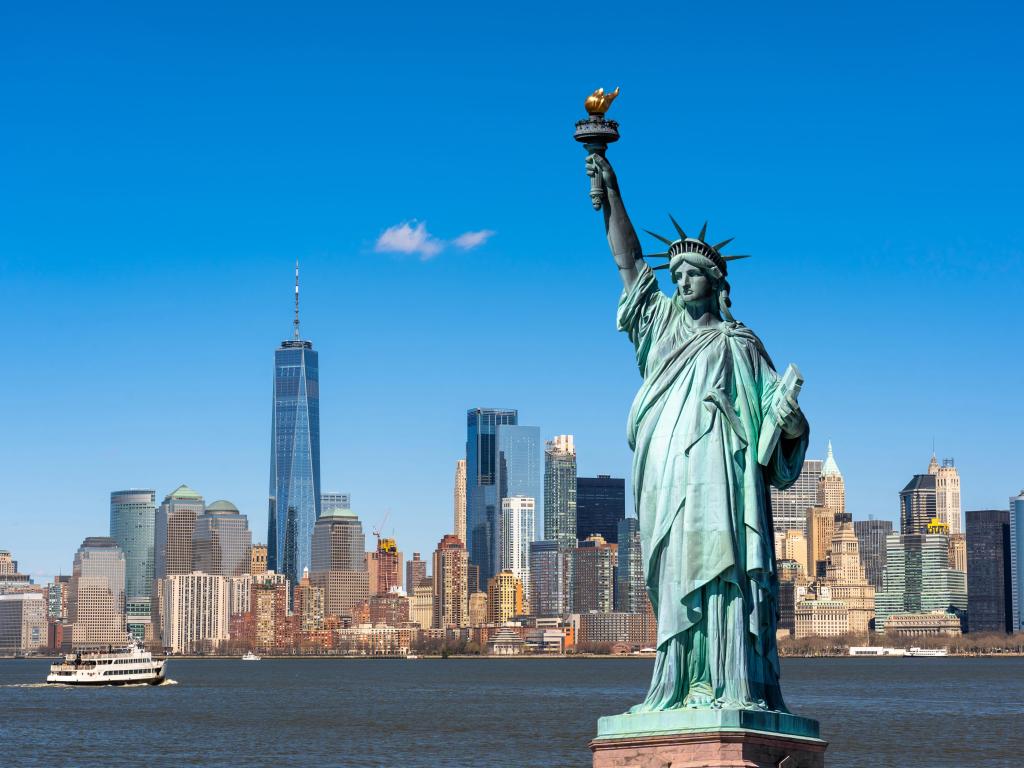 From the glitz of Broadway to the serene stretches of Central Park, here are some must-visit spots that should be on your NYC itinerary:
The Statue of Liberty & Ellis Island - Standing as a beacon of freedom, the Statue of Liberty is more than just a monument; it's an emblem of America's rich immigrant history. Pair your visit with a trip to Ellis Island, and journey back in time as you discover the stories of millions who stepped onto American soil in search of a new beginning. While guided tours are available, the free Staten Island Ferry also offers a picturesque view of Lady Liberty.
Central Park - Amid the urban sprawl lies a verdant oasis. Central Park invites visitors to momentarily disconnect from the city's hustle and bustle. Meander along its winding trails, lounge by its tranquil ponds, or visit the famed Central Park Zoo for a delightful day out.
Times Square - Experience the pulsating heart of NYC. Times Square, with its radiant billboards and bustling crowds, encapsulates the city's energetic spirit. While you're there, indulge in its eclectic mix of restaurants, or catch a Broadway show for a touch of theatrical magic.
Metropolitan Museum of Art - Dive into the world of art at the Met. Housing an illustrious collection that spans across cultures and epochs, every visit promises a new discovery. From ancient Egyptian artifacts to contemporary installations, the museum is a treasure trove for art aficionados.
Empire State Building - Soar high above the cityscape as you step onto the observation decks of this iconic skyscraper. Whether you're on the 86th or the 102nd floor, the panoramic vistas of New York City from the Empire State Building are nothing short of mesmerizing.
Top of the Rock - For a different perspective, head to the Top of the Rock. As locals often point out, while the Empire State Building is a sight to behold, you can't truly appreciate its grandeur when you're on it. The Top of the Rock offers an unparalleled view of this iconic structure set against the city's skyline.
A journey through New York City is an adventure through time, culture, and boundless energy. Whether you're an art enthusiast, history buff, or simply a curious traveler, the city's myriad attractions ensure a memorable experience. So pack your bags and dive into the wonder that is NYC!