Is there a ferry from Toronto to Niagara Falls?
It's hard to resist the world-famous beauty of Niagara Falls, no matter what time of the year it is. If you are traveling from Toronto, you might find the urge to resist the siren call of these stunning falls pretty hard. Luckily, the falls are easily accessible from Toronto by car, bus or train.
The picturesque Niagara Falls are located to the southeast of Toronto across Lake Ontario, but there is no ferry between the two. You will need to travel on land to reach Niagara Falls from Toronto and then take a tour boat to enjoy the views across the water.
Read on to find out more about the alternative methods to travel from Toronto to Niagara Falls and to plan your trip accordingly.
Is there a ferry from Toronto to Niagara Falls?
The short and direct answer to this question is no, there is no ferry service between Toronto and Niagara Falls. On top of that, there is no ferry that journeys to Niagara Falls from any other location - US or Canada.
Situated on the border between Canada and New York state (in the US), Niagara Falls sits between Lakes Ontario and Erie. Given its advantageous location on the water between two lakes, it might be surprising to learn that there is no ferry service to Niagara Falls.
If you want to see the Niagara Falls closer across the water, you will need to travel south from Toronto on land and then book a seasonal boat tour.
Niagara City Cruises by Hornblower runs these boat tours from the Canadian side, whereas Maid of the Mist tours take off from the United States. Both of these tours are seasonal and usually operate between late April/early May to early November.
This excursion will allow you to admire the stunning American Falls and Bridal Veil Falls, awe-inspiring views of the Niagara Gorge and see the famous Canadian Horseshoe Falls up close in person.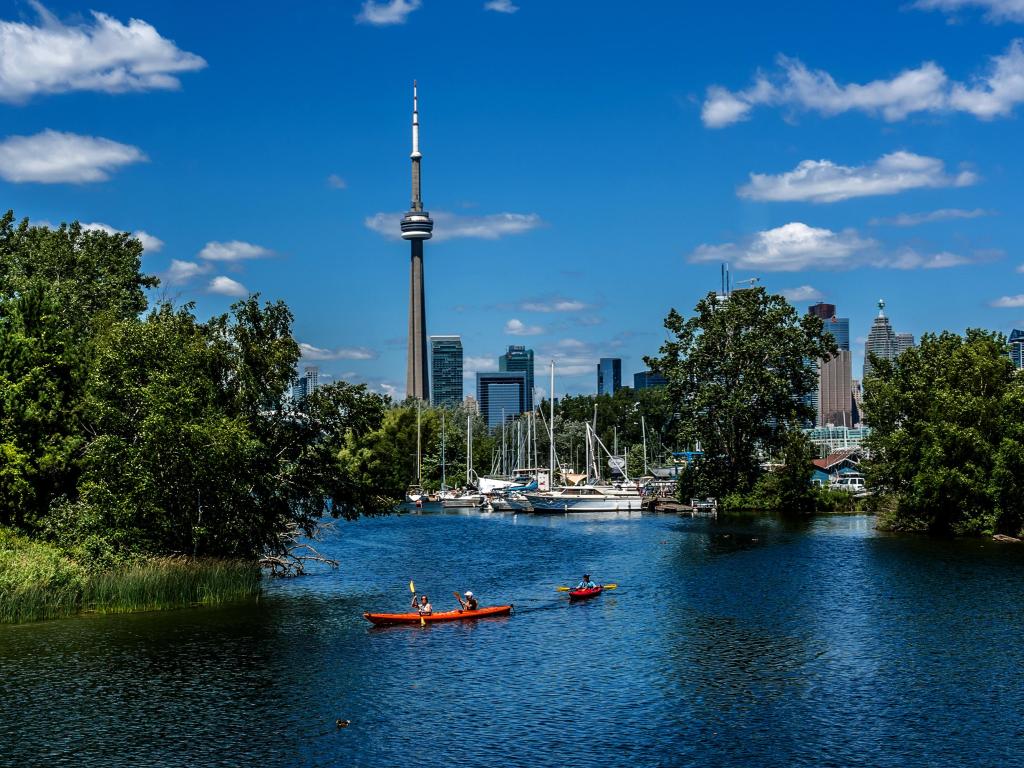 How to reach Niagara Falls from Toronto
You cannot take a ferry to Niagara Falls but you can drive southeast from Toronto to reach these falls. To get there in the most direct way, head southwest on Queen Elizabeth Way out of Toronto and drive through Mississauga.
This highway follows the coast of Lake Ontario, which will provide you with beautiful views to admire en route. Queen Elizabeth Way will take you all the way into the city of Niagara Falls in Ontario, Canada.
If crossing into the US, head towards Sir Adam Beck Hydroelectric Station Reservoir and across Lewiston-Queenston Bridge. Heading south here will take you to the American side of Niagara Falls in New York state.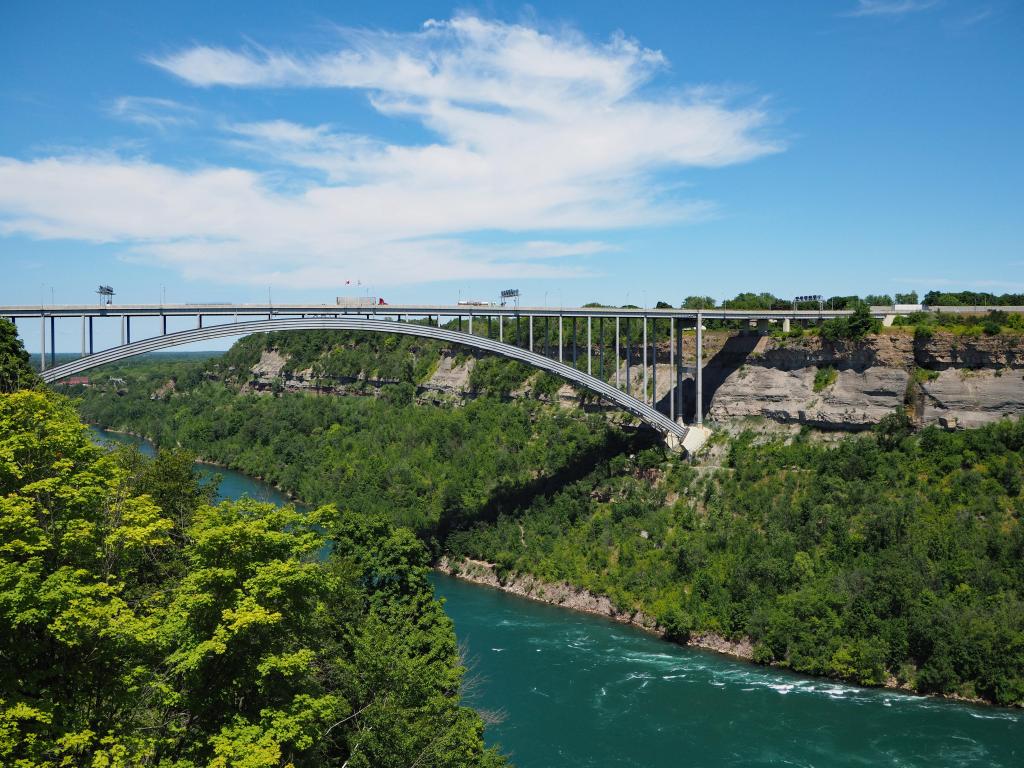 How long does it take to reach Niagara Falls from Toronto?
The drive from Toronto to Niagara Falls is a fairly short one and it will take 1 hour and 40 minutes to cover the 140 km route if not making any detours on the way. The boat tour itself takes 15-20 minutes.
Where to head for at Niagara Falls if you want to take a boat tour
If you'd like to take the boat tour, you should arrive at the boat tour operator's building on Niagara Parkway. The boarding facilities are located at the Lower Landing in the Great Gorge. The operator's website advises to "look for the large white sails next to the Zipline to the Falls Tower".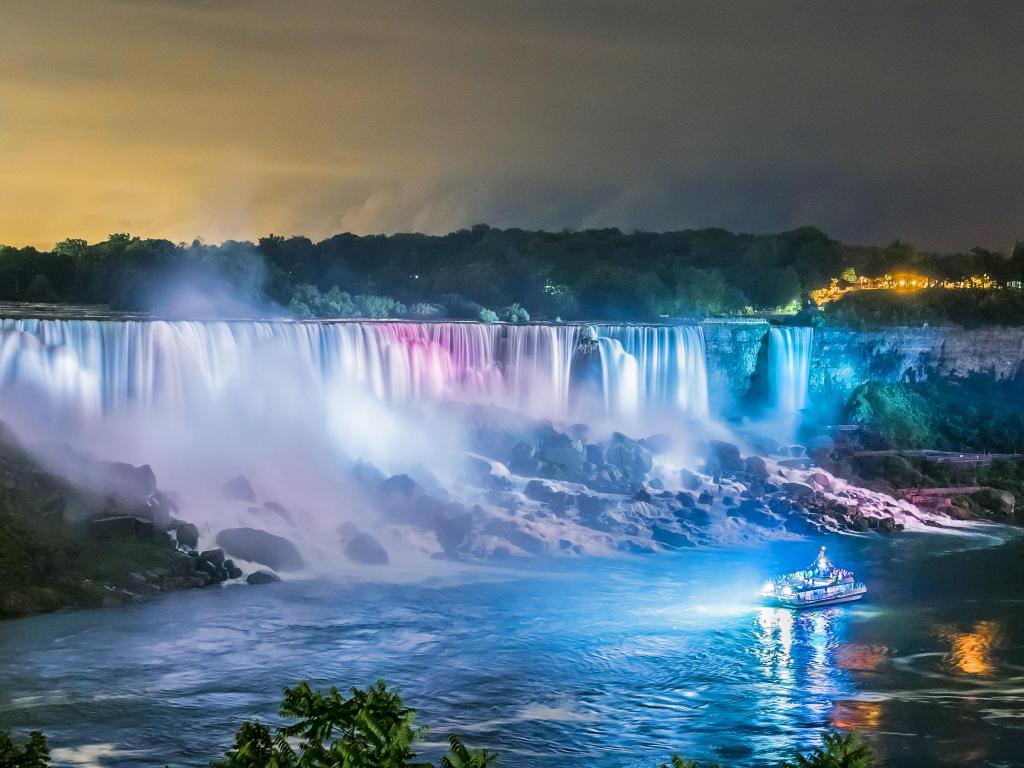 Things you need to know about traveling to Niagara Falls from Toronto
It is fairly straightforward to reach Niagara Falls from Toronto, but there are a few things to keep in mind when traveling during the colder months or if you are planning to cross the Canada-US border.
Here are our top tips when it comes to preparing to travel to Niagara Falls:
The Niagara Falls boat tours only operate from late April-early May to early November. If you are traveling during winter, you won't be able to take a boat tour of the falls from Canada or US.
Keep in mind that you will need to pass border control if you wish to see Niagara Falls from the US side.
You will need appropriate ID and might need to bring your passport if crossing the borders, check the regulations beforehand.
Check weather and road warnings to make sure you won't need to drive in snowy or icy conditions.
Best time to visit Niagara Falls
Niagara Falls is beautiful in any season, and you will get to see a different side of these four waterfalls depending on which season you visit. Most traveler prefer to visit during summer, especially between August and September to take advantage of the warm temperatures.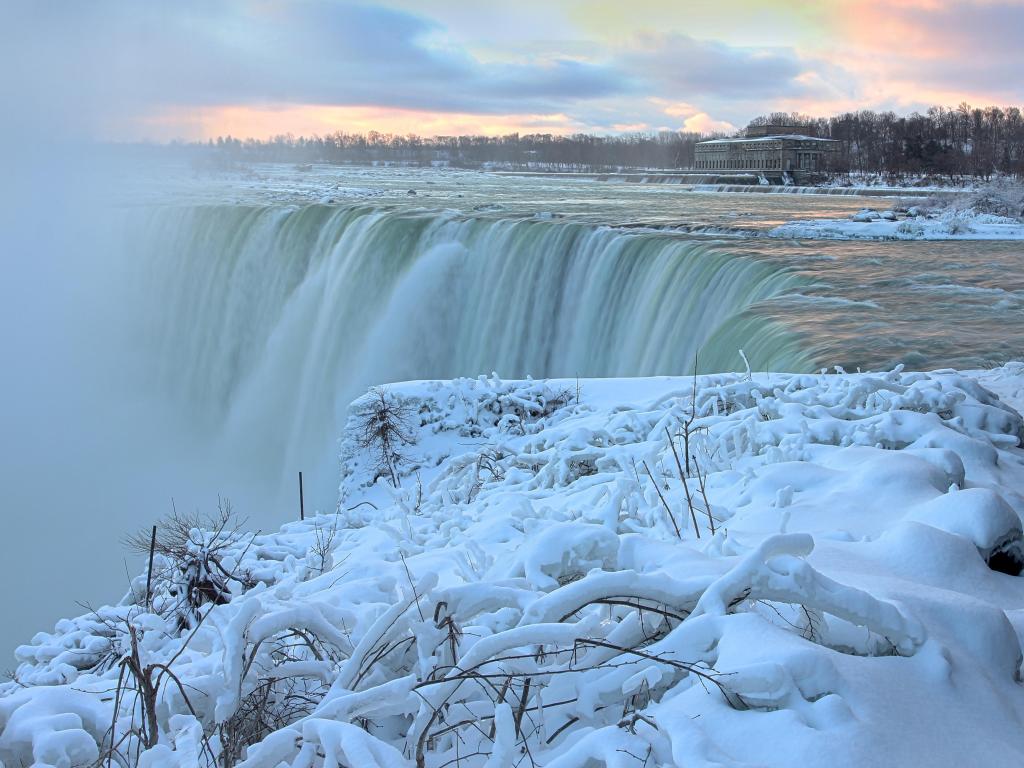 You will get to enjoy temperatures between 75 and 81 degrees Fahrenheit if you visit the Canadian side of the Niagara Falls in summer. Keep in mind that you will still get wet due to the spray if you approach the falls for better views.
The peak season is between May and September in Niagara Falls. The hotel prices will be higher, and it is a good idea to book ahead of time if you are planning on visiting during these months.
Niagara Falls is a spectacle to behold in winter, even though you won't get to enjoy the boat tours. The falls partially freeze, creating the illusion that they are frozen in time even though the water continues flowing under the frozen layers.
Expect temperatures between 3 to 30 degrees Fahrenheit if you are visiting in winter and make sure to bring waterproof layers and towels so you can dry up quickly.
If you are looking for fewer crowds, you can also consider visiting in early spring and late fall. You will be able to catch good deals on hotels and enjoy the falls without having to worry about long queues.