Road Trip From Toronto To Ottawa
If you want a quick yet impossibly scenic adventure connecting two of Canada's most iconic cities, then the road trip from Toronto to Canada is one you won't want to miss out on - scenic parks, beautiful lakeside views, and gorgeous towns are all waiting to be explored!
The 450-km road trip from Toronto to Ottawa takes 4 hours 20 minutes of driving. Key stops include Cobourg Beach and Boldt Castle, Sibbald Point, Charleston Lake, and Algonquin Provincial parks, as well as Kingston, Oshawa, and Kawartha Lakes.
There's a lot to remember when it comes to this amazing drive, so keep reading until the end to get an idea of what the routes are all about.
How far is Ottawa from Toronto and how long will the road trip take?
Comparison of road trip route options between Toronto and Ottawa

| Route | Distance | Driving Time |
| --- | --- | --- |
| The Lake Ontario Route | 450 km | 4 hours 20 minutes |
| The Inland Route | 480 km | 5 hours 50 minutes |
Taking the quickest possible route, the road trip from Toronto to Ottawa covers 450 kilometers of ground and takes around 4 hours 20 minutes to drive. This means you can take off later in the day and still make it to Ottawa in time for a night out.
That said, the route takes you along the beautiful Lake Ontario, which is ripe with amazing waterside attractions at every step. With that in mind, consider taking at least a full weekend, if not a full week, to enjoy the drive as much as possible.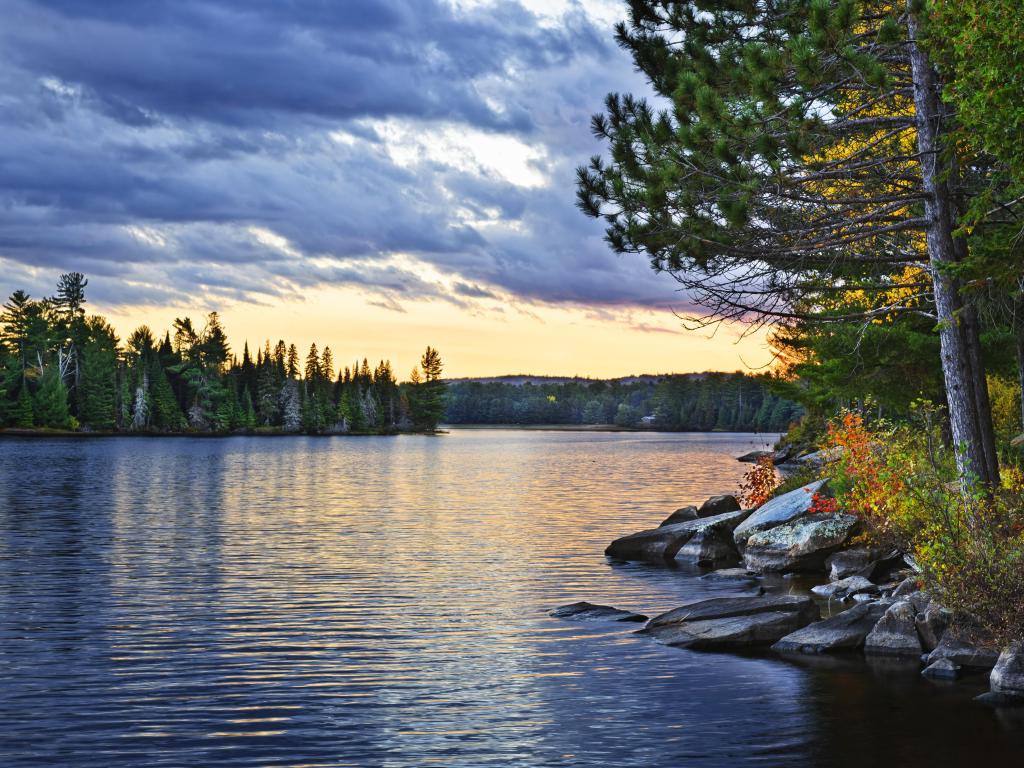 Another way of approaching this trip is by taking a more 'inland' route, just south of Algonquin State Park. This extends your driving time by about 1 hour 30 minutes and adds about 30 kilometers to the trip.
One thing to keep in mind is, if you're traveling at an unorthodox time (outside the holiday season), you can expect a fair bit of traffic pulling out of Toronto and into Ottawa. Keep a traffic monitoring app handy to avoid getting stuck in a traffic jam.
Best road trip route from Toronto to Ottawa
There is no 'best' route for the road trip from Toronto to Ottawa - the two routes have practically no overlap, so you're highly encouraged to take one on the way to Ottawa and the other on the way back.
How to drive from Toronto to Ottawa
The map above shows our suggestions for the best road trip routes between Toronto and Ottawa. Keep reading for detailed descriptions of both routes, where to stay on either, and the best things to do on the way.
The Lake Ontario Route
Leave Toronto via Don Valley Parkway, and at Parkwoods, hop onto Route 401, following it east past Morningside Park and Rouge National Urban Park. Past Greenwood Conservation Area, be sure to visit Ajax Waterfront Park and Kiwanis Heydenshore Park.
South of Courtice, visit Darlington Provincial Park, detour to Clarington and visit Jungle Cat World Wildlife Park. Back on the main route, pass Port Hope and stop at Cobourg Beach, then past Colborne, move toward the lake to visit Brighton and Presqu'ile Provincial Park.
After visiting Trenton and Belleville, visit Springside Park in Napanee, then be sure to spend a day or two in Kingston. Once you're done, visit Charleston Lake Provincial Park, then get back on the main route and follow the St Lawrence River through Brockville and Prescott.
From Johnstown, take Route 416 north over the Rideau River, then take the time to explore Manotick. Not long after passing Jack Pine Trail, drive out to Andrew Haydon Park, then follow Route 417 the rest of the way to the heart of Ottawa.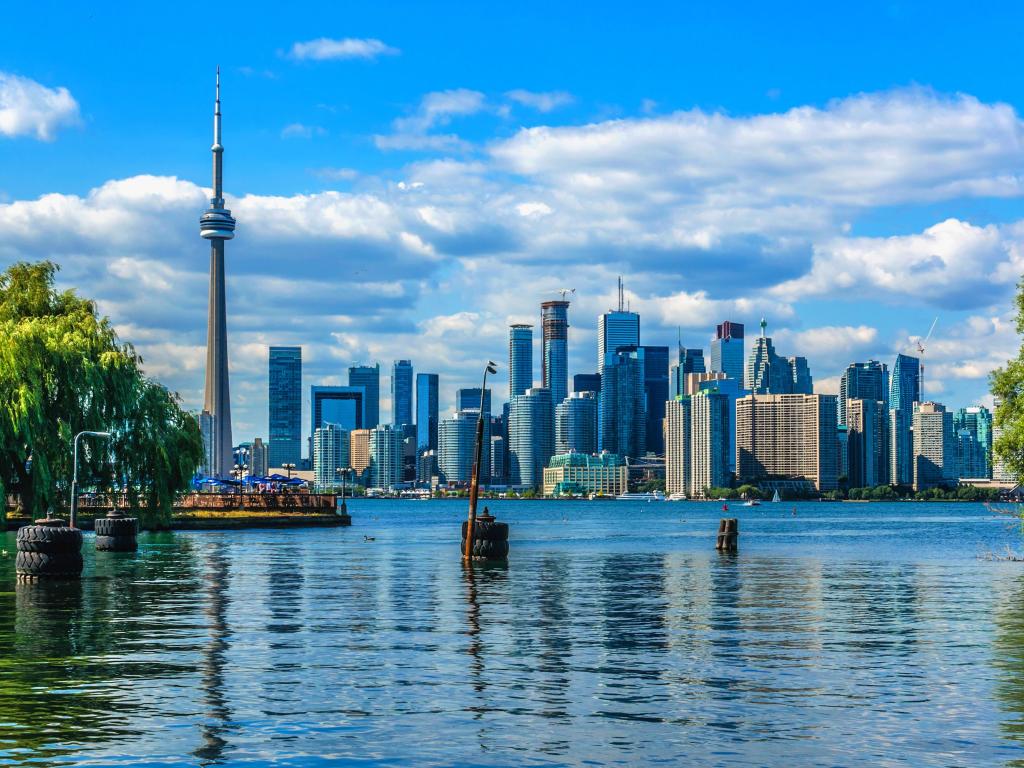 The Inland Route
Leave Toronto via Route 404, and past Newmarket, get on Routes 32 and 48, following the latter to Lake Simcoe. Visit De La Salle Park and Sibbald Point Provincial Park, then follow Route 48 east to the Trans-Canada Highway.
Just south of Gamebridge, take Route 48 again and follow it past Balsam Lake Provincial Park. At Indian Point Provincial Park, hop onto Route 38 and along Shadow Lake to Route 45. Drive out to Gooderham via Route 503, then detour to Kawartha Highlands Provincial Park.
Back in Gooderham, drive between Silent Lake Provincial Park and Algonquin Provincial Park via Route 118, then follow Route 28 to Denbigh. You can detour to Weslemkoon Lake and Bon Echo Provincial Park, then visit Bonnechere Caves in Eganville via Route 41.
Just before reaching Dacre, get on Route 132 and follow Route 417 on the Ottawa River, visiting Fitzroy Provincial Park and Morris Island Conservation. Follow the route past Diefenbunker and stay on it the rest of the way to Ottawa.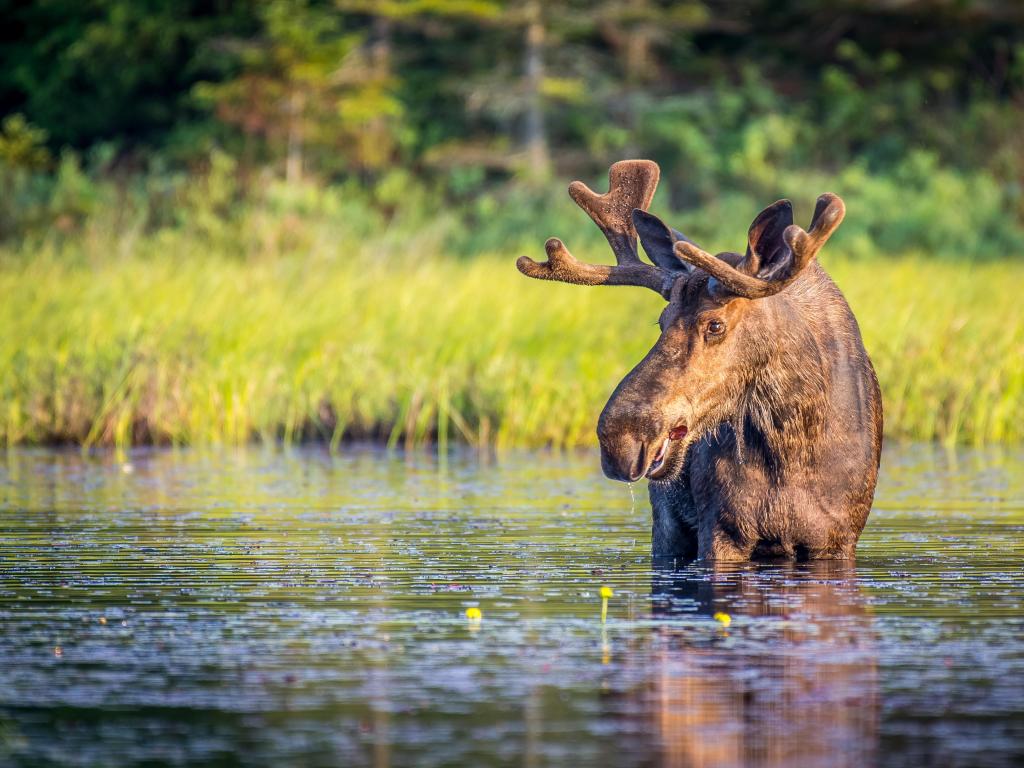 Best places to stop between Toronto and Ottawa
Although the drive is relatively short, the road trip from Toronto to Ottawa is best enjoyed over the course of several days. These are some of the best hotel options you can find along the way:
Feel like royalty in in Kingston
Located just past the halfway point of the Lake Ontario Route, Kingston makes for the perfect spot to call home for a few days during this trip. The best hotel in town is definitely the stunning All Suites Whitney Manor, housed in a beautiful 200-year-old limestone mansion.
You will feel like you are spending the night in a castle; the property features original pine or marble flooring with cathedral ceilings. The suites at this self-catered lodging boast elegant decor and luxurious amenities. Each suite has a fantastic full kitchen and some have balconies.
You might not be looking to leave any time soon, given that you might want to spend your time at the property. If you want to venture out and explore, though, downtown Kingston is only a five-minute drive away.
You will also be located a short drive away from Gananoque and Old Fort Henry National Historic Site during your stay.
Get the royal treatment in Ottawa
Ottawa is the crowning jewel of the Ontario experience, so to make your stay unforgettable, you'll want to book the best hotel money can buy - try to land a room in Fairmont Chateau Laurier Gold Experience for some of the fanciest accommodation in all of Canada.
It can be hard to even leave the five-star room once your head hits the pillow, but if you do, you'll be rewarded with two spectacular on-site restaurants. If you want to burn some calories afterwards, be sure to hit the fabulous on-site gym.
Another way of getting active is to get a bicycle and go exploring - places like Peace Hall and Parliament hill are only a short bike ride away.
For a more relaxing day, you can always dive into the swimming pool or even meet some fellow tourists on the shared terrace. After a long day spent outdoors, though, nothing beats a relaxing massage, and you can get an amazing one on-site.
Needless to say, the price of the hotel is on the high side, but it has anything you could possibly need and much more for the ultimate Ottawa stay.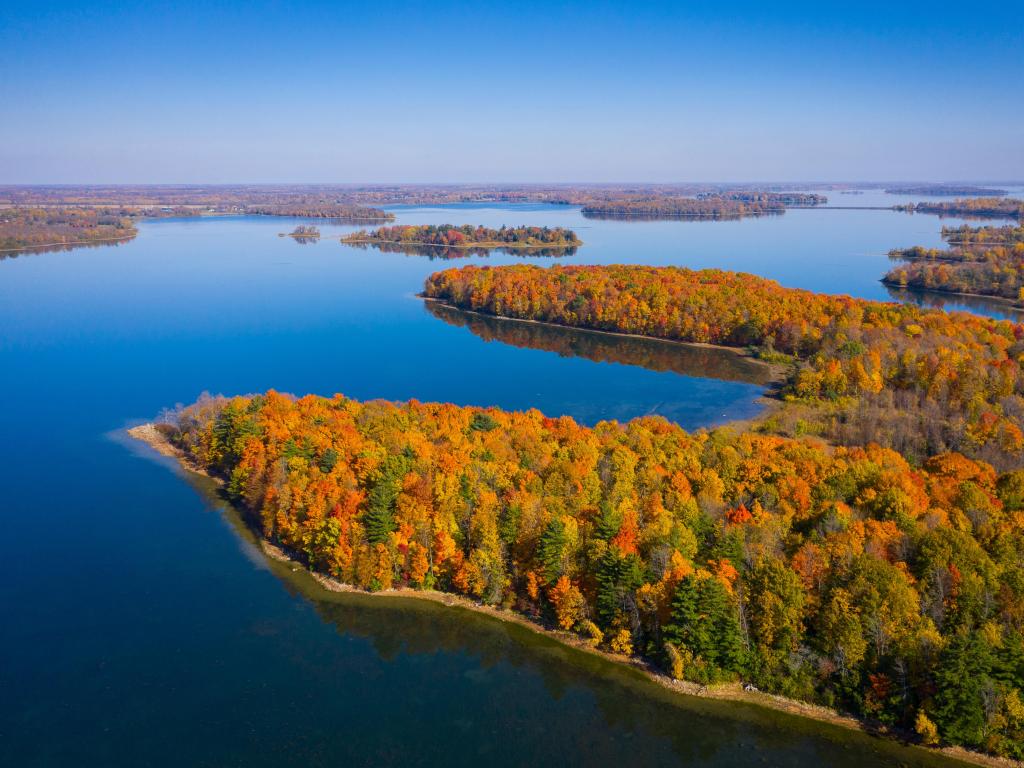 Things to see on a road trip from Toronto to Ottawa
The road trip from Toronto to Ottawa is full of beautiful places to check out. As hard as it is to make a comprehensive list, these are some of the absolute must-sees:
Petticoat Creek Conservation Area - Located in Pickering, this area is the perfect spot for a hike to Lake Ontario.
Rouge National Urban Park - Named after the Rouge River, you can visit a number of historic monuments and scenic camping areas here.
Greenwood Conservation Area - This park offers plenty of options for year-round recreation, from hiking and fishing to skiing.
Oshawa - Charming lakeside city that houses various famous parks, trails, and museums.
Jungle Cat World Wildlife Park - If you've ever wanted to experience the great outdoors and its wild animals at night, all while remaining completely safe, a guide tour through this park is one you won't want to miss out on.
Cobourg Beach - This beach is arguably the best swimming and sunbathing spot Lake Ontario has to offer.
Presqu'ile Provincial Park - A park full of scenic hiking trails that cut through lush-green wetlands all the way to Lake Ontario.
Kingston - Owing to its old-timey buildings, Kingston is affectionately referred to as Limestone City.
Thousand Islands National Park - A defining part of the 1000 Islands Walkway, this park is a conglomerate of several dozen mini-islands.
Boldt Castle & Boldt Yacht House - A thirty-minute boat ride from the coastline is all that separates you from this historic mansion on Heart Island.
Sibbald Point Provincial Park - A breathtaking beach and some of the most scenic hiking trails in Canada call this park home.
Kawartha Lakes - The city's numerous lakes make it a popular hub for people who enjoy swimming, fishing, and other water-based activities.
Algonquin Provincial Park - An iconic park that features countless lakes and beautiful hilltop vistas as far as the eye can see.
Bon Echo Provincial Park - This park is home to Mazinaw Rock, which is covered in over 200 pictographs.
Bonnechere Caves - An all-natural cave system that you can explore with the help of an experienced tour guide.
The Diefenbunker - This museum might be Canada's most famous reminder of the Cold War.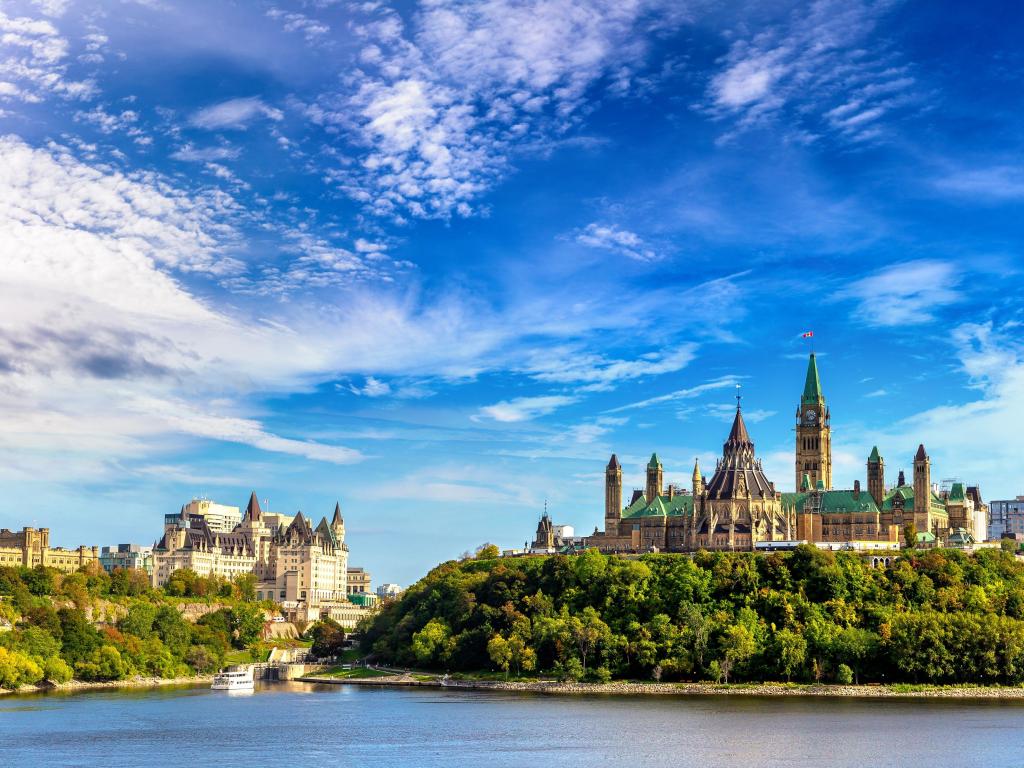 Best time to go on a road trip from Toronto to Ottawa
The best time to do the road trip from Toronto to Ottawa depends on what you're after - certain parts of the drive are more scenic at different times of the year.
If you want to make the most of Lake Ontario, you might want to avoid the drive in the winter. On top of that, the abundance of provincial parks look best in their spring and summer attire.
As far as Ottawa goes, summer is the peak season owing to the mid-20s temperatures - with the city being so close to the American border, lots of tourists who are unaccustomed to Canada's chilly winters like to anchor down here between June and August.
The problem with visiting in the summer is that the crowds can make it hard to find a hotel room in the heart of the city. If you decide to visit around this time, be sure to book your room well in advance.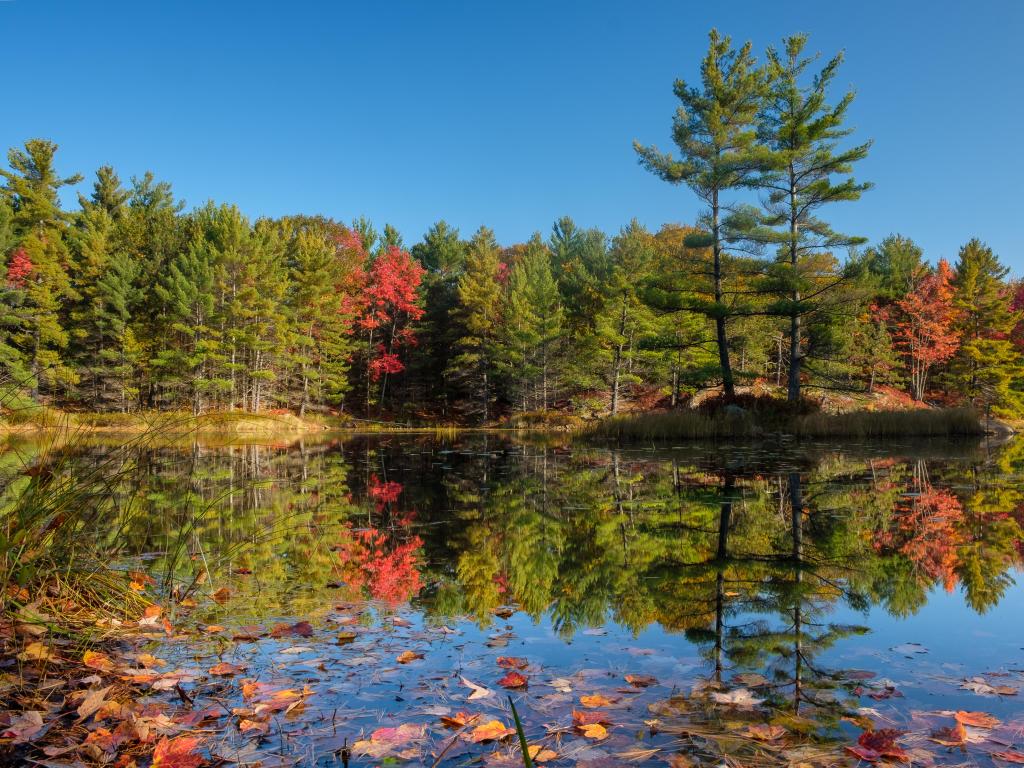 For the quintessential Canadian experience, you can always visit in the winter - the low temperatures deter most foreign travelers from visiting this time of year, but this makes it easy to get a good bargain on accommodation and explore the city in peace and quiet.
If you want to strike the ideal balance between good temperatures and modest crowds, late spring and early fall are amazing times to do the trip as well. Still, keep in mind that winter temperatures can linger out of season too, so be sure to pack some warm clothes.