Road Trip From Toronto To Quebec City
If you want a straightforward yet unforgettable Canadian adventure, be sure to plan a road trip from Toronto to Quebec City. Connecting these major metropolises and passing through Montreal and various iconic landmarks, this is a trip you're bound to remember for life.
The 800km road trip from Toronto to Quebec City takes 8 hours to drive. Key stops include Boldt Castle, Cobourg Beach, Upper Canada Village, Village Québécois, La Mauricie National Park, as well as the cities of Kingston, Ottawa, and Montreal.
There's a lot to see during this amazing road trip, so be sure to read until the end to plan out the best journey you can.
How far is Quebec City from Toronto and how long will the road trip take?
The road trip from Toronto to Quebec City covers 800 kilometers and takes around 8 hours to drive - if you leave Toronto around sunrise, you could easily get to Quebec City in time for an evening out.
With that said, this is the kind of road trip you definitely won't want to rush - if you can help it. Try to take around a week to explore all the places this epic route has to offer.
Starting off at Lake Ontario, the route takes you past some of the most stunning attractions at the Canadian-American border. This gives you some nice leeway if you want to detour to attractions in North America to spice up your trip.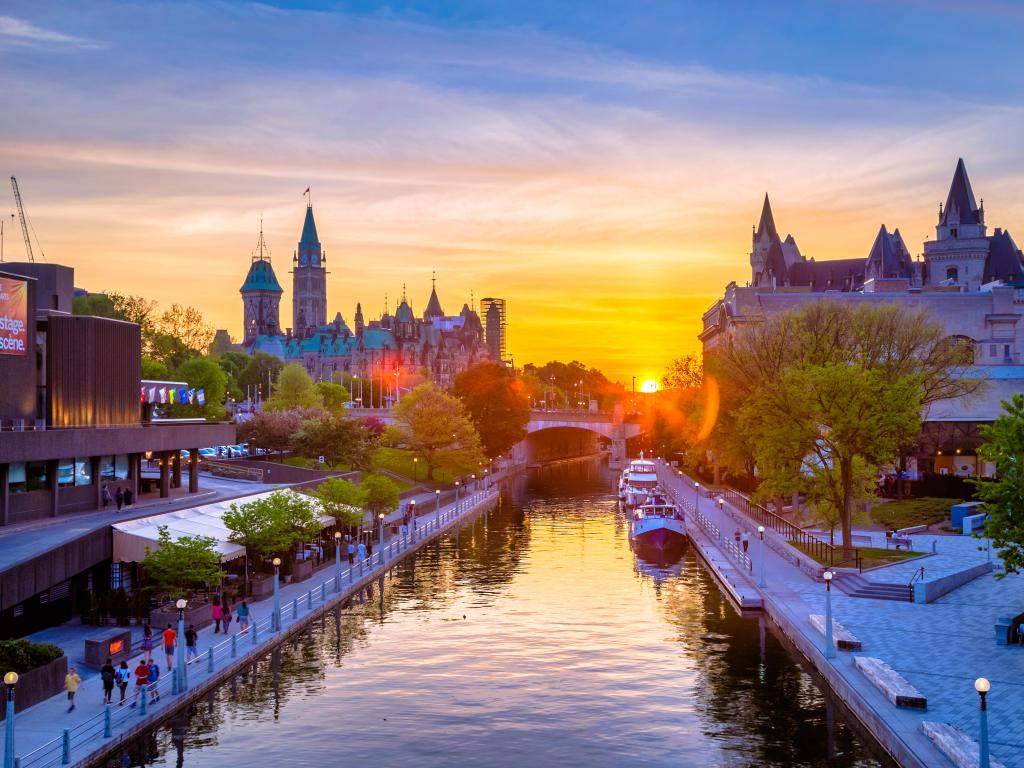 Heading out of Toronto and into Quebec City could get you caught up in traffic if you leave at the wrong time, and Montreal could cause some trouble too - try to plan your stops according to the congestion up ahead and your proximity to the nearest major city.
Best road trip route from Toronto to Quebec City
The best road trip route from Toronto to Quebec City mostly sticks by the St Lawrence River - you're highly encouraged to do some detours along the way if you have the time, as the relatively straightforward drive has plenty to offer in the way of detours.
Road trip route from Toronto to Quebec City
Take The Don Valley Parkway out of Toronto, then hop onto Route 401 through Scarborough and past Beachfront and Ajax Waterfront Parks. Past Lynde Shores Conservation Area, be sure to detour to Oshawa and Peterborough.
Pay a visit to Rice Lake, then spend some time at Belleville before pulling into Kingston. Further east, take a break at Thousand Islands Conservation Area, then detour into America to visit Boldt Castle by boat if you can.
Back on the main route, drive out to Selton and detour to Charleston Lake Provincial Park. Then, get back on Route 401 and follow it to Brockville (be sure to visit Brockville Railway Tunnel!), then visit the Upper Canada Village near Morrisburg.
Spend some time in Cornwall and at Saint-Zotique Beach, get on Autoroute 20 and visit Fort-Coteau-du-Lac. Then get on Autoroute 30 and cross the St Lawrence Tow Bridge and visit St Timothee Islands Regional Park, and be sure to make a stop at Montreal.
Drive past Mont-Sant-Bruno National Park before getting on the Trans-Canada Highway, and visit Village Québécois. Detour to Victoriaville and Parc National de la Mauricie - Entrée St-Jean-des-Piles, then get back on the main route and follow it to Quebec City.
Best places to stop between Toronto and Quebec City
The relatively lengthy road trip from Toronto to Quebec City passes through a number of major cities, so there should be no shortage of places to rest up for a night or two. These are some of the best hotels the route has to offer:
Relax in a spotless room in Montreal
Montreal is one of the biggest metropolises in all of Canada, so it stands to reason that it would house some of the area's finest hotels. If you want an unforgettable stay, be sure to book a room at The Ritz-Carlton, Montreal, famous for its breathtaking interior design.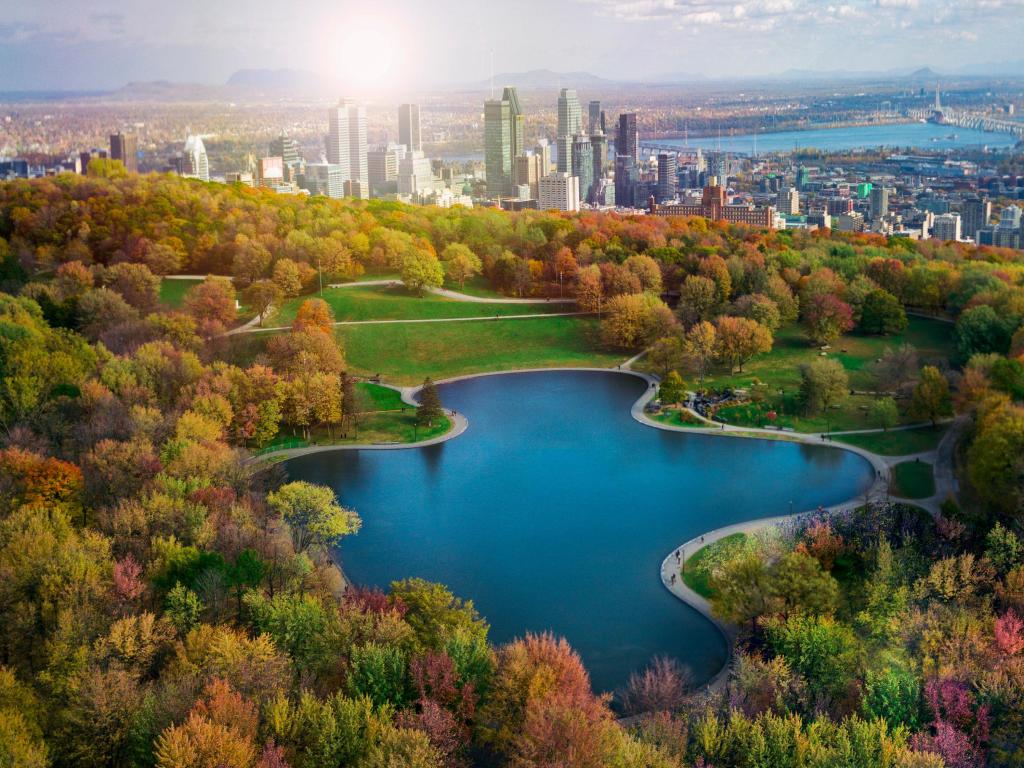 The rooms at this hotel are made to impress, so you're guaranteed to feel rejuvenated after spending a night here. If you're feeling hungry, the three on-site restaurants should have no trouble filling you right up for a day of sightseeing in town.
If you want an ocean-like experience, a saltwater pool is available on-site, and for something even fancier, consider spending an afternoon in the beautiful spa center.
Some days are lazier than others, so if you don't feel like getting out of bed, you can get pampered with an in-room massage. Once you've recharged your batteries, all the best attractions in Montreal will practically be right at your doorstep.
The hotel is a bit expensive, but since it offers everything you could possibly want and imagine, the price tag is more than fair.
Enjoy the very best of Quebec City
The colonial Quebec City is one of the most beautiful spots in all of Canada, so for the cherry on top this road trip, you'll want to book the city's best hotel - that would have to be Fairmont Le Chateau Frontenac, whose views of St Lawrence River are as amazing as they come.
The only thing better than the rooms themselves are the hotel's awe-inspiring panoramas, which can be enjoyed from the rooms and terrace areas alike. Also, every part of this hotel just looks five-star - even the hallways are like something out of a medieval castle.
Boasting everything from a swimming pool and hot tub to a fitness area and steam rooms, this hotel goes above and beyond to cater to its guests' every whim.
Every kind of dish you could think of can be found at the on-site restaurants, and once your appetite's been quenched, you can go explore the countless attractions located right around the corner from the resort.
Price-wise, your stay here will be quite expensive by Quebec City Standards, but this is undoubtedly the city's finest hotel, so this is something to be expected.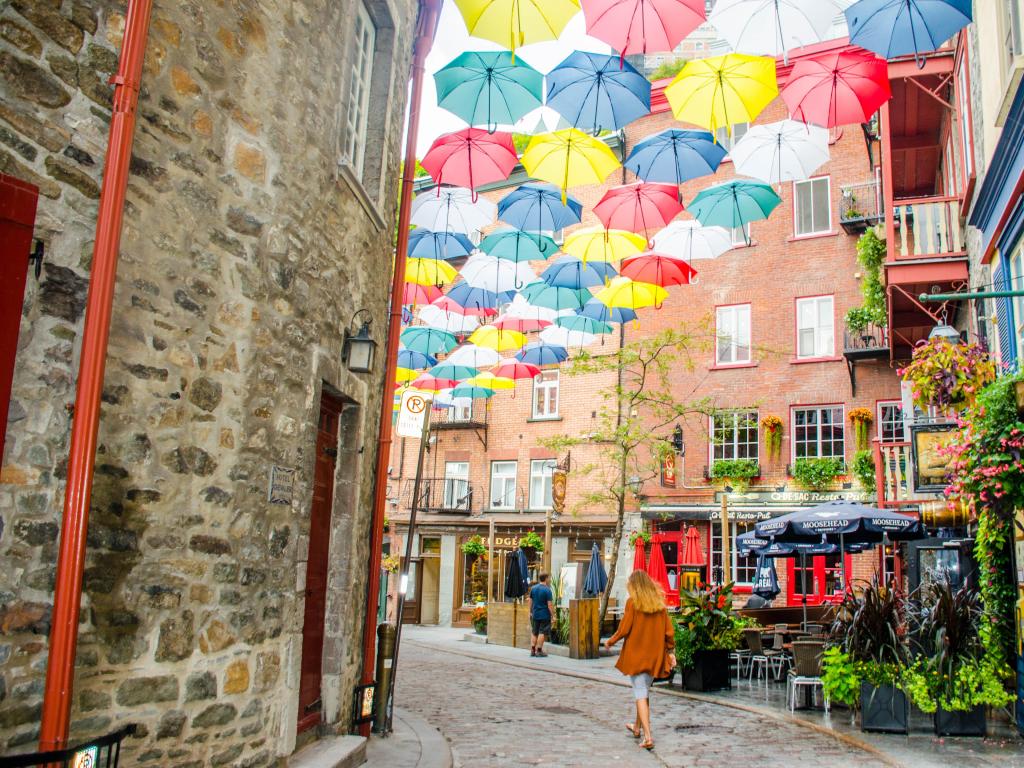 Things to see on a road trip from Toronto to Quebec City
The road trip from Toronto to Quebec City takes you past some of the most scenic parts of Canada. Listing everything there is to see would be impossible, but these are the places you definitely need to find the time for:
Markham - One of the largest cities in the Ontario region and a must-see during this epic drive.
Rotary and Ajax Waterfront Parks - These two scenic parks located by Lake Ontario are the perfect places for a campout and some water-based sporting activities.
Iroqouis Park Sports Center - If you're into winter sports and there happens to be a game going on, this roadside sports center is a great place to kill an afternoon.
Oshawa - This beautiful Ontario city is one of Canada's major automotive and scientific hubs.
Jungle Cat Wildlife Park - You can enjoy a guide tour of this wildlife park at night to get a taste of what surviving in the wilderness might be like.
Cobourg Beach - Arguably the most scenic beach along Lake Ontario and the perfect place to catch a tan in the otherwise chilly Canada.
Presqu'ile Provincial Park - A set of scenic hiking trails that cut through gorgeous wetlands all the way to Lake Ontario.
Kingston - Thanks to its unique architecture, this major city by Lake Ontario is often referred to as The Limestone City.
Boldt Castle & Boldt Yacht House - A beautiful castle located in New York State located just 30 minutes from the main route by boat.
Brockville Railway Tunnel - Canada's oldest railway tunnel is now a major tourist attraction, distinguished by its colorful LED-lit passageways.
Ottawa - Although it's a bit of a detour, Canada's capital is a must-see for anyone who wants to make the most of this scenic road trip.
Upper Canada Village - A historic heritage park that gives visitors a brief glimpse into living in Canada in the 19th century.
Montreal - Home to the Notre Dame Basilica and The Montreal Museum of Fine Arts, Quebec's largest city is one you definitely need to spend a few days in.
Village Québécois - A similar attraction to Upper Canada Village in many respects, this blast from the past features about 100 19th century-style houses and constructions
La Mauricie National Park - One of Canada's finest nature resorts, this park is a refuge for countless incredible animals residing along the St Lawrence River.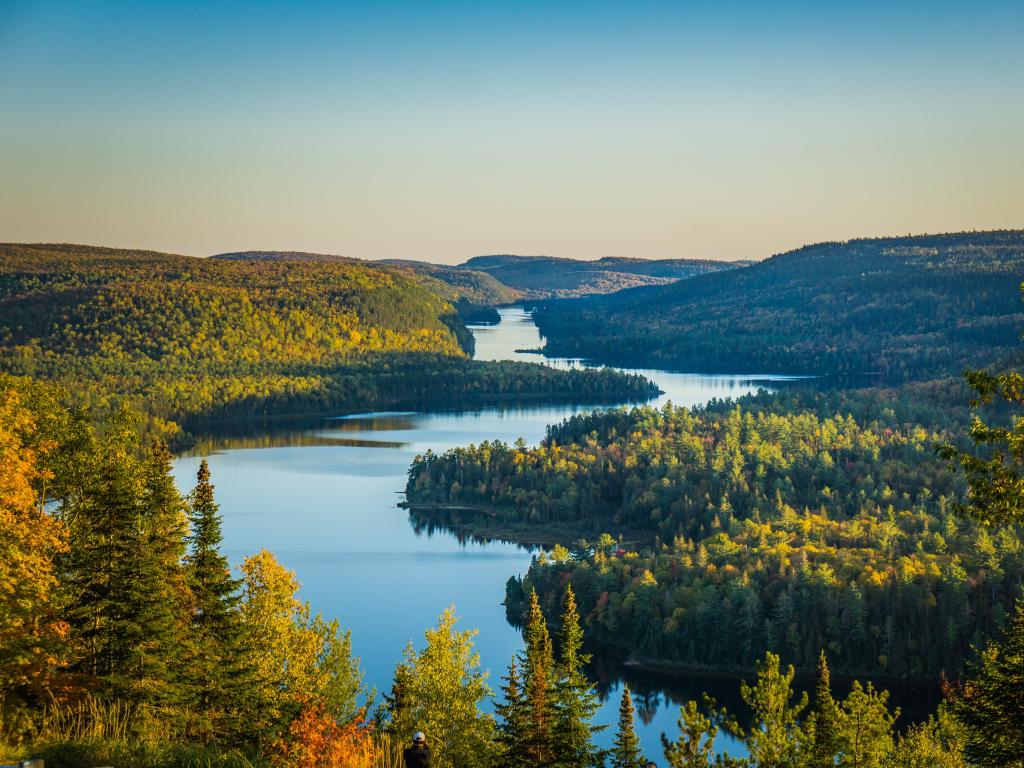 The great thing about this road trip is that you can spice things up at any point by crossing over into The States - if you're feeling adventurous, the states of New York, Vermont, and Maine are never too far from the main route.
Best time to go on a road trip from Toronto to Quebec City
The road trip from Toronto to Quebec City is quite different depending on when you decide to do it - both the route and the final destination benefit from visiting at different times of the year.
If you want to make the most of Lake Ontario during the drive, you may want to do the trip during the warmer months. This allows you to go for a dip and enjoy all the provincial parks that make this route so unique.
Ottawa City's peak tourist seasons are summer and winter - the mid-20s Celsius temperatures in the summer allow for plenty of interesting outdoor festivals, and despite the cold weather in the winter, events like The Quebec Winter Carnival never fail to draw a large crowd.
If you're less interested in mingling and you want to explore the city's signature attractions, spring and fall are also great times to visit. The weather these times of year is quite mild by Canadian standards, and the lack of crowds means you can get a sweet deal on a hotel room.
Also, for non-Canadian travelers, you may want to consider whipping out your winter tires, even if you're traveling in the spring - the cold climate means that winter's snowfall will often linger into March or April, especially around the Montreal area.