Road Trip from Toronto to New York
A road trip from Toronto to New York City takes you between the most populous cities in Canada and America, passing through some truly incredible landscapes along the way.
The 860-kilometre road trip from Toronto to New York City takes around 8 hours to drive, taking in part of the Great Lakes, Niagara Falls, Buffalo, Rochester, Albany, Woodstock, the Catskills and the Hudson Valley en route.
Read on to learn more about what awaits on you on this fantastic journey to the Big Apple, including the route itself, where to stay along the way, the best things to see, and the perfect time of year to make this amazing road trip.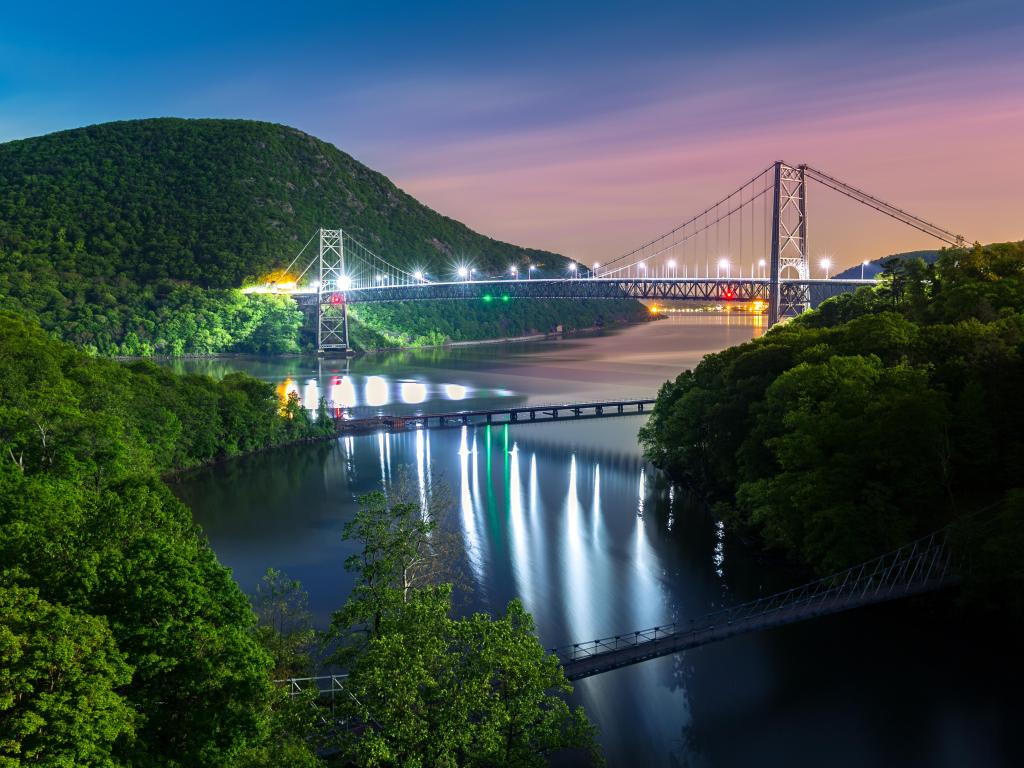 How far Is New York from Toronto and how long will it take to get there?
A road trip from Toronto to New York takes around eight hours and covers a minimum of 760 kilometres (472 miles).
It's at the top end of what most people are willing to drive in a day, but we would strongly encourage you to split it across two or more days. That way you have plenty of time to take things slowly and enjoy some of the things along the way that you would otherwise miss.
If you're unsure about stretching out the trip, take a look at the slightly longer route we suggest. It covers 860 km (534 miles) and takes 8 hours 30 minutes of driving, but provides you with even more to see and do along the way.
Best road trip route from Toronto to New York
The route for our road trip from Toronto to New York begins in the province of Ontario, in the most populous city in Canada. It will take us across the border and through the US states of New York and New Jersey, before bringing us to our destination in America's most populous city, NYC.
It goes without saying that, as this route crosses the international border between Canada and the US, you will need to check whether you need travel documents ahead of your journey. These will vary depending on your nationality, so make sure to plan ahead to avoid any last-minute delays to your trip.
Road trip route from Toronto to New York
Set off west on Queen Elizabeth Way and follow it around the western shore of Lake Ontario, until it brings you to Ontario Highway 420, which you will follow across Rainbow International Bridge and into America. This border crossing can get busy in peak season, sometimes adding an extra hour to your journey.
After crossing the border take Rainbow Blvd south to John Daly Boulevard. Turn right onto this and then, almost immediately, cross the roundabout onto Niagara Scenic Parkway.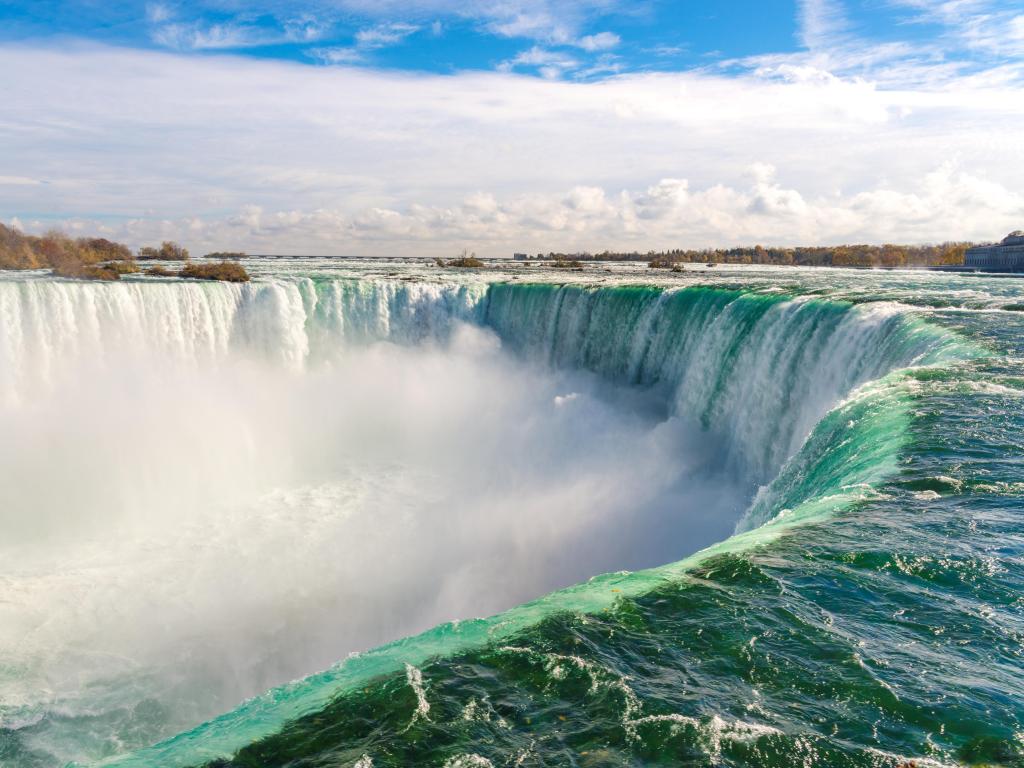 Follow this its entire length, along the banks of the Niagara River, until it merges with the I-190. Take that south across Grand Island and then, once you have passed back onto the mainland, exit onto the I-290.
Merge onto the I-90 at Exit 1-49, and follow this all the way to Albany, passing Rochester and Syracuse on the way.
At Albany, you'll switch onto the I-87 and follow it south along the historic Hudson valley.
If you're stopping at Woodstock, leave the I-87 at exit 20, then make your way back to the Interstate to carry on your journey. Or alternatively, simply remain on the I-87 until it merges with I-287, some 193 km (120 miles) away, in Hillburn.
Take that west and then immediately switch onto New Jersey 17 going south. Follow that to its conclusion in Rutherford, where you will switch to New Jersey 3 going east.
This will take you all the way to Union City, where you will make one final change, onto Route 495, and follow it through the Lincoln Tunnel and into New York City.
Best places to stop between Toronto and New York
With your road trip from Toronto to New York City taking around 8 and a half hours, many people reading this would prefer to split the journey up over two days, rather than doing it in just one.
For those of you that would, you have a couple of options to make that stop along the route. Or if you plan to turn this into a longer trip, why not visit them both to see two different sides of New York state.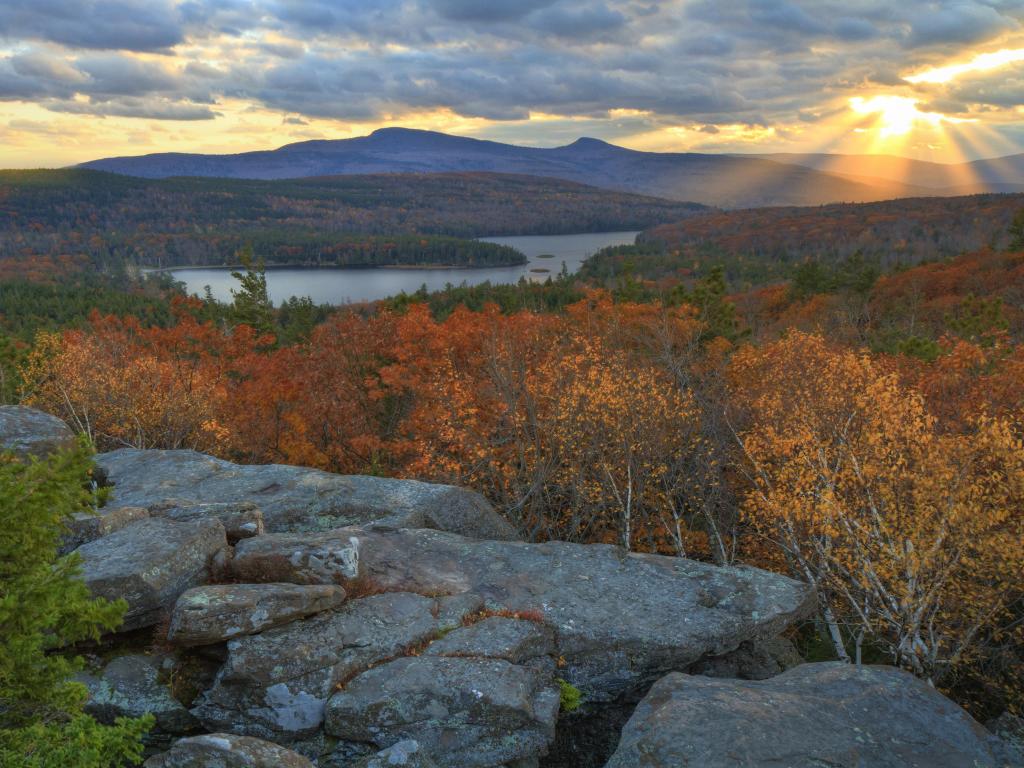 A tale of two Capitals: from Toronto to Albany
One of the oldest cities in America, originally founded as a fur trading post in 1614, Albany has a population of less than 100,000, compared to NYC's 8.4 million, so it's is a place with a much slower pace and considerably fewer tourists.
With its historic buildings and vessels, dating all the way back to when the city was founded, Albany will fill your trip with a true sense of what the state of New York was like when the first settlers arrived. The beautiful State Capitol and the Schuyler Mansion are well worth a visit, as well as the museums which will help you learn about the legacy of this often overlooked city.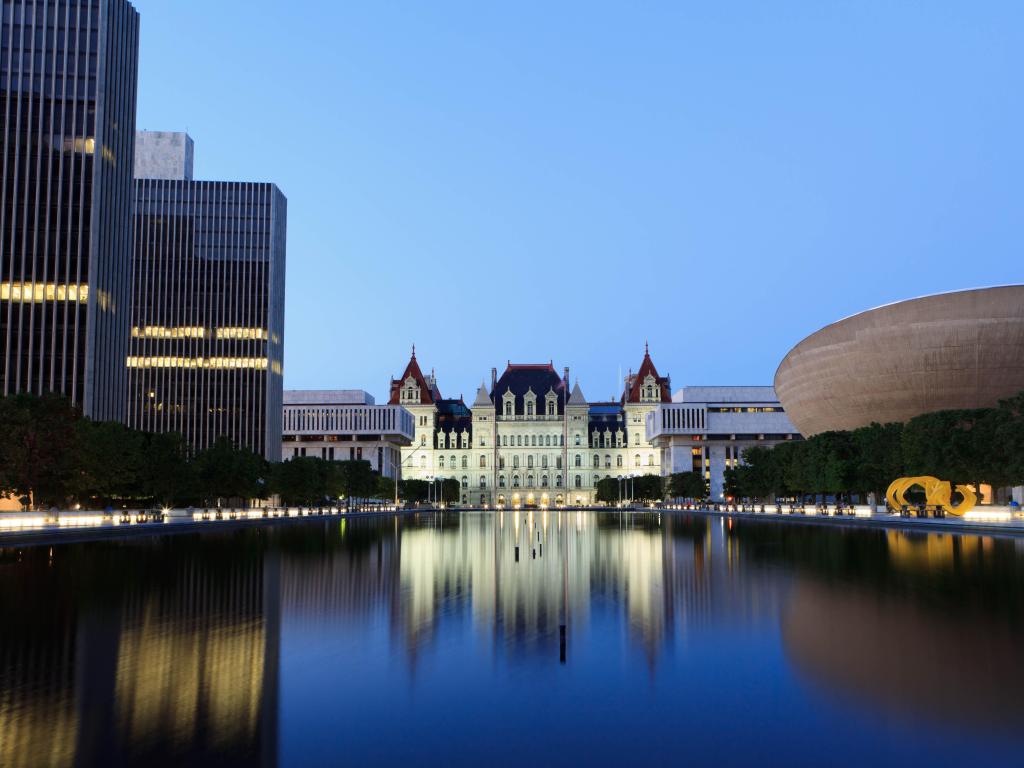 You can be sure of a great stay during your trip to Albany with a stopover at Staybridge Suites Albany Wolf Rd-Colonie Center, an IHG Hotel. A little outside the city center, this traditional style hotel boasts great sized rooms, and beautiful outdoor terrace and gardens, with heated indoor pool and hot tub to relax in after a busy day.
You are also just a short drive to many of the top attractions including Albany Institute of History Art and Capitol Building, with convenient on-site parking as an added bonus.
Chill out in Woodstock
With its bohemian heart and beautiful setting, Woodstock makes for a great final stop. A couple of hours away from New York, take some time here to slow down and relax - the town is a real contrast to the big city that awaits you.
While the legendary music festival of 1969 didn't actually end up here (it ended up with four venue changes, settling in Bethel, NY) you'll still catch an alternative vibe and musical heritage in Woodstock. Take a stroll down Tinker Street to explore its independently owned stores, or enjoy a meal in one of the town's excellent small eateries.
Engage with your creative side when you visit the town's galleries, live music venues and theatres - check ahead to see what's showing when you're in town. If you're planning on spending a longer in the area you could even sign up for a short course at Woodstock School of Art, though these often run across two weekends so they won't suit every road trip itinerary.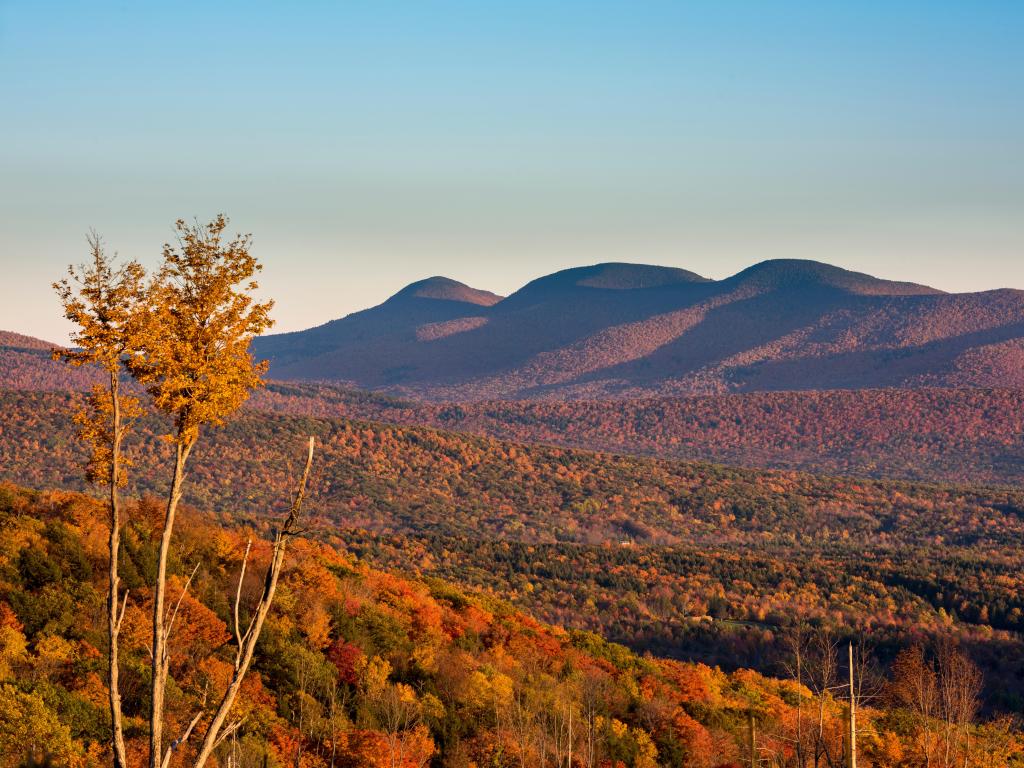 Nestled in the beautiful Catskills and with mile after mile of stunning scenery on hand, Woodstock is also a great base for exploring this wild area.
With this in mind, where better to stay than the fantastic Woodstock Way Hotel, where striking modern design connects perfectly with the natural surroundings. With immaculately-presented cabins and rooms in a fabulous river-side setting right in the centre of Woodstock, you're perfectly located to explore the town.
While you're here we'd also recommend a walk over to KBD, the town's own Tibetan Buddhist Monastery. It's the perfect place to pause and reflect before you pick up the pace again and carry on towards the bustle of New York City.
Things to see on a road trip from Toronto to New York
At eight and a half hours, a road trip from Toronto to New York is a journey of a reasonable length, so you are going to want plenty to see along the way to keep it interesting.
With that in mind, the following locations along your journey should help you plan an unforgettable trip.
Lake Ontario - A member of the legendary Great Lakes, it is the smallest of the group by area but still ranks as the 13th largest lake on Earth.
Niagara Falls - This collection of 3 waterfalls is one of the world's most popular natural attractions, and also an important hydroelectric plant. Reaching across the US-Canada border, you can enjoy the beautiful views or take an exhilarating boat trip out to the falls.
Buffalo, New York - The second most populous city in the state of New York, it lies on the shores of both Lake Erie and the Niagara River. It's a popular destination for tourists visiting the falls, and also one of the earliest locations in the country to adopt the use of electricity.
Lake Erie - The second smallest of the Great Lakes by area, although containing a substantially smaller volume of water than the rest of the group, it ranks as the 11th largest lake in the world overall.
Rochester, New York - Recognised as a global centre for science, technology, research and development, this is a perfect stop for those interested in learning about the industrial evolution of America throughout the years.
Seneca Falls - A small town with historic significance, break your trip here to stretch your legs on a walk through the historic district or beside the water. Just don't expect to see a waterfall, despite the town's name.
Montezuma National Wildlife Refuge - An important location along the Atlantic Flyway, this beautiful, swampy, refuge is the perfect location to spot some rare and unusual species of birds.
Albany, New York - The capital city of New York state, it is one of the oldest and smallest state capitals in the country.
Zipline New York - One of the longest and fastest in the country, giving you a whole new perspective on the beautiful Catskills.
Harriman State Park - The second largest state park in New York, this stunning location features more than 320 km (200 miles) of hiking trails, surrounded by lakes, streams, beautiful views and an abundance of wildlife in every direction.
Karma Triyana Dharmachakra - Woodstock's Tibetan Buddhist monastery is open to visitors, either to take a tour or to join in with the daily practices.
Opus 40 Sculpture Park, Saugerties - A beautiful sculpture park in a stunning natural setting, with performance art and sculpture displayed in reclaimed quarries. Check opening dates before visiting.
Staatsburg State Historic Site - This impressive mansion with views of the Hudson and the Catskills will give you a glimpse of life in America's Gilded Age in the early 1900s.
Historic Huguenot Street, New Paltz - A museum built around the stone houses of French settlers, which tells their stories and those of Indigenous communities they lived alongside.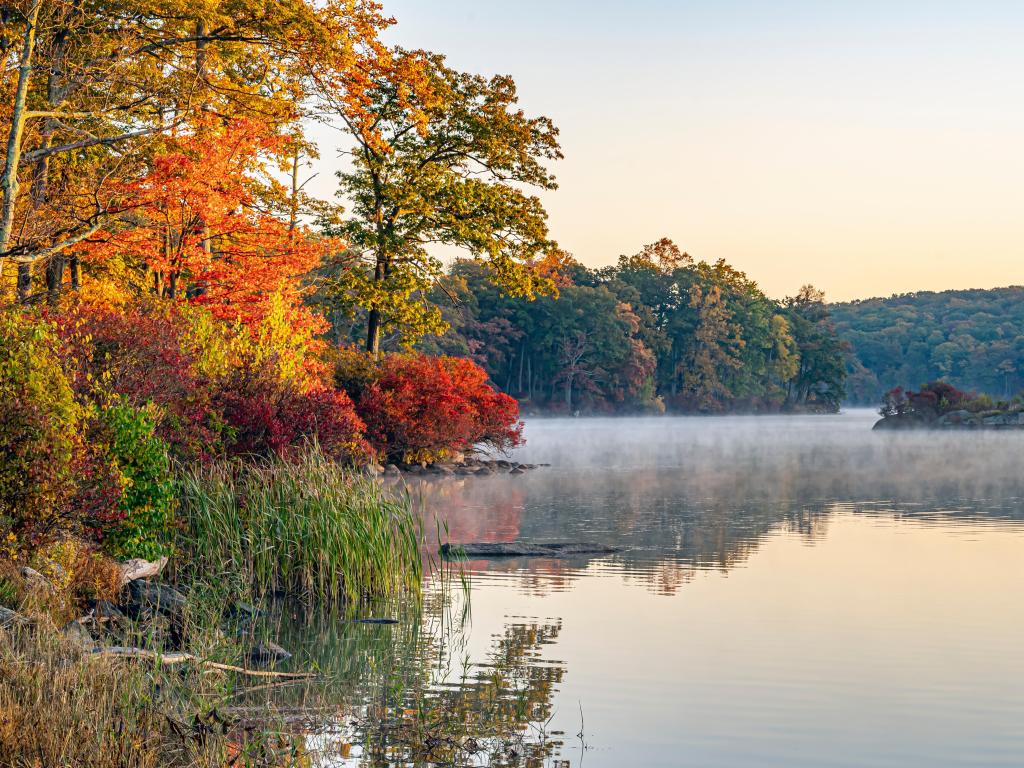 Best time to go on a road trip from Toronto to New York
Deciding on the perfect time to make a road trip from Toronto to New York is a tricky one, as it depends largely on what you are looking for from the trip.
New York's world-famous Christmas attractions can turn the city into a winter wonderland in December, when you'll be able to see the Rockefeller Christmas Tree, the Saks Fifth Avenue Light Show, or take a horse-drawn carriage through snow-covered Central Park.
However, you're likely to encounter snowy conditions in Toronto and upstate New York from December to March, meaning that some of the attractions we've recommended along the route won't be accessible. You'll also need to be prepared for driving in harsh conditions.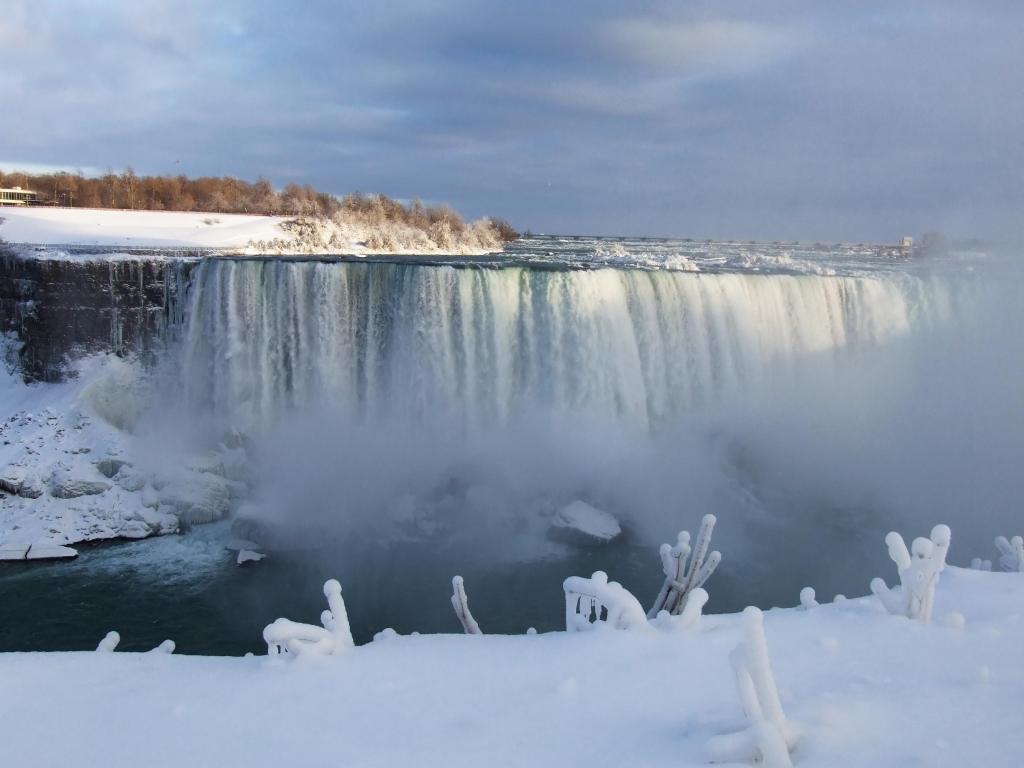 A lot of this route lends itself to a visit in the late spring or early fall - May, June and September. Although the state's location on the North Atlantic coast means rain can roll in at any time of year, temperatures at these times are in the mid-20s.
This means you'll be able to enjoy the many lakes, mountains and forests along the route, then stroll around New York City's famous parks and landmarks at your leisure. You'll also skip the crowds and high, humid temperatures that can make summer in the city less relaxing.