Is Toronto Walkable: Our Guide to Exploring the City without a Car
Known for its skyscrapers, lake views and cosmopolitan vibe, Canada's largest city Toronto is a fabulous destination whether you're setting off on a city break or a cross-country road trip. It's the country's commercial centre and a cultural hub, with significant film and theatre industries and many museums and galleries.
Toronto is one of the most walkable cities in Canada. With over 140 official neighbourhoods, the best way to explore the city is on foot. With good public transport links and plenty of parking you can visit many areas in Toronto easily with or without a car.
Toronto has been rated the safest city in North America, which is one of the reasons why it is known as a very walkable destination. Dive beneath the surface of Toronto's different neighbourhoods and learn more about what makes exploring them on foot easy.
Is Toronto walkable?
Toronto is a huge city with a population approaching 7 million, so don't expect to be able to see it all in a short visit, especially not on foot. It's a 20-km drive just to get from one side of Old Toronto to the other!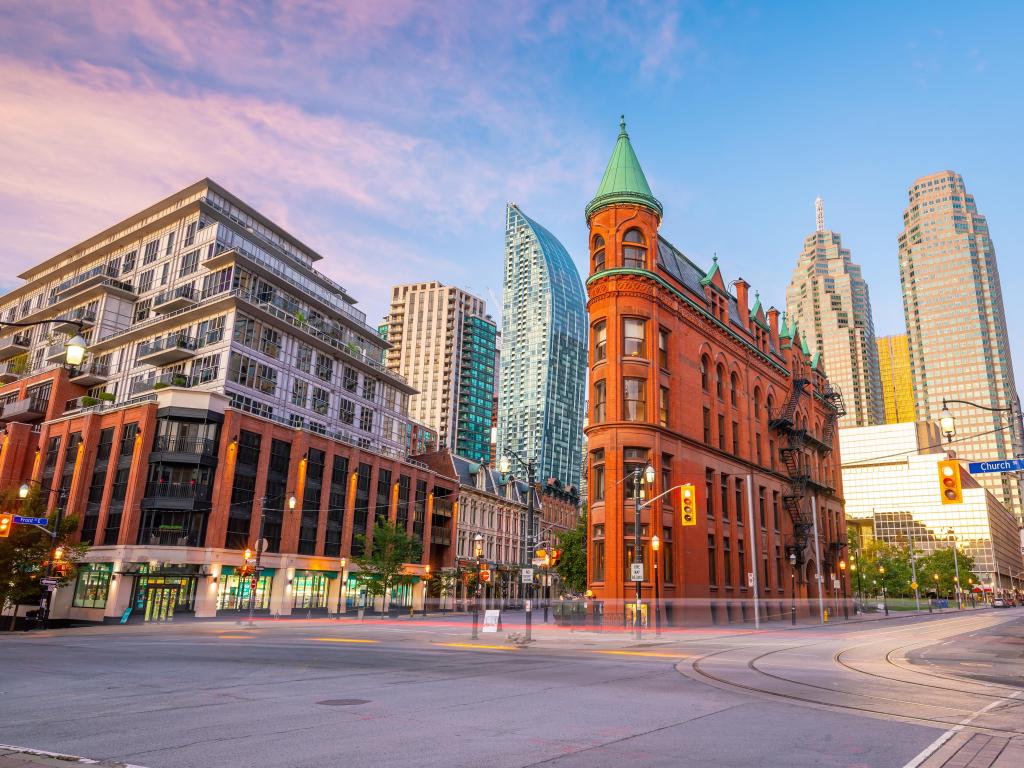 Although the city boundaries were expanded way back in 1998, people still refer to the district inside the original city limits as Old Toronto. Downtown Toronto is within this district, running down to the shore of Lake Ontario - it's also referred to as "the core."
The other central districts are York, North York, East York, Etobicoke and Scarborough.
The sheer size of Toronto doesn't mean you have to rely on four wheels to have a great time in the city, though. The distinct neighbourhoods that you'll find within each district actually make Toronto the perfect place to explore on foot, and once you've decided which parts of the city to visit, it's a really walkable destination.
Walking a short distance within a single district can give you a real feel for what makes Toronto such a vibrant and varied place. Keep on reading to discover what's in store!
Best walking itinerary in Toronto
As you've already discovered, there's plenty of choice when it comes to visiting Toronto's neighbourhoods on foot! It's a great way to get a feel for this truly diverse city.
It's simple to skip between the city's main attractions using public transport, but we've put together a 2-day walking itinerary that allows you to explore some of the places in between as well. You shouldn't need to walk more than 20 minutes at a time between these stops.
Day 1 Itinerary: Grange Park, Old Town, St Lawrence and Distillery District
Day 1 of our perfect 2-day walking itinerary for visiting Toronto

| | Activity | What you'll be doing |
| --- | --- | --- |
| 1 | Arrival | Drive to Grange Park, to the north of Old Toronto |
| 2 | Park | Park your car at Green P lot 150 on Larch Street |
| 3 | Visit | Art Gallery of Ontario |
| 4 | Visit | The Grange in Grange Park |
| 5 | Walk | Head southwest to Old Town and St Lawrence |
| 6 | Lunch | Enjoy a meal at Buster's Sea Cove or Carousel Bakery in St Lawrence Market |
| 7 | Walk | Stroll through the historic streets of Old Town Toronto |
| 8 | Visit | Cathedral Church of St James |
| 9 | Visit | Toronto's First Post Office |
| 10 | Walk | End the afternoon with your favorite drink at the Distillery District |
| 11 | Check-in | Check-in to The Omni King Edward Hotel |
| 12 | Dinner | Enjoy a meal at Woods' Restaurant on Colbourne Street |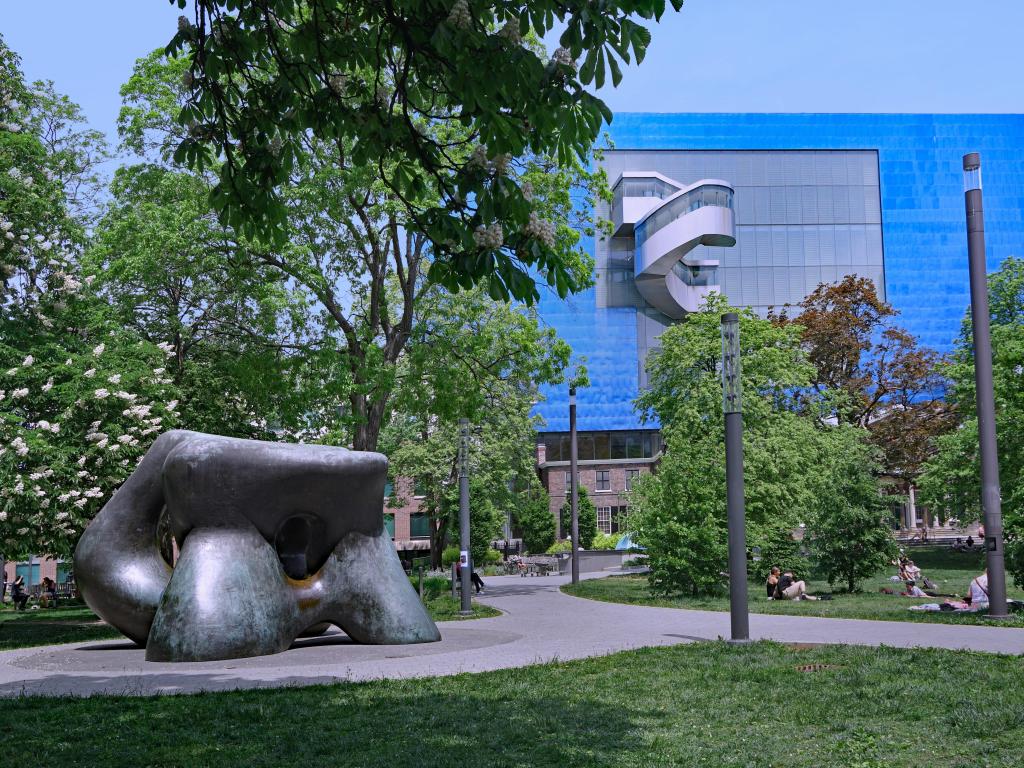 Day 2 Itinerary: Downtown West and beyond
Day 2 of our perfect 2-day walking itinerary for visiting Toronto

| | Activity | What you'll be doing |
| --- | --- | --- |
| 13 | Breakfast | Enjoy a meal at the hotel or Evviva on Lower Simcoe St |
| 14 | Walk | Head to Downtown West neighbourhood |
| 15 | Visit | CN Tower |
| 16 | Walk | Take a leisurely stroll through the Fashion District |
| 17 | Visit | Admire Chinatown and tour Kensington Market |
| 18 | Lunch | Head to Little Italy for lunch at The Fourth Man in the Fire Pizzeria |
| 19 | Departure | Head back to the car to conclude your exploration of Toronto on foot |
If you have more time on your hands and would like to take things at a slower pace, then you can split our walking itinerary into more days. This way, you can visit more places in each of these beautiful neighbourhoods located close to one another.
What makes Toronto walkable?
Toronto's over 140 officially-recognised neighbourhoods mean that even though the city is big, it's easy to plan your way around the city so that you can enjoy the street art, street food and endless shopping opportunities.
The grid-based layout of the city means it's easy to navigate from place to place, and the many attractions of multicultural Toronto will appeal to almost every visitor. Of course, there are also plenty of cafes, bars, galleries and museums where you can take a break when you're ready to rest your tired feet.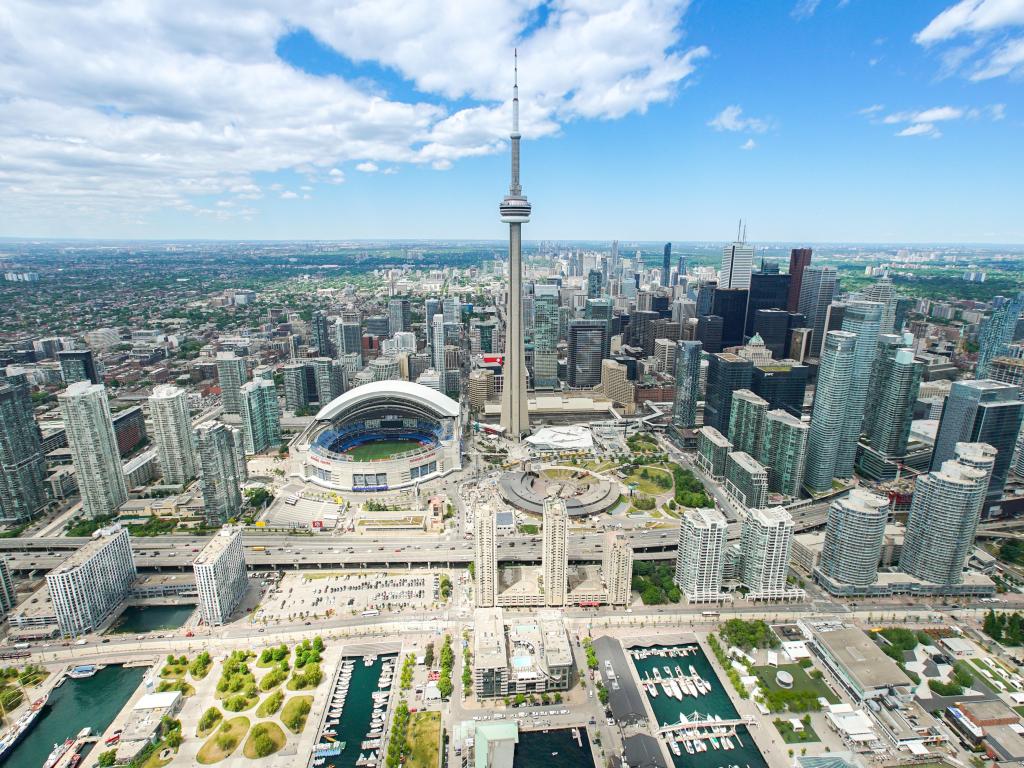 If it's your first time visiting the city, most of the places you'll want to see are in Old Toronto, but you can hop on to public transport if you want to explore further afield.
There's also a huge underground network of walkways and shops, which runs for around 30 km under the financial district and other parts of downtown Toronto – great for getting around if it's cold outside.
Most walkable neighbourhoods in Toronto
You can walk from one neighbourhood of Old Toronto to another very easily, and one of the highlights of a trip to the city is how quickly you'll move from one to another. Each one has its own special character, which is easy to see as you move around the city.
Downtown West is the main financial district where you'll find the CN Tower, and it's an impressive place to walk around to see Toronto's skyscrapers up close.
Many of the other city's other neighbourhoods lend themselves to exploring on foot, and it's the best way to get a feel for Toronto.
Chinatown, Kensington Market, the Fashion District and Little Italy are all within minutes of each other, while the Annex neighbourhood is known for its older buildings.
Toronto Old Town is older still, while St Lawrence, Harbourfront and the Beaches all give you a different taste of the city. For a contrast, check out the Creative Art and Design District (also known as West Queen West).
Public transport options in Toronto
As we've already mentioned, Toronto is a huge city, so chances are you might prefer to give your feet a rest and hop onto public transport at times. Fortunately, Toronto's public transport network connects the different parts of the city, although it's not always the fastest way to get around!
Within Old Toronto, there's a subway as well as tram, train and bus connections. The online Trip Planner gives different options for travel around the city.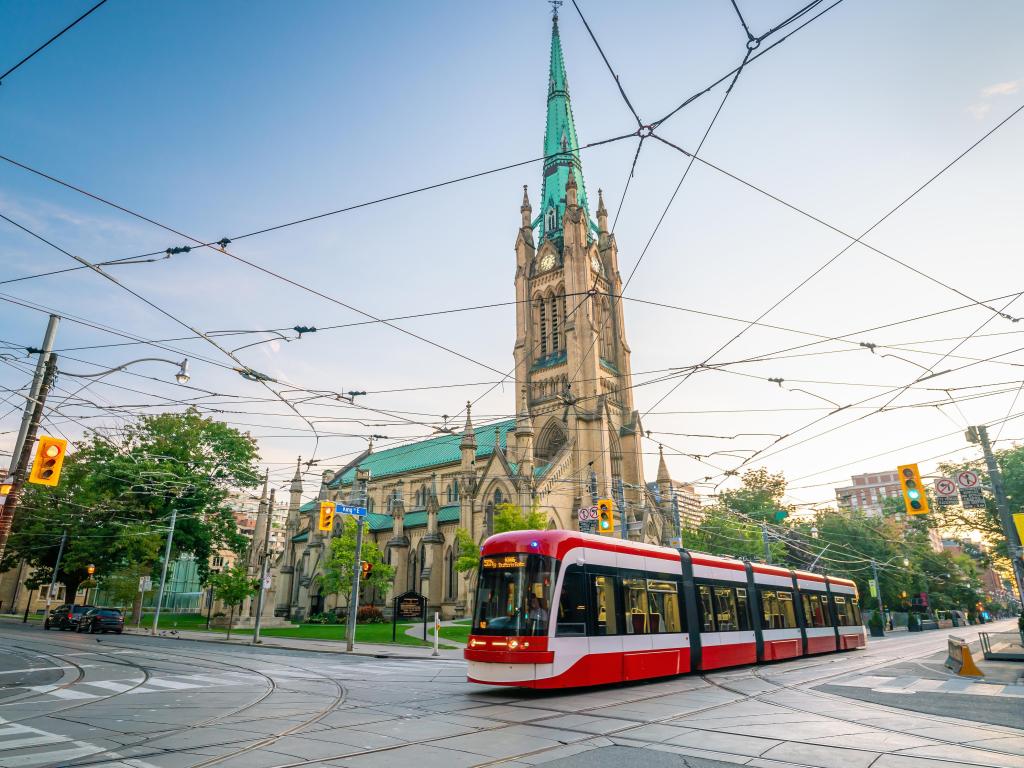 There are three subway lines that run through the downtown area and beyond, however, the subway network isn't as extensive as some major cities so you might have to walk a short distance to the nearest stop, or take a connecting bus/subway combination to reach your destination.
Buses and streetcars run along many of the major routes through Toronto. They don't specifically connect tourist districts, but with the trip planner to help you it should be straightforward to navigate the bus routes to avoid a long walk.
Parking in Toronto
On-street parking is available in places but usually has a maximum 3-hour limit. That means it's not always convenient if you want to leave your car and explore on foot.
Instead, we'd recommend using one of the many parking lots across Toronto. Green P operates more than 150 lots and garages, and you'll find detailed information online regarding the rates and hours at each location, which makes planning your visit much easier.
Rates vary but all-day or overnight parking is often reasonably priced for a major city, so long as you stay clear of the downtown core.
Is Toronto safe to walk around?
Toronto is considered one of the safest places in the world to visit based on its low crime rate, especially if you stick to the Downtown area.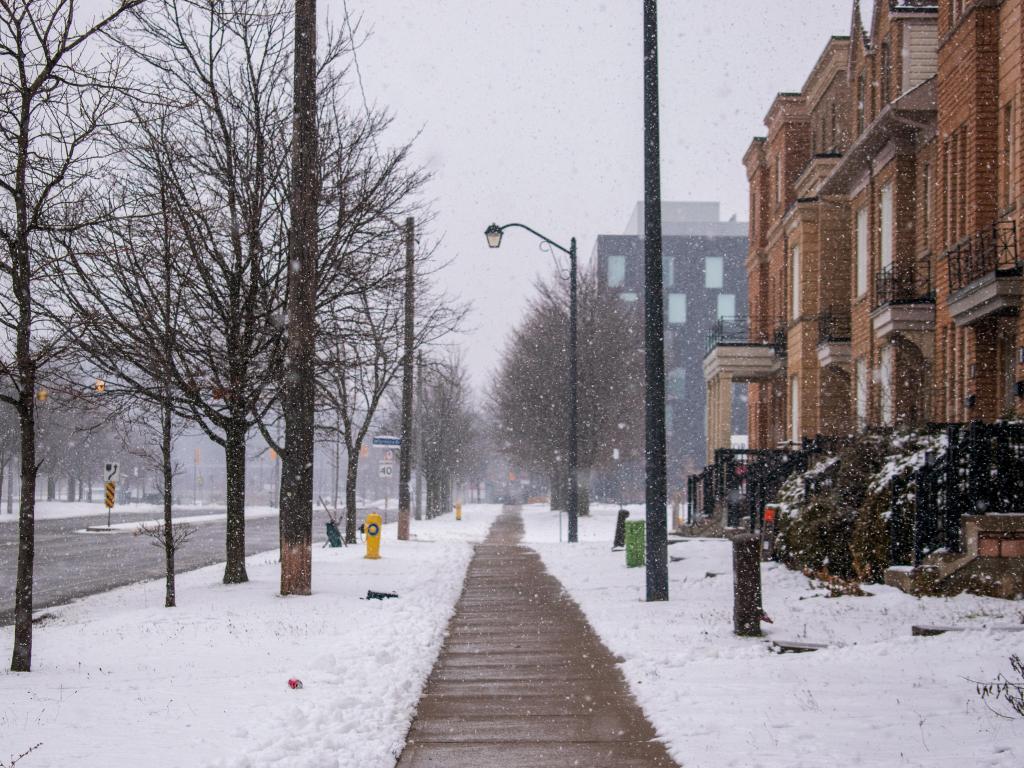 In fact, one of the biggest risks to travellers is the extremely cold winter weather, which many visitors won't be used to. Dress for the conditions if visiting in winter, and watch out for icy sidewalks.
Even so, it's still a big city, and it pays to be mindful of your surroundings, especially after dark, and always keep your belongings safe.
The city's large homeless population tends to congregate in parts of Upper Jarvis and Church-Wellesley, so you might prefer to avoid walking alone in these areas at night.
Things you need to know about walking in Toronto
For the most part, Toronto slopes gently uphill, away from Lake Ontario, so it's not too strenuous to explore the city on foot.
Parts of the city are known for the famous, steep-sided Toronto Ravines, but you won't come across too much evidence of these huge steep-sided valleys if you're sticking to the streets of the Downtown core. If you're visiting for a little longer, lace up your trainers and swap the big city hustle for some time outdoors with a visit to the ravines.
If you have reduced mobility or will be using a wheelchair on your trip to Toronto, factor in the size of the city when you're planning an itinerary. Many of the sites are at least 15 to 20 minutes apart. Winter, when the sidewalks can be slippery, might also be more challenging.
All buses, streetcars and subway trains in Toronto are wheelchair-accessible. Not all subway stations are fully accessible at the time of writing but these are clearly marked on the TTC's route details.
Things to see in Toronto
If you have a little more time to spend in Toronto, there are plenty of things to keep you busy as you explore some of the city's many other neighbourhoods.
Here are just a few highlights to get you started with your planning:
Cabbagetown
The Victorian Streets - This area is renowned for its well-preserved Victorian architecture, featuring charming, narrow streets lined with picturesque houses that reflect the style of the late 19th century.
Toronto Necropolis - A historic and serene cemetery, the Toronto Necropolis is notable for its beautiful Gothic Revival chapel and the resting place of many significant figures in Toronto's history.
Allan Gardens Conservatory - This conservatory is a botanical gem in the heart of the city, housing a collection of exotic plants from around the world, showcased in a historic glass-domed Victorian greenhouse.
Riverdale Farm - A quaint, 7.5-acre municipal farm nestled in the city, Riverdale Farm offers a taste of rural life with its historic farm buildings, livestock, and picturesque natural settings.
Cabbagetown Farmers Market - A lively, community-oriented market, it features a variety of local vendors selling fresh, organic produce, artisanal foods, and handcrafted goods, fostering a strong sense of local community spirit.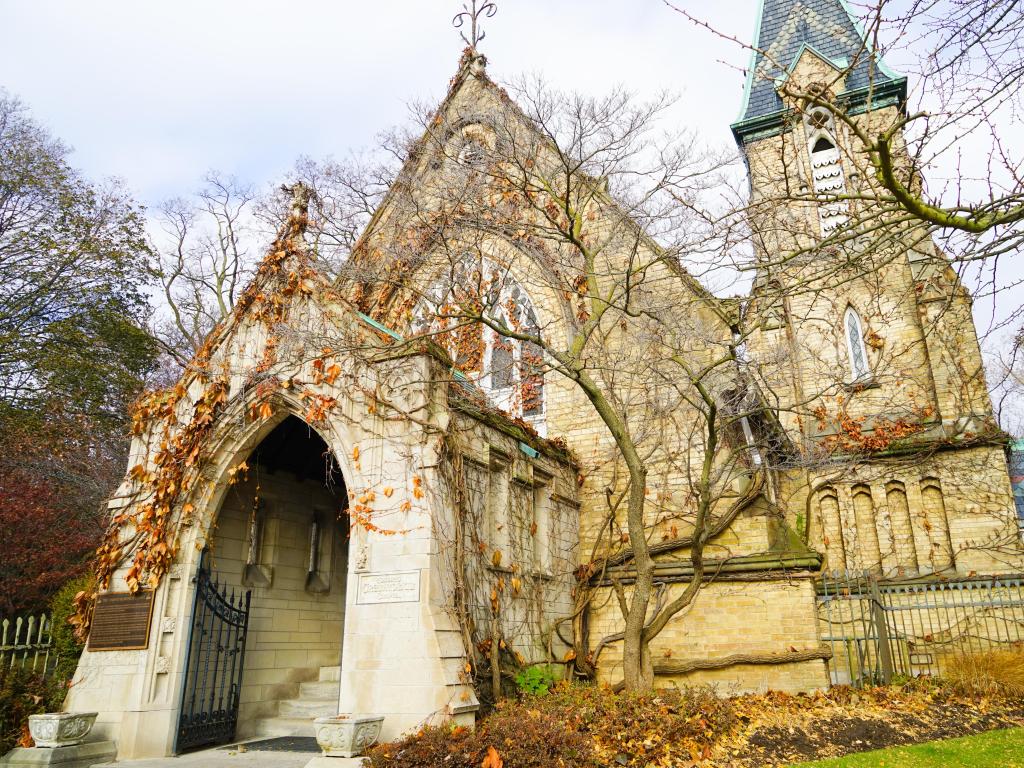 The Beaches
Woodbine and Kew-Balmy Beaches - These popular beaches offer long stretches of sandy shoreline and clean waters, ideal for swimming and sunbathing, with Woodbine Beach being more bustling and Kew-Balmy offering a quieter, more serene experience.
Glen Stewart Ravine - This beautiful ravine features a lush, forested area with a meandering boardwalk, providing a peaceful escape into nature, perfect for leisurely walks and bird watching.
The Waterfront - The waterfront at the Beaches offers a scenic pathway along Lake Ontario, ideal for cycling or walking, with stunning views of the lake and a refreshing, breezy atmosphere.
Kew Gardens - During the winter months, the rink at Kew Gardens transforms into a charming outdoor skating area, offering a delightful winter activity with a backdrop of the park's natural beauty.
Balmy Beach Park - This park is a perfect destination for those seeking a peaceful beach experience, with opportunities for picnicking, strolling along the boardwalk, and enjoying the serene waterfront atmosphere.
Yorkville
Yorkville Rock - A distinctive and large glacial rock located in the heart of Yorkville, acting as a unique urban landmark and a popular spot for locals and tourists alike to gather and relax.
Royal Ontario Museum - One of the largest museums in North America, housing a vast collection of art, world culture, and natural history exhibits, renowned for its unique architecture and diverse range of displays.
Gardiner Museum - Specializing in ceramics, the Gardiner Museum showcases an extensive collection of pottery, porcelain, and clay works, ranging from ancient times to contemporary pieces, and offers interactive and educational programs.
Bata Shoe Museum - This unique museum is dedicated to the history of footwear, displaying an impressive collection of shoes from various cultures and periods, offering insights into the evolution of shoe design and its cultural significance.
Philosopher's Walk - A picturesque pathway in downtown Toronto, Philosopher's Walk is a serene, tree-lined walkway, offering a peaceful escape from the city's hustle and bustle, often used by students and faculty of the University of Toronto.
Bloor Street - A high-end shopping area, known for its luxury boutiques, designer shops, and upscale restaurants, making it a popular destination for fashion enthusiasts and foodies.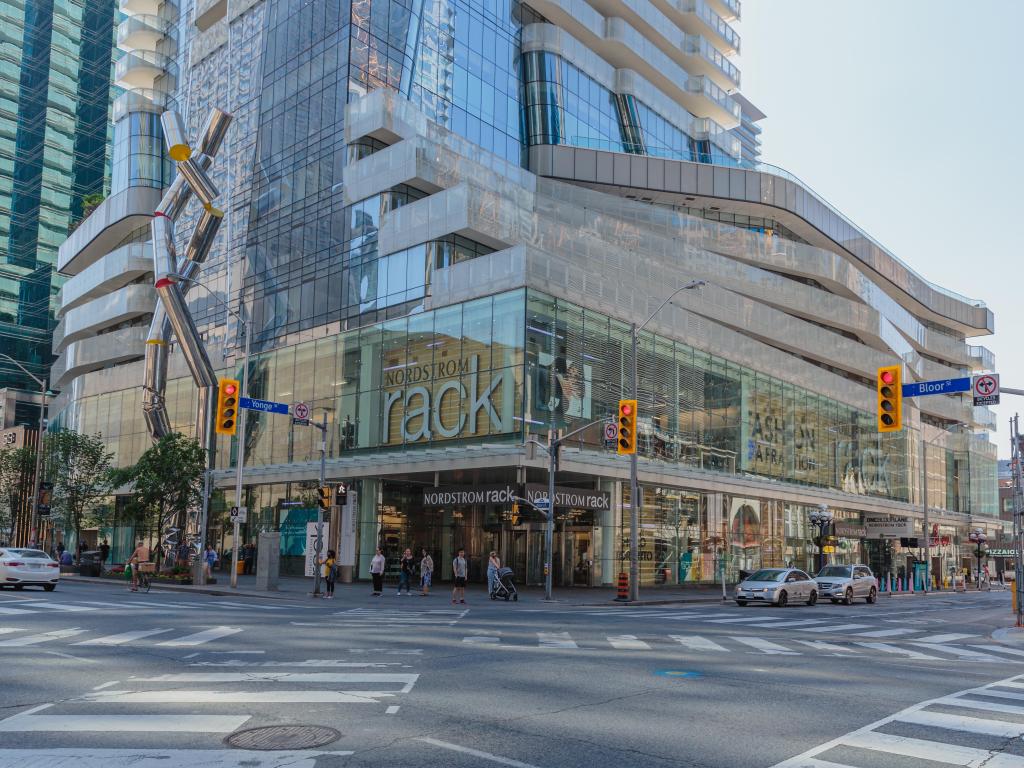 With the convenience of leaving your car safely behind, and so many amazing neighbourhoods to explore next to one another, Toronto is a highly walkable city. You can meander through the historic streets, and bustling shopping avenues as you discover the charm of this beautiful city on foot.