Cannon Beach Travel Guide
If you are searching for a stunning coastline, dotted with interesting rock formations and a charming town running alongside, then look no further than Cannon Beach. This beautiful beach is a quieter setting than most, popular with photography fans and nature lovers looking to discover the many tidal pools.
A quick overview of Cannon Beach, Oregon
Street Address
📍102601 Overseas Highway
Facilities at this beach

🕒 Opening hours (10am to 5pm)

🚗 Parking (Most parking lots are free up to 3 hours)

🚻 Public restrooms
Where can I find the Cannon Beach along the Pacific Coast Highway?
If travelling along Pacific Coast Highway from California and heading north, then you'll need to continue onto U.S. Route 101 in Oregon before reaching popular Cannon Beach.
As you arrive you'll see parking is near the northern end of Cannon Beach, with several spots along the beach by Sandsurf Resort and Mariner Market. There are also accessible parking spots near the beach for those with mobility issues to help get close to the sand.
Cannon Beach is around 1 hour and 25 minutes, a 80 mile drive, from Portland, a popular stop-over before heading onto Cannon Beach.
Why we love visiting Cannon Beach
There are plenty of reasons why Cannon Beach should be added to your list of places to visit as you travel towards Oregon.
The jaw-dropping Haystack Rock to the calm waters along the coast, makes for a pretty and peaceful beach setting. You'll be sure to leave with plenty of great snaps of the coastal rock formations.
How we rate the different aspects of Cannon Beach
Feature
Our rating
Natural beauty and scenery
⭐⭐⭐⭐
Cleanliness and water quality
⭐⭐⭐
Peace and quiet
⭐⭐⭐
Activities on offer
⭐⭐⭐
Accessibility
⭐⭐⭐
The Haystack Rock is an iconic, 235-foot tall sea stack. One of the most photographed landmarks on the Oregon coast, it is also home to nesting tufted puffins.
Beyond Haystack Rock, the coastline is dotted with other dramatic rock formations. These rocky lined sandy shores make for a very picturesque landscape and a great attraction for photographers and nature fans.
The tide pools around Haystack Rock are teeming marine life. Head here during low tide and spot starfish, anemones, and crabs.
The town of Cannon Beach runs alongside the beach, and boasts a lively and cultured vibe. There is a vibrant arts scene with galleries, theaters, and events, with plenty to do after a day at the beach.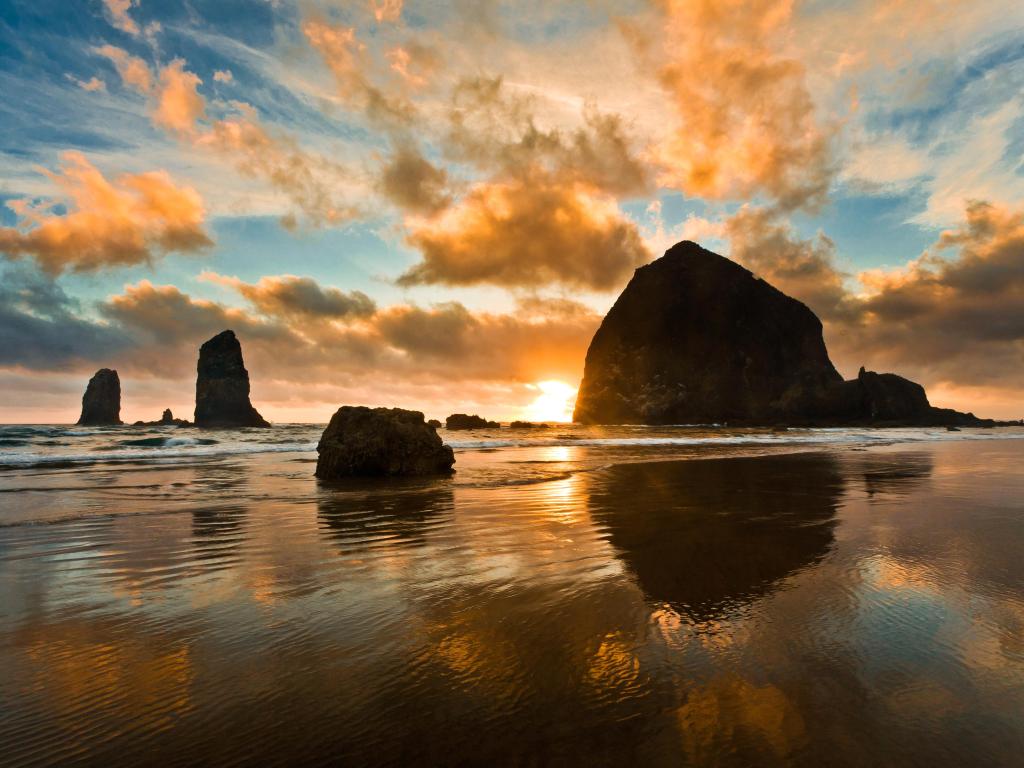 What else is there to do near Cannon Beach?
With so much to enjoy at Cannon Beach you'll be able to while away a day or more. Here are some other places we recommend visiting if you are planning to stay in the area a little longer.
Tolovana Beach State Recreation Site - With sandy shores and ocean views, this site is popular with beachgoers looking for a quieter place to unwind.
Ecola State Park - Perched atop the cliffs, this park offers breath taking views of the Pacific Ocean as you stroll the many trails through coastal forests.
Cannon Beach History Center and Museum - If you want to find out more about the areas past this is the perfect museum to visit and learn more through interactive exhibits and artifacts.
Les Shirley Park - Found right by the ocean, this park is perfect for picnicking, and ideal for both families and hikers exploring the rocky coastline.
Downtown Cannon Beach - Packed with charming boutiques, art galleries, and eateries, the downtown area is ideal for a stroll and refreshments after a day on the beach.
Common questions about visiting Cannon Beach
The beautiful coastline of Cannon Beach, with iconic Haystack Rock in the distance, makes a visit here one to remember. Plus there are plenty of facilities to help make this a great beach trip.
Is Cannon Beach accessible and open year-round?
⭕ Yes, Cannon Beach is accessible and open year-round.
❗ If you prefer a quieter beach trip, and storm-watching, then visit Cannon Beach in the winter months when it is far less crowded. Make sure to pack layers when you visit as the Oregon coast can be chilly.
Can I enjoy water sports at Cannon Beach?
⭕ Yes, water sports can be enjoyed at Cannon Beach. Surfing, paddle boarding, kayaking and swimming are all popular, and local shops offer rentals.
Is Cannon Beach easily accessible for those using wheelchairs or strollers?
⭕ There are some boardwalks and paved paths in areas that provide more stable footing than the sandy beach.
❗ Currently there are no beach wheelchairs at this beach.
Is there anywhere to buy refreshments at Cannon Beach?
⭕ Yes, just a short walk from Cannon Beach you can find restaurants, cafes, and convenience stores in the town center.
Are dogs allowed on Cannon Beach?
⭕ Yes, dogs are allowed at Cannon Beach and can be off-leash if they are under good voice command.
Are there any changing facilities at Cannon Beach?
⭕ Yes, there are some changing facilities at Cannon Beach, and outdoor showers.
Are there any beach chairs or umbrellas to hire at Cannon Beach?
❌ No, there are no beach chairs or umbrellas to hire at Cannon Beach.
Is there anything else to watch out for when I visit Cannon Beach?
Cannon Beach does not have lifeguards on duty, and Oregon coast's waters can be strong. Make sure to be careful when going near or in the water, and cautious when exploring the tide pools for both you and marine life.