Road Trip From San Francisco To Seattle
Driving from San Francisco to Seattle requires a fair bit of planning – no matter which itinerary you take, the trip will be quite long, and you'll be stopping very frequently to check out all the beautiful places along the way.
The road trip from San Francisco to Seattle can be done in 12 hours without stopping. Check out Sacramento, Portland, and a network of beautiful forests, or drive along the Pacific Coast to see the beautiful ocean side towns and West Coast beaches.
The list of beautiful stops is virtually endless, so keep reading to make sure you don't miss a thing!
How far is Seattle from San Francisco and how long will the road trip take?
The trip from San Francisco to Seattle can span 810 to 980 miles depending on your route of choice. Taking the quicker route can get you there in about 12 hours without stops or major traffic, and while the more scenic route is harder to predict, a good estimate would be over 20 hours.
Route
Distance
Driving Time
Fast Route


(via I-5)

810 miles
12 hours
Pacific Route


(via Highways 1 & 101)

940 miles
20 hours 30 minutes
The trip would definitely take at least 2 days no matter which route you choose, but taking the I-5 past Sacramento and through Portland is by far the fastest way to get to Seattle.
On top of being quicker, this route will have you driving by a number of beautiful forests. However, if you're only taking 2 days to travel, you'll have to stop in a smaller town overnight as Sacramento and Portland are both quite far from the midpoint of the route.
If you happen to have a week or two to spare, consider driving on Highways 1 and 101 along the Pacific Coastline for one of the most scenic road trips of your life.
While it's possible to get to Seattle in two or three days along this route, the coast's winding roads can significantly impede your travel speed if coupled with bad weather. Besides, with so many amazing places to see, rushing through it would be missing the point entirely.
Best road trip route from San Francisco to Seattle
When driving from San Francisco to Seattle, the best route generally depends on whether you're aiming for speed or ocean scenery. This is the kind of trip you can wrap up in two days or take several weeks to explore everything along the way.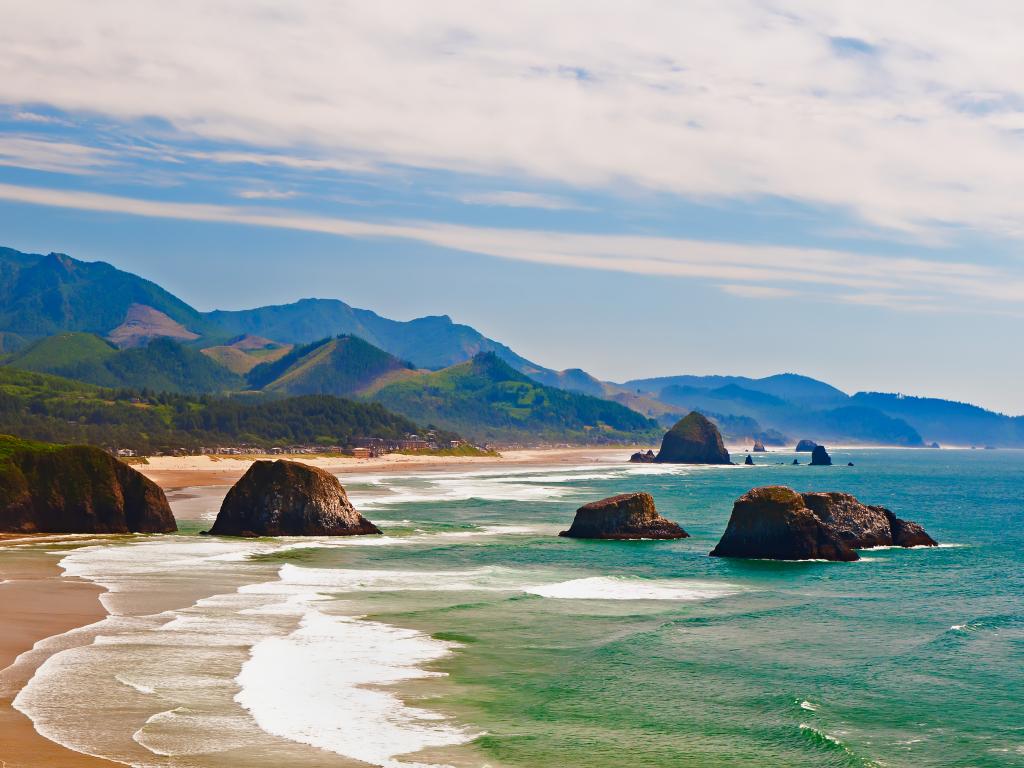 While many would argue it can't quite compare to driving by the coast, the I-5 route has plenty of amazing places worth checking out. To see as much as possible, consider taking one route on the way to Seattle and the other on the return trip.
How to drive from San Francisco to Seattle
The map above shows our suggestions for the best road trip routes between San Francisco and Seattle. Keep reading for detailed descriptions of both routes, where to stay on either, and the best things to do on the way.
The Fast Route (I-5)
Leaving San Francisco east along the I-80, drive through Richmond and Fairfield, and stop in Sacramento if you'd like. Otherwise, take the I-505 just past Vacaville and follow it to the I-5, which you'll be staying on the rest of the way.
Past Sacramento, you'll start seeing lush forests on each side. You'll drive past Plumas, Lassen, and Klamath National Forests, among others, on top of cutting straight through Shasta-Trinity National Forest before leaving California.
The chain continues over into Oregon, with forests like Umpqua, Willamette, and Mt. Hood. After passing through the city of Portland and past even more forests, drive through Olympia and Tacoma – it won't be long before you've reached Seattle.
The Pacific Route (Highway 1 & 101)
Take Highway 101 over Golden Gate Bridge, then join Highway 1 past the Golden Gate National Recreation Area, following it through Stinson Beach and Point Reyes. Not long after, you'll drive past Sonoma Coast and Salt Point State Parks.
Past the town of Mendocino (a great place to stop if you haven't already) and Jackson State Forest, briefly follow Highway 101 inland past Humboldt Redwoods State Park, then return to the coast past Arcata Bay and before Redwood National and State Parks. Further on, you'll pass by Six Rivers, Rogue River–Siskiyou, and Siuslaw National Forests.
At Astoria, take the US 30 east along Columbia River, and follow it into Washington – if you'd like to see Portland, this is a great time to backtrack there. Cross the Cowlitz River back onto the I-5. The rest is the same as the Washington stretch of the shorter route – drive through Olympia and Tacoma to reach Seattle.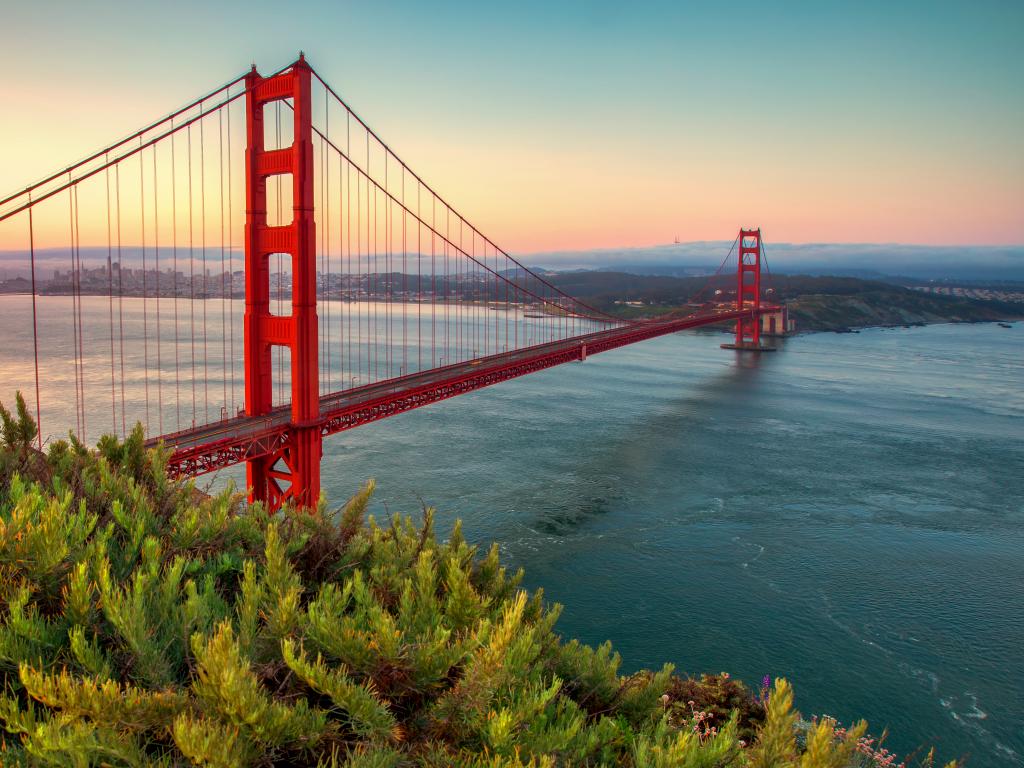 Best places to stop between San Francisco and Seattle
Along either route, you practically have to make at least one overnight stop. Thankfully, there's no shortage of great places to spend the night – here are some recommendations that offer a comfortable stay as well as great connectivity to nearby landmarks.
Get some pampering at the Best Western Horizon Hotel (Medford)
Located at the very middle of the Fast Route, the town of Medford makes for a perfect place to spend the night. Surrounded by beautiful forests from virtually all sides, you can devote an entire day to each if you have time and then rest up in town.
Although there are several great hotels in the area, the best one would have to be Best Western Horizon Hotel as it offers great amenities well above its price range.
Alongside spacious, comfortable rooms and an inviting lodge, the hotel features a large outdoor pool and a hot tub for your enjoyment. You can start the day off with a continental breakfast, and the free parking means you can spend days on end exploring the surrounding areas without worrying about racking up additional charges.
Besides being close to Wolf Creek Park, Rogue-Siskiyou National Forest, and Medford's very own Bear Creek Park, staying here means you can go a little off-road and check out the amazing Crater Lake National Park, and add another place to your already-huge list of spots to visit.
Enjoy the window view at The Duniway Portland
Regardless of which route you're taking, Portland is a great place to book a hotel. Even though it's not too far from Seattle, it would take some time to explore the massive forests to the east, and the city alone can keep you occupied for days on end.
There are plenty of great options for an overnight stay in Portland, but one of the best is definitely Hilton's Duniway Portland.
On top of being very cozy, the rooms offer an amazing window view of the city – higher is definitely better at this hotel. For food, you can call up room service or go down to the on-site bar or restaurant and dine and drink in style. The hotel also features an indoor swimming pool and fitness center.
A highlight of The Duniway would have to be its amazing rooftop patio – here, you can do yoga and listen to musical performances. This area is heated, so you can step out and enjoy the lovely atmosphere all year round.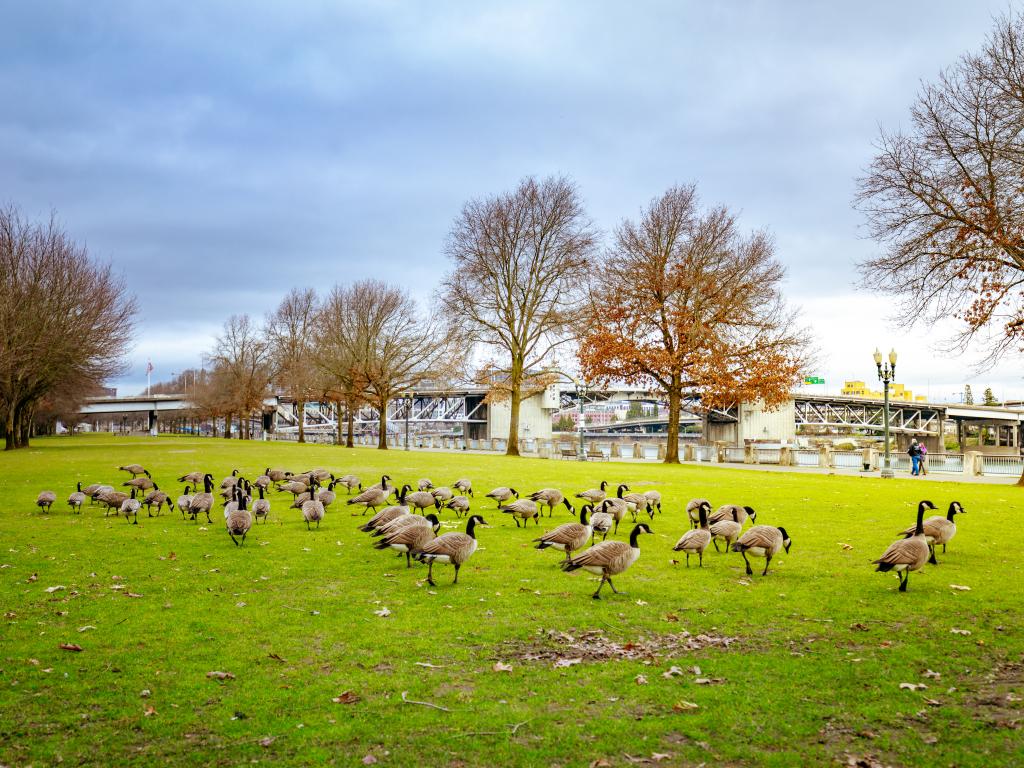 The hotel is centrally located in Portland, so amazing spots like Tom McCall Waterfront Park and the Portland Art Museum are all within walking distance. For a very fair price, you get the best accommodation, service, and location Portland has to offer.
Things to see on a road trip from San Francisco to Seattle
The two routes from San Francisco to Seattle cover a total of about 1800 miles, and most of it is riddled with amazing scenery. If you can, you should take two or three weeks to explore everything, if not more. Here's a list of some of the places you should definitely check out
Sacramento – California's capital and one of America's most diverse cities, featuring countless museums, locales, and the beautiful Old Sacramento Historic District
California National Forest Chain – a long sequence of beautiful forests from Sacramento leading into Oregon, featuring lush greenery, lakes, and countless hiking trails
Umpqua National Forest (and Crater Lake) – a million acres of beautiful forests leading to Crater Lake, America's deepest, and possibly most scenic lake
Deschutes and Willamette National Forests – featuring the Cascade Range, several lakes, and the Newberry National Volcanic Monument, these forests are great for outdoor activities
Portland – Oregon's largest city has beautiful weather all year round, several national forests to the east, and a host of great activities to enjoy
Cannon Beach - Check out this unique beach with mountains rising from the coastline and the infamous Haystack Rock protruding from the water
Mt Rainier National Park – the titular Mt Rainier is surrounded by gorgeous meadows, waterfalls, and forests – hiking along Wonderland Trail is a must!
Olympic National Park & Forest – this park combines beautiful forests and abundant wildlife with the Pacific shoreline for a very unique experience
Mount Tamalpis State Park – from atop Mount Tamalpis, you can often see as far as the Sierra Nevada range
Point Reyes – features an incredible seashore with amazing vistas comparable to those of the Big Sur
Doran Regional Park – this park is a popular camping spot with a beautiful 2-mile beach just off Bodega Bay
Sonoma Coast State Park – known for its sandy, yet rocky shore and the Bodega Head Peninsula
Mendocino – this coastal town is very popular with tourists, courtesy of its scenic surroundings and being a key player in California's wine region
Humboldt Redwoods State Park – home to Rockefeller Forest, the world's largest virgin redwoods forest
Redwood National and State Parks – see the tallest trees in the world growing in these forests in northern California
Capitol State Forest – this forest features the unusual Mima formations and is great for hiking, mountain biking, and a number of other outdoor activities
Best time to go on a road trip from San Francisco to Seattle
Although there's no 'wrong' season to travel from San Francisco to Seattle (especially considering the abundance of year-round events), there are definitely some weather-related factors to consider.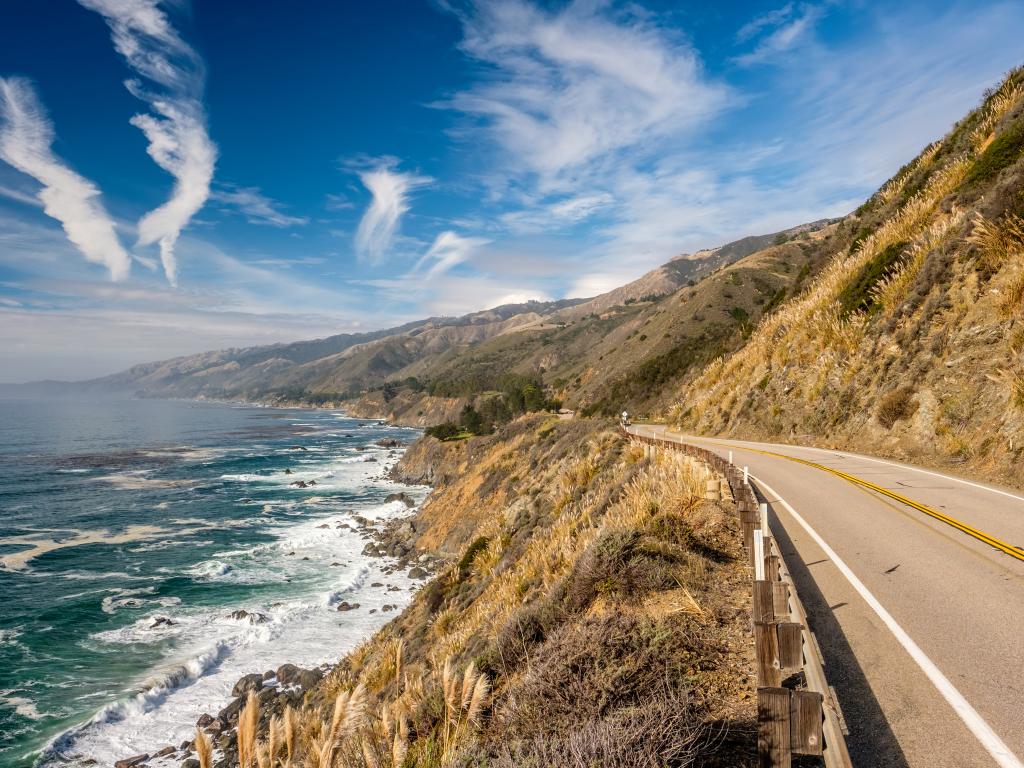 If you plan on driving along the Pacific, you're better off avoiding traveling on hot summer mornings - this is when coastal fog tends to set in, potentially making the already-zigzaggy roads harder to traverse. This isn't necessarily a deal-breaker, though, as this fog usually clears up by midday.
Besides Sacramento and Portland, the fast route's main draws are its many forests. These look amazing no matter the season, but you can expect certain roads to be closed during particularly harsh, snowy winters.
As for Seattle itself, the city averages around 18 rainy days a month thanks to its 'rain season', from November to January. If this isn't something you're accustomed to, it can make exploring the city more difficult than it has to be.
Because of all the rain in the colder months, Seattle's weather is actually very pleasant from mid-spring to early fall – temperatures in the summer seldom exceed the low-to-mid 70s, and the months of May and September aren't far off either.