Road trip from Portland to Vancouver
Have you always wanted to experience the stunning scenery of the Pacific Northwest on a road trip? If so, now is the time to pack your bags to set off on an epic journey from Portland to Vancouver and to admire glistening coastlines, inspiring national parks, majestic mountains and charming towns.
The 500-mile road trip from Portland to Vancouver will take 9 hours and 40 minutes to drive. Along the way, you can visit Cannon Beach, Astoria, Olympic National Park, Bellingham, Mount St Helens, Mount Rainier National Park, Olympia and Tacoma.
This road trip of a lifetime will give you plenty of lifelong memories and fun adventures. Continue on below to learn more about our recommended routes, places to stay, top highlights, and best season to make the journey.
How far is Vancouver from Portland, and how long will the road trip take?
Comparison of road trip routes between Los Angeles and Crater Lake National Park

| Route | Distance | Driving Time |
| --- | --- | --- |
| The Seattle Route | 500 miles | 9 hours 40 minutes |
| The Coastal Route | 570 miles | 12 hours 30 minutes |
There are two beautiful routes that will take you from Portland to Vancouver. Each is filled with its own unique highlights and sights.
The Coastal Route winds through the breathtaking coastlines and small towns of the Pacific Northwest. This journey covers roughly 570 miles and takes around 12 hours and 30 minutes of driving time.
The alternative Seattle Route will bring you through national parks and iconic cities. This alternative route spans around 500 miles and will take about 9 hours and 40 minutes to complete.
We recommend stretching this road trip over 3-4 days to truly experience the natural and cultural treasures that this region is famous for.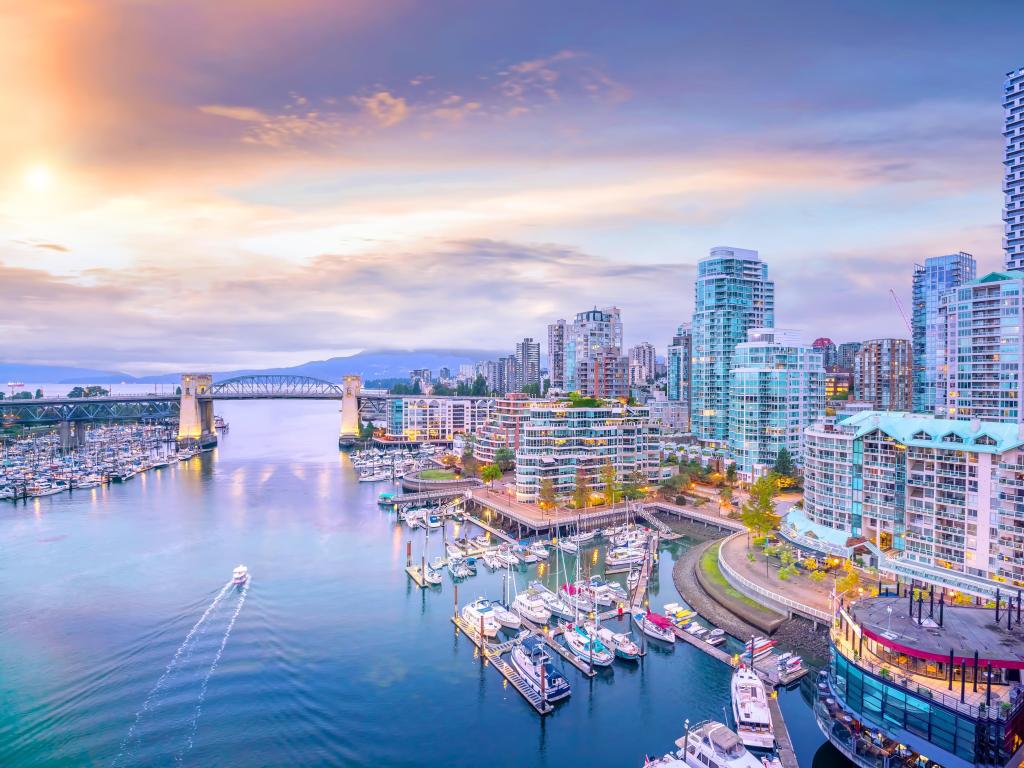 Best road trip route from Portland to Vancouver
While both routes have plenty of natural attractions, each journey offers unique landscapes and experiences, making the choice dependent on what you want to see the most.
The Coastal Route is perfect if you're looking for breathtaking beaches, vast temperate rainforests, and famous national parks that are full of raw natural beauty.
Journeying through this route, you'll pass through Astoria, recognized as Oregon's oldest city and the very first permanent settlement located to the west of the Rockies.
This route will require you to plan and book your ferry tickets in advance. The car ferry from Port Townsend to Fort Casey is busy during weekends and holiday spells.
The alternative Seattle Route will bring you through postcard-worthy mountain ranges and bustling cities. You'll see amazing national parks like North Rainier National Park and North Cascades National Park, making this route perfect for anyone who loves mountain adventures.
You'll get to stop mid-journey in Seattle. Then, you'll venture to Rockport, and follow the Cascades Loop that traces the Skagit Valley, renowned for its tulip farms.
Further on, the shimmering waters of Puget Sound will be filled with maritime adventure. This body of water is home to orcas and a migratory path for seven whale breeds journeying to Alaska.
While many companies offer whale-watching expeditions, the shores also serve as a vantage point, especially in Point Defiance near Tacoma. If you're an avid whale watcher, check out thewhaletrail.org to follow their paths.
On this road trip, you can also drive parts of the famous Cascade Loop. Here is our ultimate itinerary on this scenic drive to get you started.
How to drive from Portland to Vancouver
The map above shows our suggestions for the best road trip routes between Portland and Vancouver. Keep reading for detailed descriptions of both routes, where to stay on either, and the best things to do on the way.
The Coastal Route
Start your journey in the bustling city of Portland, driving northwest on US-26 W. Continue on through the rolling hills and forests to Tillamook on the Pacific Coast.
Double back to US-101 N, and drive to Cannon Beach, famous for its stunning shoreline, sea stacks, and marine wonders. Keep heading north to the historic town of Astoria.
From here, head north into Washington on the highway. As you travel, the expansive Olympic National Park becomes visible in the distance.
Continue on to visit the lush Hoh Rainforest and the cascading Marymere Falls. If you're seeking panoramic vistas, the Kloshe Nantich Lookout Point is a must-visit before driving to Port Angeles.
From Port Angeles, follow US-101 N and later WA-20 W until you reach Deception Pass State Park, a scenic marvel with its dramatic bridges and tidal flows. From here, travel north to the Canadian border as you approach the Peace Arch Historical State Park in Blaine.
End your epic road trip by heading north across the border, reaching the vibrant city of Vancouver.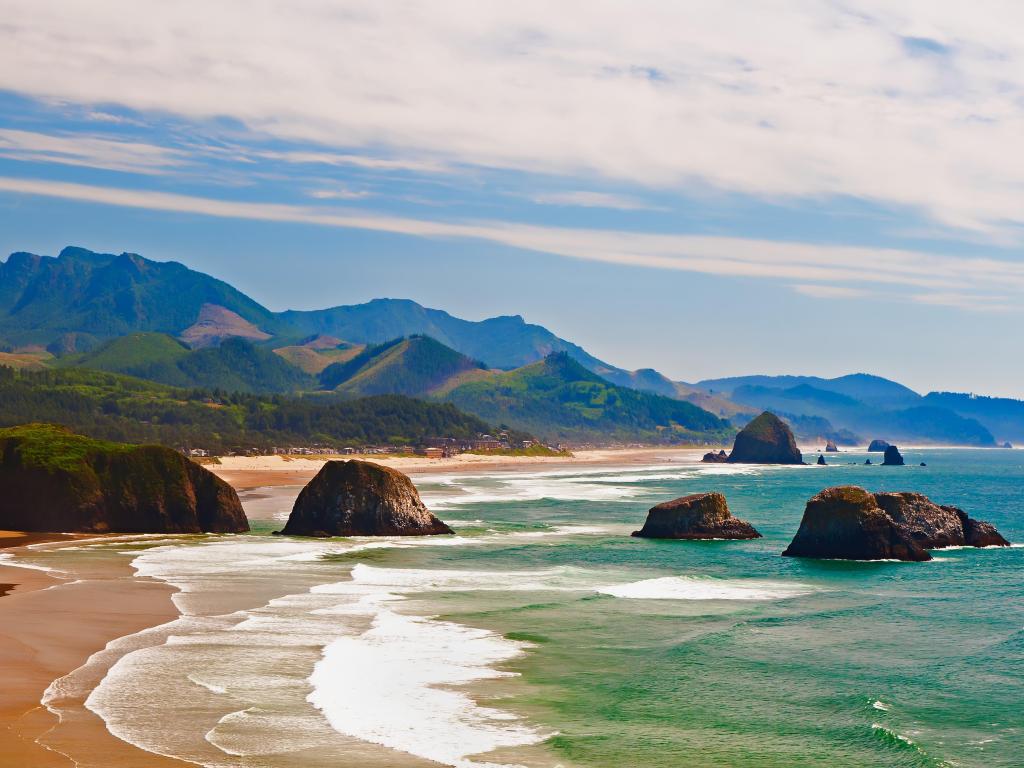 The Seattle Route
Start your journey from Portland, taking Interstate 5 (I-5) N toward Washington. Continue on I-5 N and, before long, you'll reach Seaquest State Park.
Head further north on I-5 and drive northeast into the heart of Washington's wilderness by taking WA-7 N to Mineral, the gateway to Mount Rainier National Park.
Next, drive north until you reach the city of Olympia, Washington's capital. Here, the Downtown Historic District of Olympia offers a blend of vintage charm and modern excitement.
From here, continue north via I-5 N to Tacoma. While here, immerse yourself in the world of art at the Museum of Glass and check out the W.W. Seymour Botanical Conservatory.
Seattle, one of the USA's centers of music and culture, awaits as you further north. After your visit to Seattle, drive north on I-5 and then take the famed Chuckanut Drive Scenic Byway, to explore the coastal vistas and lush forest canopies.
Finally, complete your journey by heading northwest, crossing the border into the beautiful city of Vancouver.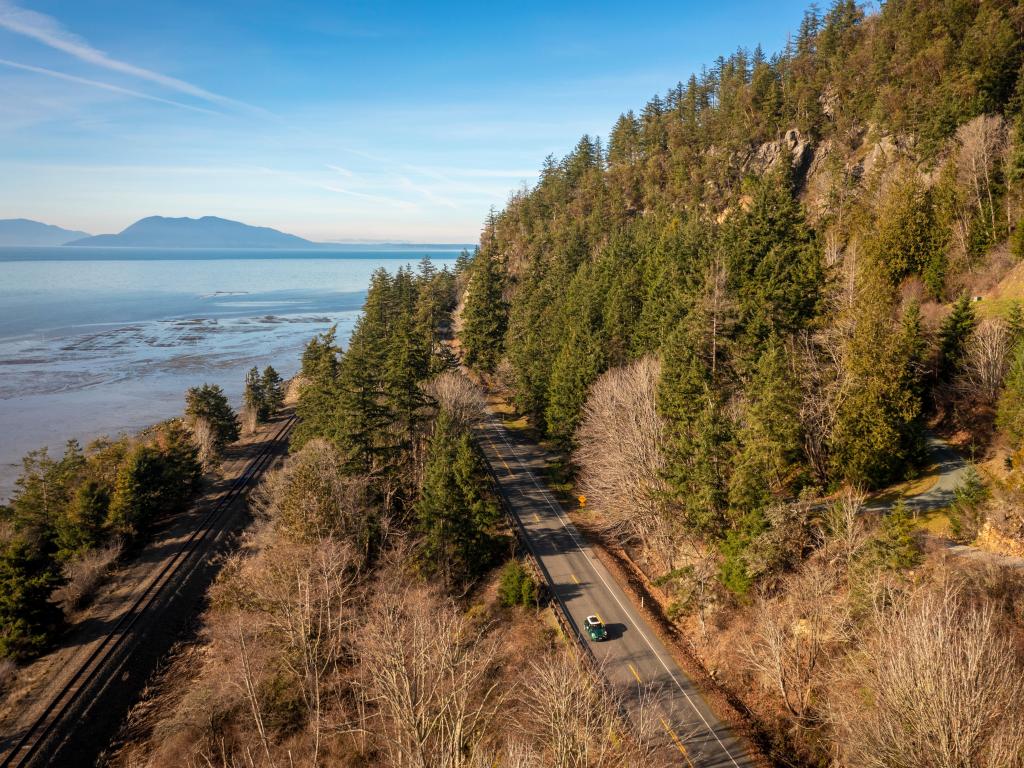 Best places to stop between Portland and Vancouver
With so much to see and do along these routes, we recommend splitting your journey up in one of the iconic cities below. This way, you'll really get to experience this incredible region in style.
Discover the Twilight charm in Forks
Forks is the ideal spot to pause on the Coastal Route, situated approximately 6 hours and 30 minutes into your journey. Known worldwide as the setting for the Twilight books and movies, this quaint town offers a blend of fiction and reality.
The highlight of this route is undoubtedly Forks itself. A key attraction is the Forks Timber Museum, giving insight into the town's lumbering legacy.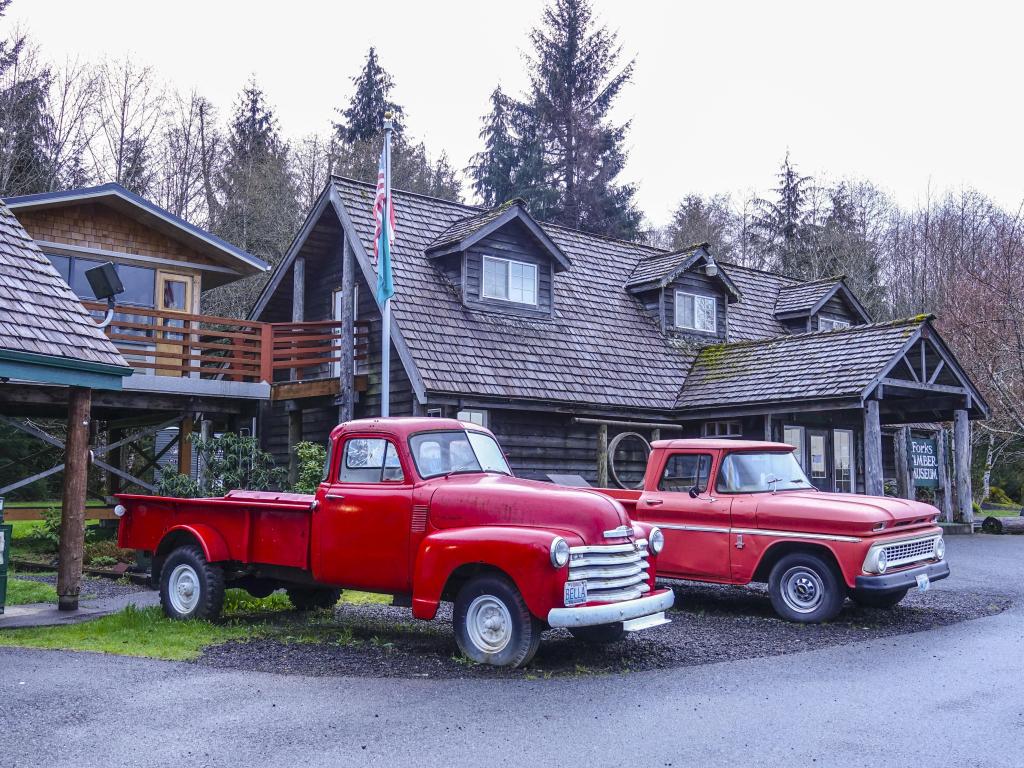 If you're a Twilight aficionado, the Forever Twilight in Forks Museum will make the perfect stop. Additionally, don't miss John's Beachcombing Museum, an eclectic showcase of marine treasures that the ocean has gifted the shoreline over the years.
Once you reach Forks, we recommend staying at the charming Misty Valley Inn. Located in a classic house in the middle of the forest, this luxurious retreat features great amenities and delicious breakfast options.
This delightful inn features stunning views of the countryside plus a shared lounge and garden space. The inn's rooms feel like your home away from home with comfortable bedding and a cabin-like atmosphere.
Before dinner, venture out to the mesmerizing Rialto Beach, a mere 20-minute drive away, popular for its spellbinding sunsets.
Take in the urban buzz in Seattle
Seattle, often called the Emerald City, is an ideal stopover on the Seattle Route, approximately 5 hours and 10 minutes into your drive. Set against a backdrop of glistening skyscrapers and distant snow-capped peaks, Seattle offers a cosmopolitan experience like no other.
Renowned as the birthplace of Starbucks, the city's thriving coffee culture is palpable at every corner. It's also a major hub for tech giants like Microsoft and Amazon.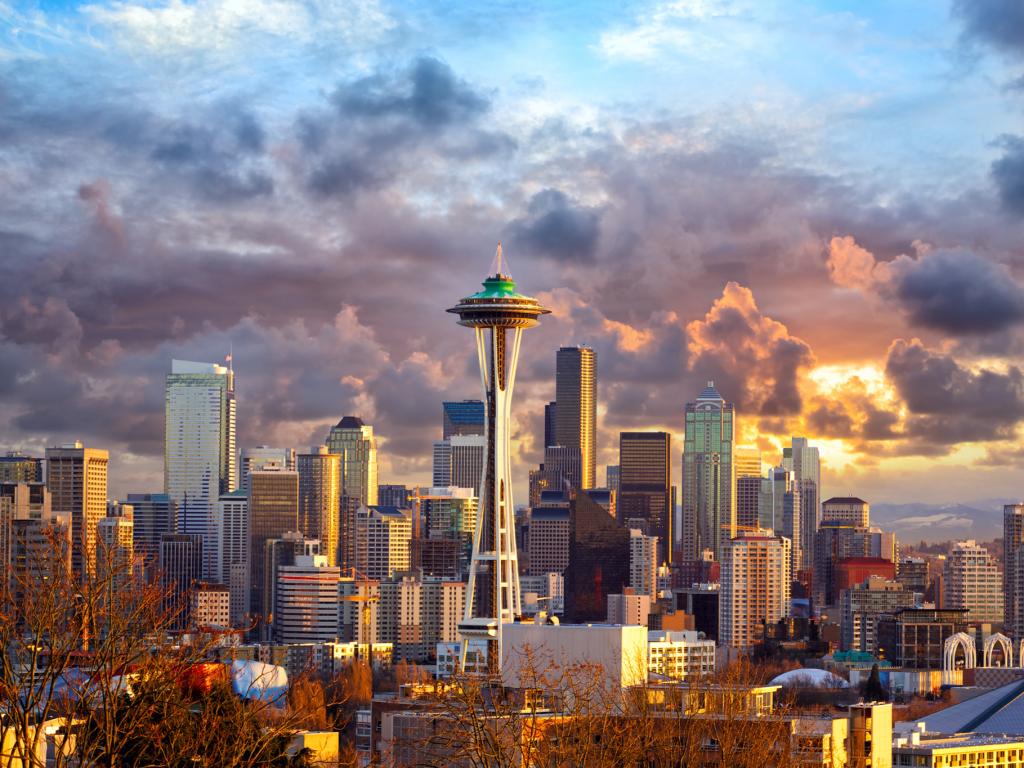 From its bustling arts and music scene to the roar of its sports fans, Seattle effortlessly melds modernity with its rich cultural heritage. If you're looking to connect with nature, you can embark on whale-watching tours and nearby hiking.
No visit to Seattle is complete without wandering through the iconic Pike Place Market. Here, you can see vendors tossing fresh fish to one another or eat at one of its iconic seafood restaurants. Other top sights include the Chihuly Garden and Glass and the towering Seattle Space Needle.
For a perfect blend of luxury and local flair, we suggest staying at The Sound Hotel. Nestled in the heart of Belltown, this modern boutique hotel offers proximity to the area's lively art scene, renowned music venues, restaurants, and the picturesque waterfront.
The Sound Hotel's 7th-floor outdoor terrace gives you breathtaking views of Seattle and the serene Puget Sound. If you're driving an electric vehicle, the convenience of on-site charging points is a bonus, along with the readily available parking facilities.
During your stay, take a 12-minute walk to the Seattle Art Museum. Then, dive deep into the heart of pop culture with a 13-minute stroll to the Museum of Pop Culture.
Where to stay when you reach Vancouver
Vancouver is a city that's famous for its culture, nature, and exciting city life. Known for its mild climate and robust economy, this multi-cultural city offers an experience that's truly unique.
Strategically sited on a peninsula, Vancouver is surrounded by water and features breathtaking waterside walks, pristine beaches, and a rich maritime legacy. In winter, you can head over to Grouse Mountain for some of the best winter sports activities in the world.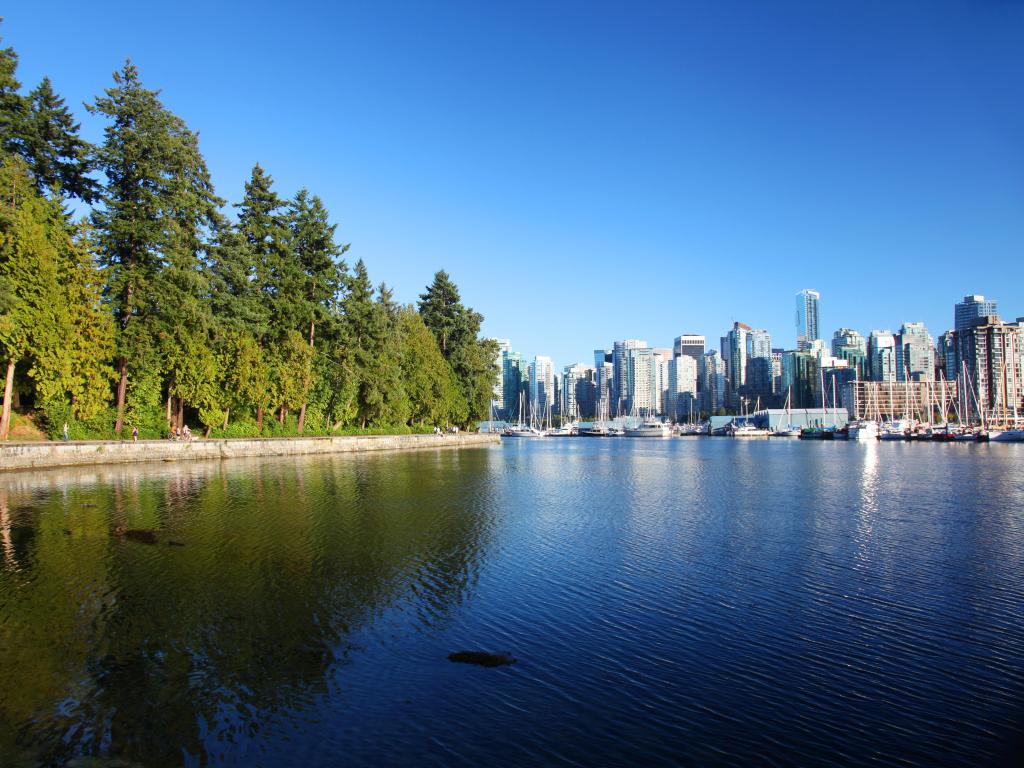 Start your exploration with Stanley Park and go on a leisurely walk along the seawall. If you're up for some activity, you can rent a bike to enjoy the park and its surroundings.
For those with a penchant for culture and crafts, Granville Island awaits with its bustling market, the whimsical Sea Village, and artisan craft shops. For an adventure that challenges your sense of heights, head to the Lynn Canyon Suspension Bridge.
To truly experience the essence of Vancouver, we suggest staying at L'Hermitage Hotel. Situated right in the epicenter of downtown Vancouver's Arts District, this modern boutique hotel is the perfect home base when exploring the city.
The luxurious hotel features amenities like an outdoor swimming pool, fitness center, free Wi-Fi, and much more. The knowledgeable staff is there to help plan your journey around Vancouver and give you expert advice on restaurants, bars, and entertainment.
The hotel's location can't be beat. Stanley Park is just a 5-minute drive away, while a brief 15-minute walk will bring you to David Lam Dock, where you can hop onto the aquabus to Granville Island.
Things to see on a road trip from Portland to Vancouver
The road trip from Portland to Vancouver has wonderful highlights and places to see. Below, we've listed our top highlights to help you plan your perfect road trip through the Pacific Northwest.
Coastal Route
Tillamook Creamery - A renowned dairy factory in Oregon, Tillamook Creamery invites visitors to witness the cheese-making process, taste fresh products, and dive into the brand's rich history.
Cape Meares State Scenic Viewpoint - Located on the Oregon coast, this state park boasts a historic lighthouse, breathtaking cliffside views of the Pacific, and the enigmatic Octopus Tree.
Cannon Beach - Famous for its stunning coastal landscapes and the iconic Haystack Rock, Cannon Beach offers visitors a blend of natural beauty and local artistry.
Astoria Column - Standing tall over the city of Astoria, this decorated column provides panoramic views of the surrounding area and pays tribute to the region's history through its intricate murals.
Columbia River Maritime Museum - Situated in Astoria, this museum celebrates the maritime heritage of the Columbia River with interactive exhibits, historic ships, and nautical artifacts.
Polson Museum - Located in Hoquiam, this museum showcases the area's logging history through preserved photographs, artifacts, and exhibits in a grand 1924 mansion.
Kalaloch Tree of Life - A natural wonder on Washington's coast, this tree clings to the eroding shoreline, with its exposed roots creating an awe-inspiring photo opportunity.
Olympic National Park - Spanning diverse ecosystems, from rainforests to rugged coastlines, this national park in Washington offers unparalleled hiking, wildlife viewing, and natural beauty.
Hoh Rainforest - Nestled within Olympic National Park, this temperate rainforest enchants visitors with its lush greenery, moss-draped trees, and serene ambiance.
Marymere Falls - A picturesque waterfall located in Olympic National Park, Marymere Falls provides a scenic hiking destination amid old-growth forests.
Kloshe Nantich Lookout Point - Offering panoramic vistas, this lookout point provides breathtaking views of the Pacific Northwest landscape and the waters below.
Webster's Woods Art Park - An innovative park in Port Angeles, it combines the allure of nature with unique wooden artworks and sculptures.
PBY Memorial Foundation - Pacific Northwest Naval Air Museum - Located in Oak Harbor, this museum commemorates naval aviation history with exhibits showcasing vintage aircraft and wartime artifacts.
Deception Pass State Park - A captivating park known for its rugged cliffs, forested trails, and the dramatic Deception Pass Bridge connecting two islands.
Lookout Arts Quarry - A dynamic arts venue near Bellingham, it offers immersive events, workshops, and festivals in a reclaimed rock quarry.
Peace Arch Historical State Park - Celebrating the friendly U.S.-Canada border, this park features a grand arch monument and beautifully manicured gardens.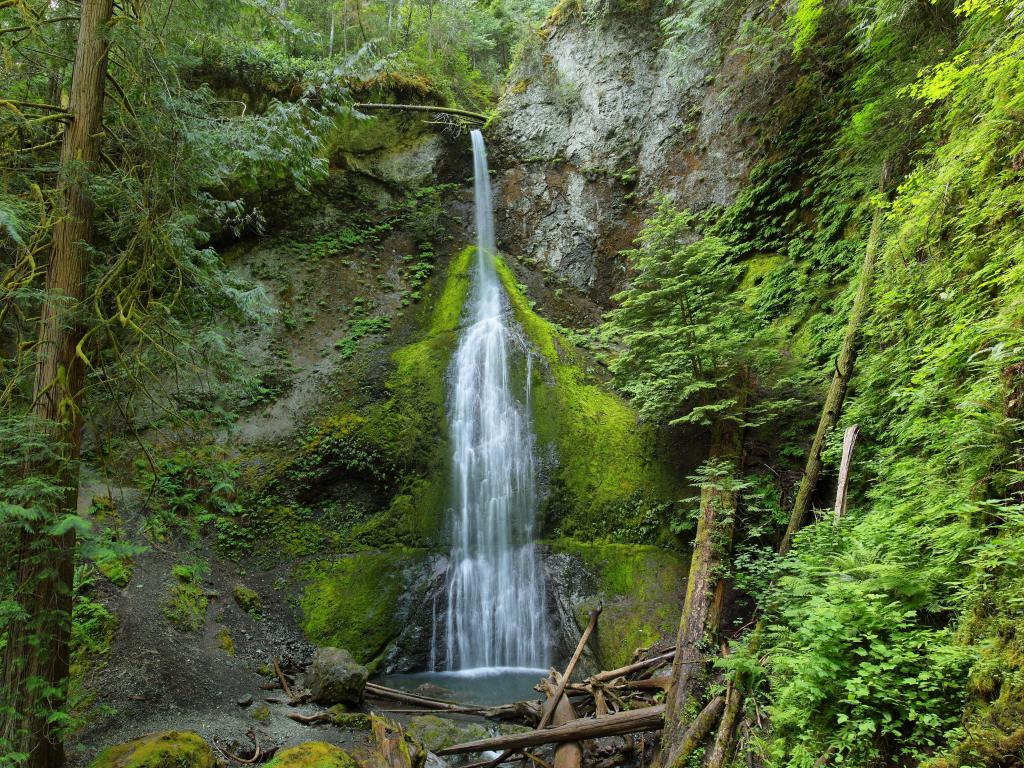 Seattle Route
Ridgefield National Wildlife Refuge - A sanctuary for birds and wildlife, this refuge near Ridgefield offers wetlands, forests, and grasslands, ideal for birdwatching and serene walks.
Seaquest State Park - A forested park near Mount St. Helens, it offers camping, hiking, and views of the iconic volcano.
Recycled Spirits of Iron Sculpture Park - Located in Elbe, this park features imaginative sculptures crafted entirely from recycled iron, creating an enchanting landscape of art.
Longmire Museum - Set in Mount Rainier National Park, this museum provides insights into the park's natural and cultural history, with exhibits on geology and early explorers.
Mount Rainier National Park - A majestic icon of Washington, this park features the active stratovolcano Mount Rainier and its glaciers, meadows, and ancient forests.
Downtown Historic District of Olympia - A charming district in Olympia showcasing historic architecture, boutique shops, and local eateries.
Washington State Capitol - Located in Olympia, this neoclassical building houses the state's legislative branches and boasts a dome, one of the tallest masonry domes in the world.
Museum of Glass - This museum in Tacoma celebrates the art of glassmaking with live demonstrations, rotating exhibitions, and the iconic Chihuly Bridge of Glass.
W.W. Seymour Botanical Conservatory - This historic Tacoma greenhouse in Tacoma houses exotic tropical plants, colorful blooms, and seasonal floral displays.
Museum of Flight - This museum in Seattle offers a journey through aviation history with aircraft displays, interactive exhibits, and space artifacts.
Imagine Children's Museum - Based in Everett, this interactive museum offers engaging exhibits and play areas, encouraging learning and imagination for kids.
Chuckanut Drive Scenic Byway - A picturesque route near Bellingham, this byway winds through coastal views, lush forests, and charming towns.
Whatcom Museum - Located in Bellingham, this museum explores regional history, art, and culture through exhibits, artworks, and educational programs.
North Cascades National Park - A rugged wilderness area, it features jagged peaks, deep valleys, and pristine alpine lakes, offering numerous recreational activities.
Newhalem - A small company town within the North Cascades National Park, it serves as a gateway to the park and offers historic sites related to the area's hydroelectric history.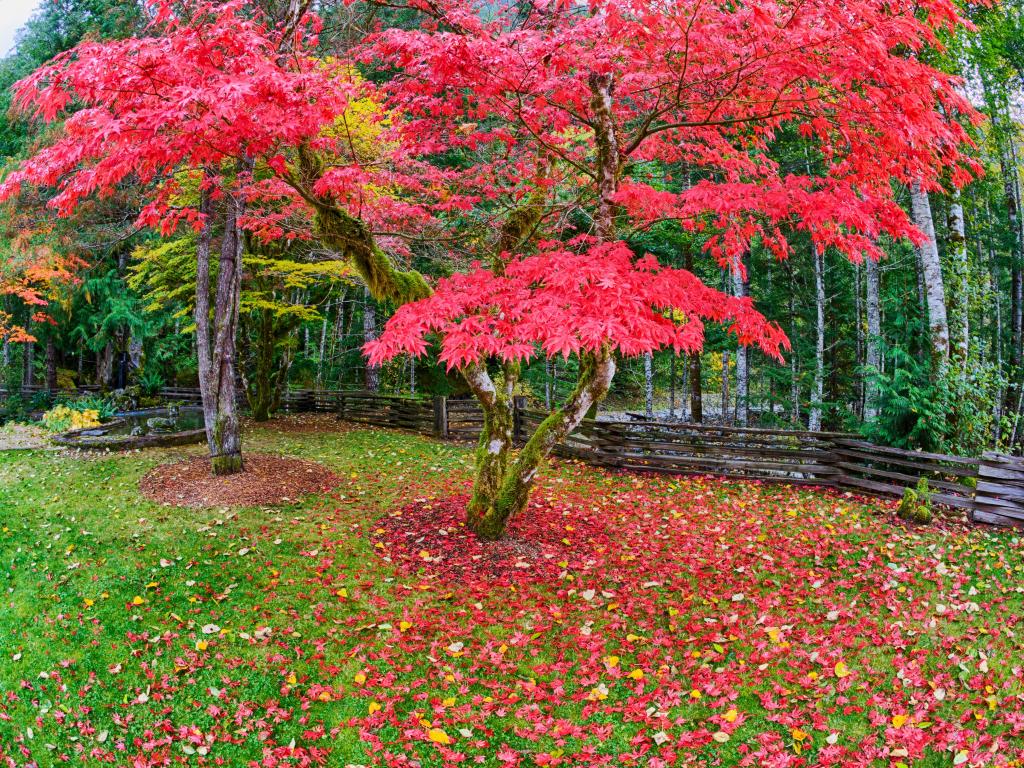 Best time to go on a road trip from Portland to Vancouver
Vancouver has a mild coastal climate that makes visiting any time of the year pleasant. In the winter, temperatures hover between 32-45 degrees Fahrenheit. The coastal route rarely sees snow, yet the higher altitudes of Olympic National Park might. Check wsdot.com for potential road closures.
On the coastal route, you can enjoy the Finnish Film Festival in February. Most small towns and cities along both routes will have unforgettable holiday celebrations around Christmas and New Year's.
By spring, temperatures rise to a comfortable 50-65 degrees Fahrenheit, making it an excellent time to travel. This season is also when puffins at Haystack Rock and Cannon Beach come out plus the chance for some whale watching.
Springtime also features festivals like Vancouver's own Cherry Blossom Festival in March/April.
By summer, Vancouver is full of sunshine, with temperatures ranging from 65 to 80 degrees Fahrenheit. The Seattle Route boasts the Seattle International Film Festival in May and June, the Ballard Seafood Fest, the Darrington Bluegrass Festival both in July, and the Vancouver International Jazz Festival in June/July.
Fall is also a beautiful time to visit, with temperatures between 45-65 degrees Fahrenheit. Check out the Seafood and Spirits Festival in September.
No matter the route or time of year, you'll be treated to a road trip of a lifetime. Make sure to download your maps and load up on supplies because both routes will lack services. This way, you'll be extra prepared to take on this fantastic journey.