Road Trip from Vancouver to Portland, Oregon
If you want a real adventure taking you alongside stunning mountains, beautiful beaches and through one of America's great cities, then the epic road trip from Vancouver to Portland is the one for you.
The 520 km (320 mile) road trip from Vancouver to Portland takes 5 hours to drive. The route passes North Cascades National Park, Richmond, Seattle and Tacoma, as well as Cannon Beach, Mount Rainier National Park and Gifford Pinchot National Forest.
There are plenty of great attractions to see en route, so be sure to keep reading until the end to learn about all of them. We'll also cover our top tips on the best route to take, where to stop overnight to break up the drive, and the best time to travel to make the most of this beautiful journey.
How far is Portland from Vancouver and how long will the road trip take?
The most direct route from Vancouver to Portland is a distance of 520 km (320 miles) and will take a minimum of 5 hours to drive.
However, as this section of the Pacific Northwest is crammed full of amazing attractions and places to visit, breaking up the journey over multiple days is a better option for a more relaxed and immersive road trip.
The ideal length for this road trip is a minimum of three days, which will include two overnight stops along your journey. The extra days will give you plenty of opportunities for fantastic views and to visit some of the best natural beauty spots in the whole of the US.
Regardless of which route you take, this road trip involves crossing the Canadian border into America. Therefore you will need to check ahead of travelling that you have the correct documentation and proof of identity.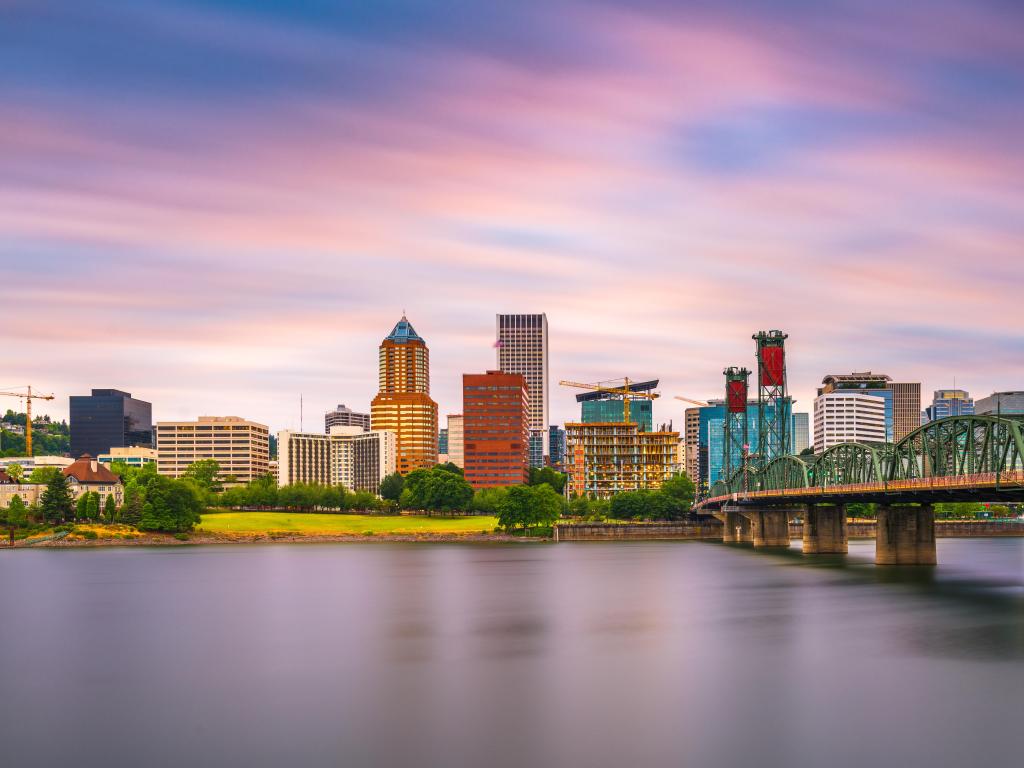 Best road trip route from Vancouver to Portland
While you could complete this trip in 520 km (320 miles), we're going to recommend a slightly longer route of 680 km (420 miles), taking 7 hours and 45 minutes to drive.
This journey from Vancouver to Portland will take you south through Washington State and includes a detour to Cannon Beach, incorporating some stunning coastal scenery along the way.
Alternatively, you could quite easily veer off the route if you wanted to check out more of Washington state or miss the Cannon Beach section and simply continue south on Interstate 5 all the way to Portland.
Road trip route from Vancouver to Portland
Head south from Vancouver, taking the BC-99 past Richmond and across the Fraser River until you reach the US border. Next take Interstate 5 south, passing several pretty towns including Custer, Ferndale, Marysville and Everett.
From these pretty towns you could take a detour to visit Mt. Baker-Snoqualmie National Forest, or follow I-5 to Seattle - an ideal overnight stop.
After spending time in this great city, continue on I-5, alongside Tiger Mountain State Forest and through Tacoma. At Olympia, take US-101 and WA-8 west, passing the stunning woodland of Capitol State Forest.
At Elma, take US-12 before merging on US-101 to Raymond, across to Astoria, following the coast to Cannon Beach. As well as great beaches to enjoy, from here you can explore nearby Lewis and Clark National Wildlife Refuge and Clatsop State Forest.
Leave Cannon Beach and head for US-26 east, alongside Tillamook State Forest and the towns of Buxton and North Plains, before arriving at your final destination of Portland.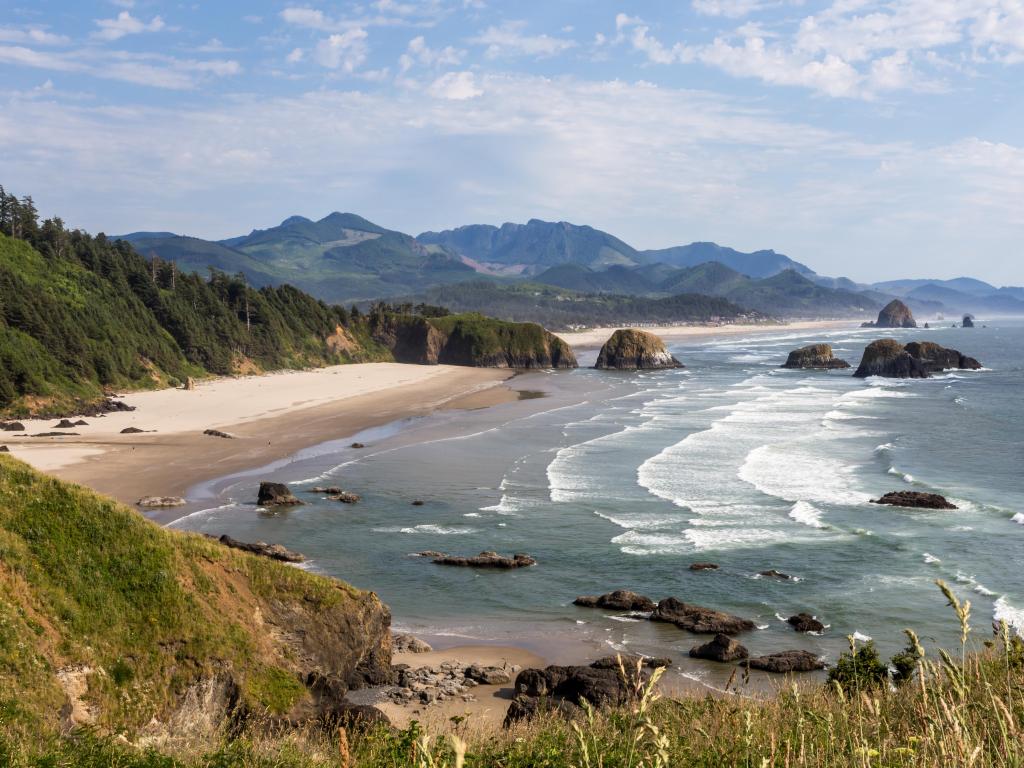 Best places to stop between Vancouver and Portland
While you could complete this trip in a day, a far better idea would be to include at least two overnight stops between Vancouver and Portland.
There are plenty of options for overnight stops, both in the pretty towns and cities you pass on this trip, but here are some of the best ones:
Explore the vibrant streets of Seattle
Seattle is situated a pleasant three hour drive from your start point of Vancouver and is a must see destination when travelling through the Pacific Northwest.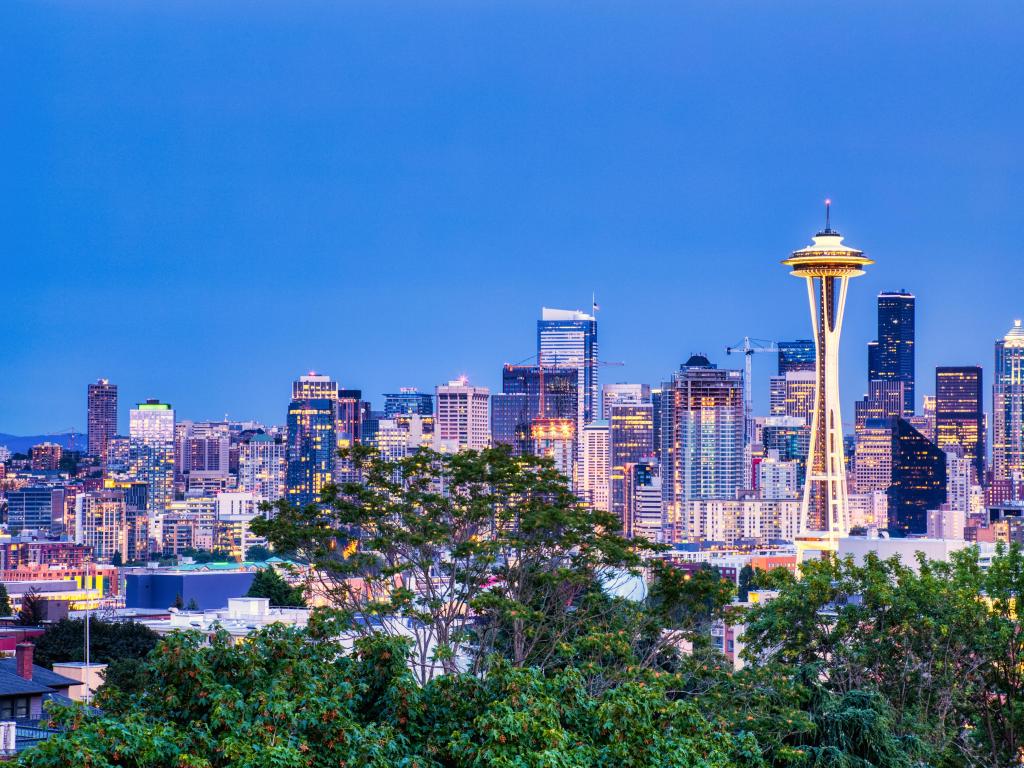 One of the most interesting cities in the entire US, Seattle is surrounded by water, mountains and evergreen forests and contains thousands of acres of parkland.
Head to the top of the Space Needle for a fantastic 360 degrees of mesmerizing views, enjoy its many skyscrapers, museums or restaurants or enjoy explore the wilderness and forests that are on offer nearby.
There are no shortages of great places to stay in Seattle however an excellent option is the Hyatt Regency Seattle. Situated right in the heart of Downtown Seattle, it is exquisitely presented throughout and has fantastic views of the incredible city.
Guests can enjoy modern and stylish rooms, an onsite restaurant and an incredible rooftop bar which offers sensational views. Being so close to all the popular attractions, including the Space Needle, makes this stay the perfect place to explore all that Seattle has to offer.
Relax on the stunning Cannon Beach
If you've chosen to follow the detour route on this road trip, then an obvious overnight stop is at the beautiful Cannon Beach. Just under an hour and a half to Portland, it's also a great place to unwind before embarking on the final stretch of your trip to Portland.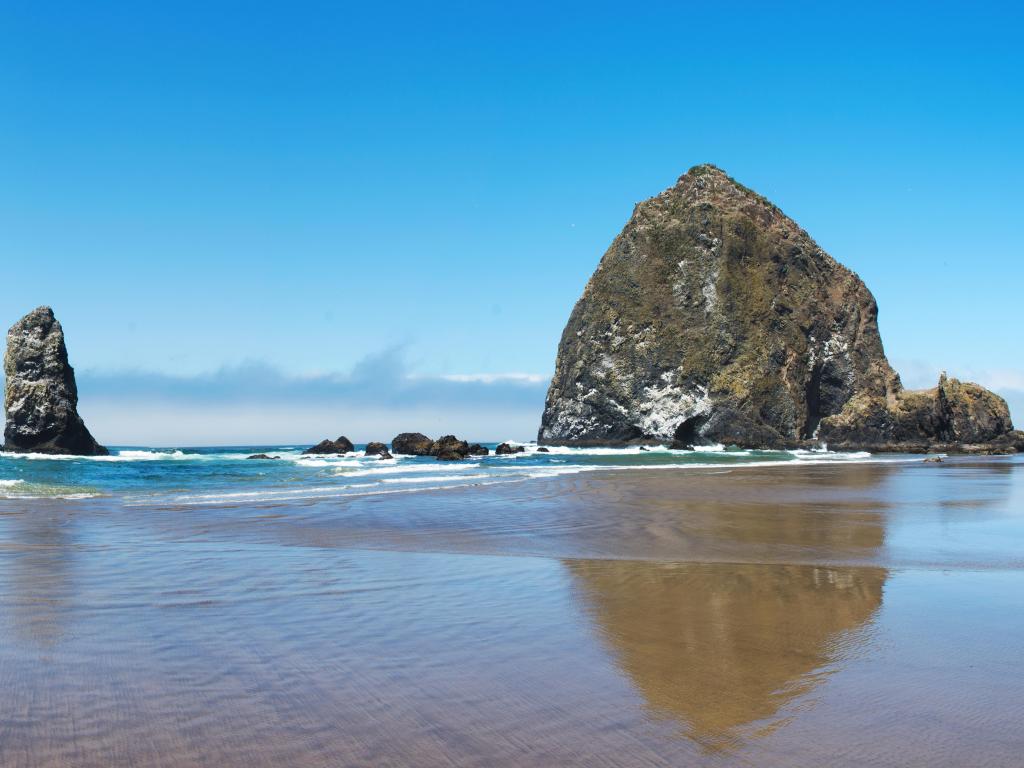 Incorporating Oregon's beautiful coastline into your itinerary, a visit to Cannon Beach offers up spectacular views of the Pacific Ocean. Boasting sweeping beaches along the rugged Pacific coastline, there's plenty to see and do here.
Spend time visiting Haystack Rock that towers 235 feet above the ocean, or get up close and personal with the local wildlife. You could also take a trip into town to check out the boutique shops and delicious restaurants on offer.
There are a number of options to choose from when it comes to hotels in Cannon Beach, including the Inn at Cannon Beach. This hotel is secluded from the noise of the main town and sits just a stone's throw from the beach.
The 4-star hotel has a rustic feel to it and is surrounded by luscious private gardens. Guest rooms are spacious and well presented, and some even include a private patio. Despite not having a pool or onsite restaurant, its close proximity to the beach and town mean make up for it.
Explore Oregon's largest city, Portland
Portland itself is a fantastic city to explore. As Oregon's largest city, Portland sits on the Columbia and Willamette rivers, in the shadow of snow-capped Mount Hood.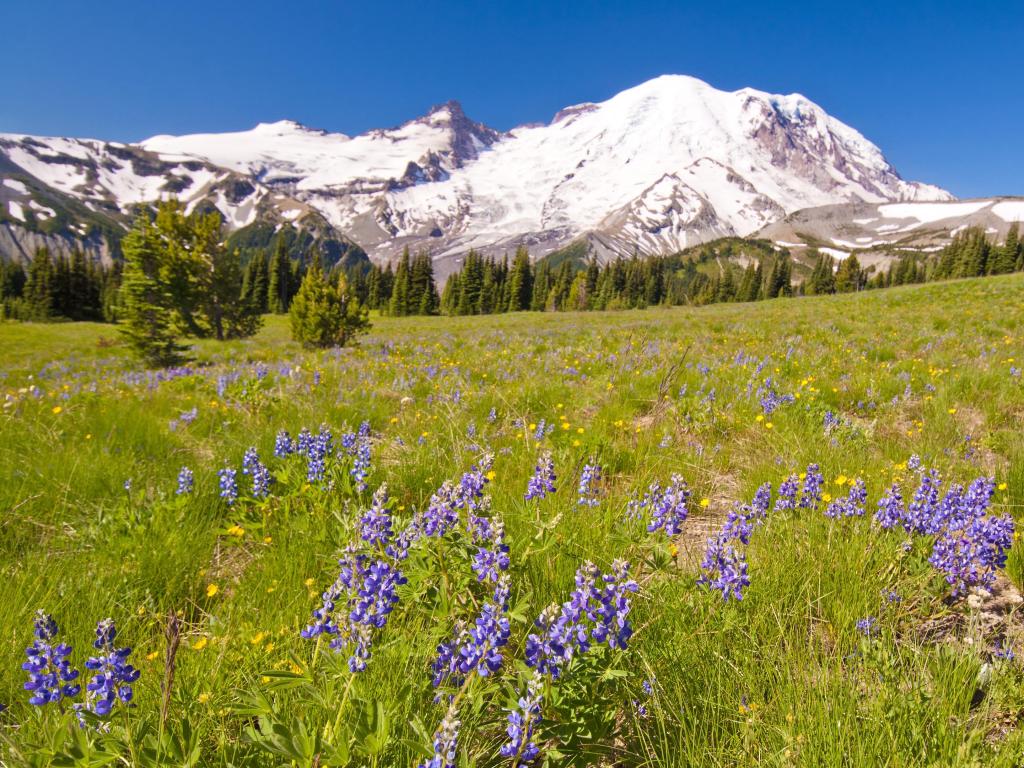 Known for its parks, bridges and bicycle paths, as well as for its eco-friendliness, you can visit the iconic Washington Park and enjoy the formal Japanese Garden or even explore Oregon Zoo. The city also boasts a thriving art, theater and music scene.
For an overnight stop, there are great options in Portland. However, the Hampton Inn And Suites By Hilton Portland-Pearl District is a particular highlight. This 4-star hotel is located in the Pearl District and within 5 minutes' walk of Powell's City of Books.
After exploring the city, guests at this resort can enjoy a swim in the stunning indoor pool or relax on the terrace. Rooms in this modern hotel are elegant and modern, they also offer fantastic city views. The Hampton Inn also offers parking - another great bonus in this popular city.
Things to see on a road trip from Vancouver to Portland
The road trip between Vancouver and Portland is full to the brim with incredible activities and experiences, so you'll certainly be spoilt for choice.
If you are pressed for time, here are a few of the very best things to see on this road trip: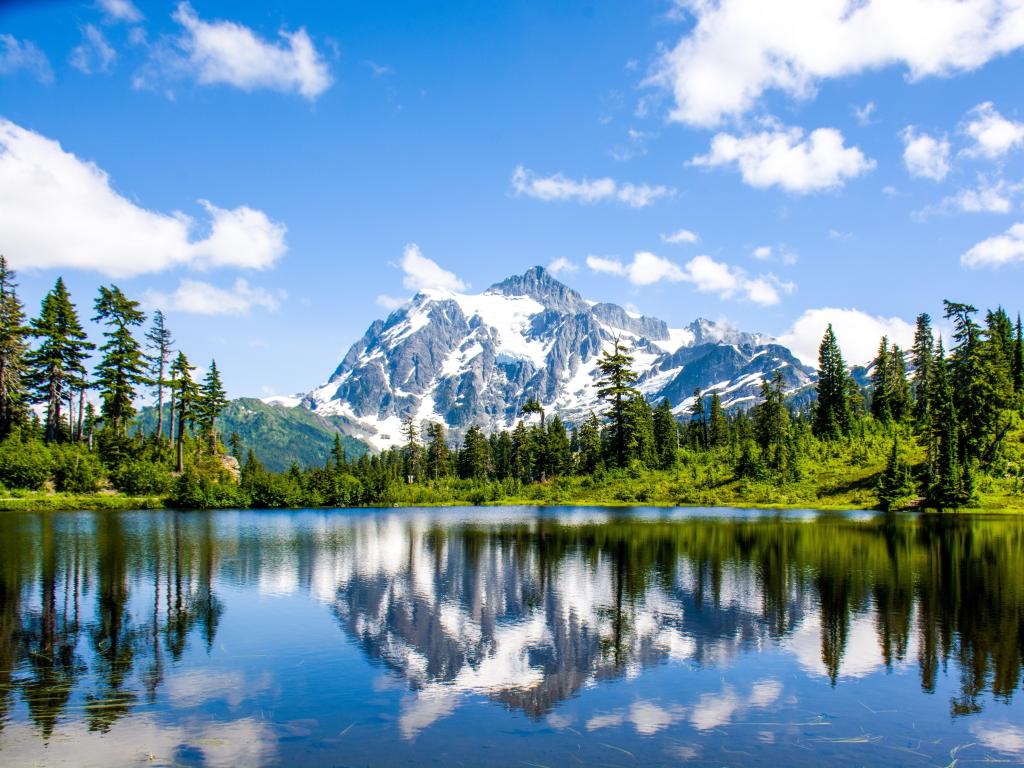 Vancouver – Vancouver is one of the best cities in North America. There's so much to do here from cycling around the city parks to brushing up on your knowledge in the city's museums.
Vancouver Island – Vancouver Island is every nature lover's paradise! Go in search of wild bears or opt to head out on a whale watching boat tour.
North Cascades National Park – Explore the incredible peaks and glaciers on offer at North Cascades National Park. There are a countless number of trails and hikes to choose from.
Richmond - Known for its Asian influences, Richmond is home to the International Buddhist Temple, an elaborate complex resembling Beijing's Forbidden City. Discover great restaurants and museums at this great city.
Seattle – There's so much to discover in this great city. Explore the slick streets of Seattle or head up the Space Needle for some fantastic views.
Capitol State Forest - Explore this working forest and recreation area, ideal for those looking to camp, go hiking or just escape city life for a walk surrounded by nature.
Olympia – Wander through the streets of Washington's capital city and visit one of the city's many museums. You can even take a walk around Capitol Lake.
Mount Rainier – A visit to Washington state isn't complete without witnessing the iconic Mount Rainier. The active volcano's peak is now glaciated and a stunning sight to behold.
Cannon Beach – Soak up the breath taking views from the sweeping beach and admire the iconic Haystack Rock towering above the ocean.
Lewis and Clark National Wildlife Refuge - Near the mouth of the Columbia River, this wildlife area provides wintering and resting areas for a wildlife, including swans, geese and ducks.
Eugene – Take a stroll around Fifth Street market to grab yourself a bargain or check out the boutique and charming cafes at this city, there's also great museums to explore and art galleries.
Medford – This mountain city found deep in the National Forests is perfect for hiking and exploring the trails of the region. The city itself is home to a great theater.
Gifford Pinchot National Forest - This forest is known for its many streams and wetlands which provide habitat for threatened fish species. Explore the area through its many trails and take in the wonderful scenery.
Portland – Explore Portland's numerous gardens and parks or dine in some of the best restaurants in Oregon at this fantastic city. From Portland you can also explore nearby Columbia and Willamette rivers.
There are plenty more spots that you might find along the way, the above list just covers the main highlights between Vancouver and Portland.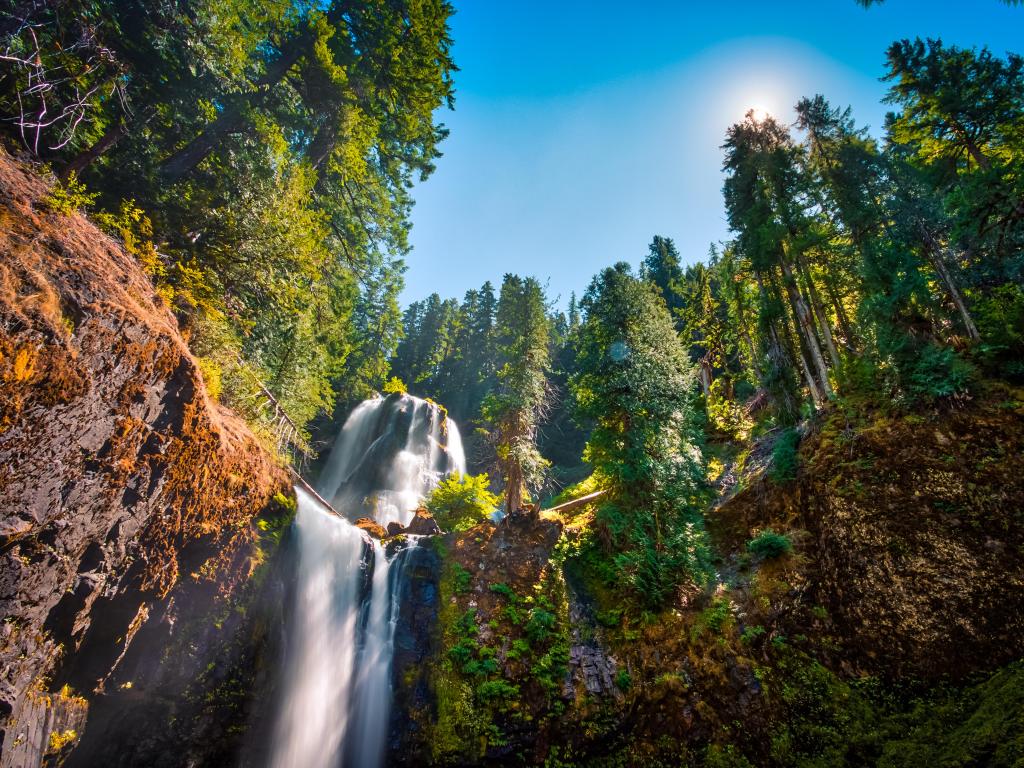 Best time to go on a road trip from Vancouver to Portland
You can enjoy the road trip from Vancouver to Portland at any time in the year. However, the most popular time to visit this part of the US is from June to August when consistently warm weather allows you to enjoy the majority of the outdoor attractions.
Summer is a great time to visit Portland as you'll get to see the city's roses (especially at the International Rose Test garden) are in full bloom. The downside of summer temperatures averaging 80 degrees Fahrenheit is that you will find tourist spots busy and beaches more crowded.
Another great time to visit is in spring. Portland in particular is awash with wildflowers and blooms around this time of year, while fall festivals, stunning colors and cooler temperatures make September to October an equally appealing time.
If you want to avoid the wet season across Oregon, you'd be best not travelling between November and March. Despite temperatures not getting much lower than 40 to 50 degrees, the unpredictable weather could dampen the outdoor attractions you're hoping to see.
That said, if you do find yourself travelling in winter, you could time your visit with Portland's Winter Light Festival, a huge event held in February showcasing glowing sculptures and thousands of twinkling lights and the Portland Rose Festival held in May is equally as beautiful.