Road Trip from Seattle to Yosemite National Park
The drive from Seattle to Yosemite National Park is dotted with stunning natural attractions no matter what route you choose. Whether you opt for the ocean and the giant Redwood parks, or head inland alongside rivers, mountains, lakes and deserts, you'll have a mesmerizing journey.
The 1,150-mile road trip from Seattle to Yosemite National Park takes 23 hours to drive. Key stops include Olympia, Portland, San Francisco and Twin Falls, as well as Lake Tahoe, Boise National Forest, Cannon Beach, Craters of the Moon and Coos Bay.
Both routes to Yosemite National Park feature some spectacular days of driving, taking you through national parks, forests, rivers, mountains and the ocean. Keep reading to find out the best places to stop, our favorite places to visit and the best time to year to leave the Emerald City.
How far is Yosemite National Park from Seattle, and how long will the road trip take?
Comparison of road trip routes between Seattle and Yosemite National Park

| Route | Distance | Driving Time |
| --- | --- | --- |
| The Coastal Route | 1,150 miles | 23 hours |
| The Inland Route | 1,580 miles | 27 hours |
The trip from Seattle to Yosemite National Park will take you from the Washington state south through California. The quickest route follows much of the coast and spans a distance of 1,150 miles. This sizeable trip will take 23 hours of non-stop driving to complete.
A lengthier inland option which makes the most of some of Idaho's most beautiful monuments and parks, covers 1,580 miles and will take a minimum of 27 hours to drive. These distances do include our suggested detours along the way, so if you're feeling short on time, you could skip those.
We'd recommend you spend at least 5 days on this road trip. By spreading the drive time over a week or more, you'll be able to enjoy the leisurely drive and include some fantastic overnight stops too.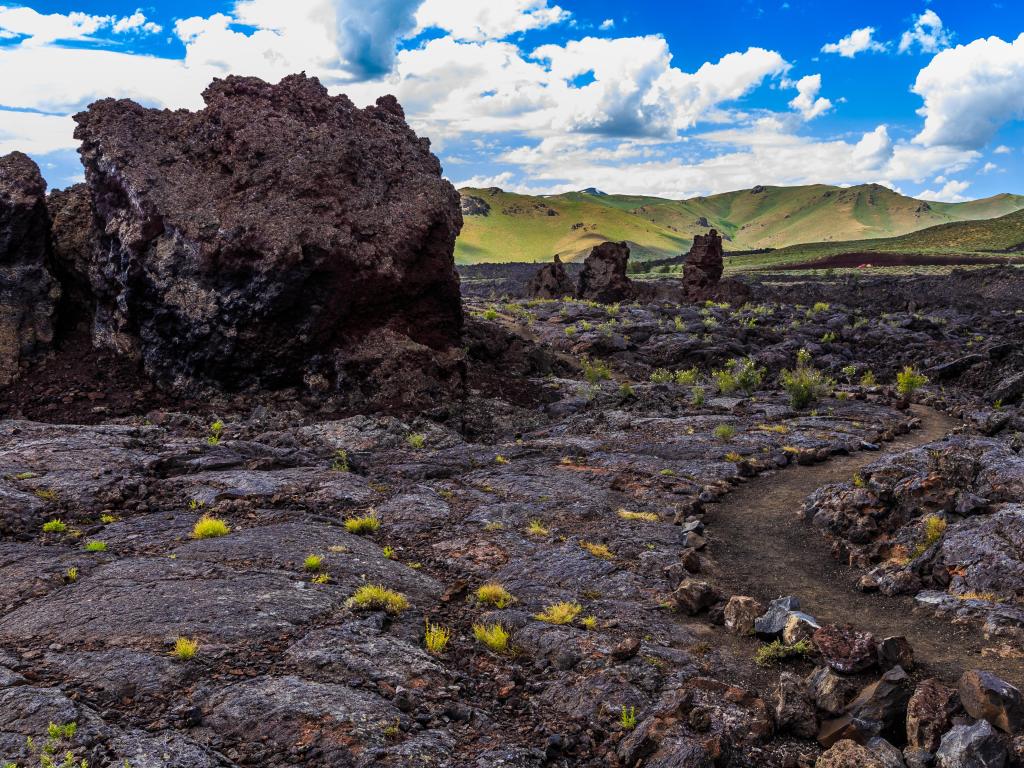 Best road trip route from Seattle to Yosemite National Park
The best route will depend upon which attractions and landmarks you'd like to see and how many days you can spend driving between Seattle and Yosemite National Park.
Taking in the stunning Oregon and California coastline, mighty redwood forests, California's wine country, and the buzzing cities of Portland and San Francisco, every day of this trip will be packed full of unforgettable sights on the Coastal Route.
If time isn't a factor and you're not drawn by the sea, then our Inland Route is another great option. Taking in stunning natural scenery as you pass national forests, mountains and the Nevada desert, as well as the other worldly Craters of the Moon National Park, it's packed full of incredible views.
The ideal route to take if you want to step away from the more travelled coastal roads or the door-to-door interstate, here you hike, bike or kayak along the way. Highlights include Lake Tahoe and Boise National Forest, though be prepared for a long section of desert driving along the way.
The Coastal Route
Leave Seattle on Interstate 5 (I-5 South) towards Tacoma. Continue through Olympia and alongside Capital State Forest. Still heading south on the interstate, pass several towns and join the Columbia River past Mt. St. Helens National Volcanic Monument.
Drive through the cities of Vancouver and Portland, and then head towards Mishawaka where you can visit Grand Rapids or Clatsop State Forest, before heading for Cannon Beach and the North Pacific Coast.
After your visit to this city, follow the coast through Arch Cape and towards Bay City alongside Tillamook State Forest. Stay on the coastal road through beautiful towns like Lincoln Beach and Newport.
Drive through Coos Bay and Gold Beach as you drive between the coast and forest before reaching the state of California. Continue south through Jedediah Smith Redwoods State Park and towards Redwood National and State Parks.
Head to Eureka and turn inland through Humboldt Redwoods State Park to Leggett. Continue along the coast on CA-1 before heading inland towards Santa Rosa. Continue south and cross the Golden Gate Bridge into San Francisco.
You'll need to cross the San Francisco Bay Bridge to reach Oakland, before taking I-580 and CA-120 East to Yosemite National Park.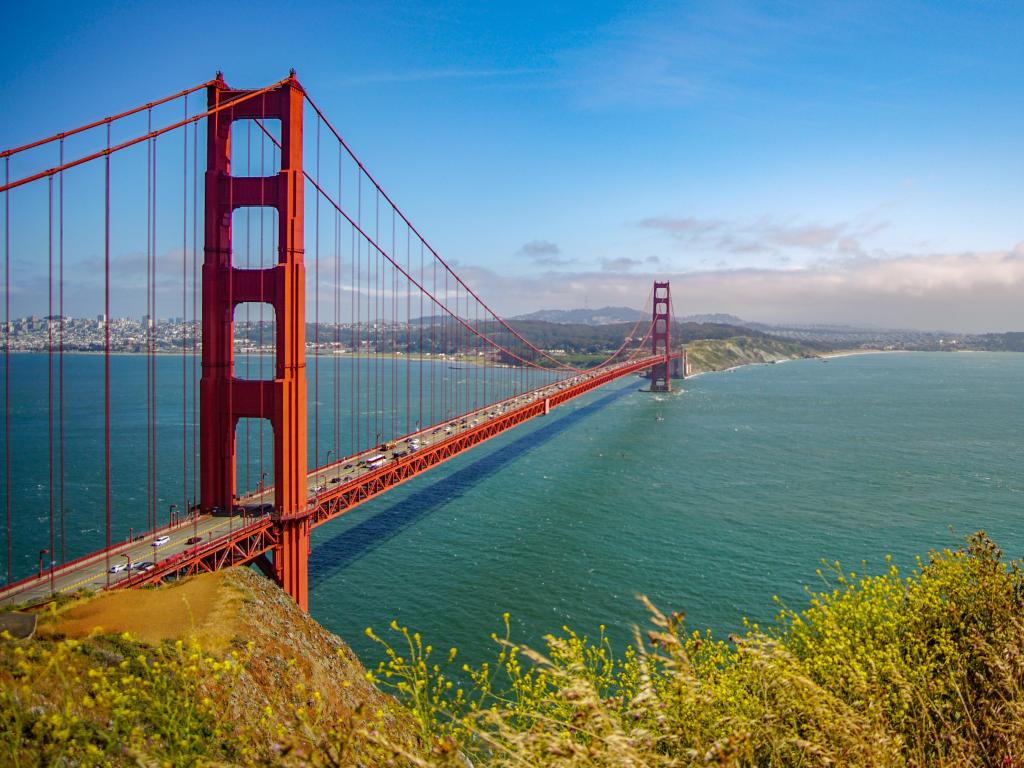 The Inland Route
Follow the same directions as the Coastal Route until you reach Portland and then head east towards Columbia River Gorge National Scenic Area and Mt. Hood National Forest.
Continue heading east towards Pendleton and drive through Umatilla and Wallowa-Whitman National Forests as you approach Boise.
Past the town, you'll head deeper through the mountainous terrain, following the Ponderosa Pine Scenic Route and driving through Boise National Forest.
Follow the road as it winds its way around the scenic landscape towards Stanley and then south past Cathedral Pines and alongside Sawtooth National Forest.
Stop at Carey for a visit to the Craters of the Moon National Monument & Preserve on US-26 East or follow the road south to Twin Falls. Continue south through Nevada's desert landscape to Wells.
Next, join the interstate heading west past North Peak, Sonoma Peak and Humboldt State Wildlife Management Area. You will pass by the southern shore of Pyramid Lake to the city of Reno. Afterwards, head to the shore of Lake Tahoe.
Follow the lake south and drive towards Topaz Lake and Mt Patterson. Continue on US-395 to Mono Lake and alongside the Twin Peaks Mountains to Lee Vining where you turn right for Yosemite National Park.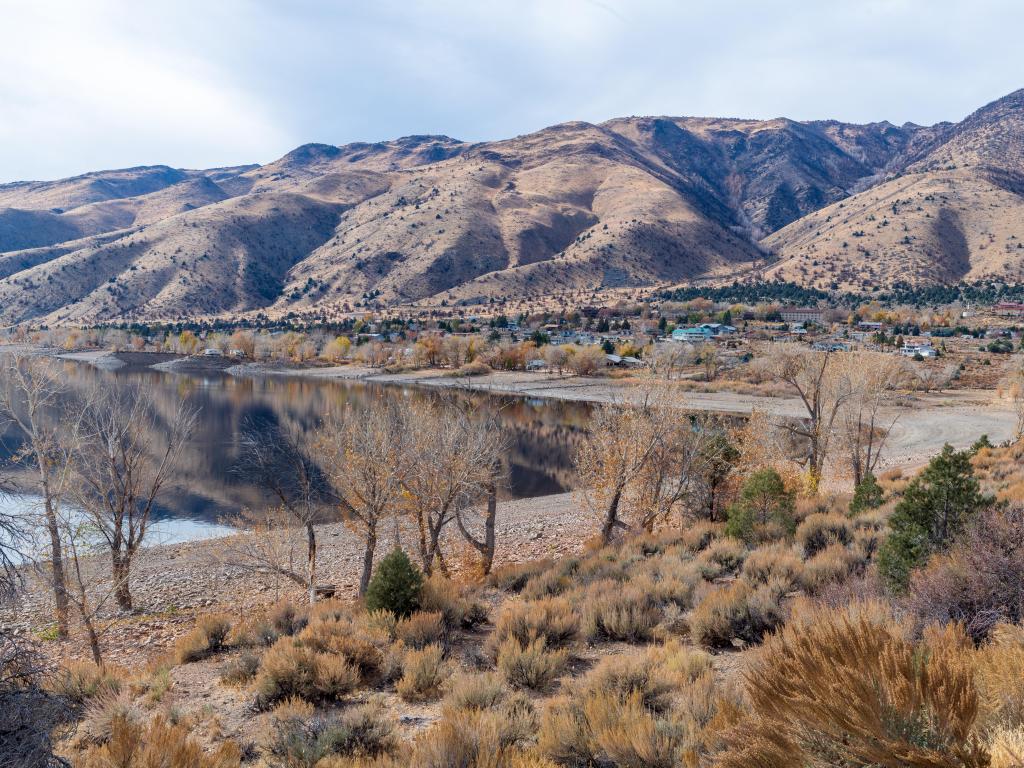 Best places to stop between Seattle and Yosemite National Park
There are so many scenic and beautiful spots you can stop at between Seattle and Yosemite National Park, including those with sea views, mountain backdrops and forest retreats.
Of all the beautiful places you'll pass along the way, these are the ones you'll definitely want to look out for.
Stunning sea views at Cannon Beach
Located under five hours from Seattle, Cannon Beach is an ideal place to stop for the first night of your trip if you're following the Coastal Route. And where better to spend the first night of a coastal road trip than looking out to sea across one of Oregon's most famous stretches of coastline?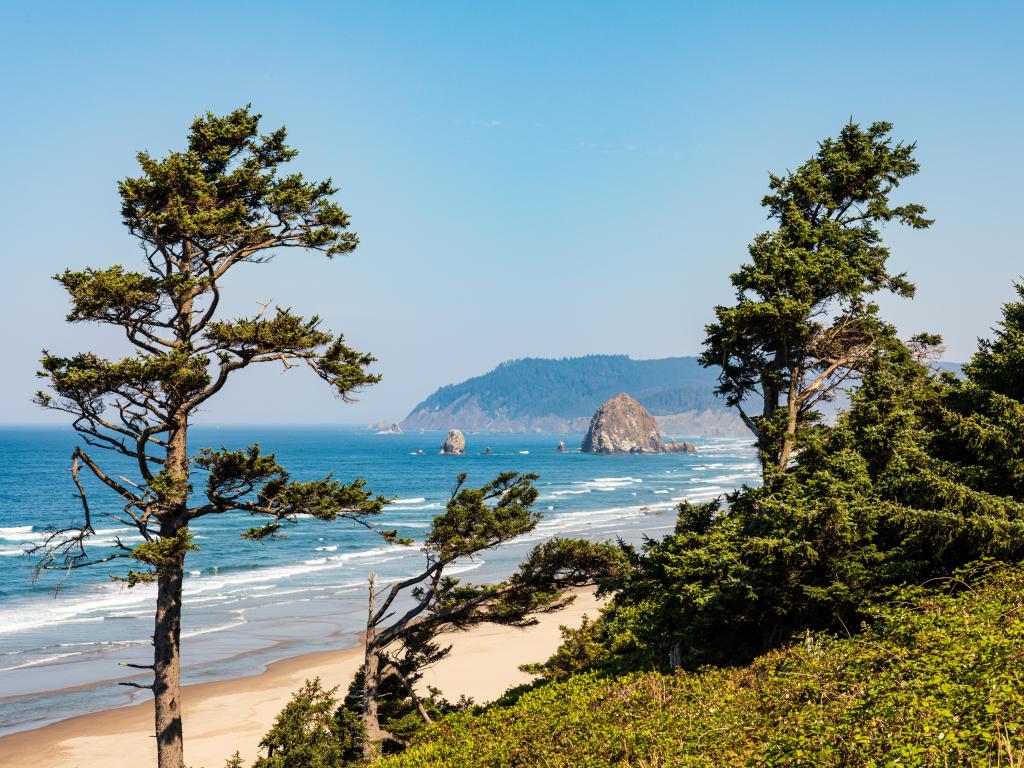 Cannon Beach is best known for its stunning ocean scenery, including the famous rock formations just off the shoreline. Capture your own take on the iconic monument that sits in the ocean at Haystack Rock or hike through Ecola State Park which has stunning views.
And that's not all, Arcadia Beach State Recreation Site, famous for its 'singing sands' (which are beautiful, even if you don't manage to hear them sing to you) is all within reach of this stunning location.
To top off your visit, a stop at The Ocean Lodge is a must. This dream hotel has an idyllic waterfront location which looks out to Haystack Rock. Comfortable and spacious rooms are topped off with ocean views (you'll need to request this as some rooms face inland).
Just off the highway and easy to navigate from the Oregon coast, the hotel also offers onsite parking and is within walking distance to the best restaurants in Cannon Beach town.
A mountain base at Boise
A third of your way to Yosemite National Park and just under 10 hours from Seattle, the city of Boise is a great base on our Inland Route. You could even reach it in a day if you're restricted in time.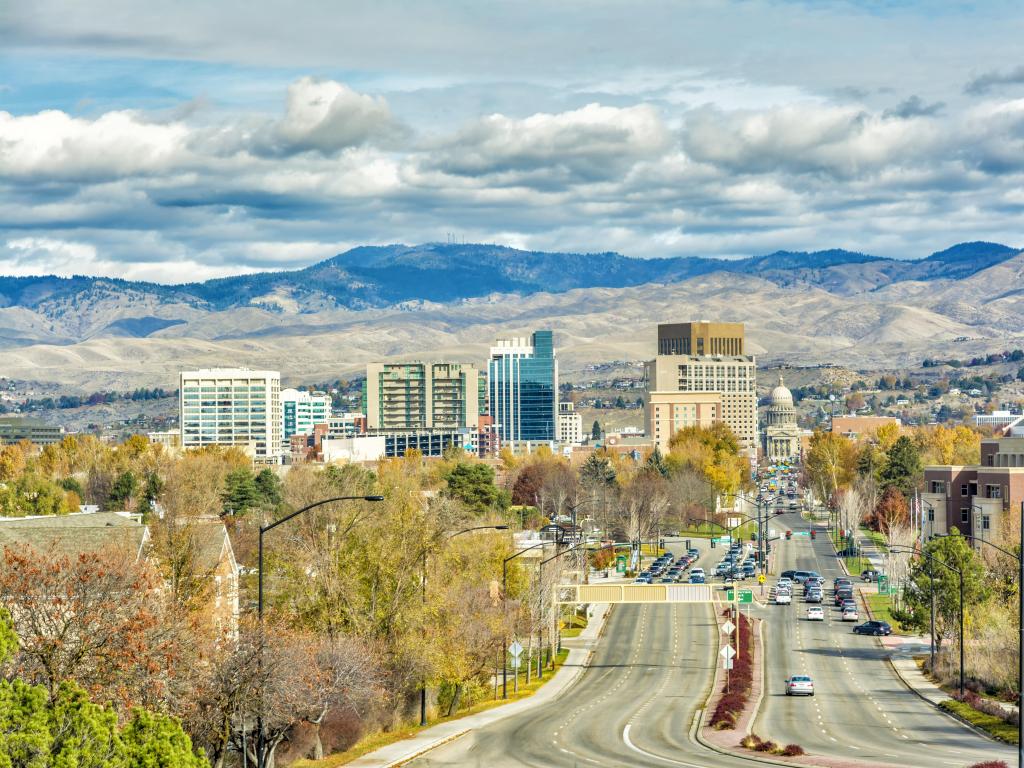 Located near the mountains, Idaho's state capital has a beautiful setting. The Boise River runs right through the city, and with the mountains and other natural attractions so close by, it's also possible to spend 2-3 days here if you're looking for a base for hiking and other outdoor pursuits.
With a striking design, modern style and contemporary features, a stay at The Grove Hotel will complement your visit to beautiful Boise. Featuring fabulous views over the mountains from its outdoor terrace, this great hotel also has a welcome indoor pool and free bike rentals.
Conveniently located on the route, the downtown hotel is just the perfect base for exploring the city. You'll be able to walk to the main restaurants and shops or take a stroll in Julia Davis Park. You can also visit the nearby Idaho State Museum and Zoo Idaho.
Some of the other great local attractions here include Boise Art Museum and the State Capital. Continue your tour through history and visit the Old Idaho State Penitentiary before exploring the Anne Frank Human Rights Memorial to complete your historic experience.
Mountain views at Yosemite National Park
Once you reach Yosemite National Park, you'll be in need of a great base to explore all that this stunning park has to offer. With hundreds of thousands of acres of parkland, mountains and lakes to explore, there are plenty of natural attractions here to keep you occupied for days.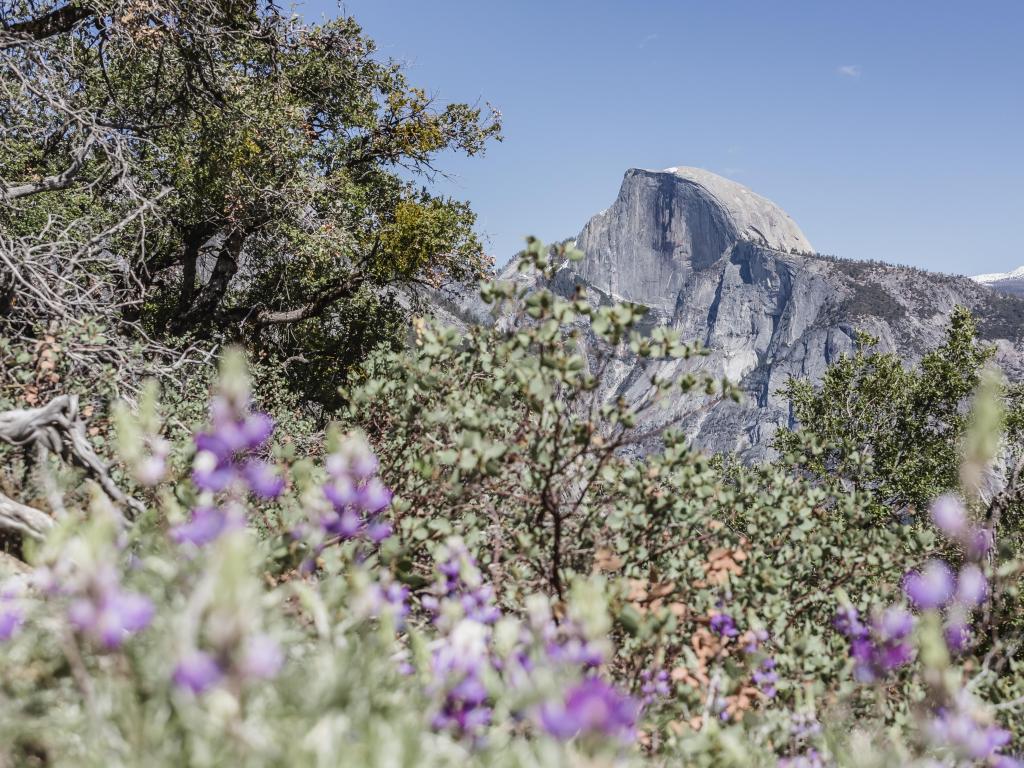 If you've followed the Coastal Route, then you'll arrive at the western entrance of Yosemite National Park. A popular hotel close to this entrance is the Rush Creek Lodge which offers fantastic views and free parking.
With a mountain lodge feel coupled with modern comforts, including spacious rooms and a beautiful outdoor pool, this hotel is a great option if you'd like to feel close to nature yet enjoy a touch of luxury.
Enjoy great wine or onsite dining, before heading out into the park. Staff are on hand to advise on the best routes through Yosemite, which is a bonus if it's your first visit.
A lake retreat in the Eastern region of Yosemite National Park
If you've followed the Inland Route to Yosemite National Park, then you'll find yourself approaching via the eastern side. Having driven past Lake Tahoe and Mono Lake, you might just find yourself craving a waterside view.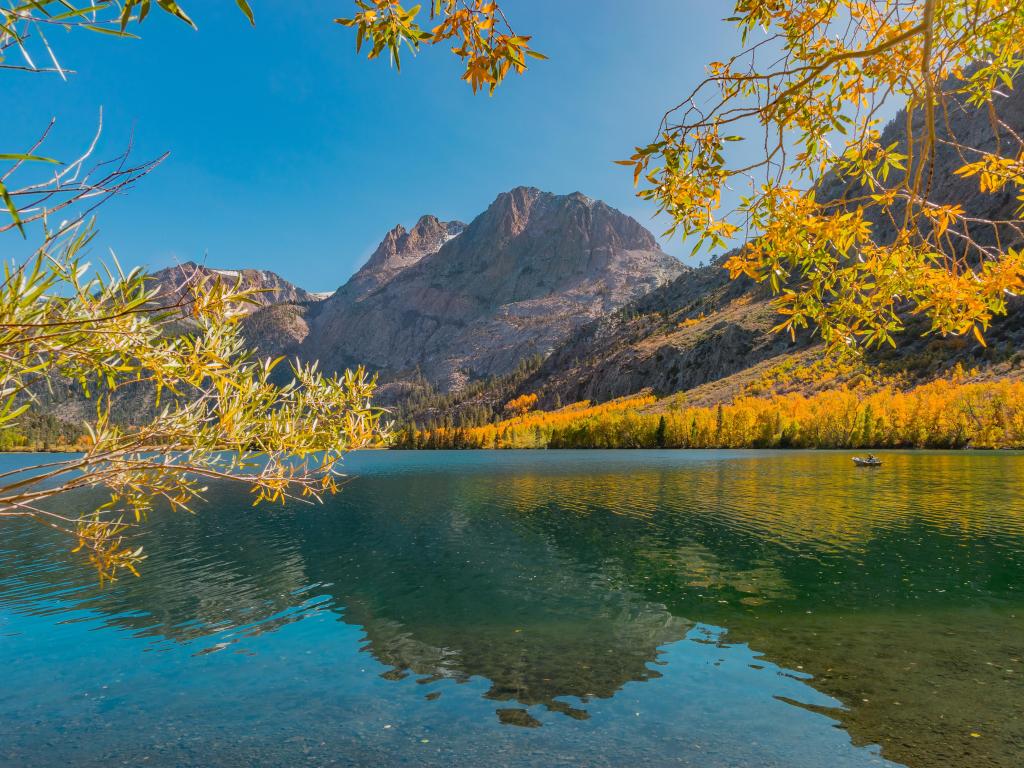 The Heidelberg Inn is an altogether different hotel compared to the one above. This smaller lodge-style accommodation has a more rustic, natural vibe. Located close to June Lake and offering impressive views (including a hot tub which overlooks the mountains), this is a fabulous back-to-nature stop.
Offering free parking and being close to the road, making multi-day entries to Yosemite possible (and recommended), you'll be able to escape the crowds after a day of sightseeing and really unwind. There's a two-night minimum stay here, though you'll definitely want to stay for more!
Things to see on a road trip from Seattle to Yosemite National Park
One of the great things about this road trip is that there are so many incredible places along the way to warm you up before you reach the incredible Yosemite National Park. Here are some of our highlights from our recommended routes.
Both Routes
Olympia - Washington's state capital looks out across Puget Sound and is known for its vibrant indie cultural scene. You can tour the Capitol building, then head to Olympic Flight Museum to watch vintage aircraft take to the air.
Mt St Helen's National Monument - A short and incredibly scenic detour off the interstate along the 504 will bring you to this notorious volcano, famous for its deadly 1980 eruption.
Portland, Oregon - Find a moment of calm at Portland Japanese Garden or Lan Su Chinese Garden, or just relax by the waterfront with a local craft beer in your hand.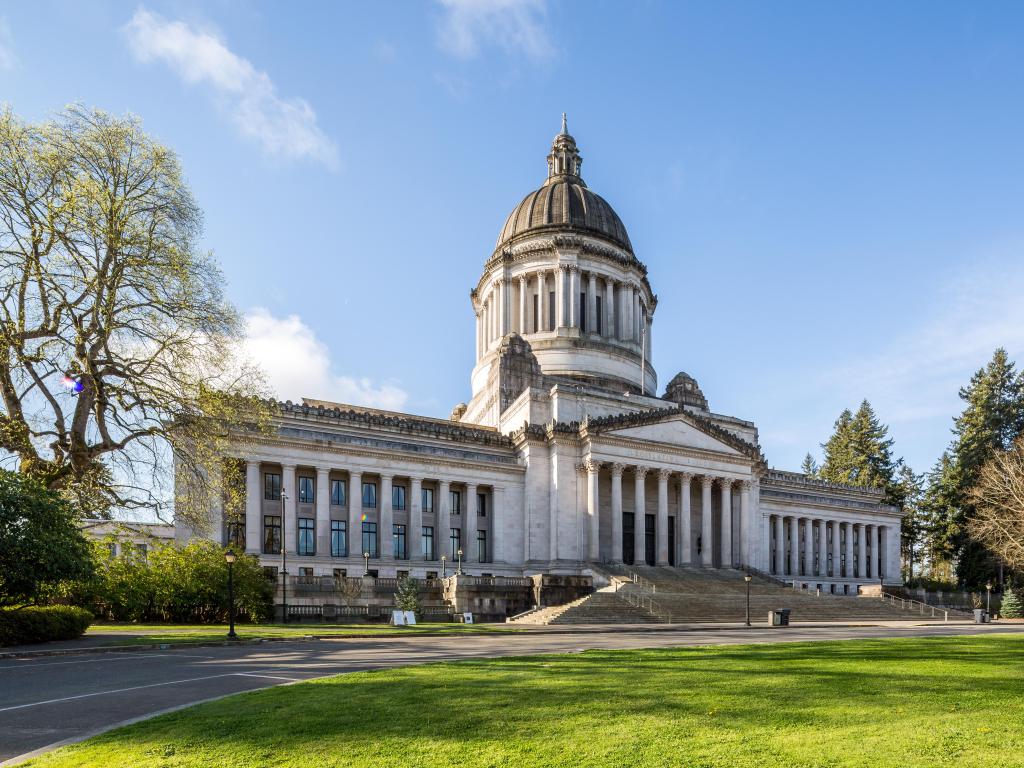 The Coastal Route
Cannon Beach - The stunning rock formations in the ocean off Cannon Beach are well worth a visit, with long stretches of sandy beach and hidden coves to enjoy in the area as well.
Devil's Punchbowl State Natural Area - The shape of the rocks here make for some impressive surf. People come from miles around when conditions are right, and you can explore calmer stretches of shoreline here too. There's only limited parking so arrive early if you can.
Cape Perpetua - You'll get fabulous views of the Oregon coast from this 800-foot-high lookout. You can also explore the surrounding temperate rainforest along marked trails.
Coos Bay - This lovely city by the sea is a great mix of culture and maritime heritage, as well as offering a more urban interlude in your coastal drive. Head to Coos Art Museum or the Historical & Maritime Center, where you can learn more about its seafaring past.
Jedediah Smith Redwoods State Park - As the name suggests, you can walk through towering groves of old growth redwoods at this state park, named after a famous explorer.
Redwood National State Park - You'll find some of the world's tallest trees here, making this park a must-see attraction as you make your way south.
Santa Rosa - Visit the Charles M Schulz Museum to see the comic book artist's studio recreated, art on display, and a Snoopy-shaped maze. Or try a few local wines when you head to Historic Railroad Square for a drink or a meal.
Sonoma and Napa Valley wineries - Take a tour of some of California's wineries to learn about what makes the wine they make here so special.
San Francisco - There's something for everyone in the City by the Bay. Drive over the iconic Golden Gate Bridge, immerse yourself at the San Francisco Modern Art Museum, visit the Disney Family House, or take the ferry to notorious Alcatraz prison.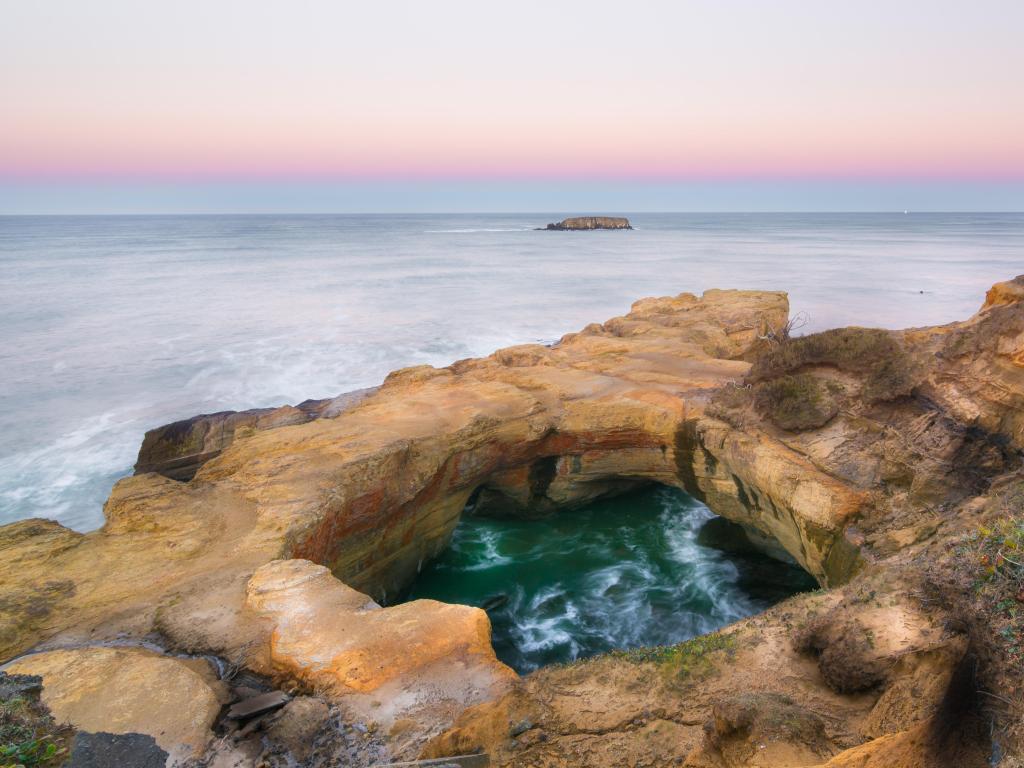 The Inland Route
Columbia River Gorge National Scenic Area - Even just sticking to the highway you'll get stunning views along this forested river canyon. You'll find plenty of places along the way to stop and hike or drive up to viewpoints, lookouts and waterfalls.
Deer Flat National Wildlife Refuge - This is a must-see for bird watchers, with many species of migratory birds stopping off here on their journeys.
Boise - This young city is known for its growing tech scene, its rich history and inspiring outdoor attractions. Make sure to visit the Boise River Greenbelt while here for a tranquil and scenic experience.
Ponderosa Pine Scenic Route - If you have extra time and want to explore the mountains of Idaho, take a detour along Idaho 21 to enjoy mountain towns and fabulous views.
Craters of the Moon National Park - This unique landscape, creating by volcanic activity in ancient times, is now a fascinating place to explore.
Twin Falls - The main attraction here is the spectacular Shoshone Falls – you can even kayak in the waters nearby for a different view of this mighty waterfall. Or head a little further to enjoy outdoor pursuits at Snake River Canyon or Dierkes Lake – climbing enthusiasts will find plenty of routes to take on here too.
Reno - Seeing as you're on a road trip, why not head to the National Automobile Museum to view some of the vehicles that might taken these roads in the past. You can also take your pick of casinos here if you want to try your luck.
Lake Tahoe - Take some time out to enjoy the sparkling blue waters of Lake Tahoe, with watersports, swimming and beautiful views across the lake and mountain.
Best time to go on a road trip from Seattle to Yosemite National Park
For the best road trip experience, we recommend travelling between April to October. Yosemite experiences very cold winters, with some snow, so it's not an easy place to visit during the winter, though our Inland Route is more forgiving during the colder months if you're set on a winter trip.
The summer temperatures are comfortable through most of the route, sitting in the mid-70 degrees Fahrenheit on the Coastal Route (increasing the further south you get) but hotter on the inland route – Boise spends much of the summer close to the 80s.
Yosemite experiences regular snowfall and temperatures sit between 20 and 40 degrees throughout winter. The Tioga Road entrance is usually closed from November, so you'll have to take a significant detour to enter the park if you're coming from the coastal route.
The weather at your destination slowly warms up from March to May, reaching a pleasant 50 to 60 degrees by May – be aware that overnight temperatures will still regularly dip below freezing though. But time a spring trip right, and you're likely to catch wildflowers blooming.
The situation is reversed in the fall, with temperatures dropping from a mild 70 in September to a cool 50 by November, and the chance of an early snowfall.
Yosemite doesn't host major annual events as such but keep an eye out for information on the regular events schedule, which can include things like dark sky walks, day hikes, and art walks for both adults and children if you'd like to tie a festival or event into your trip.