Carbon Beach, often referred to as "Billionaire's Beach" due to the luxurious oceanfront homes lining its shore, offers a unique Malibu experience. Make sure to stop off for a more peaceful and private beach experience, where you can marvel at the impressive homes whilst you wander the golden sands.
A quick overview of Carbon Beach, Malibu
Street Address
📍22878 Pacific Coast Highway, Malibu 90265
Facilities at this beach

🕒 Opening hours (7am-10pm)

🚗 Parking (Free)
Where can I find the Carbon Beach along the Pacific Coast Highway?
Carbon Beach is just a couple of miles from the center of Malibu. After years of efforts by the California Coastal Commission, there are now several public access paths.
You can find access at Carbon Beach Zonker Harris Access next to the home at address 22664 Pacific Coast Highway, Carbon Beach West Access / Ackerberg Access along 22466 Pacific Coast Highway and Carbon Beach East Access / David Geffen Access at address 22126 Pacific Coast Highway.
Parking for Carbon Beach is mainly found on Pacific Coast Highway as there aren't large public parking lots. Look out for parking spaces along the highway, but make sure not to block in residents.
From Los Angeles, to the southeast, Carbon Beach is around 25 miles away, which would take around 30-40 minutes to drive with no detours.
Why we love visiting Carbon Beach
Carbon Beach is an unusual stop off compared to other beach stops, with the limited access making this an interesting and quiet retreat.
You will get a chance to admire some of Malibu's most amazing oceanfront homes along the beachfront which is picture-perfect for sunbathing, picnicking, or taking leisurely strolls.
How we rate the different aspects of Carbon Beach
Feature
Our rating
Natural beauty and scenery
⭐⭐⭐
Cleanliness and water quality
⭐⭐⭐⭐
Peace and quiet
⭐⭐⭐⭐⭐
Activities on offer
⭐
Accessibility
⭐
Often referred to as 'Billionaires Beach', Carbon Beach is renowned for its ultra-luxurious homes. The beach's exclusivity provides a unique atmosphere for visitors.
Carbon Beach offers a long stretch of beautiful, sandy shoreline with fewer crowds. This ensures a more intimate beach experience.
For many years, the exclusivity of Carbon Beach meant limited public access. The California Coastal Commission has increased public access points for better coastal accessibility for all.
Carbon Beach is conveniently close to upscale dining and shopping in Malibu. This makes it perfect for those looking to combine a beach day with some refined entertainment.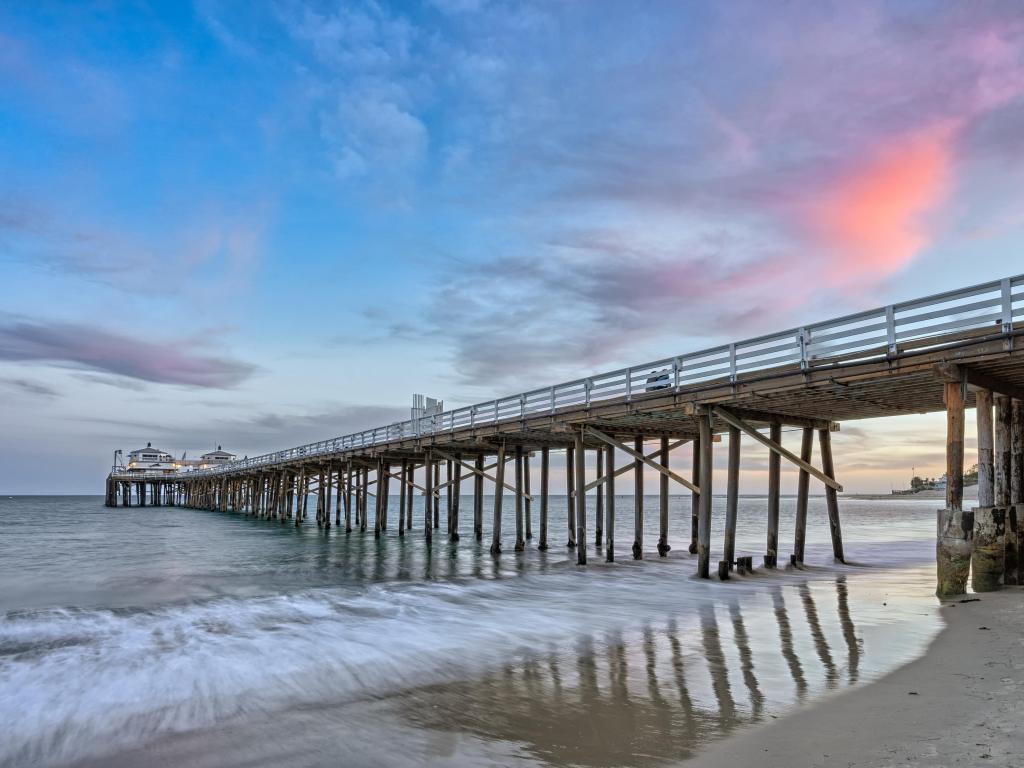 What else is there to do near Carbon Beach?
After you have enjoyed some relaxation and potential celebrity spotting along Carbon Beach, why not check out some of these other local attractions?
Malibu Pier - The historic Malibu Pier, stretching into the Pacific, offers ocean views, dining options, and a glimpse into California's surf culture.
Malibu Country Mart - As Malibu's premier upscale shopping destination, it is packed with boutiques and luxury places to eat.
Malibu Lagoon State Beach - Nestled where Malibu Creek meets the ocean, this is the perfect setting for birdwatching, picnicking, and enjoying Malibu's coastal beauty.
Surfrider Beach - Adjacent to the Malibu Pier, Surfrider Beach is famed for its long right-hand break, making it a favorite among surfers.
Adamson House and Malibu Lagoon Museum - This amazing museum offer visitors a journey through time with its preserved Spanish Revival architecture and exhibits on the area's past.
Common questions about visiting Carbon Beach
The near-private sands along Carbon Beach make a visit here feel special and peaceful, however unlike other public beaches, the reduced access means you'll need to take most things with you if you plan on staying a while.
Is Carbon Beach accessible and open year-round?
❗ Yes, Carbon Beach is open year-round, however there are only three accessible entry points to the beach.
Can I enjoy water sports at Carbon Beach?
❗ Yes, you can enjoy water sports at Carbon Beach, however the beach is better suited to relaxation, sunbathing, and gentle water activities.
Is Carbon Beach easily accessible for those using wheelchairs or strollers?
⭕ Yes, Carbon Beach is accessible to those with lower mobility, head to Carbon Beach Zonker Harris Access, next to 22664 Pacific Coast Highway, which offers a gate and a ramp.
Is there anywhere to buy refreshments at Carbon Beach?
❌ No, there is no convenience store or refreshment stand at Carbon Beach, so make sure to stock up on supplies before you arrive.
Are dogs allowed on Carbon Beach?
❌ No, dogs are not allowed at Carbon Beach.
Are there any changing facilities at Carbon Beach?
❌ No, there are no changing facilities or showers at Carbon Beach.
Are there any beach chairs or umbrellas to hire at Carbon Beach?
❌ No, there are no beach chairs or umbrellas to hire at Carbon Beach.
Is there anything else to watch out for when I visit Carbon Beach?
If you fancy splashing out, then Nobu Malibu, an upscale restaurant, is along Carbon Beach, and offers pretty fancy meals and drinks!