Road Trip from Los Angeles to Sequoia and Kings Canyon National Park
A road trip from Los Angeles to Sequoia National Park and Kings Canyon National Park is the perfect way to reconnect with nature. So if you need a short break from the city, this journey is definitely for you!
The 220-mile road trip from Los Angeles to Sequoia and Kings Canyon National Parks takes 4 hours 30 minutes of driving without detours. Key stops include Santa Clarita, Six Flags Magic Mountain, Alamo Mountain Loop, Castaic Lake, Bakersfield, and Fresno.
There are lots of other fabulous sights and attractions to see on this journey. So please keep reading until the end to find out all about them.
How far is Los Angeles to Sequoia and Kings Canyon National Parks and how long will the road trip take?
Los Angeles is separated by a distance of around 220 miles from Sequoia National Park and Kings Canyon National Park.
The most direct and quickest route will take you around 4 hours and 30 minutes to drive to both these places from Los Angeles. So you could easily leave the city after breakfast and get into Kings Canyon National Park nicely in time for dinner.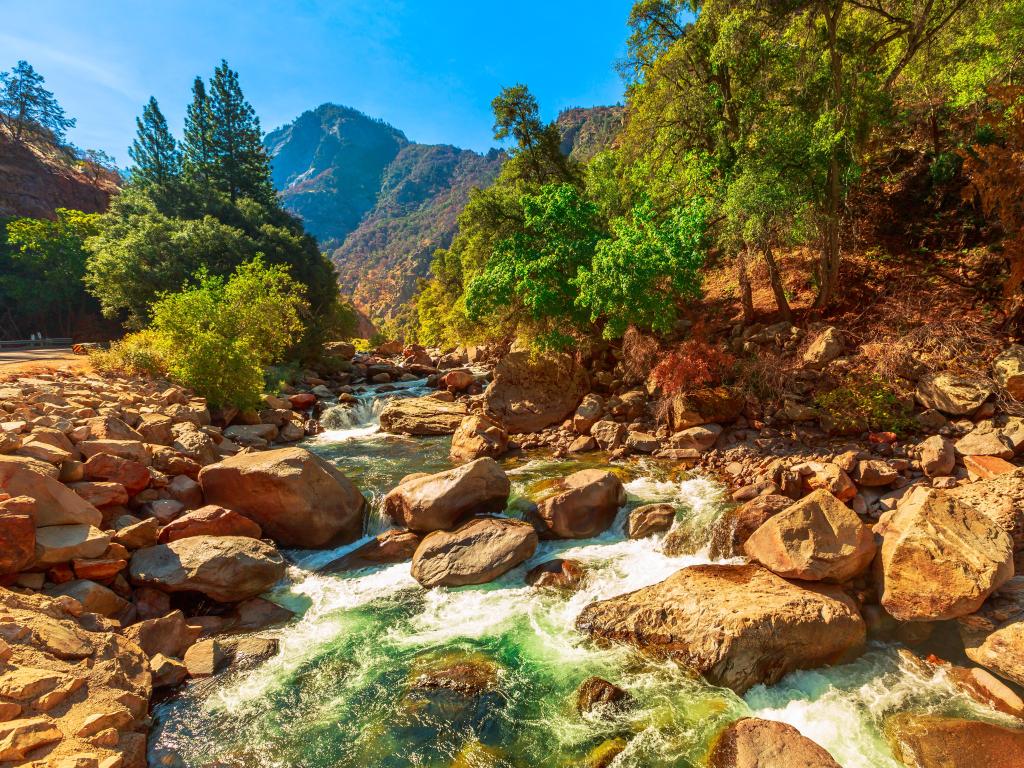 The chances are, however, that you will want to explore this route in a bit more detail. The sheer variety and beauty of the natural features along this route warrant several stops and small detours, if you can spare the time.
So why not schedule an overnight stop or two, to allow you to fully appreciate all there is to see and do along the way?
Best road trip route from Los Angeles to Sequoia National Park and Kings Canyon National Park
The most direct way to get to Sequoia National Park and Kings Canyon National Park is via the Interstate-5 and California State Route-65.
The journey will showcase some incredible scenery and will also give you the chance to check out some charming cities and towns, and many other interesting tourist sites along the way.
Road trip route from Los Angeles to Sequoia and Kings Canyon National Parks
Take Interstate 5 out of Los Angeles, driving past Rocky Peak Park and into Santa Clarita. Just out of town, be sure to visit Six Flags Magic Mountain, then continue north past Wakefield Winter Wonderland and Castaic Lake.
Take a break at Pyramid Lake if you have the time, then follow the interstate past Fort Tejon State Historic Park. Past Wheeler Ridge, get on Route 99, then follow it all the way to Bakersfield.
Take a break here, then leave town via Route 65. Take an optional detour to Isabella Lake via Route 155 if you feel like it, or stay on the main road until you've passed Rocky Hill. From here, you can either detour to Fresno or follow Sierra Drive and Generals Highway to the parks.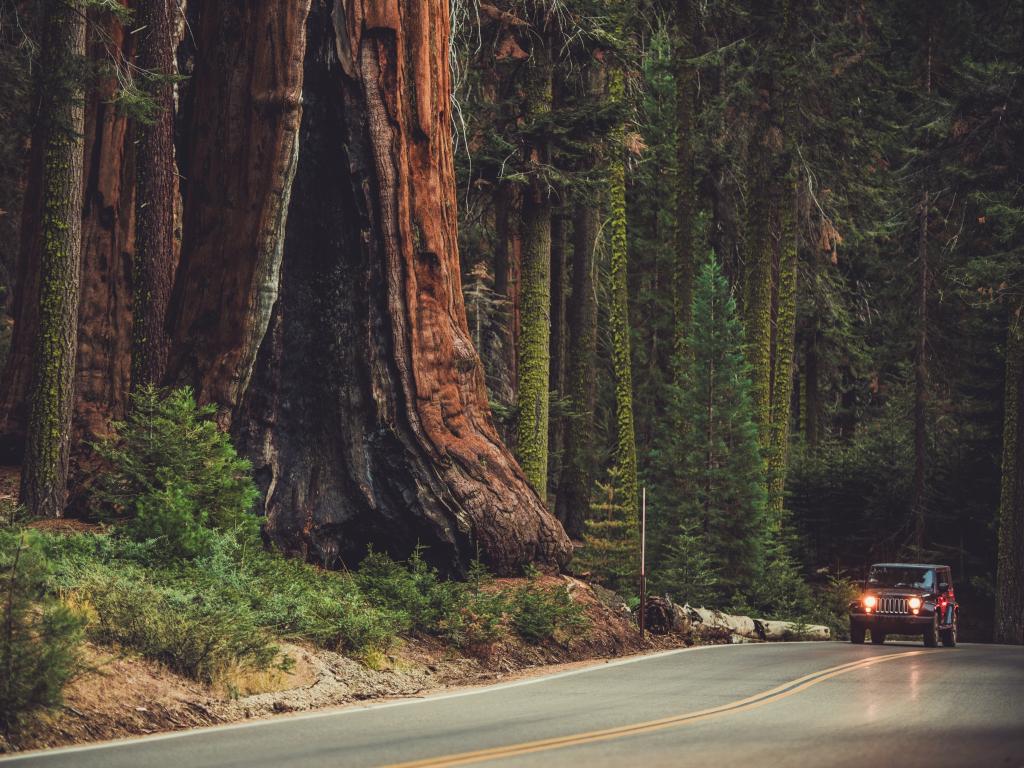 Best places to stop between Los Angeles and Sequoia and Kings Canyon National Parks
During your road trip from Los Angeles to Sequoia National Park and Kings Canyon National Park, there are a number of fabulous towns, vibrant cities, and engaging tourist sites to visit.
If you want to give yourself a couple of days to stop off at some of these places, then you should consider booking the best of the best. These are the finest hotels you can expect to find along the way:
Enjoy the atmosphere in Santa Clarita
Driving through California can get a bit hot, so you'll want to make a stop in a place like Santa Clarita. If you're looking to unwind after a long drive,
La Quinta by Wyndham Santa Clarita offers an amazing hot tub that will perk you right up for another adventure
.
Rooms are stylishly appointed with hardwood furniture and blackout curtains. They also feature massive king-size beds that will have you drifting off to sleep in no time at all.
On top of the always-welcome jacuzzi, the place, this pet-friendly hotel also provides guests with an outdoor pool, an on-site gym with cardio machines, and a continental breakfast to set you up for the day ahead.
Besides, the price is extremely fair considering just how much there is to enjoy here. All the attractions in Fresno (not to mention the National Parks themselves) are all in the immediate area, just waiting to be explored.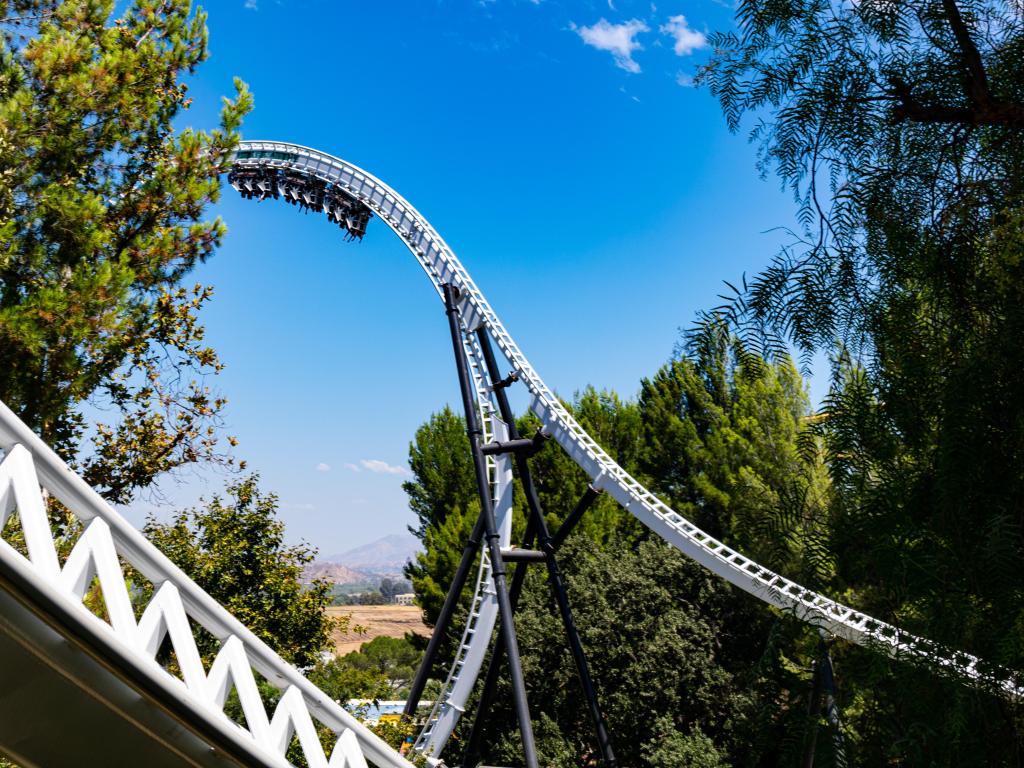 Relax in style in Bakersfield
Thanks to its location on the route, Bakersfield is a no-brainer when it comes to places to stop along the way.
There are a few great hotels here, but none of them have the fancy rooms and gorgeous design of The Padre Hotel
.
One of the main highlights of this hotel is its fabulous dining options. It also has 3 terrific bars including a piano bar and one that features a rooftop deck.
The bright, airy rooms are modern and comfortable, equipped with everything you need for a fantastic stay, including a scenic window view of the city.
This resort is within easy walking distance of the Rabobank Arena, Theater & Convention Center, and a number of other iconic places you need to check out whole in Bakersfield.
The hotel is a bit pricier than most of its local competition, but Bakersfield hotels are relatively cheap, so you won't be overspending by any means.
Soak in a luxury pool in Fresno
If you took the option of detouring near the end of your trip, you could also book yourself a room in Fresno. Close to both Sequoia National Park and Kings Canyon National Park, the DoubleTree by Hilton Fresno Convention Center has the fanciest swimming pool in the entire city.
The elegant rooms do exactly what they're supposed to do - provide comfort while also giving you the space and resources to get some work done if necessary.
After enjoying a delicious meal at the on-site restaurant, you can either head out into town to do some sightseeing or do some exercise in the amazing fitness area.
The highlight of this place would have to be the swimming pool area, though, as its elegant design and ample space create the perfect atmosphere to interact with your fellow travelers.
On top of the hotel's price being extremely fair, the city has loads to do while still not being far from your final destination.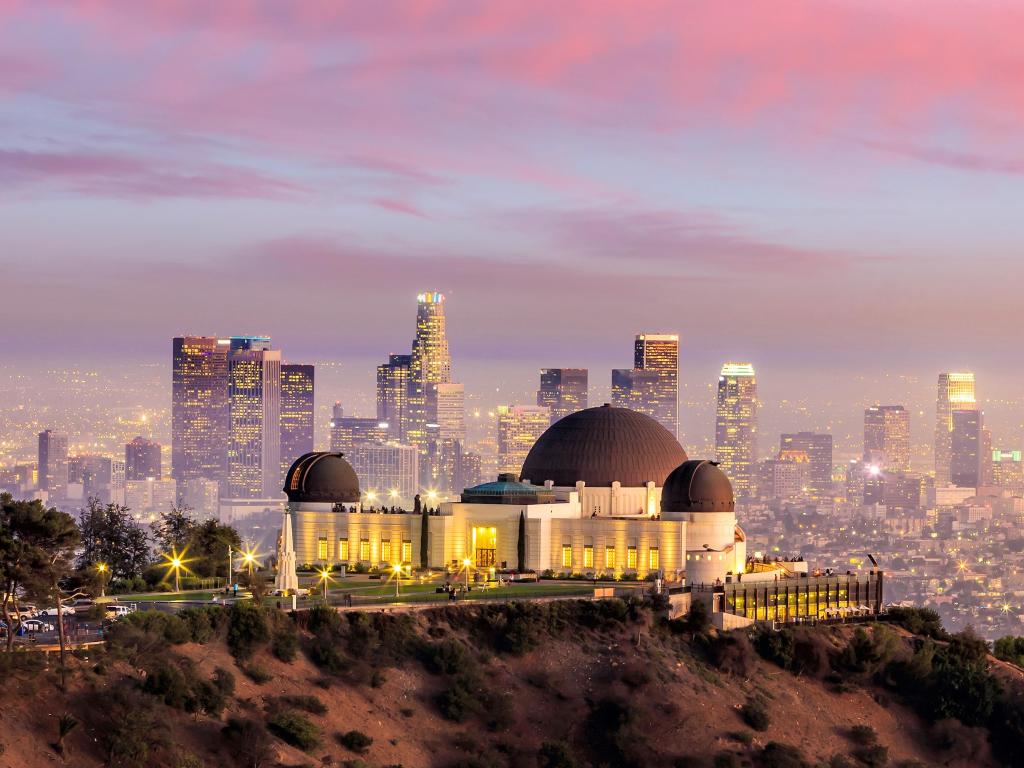 Things to see on a road trip from Los Angeles to Sequoia and Kings Canyon National Parks
During the road trip from Los Angeles to Sequoia and Kings Canyon National Parks, there are a number of fantastic points of interest you'll want to see. This includes a number of captivating scenic, historical and cultural sites, as well as cool cities and quaint towns.
You could comfortably spend 2-3 weeks trying to see them all. But if you don't have that much time available to you, this list of some of the most engaging ones should give you an idea of what to check out:
Griffith Observatory – A fantastic place to learn all about the cosmos. Great spot as well to observe breathtaking views of the Los Angeles Basin, downtown LA, Hollywood, and the Pacific Ocean.
Universal Studios - World famous film studio and theme park which features blockbuster rides and attractions like Jurassic World, The Secret Life of Pets, The Wizarding World of Harry Potter™, and the 'must do' studio tour.
Santa Clarita – City that showcases some of California's most historically significant sites, including Mentryville, which is known as California's Pioneer Oil Town. Also features 'Pico Number 4' the world's longest-running oil well.
Mission San Fernando Rey de España - Spanish mission in the Mission Hills community of LA. Founded in 1797, it now serves as the Archival Center for the Archdiocese of Los Angeles.
Six Flags Magic Mountain – The 'Thrill Capital of the World'. A 260-acre theme park that was voted by USA TODAY readers as America's Best Theme Park. Features world-class roller coasters and more than 100 rides, games and attractions.
Hasley Canyon Park - Beautiful park that kids will love. Also is a venue for concerts and other special events.
Castaic Lake State Recreation Area - A fantastic family-friendly destination, this reservoir of the California State Water Project has a beautiful lake where you can rent a boat, swim, fish, camp, and hike around.
Vaquero Beach at Pyramid Lake – Popular beach on Pyramid Lake that is located just below the Vista del Lago Visitor Center. Great spot for fishing and swimming, as well as kayaking, paddle boarding, and pedal boating.
Alamo Mountain Loop - A 28km scenic drive loop trail located near Frazier Park, that conveys stunning views of a great forest setting.
Pine Mountain Club – Gaze at the stars under one of the darkest skies in Southern California and the Central Valley. See the shiniest of moons, and the entire galaxy, like you have never seen it before. You can even sleep under the stars if you want to.
Fort Tejon State Historic Park – An historical site that served as a former United States Army outpost until 1864. Located in the San Emigdio Mountains, near the top of Grapevine Canyon, this park covers 647 acres of grassland, wetlands, oak-wooded hillsides and a number of restored buildings including the ruins of Fort Tejon.
Bakersfield – Fabulous city of culture that showcases a number of excellent museums and art galleries like the Buena Vista Museum of Natural History and the California Living Museum. A great spot for hiking too. With a number of trails leading to the mountains of the Kern River Ranger District - which are part of Sequoia National Forest.
Kern National Wildlife Refuge - An 11,249-acre protected area situated in the southern part of California's San Joaquin Valley. Provides a safe wintering habitat for migratory birds, in particular waterfowl and water birds. Located on the site of what used to be the largest freshwater wetland complex in the western part of the USA.
Porterville - Nestled in the foothills of the Sierra Nevada Mountains this vibrant city features some beautiful lakes, fascinating historical museums, an adventure park, great bars and restaurants, and a casino with more than 1000 slot machines.
Fresno – The heartbeat of agriculture country. Well known for the Fresno Chaffee Zoo - which has sea lions and a stingray touch pool. Also boasts the gorgeous Shinzen Japanese Garden at Woodward Park.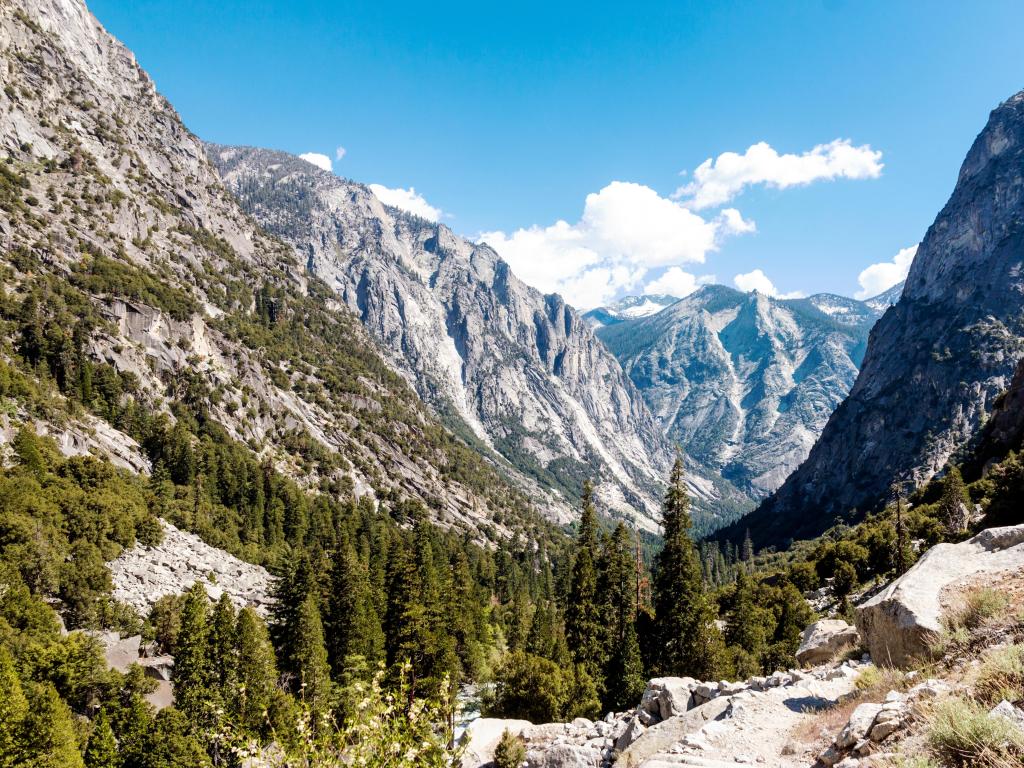 Best time to go on a road trip from Los Angeles to Sequoia and Kings Canyon National Parks
In terms of great weather, the best time for a road trip from Los Angeles to Sequoia National Park and Kings Canyon National Park is between June and August.
However as this is the peak season, you will find visitor numbers and accommodation prices will be significantly higher than during other parts of the year.
During the winter, many roads in and around both parks may be affected by snow. You are still able to visit the parks, but you might not necessarily get to see all the attractions they have to offer. If you do head there in the winter be sure to take the snow chains for your tires.
The periods around late spring, and also early fall, are very good times to visit. As the weather is decent and there are generally fewer visitors. Hotel prices tend to be cheaper too.
As a general rule, you are more likely to experience traffic delays at the weekend and during the holidays, so if you're expecting a lot of congestion, be sure to plan your stops accordingly.