Road Trip: A Scenic Drive on Highway 395
Scenic Highway 395 is famous for its spectacular vistas. From mountain-lined roads with snow-capped peaks to pine forests to unique geological wonders, nature lovers won't want to miss out on this fantastic drive.
Highway 395 from Hesperia to Laurier is a 1,290-mile scenic route that takes 22 hours 30 minutes, passing Yosemite National Park, Reno and Spokane. You can visit Mammoth Lakes, Lake Tahoe and Pyramid Lake on a shorter drive from Inyokern to Redding.
Lakes and National Forests are plentiful on this route and you can hike and bike your way into nature's wilderness. You'll also find small towns and cities en route that, although off-the beaten-track, are full of charm.
Where is Highway 395?
Scenic Highway 395 runs inland through the Western states of the USA, starting near the Californian city of Hesperia. Intersecting a small slice of Nevada, it then continues into Oregon and Washington state before ending at the Canadian border.
Notable cities that you'll pass include Mammoth Lakes, Reno and Spokane, but you'll also have the chance to visit some of the country's most spectacular National Parks.
Along the route you can take in Yosemite and Lassen National Parks as well as explore Inyo, Malheur or Colville National Forests. You can also add a visit to Death Valley National Park, which is around a 50-minute detour from Olancha, CA.
Where does Highway 395 begin and end?
Highway 395 runs from Hesperia in southern California all the way up to Laurier in Washington, right on the Canadian border.
Along the way, the road takes you from the southern border of Oregon right up to the Columbia River, where you'll enter Washington state. You'll also have a brief drive through Nevada.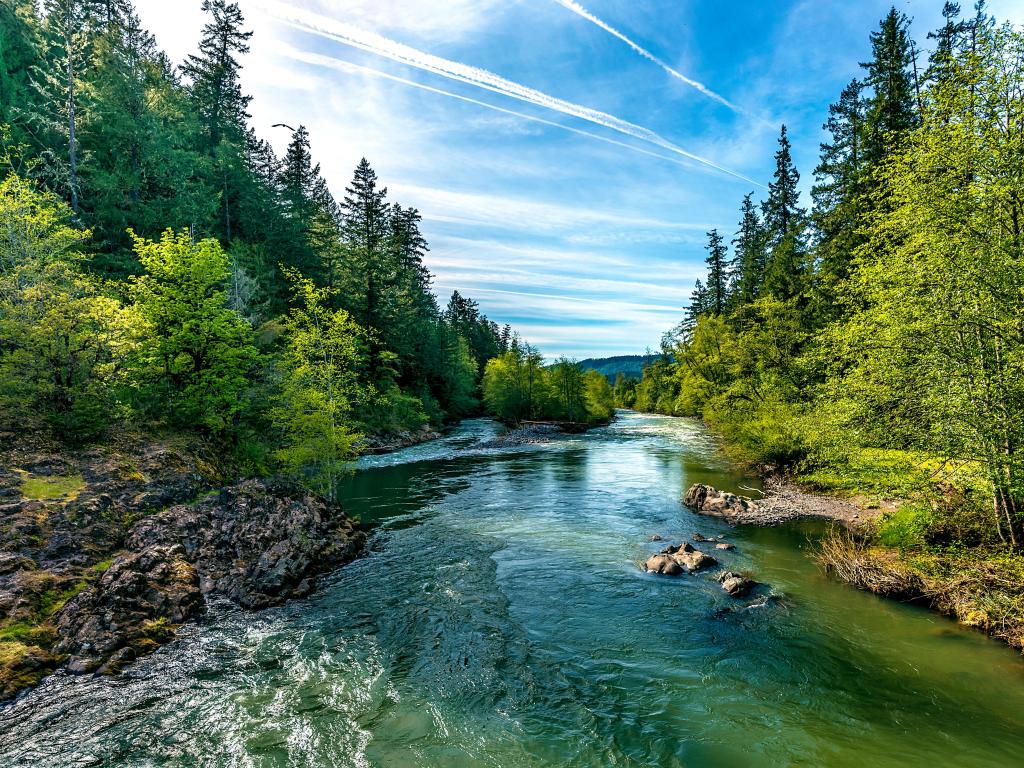 How long is Highway 395, and how long will it take to drive its entire length?
Comparison of Highway 395 routes

| Route | Distance | Driving Time |
| --- | --- | --- |
| Inyokern to Redding Section | 675 miles | 12 hours 40 minutes |
| Entire Route | 1,290 miles | 22 hours 30 minutes |
If you're driving the whole length of Highway 395 it will take you around 22 hours and 30 minutes to get from California to the Canadian border, some 1,290 miles north.
We'd suggest taking up to 8 days to drive the full route, which averages out at just under 3 hours of driving each day, although you can comfortably travel the route in as little as 5 days. This gives you plenty of time to stop and enjoy the cities and landscapes you'll pass on the way.
While there's something really appealing about driving a route like this from end to end, many travellers won't have time to go the whole way. Keep on reading to find out about our alternative route which, at 675 miles, is around half the distance of the full route.
To take this shorter route, which runs from Inyokern in California up to Redding, Oregon, you'll spend around 12 hours 40 minutes on the road even without allowing for stops.
This means you'll need at least 2 days to take this drive, or longer if you plan on visiting some of the amazing attractions you'll pass along the way.
Best way to drive on Highway 395
Driving the entire length of Scenic Highway 395 allows you to see the changing landscapes of the USA. As you move from the dry, mountainous southern part of the route you'll witness the colors change, especially towards the northern part of Oregon, where dense green forests become prominent.
As you reach the conclusion of the journey, the urban waterfalls at Spokane and the glacier-carved mountains of Colville National Forest await.
The shorter route is a touch over half the travel time. So, if you're short on time or aren't as confident driving for longer times, it's an ideal solution. This mainly stays in California, albeit there's a short stretch in Nevada.
This route lets you visit some of the region's amazing nature spots, and there are a lot of lakes to visit, so if water sports are your main reason for the road trip, doing this in summer is a good call.
Driving the entire length of Highway 395
On paper it's pretty simple to drive the entire length of Highway 395 - just join the road where it begins in Hesperia and carry on north. However, there are a few sections where a little more navigation might be necessary.
The road journeys north through California, taking you close to Lee Vining and Yosemite National Park, then descends a steep section from the Devil's Gate Pass towards Walker.
After Indian Hills you might like to take a detour to spend some time by Lake Tahoe, but if not just carry on along the highway. The road merges with I-580 soon after, taking you around Carson City and up to Reno, before US-395 separates again and heads back into California.
As you drive past the shores of Goose Lake you'll cross into the state of Oregon, where the route crosses some sections of wide-open countryside before running alongside Silvies River toward Seneca.
On reaching Pendleton, cross over the interstate then through the town, turning right onto Pendleton Cold Springs Highway just after you cross the Umatilla River.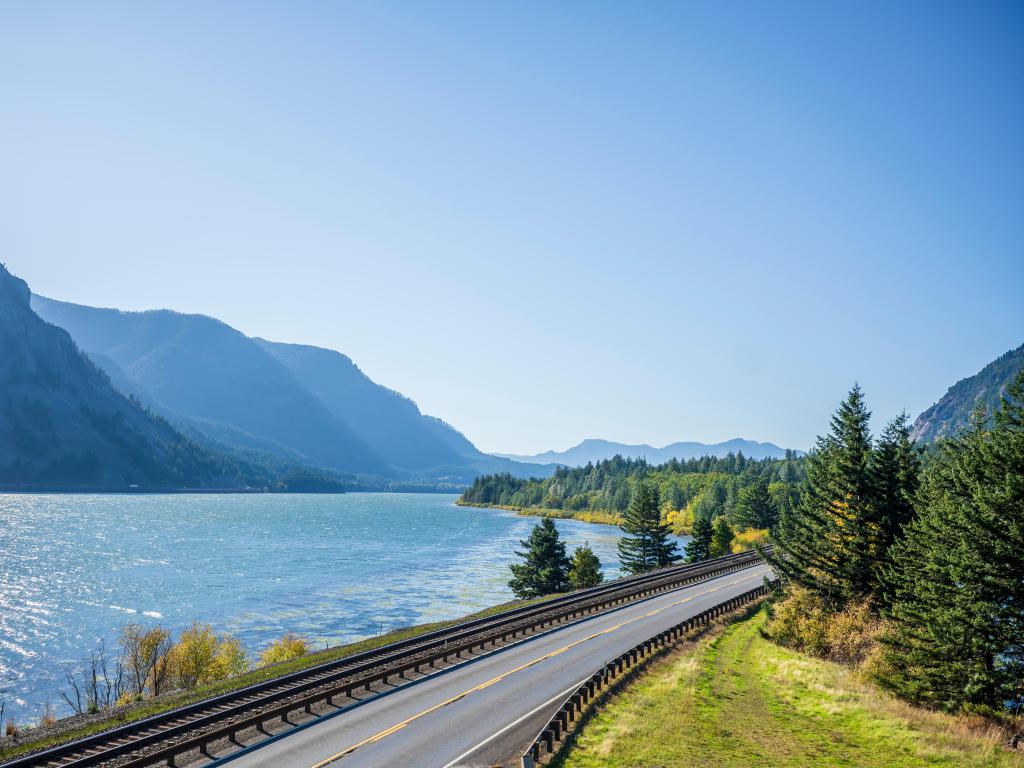 OR-37 brings you out right by the Columbia River, which marks the border between Oregon and Washington. From here, US-730 then US-12 follow the river north, crossing the Snake River just before rejoining Highway 395 at Pasco.
After Ritzville, the 395 joins up with I-90 as far as Spokane, which marks the start of the last stretch of this trip, crossing over the Columbia River before the road ends at Laurier on the Canadian border.
Towns and cities aren't big in the latter part of the journey, so make sure you stock up on supplies when possible. Especially important when traveling in winter as snow and ice is a risk. While snow plows operate, check ahead and avoid the snow and have tyre chains ready.
Driving on Highway 395 from Inyokern to Redding
If you're just driving the shorter section of the route, you'll be able to follow the route map above from Inyokern in southern California, through Carson City and Reno.
This part of the route takes you past Brady's, Owens Lake, Inyo National Forest and Crowley Lake before bringing you to the natural wonders of Mammoth Lakes and Yosemite National Park.
You can also visit Mono Lake, Lake Tahoe and Washoe Lake before arriving in the party city of Reno.
From Reno, the route we're suggesting varies from the one you'd take if you were driving the whole length of this scenic highway. Head north out of the city on Pyramid Way (NV-445) and follow it around the western shore of Pyramid Lake.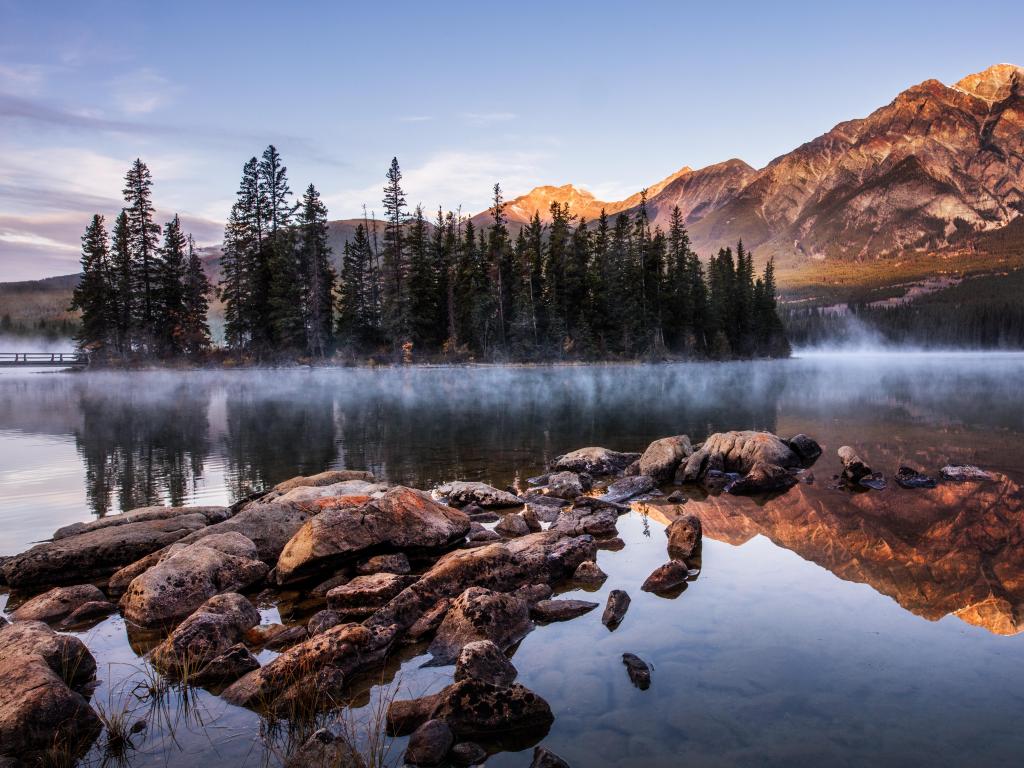 After a short stretch on Surprise Valley Road take a left turn onto High Rock Road. Parts of the road here are unsealed, so take it slowly, and bring a map to help with navigation.
Once you've crossed back into California the road takes you towards Honey Lake where, after Wendel, you'll follow Highway 395 again for a short distance heading west, before carrying straight on to the A27 at Litchfield.
After Susanville, Feather Creek Highway takes you through Lassen National Forest to Lassen Volcanic National Park. From here, it's just a short drive to reach your destination, Redding, which is just across the Sacramento River.
Best places to stay along Highway 395
With nearly 700 miles to travel, even if you take the shorter route, you're going to need to make at least one overnight stop on your Highway 395 road trip.
To get you started with planning your trip, we've picked out some great places to stay on both routes.
Try your luck in Reno
Around halfway on the shorter route you'll reach the tourist hotspot of Reno. Famous for its casinos, there are also plenty of spectacular outdoor activities you can enjoy, especially if you head out to explore the surrounding Sierra Nevada Mountains or the Truckee River.
Many visitors to Reno try their luck at one of the city's casinos. In fact, USA Today named The Atlantis - which even has waterfalls flowing inside - as the best casino outside Las Vegas.
If you don't fancy playing the penny slots, head to the National Automobile Museum, which is a must-see for any car enthusiast. It's often featured in the country's top ten car museums. Here you can see cars owned by none other than Frank Sinatra and Elvis Presley, not forgetting a Batmobile from the 60s.
Strolling along the Truckee Riverwalk makes for a calming downtown experience. You'll pass sculptures, brew pubs and restaurants. Until 4th June there's a Farmers Market here on a Saturday morning, which then switches to Thursday evenings.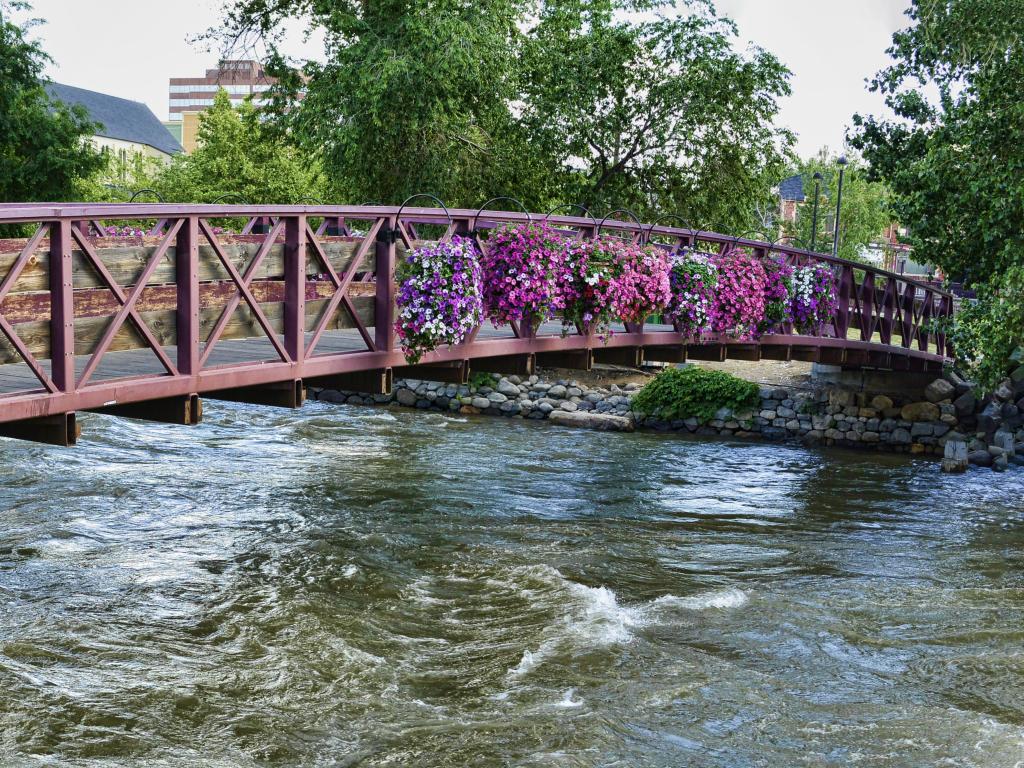 A visit to the Nevada Museum of Art puts a strong emphasis on the geography of the area and the landscapes you'll have gotten familiar with along your road trip. The Altered Landscape collection has photographs documenting the change in landscape and land use.
The award-winning hotel at The Atlantis Casino Resort & Spa is a really memorable place to stay while you're in Reno. It has indoor and outdoor pools, plus a hot tub, steam room, sauna facilities and on-site spa and wellness facilities.
As well as spacious and contemporary rooms, this downtown resort hotel has 8 on-site restaurants including American and world cuisine. It's also in walking distance to Beyond van Gogh Reno, and just a short drive from the Nevada Museum of Art, Truckee River Walk and the National Automobile Museum
Admire the falls in Spokane
If you're driving the full length of Highway 395, Spokane is a great place to spend the final night of your road trip. It's just 2 hours from Laurier, on the Canadian border.
Spokane has plenty of nature spots to enjoy. In fact, it has two of Washington's largest state parks, and is famous for Spokane Falls, one of the biggest urban waterfalls in the USA.
As you walk through the heart of the city, you'll be able to hear the falls before you see them. Head to A Place of Truth's Plaza for awesome views of the falls, or cross the pedestrian suspension bridge to get a closer look.
Riverfront Park is another way to experience the falls, yet there's a unique method of doing so. The Numerica Skyride is a 15-minute gondola trip taking you above the falls.
Mount Spokane State Park is a 50-minute drive from downtown. If you have time to take this detour, you'll find 100 miles of trails to walk, including the trail to the 5,883-foot summit of Mount Spokane.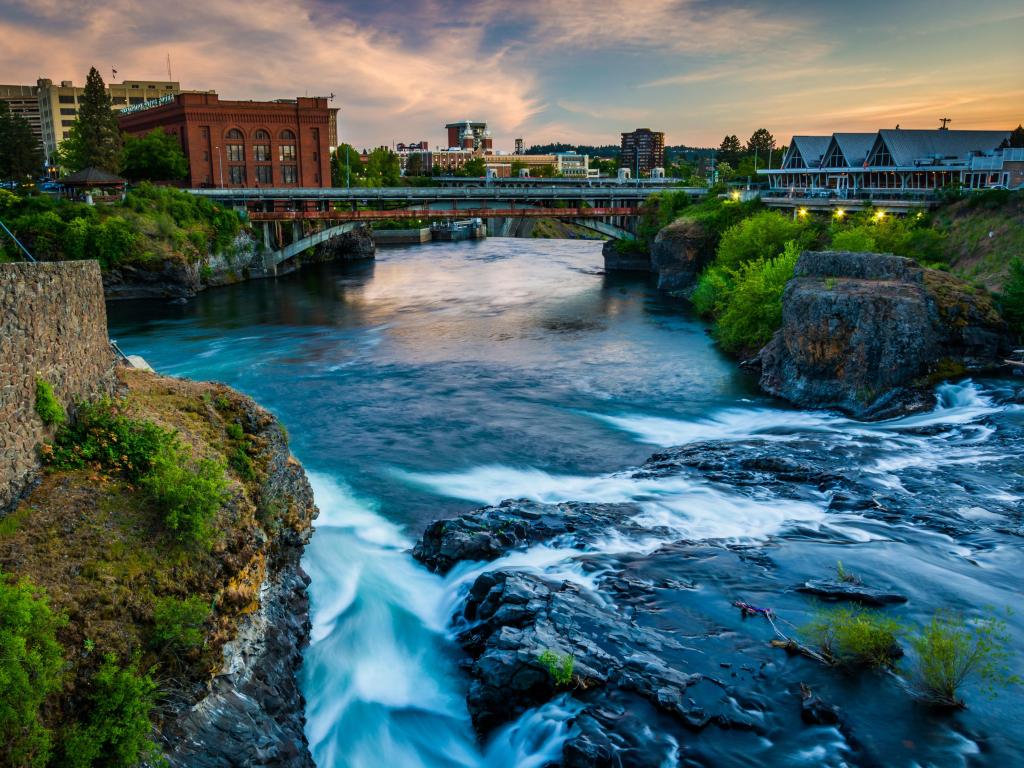 Right in the heart of downtown Spokane, The Davenport Grand, Autograph Collection has chic, contemporary rooms and the impressive Espresso lounge, Grand Terrace Bar, Grand Restaurant or Whiskey Bar to enjoy during your stay.
There's parking available on-site, which is always a bonus on a road trip, and guests have use of the heated indoor pool and hot tub at the nearby Historic Davenport Hotel and The Davenport Tower.
The Davenport Grand is less than a 10-minute walk from Spokane Falls, with Numerica Skyride even closer if you'd like to get this panoramic view of the cascade.
Things to see on a road trip along Highway 395
Whether you're driving the whole length of Highway 395 or simply connecting a short part of it along the drive from Inyokern to Redding, there's always plenty to see and do along this road trip route.
From Inyokern to Redding
Owens Lake, CA - Before 1908, Owens Lake was an enormous expanse of water covering 108 square miles. Nowadays, it's mostly dry, but the large salt flat is a haven for birds.
Inyo National Forest, CA - Inyo is home to unique geological wonders, including the impressive Devils Postpile National Monument, a 60-ft tall rock formation of columns.
Crowley Lake, CA - On the eastern shore of Crowley Lake, are the mysterious Crowley Lake Stone Columns. Hike there by taking Owens Gorge Road off Highway 395.
Mammoth Lakes, CA - Mammoth Lakes is a small town in the Sierra Nevada mountains. Nearby Mammoth Mountain is a famous spot for skiing or in the summer, mountain biking.
Yosemite National Park, CA - A short detour west takes you to the famous Yosemite National Park. Hike the trails and discover the iconic Bridal Veil Falls.
Mono Lake, CA - Mono Lake was formed around 760,000 years ago. The tufa towers are limestone formations well worthy of a photo.
Lake Tahoe, CA/NV - Lake Tahoe has it all. The history of the Vikingsholm Castle at Emerald Bay, several breweries and distilleries, and of course, the stunning hike of Lake Tahoe.
Washoe Lake, NV - Visit the 1863-built Bowers Mansion with a spring-fed swimming pool. If the weather permits, spend a day at Sandy Beaches on the east coast of Washoe Lake.
Pyramid Lake, NV - Learn of Pyramid Lake's importance by visiting the Paiute Tribe Museum. For anglers, the waters are world-renowned for being home to fish only found in Pyramid Lake.
Honey Lake, CA - Sleep at plantation-like accommodation, spot migrating birds from mid-October to mid-March and try your luck fishing.
Lassen National Park, CA - A hidden gem, visit natural attractions such as Bumpass Hell, where you'll look over steam vents. Go in summer because the hiking trails are snowed under in winter.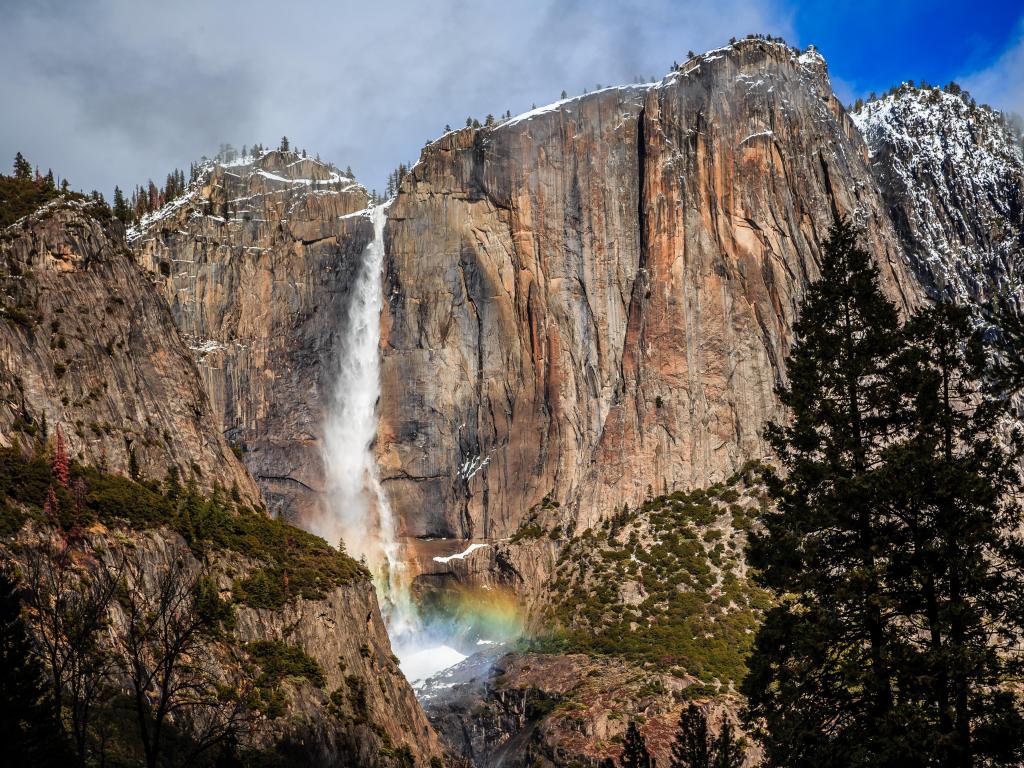 Entire length
Randsburg, CA - Visit a "living ghost town" in the former mining boomtown of Ransburg, where you'll find an art gallery, city jail and museum (open at weekends).
Alturas, CA - From Alturas, you can visit the Modoc National Wildlife Refuge to catch a glimpse of roaming coyotes and deer.
Chimney Rock Historic Monument, CA - The Chimney Rock Historical Monument is the work of Thomas Denson, who cut the rock to create a chimney for his cabin.
Goose Lake, CA/OR - On the California-Oregon border, Goose Lake is an ideal stop for picnicking and camping. The camping area has electrical sites and hot showers.
Chandler State Wayside, OR - This a state park surrounded by pine trees is a quiet picnic spot to connect with nature.
Lake Albert, OR - As Lake Albert shrinks, scientists can't put their finger on why, so it's somewhat of a mysterious lake. There are pullouts along Highway 395 for vistas and wildlife watching.
Burns, OR - Visit the Harney County Historical Society Museum and the Oards Gallery. Burns is a small yet friendly wild west town. Although small, it's one of largest cities you'll visit from hereon in.
Malheur National Forest, OR - Covering 1.7 million acres, the Malheur National Forest has plenty of hikes and biking trails through desert grasslands.
Columbia River, OR - Hat Rock State Park sits on the banks of the Columbia River. The park is popular for boating, hiking, biking and a nearby fishing pond.
Colville National Forest, WA - Shaped by ice-age glaciers, Colville National Forest has hiking trails to walk in the habitat of black bears, lynxes, wolverines and cougars.
Best time to drive on Highway 395
Traveling Highway 395 is a scenic drive enjoyable all year round. In fact, it's much quieter in the winter months. That said, there is a risk of heavy snowfall during winter, particularly in northern stretches, which can make for challenging driving conditions.
As a party town, it's best to avoid Reno on weekends. Also, Mammoth Mountain is a famous ski resort, so between November and May is very much in demand.
The summer is an ideal time to drive on Highway 395 if you want to dive into the numerous lakes and enjoy water sports. However, weekends and national holidays can mean hotels on the route get booked up.
On the southern stretch of Highway 395, the temperatures get excessively hot - at the start of the route in Hesperia, California, temperatures can reach 94 degrees Fahrenheit in July and August. Take care if you're planning on hiking on this stretch of the route, and take plenty of water.
By contrast, in the northern stretch of Kettle Falls, Washington, temperatures average 71 degrees Fahrenheit in July and August, although they can get as high as 88 degrees Fahrenheit on occasion.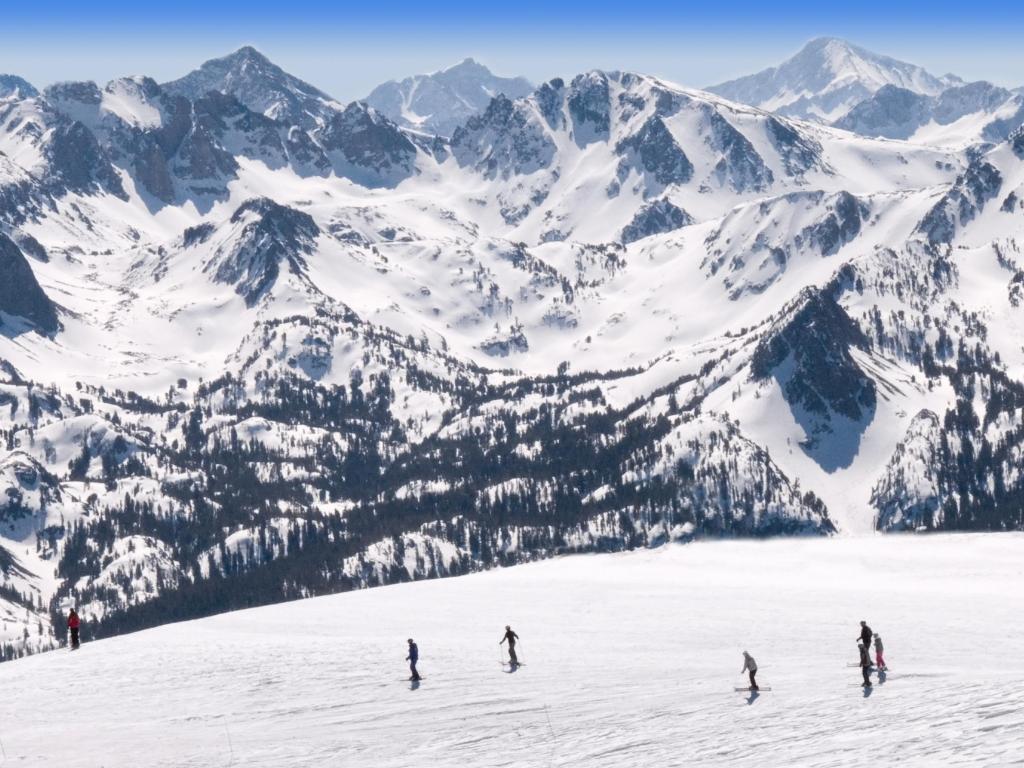 All through winter, there is a risk of snowfall on this route, particularly in the Sierra Nevada Mountains. However, for the most part the roads are well-maintained, and the snow brings with it the chance to enjoy winter sports.
Snow plows are in frequent use but check the conditions before setting out and bring tire chains with you. Because of the altitude of some of the mountains, snow is possible as late as April. This means that the hiking trails may not be open depending on the conditions when you visit.
If you wait until May to set out, this is a good time to visit as the wildflowers are starting to bloom. September and October are also good times to visit in the Fall as the road is quiet.
Whatever time you take your trip, long stretches of the drive are through wilderness areas so ensure you have a full tank of gas. Then prepare yourself for some spectacular scenery and unforgettable views as you make this trip north along Highway 395.