Road Trip around Lake Michigan
Get ready to drive around one of the most stunning coastlines in the world, Lake Michigan, and admire the coastal beauty shared by Illinois, Wisconsin and Michigan. On the beautiful road trip around Michigan, you will see pristine beaches, fabulous vineyards and plenty of charming towns.
The 910-mile road trip around Lake Michigan takes 16 hours and 50 minutes to drive. On the way you can visit Chicago, Kenosha, Milwaukee, Green Bay, Marinette, Fort Mackinac, Mackinac Island, Charlevoix, Traverse City, Muskegon and Saugatuck.
Few road trips in the world are this exciting and full of beauty. Read on below to learn more about our recommended route, top highlights, best stopovers, and the best seasons to travel.
How long is the route around Lake Michigan, and how long will the road trip take?
Travel time and distance around Lake Michigan on a road trip

| Distance | Driving Time |
| --- | --- |
| 910 miles | 16 hours and 50 minutes |
The road trip around Lake Michigan begins in Chicago, Illionois and spans approximately 910 miles in the clockwise direction, taking about 16 hours and 50 minutes of pure driving time.
While this trip could be done in a couple of days, there is so much to see and experience on the way that we recommend taking at least 4-5 days.
If you want a more extended adventure, there are numerous options to venture off the main path, exploring quaint towns, scenic beaches, and other hidden gems around the lake.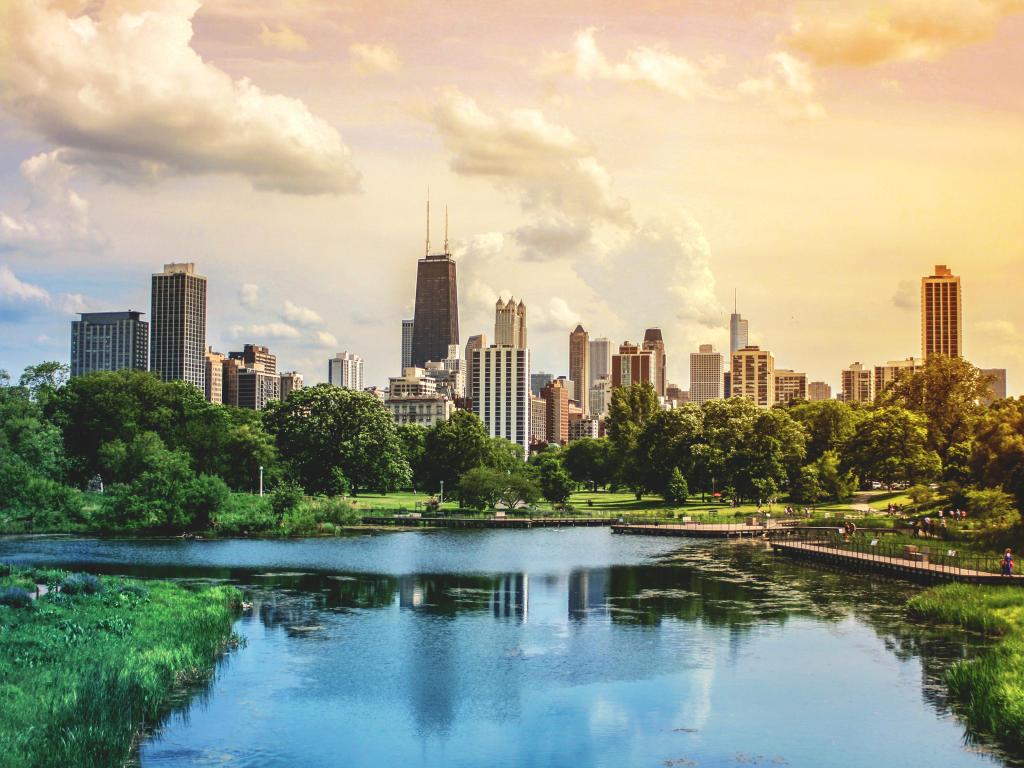 Best road trip route around Lake Michigan
The direct Lake Michigan Loop begins in the bustling city of Chicago and follows the lakeshore in a clockwise direction. On your departure from Chicago, the Skokie Lagoons will make the perfect first stopover.
As you progress, you'll find yourself surrounded by lush golf courses and preserves. A particularly enticing detour would be the Illinois State Park and Preserve, a perfect place for a picnic stop or a gentle hike.
The route also offers plenty of picturesque coastal towns like Kenosha, Green Bay, St. Ignace, Traverse City, Grand Haven, Saugatuck, and Benton Harbor.
If you're keen on a unique experience, from St. Ignace, a short ferry ride will land you on Mackinac Island, a car-free zone where history seems to pause.
On the Michigan side of Lake Michigan, several beautiful islands come into view. Each of these islands is full of beautiful nature and hiking trails. Angling enthusiasts will find this place to be a paradise, with fishing spots populated with a diverse array of aquatic species.
From Charlevoix, you have the option to ferry over to Beaver Island, a sanctuary for nature lovers. On top of that, there is an almost endless amount to see and experience.
There are other ferries you can take across Lake Michigan for a unique experience. You can find our detailed guide on these ferry routes by clicking here.
How to drive around Lake Michigan
The map above shows our suggestions for the best road trip route around Lake Michigan. Keep reading for a detailed description of the route, where to stay, and the best things to do on the way.
Road trip route around Lake Michigan
Begin your journey in the bustling city of Chicago. As you head north on Interstate 94 (I-94), you'll get to stop at the Dinosaur Discovery Museum.
Continue your northward drive and you'll soon arrive in Milwaukee past Kenosha. Here, immerse yourself in the Harley-Davidson Museum and get a taste of local flavor at the renowned Milwaukee Breweries.
Soon, you'll reach Green Bay, where you can explore the Neville Public Museum. Along the way, make a pit stop at Seguin's House of Cheese for some delightful dairy treats.
From Green Bay, venture north on US-41 until you reach Escanaba. Along this stretch, you'll pass the historical Sand Point Lighthouse. Continue on to the town of St. Ignace. Here, you'll be able to take a ferry to Mackinac Island.
Cross the famous Mackinac Bridge and arrive in Mackinaw City. Take a brief detour to see Fort Mackinac and enjoy the mysterious ambiance of Devil's Kitchen.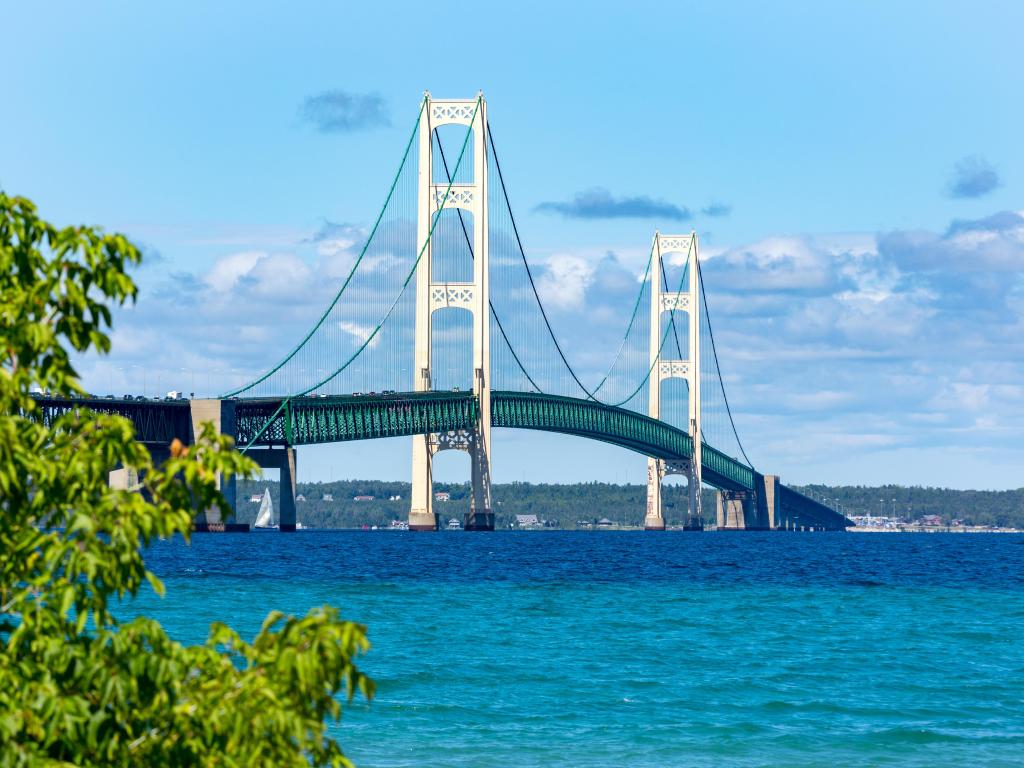 As you head southward towards Traverse City, you'll get to enjoy the famous vineyards, charming downtown, and the Dennos Museum Center. While on this stretch, don't forget to snap a picture with the World's Largest Weather Vane in Montague.
Grand Haven, which lies along the route, is home to the USS Silversides Submarine Museum and the picturesque Roosevelt Park. A bit further, in Holland, you can stop at the Windmill Island Gardens. Oval Beach in Saugatuck, your next stop, is a paradise for beach enthusiasts.
Your journey continues southwards on I-196, where you'll reach Silver Beach near Benton Harbor. If you're feeling lucky, the Four Winds Casino in New Buffalo is not to be missed.
As you continue southward towards Indiana on I-94, the magnificent Indiana Dunes National Park awaits. Then, marvel at the Gary Aquatorium and enjoy a peaceful stroll on Wolf Lake Boardwalk.
The journey completes full circle as you make your way back to Chicago, having explored the attractions and scenic beauty around Lake Michigan.
Best places to stop around Lake Michigan
With so many communities and destinations on the way, you'll want to rest in one of the small cities below. This way, you'll get to really take in all this wonderful area has to offer.
Learn about the NFL legacy of Green Bay
Green Bay is the ideal location to pause and rejuvenate on the scenic route around Lake Michigan, positioned roughly 3 hours and 10 minutes into the journey.
The standout feature of this stop is undoubtedly the legendary Lambeau Field, the beloved home of the Green Bay Packers. Here, you can relive iconic football moments, dive deep into the sport's history, and even experience the thrill of a live game.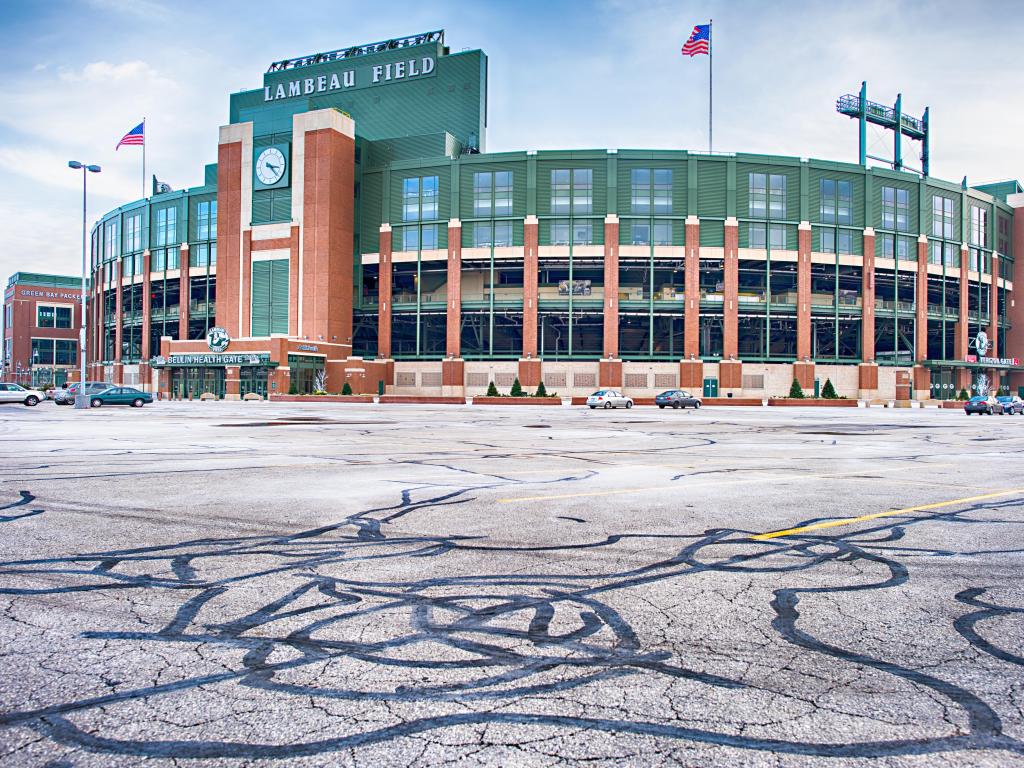 Another notable attraction is the Bay Beach Wildlife Sanctuary. This lush sanctuary features native Wisconsin animals and rehabilitated birds. Wander the trails and see some incredible natural sights.
If you love history, a visit to the Green Bay Packers Hall of Fame and Museum is a must. Dive deep into the legacy of this iconic NFL team, retrace their steps, and immerse yourself in their rich football heritage.
For your stay in Green Bay, we recommend the elegant Lodge Kohler. Strategically located just a short walk from Lambeau Field, this upscale lodge offers a blend of comfort and luxury. Make sure to check out the two highly-rated restaurants on-site as well as the fabulous indoor pool.
If you'd like to explore the surroundings of the hotel, the National Railroad Museum is only 15 miles away and offers insights into the locomotive history of the region. The Green Bay Botanical Garden, just 3 miles from Lodge Kohler, is perfect for relaxation amidst nature.
A stroll in the orchards of Traverse City
Traverse City is about 12 hours into the drive and as you approach this beautiful city, the blend of orchards, pristine beaches, and vineyards make it one of the world's most charming destinations.
The jewel of this stopover is the city's globally recognized title as the 'cherry capital of the world.' Beyond its famed cherry orchards, the city is full of freshwater beaches, offering crystal-clear waters and plenty of fun in the sun.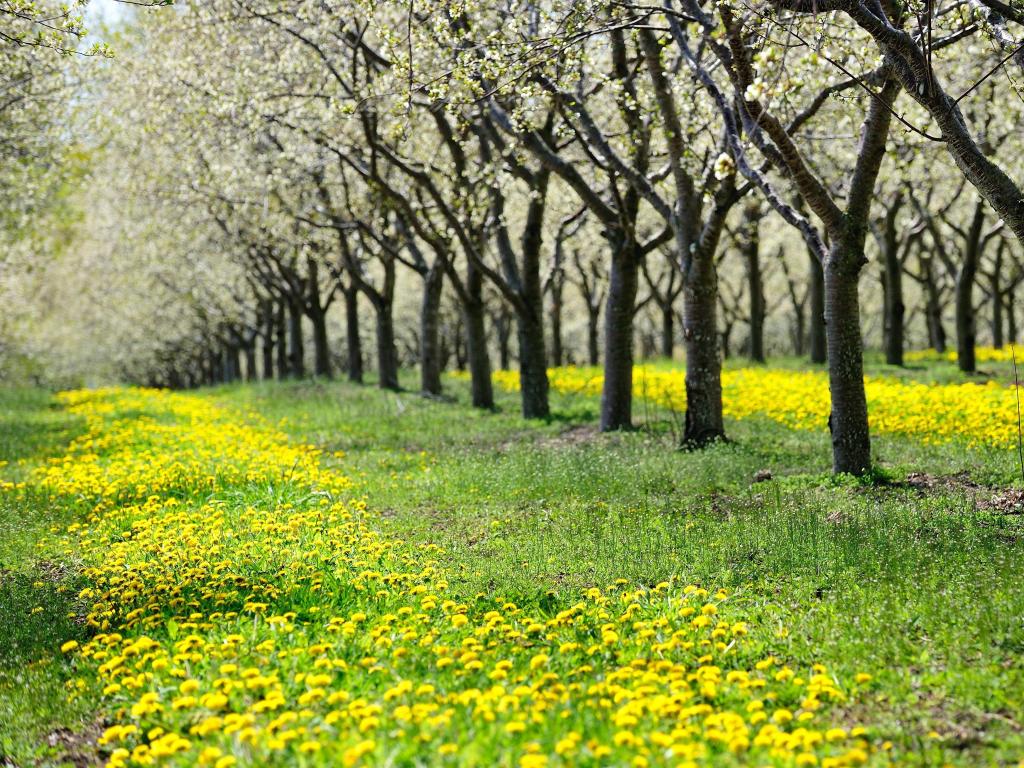 While in Traverse City, a visit to the Dennos Museum Center offers an immersion into diverse art forms, cultural expressions, and scientific phenomena, making it an enlightening experience.
If you want to pick up exquisite local wines, beers, and spirits, head to the Blue Goat Wine & Provisions. This amazing store sits inside one of the oldest buildings in the city.
If you are seeking a blend of luxury and natural beauty, The Baywatch Resort is an unbeatable choice. Positioned on a private beach on the Grand Traverse Bay, it has rooms that seamlessly blend into the tranquil outdoors.
Imagine waking up, stepping out onto your patio, and being greeted by the calming waves of the bay. Its proximity to the city's highly rated restaurants and bars ensures you'll have plenty of fun, while the nearby water sports rental businesses promise thrilling adventures on the lake.
While in Traverse City, consider exploring its green pockets. Pine Grove Park, a short walk from The Baywatch Resort, offers lush greenery, ideal for picnics or tranquil walks. A little farther lies the Civic Center Park and Garden.
Explore the artistic heart of Chicago
Chicago, often dubbed the 'Windy City', is renowned for its jaw-dropping architectural wonders, pulsating music scene, delectable cuisine, and neighborhoods that echo the city's rich history and cultural diversity.
To delve into the heart of Chicago's art scene, The Art Institute of Chicago is an unmissable stop. Housing a spectacular collection of artworks, this is a must for anyone serious about the arts.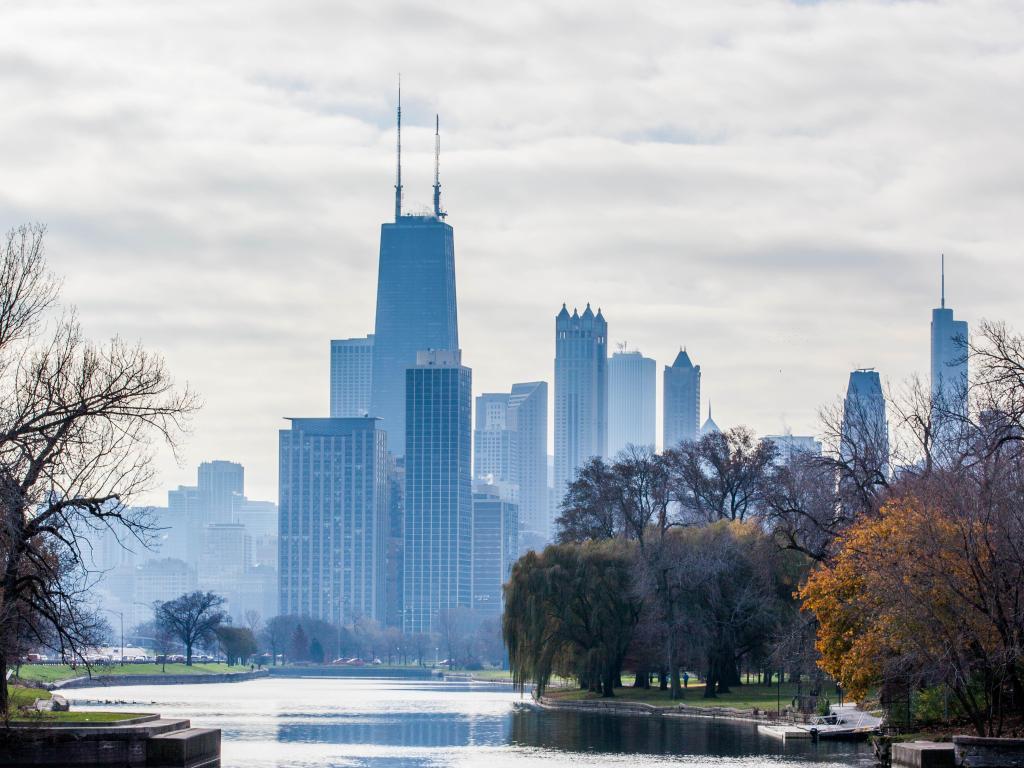 Following this, a leisurely stroll in Millennium Park offers natural beauty set against the backdrop of Chicago's iconic skyline.
For foodies, nothing beats a stop in one of Chicago's fine dining or casual eateries. For a unique experience, check out the special tours of Chicago's gangster history or go on a walking tour to learn about its architectural gems.
For those seeking an upscale stay that mirrors Chicago's vibrant energy, the Sofitel Chicago Magnificent Mile is the perfect pick. Recently refurbished with a dash of French flair, this hotel will be an experience that's both luxurious and authentically Chicagoan.
Known for its impeccable service, the Sofitel will make every guest feel valued and pampered. Its prime location, a mere three-minute walk from the bustling Michigan Avenue, means you have shopping, gastronomy, and entertainment right at your doorstep.
And if you're in the mood for a culinary journey, the hotel's on-site French restaurant crafts dishes using the freshest local produce.
Things to see on a road trip around Lake Michigan
There's so much to see and do along Lake Michigan that you may want to do this loop twice. Below are our favorite highlights, so you can get the most out of this amazing road trip.
Gangsters and Ghosts Tour - Dive deep into Chicago's Prohibition-era history, learning about notorious gangsters and rumored hauntings on this enthralling guided tour.
Millenium Park - A sprawling urban oasis in the heart of Chicago, home to the iconic Cloud Gate sculpture (also known as "The Bean") and a hub for cultural events.
Chicago Botanic Garden - An expansive garden paradise boasting 27 gardens and four natural areas, spread across 385 acres, offering a serene escape and educational opportunities.
Museum of Science and Industry - One of the largest science museums in the world, located in Chicago, it offers interactive exhibits spanning various scientific disciplines.
Dinosaur Discovery Museum - A fascinating museum located in Kenosha, Wisconsin, that showcases the link between meat-eating dinosaurs and modern birds with numerous fossil exhibits.
Harley-Davidson Museum - Located in Milwaukee, this museum celebrates the rich history of Harley-Davidson motorcycles with an array of classic bikes and brand memorabilia.
Milwaukee Breweries - Explore Milwaukee's rich brewing heritage, tasting an array of craft beers and learning about the city's beer-making history.
Neville Public Museum - A cultural institution in Green Bay, Wisconsin, that showcases the history, art, and science of the region through interactive exhibits.
Seguin's House of Cheese - Located in Marinette, Wisconsin, it's a cheese lover's haven offering a diverse range of Wisconsin's finest cheeses and gourmet foods.
Sand Point Lighthouse - A historic beacon on the shores of Lake Michigan in Escanaba, offering panoramic views and insights into maritime history.
Rapid River - A picturesque river in Michigan's Upper Peninsula, known for its serene beauty and popular for fishing and outdoor recreation.
Fort Mackinac - A Revolutionary War-era fort located on Mackinac Island, offering visitors a step back in time with reenactments and historic exhibits.
Devil's Kitchen - A mysterious, narrow cleft in the Mackinac Island limestone, surrounded by legends and offering an intriguing natural landmark.
Fisherman's Island State Park - Located near Charlevoix, Michigan, this state park boasts pristine beaches, dunes, and a serene setting for camping and hiking.
Dennos Museum Center - Located in Traverse City, this museum offers a blend of visual arts, science, and performance, featuring both permanent and rotating exhibitions.
The Sleeping Bear Dunes - This protected lakeshore is full of unforgettable views and hiking trails.
World's Largest Weather Vane - A quirky landmark in Montague, Michigan, standing 48 feet tall and showcasing the region's meteorological fascination.
USS Silversides Submarine Museum - Located in Muskegon, Michigan, this museum celebrates naval history with the USS Silversides, a World War II submarine open for tours.
Roosevelt Park - A peaceful urban park offering recreational facilities, walking paths, and a serene environment for relaxation.
Windmill Island Gardens - Located in Holland, Michigan, this garden showcases a historic Dutch windmill, tulip fields, and offers cultural insights into Dutch heritage.
Oval Beach, Saugatuck - A picturesque sandy beach on Lake Michigan's shoreline, known for its dunes, sunsets, and crystal-clear waters.
Silver Beach - Situated in St. Joseph, Michigan, this beach is popular for its sandy shores, carousel, and family-friendly activities.
Four Winds Casino - A premier gaming destination in New Buffalo, Michigan, offering a range of games, entertainment, and dining options.
Indiana Dunes National Park - A breathtaking national treasure along Lake Michigan's southern tip, featuring sandy dunes, hiking trails, and diverse ecosystems.
Gary Aquatorium - A historic building in Gary, Indiana, originally a bathhouse, now serves as a cultural hub and offers panoramic lake views.
Wolf Lake Boardwalk - A scenic boardwalk located on the border of Chicago and Hammond, Indiana, offering serene lake views and a haven for birdwatchers.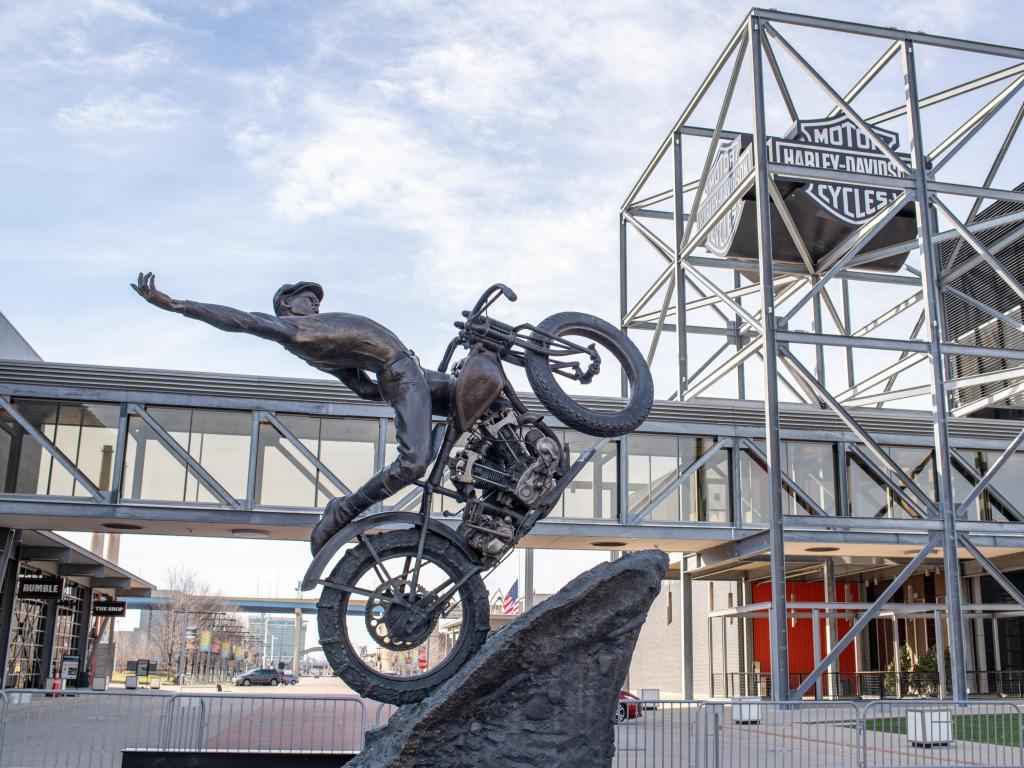 Best time to go on a road trip around Lake Michigan
The trip around Lake Michigan is best in the warm months to get the best experience on your coastal adventure.
That being said, setting out in winter means a serene, frost-kissed landscape around Lake Michigan greets you. The lake's northern shores especially shimmer under a blanket of snow, presenting a picturesque winter wonderland.
Though the icy roads can become hazardous, vigilant maintenance ensures they remain passable, but it's essential to exercise caution and watch out for blizzards.
Springtime is a great time to hit the road. You'll get to experience wildflower blooms and the famous cherry blossoms in Northern Michigan.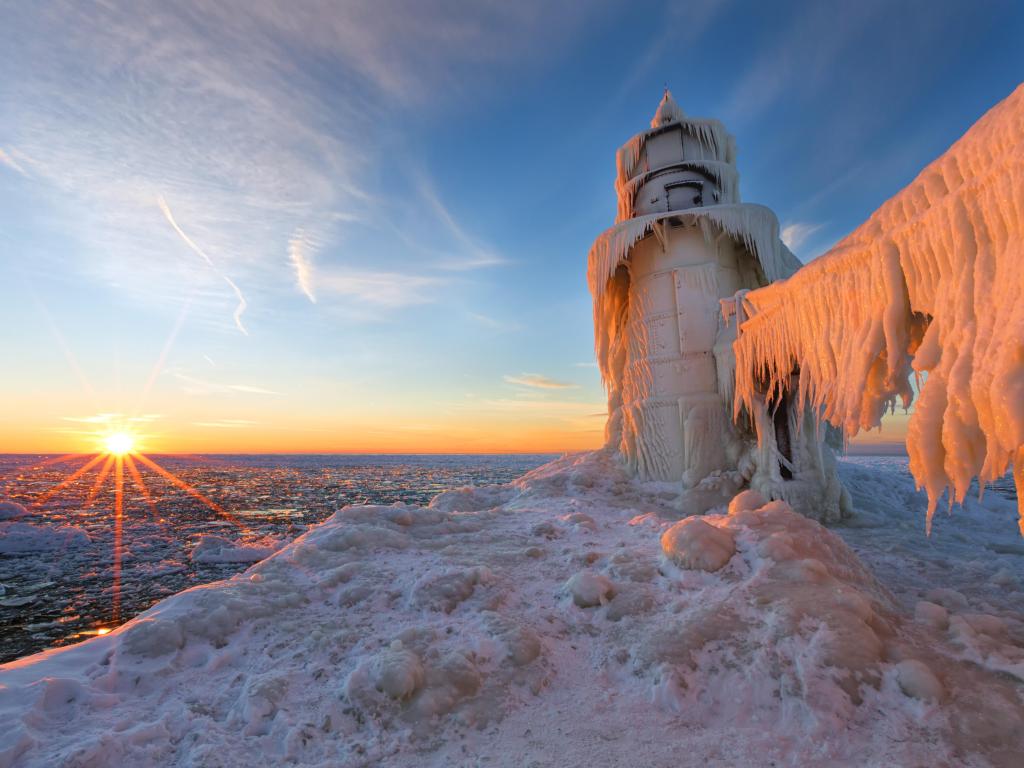 Come summer, temperatures around Lake Michigan soar to a pleasant 70 to 80 degrees Fahrenheit. While the warmth is inviting, the surge of tourists, drawn by the lake's pristine beaches and thrilling water sports, can make the roads busier than usual.
Your journey will be even more memorable if you time it to coincide with events like the Summerfest in Milwaukee or the National Cherry Festival in Traverse City.
As you approach Chicago, the summer months feature the world-famous Lollapalooza music festival in August, followed by the thrilling Chicago Air and Water Show.
Fall, on the other hand, paints the landscape in shades of gold and russet, especially around the lake's northern side. It's during this season that you're rewarded with some of the most breathtaking views, as the seasonal colors come alive, making it an ideal time to make the drive.