Road Trip from Toronto to Banff
The road trip from Toronto to Banff is a stunning journey taking you from Canada's most populous city, past mountains and lakes, to the town with the highest altitude in the country. If you're looking to escape the city life, then this is the perfect trip for you!
The 3,420-km road trip from Toronto to Banff takes 34 hours to drive. The route passes Lake Ontario and Erie, Detroit, Gary, Glendive, Great Falls, Chicago, as well as Lake Frances, Lake Michigan, Rocky Mountains, Calgary and Glacier National Park.
There are so many places to visit on the trip to one of the world's oldest and most beautiful natural locations, so read on to find out more.
How far is Banff from Toronto and how long will the road trip take?
A road trip from Toronto to Banff is an epic journey. Covering at least 3,420km (2,190 miles) and taking 34 hours of solid driving, you're realistically going to be looking at doing this trip over the course of a full week, possibly even more.
The most hardened road trippers, who simply want to get to the destination as quickly as possible, could tackle this journey in around 4 days. However, for those looking to really enjoy the scenery, 7 days will leave you with a manageable length of 5 hours driving per day.
By stretching the trip over a week, you will allow for ample time to see the sights along the way and still have plenty of breaks from driving. It also makes our suggested detour a little more palatable as well.
The route we recommend covers 3,720km (2,310 miles) and takes 36 hours. The extra distance adds substantial value to the trip, in terms of attractions and stunning scenery.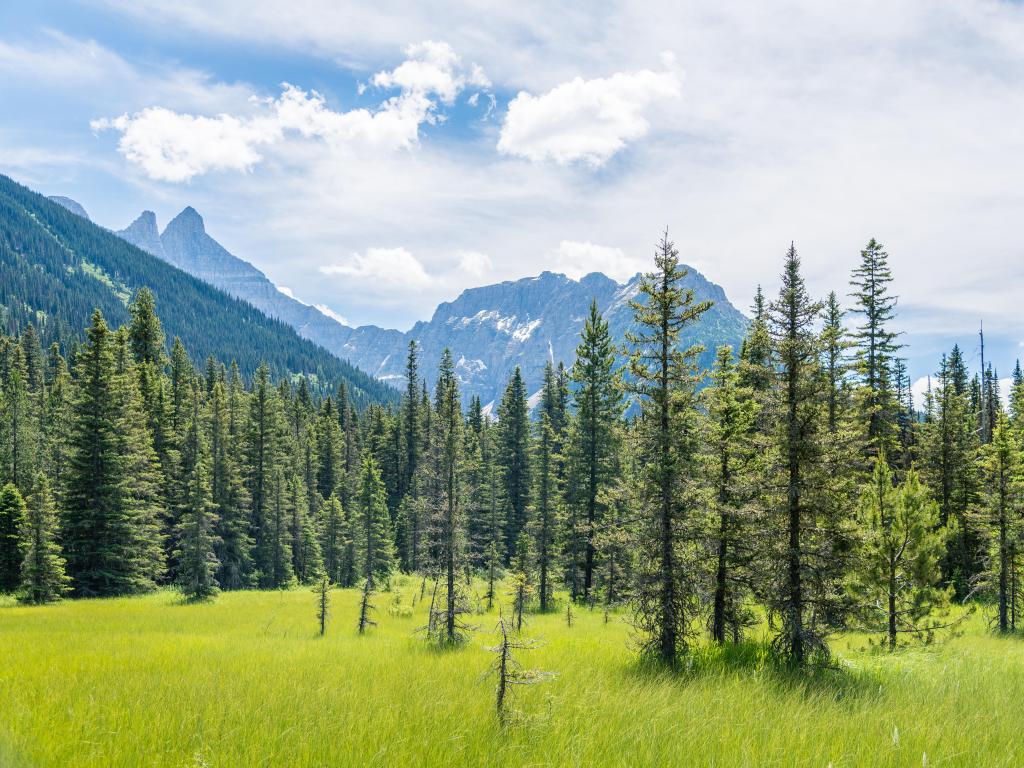 Best road trip route from Toronto to Banff
The incredible road trip from Toronto to Banff will take us from Ontario to Alberta, by way on the American states of Michigan, Indiana, Illinois, Wisconsin, Minnesota, North Dakota and Montana.
By crossing the Canada/US border, you will need to bring identification and any documentation required. There is an option to avoid crossing the border altogether, though of course this will restrict your trip in terms of attractions and things to see.
If a Canada-only route is your preference, then you would leave Toronto on the Trans-Canada Highway and head north through Sudbury, travelling through Winnipeg and Calgary before arriving at Banff. The route takes 3,542km (2,200 miles) and 36 hours to complete.
While there isn't anything wrong with a Canada only route, we're going to focus on the trip that takes in more attractions and some of the fantastic American states along the way. Just remember to pack your passport (or other identification documents) before you hit the road!
Road trip route from Toronto to Banff
Start by taking Queen Elizabeth Way west, along the shore of Lake Ontario, until it meets Highway 403, and follow that to its termination in Woodstock.
From there, take Highway 401 to Windsor and switch to Highway 3 to cross the Ambassador Bridge and the American border.
Once in Detroit join Interstate 96 where it starts and take that to Plymouth, before switching to Michigan Highway 14. Follow this its duration to the I-94, just outside Ann Arbor, and continue west.
Remain on I-94 for 340 km (211 miles) until you reach Gary, Indiana, on the Illinois border, then switch to the I-90 west before arriving in Chicago. From here you should consider an overnight stop to make the most of the amazing city and surrounding attractions.
Continue heading west until you arrive in Tomah, Wisconsin. Here you will re-join I-94, and continue it as you pass Minneapolis. You could stop here and explore the Twin Cities, or continue it across Minnesota and North Dakota, until you reach Glendive, Montana.
Exit onto Montana Highway 200 S and follow it to its termination in Circle. Turn left on Montana Highway 200, until it merges with US-87, and continue west to Great Falls. From here you can detour to explore Helena-Lewis and Clark National Forest.
Next take I-15 north until you reach exit 348 and turn left onto Montana Highway 44. You'll be on this a short distance, past Lake Frances, to Kingsbury Colony. You'll now join US-89 and follow it north to the Canadian border.
Once in Canada you'll be on Alberta Highway 2, which will take you Mayland Heights in Calgary. From here you'll join Trans-Canada Highway 1 and follow it the final 130 km (80 miles), up into the Rocky Mountains, to your final destination of Banff.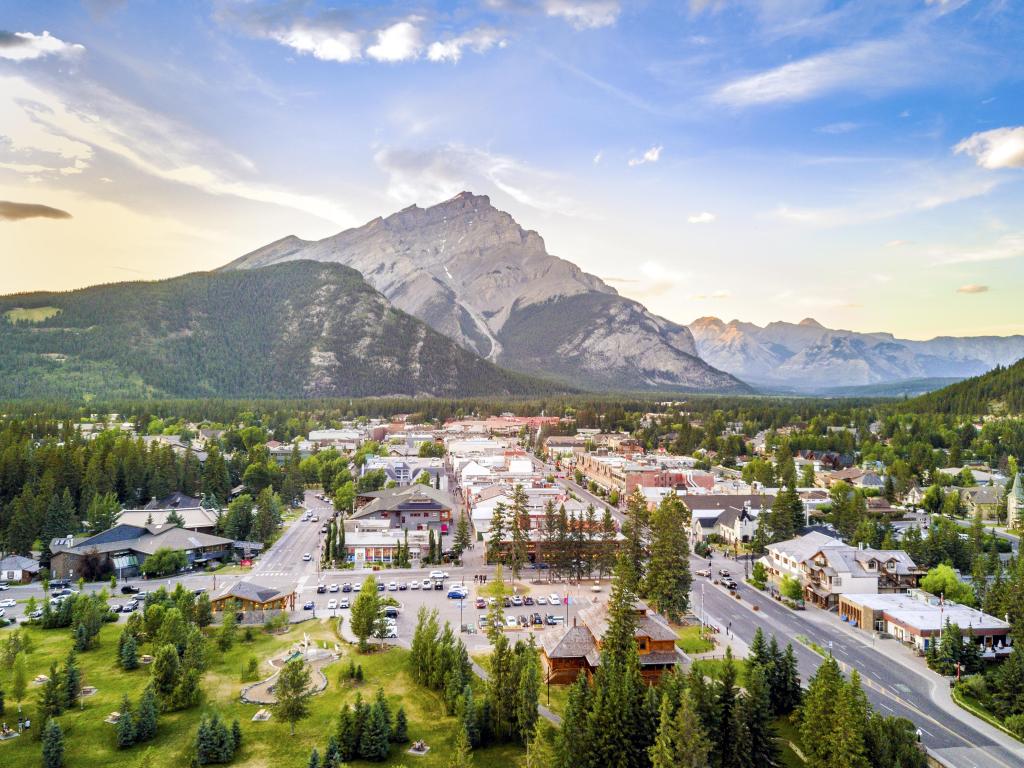 Best places to stop between Toronto and Banff
With a road trip from Toronto to Banff requiring a number of overnight stops along the way, you are going to want to plan them in locations filled with things to do and see while you're there.
There are plenty of fantastic options of places to stop along the way, but here are the ones you should really look out for:
A city with a view - Chicago
The third largest city in America, Chicago is under 8 hours from Toronto, making it an ideal first stop on this road trip. What's more, Chicago is set right alongside the largest lake that you'll pass on your journey to Banff and Lake Louise.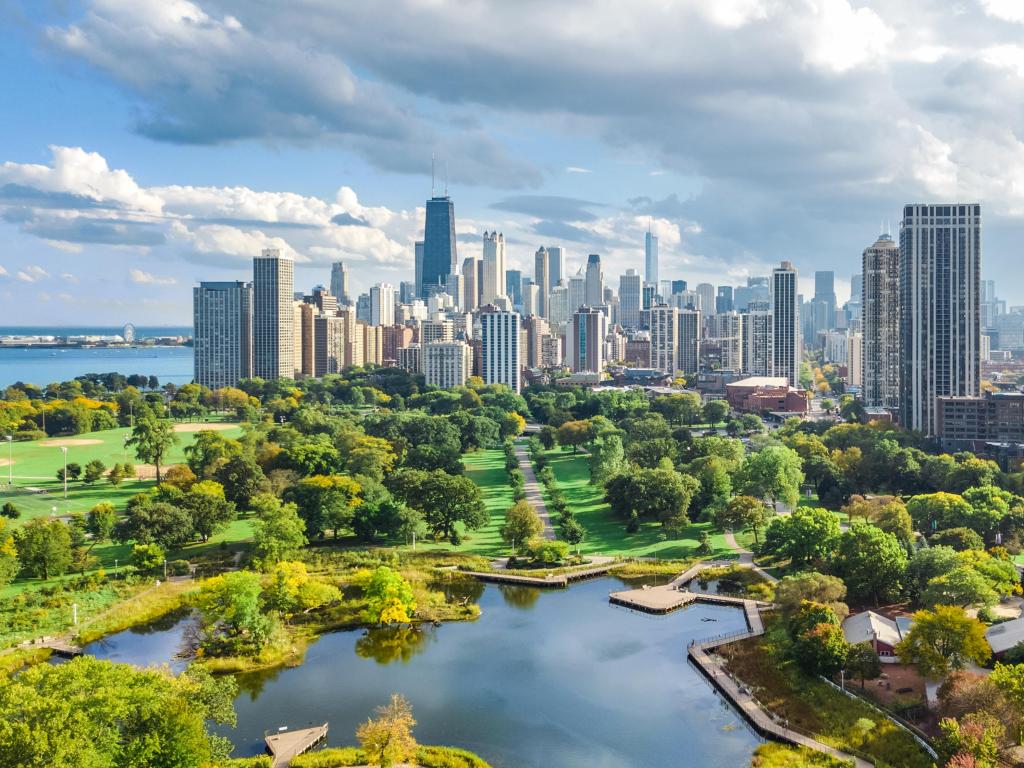 From iconic locations and stunning lake views, to its vibrant history spanning back over 100 years, a stay in Chicago is one that will be filled with amazing memories to rival anything else on the trip.
Make sure your Chicago itinerary includes a walk along Navy Pier or a visit to the Art Institute of Chicago. There's also Shedd Aquarium Lincoln Park Zoo to explore, plus a huge variety of bars and restaurants to top off your stay.
There are plenty of options for staying in Chicago, but for stunning views of the city, it doesn't get much better than the Pendry Chicago. This 4-star hotel is beautifully decorated and modern, despite sitting alongside the city's historic landmark buildings - which you can explore using the hotels complimentary bicycles.
It is definitely worth pushing the boat out at luxurious Pendry Chicago, a grand hotel with elegant rooms. Offering unique dining options for those looking for a hotel to simply relax in after a long drive, try Venteux serving French cuisine, or Châtaeu Carbide on the rooftop, where you can enjoy modern, tasty lunches with panoramic city views.
Discover "Cowtown" - Calgary
While a stop this close to your final destination may not be ideal for some, Calgary is definitely worthy of spending a few extra hours and if you can, an overnight stay to fully explore all that this Canadian city has to offer.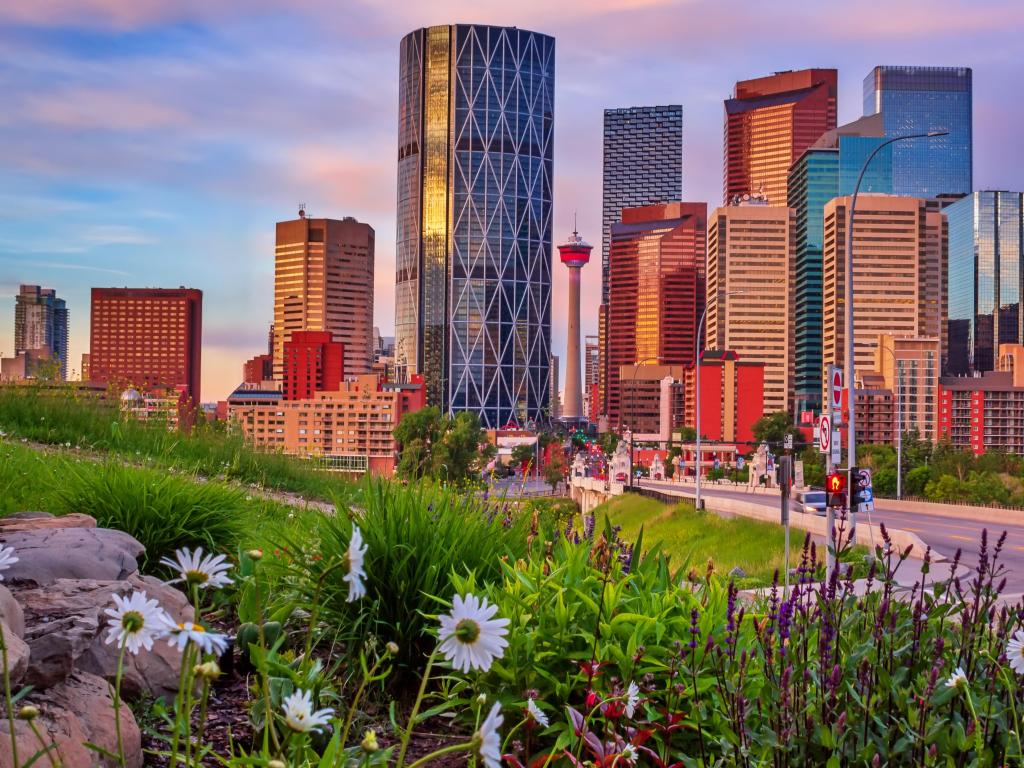 Calgary ranks as one of the top cities in the entire continent. Despite its rapid growth, it's still steeped in western culture that earned it the nickname "Cowtown," thanks to the Calgary Stampede and festival that grew out of the farming exhibitions once presented here.
Beyond the day to day intricacies that make it a wonderful place to stay, there are also incredible attractions such as the world famous Calgary Zoo and the Calgary Tower.
If time allows, a stay at Hotels Arts Kensington is a great way to complete your visit at Calgary. This super 5-star hotel is modern and contemporary, bringing a touch of sophistication to your stay, and close to all the local shops, dining spots and entertainment. Many of the luxury bedrooms enjoy panoramic views of Downtown Calgary and the Bow River.
From this striking hotel you can enjoy relaxing river walks, before heading back to outdoor terrace and gardens, with outdoor fireplace for chillier evenings. Hungry? Then make sure to book a table at on-site Oxbow restaurant, serving up modern comfort food in a relaxed setting.
Things to see on a road trip from Toronto to Banff
The road trip from Toronto to Banff takes you past lakes, mountains and cultural attractions. There are so many to include, but if you are pressed for time, we have come up with this list of some of the most impressive things this route has to offer: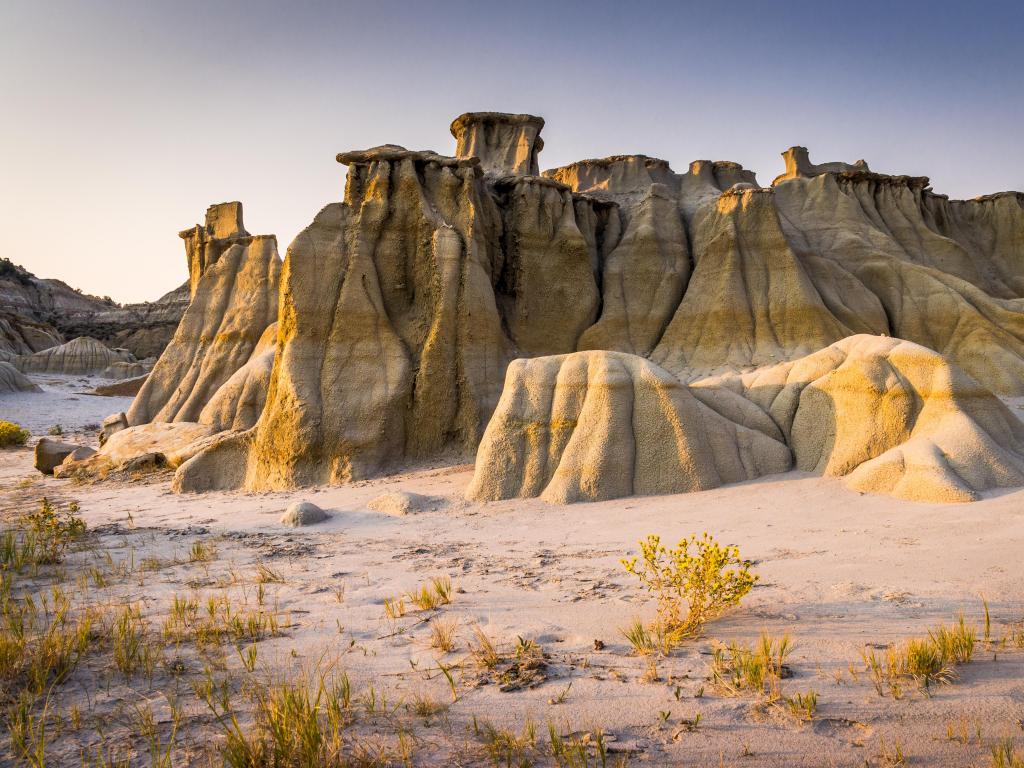 Lake Ontario - The smallest of the five "Great Lakes" by area and second smallest by volume, Lake Ontario is the 13th largest lake in the world and the only one of the group not to border the state of Michigan.
Lake Erie - The second smallest "Great Lake" by area but, by a distance, the smallest in terms of volume, it is the 11th largest lake on the planet.
Detroit, Michigan - The largest and most populated city in Michigan, Detroit is world famous for its history with the motor industry and for being the birthplace of Motown music.
Lake Michigan - The second largest of the Great Lakes and 5th largest in the world overall, it joins Lake Huron at the Straits Of Mackinac. It's also the largest lake in the world located entirely in one country.
Chicago, Illinois - The largest and most populous city in Illinois, known as the windy city, due to its location on the shore of Lake Michigan, it's world famous for its unique style of pizza.
Minneapolis - Saint Paul, Minnesota - Featuring the capital city of Minnesota, Saint Paul, and its largest, most populous city, Minneapolis, "The Twin Cities" as they are known make up, by far, the largest metropolitan area in the state.
Theodore Roosevelt National Park - Named in memory of former US President Theodore Roosevelt, who was one of the driving forces behind the national park system as we know it. It is filled with beautiful prairies and wildlife that Roosevelt himself ranched on outside of his time in office.
Great Falls, Montana - On the Missouri River, this city is home to the C.M. Russell Museum, devoted to the artist known for images of the American West and is a great stop to visit the Lewis and Clark National Historic Trail as well as the adjacent Giant Springs State Park.
Lewis And Clark National Forest - One of the oldest preserved forests in America, having been designated as such back in 1897. Named after the legendary explorers who visited the area almost 100 years earlier, it has for centuries been a popular hunting and camping ground for Native American tribes.
Glacier National Park - Referred to as the "Crown of the continent ecosystem", due to having 130 lakes, more than 1,000 types of plant and being home to hundreds of species of animal. It contains mountains, rivers and glaciers and spans the US and Canada border.
Calgary, Alberta - The largest, most populous city in the province of Alberta and fourth most populous in the country, Calgary has ranked in the top five best cities to live in North America for the last decade.
Kootenai National Park -Discover mountain wilderness at this national park, with stunning glaciated peaks, lakes and 94 miles of trails offering a variety of outdoor activities.
Banff National Park - This huge park is easily accessible and offers mountainous terrain, packed with spectacular scenic valleys, peaks, glaciers, forests, meadows and rivers. It's the perfect spot for an incredible sunset.
Lake Louise - A hamlet in Banff National Park, Lake Louise is world famous for its stunning turquoise waters and the Victoria Glacier which is its mountain backdrop. It's one of the rare places that must be experienced to be believed.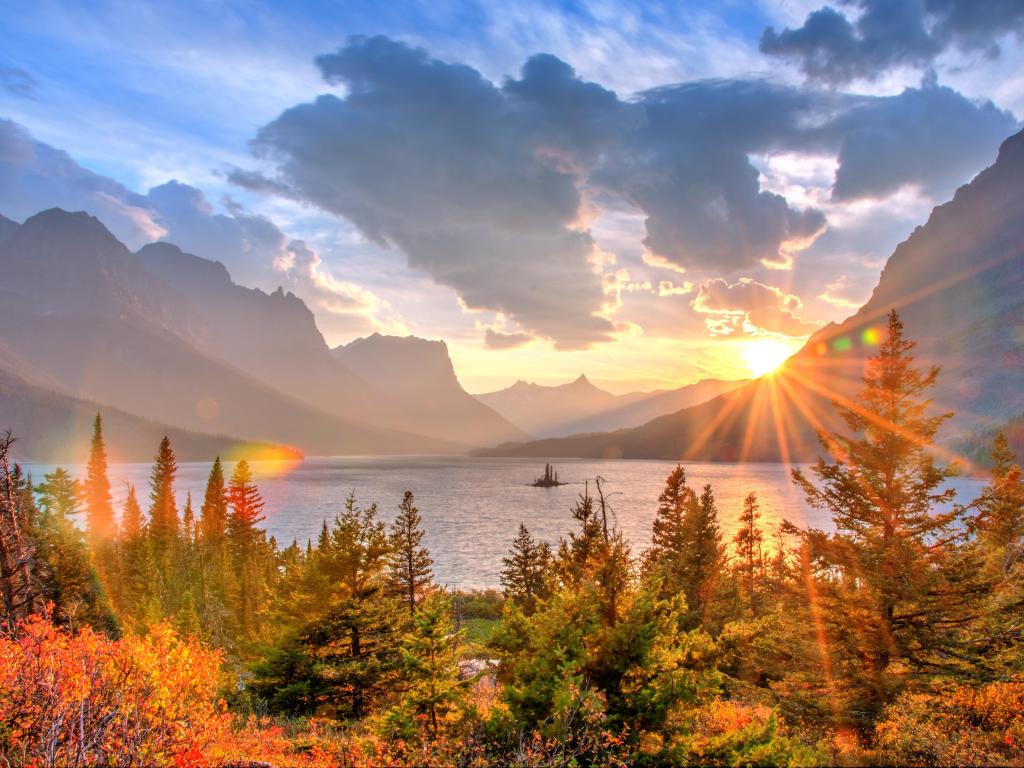 Best time to go on a road trip from Toronto to Banff
With such an immense amount of driving on a road trip from Toronto to Banff, it's imperative that you get your timing right, to ensure you get the most from your trip.
Banff is a stunning location, no matter when you visit it. If you're looking to go hiking around its collection of lakes and forests, then July and August are the prime time to experience sunny weather, while temperatures don't tend to peak much higher than 81 degrees Fahrenheit.
On the other hand, if you're interested in winter sports or want to see the snow covered mountains, late November through to early March provides the perfect conditions for maximum snowfall. Though with temperatures as low as 7 degrees, you will want to pack accordingly.
One of the busiest times to visit this part of Canada is around July when Calgary celebrates its Calgary Stampede - a huge rodeo and festival. This 10-day events attracts a huge number of visitors and entertains with concerts, exhibitions and much more. Hotel prices are likely to be busy if you do decide to visit at this time.