Road Trip from Toronto to Calgary
If you're up for an impossibly scenic journey that takes you more than halfway across Canada and alongside some stunning lakes and forests, then the epic road trip from Toronto to Calgary is the perfect one for you!
The 3,300-km road trip from Toronto to Calgary takes 33 hours to drive. Key stops include Detroit, Lake Michigan, Great Falls, Gery, Madison, Chicago, as well as Lake Ontario, Lake Erie, Glacier National Park and Theodore Roosevelt National Park.
This is a truly memorable road trip journey that takes you alongside the American Canadian border with some great places to visit along the way. Read on to the end to learn about them all, plus our recommendations on where to stay and the best time to travel.
How far is Calgary from Toronto and how long will the road trip take?
The road trip from Toronto to Calgary spans a distance of around 3,300 km and takes at least 33 hours of non-stop driving to complete.
While there is a more direct route to complete this trip, we're going to recommend a slightly longer trip covering 3,580 km. Despite the extra distance, it will only add an hour to your traveling time, but the detour is more than worth it for nearby attractions.
You could complete the trip in as little as four days, but we recommend allowing at least a week. Those extra days will ensure that you can slow the driving down and fully embrace the fantastic sites you'll pass.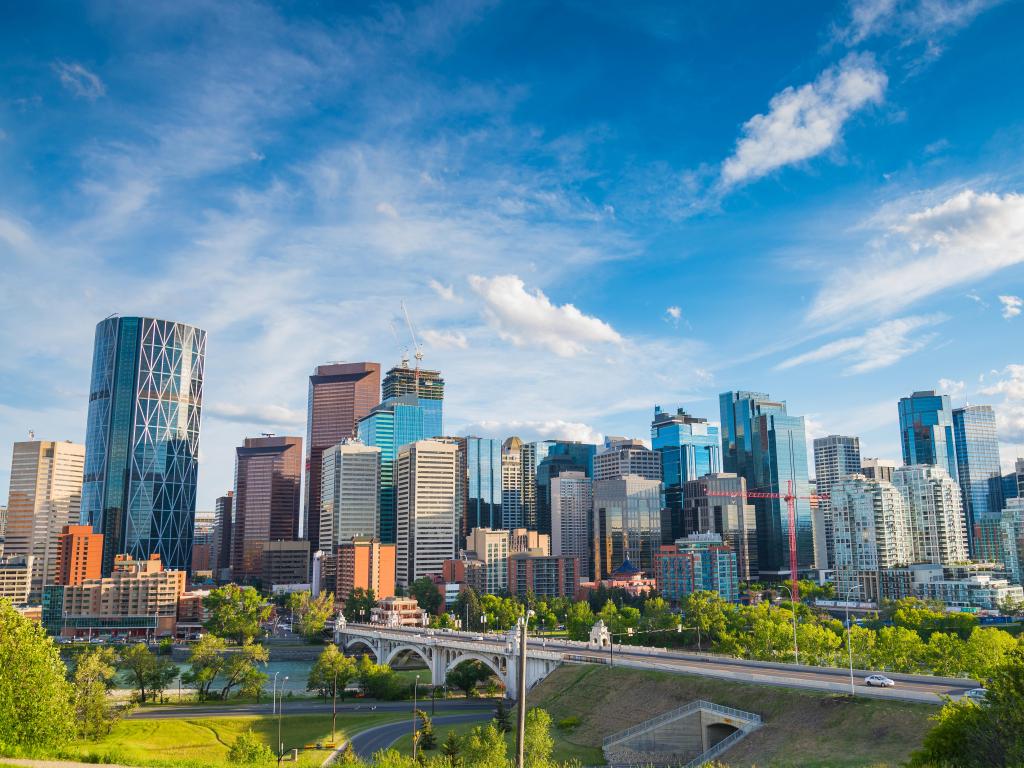 Best road trip route from Toronto to Calgary
The best route for our gargantuan road trip from Toronto to Calgary will see you traveling through two Canadian provinces and before passing the US states of Michigan, Indiana, Illinois, Wisconsin, Minnesota, North Dakota and Montana, before arriving back in Canada.
This option will see you crossing the Canadian/American border; therefore, you will need to remember your identification and any other documents that are required. Be sure to check these before you set off. If however, you would rather keep your drive limited to Canada, there is an alternative route you could take.
The Canada-only alternative route takes you from Toronto on the Trans-Canada Highway north through Ontario and past Wabakimi Provincial Park, before passing Winnipeg and to Calgary where you can visit the stunning Banff National Park.
This route is still full of rugged mountains, and fantastic lakes and is a similar distance of 3,420 km and will take 35 hours of non-stop driving. This is a good option for a simpler trip, though it won't take in as many interesting things to see as our main route.
Road trip route from Toronto to Calgary
Begin by going west on Queen Elizabeth Way, along the north-western shore of Lake Ontario, to the start of Highway 403, which you'll follow for its duration to Woodstock.
You'll then pick up Highway 40, on the banks of Lake Erie and Lake St Clair, and follow it almost to the American border. Just before you reach it, you'll change to Highway 3, to take you across Ambassador Bridge and into Detroit.
Pick up Interstate 96 at its origin and follow it west to Plymouth, where Michigan Highway 14 begins. Follow this for its entire length to where it merges with I-94.
Continue west until you arrive at Gary, at the southern point of Lake Michigan. From here switch to I-90 west as you arrive in Chicago - a city for an overnight stop.
Continue west on I-90 past Madison, Wisconsin, when the road merges with I-94 and takes you through Minneapolis, another fantastic city to explore.
The next stretch of I-94 takes you alongside Lake Traverse Reservation and Leech Lake Reservation - both worthy of a short detour. Otherwise, continue northwest to Glendive in Montana.
Take exit 211 to Montana Highway 200S and follow it for its duration. When you arrive in Circle, take Montana Highway 200 east to Grass Range, where it merges with US-87.
Pass Lewistown before arriving in Great Falls, a city in Montana that's ideally placed to explore the nearby Giant Springs State Park or a slightly longer drive to Helena-Lewis and Clark National Forest.
Continue north on US-89 as you drive through the impressive Blackfeet Indian Reservation and cross the Canadian border at Carway.
Once you cross the border, the road will become Alberta Highway 2. Follow this for the final 260 km to your destination in downtown Calgary.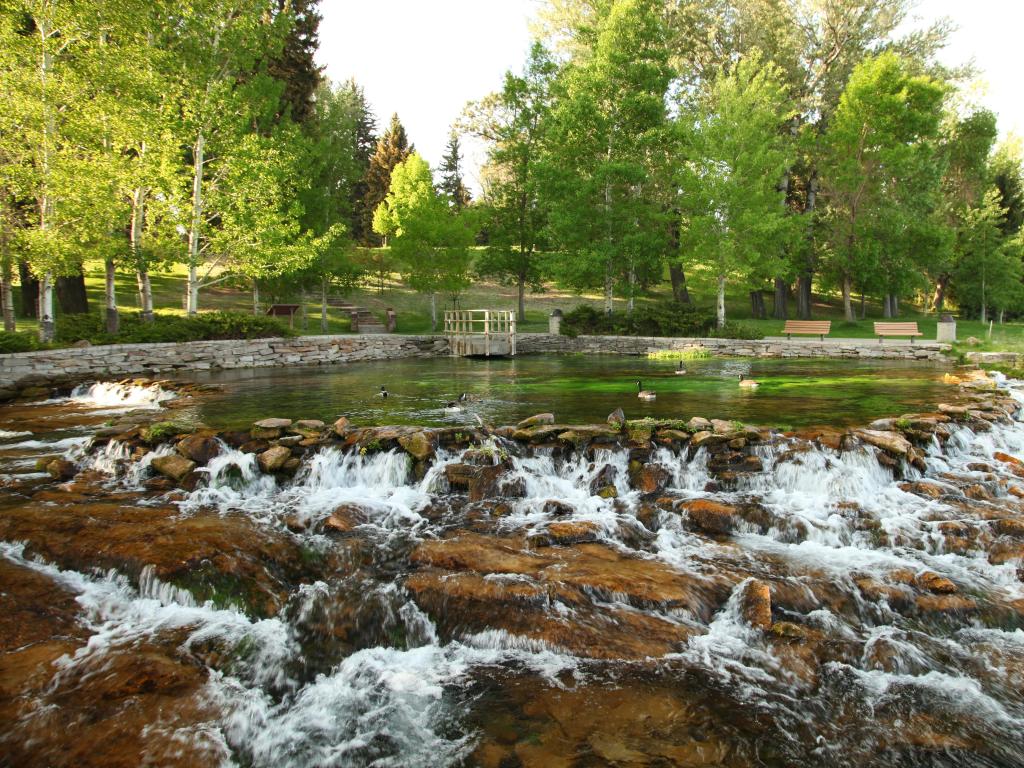 Best places to stop between Toronto and Calgary
With so much to see on your epic journey from Toronto, crossing into the US, before heading back to Calgary, you will need several stops along the way.
Of all the fantastic places you can stop en route, these are the ones that you'll definitely want to keep an eye out for:
Visit two cities in Minneapolis
At 1,509-km into your road trip, Minneapolis is almost halfway to your destination and a great place for an overnight stop. With three rivers and two cities, this state capital in Minnesota is a great destination in its own right.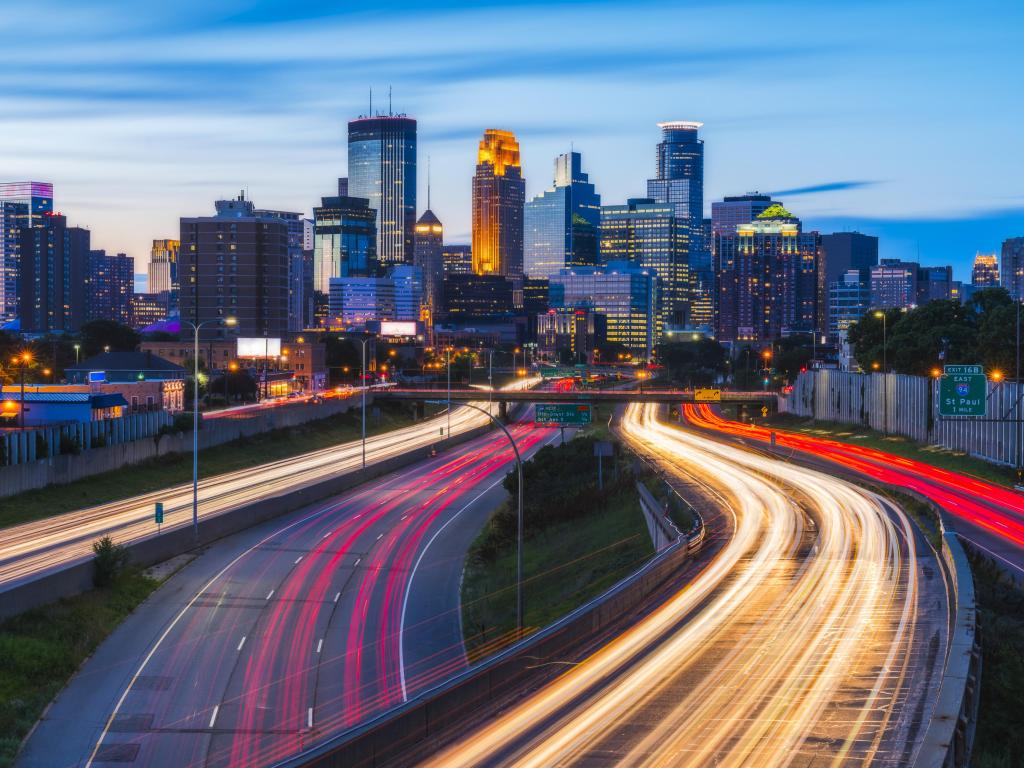 Known as the Twin Cities, Minneapolis and Saint Paul and individual cities which border each other and share many of the same political, educational and cultural institutions.
Whether you want to explore some of the natural beauty and nearby lakes or simply unwind in the bars and restaurants of the state's biggest metropolitan area to break up your drive, these twin cities are pretty much the perfect place to do it.
As for accommodation, no hotel represents the historic Twin Cities better than the Best Western Plus Como Park Hotel. Located right in the middle of the two cities and built inside a restored train repair shop, this hotel offers a heated indoor pool, hot tub and stylish rooms.
After relaxing in the pool or in one of the beautifully presented rooms, you can easily explore Minneapolis and Saint Paul within walking distance, with Como Park, which has a Zoo and a 1915 glass house, just a short distance away.
A scenic stay at Great Falls
At just over a 5 hours' drive from Calgary, Great Falls is the perfect final overnight stop. The third largest city in the state of Montana and named after the five waterfalls in the area that were first discovered by Lewis and Clark, Great Falls is a great location.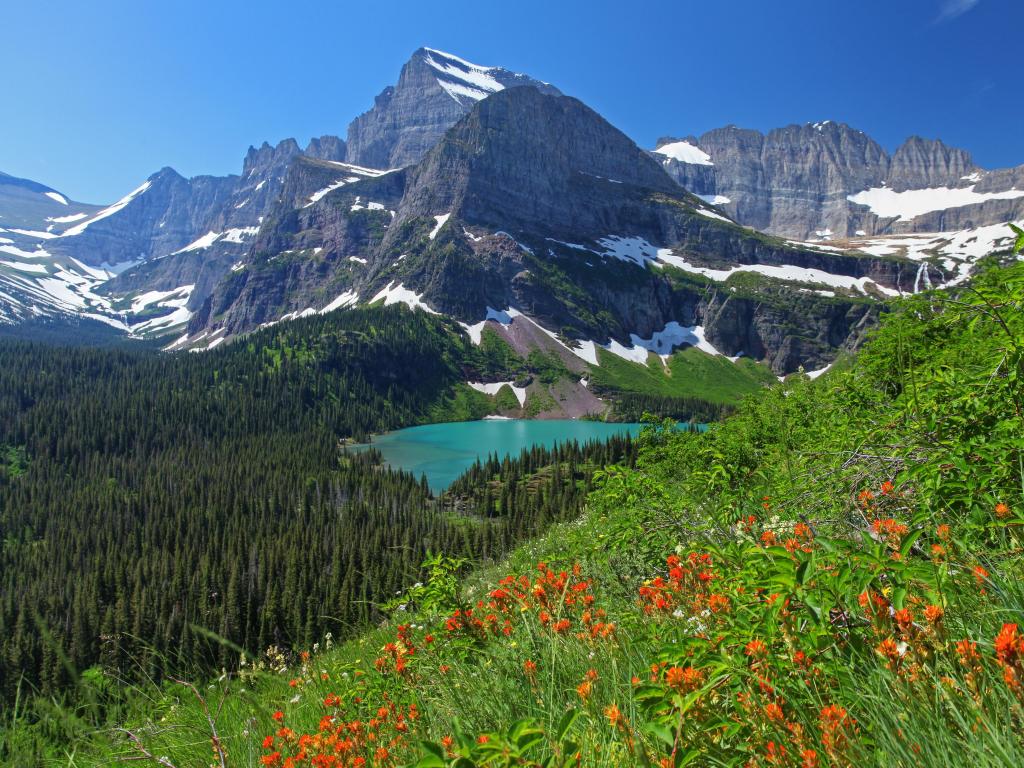 A beautiful city in its own right, from Great Falls you can explore both the Lewis and Clark National Forest and, slightly further away, Glacier National Park. These two natural wonders are real highlights of this road trip.
If after all that hiking, you find yourself ready for some city life, Montana City will more than deliver. You'll find museums and art displays at the Romanesque Revival building and the adjacent Giant Springs State Park.
There are several great hotels in the area, but Best Western Plus Riverfront Hotel and Suites is an absolutely ideal choice. Located within Great Falls itself and ideally placed to explore the nearby attractions, this hotel combines comfort to ensure you are well-rested before your final stretch.
Enjoy a dip in the indoor pool or soak up the riverside views from your balcony. There are even barbecue facilities, a super outdoor terrace for stargazing and - an added bonus for road trippers - free parking on-site.
Things to see on a road trip from Toronto to Calgary
With a road trip from Toronto to Calgary spanning a vast distance, there are plenty of scenic places to visit and cities to explore. If your time is limited though, here's out pick of some of the best that you'll definitely not want to miss out on seeing: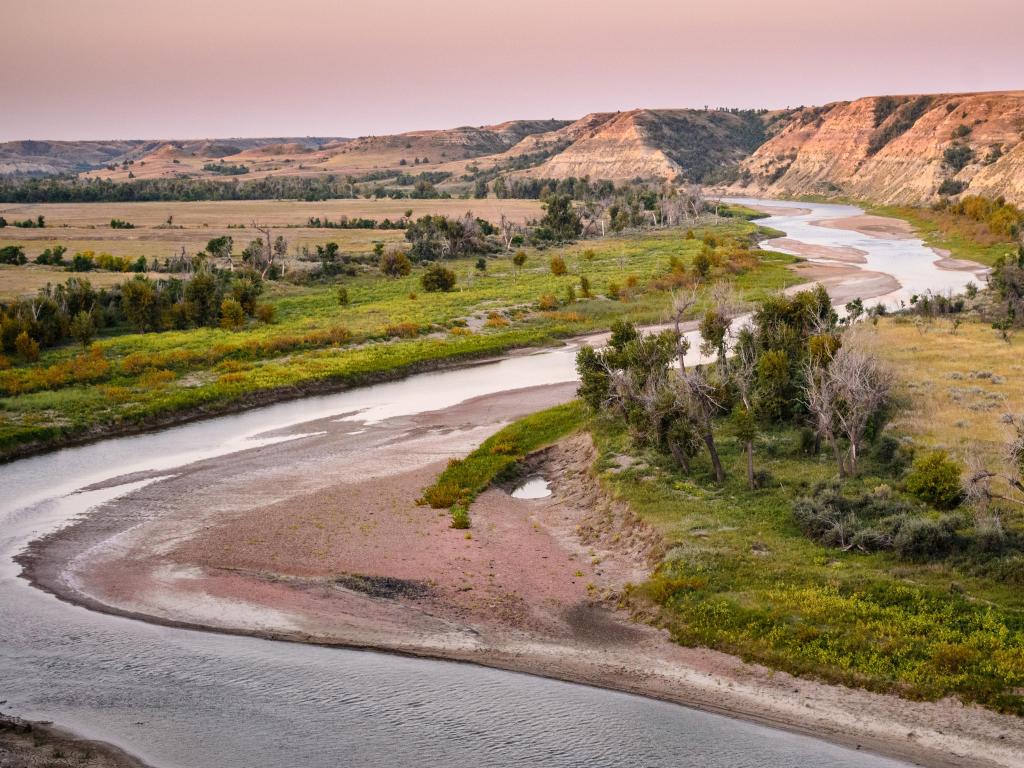 Lake Ontario - The first of three out of the five Great Lakes we'll see on this trip, it's the smallest of the group but still manages to be the 13th largest lake in the world.
Lake Erie - Things are getting a little bigger, as the second of the Great Lakes that we'll pass on this trip is also the second smallest but still jumps to number 10 on the worldwide rankings.
Detroit, Michigan - The largest and most populous city in the state of Michigan. Famed for its history in both the music and automotive industries, Detroit is a city that hit a rough patch in the last couple of decades, but with billion-dollar investments in the downtown area, it is quickly turning things around and becoming a wonderful city to visit again.
Lake Michigan - The last of the three Great lakes we pass on our journey. Only the third largest of the 5 but considering it still ranks as the 5th largest lake in the world, it shows you just how massive the two we won't see on this trip actually are.
Chicago, Illinois - Known as both the city by the lake and the windy city, due to its location on the western shore of Lake Michigan, Chicago is the most populous city in the state of Illinois and the 3rd most populous in the entire country (behind New York and Los Angeles).
Minneapolis-Saint Paul, Minnesota - Known as the "Twin Cities", the capital of Saint Paul and the largest city of Minneapolis combine to form one massive metropolitan area in southern Minnesota.
Great Falls, Montana - The third most populous city in the state of Montana.
Upper Missouri River Breaks National Monument - The beautiful national park on the Upper Missouri River has six wilderness areas and is an ideal place for hiking. It's also a great spot for a sunset.
Theodore Roosevelt National Park - A national park centered around a landscape consisting of an old-west-style prairie, full of wild horses and bison. Named after former president Theodore Roosevelt, who established over 230 million acres of public land during his presidency, it is the only national park named after a person. Outside of his time serving as President, Roosevelt himself actually ranched on lands now included within the park.
Lewis And Clark National Forest - Spanning almost 1.9 million acres, this beautiful forest is named after the legendary explorers, whose expedition laid the foundation for America's westward expansion. Home to numerous species of plants and animals, this is a fantastic location to get back to nature for a little while.
Glacier National Park - A ruggedly beautiful national park on the Canadian border, home to bears, wolves, moose, bighorn sheep and many other species of animals and birds. With stunning scenery including lakes, waterfalls, glaciers and mountains, you can get lost, both literally and figuratively, hiking around this incredible location.
Banff National Park - Featuring rugged mountains, turquoise lakes and a picture-perfect mountain town and village, this Canadian park is full of wildlife and scenic drives.

Kootenai National Forests - Mostly located in Washington and Montana, respectively, these forests are the perfect complement to Canada's southernmost attractions.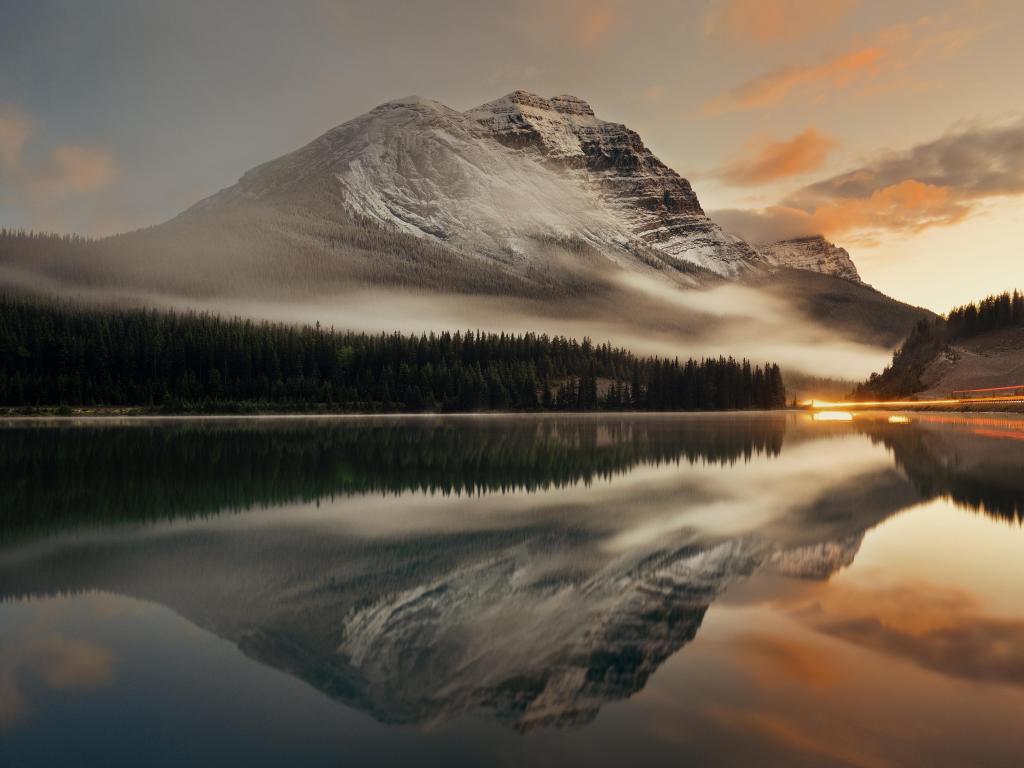 Best time to go on a road trip from Toronto to Calgary
The road trip between Toronto and Calgary is best attempted during Canada's warmer months. Winter can get extremely cold, especially in Calgary where temperatures can drop to 13 degrees Fahrenheit in January.
Picking the correct time to make this road trip is absolutely crucial to getting the most enjoyment from it. As many of the city's finest attractions, as well as a lot of those along the way, rely on being outdoors, it's best to avoid January and December.
Thankfully, as cold as Canada can get in the winter, it is equally as beautiful in the summer. After the snow begins to melt in the spring, the cold dark days are replaced with beautiful sunshine.
The best time for visiting Calgary are between June and August. Not only will you get to enjoy most of the city's special events, but temperatures are a more comfortable average of 66 degrees.
That said, the summer months will result in heavier crowds, and you might find passing through the cities of Chicago and Detroit, that hotel prices are also inflated. If you really want to avoid the busiest months in these top tourist destinations, then late spring and early fall might be preferable.
For the thrill-seekers looking to combine the road trip with popular festivals, Calgary has a number of internationally renowned events such as the Calgary Stampede held for 10 days in July plus several large-scale music festivals.