Road trip from Adelaide to Flinders Ranges
If you have been looking for a long weekend road trip to rugged mountain ranges, gorges, and rich Aboriginal heritage, then this trip from Adelaide to Flinders Ranges is perfect. Whether you want to spend some time on the coast of Spencer Bay or discover natural wonders that lie inland, this adventure has it all!
The 440 km road trip from Adelaide to Flinders Ranges will take about 5 hours to drive. Notable highlights include Barossa Valley, Burra, Terowie, Peterborough, Orroroo, Adelaide, Kadina, Moonta, Wallaroo, Port Broughton, Port Pirie, Port Augusta and Quorn.
With so much excitement and adventure around every corner, you'll have the road trip of a lifetime. Read on below to learn more about the best routes, top highlights on the way, where to stay, and the best seasons to make the journey.
How far is Flinders Ranges from Adelaide, and how long will the road trip take?
Comparison of road trip routes between Adelaide and Flinders Ranges

| Route | Distance | Driving Time |
| --- | --- | --- |
| The Inland Route | 440 km | 5 hours |
| The Coastal Route | 510 km | 5 hours 50 minutes |
There are two routes jam-packed with things to do and see that will take you from Adelaide to Flinders Ranges. Both will be full of incredible highlights and things to see and do. The Inland Route takes approximately 5 hours to complete and covers 440 km.
Opting for the Coastal Route instead, you'll drive 510 km and take about 5 hours and 50 minutes of driving time.
While this road trip could be comfortably covered in a day, there is so much to see and explore on the way that we suggest stretching it over 2-3 days.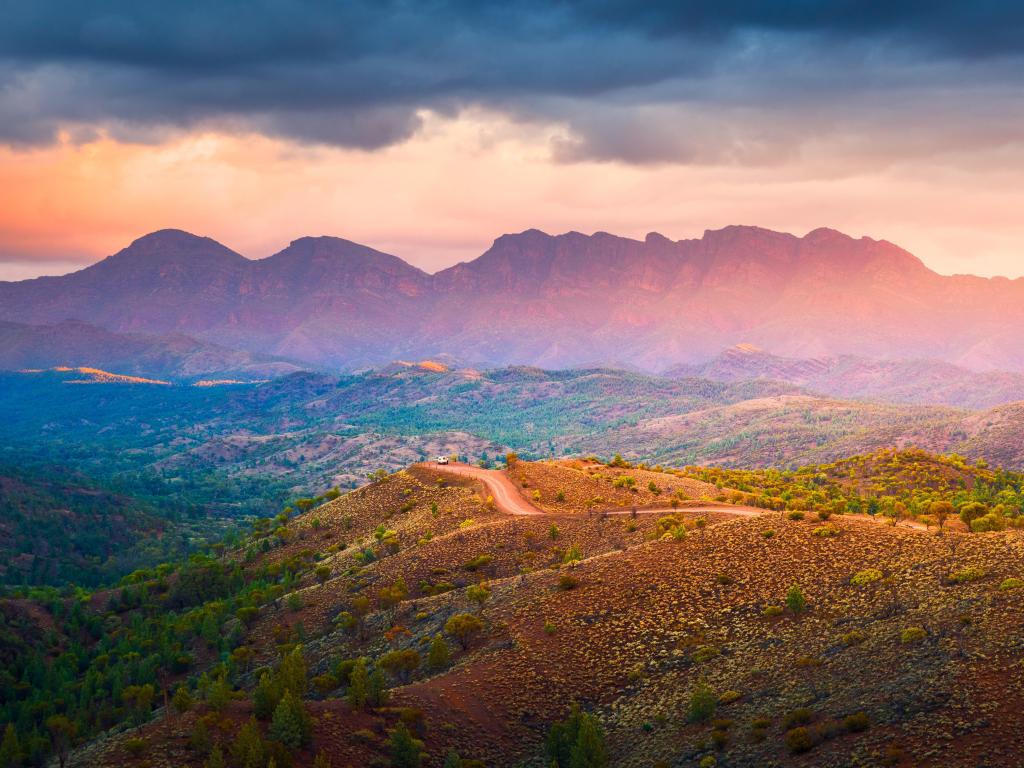 Best road trip route from Adelaide to Flinders Ranges
While both the Inland and Coastal routes offer rich experiences and diverse attractions, the vistas and natural highlights will differ. Which route you choose will depend on what you want to see the most.
The Inland Route takes you through the heart of South Australia's wine country, giving you the perfect opportunity to explore the vineyards of the world-renowned Barossa Valley.
As you progress, the route unveils diverse natural landscapes, from bushlands, and gorges to breathtaking red rock formations at places like Red Banks Conservation Park and Caroona Creek Conservation Park.
You'll also have plenty of cultural attractions as well. Consider taking the Terowie Historic Town Walk in Terowie or immersing yourself in the nostalgia of the Steamtown Heritage Rail Centre in Peterborough.
The Coastal Route will give you a fun drive along South Australia's charming coastline. You'll come across picturesque coastal towns, each boasting rich history and pristine beaches such as Port Wakefield, Wallaroo, and Port Augusta.
Stops like the Port Broughton Heritage Centre, the dynamic Wadlata Outback Centre, and the Pichi Richi Railway will be highlights for any history lover.
You'll also get plenty of natural highlights as well. These include the Wirrabara Forest and the sweeping landscapes of Mount Remarkable National Park.
If you're looking for a taste of Australia's finest wines, captivating red landscapes, and historic charm, the Inland Route is for you. Yet, if coastal vistas, historic centres, and natural forested beauty are more appealing, then the Coastal Route is waiting for you.
How to drive from Adelaide to Flinders Ranges
The map above shows our suggestions for the best road trip routes between Adelaide and Flinders Ranges. Keep reading for detailed descriptions of both routes, where to stay on either, and the best things to do on the way.
The Inland Route
Begin your journey in the city of Adelaide, heading northwards on M2 and then A32. Your first major stop you might want to make en route is the Barossa Valley, renowned globally for its exquisite wines.
Continue your journey north and arrive in Burra. Here, take a moment to experience the eerie atmosphere of the Redruth Gaol. Pressing onward, head towards Terowie. This stretch takes you through the heart of historic South Australia.
Next, journey towards Peterborough. Here, check out the nostalgic allure of the Steamtown Heritage Rail Centre.
From Peterborough, venture northwest, making your way to Orroroo. Be sure to stop and marvel at the majestic Orroroo Giant Red Gum and gaze across the horizon from the Stokes Hill Lookout.
Your journey will end in the Flinders Ranges, a mesmerising showcase of South Australia's natural beauty.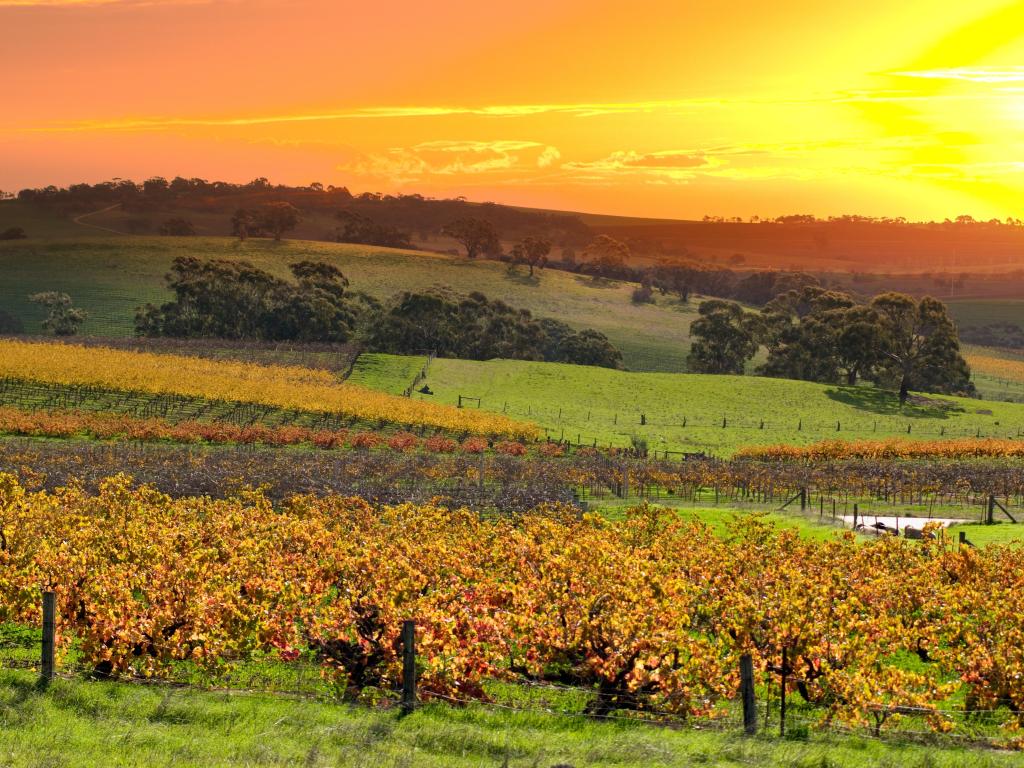 The Coastal Route
Set off from the bustling city of Adelaide, driving north on the A1, heading towards the Adelaide International Bird Sanctuary National Park. Continuing northwest, you'll soon reach Port Wakefield. Here, check out the Port Wakefield Historical Walk.
From Port Wakefield, head northwest to Wallaroo. Along the way, check out the Farm Shed Museum in Kadina. After your visit, head north towards Port Broughton, where you can see the Port Broughton Heritage Centre.
Further ahead, you'll get to Port Pirie, where art enthusiasts will enjoy visiting the Port Pirie Regional Art Gallery. Afterwards, you'll arrive in Port Augusta. Take a detour to the lush expanse of Wirrabara Forest, and the rugged beauty of Port Germein Gorge.
From Port Augusta, move inland towards the Flinders Ranges. Highlights of this stretch include the panoramic views from Mount Brown Conservation Park, a short detour away. Soon after, you'll arrive at your destination, the Flinders Ranges.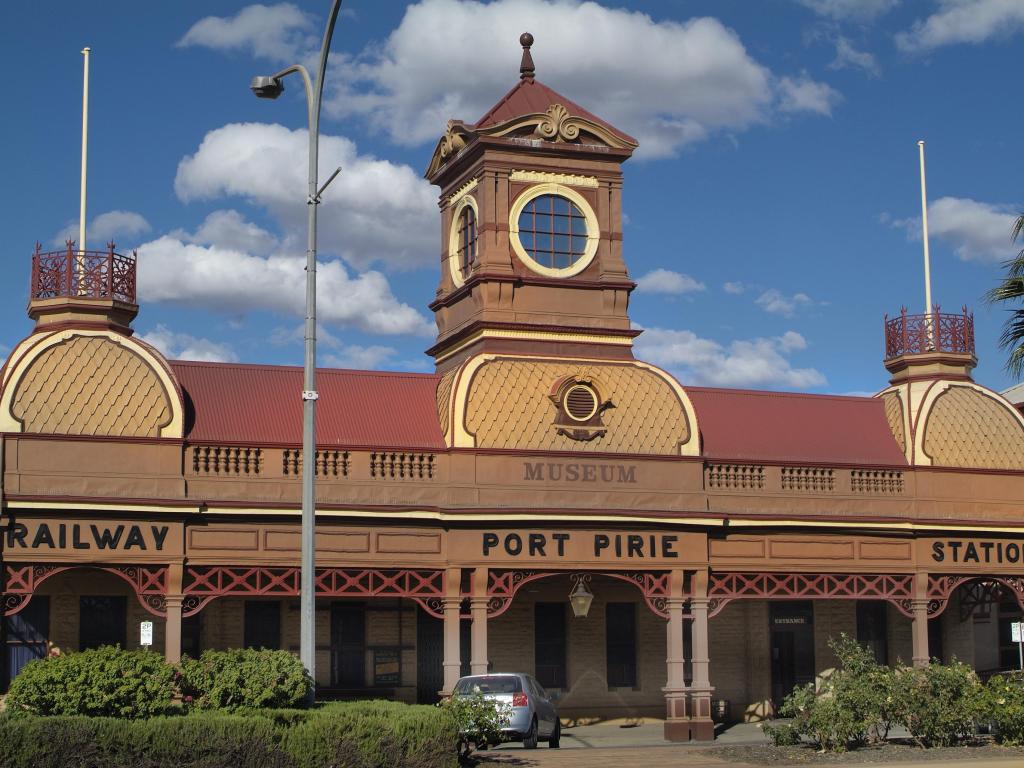 Best places to stop between Adelaide and Flinders Ranges
Even though this is a short journey, we recommend stopping at one of our recommended destinations below. This way, you'll get to experience all this incredible area has to offer.
Immerse yourself in history in Orroroo
Orroroo is the ideal place to rest and rejuvenate along the Inland Route, situated just 3 hours and 20 minutes into the drive. Nestled at the crossroads of two major roads, Orroroo not only serves as a pivotal supply hub for locals but also is home to charming attractions.
You can't visit Orroroo without exploring the Early Settlers Cottage, a window into the lives of pioneers who first made this land their home. If you have more time on your hands, we also recommend visiting the Pekina Creek Railway Bridge for dramatic photo ops.
Orroroo is also a great base to explore the Mount Remarkable National Park, only a short detour away from the route.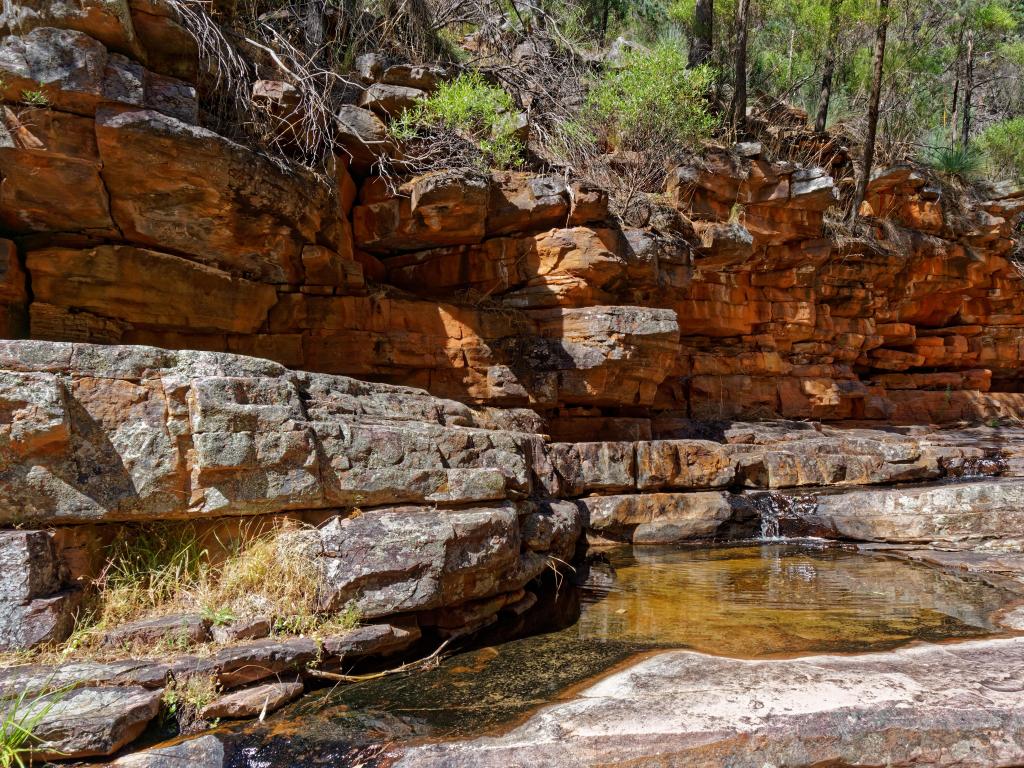 For a comfortable and relaxing stay in Orroroo, we recommend the Black Jack Get-A-Way "Magpies Nest". This spacious holiday home is nestled in a natural setting, just a stone's throw away from Orroroo's centre.
With its location by a serene creek and on the edge of town, you can enjoy the tranquil views from the verandah, watching birds and kangaroos in their natural habitat.
The lodging comes with amenities that include a fireplace for those chilly nights, barbecue facilities for an Aussie-style cookout, and a delightful continental breakfast to start your day on the right note.
If you're looking to explore the vicinity, the renowned Giant Red Gum Tree of Orroroo is a mere 300-400 metres from the house. Also, the Orroroo Welcome Sign, just 300 metres down the road, is a perfect photo-op to remember your journey.
Learn about the Outback in Port Augusta
Positioned 4 hours and 10 minutes into the drive on the Coastal Route, Port Augusta has the perfect mix of history, art, and nature. As the place where "the outback meets the ocean", this coastal community is a unique destination.
Port Augusta's reputation is bolstered by its numerous art galleries, each offering unique insights into the region's artistic talents and traditions. On top of all that, the city's beautifully curated parks and gardens make for the perfect escape into nature.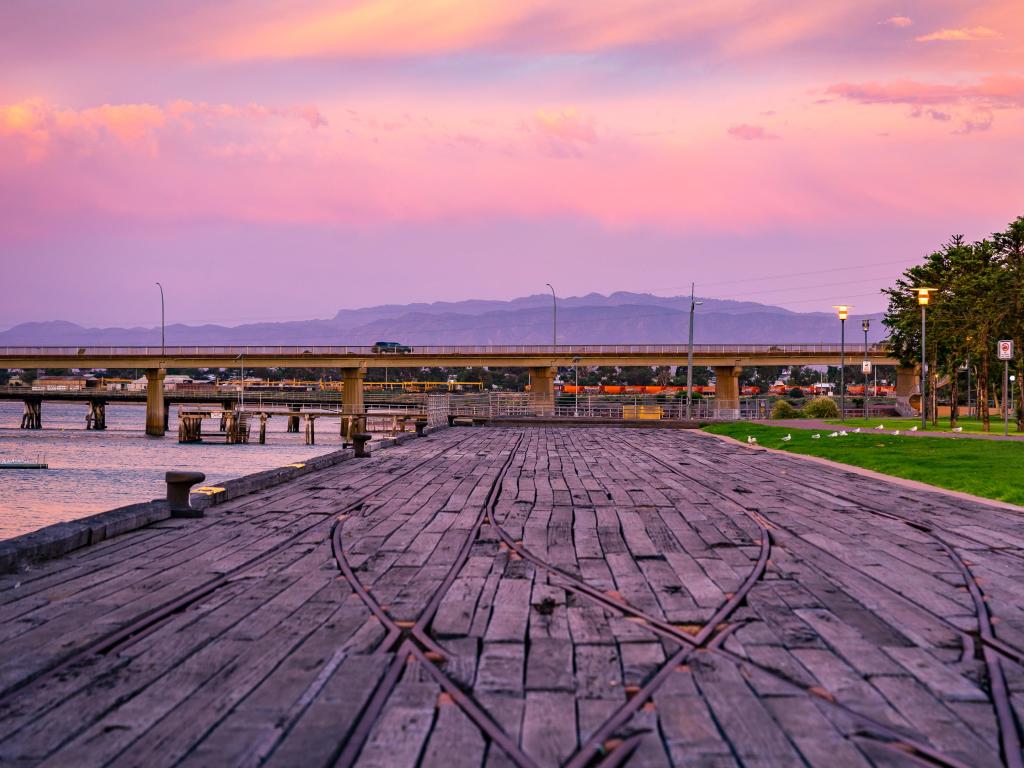 A visit to the Wadlata Outback Centre is a must. Here, interactive exhibits take you on a journey through time, retracing the evolution of the Outback.
If you'd rather spend your day outdoors, you can head to the Australian Arid Lands Botanic Garden, where you can see diverse plant species that have adapted to the dry environment.
When in Port Augusta, the Crossroads Ecomotel is our top recommendation for a comfortable stay. Conveniently located near the heart of the city, this eco-friendly haven blends modern comforts with sustainable practices.
You'll be welcomed into spacious rooms, complete with large beds, a kitchenette, and an ensuite bathroom. The vast outdoor deck further add to the experience, where you can unwind and soak in the surroundings. Make sure to check out the BBQ facilities as well.
Nearby, the Water Tower Lookout stands just half a kilometre from the motel, offering panoramic views that capture the city's essence.
Where to stay when you reach Flinders Ranges
The Flinders Ranges, an iconic Australian destination, is renowned for its landscapes full of rugged peaks and rocky gorges.
You'll get to experience incredible wildlife and flora characteristic of outback Australia, as well as the profound historical imprints of the Aboriginal communities who have long called this region home.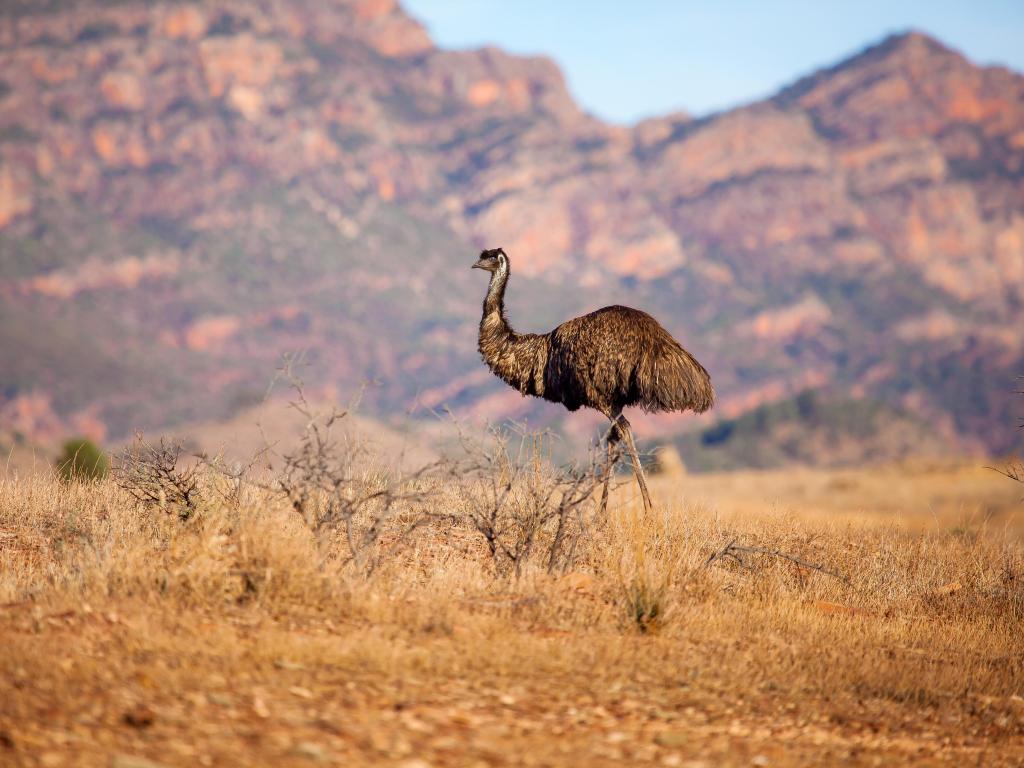 At the heart of the Flinders Ranges lies the magnificent Wilpena Pound, a vast natural amphitheatre of mountains. Coupled with the beauty of the Ikara-Flinders Ranges National Park, you're bound to be left awestruck by the region's raw, unspoiled splendour.
In the heart of this breathtaking landscape is the beautiful and luxurious Prairie Hotel. With rooms that artfully blend contemporary comfort with rustic touches, your stay is bound to be restful.
The hotel's allure doesn't end there. Art enthusiasts will be drawn to its on-site gallery, which celebrates local talents. Meanwhile, the in-house bar is the perfect place to unwind after a day's exploration, and the gourmet restaurant features delightful local dishes.
Things to see on a road trip from Adelaide to Flinders Ranges
This incredible yet short journey is packed with things to do. To help you plan, we've listed our favourite highlights below.
Inland Route
Whispering Wall - The Whispering Wall is renowned for its unique acoustics that allow whispered words to be heard clearly over 100 metres away. Originally an engineering marvel, it's now a popular attraction for its sound phenomenon.
Barossa Valley, South Australia - The Barossa Valley is one of Australia's oldest and most esteemed wine regions, boasting world-class vineyards and wineries. The valley offers picturesque landscapes, culinary delights, and a rich cultural heritage, making it a must-visit destination for wine enthusiasts.
Martindale Hall - Martindale Hall is an impressive 19th-century mansion nestled in South Australia, embodying Georgian and Italianate architectural styles. It offers a glimpse into the opulent lifestyles of past landowners and is surrounded by beautifully manicured gardens.
World's End Gorge - Located near Burra, World's End Gorge offers awe-inspiring views of rugged landscapes and deep valleys. Its dramatic cliffs and unique rock formations make it a favourite spot for trekkers and nature enthusiasts.
Red Banks Conservation Park - Red Banks Conservation Park, near Burra, showcases the beauty of the Australian bushland with its diverse wildlife, gorges, and ancient red rock formations. It's a sanctuary for many native species and offers a range of walking trails.
Redruth Gaol - Redruth Gaol, built in the 1850s, is South Australia's first established jail. Now a museum, it offers insights into the penal history of the region and the daily lives of its inmates.
Midnight Oil House - Famously featured on a Midnight Oil album cover, the Midnight Oil House in Burra stands as a symbol of the band's advocacy for indigenous rights. This historic ruin, though simple, carries with it significant cultural and musical history.
Caroona Creek Conservation Park - Caroona Creek Conservation Park, located in South Australia's mid-north, boasts stunning bushland, varied wildlife, and a myriad of walking trails. It's an ideal spot for those wanting to experience Australia's diverse natural beauty.
Terowie Historic Town Walk - The Terowie Historic Town Walk takes visitors on a journey through Terowie, a preserved 19th-century railway township. With its historic buildings and period charm, it offers a step back in time to South Australia's rail history.
Steamtown Heritage Rail Centre - Located in Peterborough, the Steamtown Heritage Rail Centre preserves the rich railway heritage of South Australia. It showcases a range of historic locomotives, offering interactive exhibits and captivating light and sound shows.
Peechara Hills - Peechara Hills, near Orroroo, offers undulating landscapes, rich in flora and fauna. It's a serene escape, perfect for those seeking a tranquil natural environment.
Orroroo Giant Red Gum - Estimated to be over 500 years old, the Orroroo Giant Red Gum is a remarkable natural monument. Standing tall near Orroroo, this ancient eucalyptus tree is a testament to the enduring nature of Australian flora.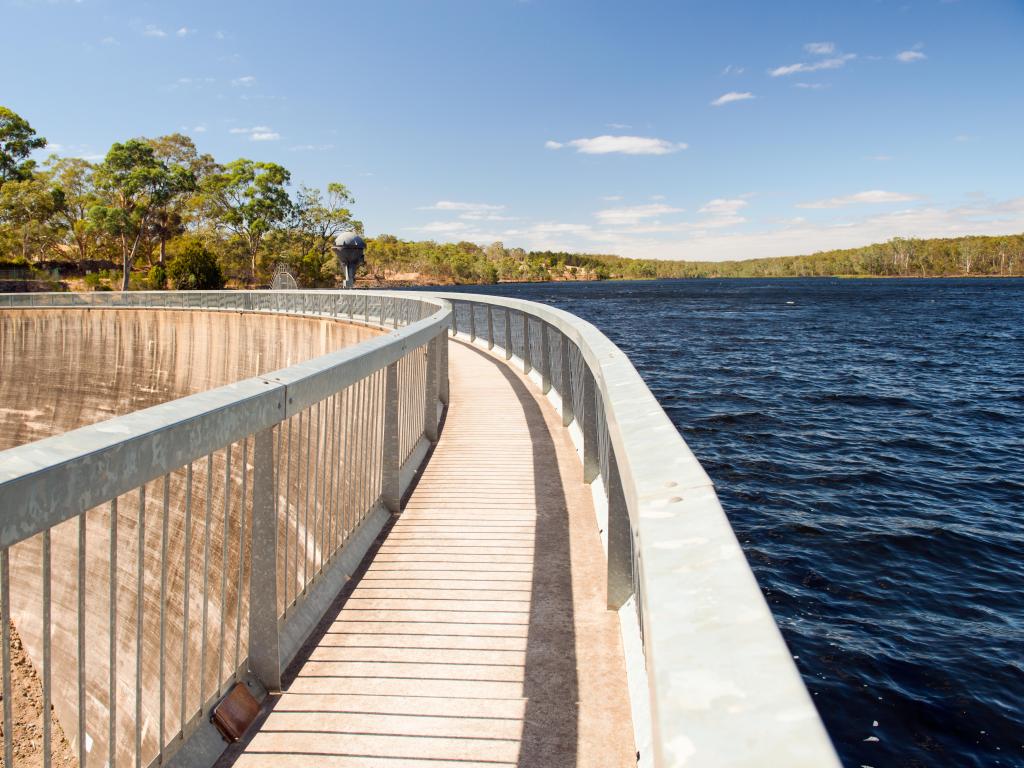 Coastal Route
Adelaide International Bird Sanctuary National Park - This sanctuary, north of Adelaide, provides a haven for thousands of migratory birds travelling from as far as Siberia. It's a vital habitat that offers birdwatchers and nature lovers a chance to observe rare avian species in their natural setting.
Port Wakefield Historical Walk - The Port Wakefield Historical Walk leads visitors through the town's significant landmarks, unveiling its rich maritime and commercial history.
The Farm Shed Museum - Located in Kadina, The Farm Shed Museum celebrates the region's agricultural heritage. With its collection of antique machinery and educational displays, it offers a glimpse into the farming practices of yesteryears.
Moonta Mines Museum - This museum provides insights into the region's rich mining history. The museum showcases artefacts, photographs, and exhibits that detail the lives of miners and their contributions to South Australia.
Wallaroo Heritage and Nautical Museum - Located in the coastal town of Wallaroo, this museum delves into the maritime and heritage history of the region. It boasts an array of exhibits, from shipwrecks to the town's role in the copper mining industry.
Port Broughton Heritage Centre - The Port Broughton Heritage Centre offers visitors a journey through the town's storied past. From its maritime endeavours to its cultural evolution, the centre presents a comprehensive overview of Port Broughton's history.
Port Pirie Regional Art Gallery - This gallery, located in Port Pirie, showcases a diverse range of contemporary and traditional artworks.
Napperby Gorge - Nestled near Port Pirie, Napperby Gorge is characterised by its rugged terrains and unique rock formations. It's a haven for trekkers and offers picturesque views of the surrounding landscapes.
Wirrabara Forest - Located in the Southern Flinders Ranges, Wirrabara Forest offers a lush landscape of pine plantations and native bushland. With its walking trails and abundant wildlife, it's a serene retreat for nature enthusiasts.
Port Germein Gorge - This stunning gorge, located near Port Germein, is adorned with rugged cliffs and dense vegetation. It provides a picturesque setting for hiking and is a testament to the natural beauty of South Australia.
Mount Remarkable National Park - Mount Remarkable National Park in the Southern Flinders Ranges boasts diverse wildlife, dramatic landscapes, and a myriad of hiking trails. From its lofty peaks to its deep gorges, it offers unparalleled views and adventure opportunities.
Winninowie Conservation Park - Located near Port Augusta, the Winninowie Conservation Park is a sanctuary for a variety of native flora and fauna.
Wadlata Outback Centre - Situated in Port Augusta, the Wadlata Outback Centre provides an immersive experience into the Australian Outback's history, culture, and natural wonders.
Mount Brown Conservation Park - This conservation park, near Quorn, offers panoramic views from Mount Brown's summit. With its diverse flora and fauna, it's a picturesque setting for hiking and nature observation.
Pichi Richi Railway - Operating between Quorn and Port Augusta, the Pichi Richi Railway takes visitors on a historic train journey through the rugged Flinders Ranges. With its restored steam and diesel locomotives, it offers a nostalgic trip back in time.
Both routes
Stokes Hill Lookout - Perched in the Flinders Ranges, Stokes Hill Lookout offers panoramic views of the surrounding rugged landscapes and Wilpena Pound. It's a favourite spot for photographers and those looking to take in the breathtaking beauty of the region.
Best time to go on a road trip from Adelaide to Flinders Ranges
Flinders Ranges is a wonderful year-round destination. However, the weather does change and the time you travel will largely affect your experiences.
If you're driving during the winter, temperatures in Flinders Ranges will be hovering between 10-20 degrees Celsius. While daytime drives are temperate, be prepared for cooler evenings.
As summer approaches, the area warms up, with temperatures ranging from a balmy 27 to 32 degrees Celsius. While it offers a completely different scenic beauty, do note that the heat can be intense, especially during midday.
During these hotter months, you might want to avoid overnight hikes in areas like Mount Remarkable National Park due to the fire danger season, which typically spans from November to April.
Spring and fall are often considered the ideal times to make this trip. In spring, temperatures range between a pleasant 15-25 degrees Celsius.
The cooler climate provides a delightful backdrop to events like Terowie's Curious Art Accident in September on the Inland Route or the Port Augusta Cup in July on the Coastal Route.
Come autumn, temperatures again lie between 17-27 degrees Celsius. This season provides a golden opportunity for those travelling the Inland Route to catch the Barossa Vintage Festival in April.
Meanwhile, if you're looking to enjoy the Coastal Route, you can make it to the Kernewek Lowender in May.
Upon reaching your destination, Flinders Ranges has plenty of cultural gems like the Flinders Ranges A Brush With Art and the Hawker Craft Mart and Quilters Exhibition, both held between September and October.