Road Trip from Adelaide to Sydney
A road trip from Adelaide to Sydney is an epic adventure. As you traverse through through the heart of rural Victoria and NSW, and on past the nation's capital, you can immerse yourself in the wonders of regional Australia - discovering a range of natural wonders and authentic Aussie communities.
You can drive to Sydney from Adelaide via a few different ways. The most direct route covers a 1360 km distance and takes 14 hours and 30 minutes of non-stop driving to complete. Stop offs can include Murray Bridge, Swan Hill, Wagga Wagga and Canberra.
These are just a small selection of the many incredible sights, landmarks and places you can visit during this fabulous journey. So carry on reading until the end to learn more about what you can experience on this wonderful trip.
How far is Adelaide to Sydney and how long will the road trip take?
Comparison of road trip routes between Adelaide and Sydney

| Route | Distance | Driving Time |
| --- | --- | --- |
| NSW Riverina Route | 1360 km | 14 hours 30 minutes |
| Victoria Riverina Route | 1450 km | 15 hours 30 minutes |
| Country Victoria Route | 1360 km | 15 hours 30 minutes |
If you drive non-stop from Adelaide, in South Australia, to Sydney, in New South Wales, it will take about 14 hours and 30 minutes to complete the 1360 km distance along the Sturt Highway.
This is the most direct route and will take you past the Big Desert Wilderness, the Fruit Bowl and the magnificent Riverina region before heading into Sydney. The scenery for much of the way is stark and beautiful and will really give you an appreciation of what the farmlands in this part of Australia are like.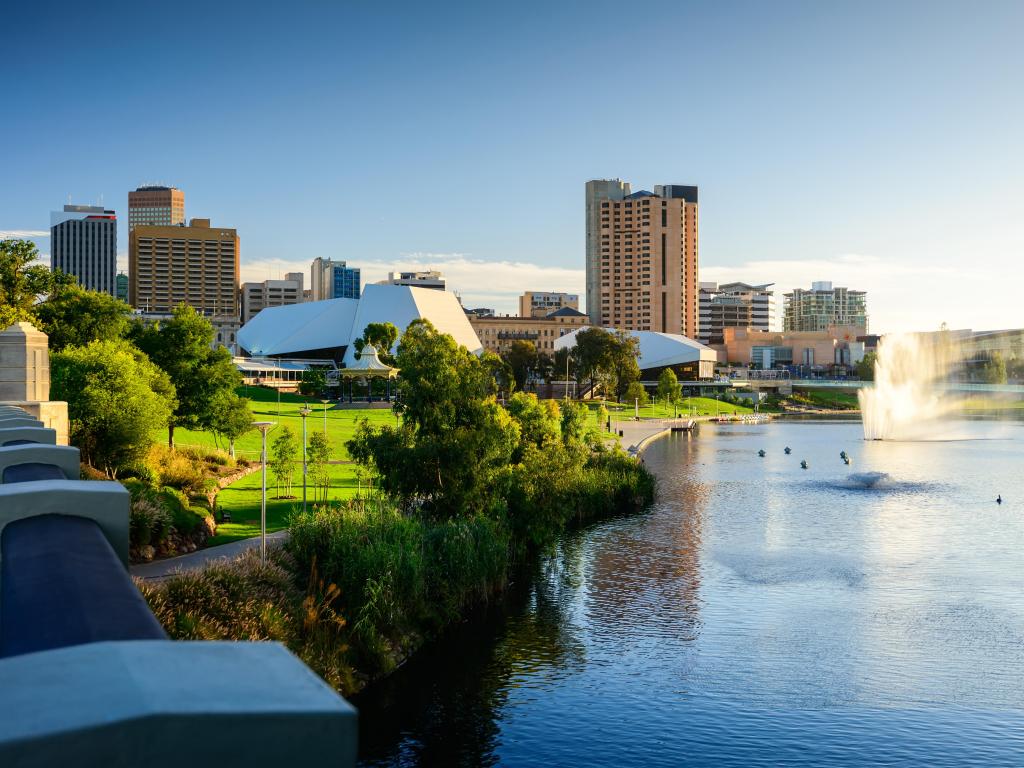 This direct route takes in more of the NSW part of the Riverina than it does the northern Victorian region. So if the Victorian region is something you are particularly keen to see, you will need to detour from Ouyen. This will add another 70 km and 50 minutes to your drive time, but you'll head through a number of historic old towns - as well as breathtaking rural scenery - before rejoining the Sturt Highway at Wagga Wagga.
Should you wish to see the very heart of country Victoria, the Mallee Highway will guide you through some of the best regional towns in the state. Roughly the same distance as the Sturt Highway route, it will take you an hour longer to complete. But you will be able to try out some of the most amazing vanilla slice in Australia, and maybe even find some gold!
Best road trip route from Adelaide to Sydney
Driving from Adelaide to Sydney along any of these routes offers a unique journey experience.
All of them start on the M1, and lead past the Murray River, and on to Tailem Bend. They also all go on to Sydney, via Canberra, Goulburn and Bowral, from just after Mount Adrah.
In between Tailem Bend and Mount Adrah you can proceed through any of the three suggested roads below.
Driving from Adelaide to Sydney
The map above shows our suggestions for the best road trip routes between Adelaide and Sydney. Keep reading for detailed descriptions of all three routes, where to stay overnight, and the best things to do on the way.
The NSW Riverina Route
From the Tailem Bend you will head along the Sturt Highway all the way to Wagga Wagga.
It's essentially one straight road that will lead you past areas of outstanding natural beauty, including the Big Desert Wilderness Park and the magnificent Murray Sunset National Park, which is Victoria's oldest wilderness park and largest national park respectively.
Along the way you will pass loads of small towns, many of which have intriguing indigenous names like Manangatang, Keri Keri and Carrathool. Some of these have resident populations of as little as 10 people - so this will give you a fantastic insight into life in these remote communities.
The Victoria Riverina Route
To explore the Victoria Riverina route you take the exact same route as the NSW Riverina journey until you get to Ouyen.
From here you will veer off on the A79 to Swan Hill, but before you do be sure to try some of the local vanilla slice.
Up until 2012, Ouyen held the annual Great Australian Vanilla Slice Triumph, a major competition, which attracted up to 2000 competitors, all trying to bake the best version of this quintessential Aussie treat. Although the competition is now held in Merbein, there remains a number of excellent purveyors of it here.
Swan Hill has a rich Aboriginal heritage you might want to check out, as well as superb fishing opportunities on account of its Murray River location. Leaving here, you will need to take the B75 to Deniliquin, which is a fantastic waterside town that offers great options for waterskiing, wakeboarding, kayaking, and as you go further onto dry land, bushwalking, cycling and golf.
Taking the A39 onwards, you will pass Jerilderie: an infamous place where Ned Kelly robbed the local bank in 1879. This road will lead you on to Collingullie, which rejoins the NSW Riverina route.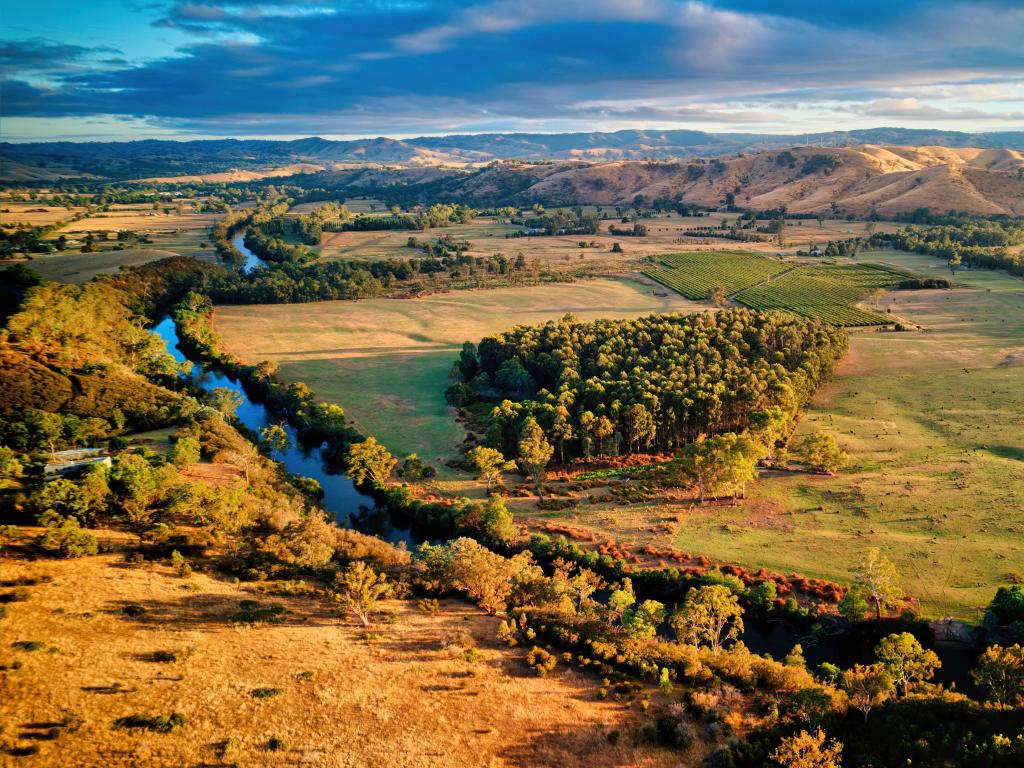 The Country Victoria Route
The country Victoria route takes you along the Mallee Highway through some of the most famous regional centres in the state.
Places like Inglewood, Bendigo, Rushworth, Shepparton and Wondonga all have fascinating gold rush histories, which they proudly showcase through local musuems. They even offer you the opportunity to prospect for gold!
The scenery along the way is very picturesque, especially at Little Desert National Park, Woomargama National Park and the gorgeous waters of the Waranga Basin. The rich and varied local produce, which is supplied to regional cafes and restaurants throughout the region, makes this route a real foodies' trail.
Best places to stop between Adelaide and Sydney
Given the length of the journey between Adelaide and Sydney you will need to stop off for at least one night, if not two or more.
Whichever route you decide to take on this road trip there are plenty of places to choose for an overnight stay. Why not consider the following:
Experience the delights of Wagga Wagga
Wagga Wagga is a thriving regional centre located on the banks of the Murrumbidgee River. Known as the 'City of Good Sports' on account of it being the birthplace of Australian sporting legends like Mark Taylor, Peter Sterling and Paul Kelly, it is home to a lovely beach, fabulous botanical gardens and captivating art galleries.
After a long day of driving through the hot, dusty plains of the Riverina, the city provides a welcome place to rest. Its hub is arguably the Wagga RSL Club Motel, which offers exceptional resort-style accommodation, with very comfortable beds and fantastic showers, that will fully rejuvenate you before it's time to leave.
Adjacent to the RSL club and opposite the Murrumbidgee Turf Club you won't be short of options for dining here, while their solar heated swimming pool is something you'll definitely to want to take full advantage of before you get back on the road.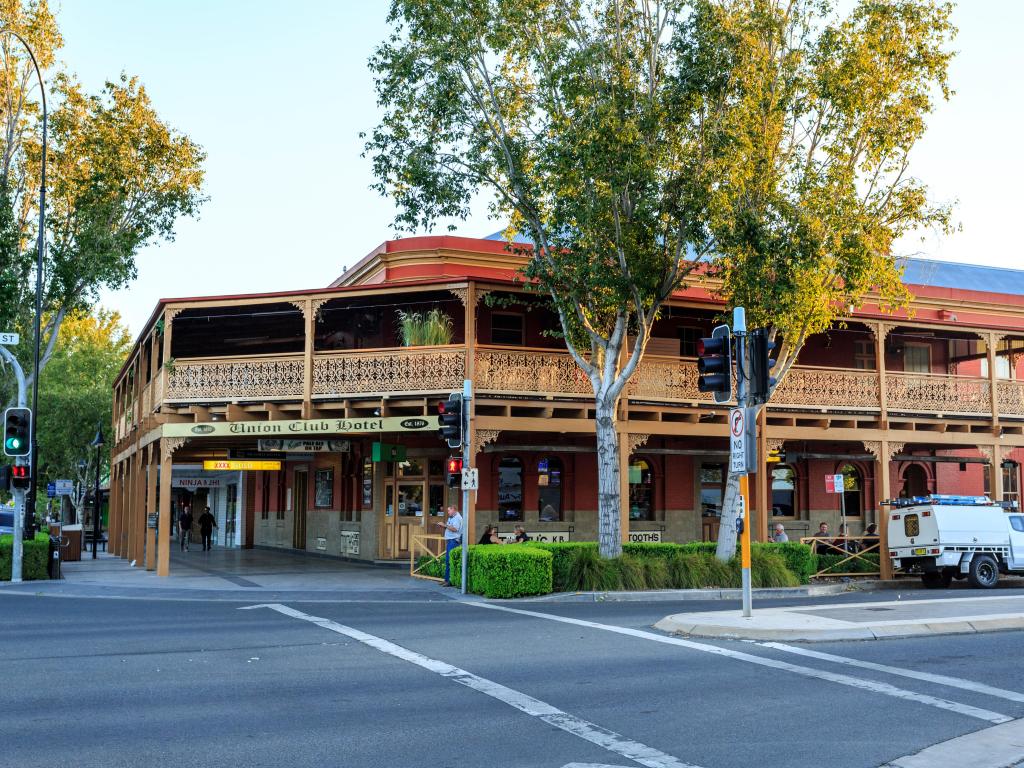 Check out Canberra, the nation's Capital!
Canberra is consistently ranked as one of the world's most liveable cities, offering a quality of life that few other places in the world can match. So its definitely worth staying overnight here to scratch the surface of what makes it such a great place to live.
Known for its stunning architecture and wonderful museums and galleries, the nation's capital also has a vibrant dining scene too, which you are sure to want to explore.
An excellent place to stay during your time here is at the luxury 5-star rated Ovolo Nishi. Located right in the heart of the city centre, it's a great base to check out major attractions like Parliament House, Canberra Museum, National Gallery of Australia and the stunning Floriade display, all of which are within walking distance.
The hotel's stylishly designed rooms have an elegant, laid back vibe, with iPads and streaming if all you want to do is chill. Venturing ever-so-slightly further afield, the hotel bar is a great place to hang out and relax before taking in the sights of bustling Canberra.
Things to see on a road trip from Adelaide to Sydney
There are so many places to visit on a road trip from Adelaide to Sydney that you ideally need a few weeks to see them all.
However if you are short on time, here are the places you should check out first.
Murray Bridge - Take in the cosmos at one of Australia's prime spots for stargazing.
Murray Sunset National Park - Covering 677,000 hectares this is Victoria's largest national park. It protects 183 species of threatened flora and fauna and comes alive in spring when gorgeous wildflowers bloom.
Big Desert Wilderness Park – Victoria's first declared wilderness area. A great spot for 4WD, hiking, bird watching and nature lovers.
Ouyen – Grab yourself some of the best vanilla slice you'll taste in Australia.
Swan Hill – Superb fishing spot on the Murray River, also known for its a rich indigenous heritage.
Jerilderie – Famous location where Ned Kelly and his gang once robbed a bank dressed up as policemen.
Bendigo – Lovely city well known for its potteries and vintage talking trams that run through it. Also features the Chinese dragon museum which honors the areas Chinese heritage.
Narrandera - Charming town where you can visit koalas in their natural habitat.
Wagga Wagga – Fabulous city in the heart of the Riverina that houses a lovely beach, stunning botanical gardens and impressive art galleries.
Canberra – Visit the nation's capital. A beautiful city of art, culture, impressive architecture and a great dining scene.
Goulburn – Named Australia's first inland city back in 1863, this historic place is known for its museums, restaurants, galleries and outdoor sports activities like rock climbing and abseiling.
Bowral – Home of Don Bradman, the legendary cricketer. Check out the museum that celebrates his life and the game in general.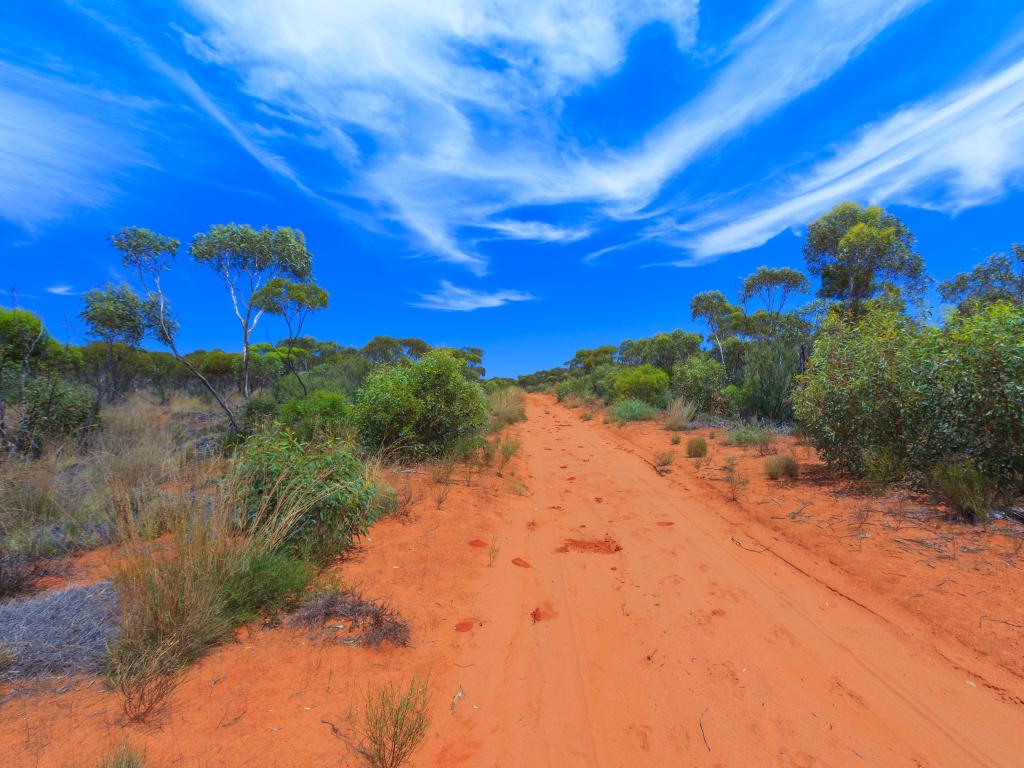 Best time to go on a road trip from Adelaide to Sydney
A road trip from Adelaide to Sydney is one you can complete at any time of the year.
Outside of the cities you shouldn't encounter too much traffic during this journey. In fact, the thing to be most mindful of is the potential for adverse weather conditions and (occasional) natural disasters.
During the storm season, which tends to run from December to February, many of the towns and rural areas can be afflicted with flash flooding. So be VERY careful if there is news of any flooding along your route: this is not the time to risk any non-essential travel!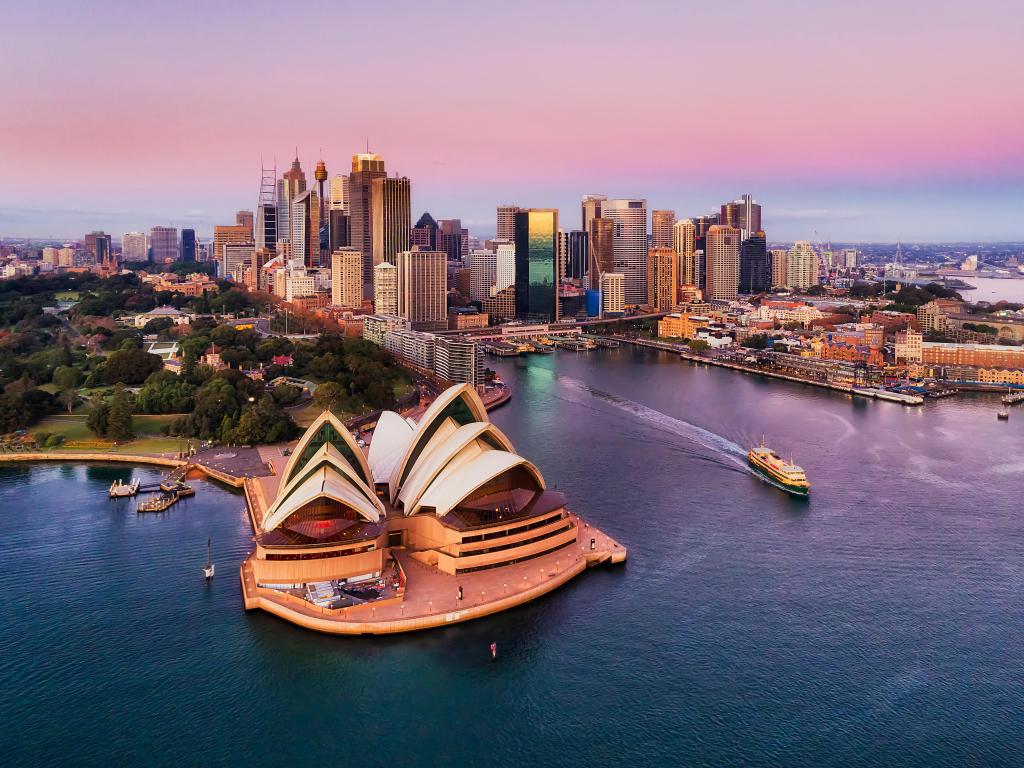 Bushfires can occur during these months too. Often sparked by lightening, they can spread very quickly. If a situation of a bushfire arises whilst you are on the road, DO NOT drive towards it, even if you are close to a town. Instead double back to a town that is a safe distance away and refer to the SES and ABC radio for up-to-date advice as you drive.
These considerations aside, you can hit the road whenever you feel like it. Though its probably a good idea to get your car fully serviced before you leave, as much of this drive takes place in remote locations.